Looking for healthy vegetable side dish recipes that are heavy on flavor? You're in the right place! Here's some of my all-time favorite healthy vegetable side dish recipes with something for everybody!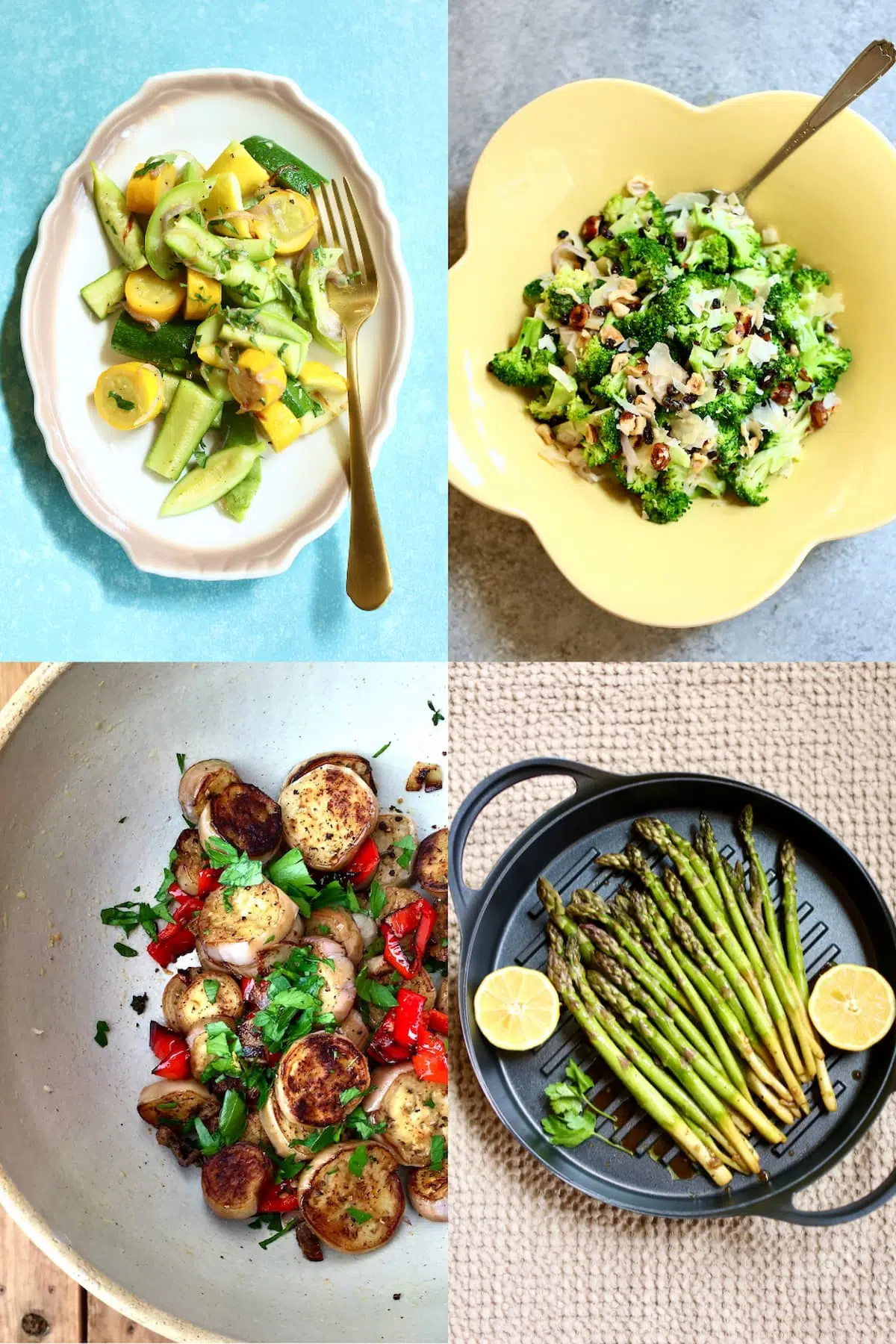 Jump to:
Why You'll Love These Recipes
We all need a big supply of healthy vegetable side dish recipes in my opinion. Whether it's for a last-minute BBQ, to serve something quick & healthy with a weeknight dinner or a special main course, you can never have enough inspired, easy vegetable sides.
I've pulled together some of my favorites the whole family will love, and work deliciously with almost any occasion and menu, simple ingredients too!
Roasted, grilled & sauteed vegetables
Cold vegetable salads that are perfect for cookouts
Sweet potatoes, green beans, asparagus and more!
Recipe for Sauteed Zucchini and Yellow Squash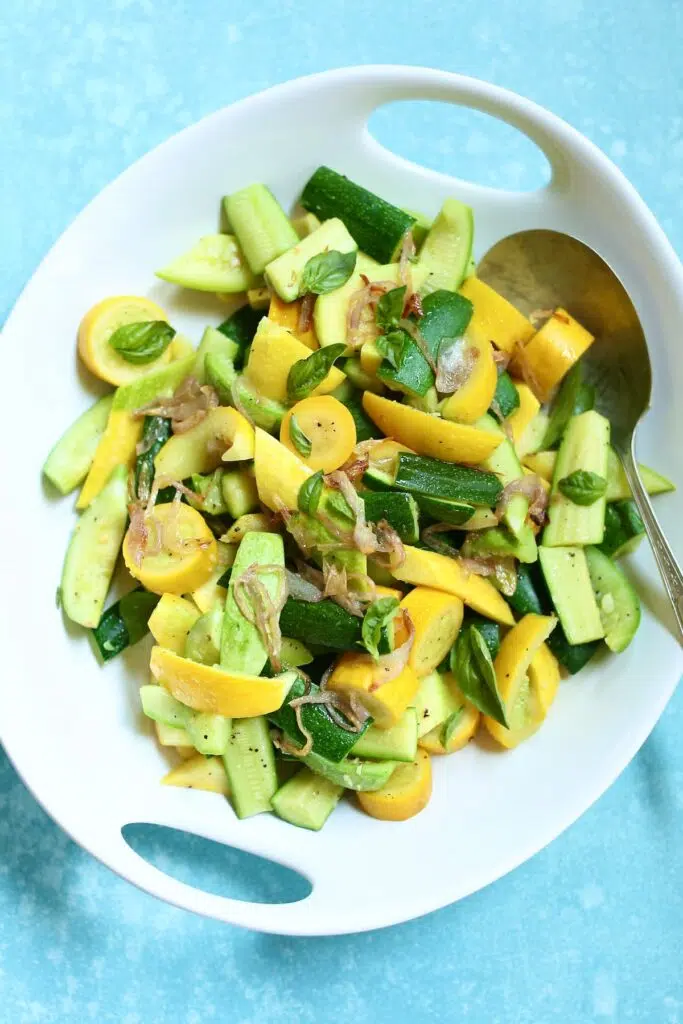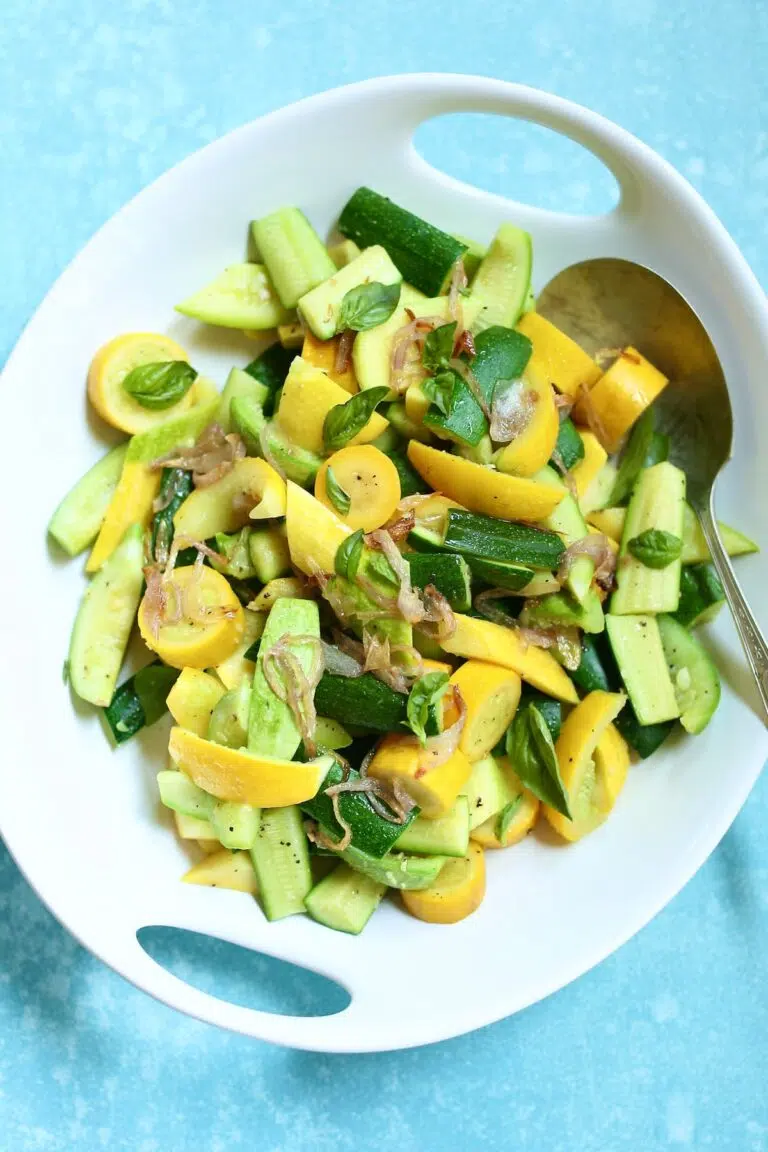 Sauteed Zucchini and Yellow Squash: Here's a really easy recipe, and one of the best vegetable side dishes out there. TIP: Keep this handy for when all that zucchini explodes mid-summer! 🙂 This is the perfect go-to side for busy weeknights too!
Mini Eggplant Recipe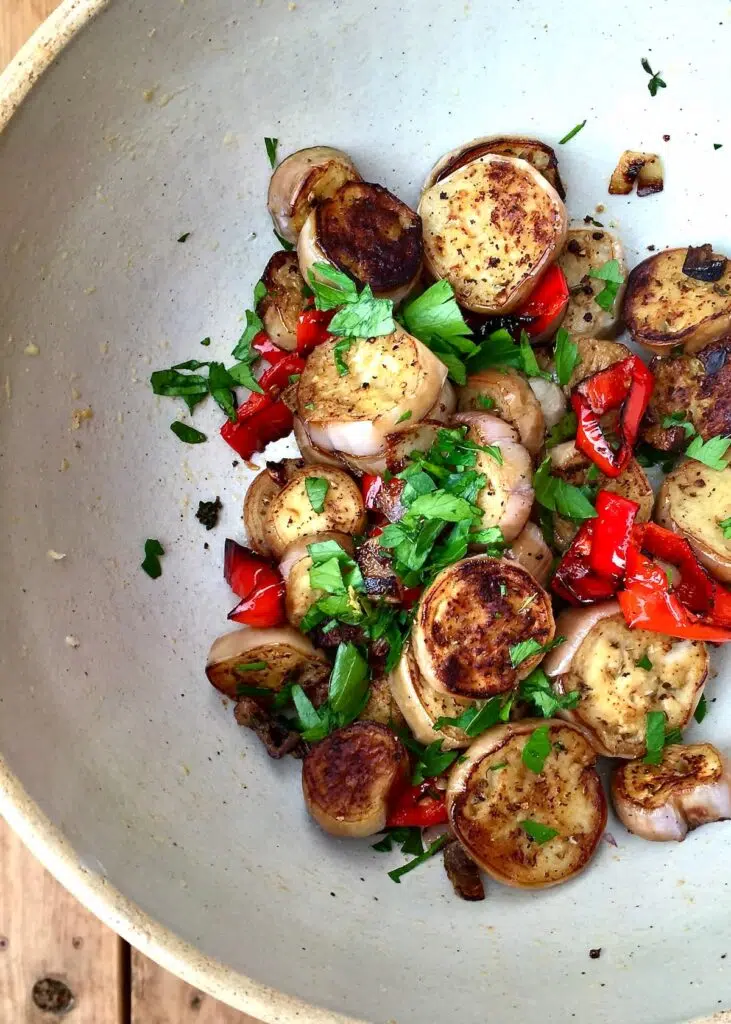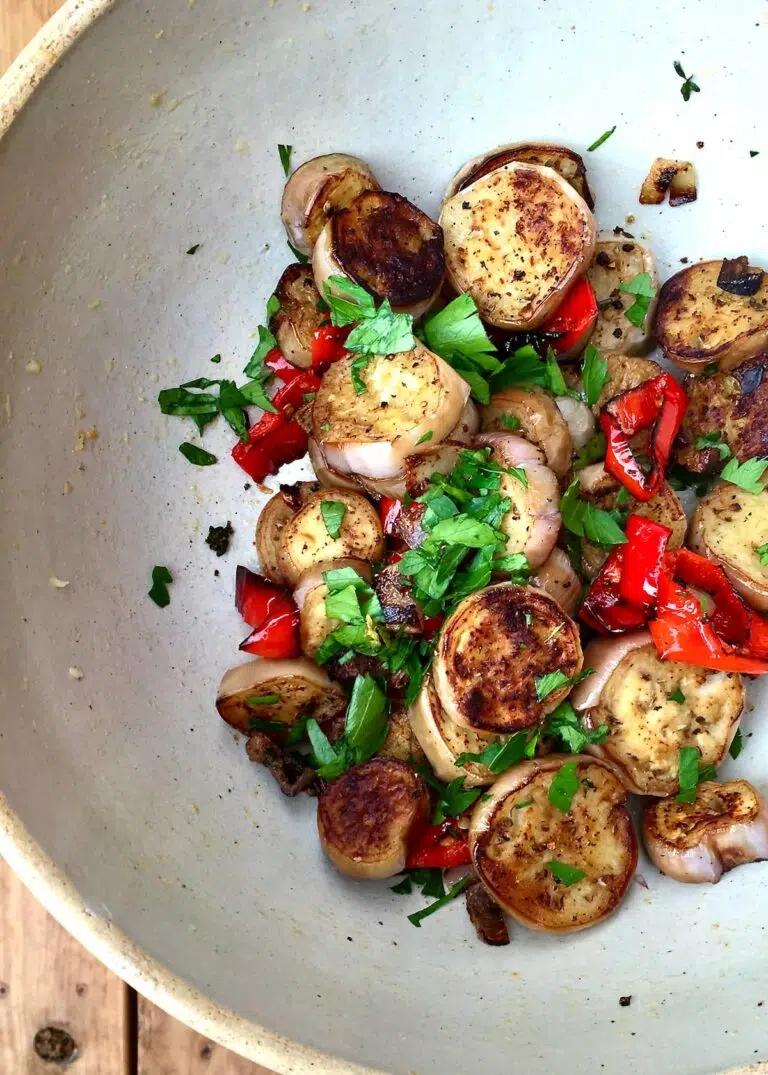 Wonderful with grilled meats…
Mini Eggplant Recipe: Love those cute little eggplants but don't know what to do with them? Let me help! This is an easy recipe to love….try sprinkling some goat cheese on top for extra creaminess.
Roasted Vegetables with Vinaigrette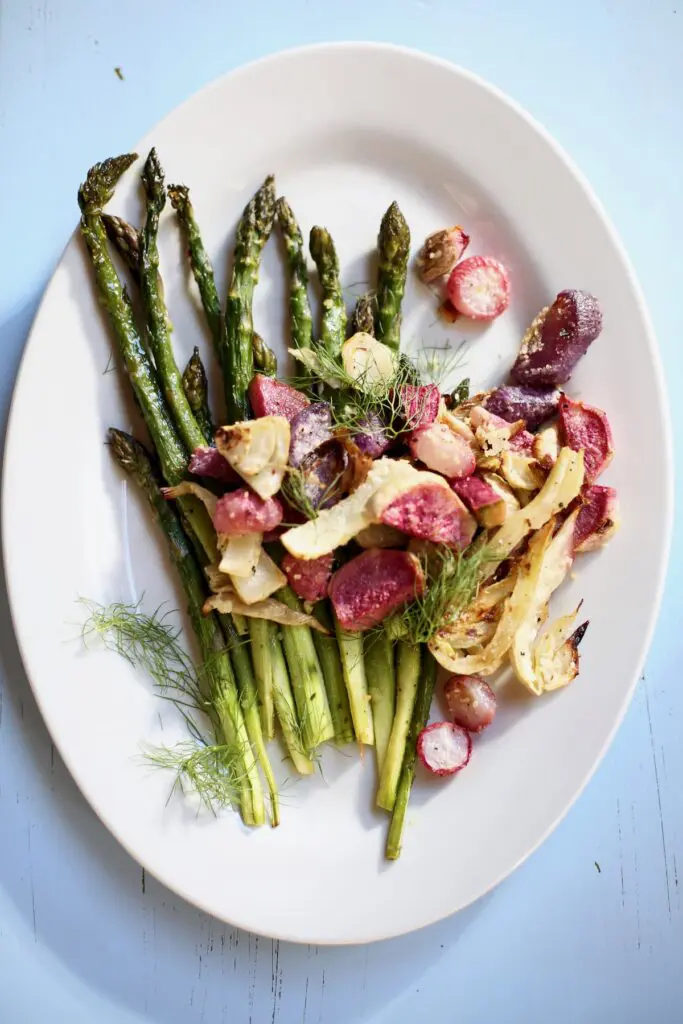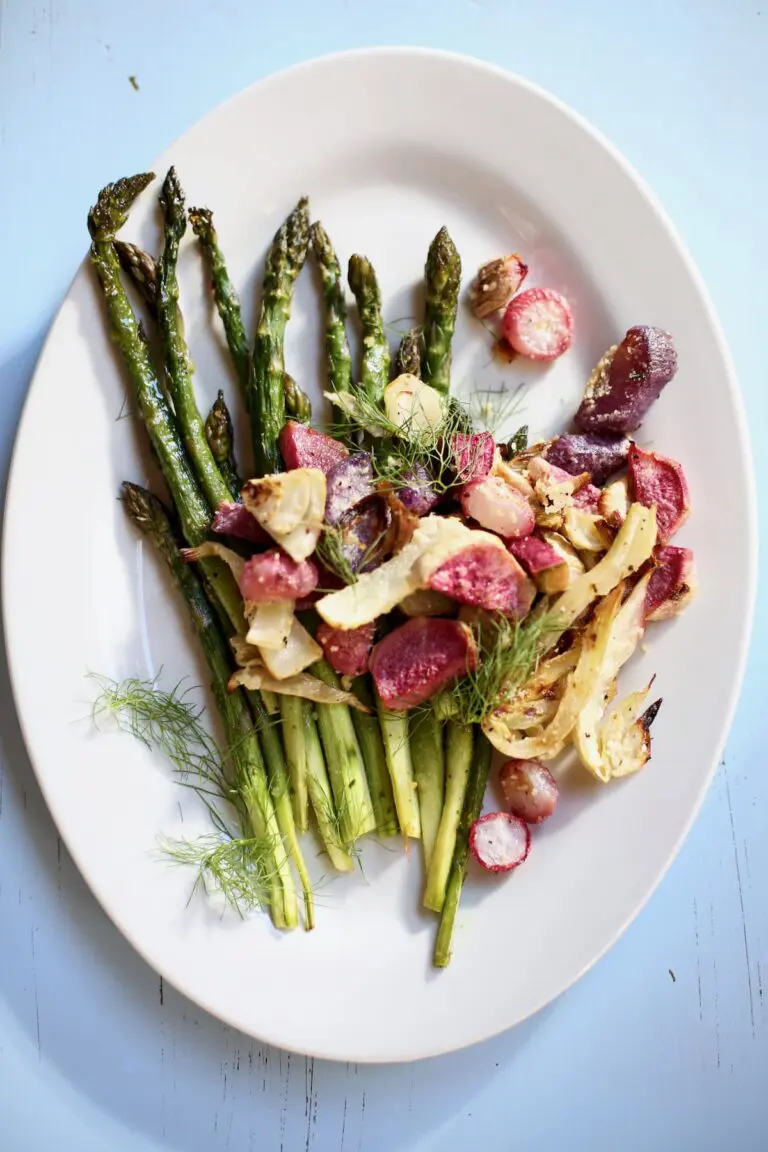 Roasted Vegetables with Vinaigrette: Here's an easy technique for roasting tender vegetables – think asparagus and radishes – into an incredible side dish that's drizzled with a flavorful lemony vinaigrette. Perfection!
Marinated Grilled Asparagus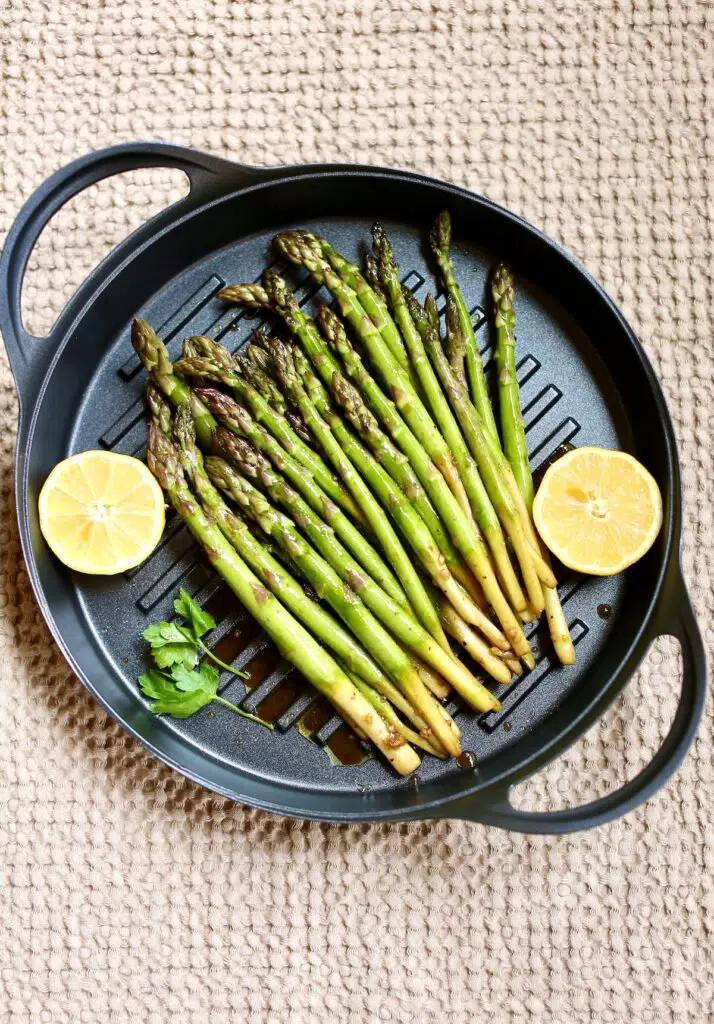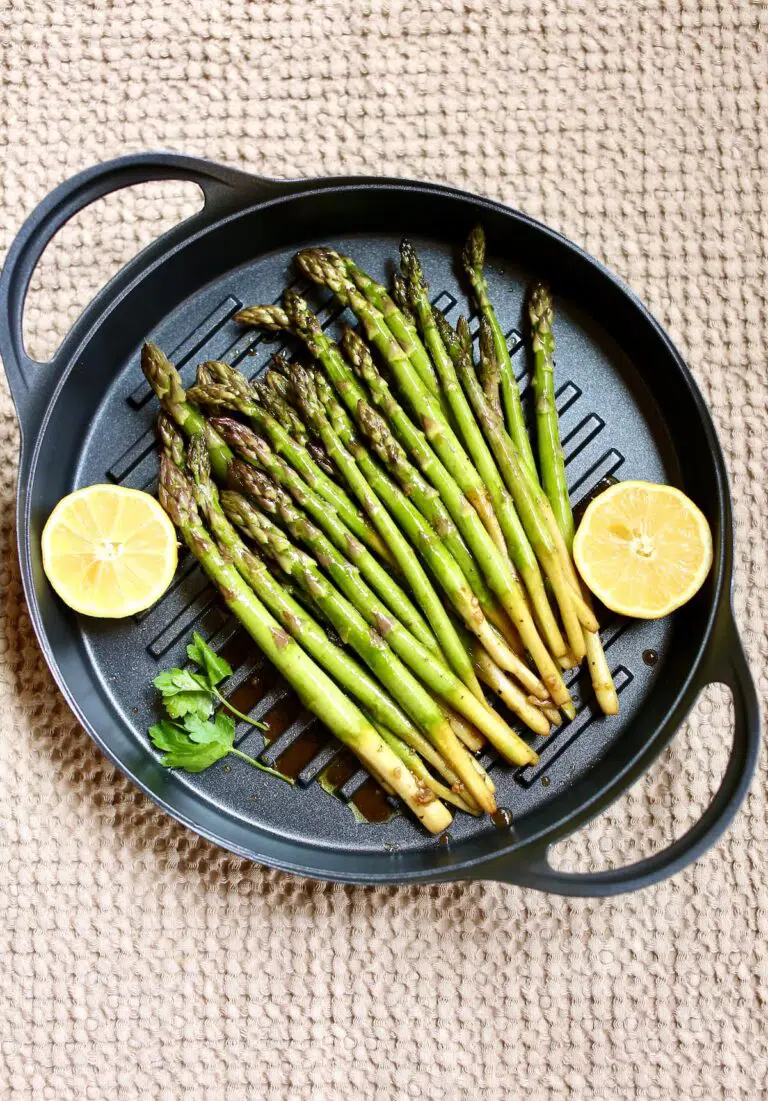 Clean & fresh tasting…the all-around perfect side dish!
Marinated Grilled Asparagus: This recipe takes the mystery out of grilling a simple veggie like asparagus, so you can make it perfectly every time! This is a great veggie side that's little more than olive oil, black pepper and kosher salt plus a quick trip on a high-heat grill… add some cherry tomatoes for variation! This is my favorite way to cook asparagus 🙂
Grilled Peppers and Onions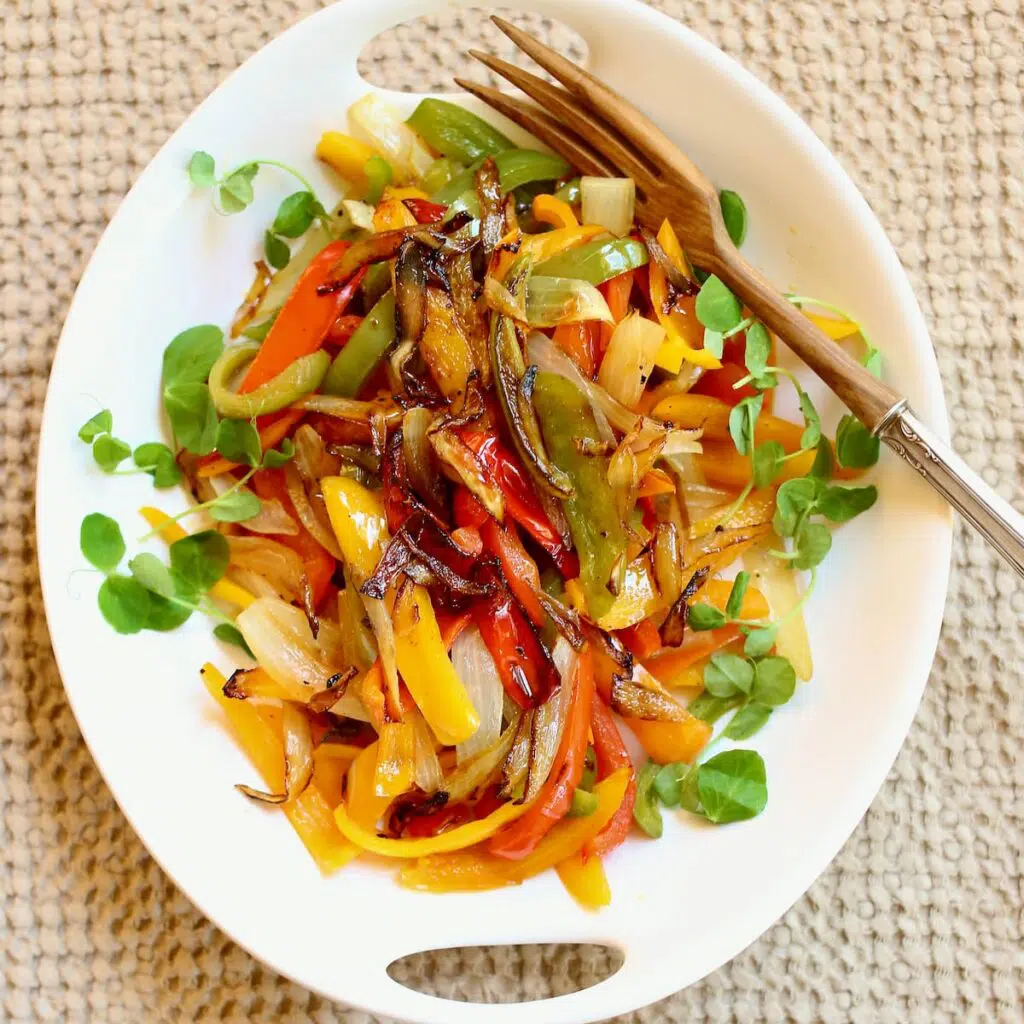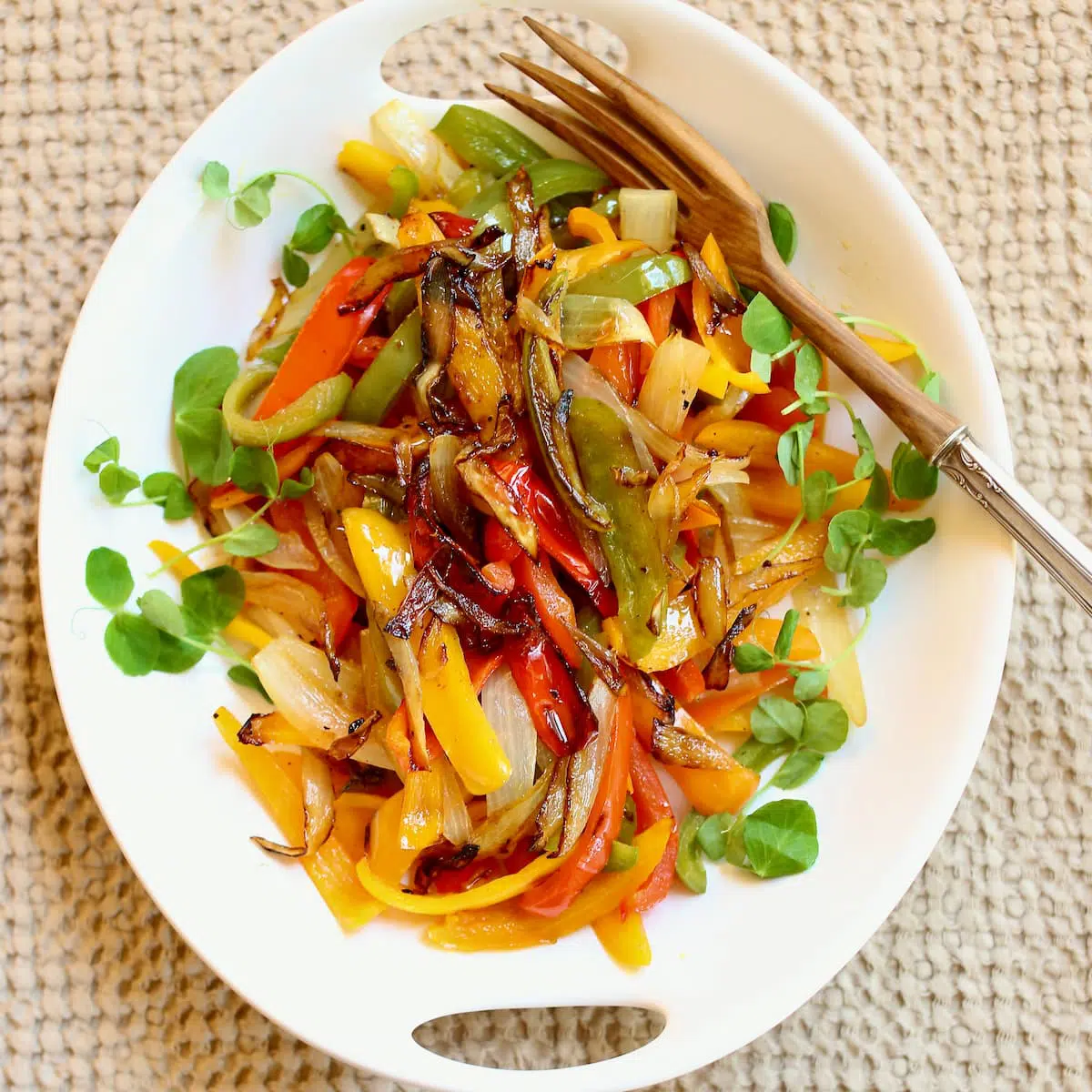 Delicious on steak & chicken!
Grilled Peppers and Onions: Don't overlook this flavor-packed recipe with multi-colored peppers and red (or yellow) onion grilled with a little olive oil. It's a tasty topping for grilled steak or chicken, and a low carb healthy side that's easy to make!
Italian Green Bean Salad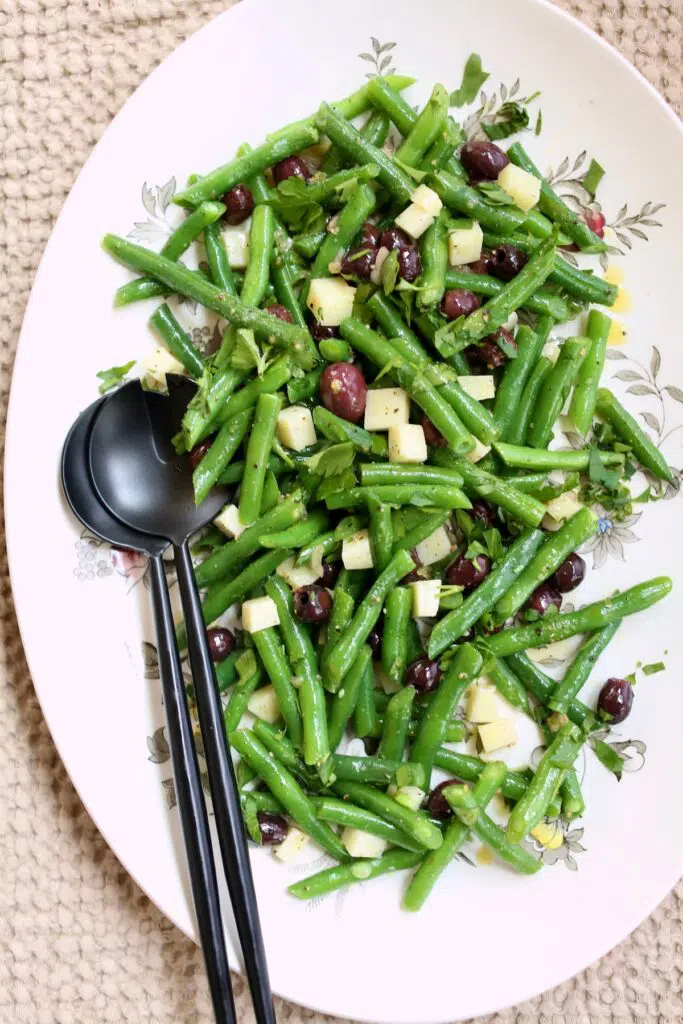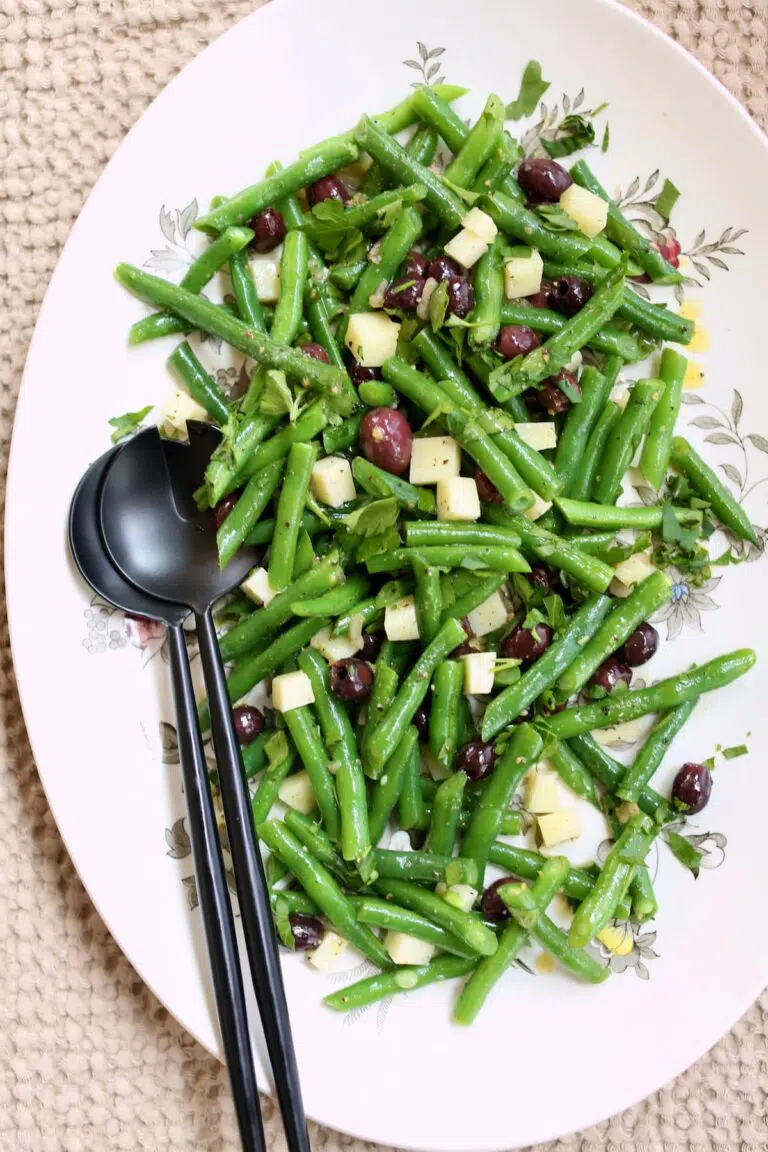 Olives & Cheese and fresh crunchy beans…
Italian Green Bean Salad: This is one of those flexible, perfect side dishes because it goes well with practically anything, and is portable enough to pack up and take to the park too! Cubed cheese, Kalamata olives, loads of fresh parsley and green beans, all marinated together to make the very best green bean salad!
Spicy Roasted Sweet Potatoes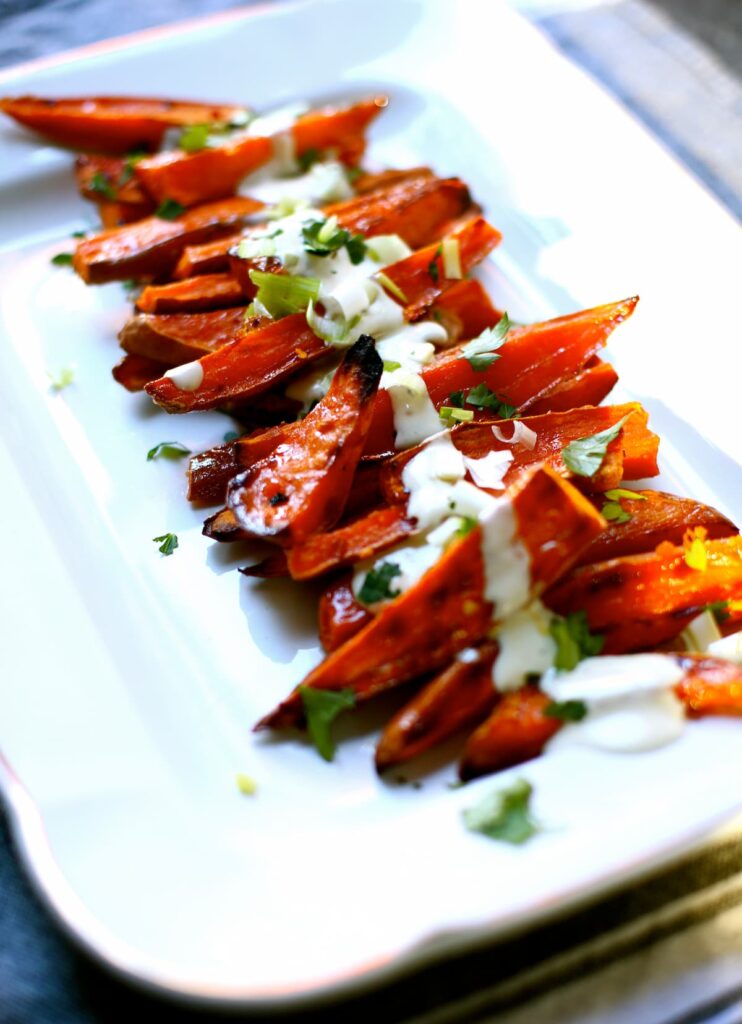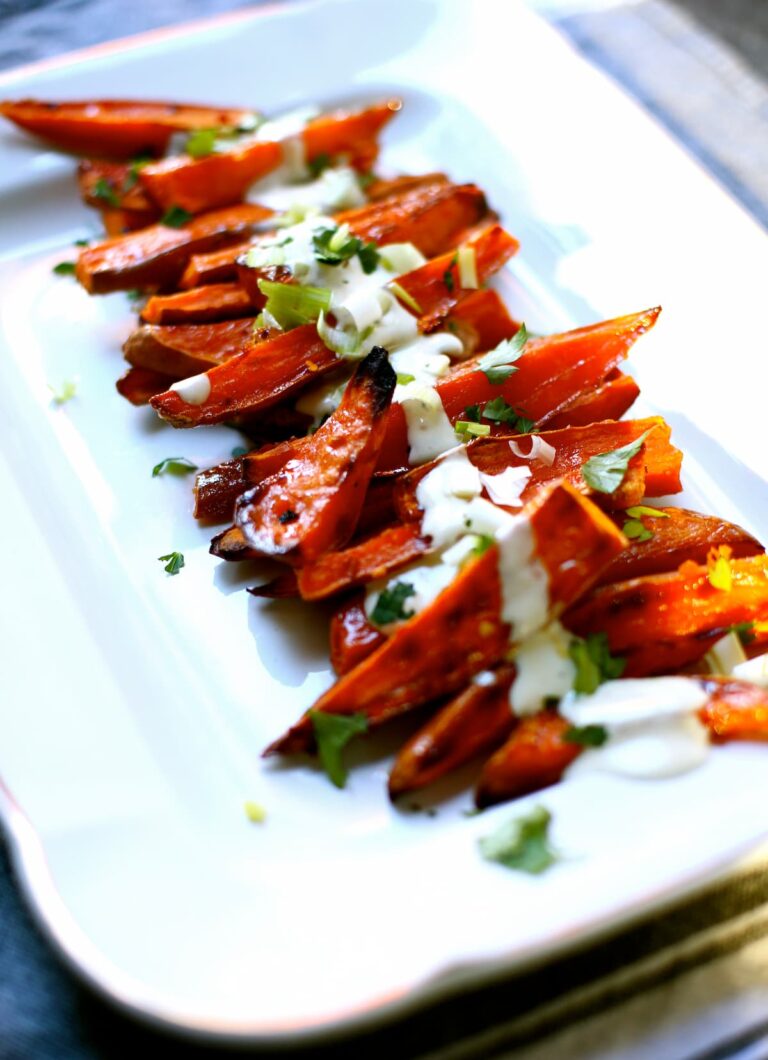 Sweet Potatoes are luscious when roasted and drizzled with yogurt sauce…
Spicy Roasted Sweet Potatoes with Yogurt Sauce: This recipe is a reader favorite, and makes a fabulous side dish any time of year. Sweet potato wedges are tossed with maple syrup and olive oil, then sauced with yogurt spiked with lemon juice & fresh herbs. This root vegetable is a delicious side dish for the holidays too.
Broccoli Salad Recipe Without Bacon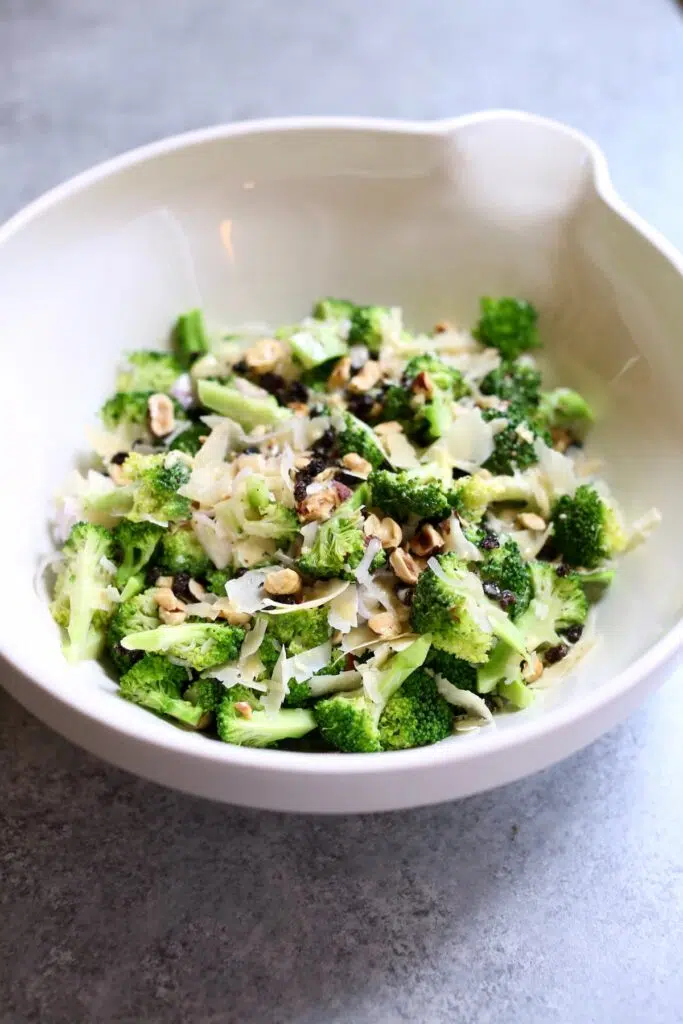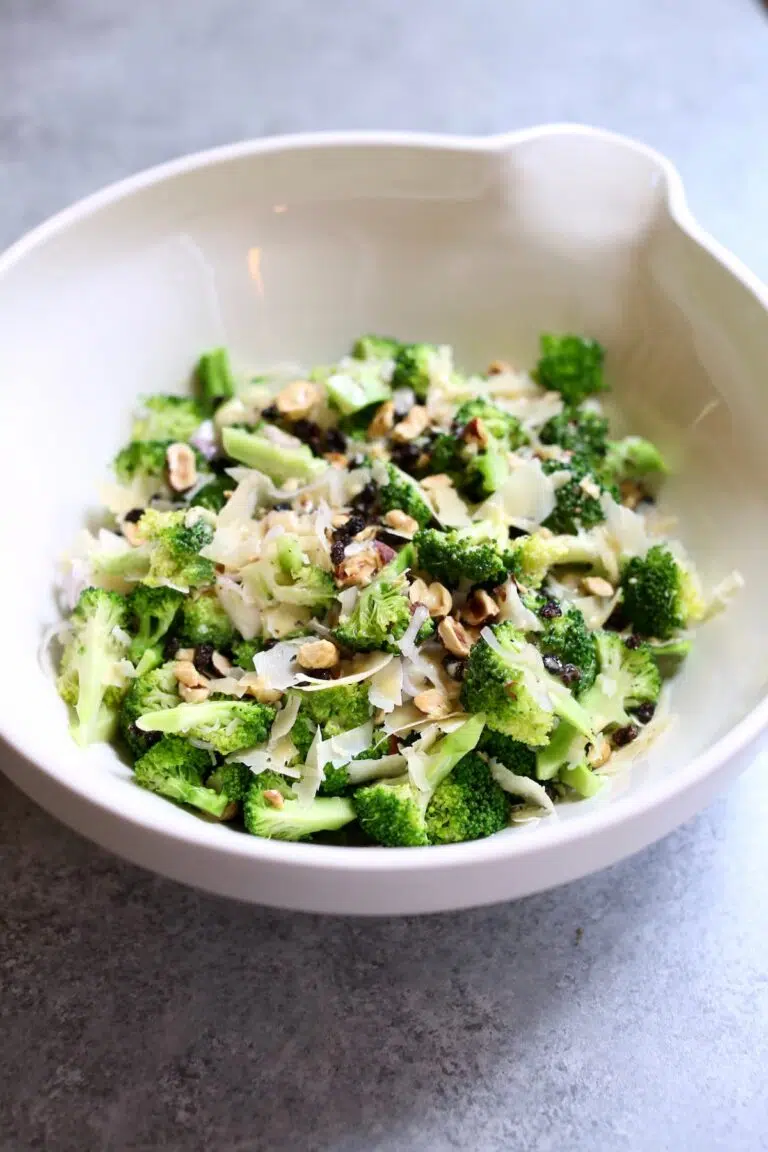 Classic Broccoli Salad, without bacon! Yay!
Broccoli Salad without Bacon: Everyone loves the old classic broccoli salad. This version doesn't have the gloppy mayo or sour cream or cheddar cheese or bacon (though feel free to add it in). This super fresh salad has currants, shallots, hazelnuts and a fresh & a lightened-up vinaigrette!
Simple Celery Salad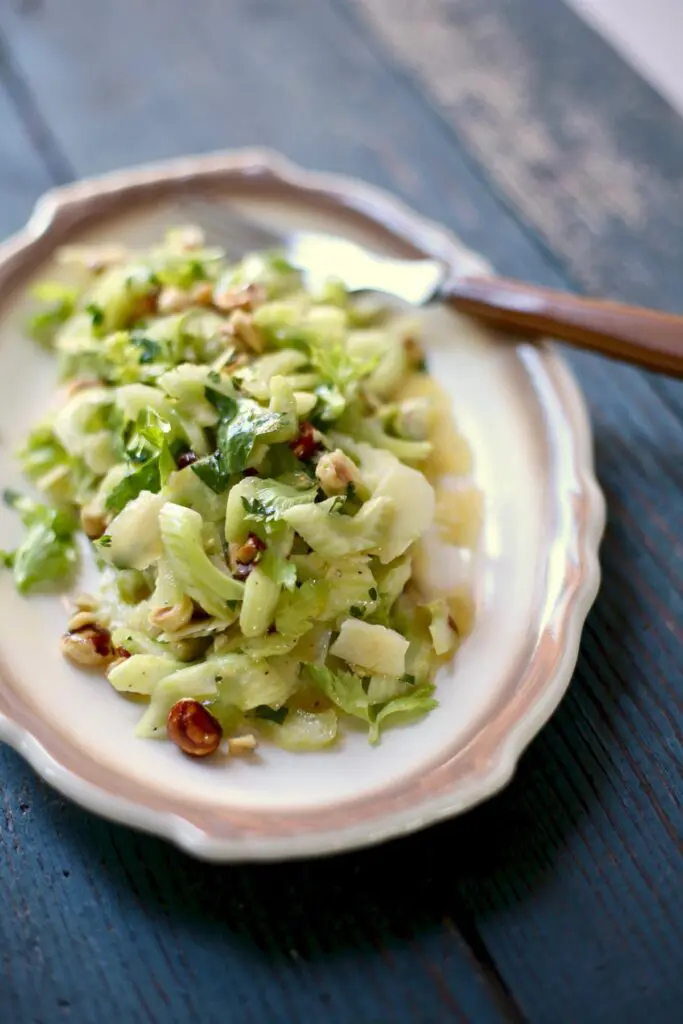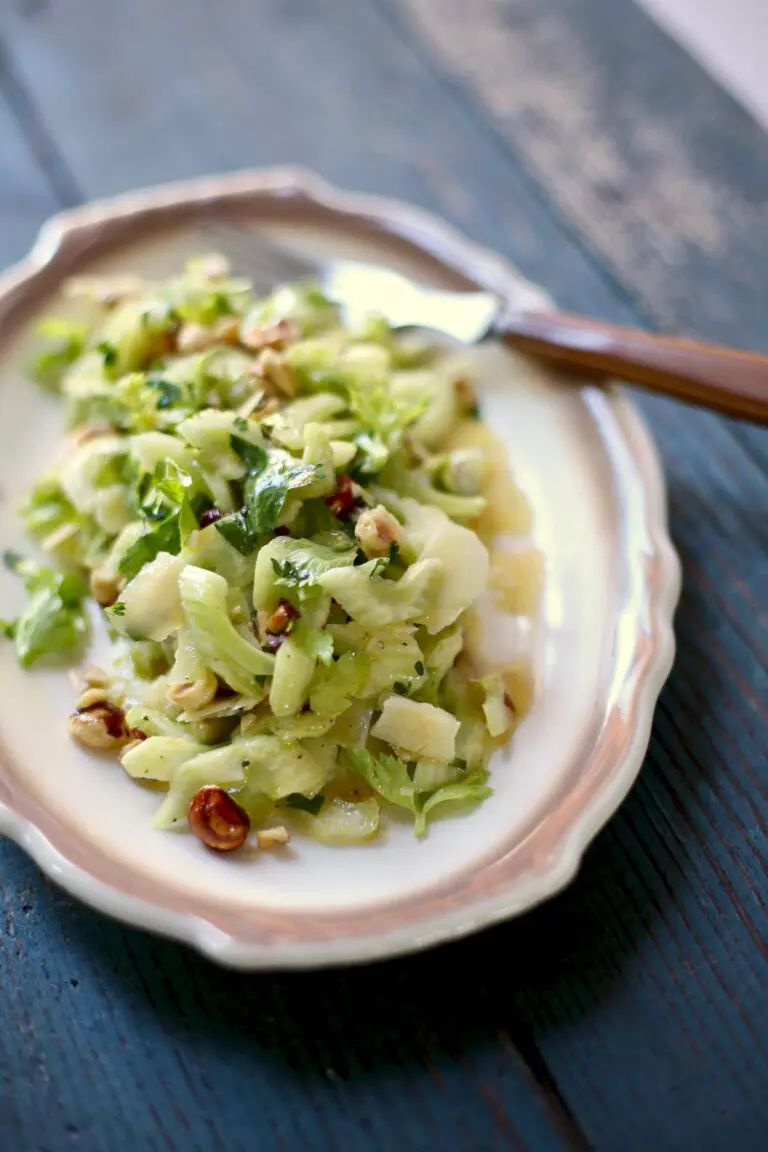 An unexpectedly amazing salad!
Simple Celery Salad: This fresh, light, crunchy & flavorful salad is perfect with a big sandwich or burger, and fabulous with sliced warm chicken on top. Shaved Parmesan cheese tops off this simple recipe, which is a great way to use up all that celery in the bag and get your green vegetables too!
Carrot Currant Salad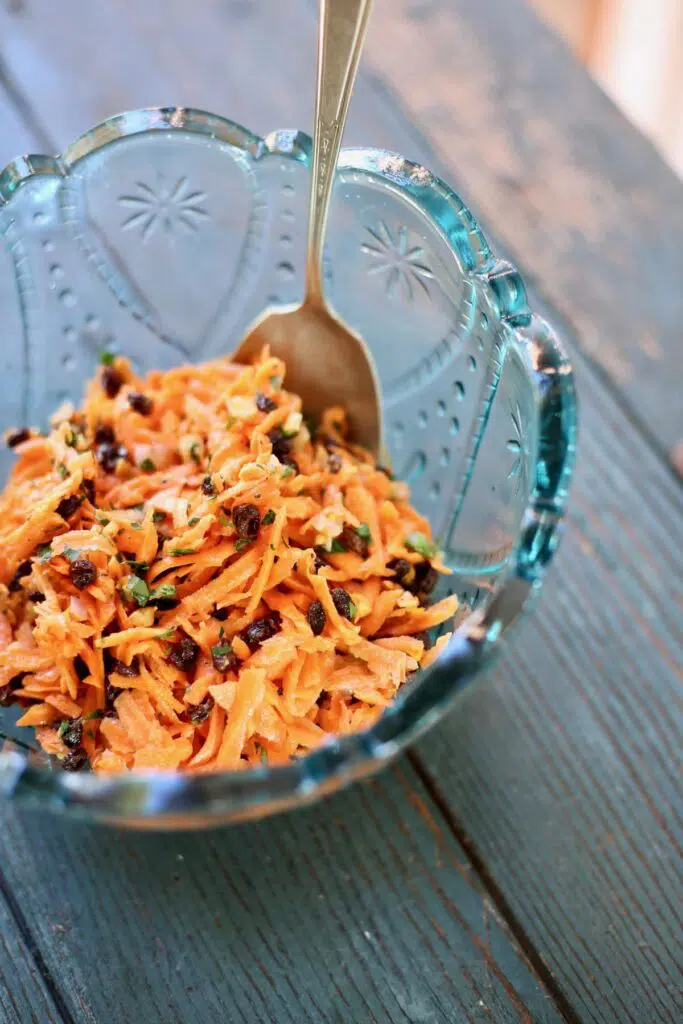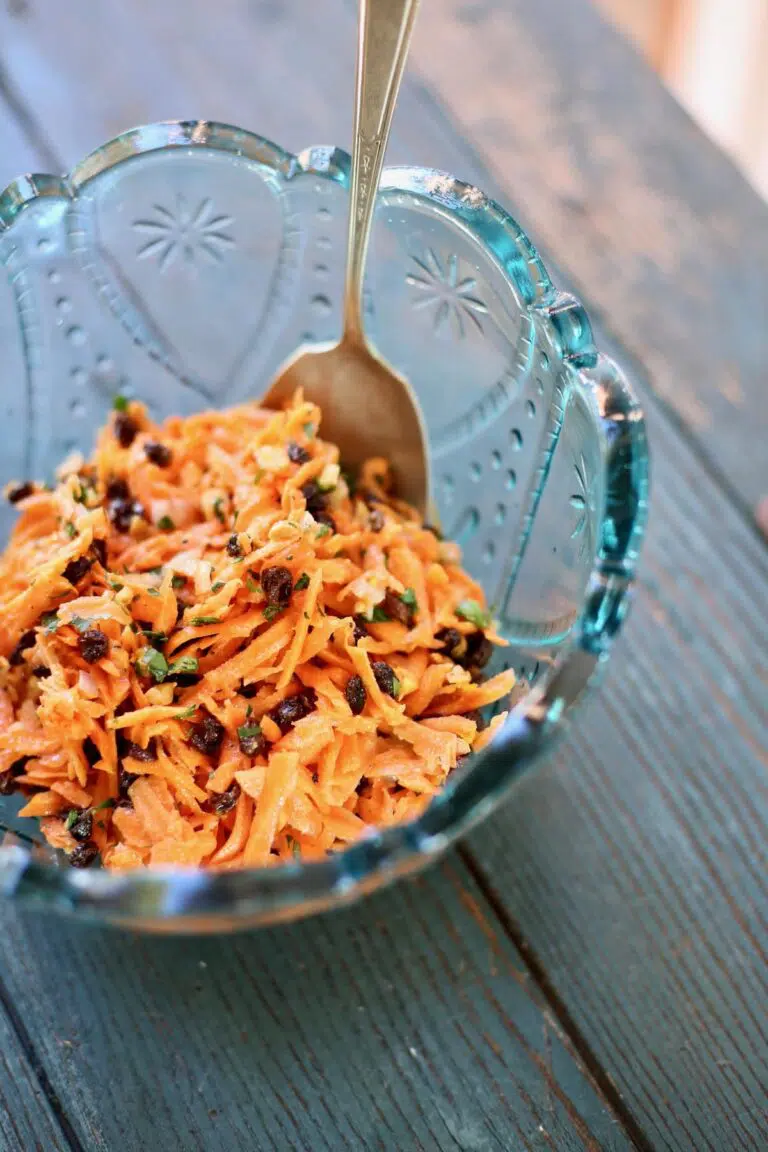 Fresh grated carrots & a light vinaigrette…perfect for lunch!
Carrots with Currants: Here's a super fresh, simple salad with light ingredients…shredded carrots, shallots, currants. This one packs well and always tastes amazing. Try it with toasted pine nuts too!
More Recipes to Try
Here's a couple more favorites to bookmark for later:
If you've tried these Healthy Vegetable Side Dish Recipes, or any other recipe on Studio Delicious, please tell me how you liked it in comments below
Looking for more tips and fresh, homemade recipes? Join my email list, tag and follow me on Instagram using #studiodeliciouseats, follow my boards on Pinterest, and see what I'm up to on Facebook and Twitter!