Cauliflower tastes downright sinful in this Parmesan Roasted Cauliflower with Pesto Yogurt. The sauce is totally optional, but it elevates this delicious vegetable side dish to something a little special.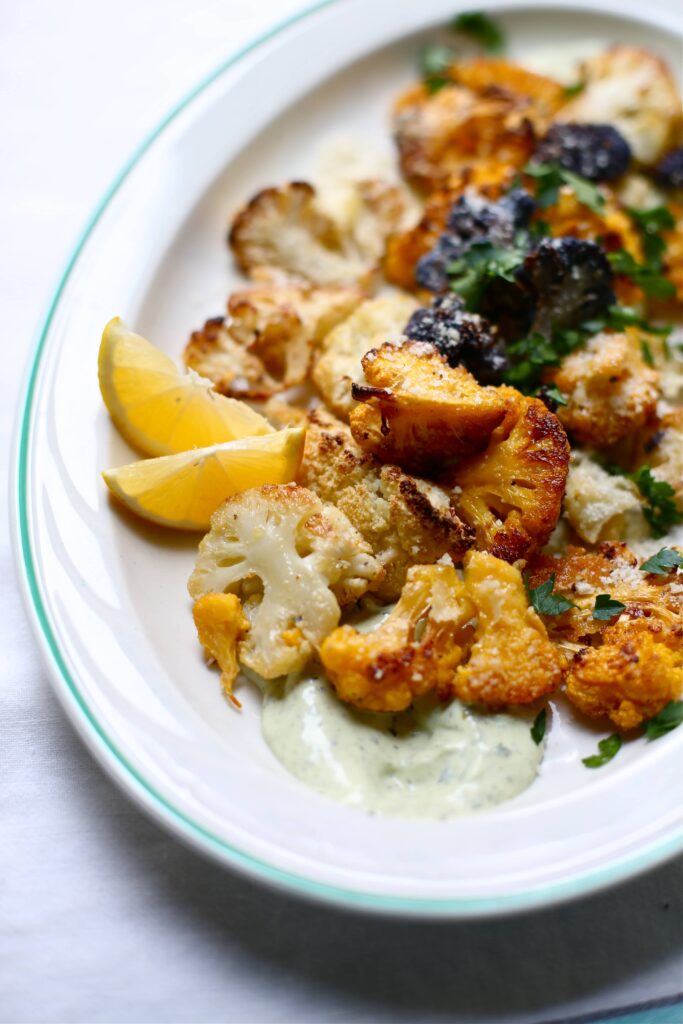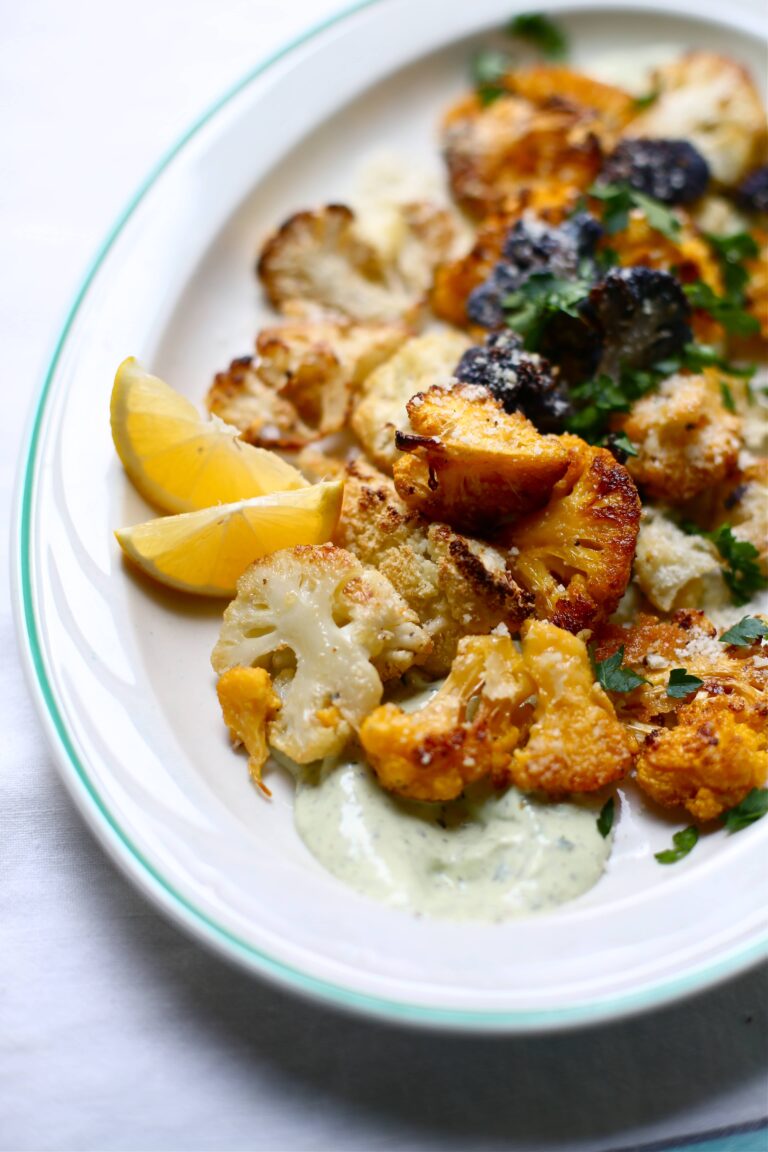 I'm soooooo in hibernation mode right now it's ridiculous.
Not only have I been sleeping in more than usual, I've also been going to bed really early and being generally lazy when I'm awake.
And I don't even feel guilty about it, which I consider a mini-accomplishment.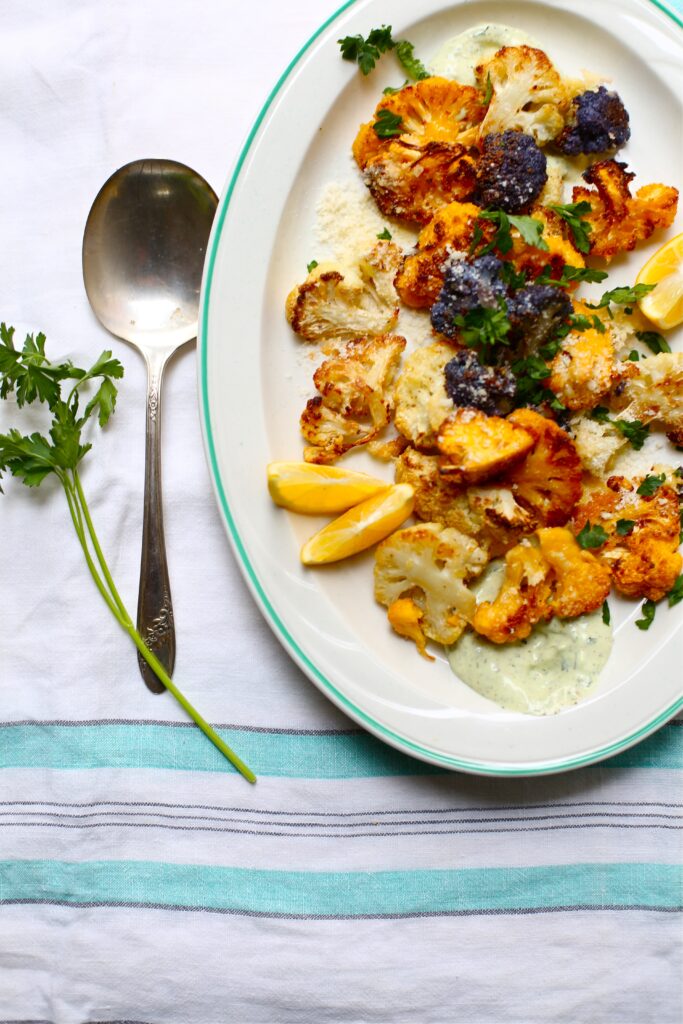 I guess I've surrendered to the deep part of winter we are in, and it's all good.
When everyday life slows down, my hot chocolate consumption goes way up, however.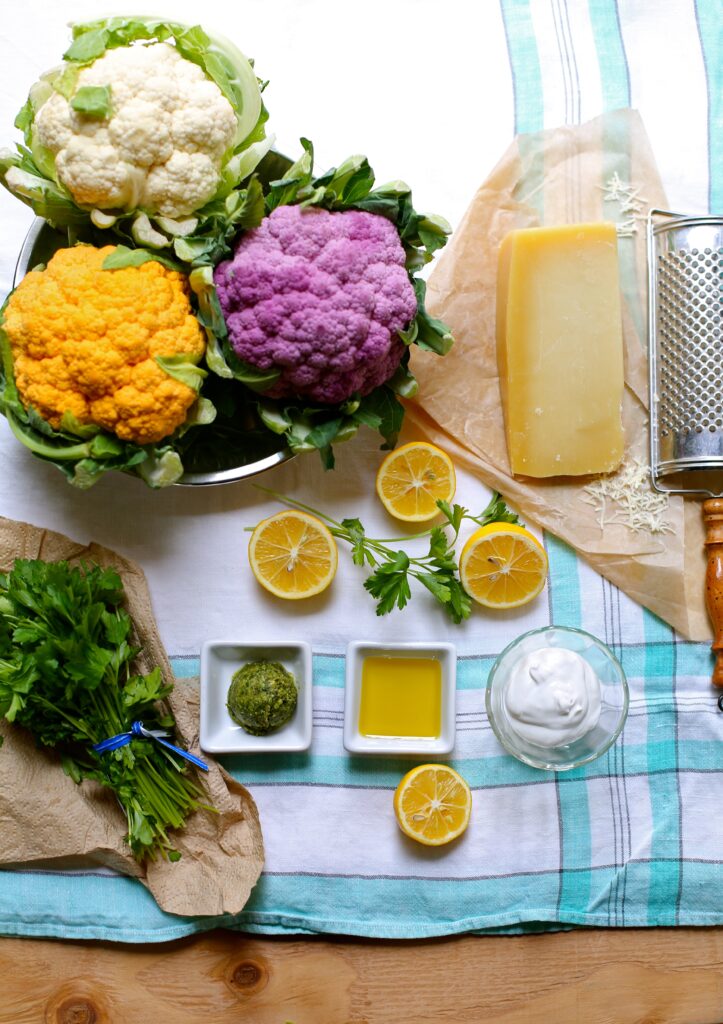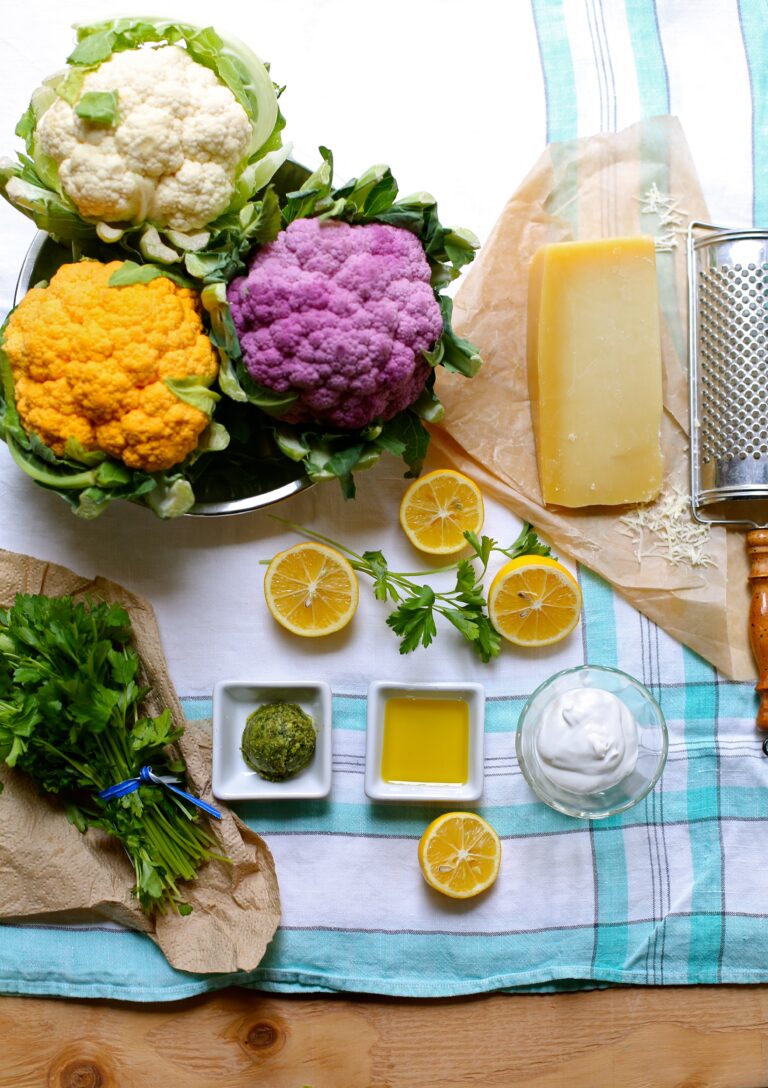 Strange things happen when you feel this rested.
For example, I busted out my watercolors and painted a few postcards just for fun.
This is one of those things I think about, but rarely actually do.
Recently I piled on my heavy coat and gloves and walked downtown to buy a book.  I came back with two bags of new kitchen gadgets I didn't need, plus a few other cute things I couldn't possibly live without.
I'd be lying if I said this hasn't happened before 🙂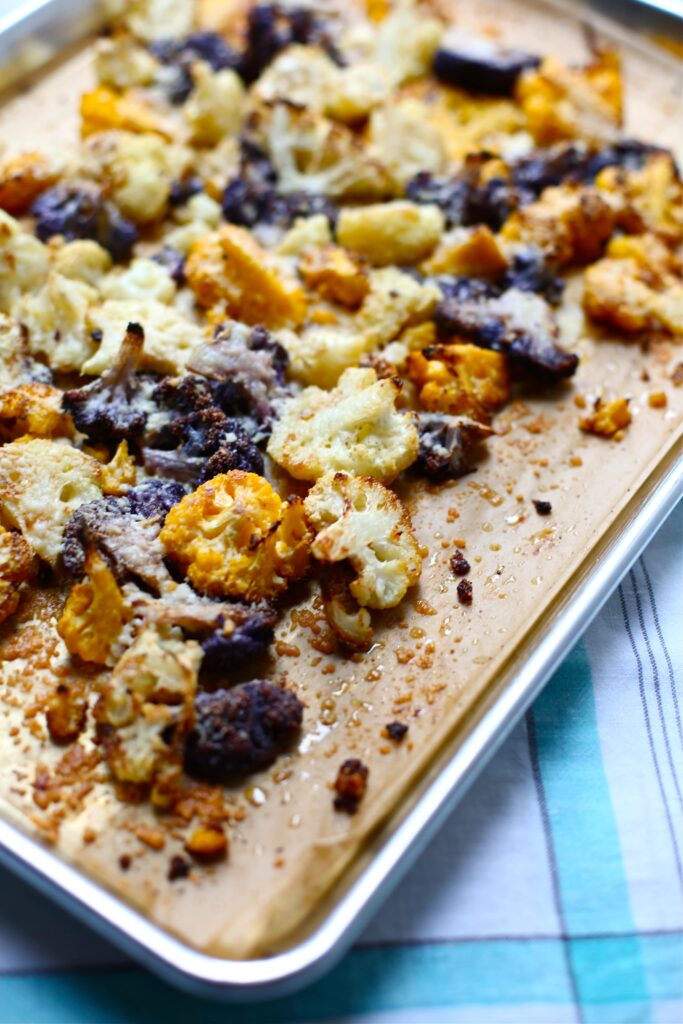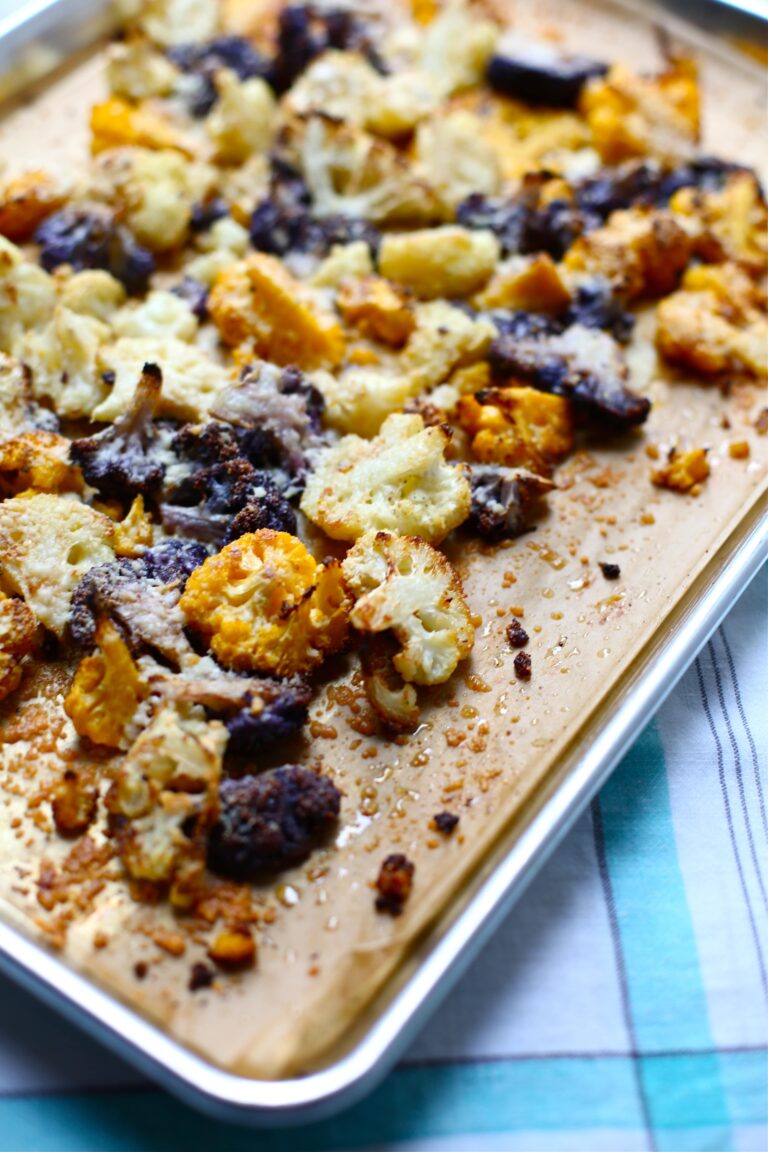 Mornings have been all about thick-cut hot oatmeal with creamy peanut butter, fresh organic blueberries and a little maple syrup —a combination nothing short of phenomenal and seriously, you should make it immediately, if not sooner.
I've been meeting friends for lunch, going to the movies, and sitting in front of the fire with hot tea and the new People magazine.  Heaven in a text-free zone.
I'm craving the deep flavors of comfort food right now, and I'm sure you've noticed that cauliflower is having a moment.
Used to be we only ate the frozen stuff you boiled in a bag with that absurdly bright yellow cheese sauce.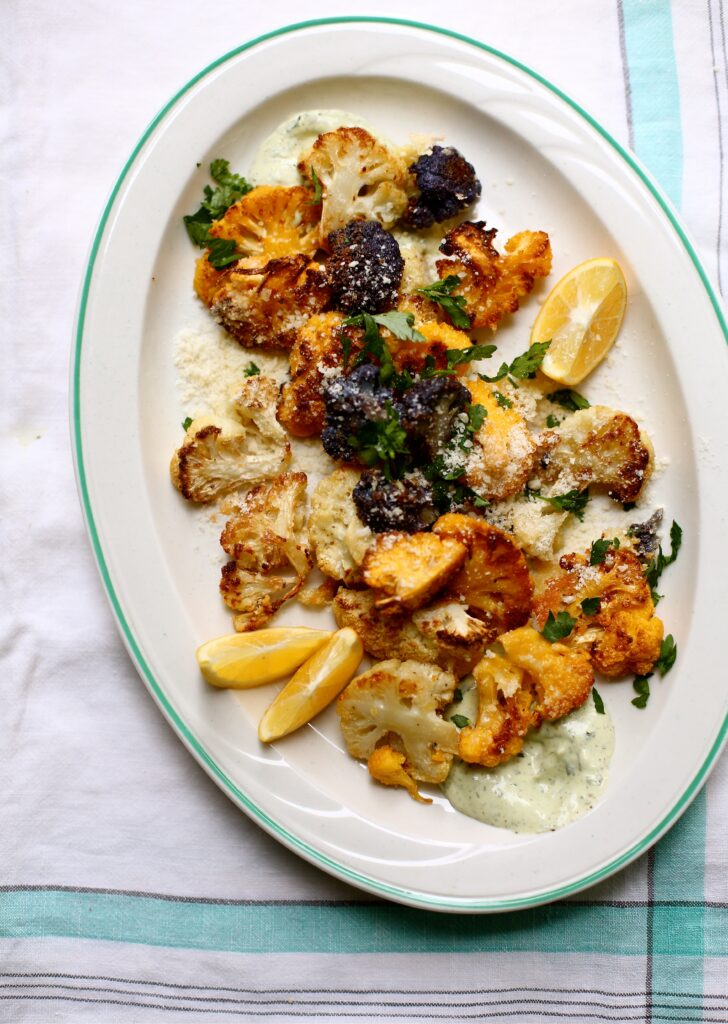 This Parmesan Roasted Cauliflower with Pesto Yogurt is proof that cauliflower can actually taste indulgent.
Roasting transforms it to something new altogether, and the cool contrast of plain yogurt spiked with pesto and a squeeze of fresh lemon is amazing.
PARMESAN ROASTED CAULIFLOWER WITH PESTO YOGURT
Ingredients
Makes 4-6 servings
Baking sheet lined with parchment paper
Three small heads tri-color cauliflower (alternatively, you can use all white if you prefer)
1/2 cup extra virgin olive oil, reserving two tablespoons
1 teaspoon garlic powder
1 teaspoon salt
Few generous grinds of pepper (I use Trader Joe's Lemon Pepper grinder)
1/2 cup freshly grated Parmesan cheese, plus more for serving
Fresh parsley, chopped finely for serving, about 2 tablespoons
Fresh lemon wedges, for serving
FOR THE PESTO YOGURT
1/3 cup plain yogurt, preferably Greek style
Heaping tablespoon prepared pesto
Pinch salt
Squeeze fresh lemon (a teaspoon or so)
Instructions
Heat oven to 450 degrees, and position rack to lower third of oven.
PREPARE THE CAULIFLOWER
Trim the cauliflower, removing and discarding the stems. Reserve the florets, cutting the larger pieces in half.
In a large bowl, combine the cauliflower, the olive oil minus 2 tablespoons you'll use later, the garlic powder, salt and pepper and toss with your hands to coat and combine everything.
Transfer to a large baking tray lined with parchment paper and distribute evenly in a single layer across the baking sheet.
Roast for 35-40 minutes. Remove from oven and in sections, carefully turn the cauliflower over with a large spatula. Drizzle on the reserved 2 tablespoons of olive oil and carefully scoot the cauliflower to the middle of baking pan, keeping things in a single layer if possible.
Sprinkle with the Parmesan cheese and return to the oven for 6-8 minutes until the cheese is a light golden brown.
Remove from oven and serve with the pesto yogurt sauce, more Parmesan cheese, the fresh parsley and the lemon for squeezing on top just prior to eating.
7.8.1.2
66
https://www.studiodelicious.com/parmesan-roasted-cauliflower-pesto-yogurt/
Please don't reprint/copy and paste photos with recipes from Studio Delicious without prior permission as they are copyrighted. If you'd like to feature a recipe on your website, please rewrite the header and method of preparation in your own words and link back to this original post with Studio Delicious as the source.