Who knew that a humble vegetable like cauliflower could taste downright sinful? This Parmesan Roasted Cauliflower with Pesto Yogurt is savory and bright and amazingly delicious all at the same time…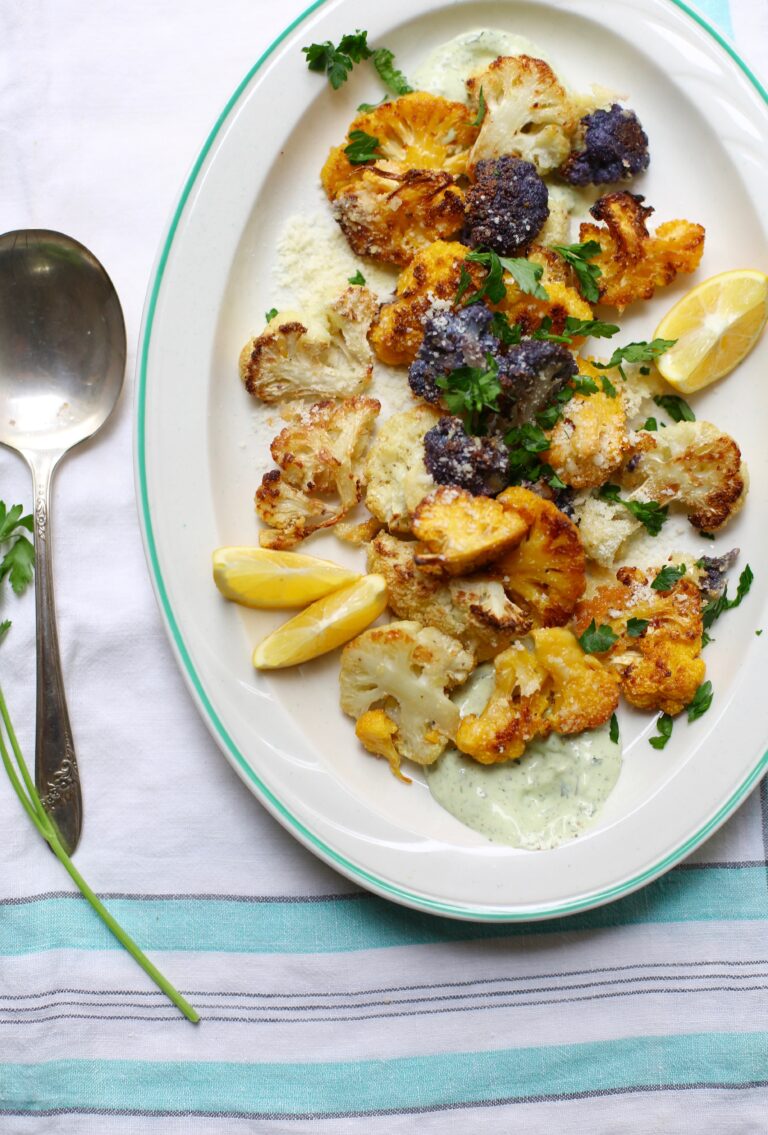 I'm SO in hibernation mode right now it's ridiculous.
Like, going to bed alarmingly early, sleeping in late, and being generally lazy when I am awake 🙂
And I don't feel guilty about it, either.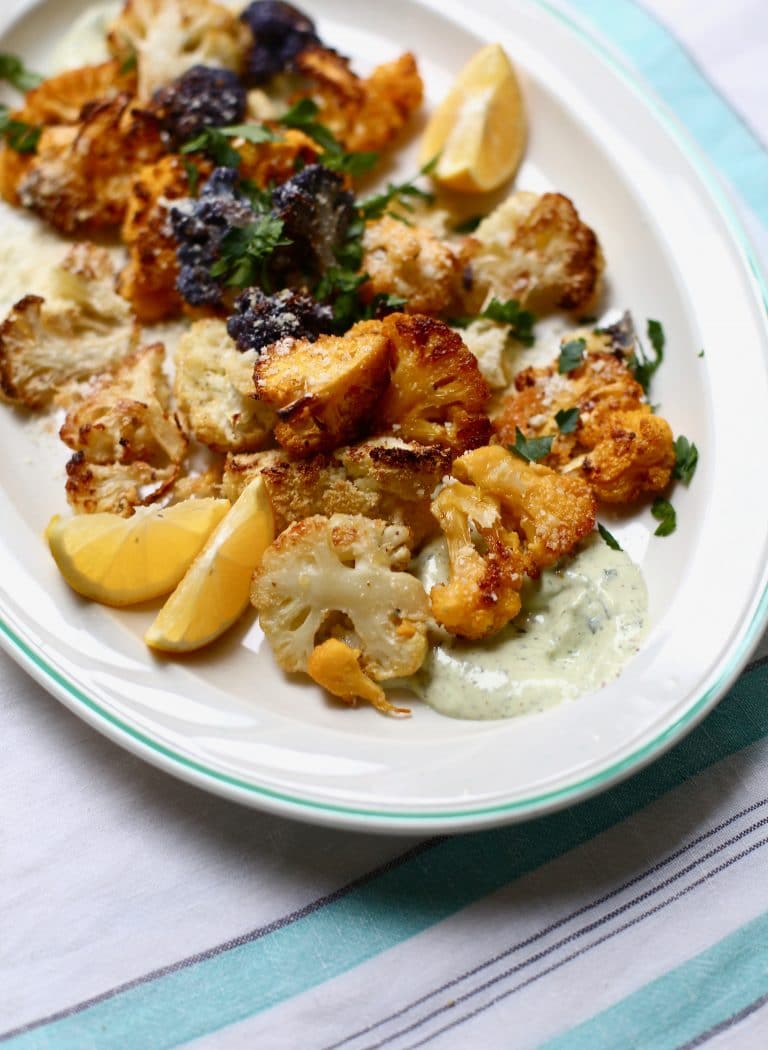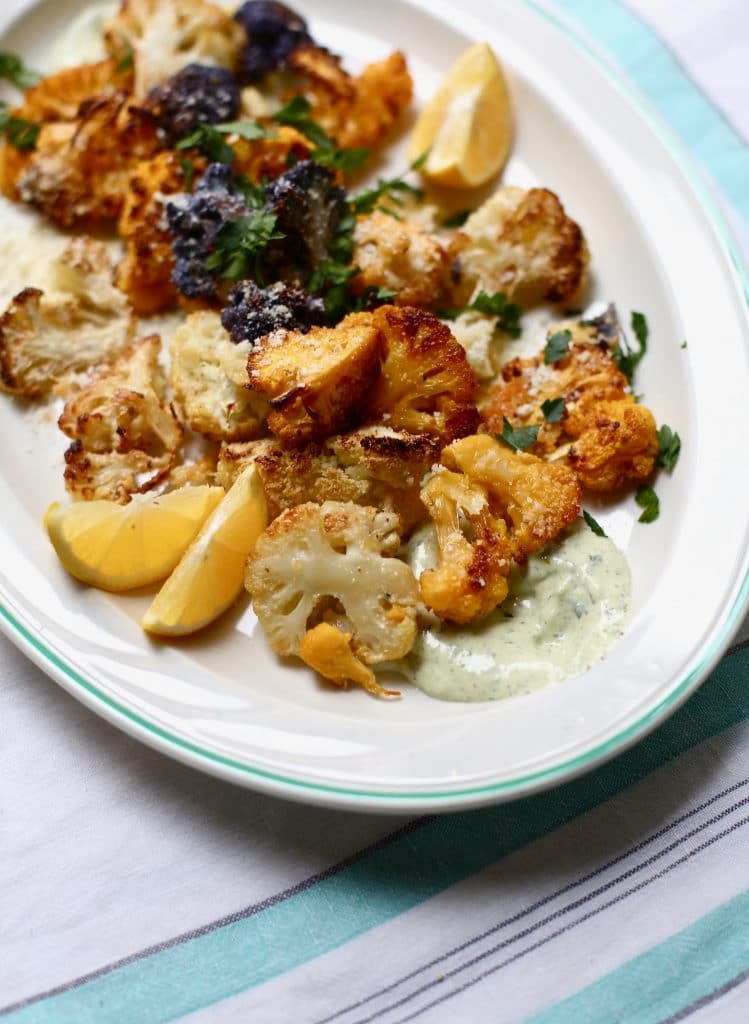 On wintry days like this, it's best to just surrender and turn on the oven for something indulgent like Parmesan Roasted Cauliflower.
I can hear you saying "yeah, right" all the way from here.
Can't we just make these chocolate chip cookies instead?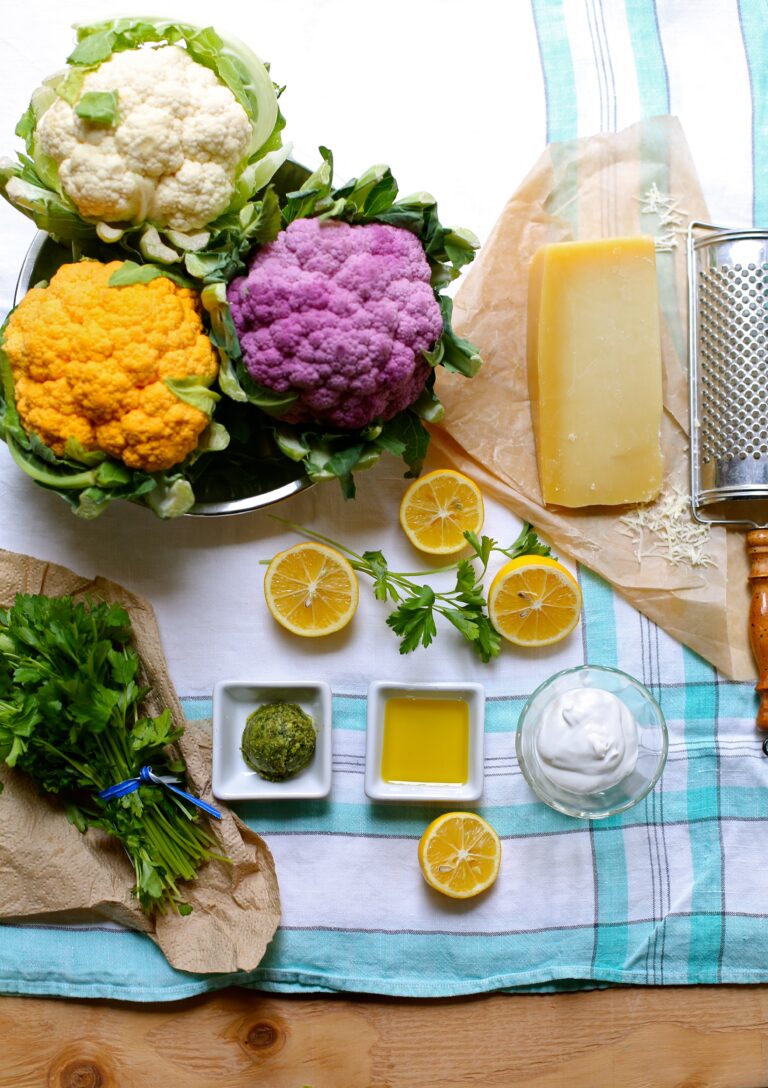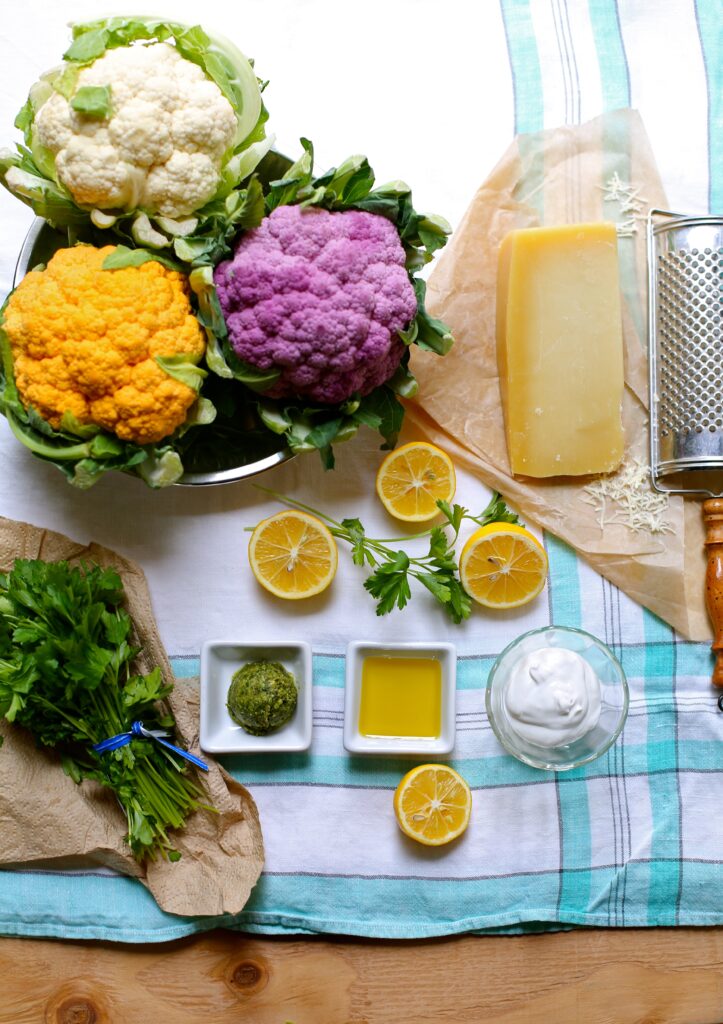 Strange things can happen when you feel rested.
For example, I busted out my watercolors and painted a few postcards just for fun.
Then there was an outing downtown where I walked around like a zombie with glazed eyes and wide-open mouth for about two hours.
I came home exhausted with a bag of crazy-shaped pasta and kitchen gadgets I don't need.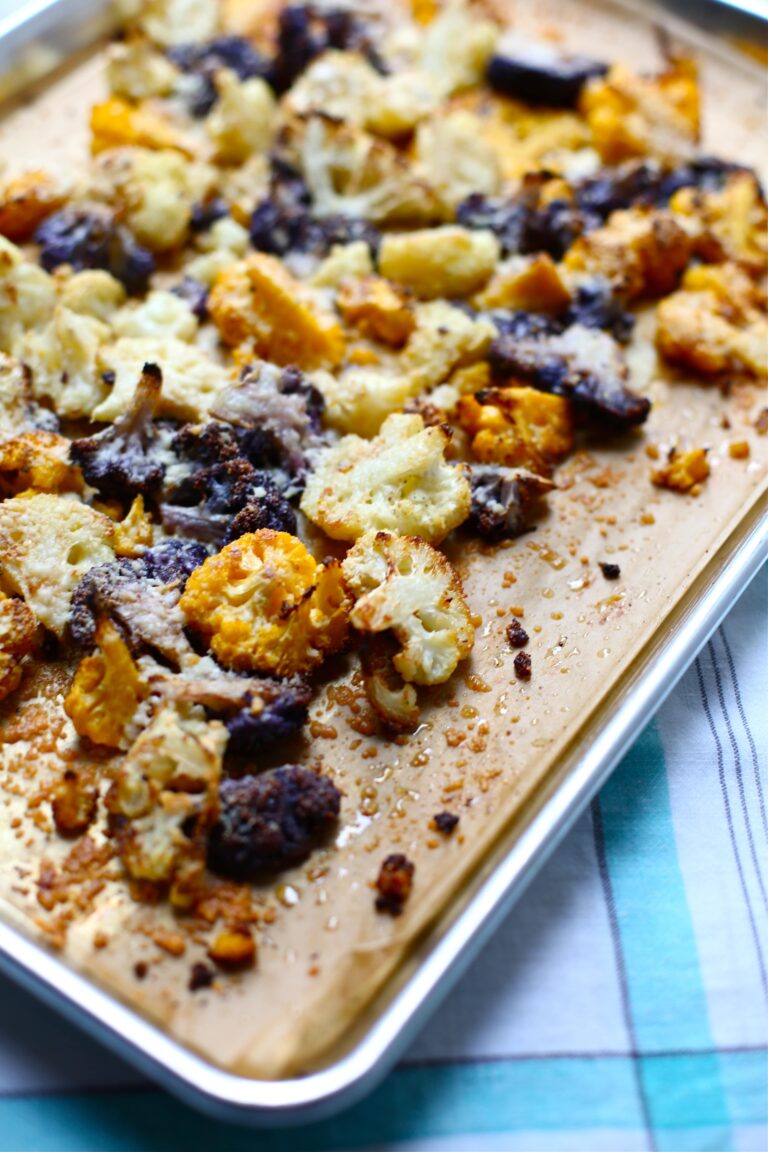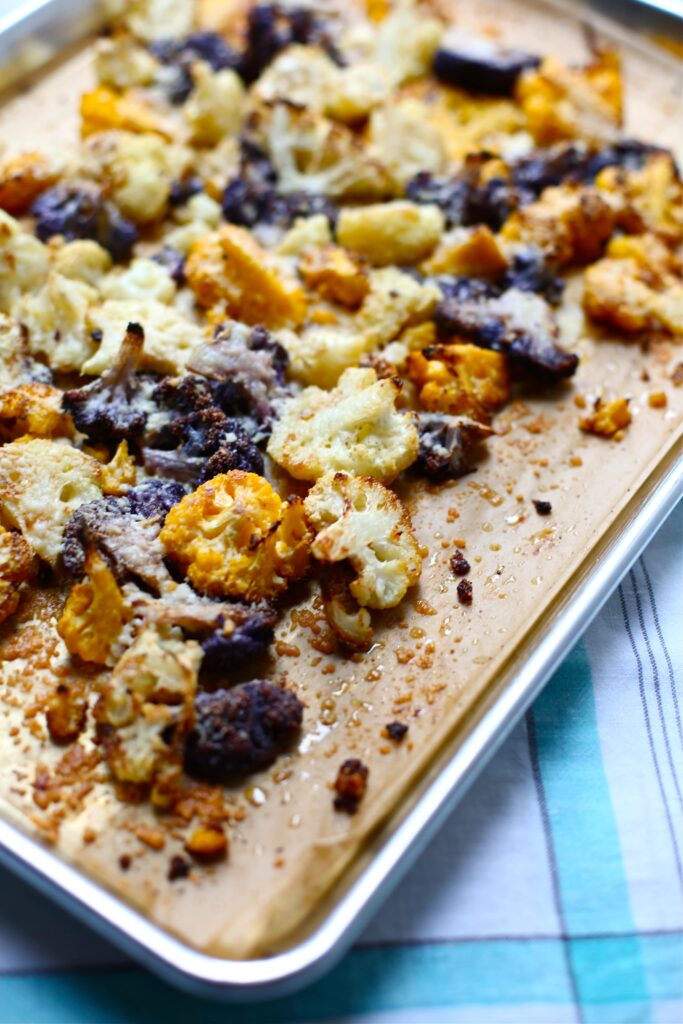 Cauliflower is surprisingly tasty and versatile, and if you aren't on the bandwagon with it yet, you should be.
This cheesy roasted version is nothing like the frozen stuff you boil in the bag with fluorescent cheese sauce.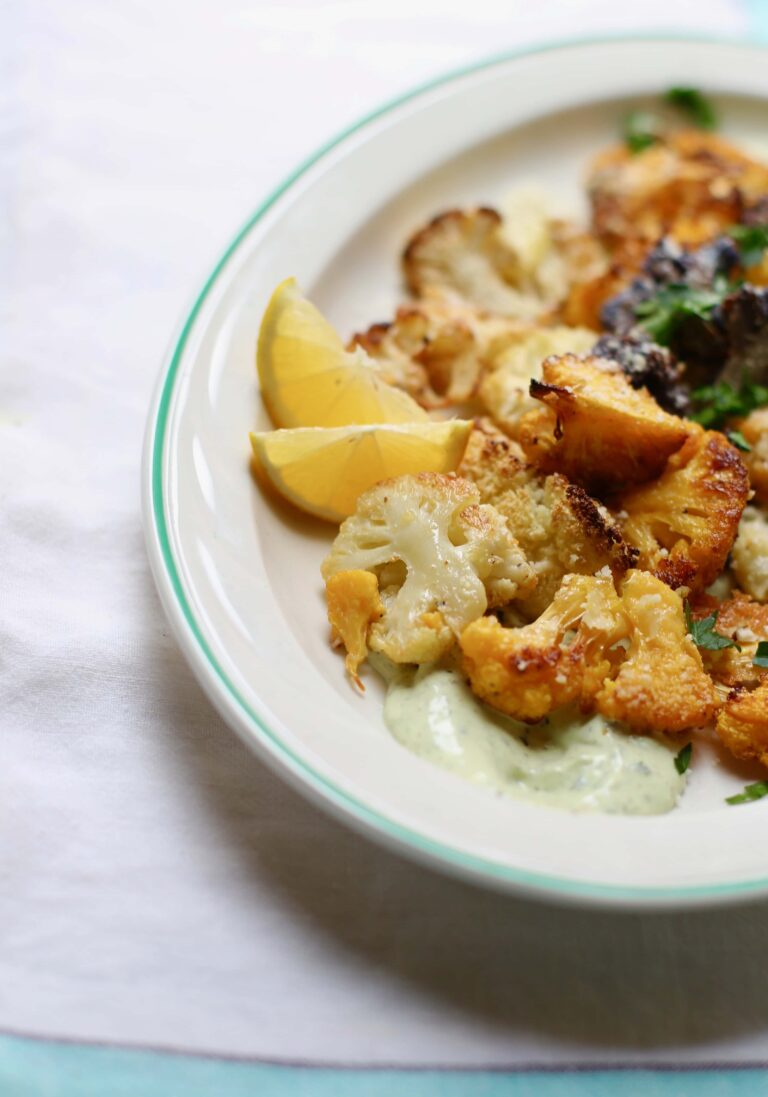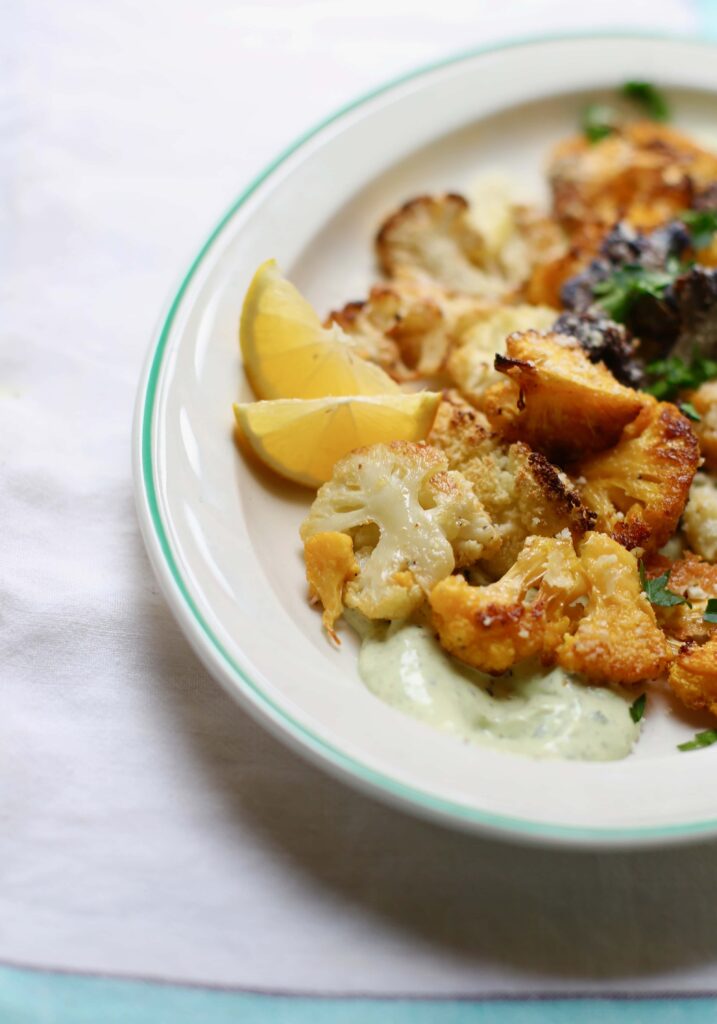 SO HOW DO YOU EVEN DEAL WITH A WHOLE HEAD OF CAULIFLOWER?
Yes, a whole head of cauliflower is scary, but it's easier than it looks 🙂
Try the colored varieties out now for fun!  Same flavor, looks nice too.
Just trim off the bottom leaves and stem, cut in half and into bite-sized florets.
Olive oil, cheese and some time in the oven yields an amazingly tasty result.
Roasting transforms vegetables like cauliflower into something new altogether. The cool contrast of plain yogurt spiked with pesto and fresh lemon served alongside is amazing.
PIN THIS RECIPE FOR LATER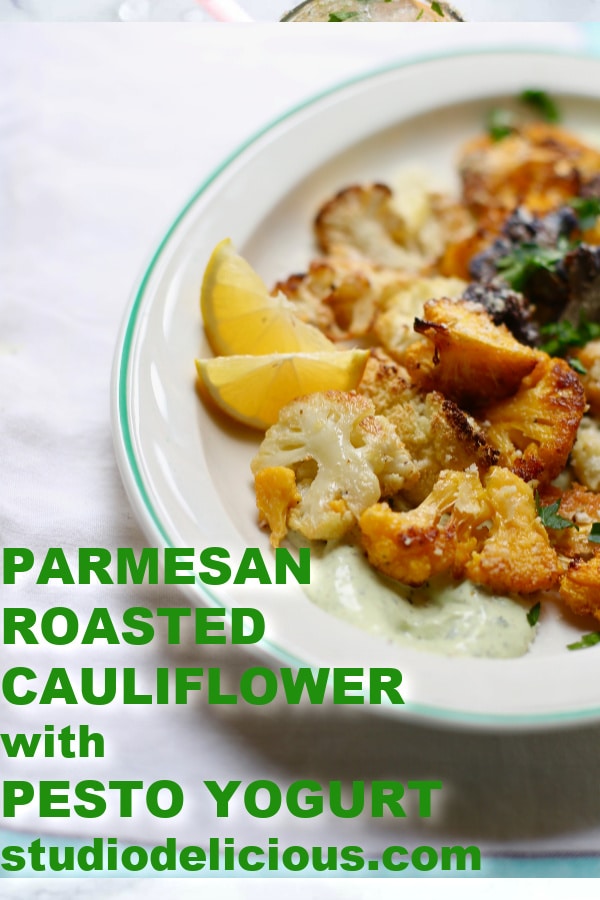 Ingredients
Makes 4-6 servings

Baking sheet lined with parchment paper

Three small heads tri-color cauliflower

alternatively, you can use all white if you prefer

1/2

cup

extra virgin olive oil

reserving two tablespoons

1

teaspoon

garlic powder

1

teaspoon

salt

Few generous grinds of pepper

I use Trader Joe's Lemon Pepper grinder

1/2

cup

freshly grated Parmesan cheese

plus more for serving

Fresh parsley

chopped finely for serving, about 2 tablespoons

Fresh lemon wedges

for serving

FOR THE PESTO YOGURT

1/3

cup

plain yogurt

preferably Greek style

Heaping tablespoon prepared pesto

Pinch

salt

Squeeze fresh lemon

a teaspoon or so
Instructions
Heat oven to 450 degrees, and position rack to lower third of oven.

PREPARE THE CAULIFLOWER

Trim the cauliflower, removing and discarding the stems. Reserve the florets, cutting the larger pieces in half.

In a large bowl, combine the cauliflower, the olive oil minus 2 tablespoons you'll use later, the garlic powder, salt and pepper and toss with your hands to coat and combine everything.

Transfer to a large baking tray lined with parchment paper and distribute evenly in a single layer across the baking sheet.

Roast for 35-40 minutes. Remove from oven and in sections, carefully turn the cauliflower over with a large spatula. Drizzle on the reserved 2 tablespoons of olive oil and carefully scoot the cauliflower to the middle of baking pan, keeping things in a single layer if possible.

Sprinkle with the Parmesan cheese and return to the oven for 6-8 minutes until the cheese is a light golden brown.

Remove from oven and serve with the pesto yogurt sauce, more Parmesan cheese, the fresh parsley and the lemon for squeezing on top just prior to eating.
SOURCE: Studio Delicious