These Boozy Fresh Cherry Blackbottom Milkshakes are a decadent way to celebrate summer weekends.  Oh, and you can totally skip the booze in these if you want, they'll still be awesome.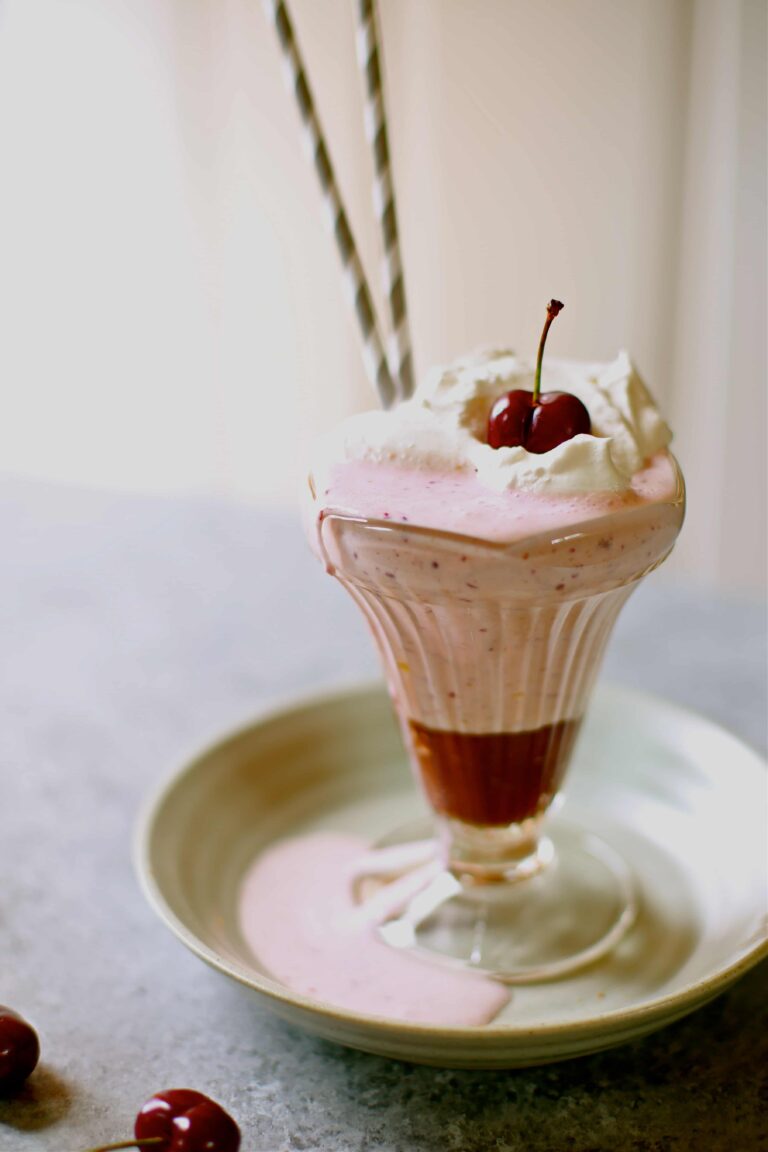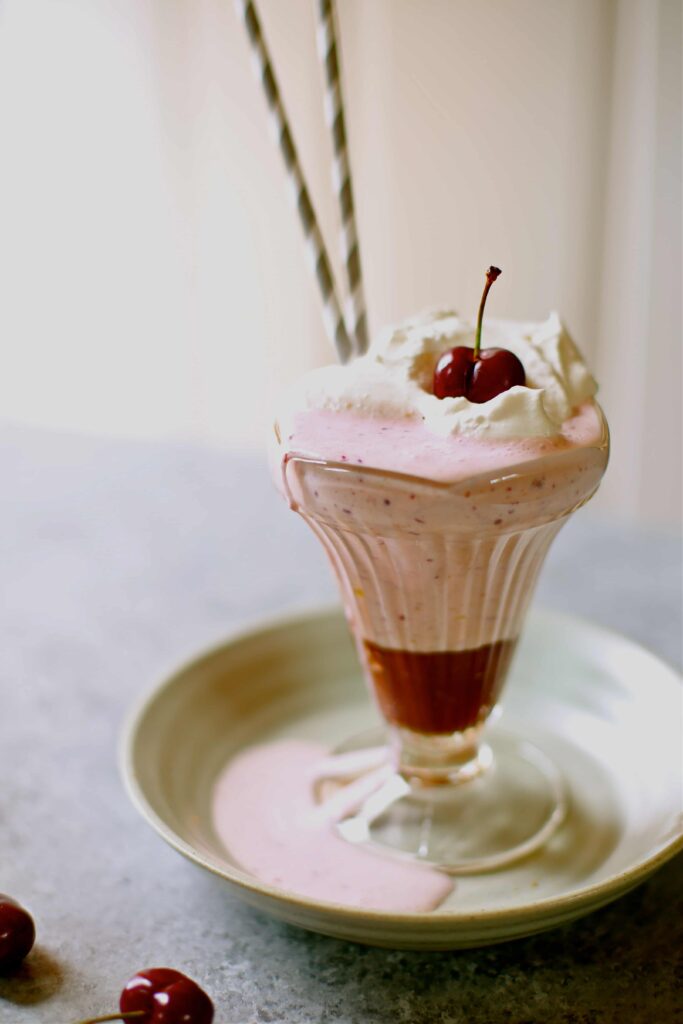 When I was sixteen years old, I worked at a fast food joint where they made milk shakes the real way.
There were two big mixers with six spindles on each – and heavy-duty stainless steel cups I'd fill half-way with soft serve vanilla ice cream.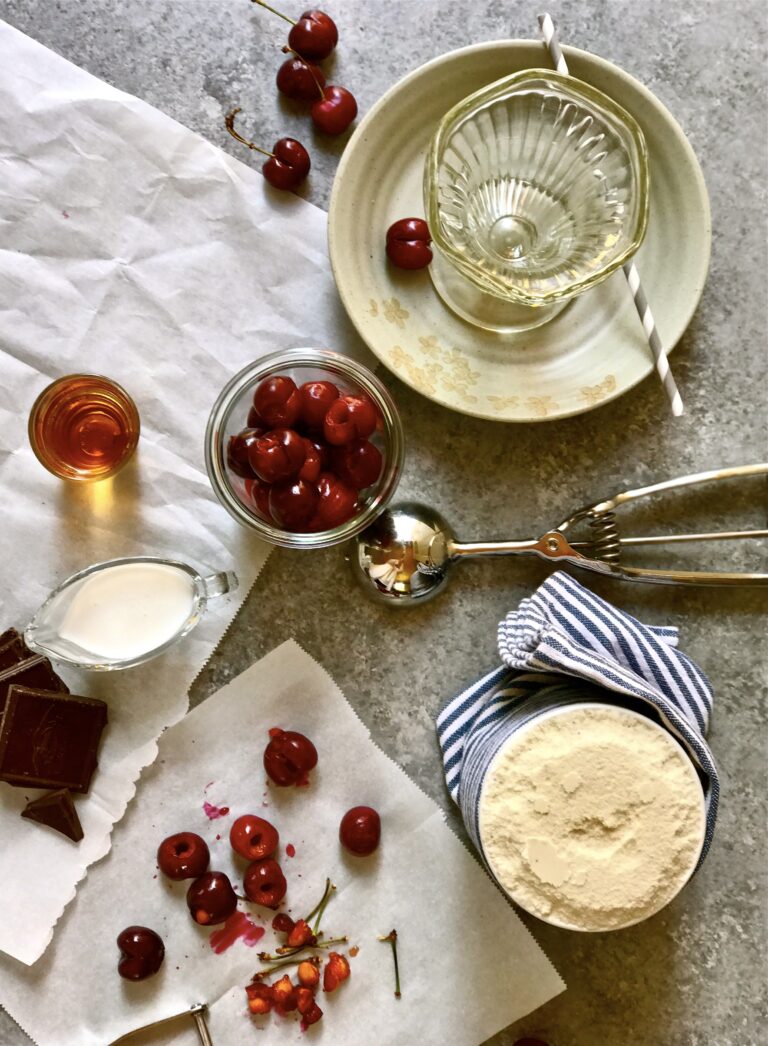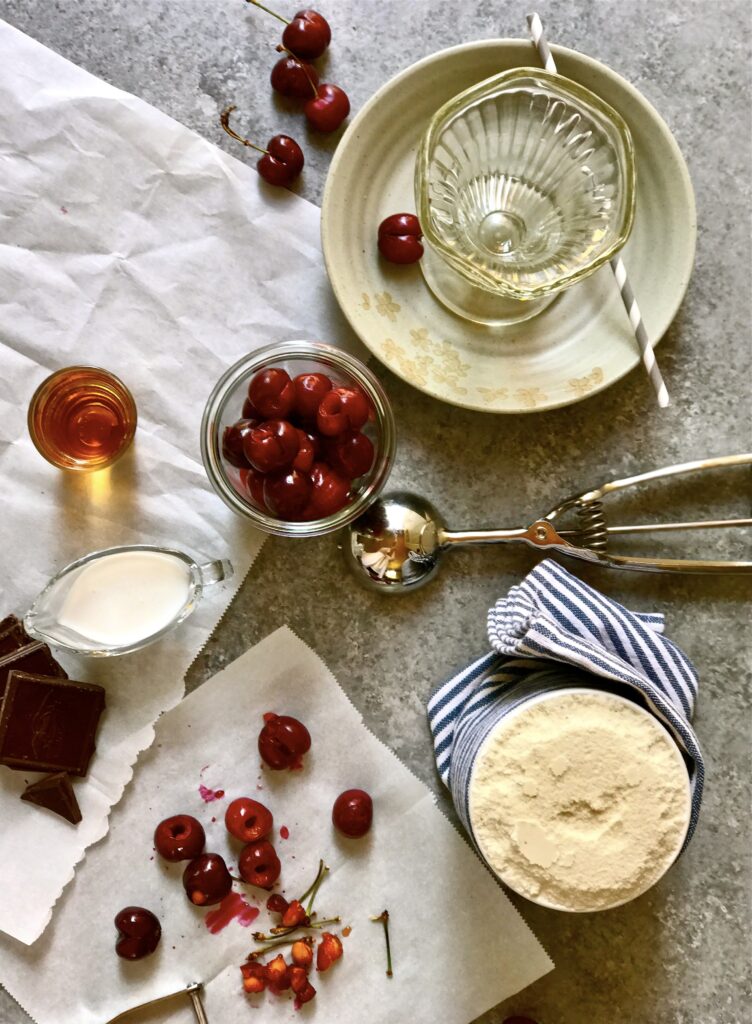 My job was to add a big scoop of fresh strawberry puree or a squirt of syrupy chocolate sauce and a little milk before attaching the cups on to the giant mixers.
These old-fashioned milkshakes took some time, but they were thick, cold and especially wonderful with a side of hot french fries.
I'm salivating just thinking about it.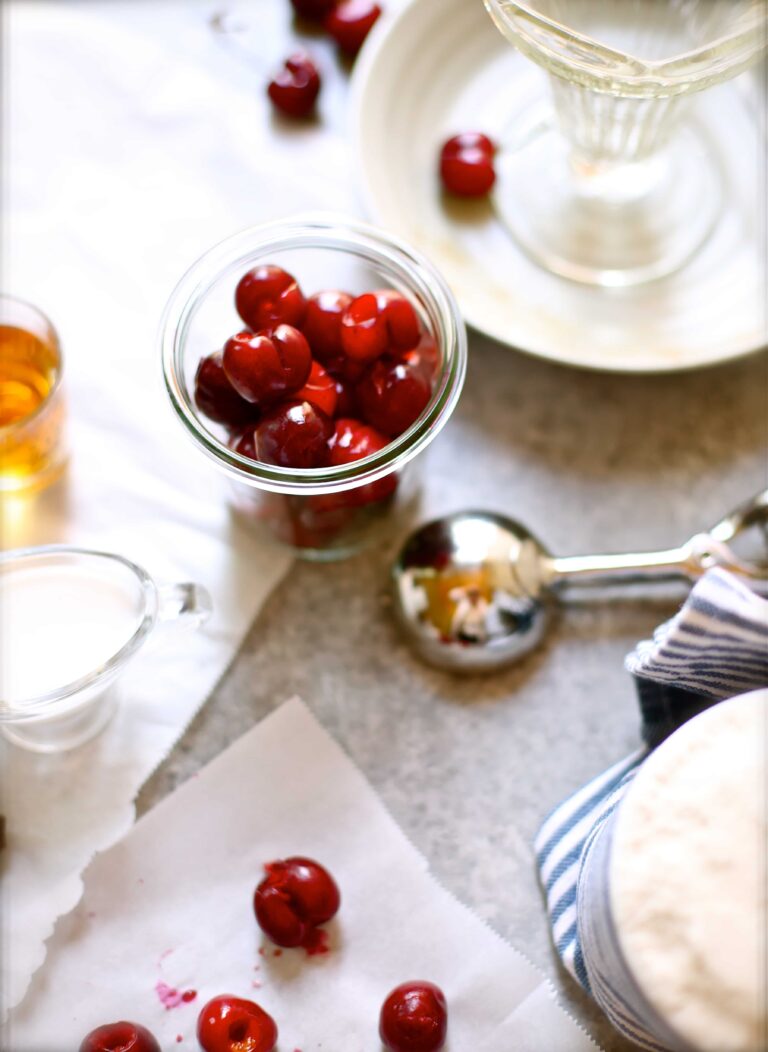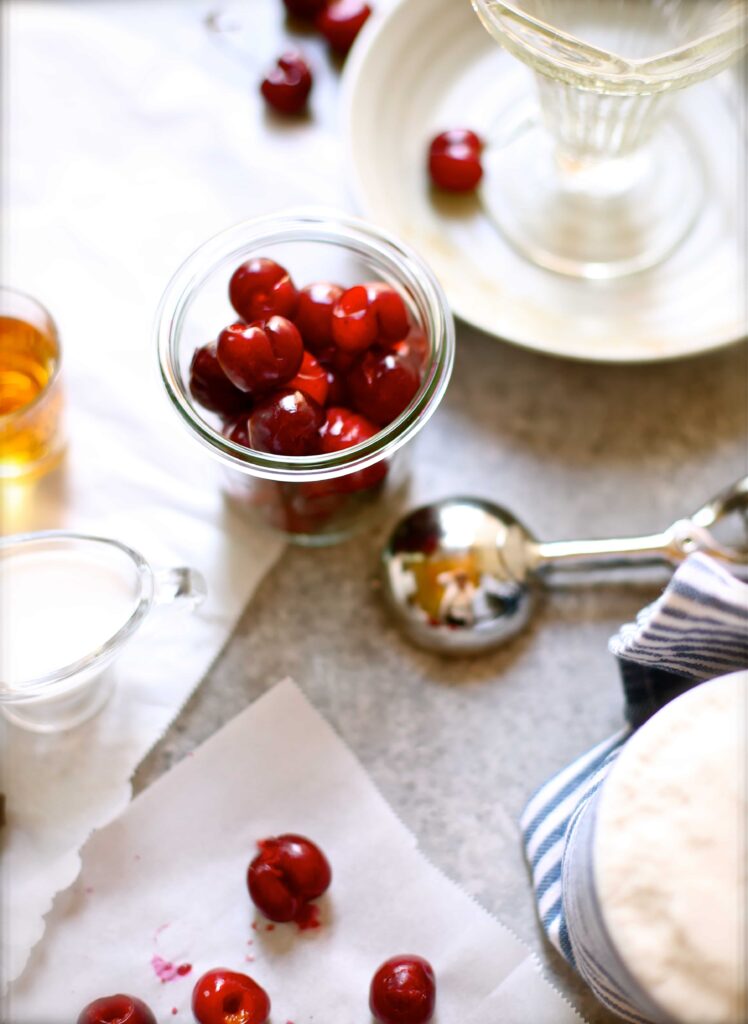 Every month there were special flavors—chunky fresh pineapple, mint chip, even eggnog.
I loved them all.
The part I hated was cleaning the machines after a big milkshake run- a huge pain in the neck – only to have them messed up when the restaurant got busy again.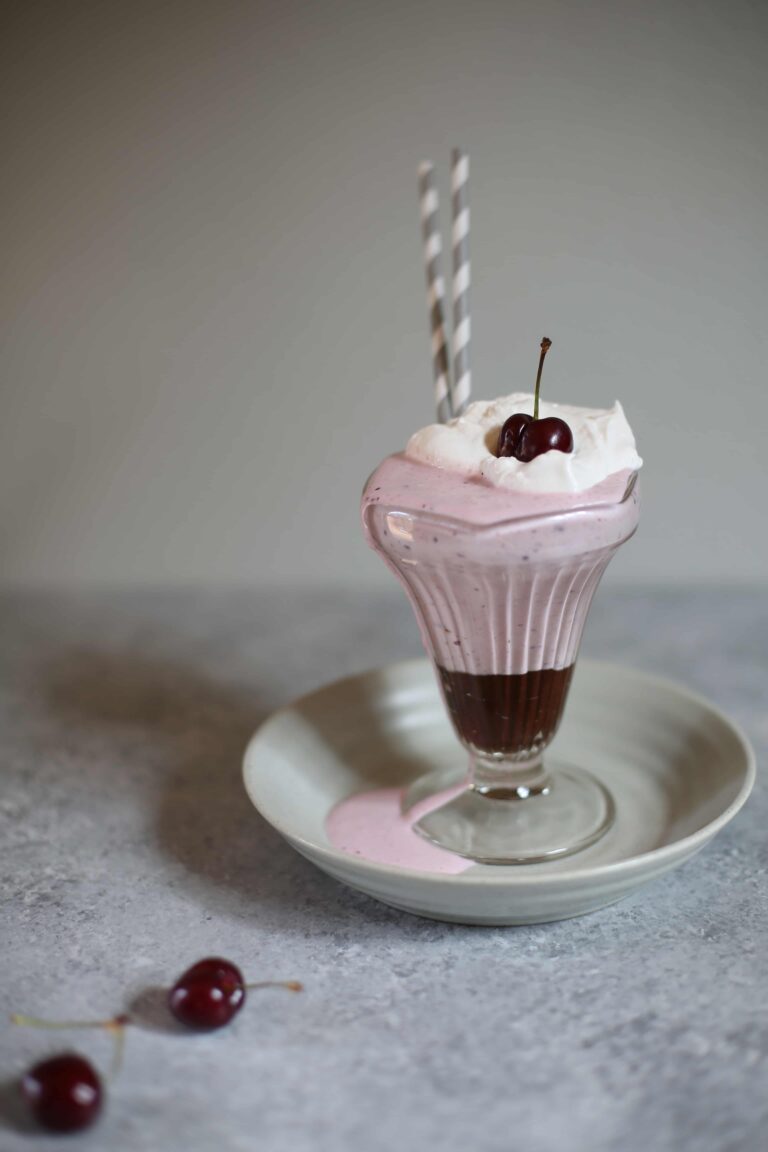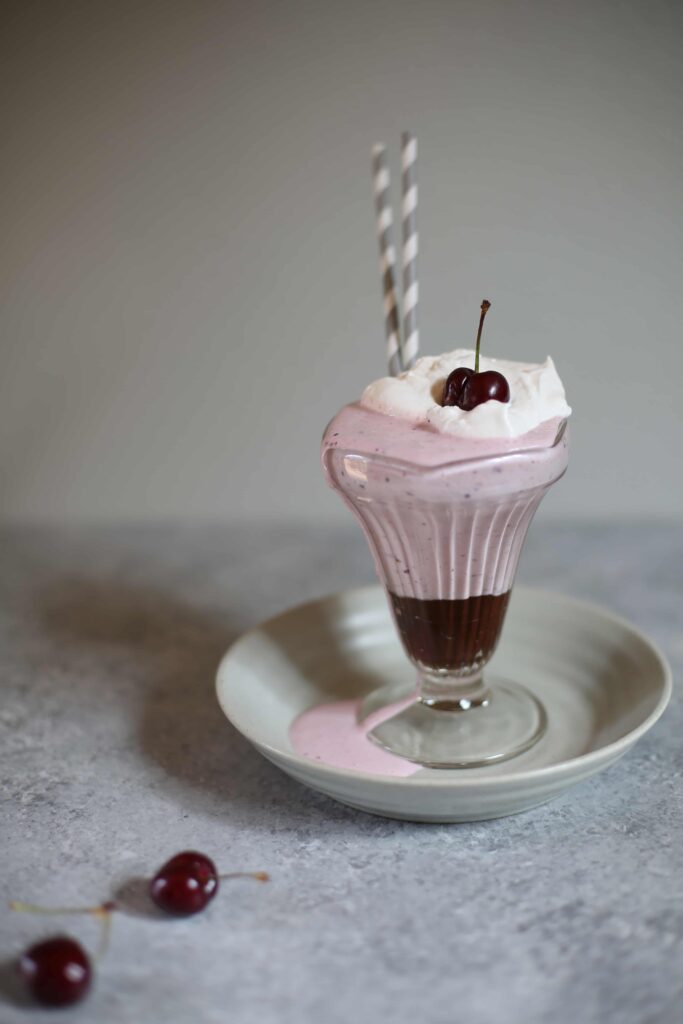 Then there was that time I didn't put the mixers on securely.
The milkshakes spun wildly out of control at a high rate of speed, flying all over my face, the walls, the french fry station and the guy flipping burgers behind me.
The boss did not like this.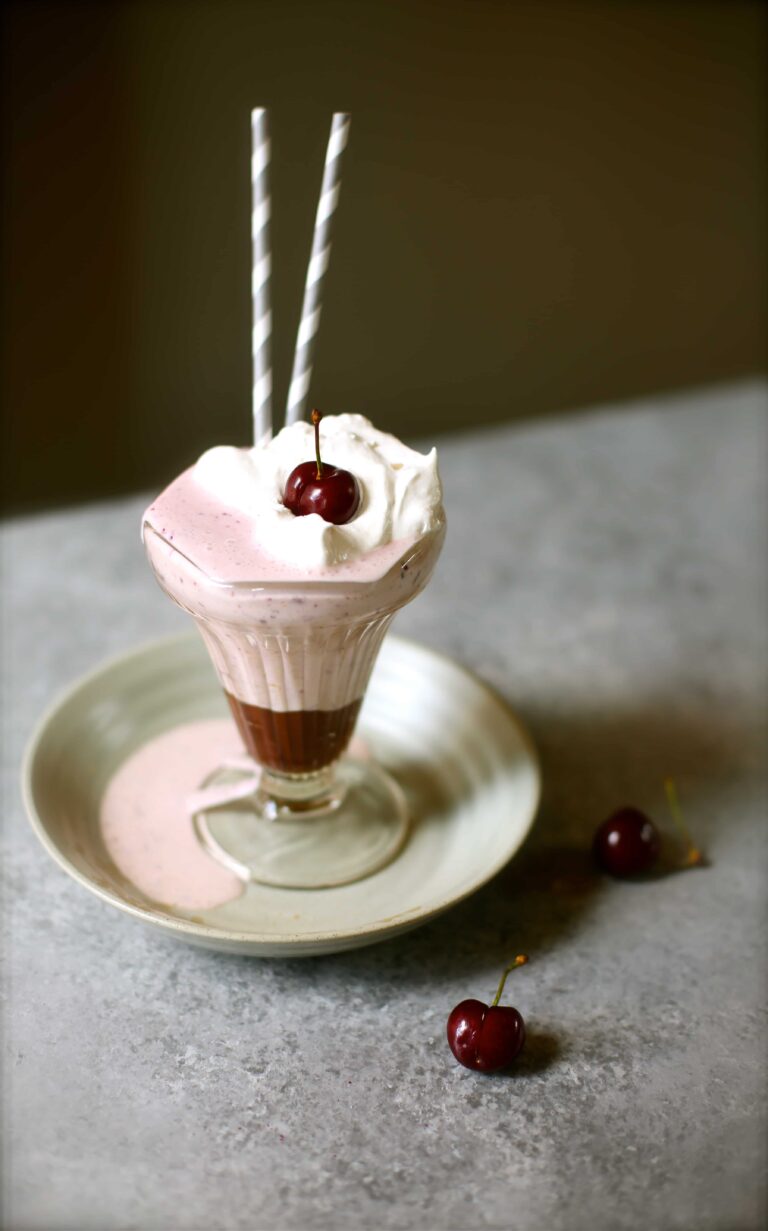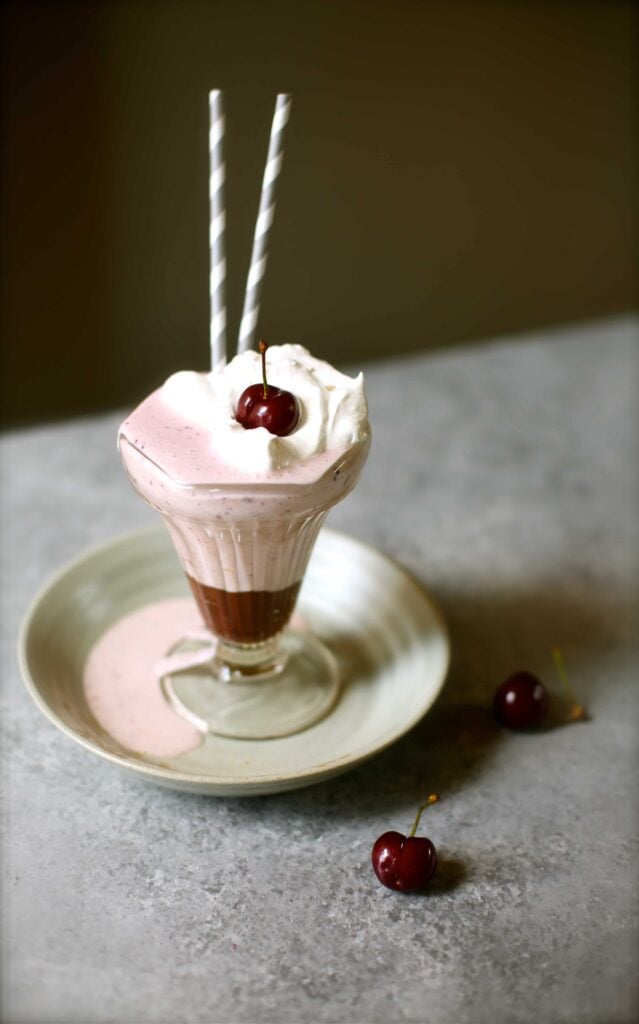 The little hit of booze in these is nice but totally optional, and adds an amazing depth of flavor.
My favorite part is the little puddle of soft chocolate ganache hiding patiently at the bottom.
Grab yourself a spoon for this part.  It's decadent and delightful, and worth a try on this long weekend.
Here's another recipe you might like – Dark Cherry Smoothies
Ingredients
Makes two big servings or four small

GANACHE

4

squares of chocolate - about 2 ounces. I used 60% bittersweet Ghirardelli brand

3

tablespoons

heavy cream

MILKSHAKE INGREDIENTS

3

cups

vanilla ice cream

1 1/2

cups

freshly pitted cherries

plus extra for garnish

1 1/2

ounces

of brandy

optional

1

cup

of milk

more if you like your shakes thinner (nut or coconut milks work fine here too)

1-2

teaspoons

honey

to taste

1/4

teaspoon

almond extract

2/3

cup

whipped topping for garnish
Instructions
MAKE THE GANACHE

In a small sauce pan, heat the cream until it bubbles on the sides and just simmers.

Place the chocolate squares in a small bowl and pour the cream over the top. Let it sit for five minutes, then whisk together with a fork until smooth.

MAKE THE MILKSHAKES

In a medium sized bowl, place the cherries and pour the brandy on top. Toss the two items together and let them sit for at least 30 minutes. If skipping the booze, just move forward and use the cherries as described in the next step.

Place the ice cream, the (brandied) cherries, the almond extract, honey and milk in a blender and process on high speed until smooth. Taste with a spoon to see if you'd like it a little sweeter (add more honey) or thinner (add more milk.)

In your serving glasses, divide the chocolate ganache on the bottom, and then pour the cherry milkshake over the top. Add about 1/3 cup of whipped topping to garnish, and another fresh cherry.

NOTE: I tried this using both coconut milk ice cream and regular cream and both versions were great.
PIN THIS RECIPE FOR LATER!