There's nothing like a great milkshake when the weather is warm, and Boozy Fresh Cherry Blackbottom Milkshakes are a decadent and clever dessert to serve your adult friends. A little brandy is totally optional, and besides the fresh cherry flavor, there's a surprise of soft chocolate ganache on the very bottom of the glass, just for fun!

Once upon a time, I made milkshakes after school at the local hangout. Back then, we made them the "real" way, with fresh strawberry puree, or heavy-handed squirts of thick chocolate sauce and whole milk, whizzed together on giant mixers.
These old-fashioned milkshakes took some time, but they were thick, cold and especially wonderful with a side of hot french fries. I'm salivating just thinking about it.
When the weather's warm, a decadent milkshake really hits the spot, because:
Hello, booze! 🙂 It's totally optional, but adds an amazing depth of flavor and a big shot of fun.
If this weren't enough, there's a little puddle of soft chocolate ganache hiding patiently at the bottom, so grab a spoon.
This shake has a delightful cherry flavor and is super decadent…..yes yes yes!
Ingredients for this Recipe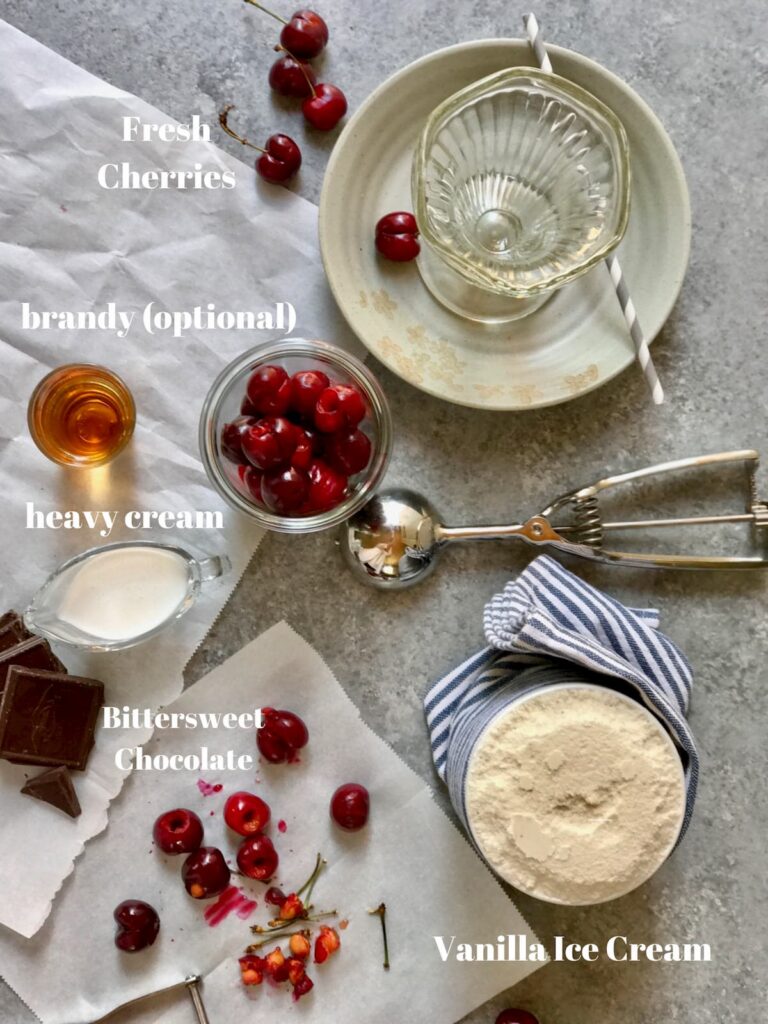 Bittersweet Chocolate: Just 2 ounces are needed, which we'll use to make the ganache (soft chocolate) for the bottom of each glass.
Heavy Cream: Also for the ganache, which is just a soft, chocolate filling or topping (with many other uses btw.)
Vanilla Ice Cream: Can't make a milkshake without this!
Cherries: Pitted fresh which is easy to do! Just wash the cherries, remove the stem, make a small knife cut on the side of the cherry and pop the pit out with your fingers. Save a few whole cherries for garnish.
Brandy: Just a shot, which is totally optional but really fun as a dessert for the adults 🙂
Milk: Another key ingredient….use non-dairy milk and cream if you like.
Honey: For a little extra sweetness.
Almond extract: Just a touch, and if you don't have it and don't want to buy it, just use pure vanilla extract.
Whipped Topping: To top off each glass for extra deliciousness.
How to Make this Recipe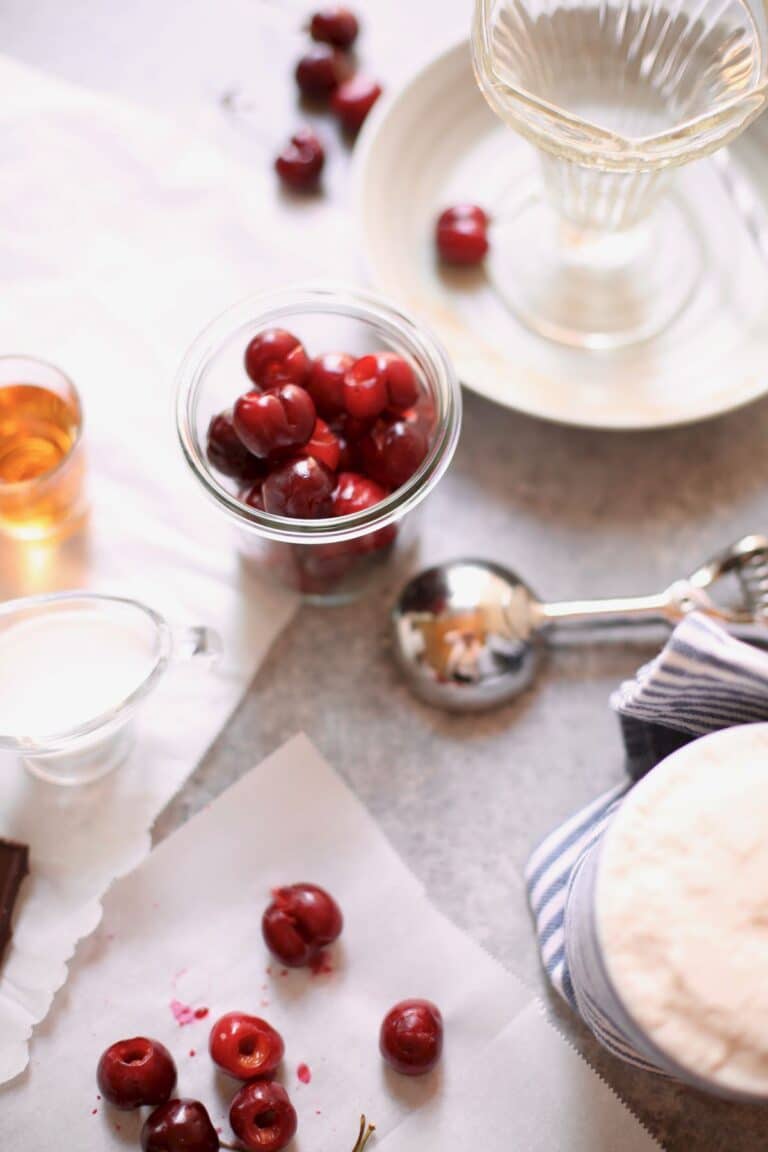 Step 1: Make the ganache by simply heating the cream in a saucepan and pouring it over the chocolate squares in a small bowl. Done and done (except for some stirring after it sits.)
Step 2: Place the pitted cherries in a bowl and pour the brandy on top. Let this wonderfulness sit and marinate for about 30 minutes.
Step 3: Make the milkshakes by putting the ice cream, cherries, milk, honey and almond extract in a blender and process on high until smooth. Add more honey if you like it sweeter. Add more milk, a little at a time if it's too thick.
Step 4: Divide the chocolate ganache into the bottom of each serving glass.
Step 5: Pour the cherry milkshake on top and garnish with whipped cream and fresh cherries and enjoy!
Tips and Serving Ideas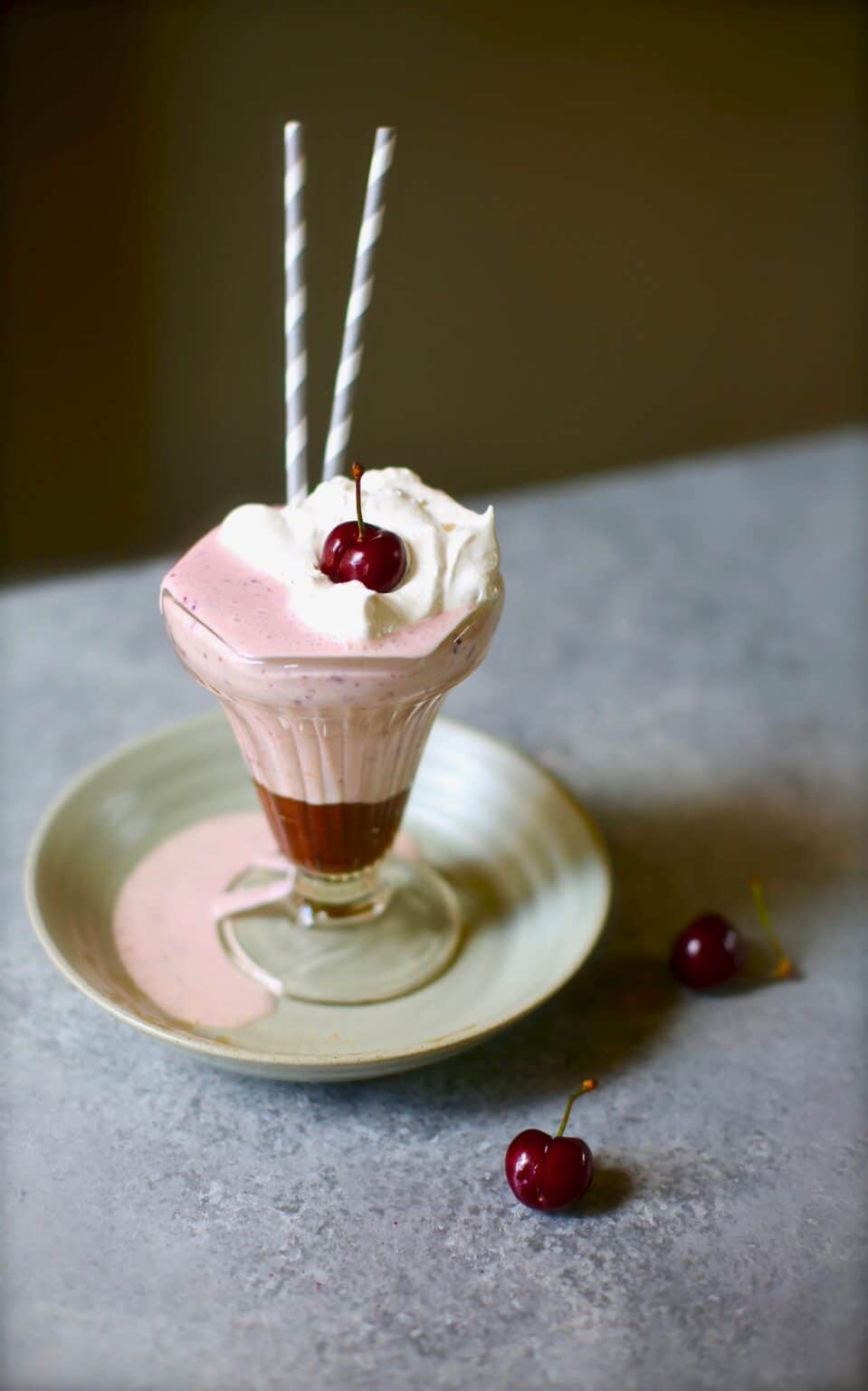 I used Ghirardelli bittersweet chocolate baking bar (squares) for this recipe
Frozen pitted cherries work great instead of fresh, just defrost for about 30 minutes first.
You can leave the alcohol out of this shake completely…it's delish both ways!
Make this recipe into two larger servings instead of four, or double the recipe for eight servings
Use best-quality vanilla ice cream in this recipe…. you won't regret it 🙂
Shakes too thick? Just add a little more milk!
Pure vanilla extract is fine instead of almond extract
You can swap regular ice cream, milk, heavy cream and whipped topping for non-dairy versions of each in this recipe
Serve the shakes in disposable glasses on a big tray for BBQ's and cookouts…make a non-alcoholic version for the kids. Serve with plenty of spoons for the chocolate on the bottom 🙂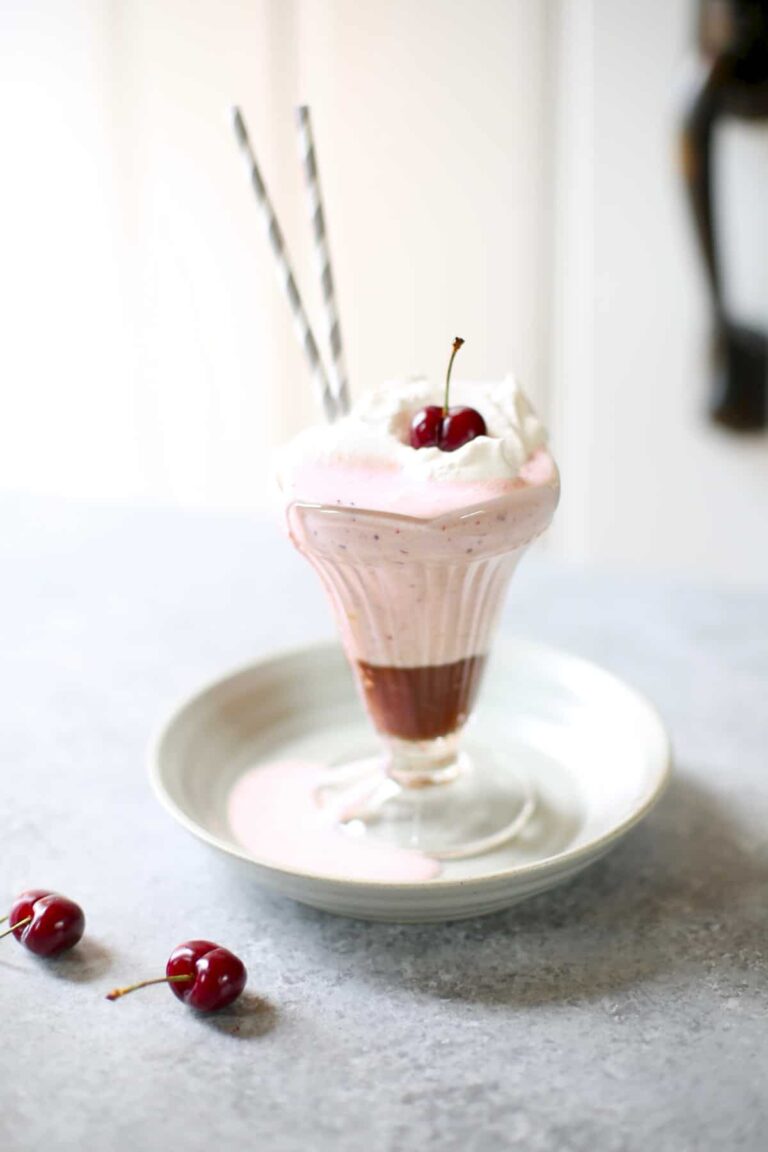 More recipes to try:
Roasted Nectarines with Caramel Sauce
Ice Cream Cake with Peanut Butter Ganache
Frozen Pineapple Nectarine Slushee
If you've tried Boozy Fresh Cherry Blackbottom Milkshakes, or any other recipe on Studio Delicious, I'd love to hear from you in the comments below!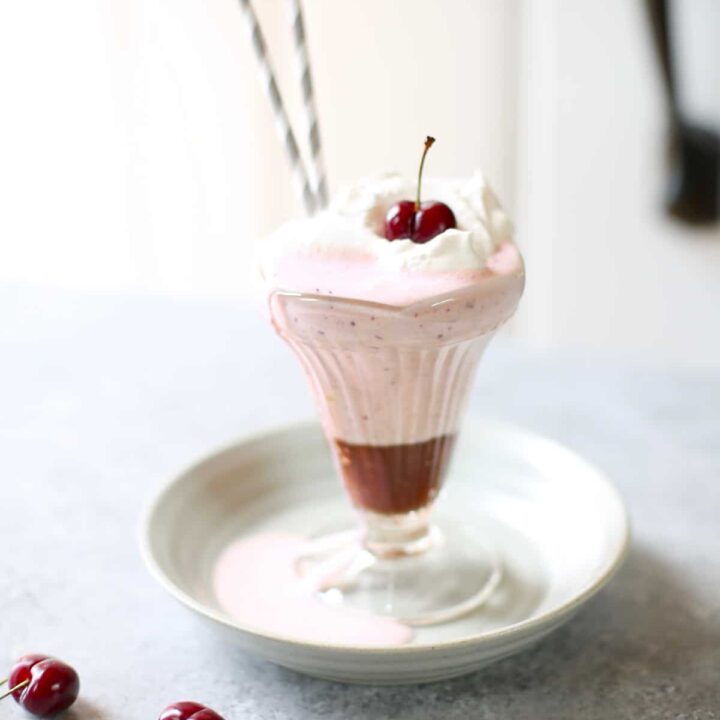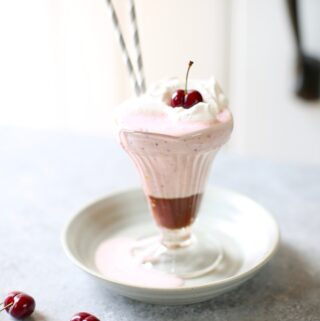 Boozy Fresh Cherry Blackbottom Milkshakes
Boozy Fresh Cherry Blackbottom Milkshakes are a decadent and clever adult dessert!
Print
Pin
Rate
Ingredients
2

ounces

Bittersweet Chocolate (60% cocao)

3

tablespoons

Heavy Cream

3

cups

Vanilla Ice Cream

1 1/2

cups

Cherries, fresh or frozen, pitted

plus extra for garnish

1 1/2

ounces

Brandy

optional

1

cup

Milk

2

teaspoons

Honey

1/4

teaspoon

Almond Extract

2/3

cup

Whipped Topping, for garnish
Instructions
MAKE THE GANACHE

Heat the cream in a small saucepan until it bubbles and simmers and is heated all the way through but not boiling.

Place the chocolate squares in a small heat-proof bowl Pour the warm cream over the top. Let this sit for five minutes, then whisk the ingredients together with a fork or whisk until it's smooth.

Place the pitted cherries in a medium-sized bowl and pour the brandy on top, stir it together and let the mixture sit for 30 minutes to marinate.

MAKE THE MILKSHAKES

Place the ice cream, brandy-soaked cherries, milk, honey and almond extract in a blender Process on high speed until smooth. Add a bit more honey for sweetness or more milk if too thick at this point.

Divide the chocolate ganache on the bottom of your serving glasses. Pour the cherry milkshake over the top. Add 1/3 cup of whipped topping and another cherry to garnish
Notes
I used Ghirardelli bittersweet chocolate baking bar (squares) for this recipe
You can leave the alcohol out of this shake completely...delicious both ways!
You can make this recipe into 2 larger servings instead of 4, or double the recipe for 8 servings
Use best-quality vanilla ice cream here, you won't regret it 🙂
Shakes too thick? Add a little more milk!
You can swap regular ice cream, milk, heavy cream and whipped topping for non-dairy versions of each in this recipe
Nutrition
Calories:
450
kcal
|
Carbohydrates:
48
g
|
Protein:
7
g
|
Fat:
23
g
|
Saturated Fat:
14
g
|
Cholesterol:
68
mg
|
Sodium:
120
mg
|
Potassium:
486
mg
|
Fiber:
3
g
|
Sugar:
41
g
|
Vitamin A:
736
IU
|
Vitamin C:
4
mg
|
Calcium:
232
mg
|
Iron:
1
mg
Tips for Success with Every Recipe
Super important to read the whole recipe before you begin
Pay attention to the ingredient list and photos for the recipe
If possible, prep your ingredients a little before you start
Always use a sharp knife for safety
Use the size of pan called for in the recipe
For savory recipes, taste and season as you go
Buy fresh, organic ingredients, locally sourced whenever possible
This recipe was originally published May 2018 and was updated with new tips and content in June 2020