Here's a fantastic homemade version of the Chick Fil A Kale Salad Recipe – a delicious mix of sliced apples, caramel crunch nuts and lots of flavor.
Jump to:
Why You'll Love This Recipe
We've all had a kale salad recipe or two by now, and they aren't always that exciting. I rarely go to fast food restaurants, but this kale crunch side salad gets a lot of buzz, and is a great option (to eat with some french fries as part of my "healthy diet" lol) so I thought put my two cents in, and turns out it's a healthy option too.
It's not hard to make this copycat recipe, in fact, it's really simple, and so tasty! Here's some good reasons to give it a try:
This salad is really like a kale/ caramel crunch nuts/ fresh apple salad, with lots of textures and great flavors.
This salad is easy to customize with other ingredients based on personal preference, and great if you meal plan for lunches during the week.
The tangy, fresh salad dressing is ridiculously easy and shakes up in a mason jar. The great thing is, it lasts for a week in the refrigerator.
If you love salad like I do, bookmark this Italian Green Bean Salad for later, this Broccoli Salad Recipe without Bacon, and also this Superfood Salad, which is hearty and healthy!
Ingredients You'll Need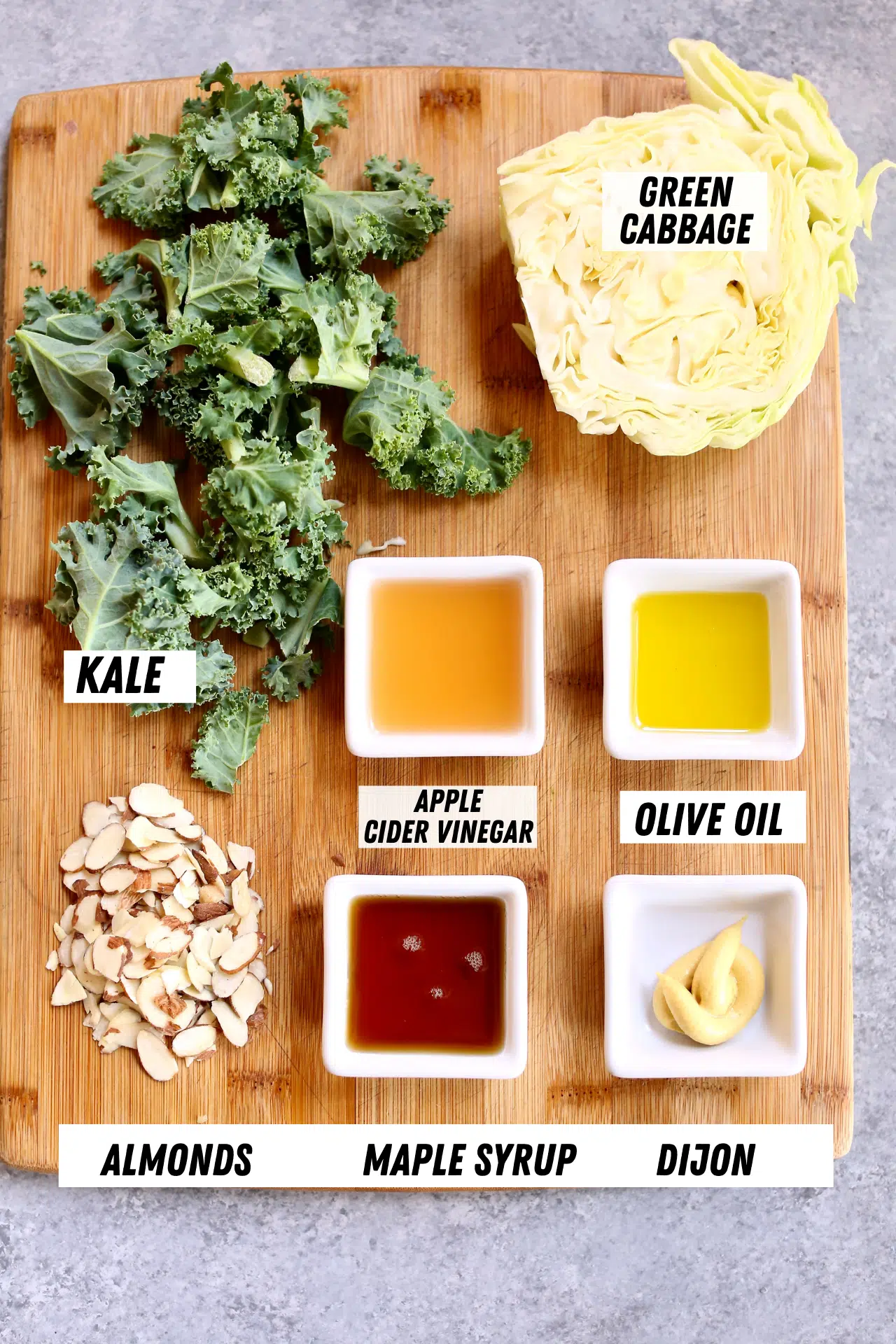 For the full recipe and list of ingredients, please scroll to the recipe card below.
Kale: Lacinato kale is used here and is common in most grocery stores.
Green Cabbage: Just a bit, and thinly sliced.
Apple Cider Vinegar: For the tangy dressing.
Olive Oil: Extra virgin if possible.
Almonds: The sliced variety, and we'll need a little sugar too.
Pure Maple Syrup: For the flavorful dressing.
Dijon Mustard: To make the Dijon mustard vinaigrette.
Step-By Step Instructions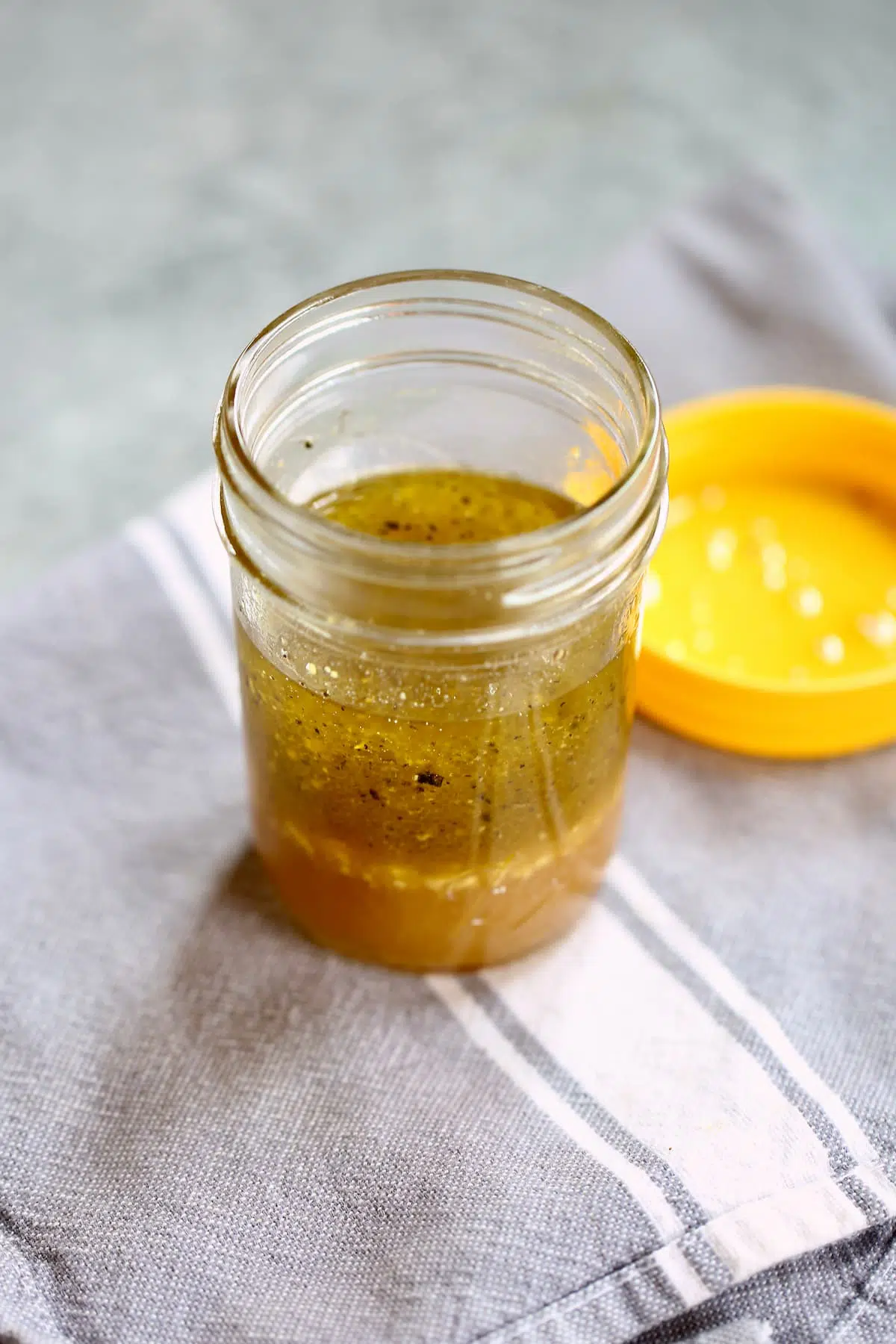 First, make a quick & delicious salad dressing.
Here's how:
Put the Dijon mustard, pure maple syrup, apple cider vinegar, salt & black pepper and olive oil in a small glass jar with a well-fitted lid. Or use a small bowl.
Give it a good shake. Add the greens to your salad bowl and drizzle a little on top.
This dressing will stay fresh in the refrigerator for up to a week, just shake it well before using.
Tips for Quick Candied Almonds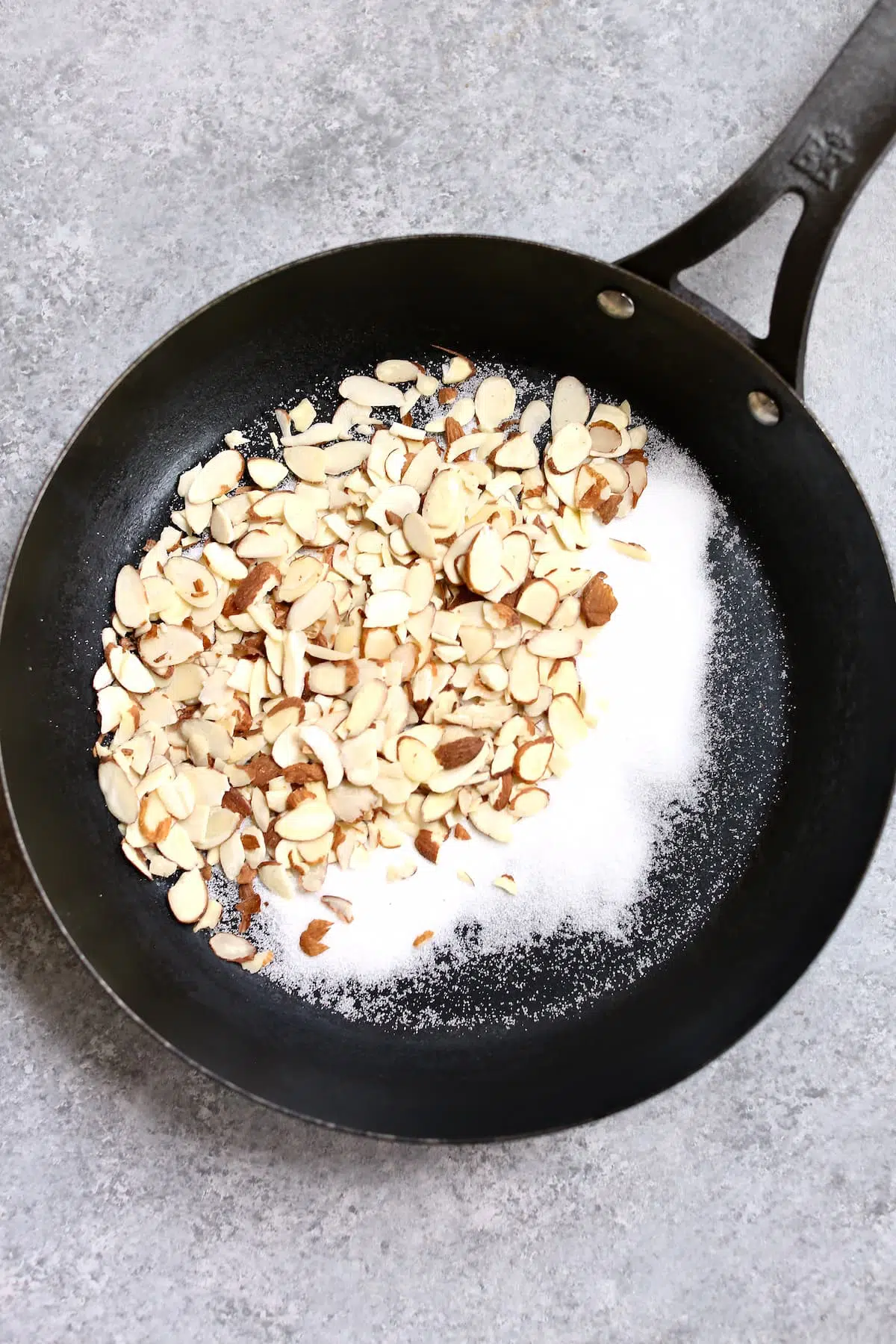 Next, make the candied caramel crunch almonds. Don't worry, this is quick, and trust me when I say these nuts are worth the price of admission… they're that good.
Prep a baking sheet with a piece of parchment paper before you begin.
Use a non-stick or cast iron skillet, add the sugar and almonds.
Turn the heat to medium high, (and don't go anywhere).
When the sugar starts to melt, toss with a wooden or silicone spoon.
Keep watching and waiting and stirring occasionally for a full minute or so. As the edges start to get golden brown, pull the skillet off the heat and keep stirring. It will continue to cook off the heat, and the sugar will have completely melted into a clear puddle in the pan.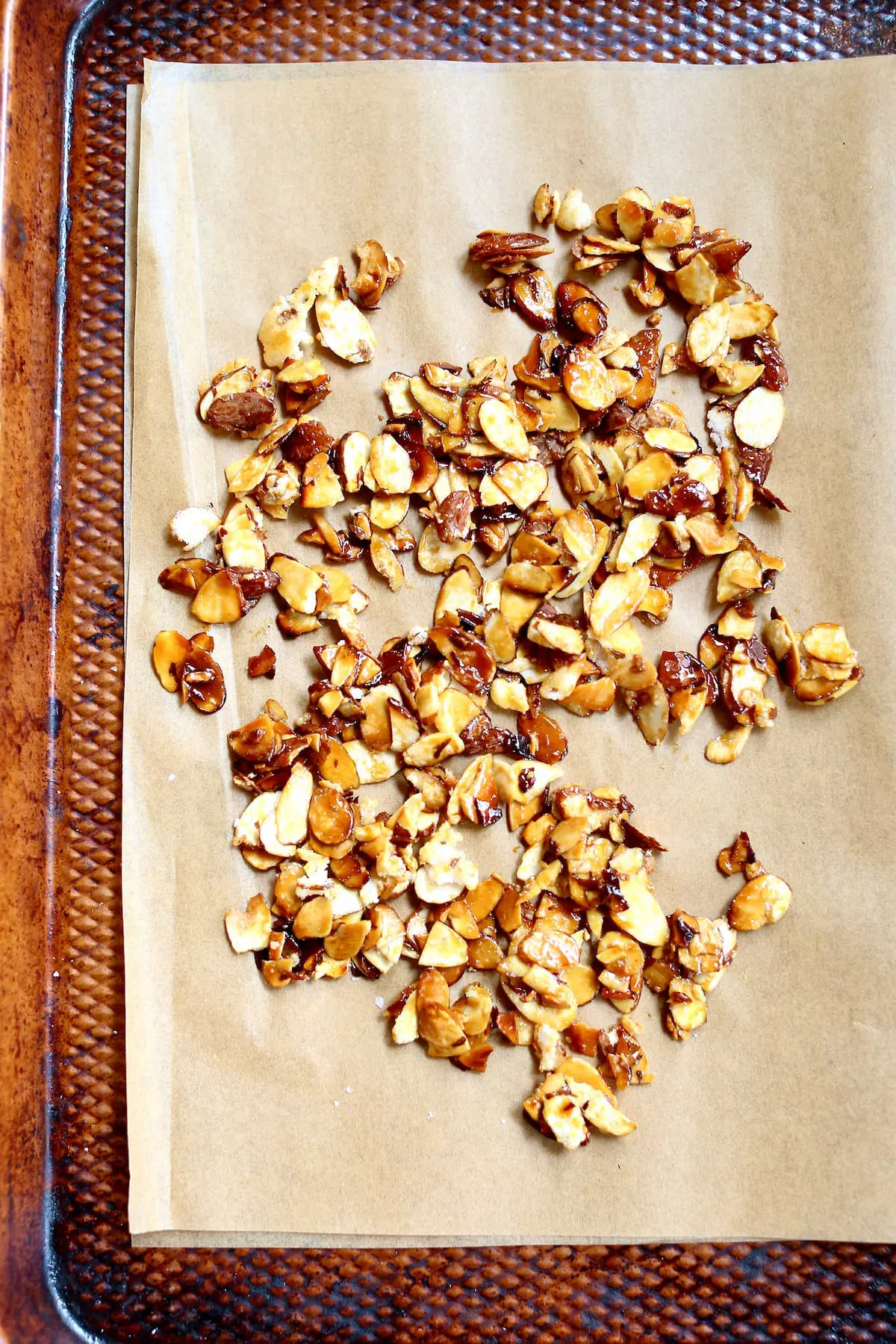 Pour the mixture onto the baking sheet and let it sit and harden for about 10 minutes. Then break it up and sprinkle on your kale salad! So easy!
Tips for Assembling the Salad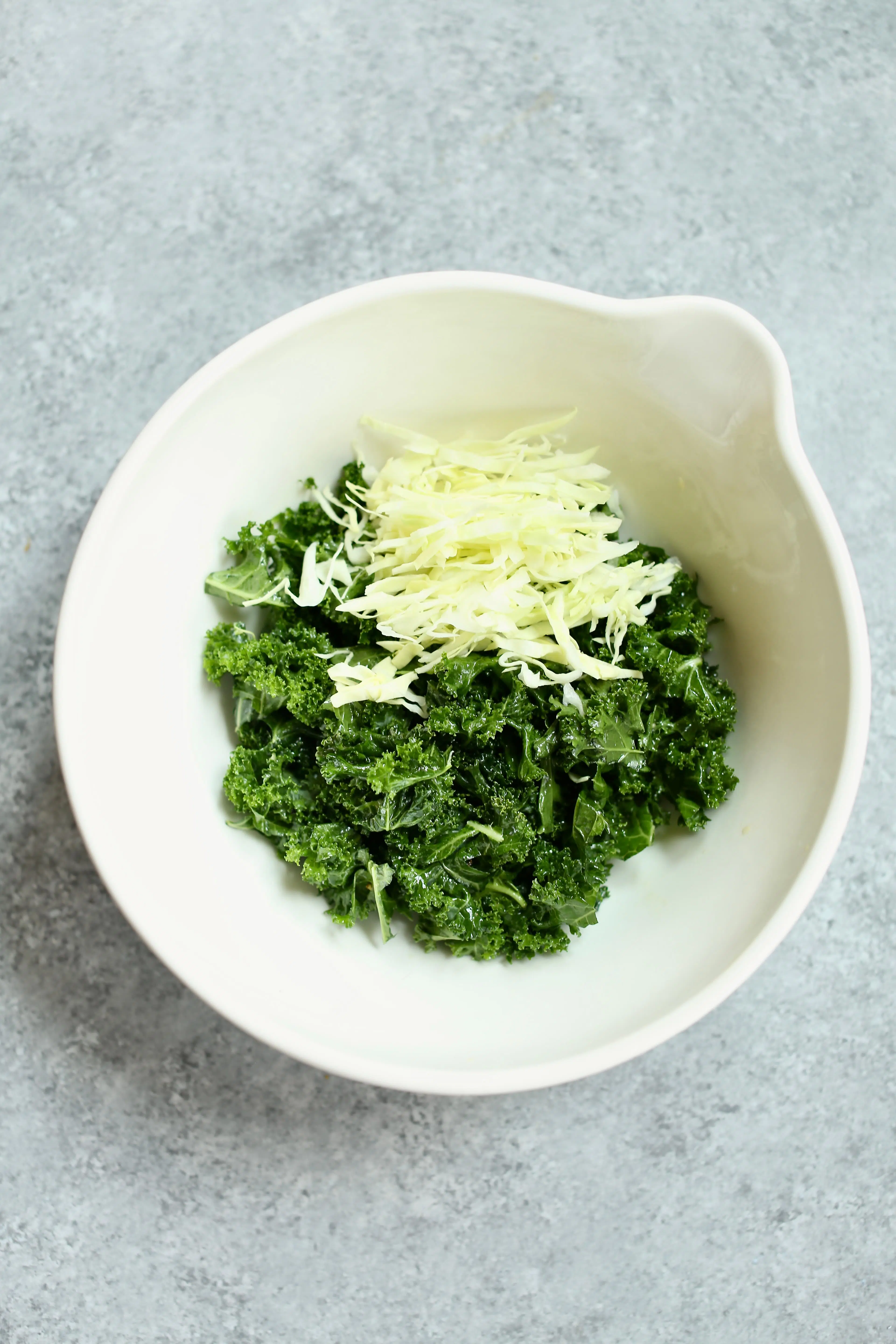 Massage the Kale. Here's a secret about kale – it tastes better if you massage it before eating. Why? To break down the tough fibers with a few drops of the vinaigrette. Sounds silly, totally works.
Add the kale to a large bowl, then sprinkle a little of the vinaigrette on top.
Massage it with clean hands, making sure to cover all the leaves.
That's it! Next, add in the sliced cabbage and proceed with the recipe.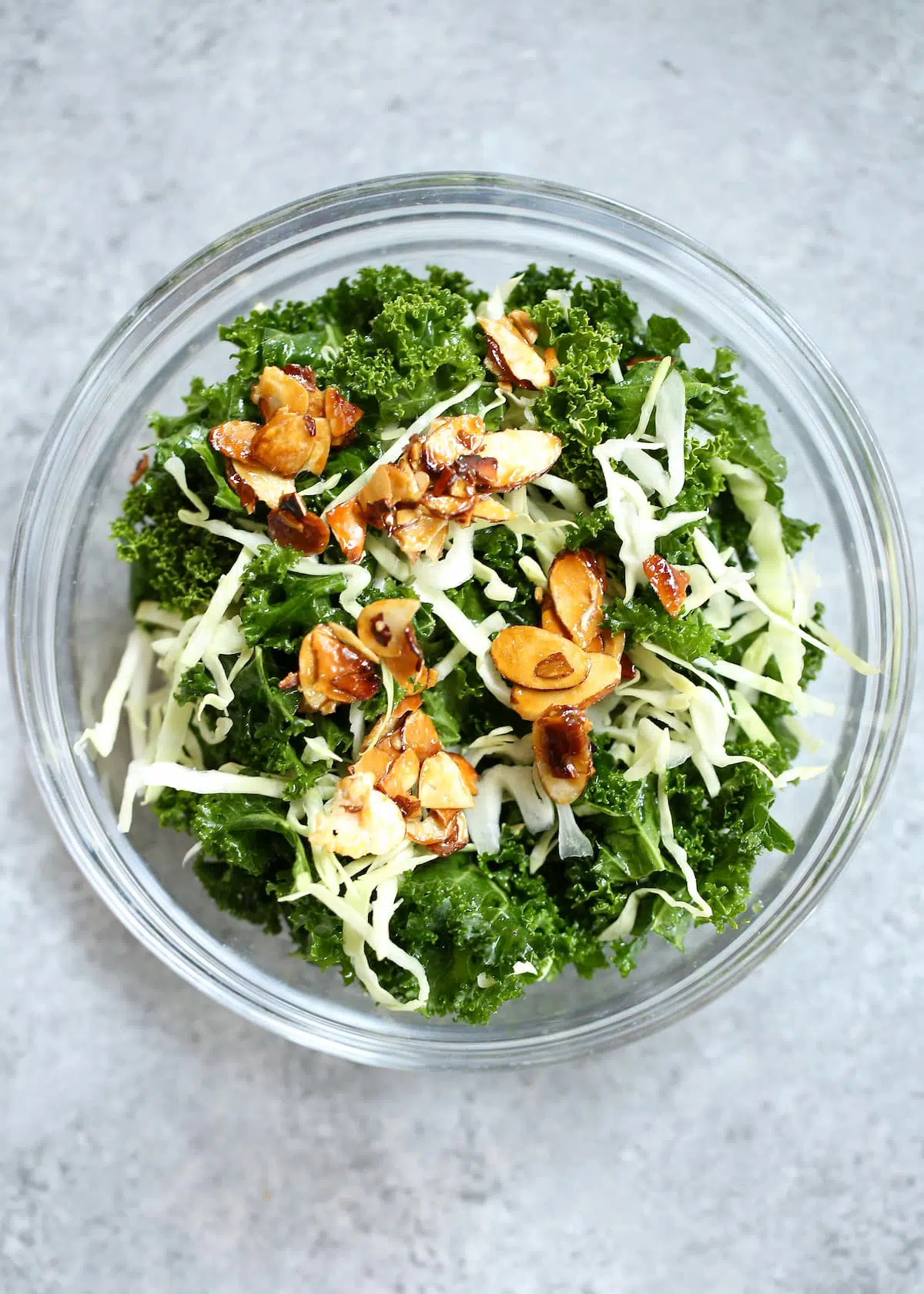 Sprinkle some of the candied almonds and more vinaigrette, then toss again. You could stop here and be totally happy with this salad…but wait! There's more!
Optional Ingredients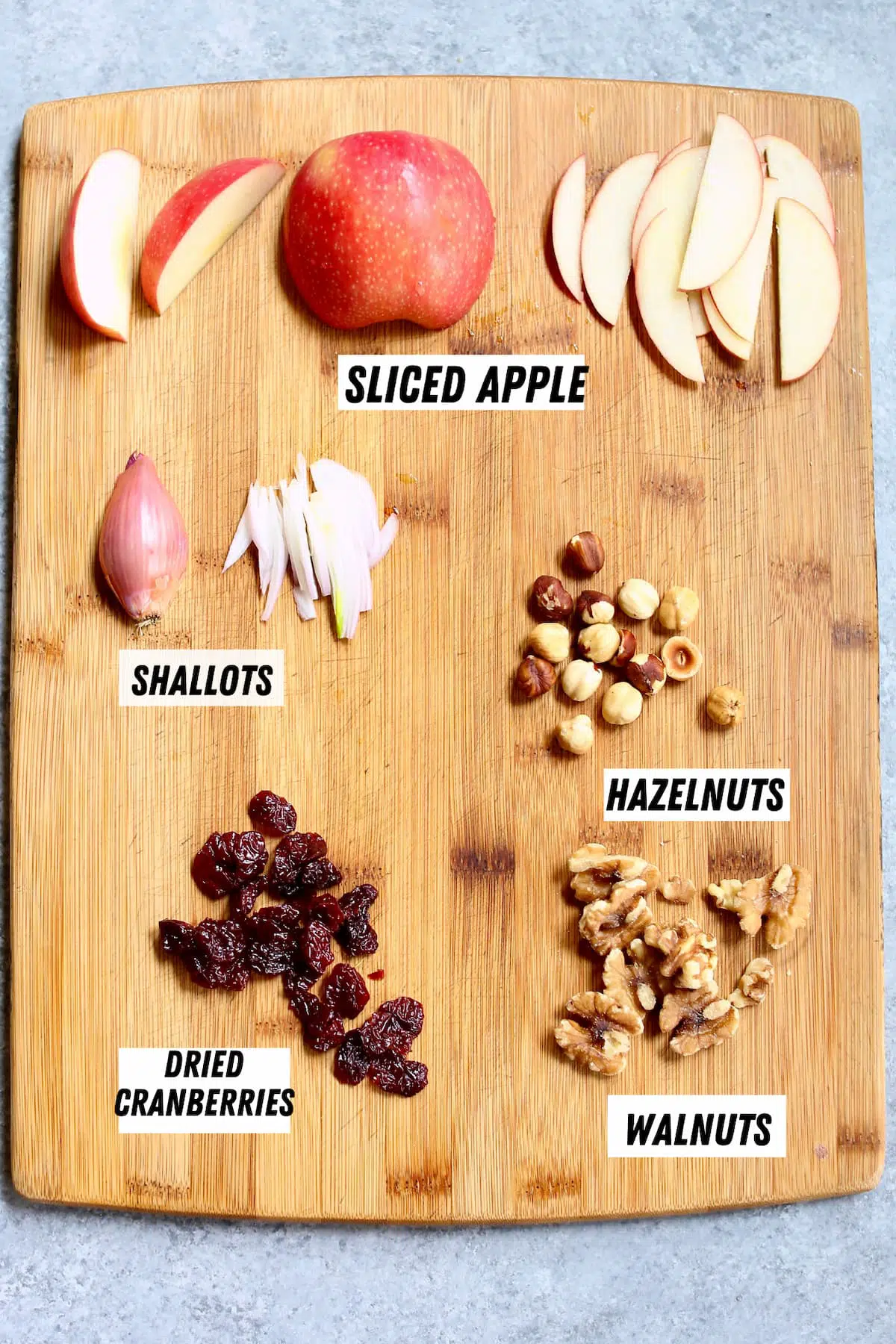 For variation, add more delicious stuff to the bowl! Here's some ideas:
Sliced apple.
Thinly sliced shallots.
Toasted hazelnuts.
Walnuts.
Dried cranberries.
Tips and Possible Variations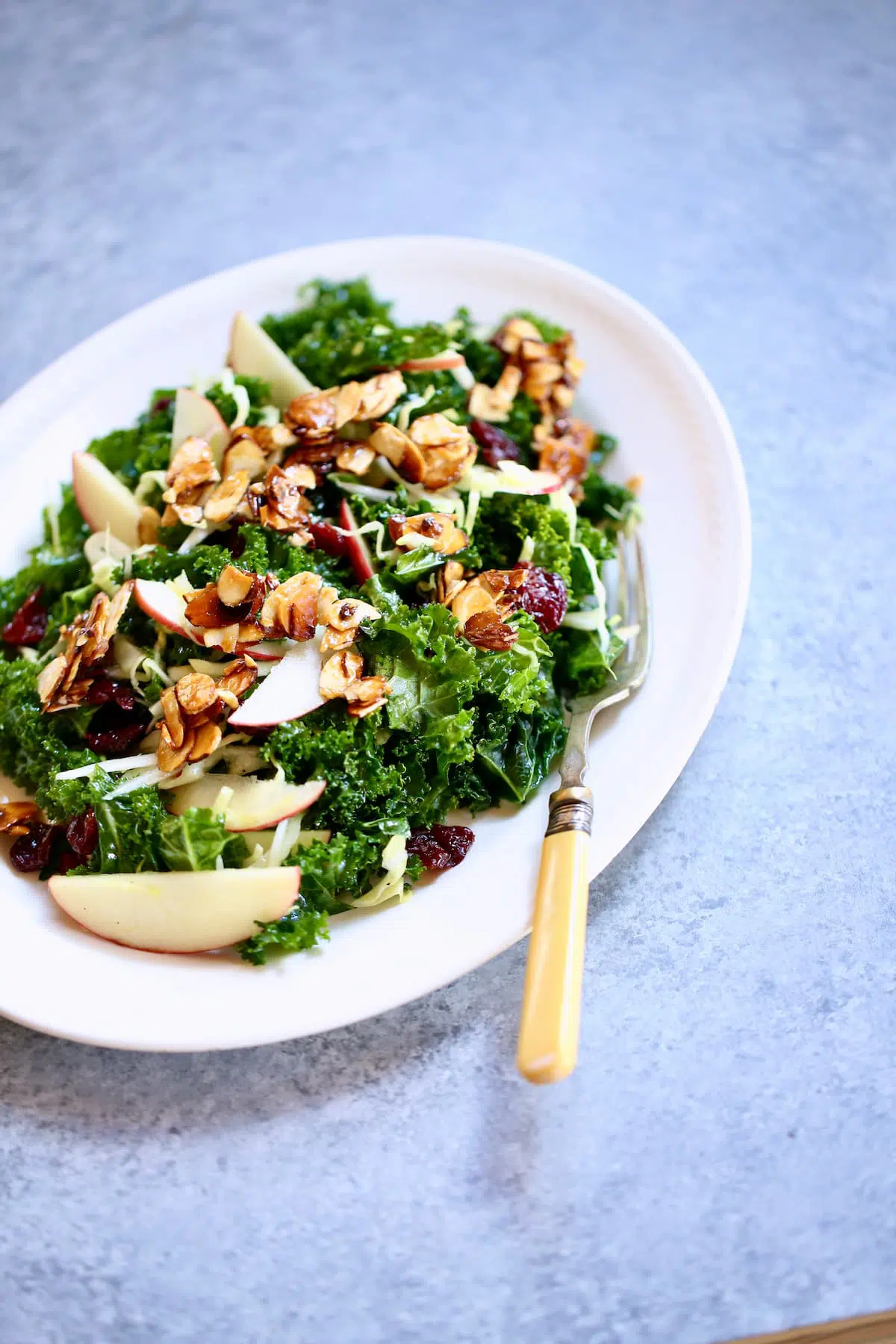 This salad is perfectly good on its own, it's super simple and has loads of flavor. Take it a step further with these add-ins:
A thinly sliced apple, tossed with fresh lemon juice to prevent browning.
Use toasted hazelnuts or walnuts instead of the candied almonds.
A sprinkle of dried cranberries or cherries.
Very thinly sliced shallots are wonderful.
You can add some cheese to the mix, like shaved Parmesan.
Protein of your choice.
Serving Ideas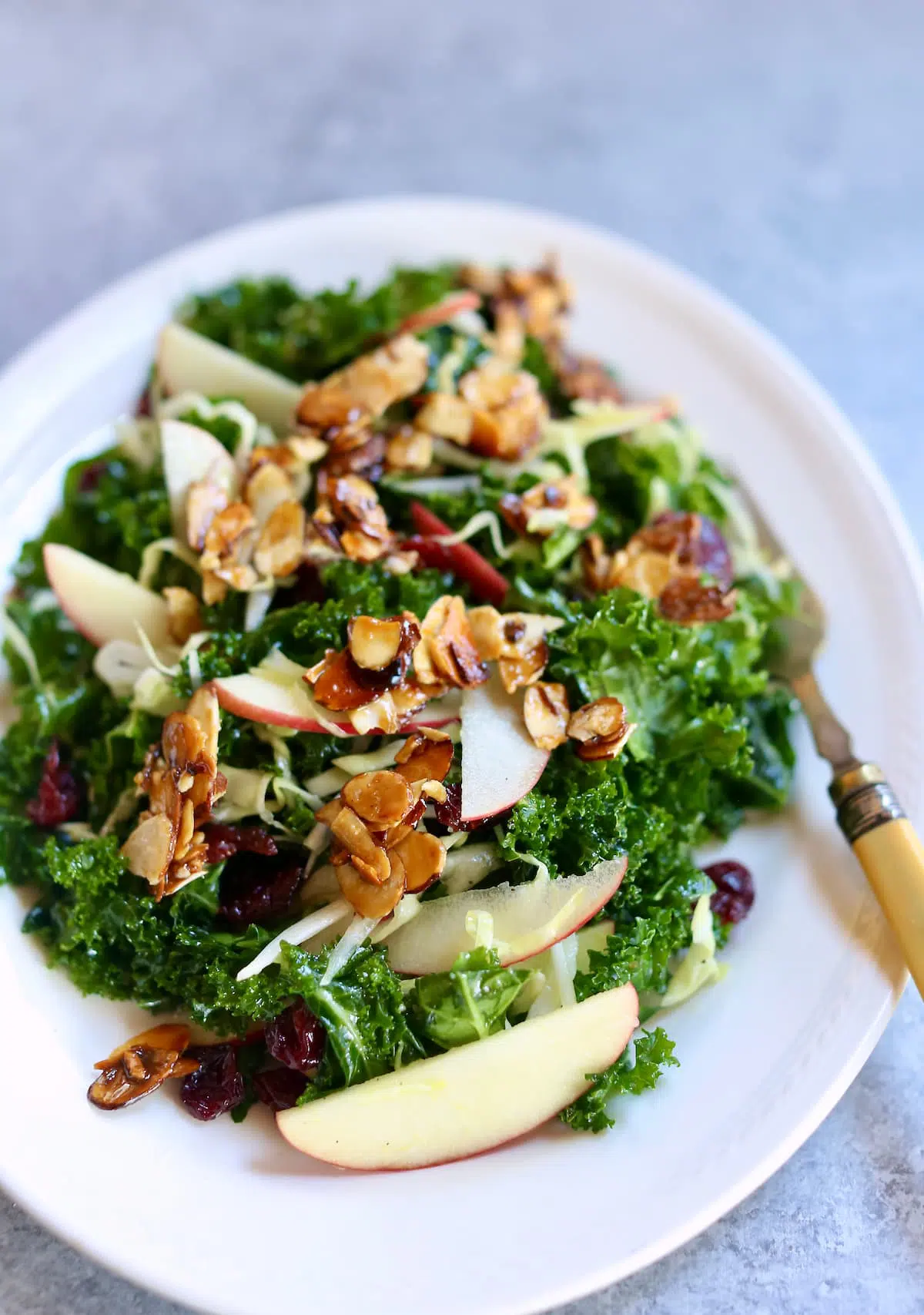 Frequently Asked Questions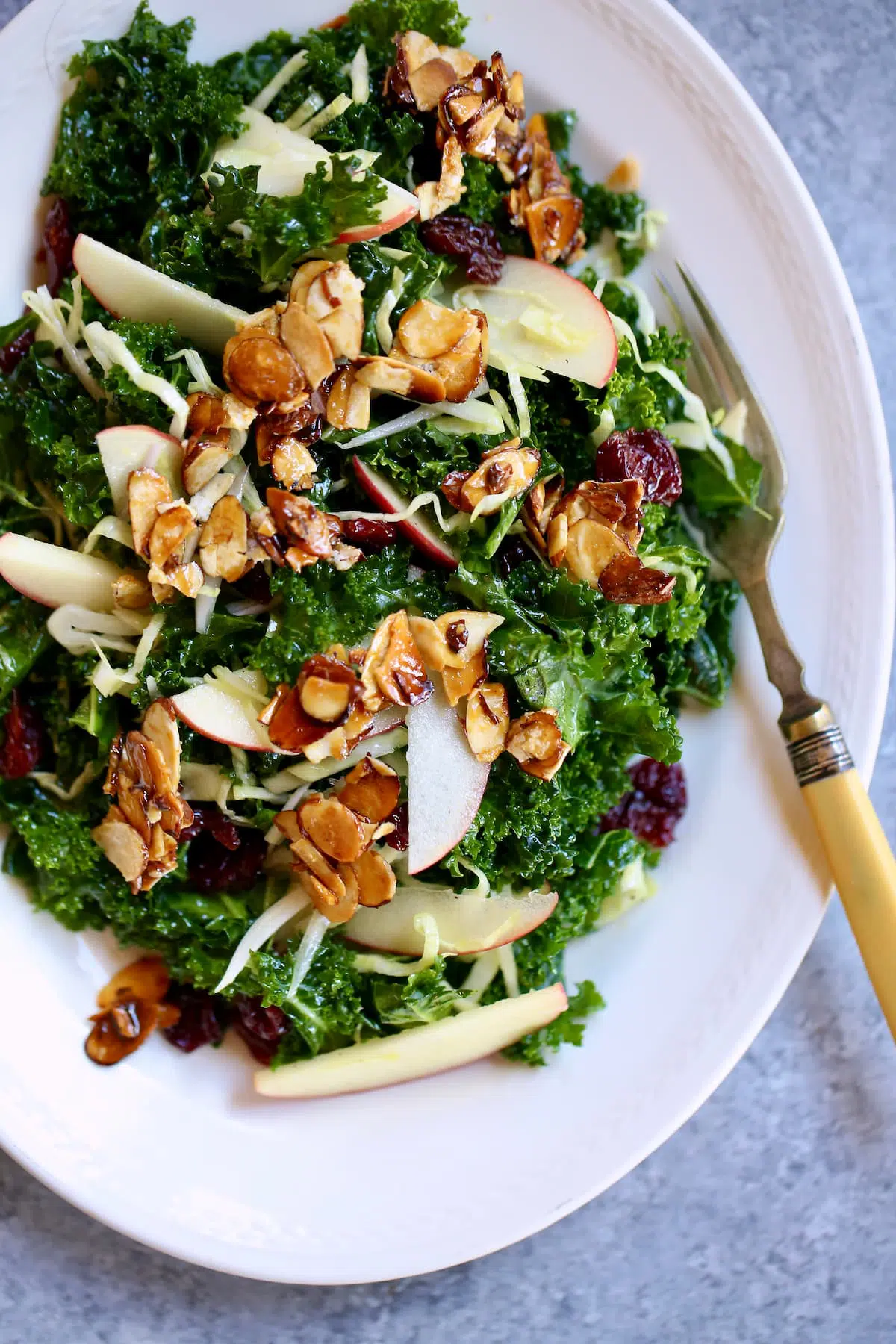 Can I make the salad in advance?
You can store the main ingredients separately in an airtight container the day before, but the salad will taste best if dressed with the vinaigrette just before serving.
Can I add protein to this salad?
Yes! This is a delicious recipe when you add sliced and grilled sausages, chicken breast or sliced steak.
More Recipes to Try
If you've tried this Chick Fil A Kale Salad Recipe, please rate the recipe 5 stars and tell me how you liked it in comments below!
Looking for more tips and fresh, homemade recipes? Join my email list, tag and follow me on Instagram using #studiodeliciouseats, follow my boards on Pinterest, and see what I'm up to on Facebook and Twitter!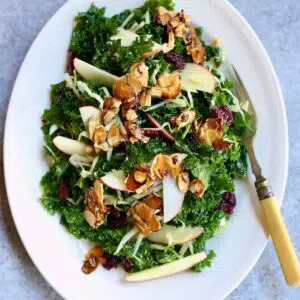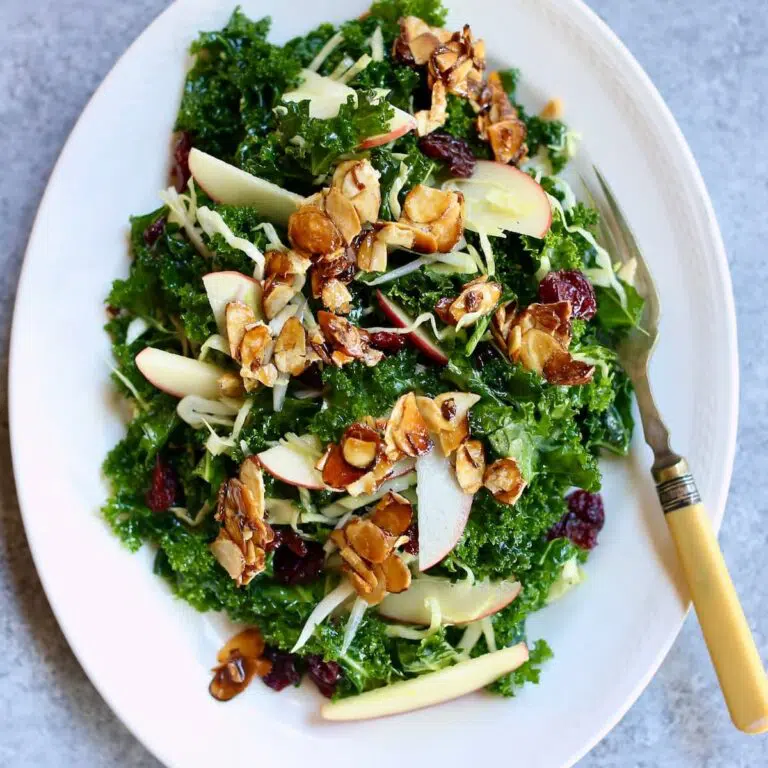 Chick Fil A Kale Salad Recipe
This copycat version of the Chick Fil A Kale Salad is simple & delicious!
Print
Pin
Rate
Ingredients
2

tablespoons

maple syrup

1

tablespoon

Dijon mustard

2

tablespoons

Apple Cider Vinegar

⅓

cup

Extra Virgin Olive Oil

½

teaspoon

Kosher Salt

¼

teaspoon

Freshly ground pepper

8

cups

Kale, washed, dried and chopped, stems removed

2

cups

Green Cabbage, thinly sliced

½

cup

Sliced almonds

2

tablespoons

Sugar

Optional ingredients: Dried cranberries, sliced apples, nuts, sliced shallots.
Instructions
MAKE THE VINAIGRETTE

In a glass jar with a well-fitting lid (like a Ball jam jar) add the maple syrup, dijon mustard, apple cider vinegar, olive oil, salt & pepper. Put the lid on and shake until combined.

FOR THE CANDIED ALMONDS

Prepare a baking sheet by lining it with parchment paper.

In a medium non-stick skillet, add the sugar and the almonds and toss the two together with a wooden or silicone spoon until combined.

Put the heat on medium high and let it sit for a minute while the sugar melts. Stir a little, and continue to cook until the sugar has dissolved and the nuts just start to turn brown on the outside edges. At this point, remove the skillet from the heat, and continue to stir …the nuts will still cook and brown after you remove the pan from the heat.

Immediately pour the nut/sugar mixture on the parchment-lined baking sheet, spreading it out a little with your spoon. Let it sit for 10 minutes or so while it sets up into a brittle.

FOR THE SALAD

Wash and dry the kale with a clean kitchen cloth or paper towel and remove the leaves from the stems. Roughly chop into 2-3" inch pieces and place in a large mixing bowl.

Add a little of the vinaigrette to the bowl with the kale (about a tablespoon) and with clean hands massage the dressing and the kale until all the leaves are covered.

Slice the cabbage thinly and add it to the bowl with the kale.

Break off some of the almond brittle and sprinkle it on the salad and serve.

Optional but highly recommended ingredients to add to this salad:

* One apple, thinly sliced and tossed with fresh lemon juice to keep it from browning.

* ¼ Cup of Dried cranberries.

* ¼ Cup of toasted hazelnuts, almonds or walnuts. (instead of the candied almonds above).

* 2 tablespoons thinly sliced shallots.
Notes
Any leftover vinaigrette can be kept in the refrigerator for up to a week.
If using sliced apples in this recipe, toss with a little fresh lemon juice after slicing to prevent browning.
Nutrition
Calories:
347
kcal
|
Carbohydrates:
24
g
|
Protein:
7
g
|
Fat:
27
g
|
Saturated Fat:
3
g
|
Polyunsaturated Fat:
4
g
|
Monounsaturated Fat:
18
g
|
Trans Fat:
1
g
|
Sodium:
411
mg
|
Potassium:
660
mg
|
Fiber:
8
g
|
Sugar:
15
g
|
Vitamin A:
13424
IU
|
Vitamin C:
138
mg
|
Calcium:
405
mg
|
Iron:
3
mg
Tips for Success with Every Recipe
Super important to read the whole recipe before you begin
Pay attention to the ingredient list and photos for the recipe
If possible, prep your ingredients a little before you start
Always use a sharp knife for safety
Use the size of pan called for in the recipe
For savory recipes, taste and season as you go
Buy fresh, organic ingredients, locally sourced whenever possible
Don't Miss a Recipe!