This rustic and Easy Blackberry Galette Recipe is pie by another name, this delicious recipe is buttery, sweet, flaky and jammy, and perfect with vanilla ice cream!
Jump to:
Why You'll Love this Recipe
This wonderful recipe for this simple berry galette comes from Dorie Greenspan, and it's just fantastic. The crust on this rustic pie is very forgiving, and it's my favorite galette crust. This rustic tart is easy to make, and the blackberry filling is jammy and delicious.
Here are some good reasons to make it:
This is an easy dessert, than it looks, and as for hand-shaped pies, this is one of the best I've ever tasted. Perfect for your next dinner party!
You don't need to be an expert pie crust maker – almost any way you shape it will look great.
Once you get the hang of it, this crust is easy to customize with other fruit fillings.
Do you love pie? This is a good thing! Bookmark these recipes for later. You're going to love these Apple Hand Pies (made with Pillsbury Pie Crust) these adorable Mini Blueberry Pies, and these Mini Caramel Apple Pies are a reader favorite!
Ingredients You'll Need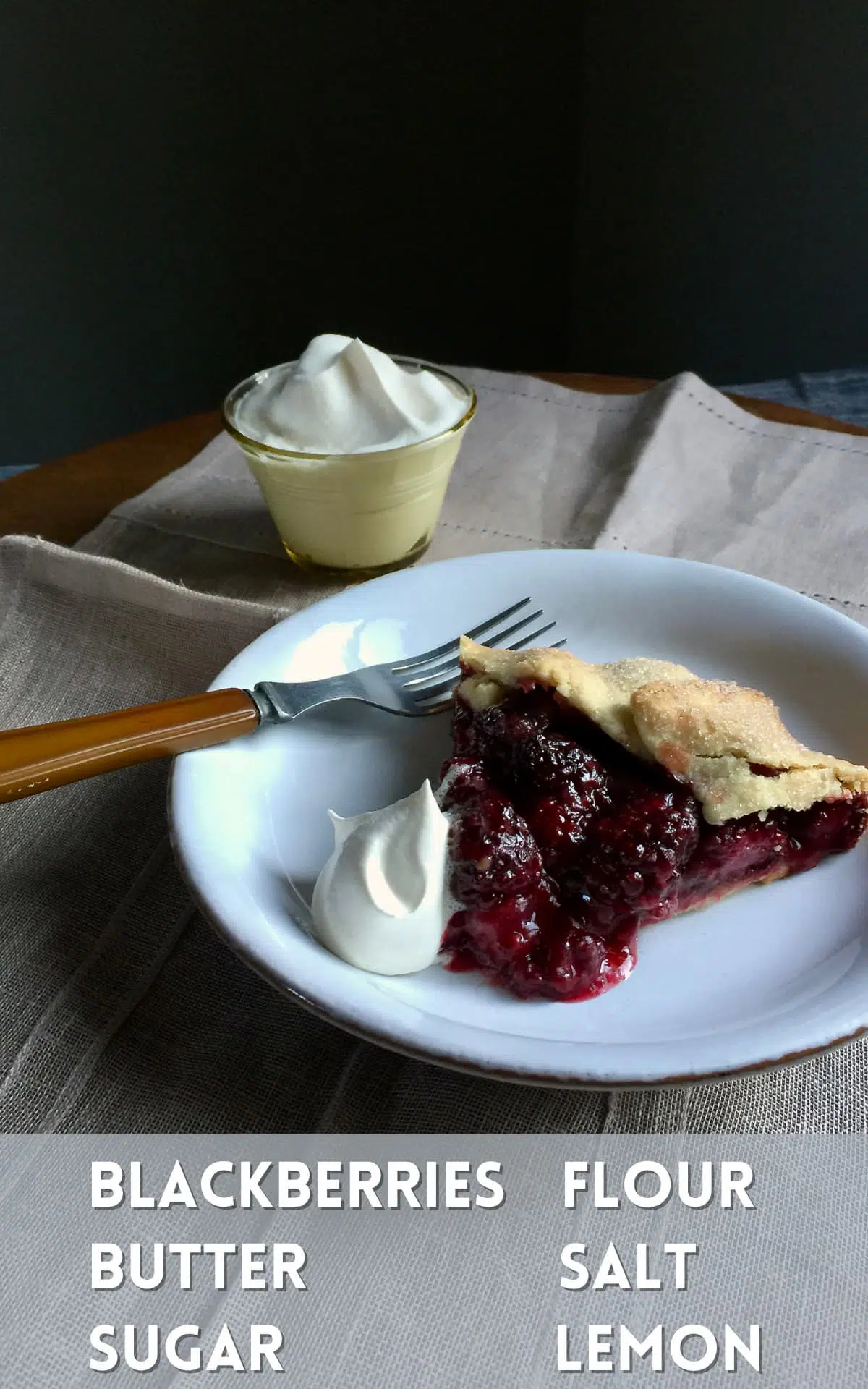 For the full recipe and list of instructions, please scroll down to the recipe card below.
Butter: Unsalted
Flour: All-purpose
Salt: For a bump of flavor
Lemon: Just the zest, no lemon juice
Sugar: For flavor and balance
Blackberries: To make a luscious berry filling
Step-By-Step Instructions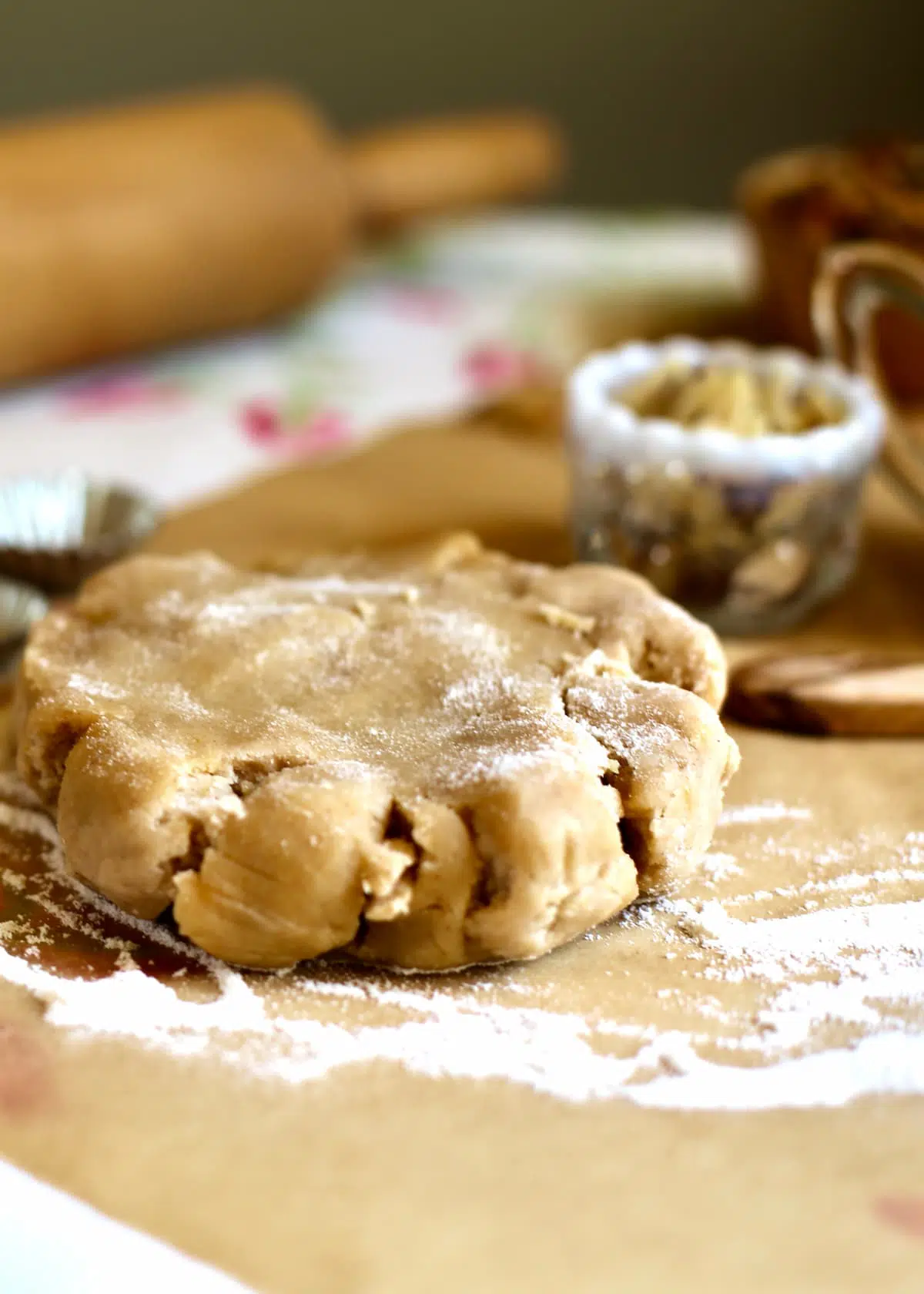 For the full recipe and list of ingredients and instructions, please scroll down to the recipe card below.
Start by making the crust for this luscious blackberry free-form tart, it will need a full 2 hours of chilling time.
Pulse the flour, sugar, salt and butter with some ice water in a food processor. Alternatively, you could use a hand-held pastry cutter to combine flour with the other ingredients.
Gather this into a loose ball, flatten it into a 12″ disc, wrap in plastic wrap and refrigerate.
Make a simple, flavorful filling with blackberries in a large bowl, with lemon zest and a little sugar and some seasonings.
When ready to bake, remove the dough from the refrigerator, bring it just enough to room temperature to be pliable with a rolling pin on a lightly floured surface, then spoon in the fresh berries, pinch the ends together and brush with a little water and sugar (no egg wash needed!)
Bake this delicious rustic pie on a large baking sheet lined with a piece of parchment paper.
Expert Tips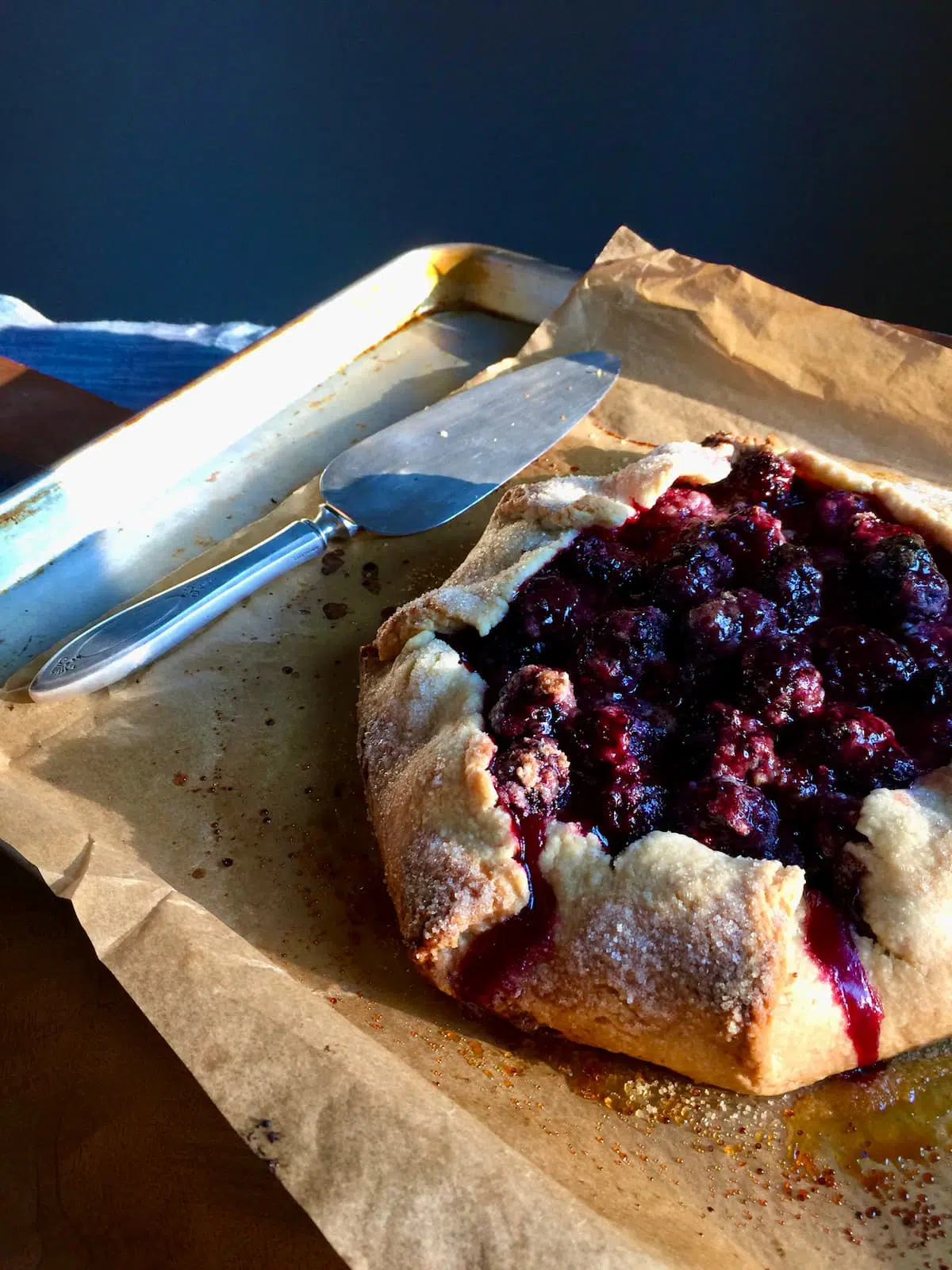 Bakers Sugar is a good product to use in place of regular granulated sugar for most baking, and it's pretty easy to find in well-stocked grocery stores
When you spoon the berries into the center of the dough, be sure to leave a 2″ border, and pile the berries a bit more in the middle as they'll reduce when baking.
Always use cold water- a few tablespoons of ice water is best as well as cold butter cut into small pieces when making a homemade pie crust, and makes it easier to form dough into a ball.
After rolling the dough out on a lightly floured surface, brush any excess flour off with your hands or a pastry brush. This helps ensure a flaky crust.
Serving Ideas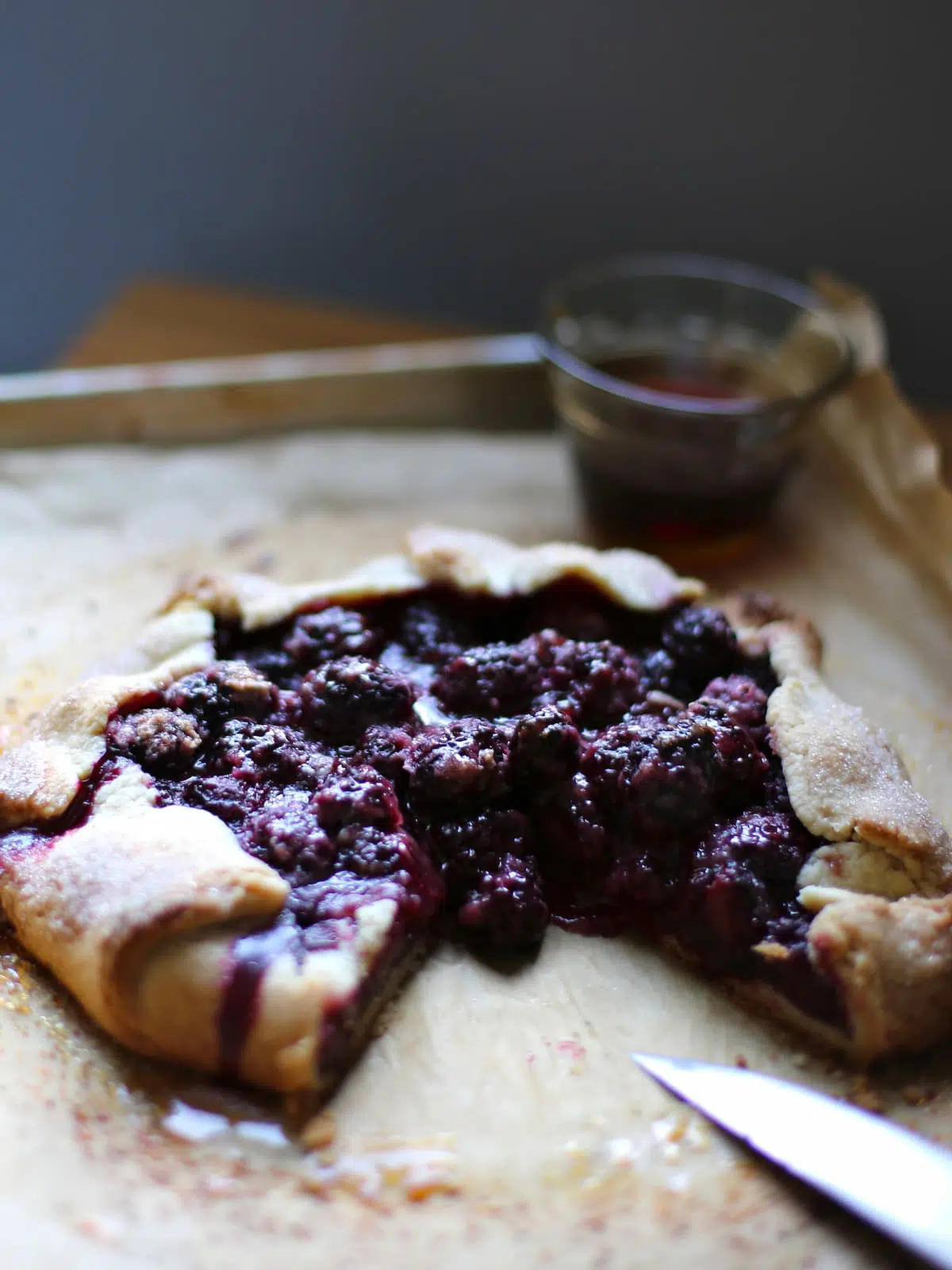 Frequently Asked Questions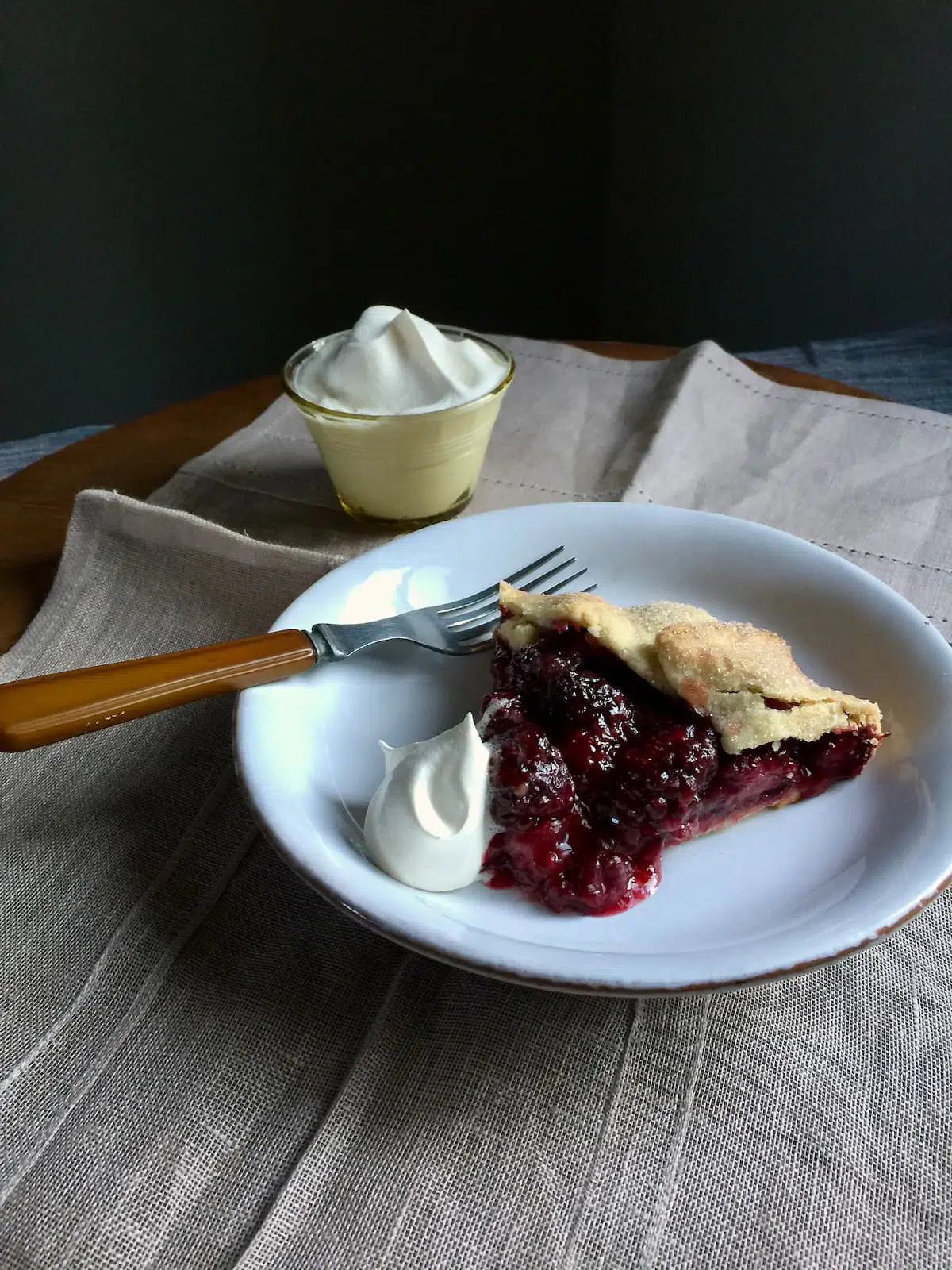 Can I make this dessert in advance?
Yes you can, but I wouldn't make it more than one day in advance. My feeling is most baked goods are the very best the day they are baked. Try making the components, then assembling and baking the day you plan to eat it.
How to store leftover galette?
An airtight container always works. So does wax or parchment paper with foil on top, and then keep it refrigerated.
More Recipes: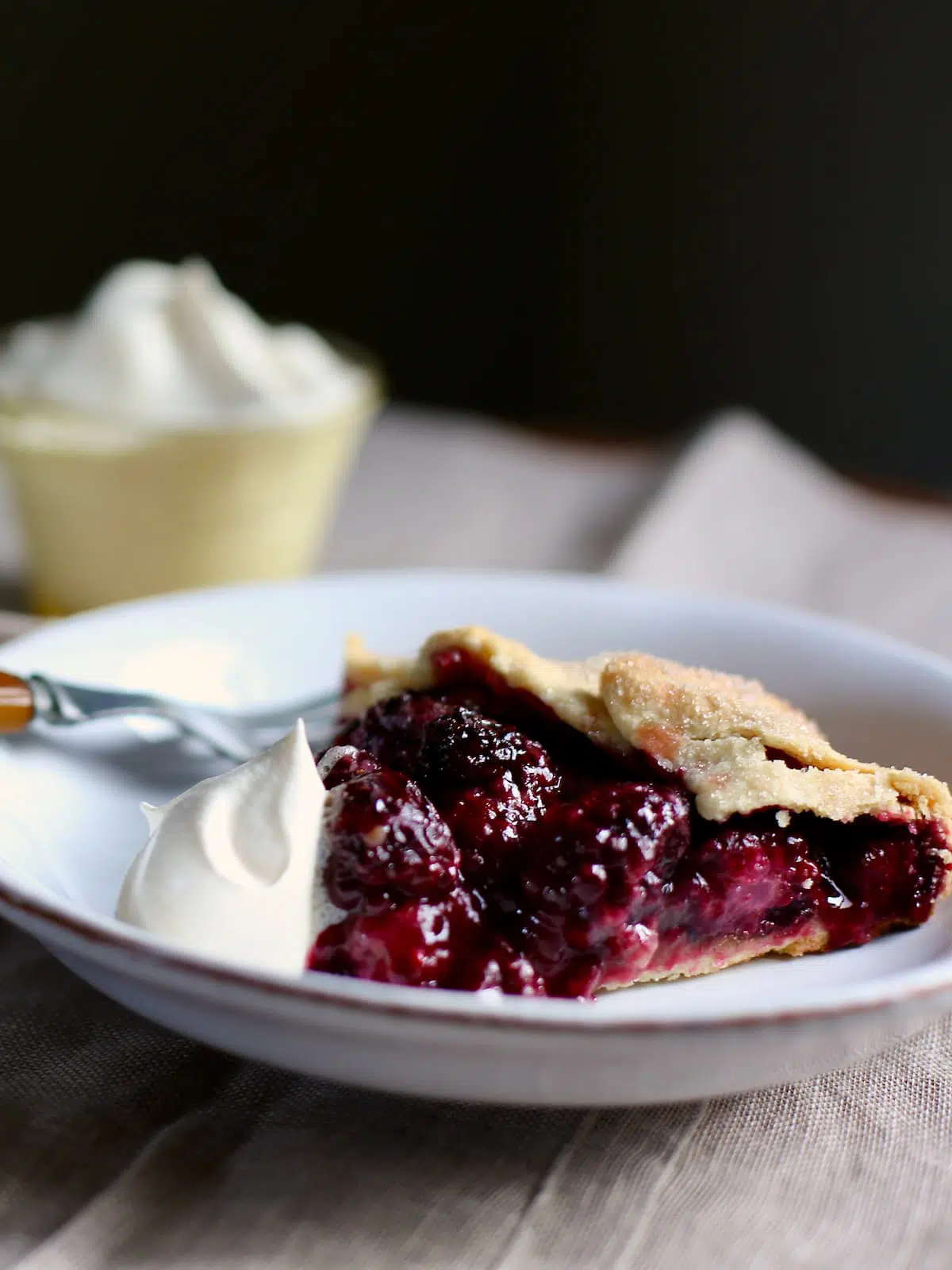 If you've tried this Easy Blackberry Galette Recipe or any other recipe on Studio Delicious, please rate the recipe and & I'd love to hear from you in the comments below!
Looking for more tips and fresh, homemade recipes? Join my email list, tag and follow me on Instagram using #studiodeliciouseats, follow my boards on Pinterest, and see what I'm up to on Facebook and Twitter!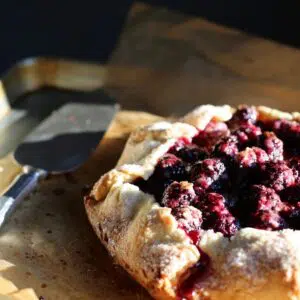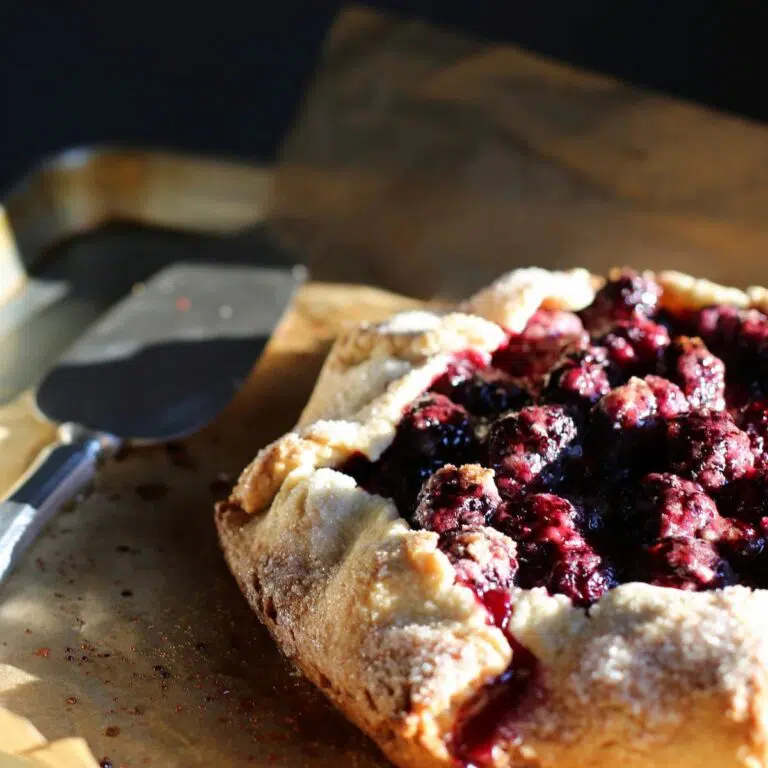 Easy Blackberry Galette Recipe
This easy Blackberry Galette recipe has a sturdy, flavorful crust and a sweet, jam-like Blackberry filling.
Print
Pin
Rate
Ingredients
FOR THE GALETTE DOUGH

1 ½

cups

Flour, all-purpose

2

tablespoons

Sugar

½

teaspoon

Salt

1

stick

Butter, unsalted, cold cut into small pieces

8 tablespoons

¼

cup

Ice Water
FOR THE BLACKBERRY FILLING

2 ½-3

cups

Blackberries, fresh, organic

1

teaspoon

Lemon Zest, fresh

3

tablespoons

Sugar

½

teaspoon

Pure Vanilla Extract

2

tablespoons

Flour, all-purpose

¼

teaspoon

Salt

¼

teaspoon

Cinnamon

3

tablespoons

Plain Butter cookies, or graham cracker, crushed into crumbs using a plastic bag and rolling pin

1 ½

tablespoons

Butter, cold, cut in small pieces

1

tablespoon

Sugar
Instructions
MAKE THE DOUGH

Heat oven to 400F degrees with the rack placed in the center of the oven.

In a food processor, put the flour, sugar and salt in and pulse several times to combine.

Alternatively, use a whisk for the dry ingredients and a pastry cutter to incorporate the butter and ice water.

Scatter the cut butter over the dry ingredients and continue pulsing until the mixture is in pea-sized pieces. Add a tablespoon or so of ice water and pulse again, repeating this process until all the water is incorporated, stopping to scrape the sides to make sure the whole mixture is processed. The dough should hold together when you pinch it.

Turn the dough out to and gather it into a ball, then flatten into a disc and wrap in two pieces of parchment paper, one for the top of the dough round, one for the bottom. With a rolling pin, flatten the dough again into a 12" disc. Place on a plate and refrigerate for at least 2 hours.

Remove dough from the fridge and let it sit for about 10 minutes, until it's slightly soft and easy to work with. Place the 12" dough disc on a place on a rimmed cookie sheet lined with parchment paper.

MAKE THE BLACKBERRY FILLING

In a medium bowl, place the berries, lemon zest, sugar, vanilla, flour, sea salt and cinnamon together gently with a spoon until just combined and the sugar and flour are dissolved, being careful not to damage the shape of the fruit.

With your fingers, sprinkle the cookie or graham cracker crumbs on the dough, leaving a 2" border around the edges.

Spoon the berries into the center of the dough, including any juices, leaving a 2" border, piling the berries a bit more in the middle.

Dot the berries with the 1 1/2 tbsp. cold butter.

Roll the dough up onto the berries, crimping the folds together with your fingers to make a galette round.

Brush the dough very lightly with a little cold water, using your fingers or a pastry brush. and then sprinkle with a tablespoon or so of fine sugar.

Bake for 45-55 minutes, until the dough is golden brown and the juices are running and bubbling down the side a little.

Remove from the oven and let it cool to room temperature before serving.Serve with whipped cream or vanilla ice cream, if desired
Notes
I use Bakers Sugar most often in baking, which is easy to find in well-stocked grocery stores.
Nutrition
Calories:
308
kcal
|
Carbohydrates:
40
g
|
Protein:
4
g
|
Fat:
15
g
|
Saturated Fat:
9
g
|
Cholesterol:
36
mg
|
Sodium:
336
mg
|
Potassium:
103
mg
|
Fiber:
3
g
|
Sugar:
15
g
|
Vitamin A:
515
IU
|
Vitamin C:
10
mg
|
Calcium:
21
mg
|
Iron:
2
mg
Tips for Success with Every Recipe
Super important to read the whole recipe before you begin
Pay attention to the ingredient list and photos for the recipe
If possible, prep your ingredients a little before you start
Always use a sharp knife for safety
Use the size of pan called for in the recipe
For savory recipes, taste and season as you go
Buy fresh, organic ingredients, locally sourced whenever possible
Don't Miss a Recipe!
Original Text for this recipe before photos and text were updated, 2022.
On a road trip over the holidays, I had big plans to make big plans.
I carefully packed up a supply of fancy pens and perfectly sharpened colored pencils, a fresh notebook, a giant sketch pad (for all that sketching one normally does on road trips) and a few good books for inspiration.
The idea was to get all the random ideas out of my head and down on paper.
From there, I figured, I'd be able to make better sense of them, and put a monthly plan together – which would then allow me to do even more, which is way better all the way around because then I'll get it all done.
Please imagine me right now sitting straight up in my seat, bright-eyed and eager, ready for a productive time in the car. "I'm going to make the best use of this time! Nothing will slow me down!" I said to myself.
I'm all happy and perky and ready just like Elle Woods in Legally Blonde. I thought "I'll just pull out my little bag of color-coordinated tools and bang out some world-class ideas! It'll be totally awesome and everything!" Barely an hour in, the hum of the road made my eyes heavy. I was grateful we stopped in a small town along the way for lunch.
After eating an unexpectedly good spinach salad with sliced fresh strawberries at a local cafe, I was back to bobbing my head against the head rest for oh, about 8 hours. Nary a plan was made that day, or for the next ten for that matter.
On the trip I did eat my share of pie, none of it very good.
I fantasized about a juicy berry pie – nothing fussy, but something with a big jammy taste and burst of fresh berry.
Good quality fresh blackberries are not hard to come by in winter, easy to find right now at the grocery store.
Paired with a sturdy, and very flavorful tart dough, this free-form galette meets the requirements of a good slice of pie. And that is an accomplishment I can get my mind around.
Recipe adapted from Dorie Greenspan.