This easy, absolutely delicious Cast Iron Skillet Pizza is made with a chunky chicken sausage and tomato filling...this deep dish pizza is crispy on the edges and soft in the middle, just like take-out!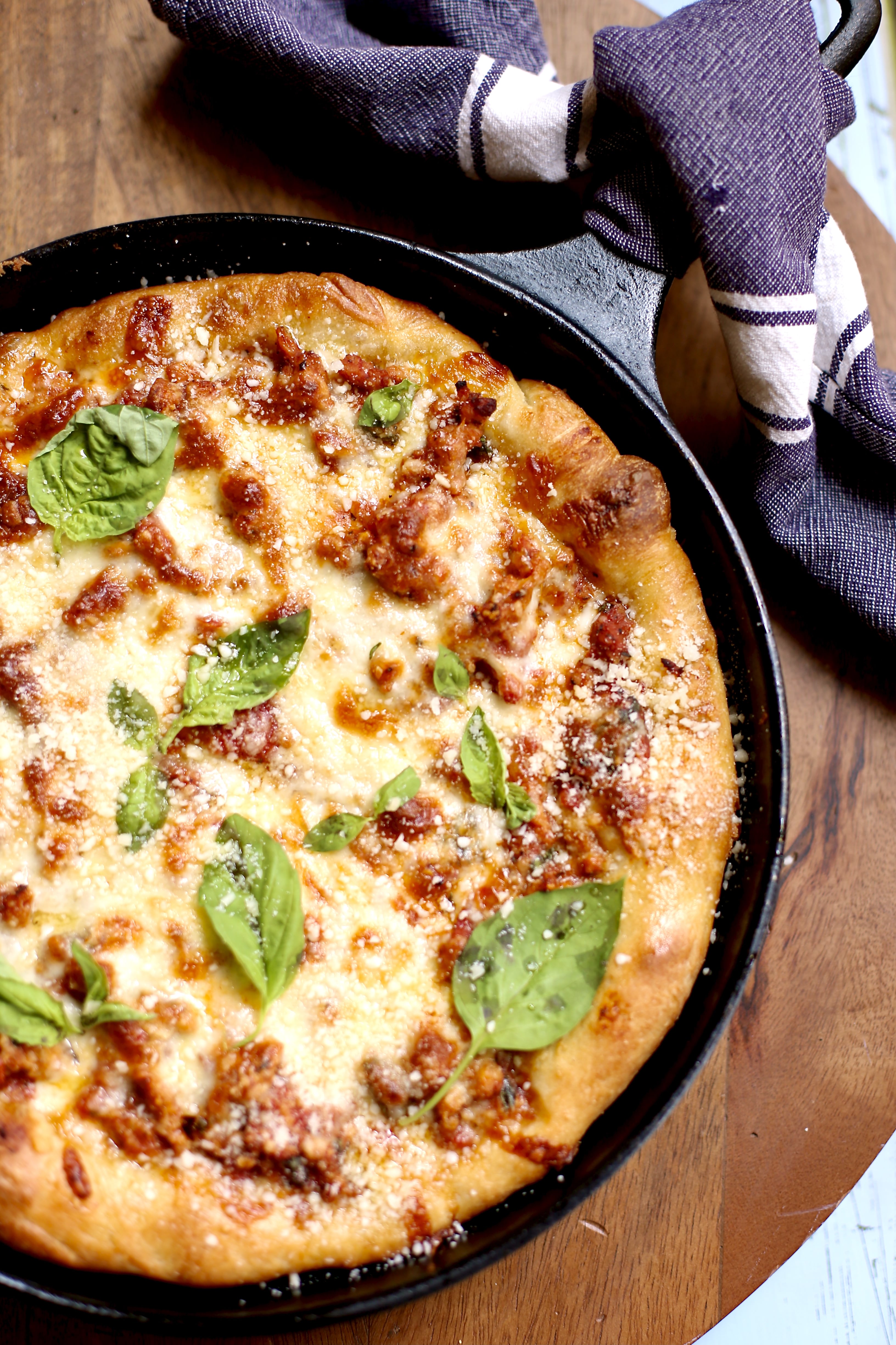 Jump to:
Why You'll Love This Recipe
Here's a cast iron skillet pizza recipe you're going to love! It's great to keep a couple of pizza dough balls in the freezer, because with a few simple ingredients, you can have a hot, crispy, deep dish pizza any time!
Once I started using a cast iron pan for pizza, life instantly changed for the better 🙂 Here's a few good reasons to make this delicious pan pizza:
No need for a pizza stone! You'll just need a 9 or 10″ cast iron pan and a large baking sheet
Cast iron gets super hot, which makes for an unbelievably delicious crispy bottom crust while the edges stay soft
We'll roll a couple steps into one with a quick and easy stove top sauce for this delicious pizza, made of chicken sausage, chopped tomatoes and a little bottled pizza sauce.
No need to fuss with a homemade pizza dough recipe, you'll just need a dough ball from the grocery store
Here's a few other quick and easy dinner recipes to bookmark for later – this super easy Taco Pie with Crescent Rolls, the all-time favorite Turkey Burger with Pepperjack and Cranberry, and this Skillet Taco Bake is great as an appetizer or a quick and easy dinner!
Ingredients You'll Need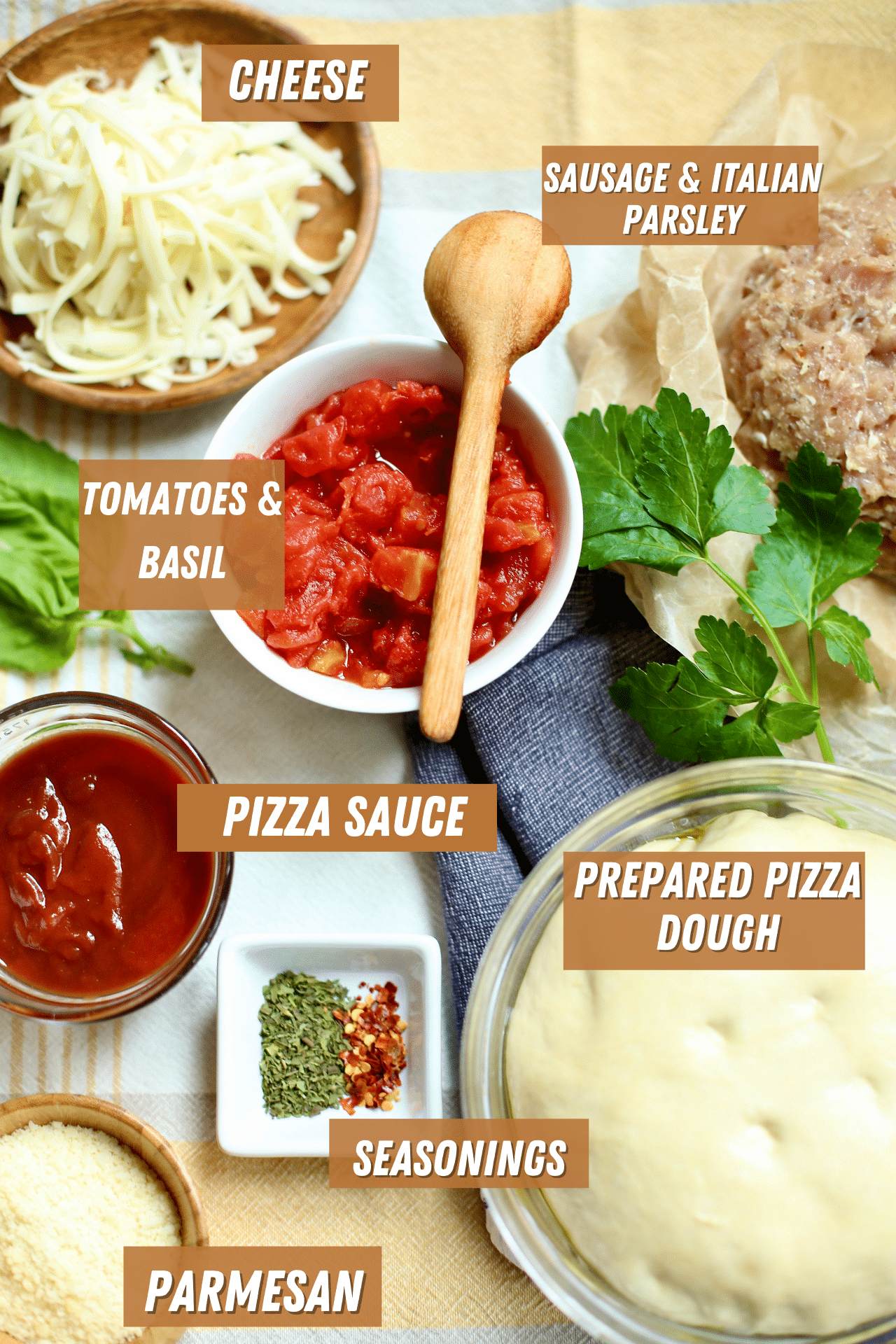 For the full recipe, the instructions and list of ingredients, please scroll to the recipe card below.
Pizza dough: Store-bought, defrosted
Cheese: Low moisture mozzarella cheese, full fat
Sausage: Chicken sausage, or any uncooked sausage Italian sausage
Tomatoes: Canned, diced and low sodium, if possible
Pizza Sauce: Store-bought and similar to marinara sauce to mix with the sausage
Seasonings: Red peppers, oregano, salt, pepper
Parmesan: A final dusting of this cheese makes all the difference
Fresh Basil: For a bright and flavorful finishing touch!
Step-by-Step Instructions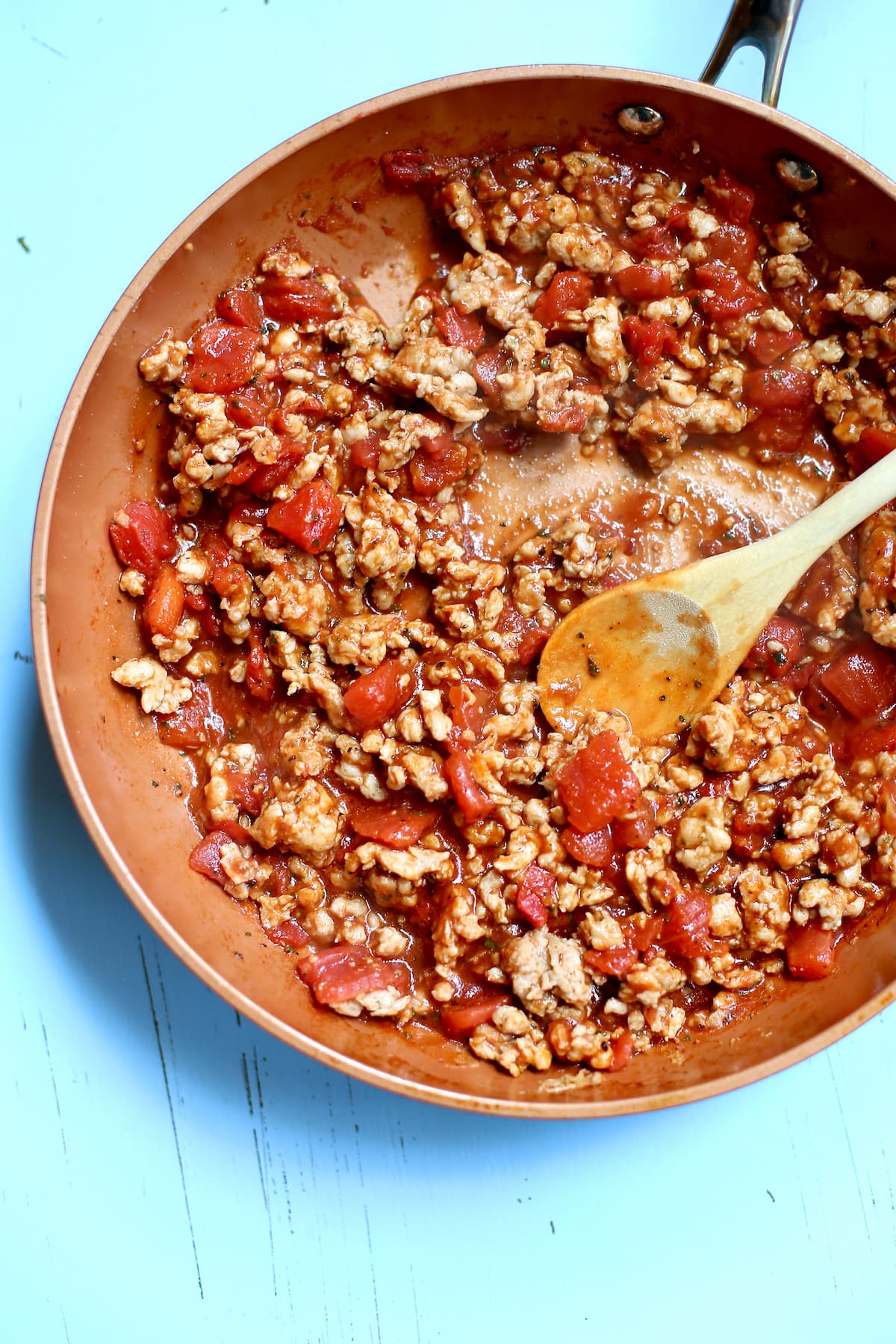 For the full recipe and list of instructions, please scroll down to the recipe card below.
Pre-heat the oven and the cast iron pan in a 450 degree oven..this will make for a crispy crust
Cook the meat mixture over medium heat in a non-stick skillet, stir with a wooden spoon until combined
Roll out the pizza dough to a rough circle, enough to fit in the bottom of the cast iron pan with an inch of dough up the sides
Add a thin layer of olive oil to the hot pan, then the pizza crust, lightly pressing it down to ensure a crisp bottom crust
Layer the cheese and the meat pizza sauce mixture on top of the dough
Bake in a hot oven on the bottom rack until bubbling and hot and cheesy and melty
Dust with more Parmesan cheese and fresh basil and WOW, so good!
Expert Tips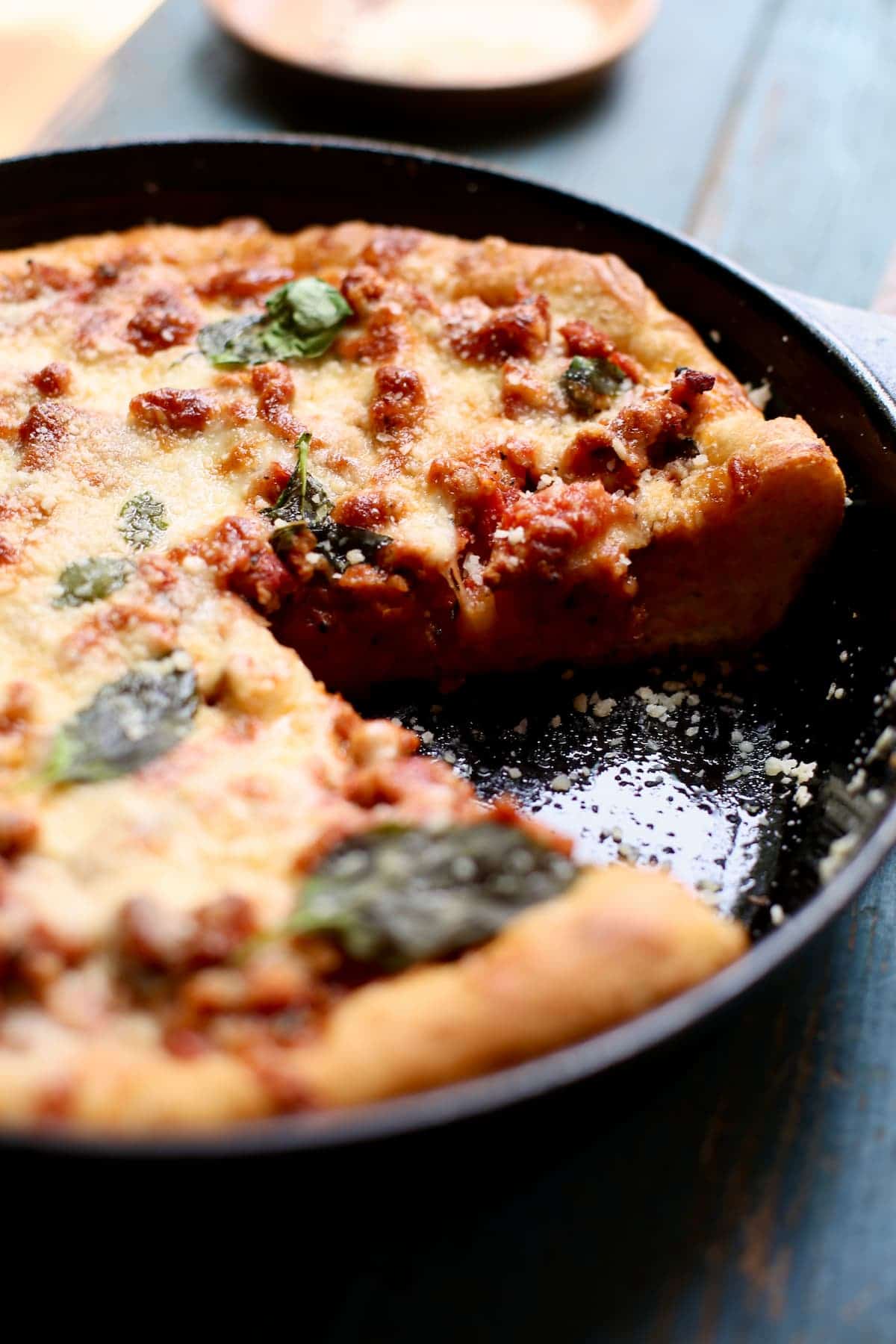 Use any variety of uncooked sausage you'd like, but avoid sausage that's been heavily seasoned, since we'll be seasoning it ourselves. Italian sausage works great!
Use other varieties of cheese, such as pepper jack or plain jack cheese. See my notes in "tips" below for more on this important topic 🙂
If you don't like fresh basil, use flat leaf Italian Parsley instead
Serving Ideas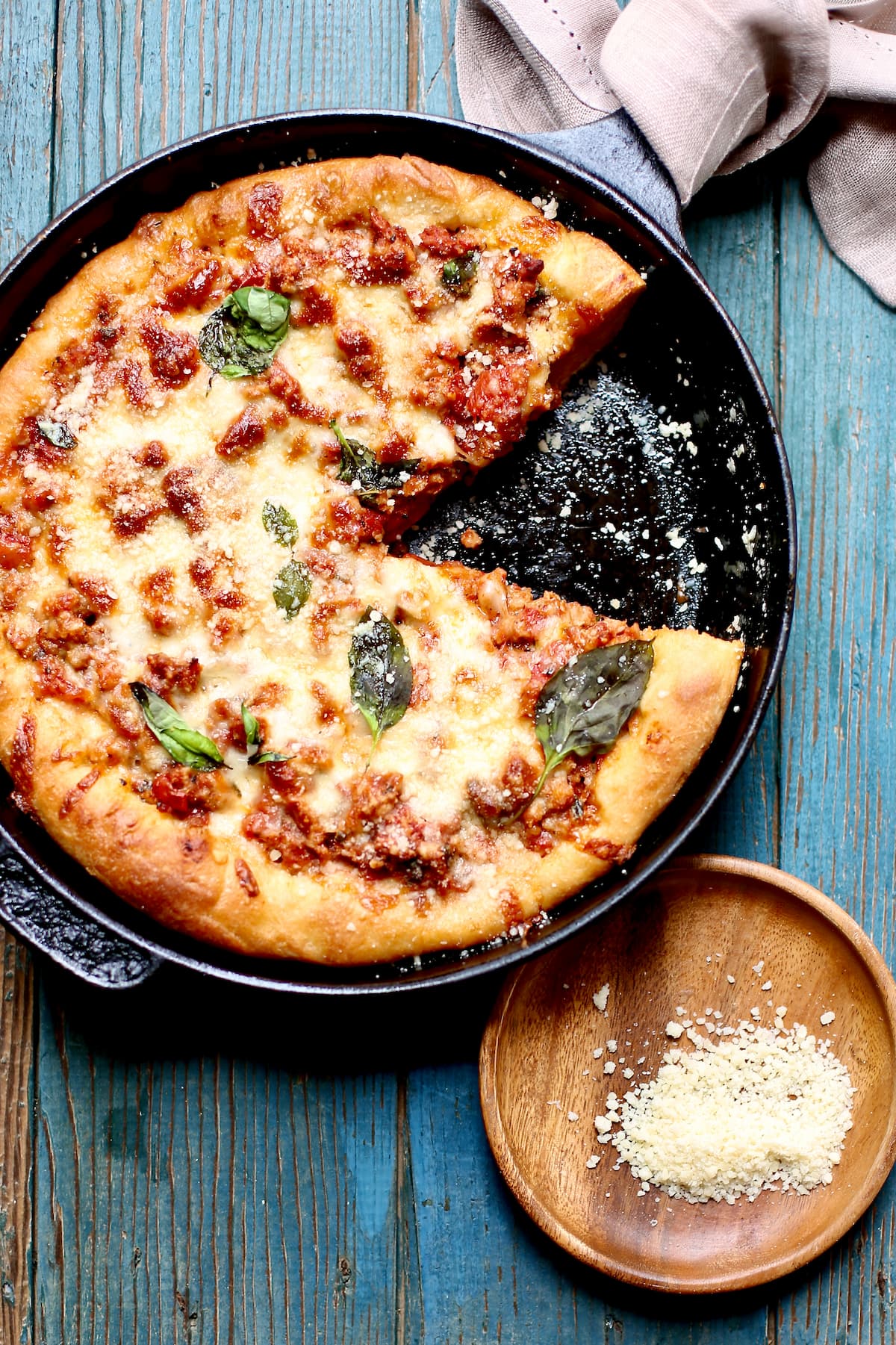 Well, salads are natural to eat with a pizza, here a few delicious recipes I'd recommend:
Carrot Currant Salad: crunchy, biting and so fresh. No mayo globs here.
Celery Parmesan Salad: see above, but with buttery hazelnuts and shards of cheese
Blackberry Goat Cheese Salad: stunningly delicious. You've got to just try it.
Or, make a simple green salad with a big handful of spring greens, a drizzle of olive oil, a squeeze of fresh lemon juice, a few turns of ground pepper and a sprinkle of flaky sea salt!
More Tips for Success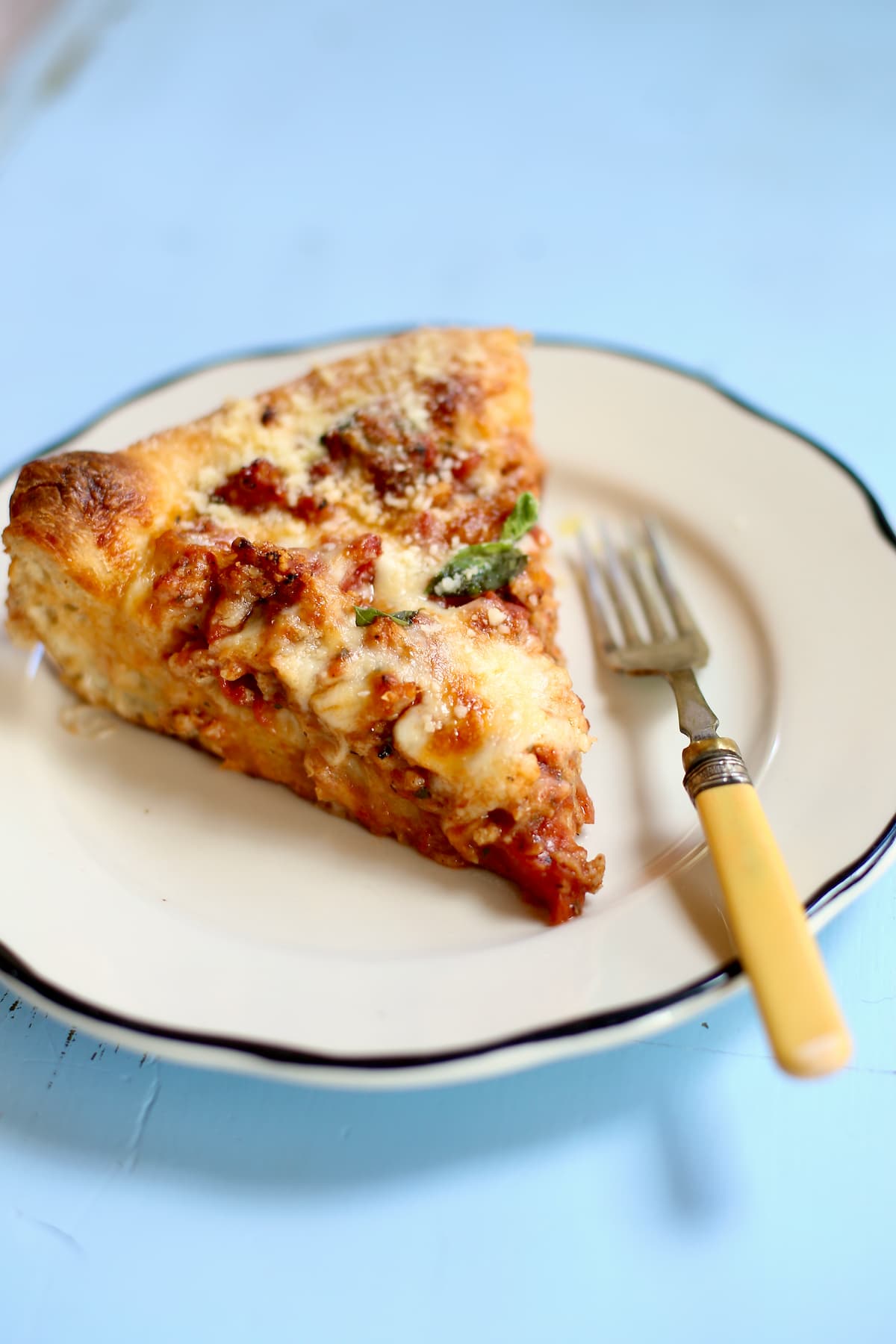 Bring your prepared pizza dough up to room temperature about 30 minutes before you start the recipe. I use a small bowl with some olive oil in it to prevent sticking and put (BPA free) plastic wrap over the top.
If you aren't using fresh herbs, a good tip is one tablespoon of fresh herbs is roughly equivalent to one teaspoon of dried herbs.
Be sure to use low-moisture mozzarella cheese, but not the skim or no-fat kind. If you use fresh mozzarella balls packaged in wet brine, your pizza crust will be soggy. This is bad 🙂
And avoid skim or no-fat mozzarella, too. Either and your pizza won't be as melty and delicious as it should be 🙂
Serve the cut pizza on a cutting board and let everyone grab a slice!
Frequently Asked Questions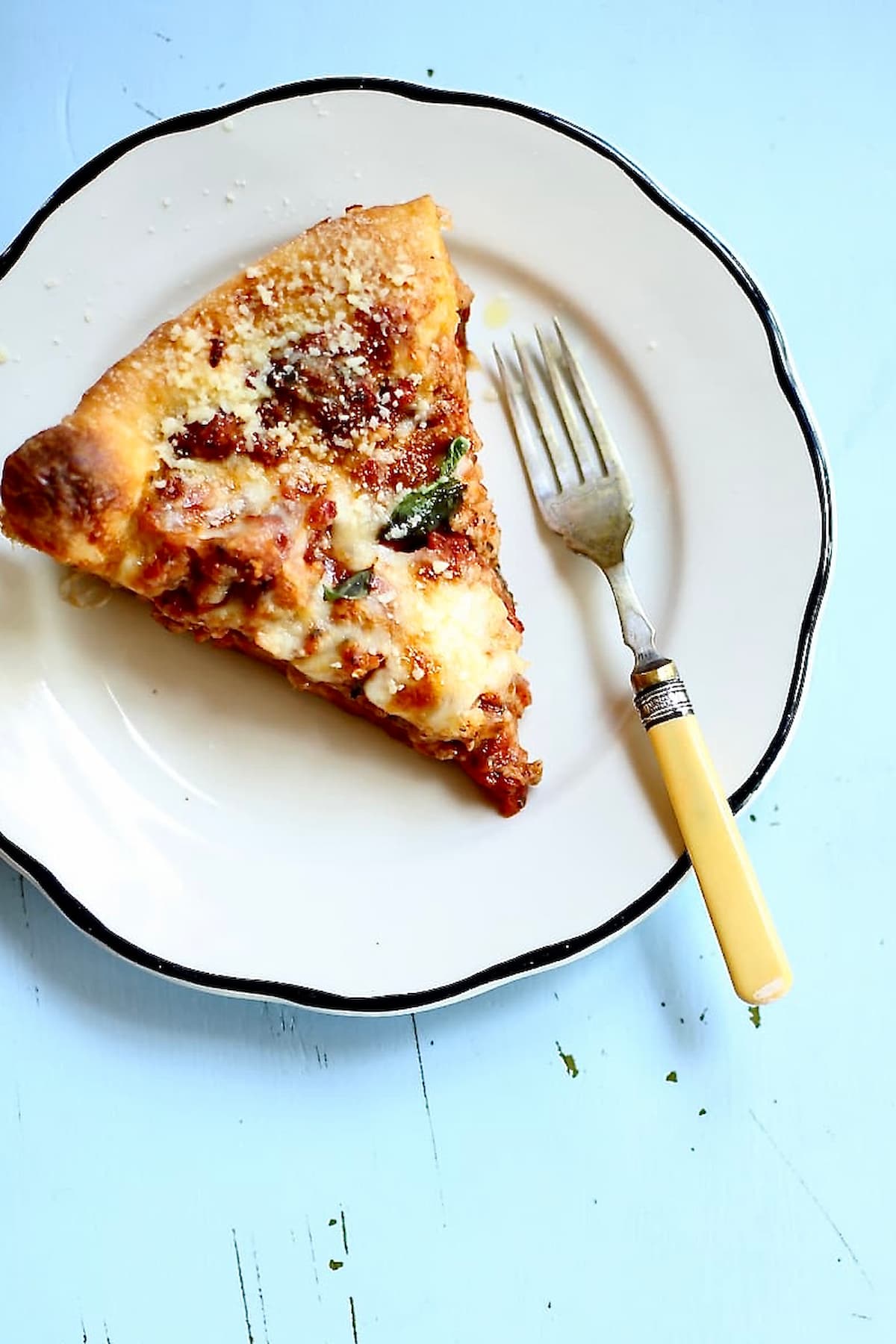 Can I use something instead of chicken sausage?
Yes you can! Most any kind of uncooked sausage will work with this cast iron skillet pizza. Italian sausage would be delicious!
Can I use something instead of fresh basil?
If there's no fresh basil around, use fresh flat leaf Italian parsley as a substitute. You can use dried basil too, but you'll need way less. A good equivalent is one tablespoon fresh herbs equals one teaspoon of dried.
What if I can't find bulk sausage?
It's fine to use raw sausage that's already in a casing. Just cut the casing with a sharp knife, and pull it off to remove the loose sausage before proceeding with the recipe.
More Recipes to Try:
Baked Pasta with Chicken Sausage: A reader favorite, cheesy and delicious!
Chicken Sausage Tortellini Soup: Full of chunky, fresh ingredients
Baked Ravioli with Sausage: Comfort food at its finest!
Chicken Marsala: A classic recipe everyone loves….
Citrus Chicken Thighs: Easy and tender and delicious!
If you've made Cast Iron Skillet Pizza, or any recipe on Studio Delicious, leave a recipe rating and tell me all about it in the comments below!
Looking for more tips and fresh, homemade recipes? Join my email list, tag and follow me on Instagram using #studiodeliciouseats, follow my boards on Pinterest, and see what I'm up to on Facebook and Twitter!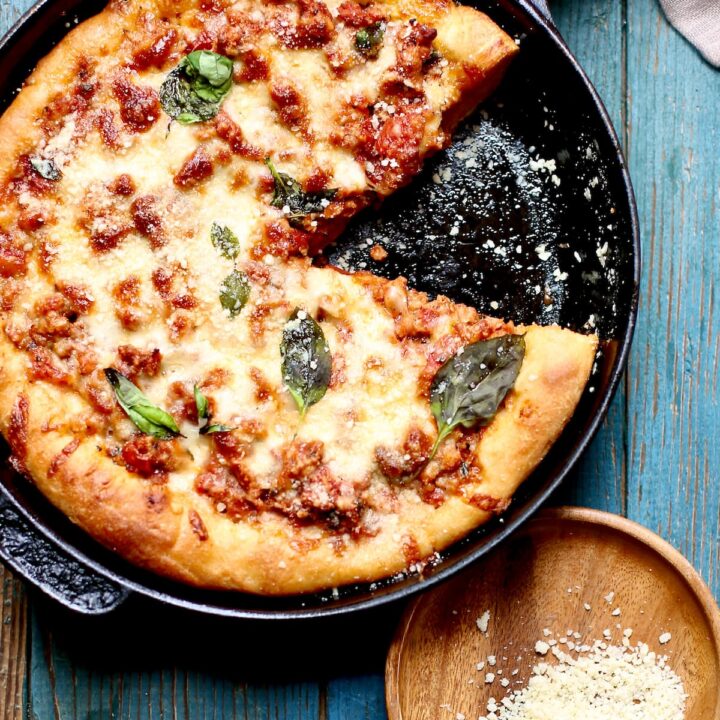 Cast Iron Skillet Pizza
An easy, absolutely delicious deep dish pizza pie with a crispy crust!
Print
Pin
Rate
Ingredients
1

package

Prepared Pizza Crust (store bought)

about 12 ounces

2

tablespoons

Olive Oil, plus more for serving

1

pound

Chicken Sausage, bulk

1

14.5 ounce can

Diced Tomatoes, drained

3/4

cup

Prepared pizza sauce

1

clove

Garlic, crushed

1/2

teaspoon

Salt

1/2

teaspoon

Black Pepper, freshly ground

1/4

teaspoon

Red Pepper flakes

1/2

teaspoon

Oregano, dried

2

tablespoons

Basil leaves, chopped, fresh

2

cups

Mozzarella Cheese, low moisture style, grated

1/4

cup

Parmesan Cheese, grated, plus more for serving
Instructions
Pre-heat the oven to 450 degrees. Use a 9 or 10" cast iron skillet for this recipe.

MAKE THE MEAT MIXTURE

Cook the sausage in a non-stick skillet until no longer pink. Drain any fat that may have accumulated on the bottom, then add the drained tomatoes, pizza sauce, crushed garlic, salt, pepper, red pepper flakes, oregano and one tablespoon (a couple of leaves) of the chopped fresh basil.

Cook the meat mixture on medium until the liquid has evaporated, 4-6 minutes. It should be chunky!

Let this mixture cool down while you prepare the pan and dough.

PREPARE THE CAST IRON PAN AND DOUGH

Roll out the prepared pizza dough to a rough 14" inch circle, using a lightly floured rolling pin on a flat surface, like a clean counter.

Pre-heat the cast iron skillet by placing it on the bottom rack of the oven for 10 minutes. You can set it on a large baking sheet if you'd like, to make removing it from the oven a bit easier.

Remove it from the oven, then add two tablespoons of olive oil, swirling it to coat the entire bottom and up the sides. Use a pastry brush, if needed, to help brush up the sides of the pan.

Carefully transfer the rolled out pizza dough directly into the skillet – remember, the skillet is hot! and lightly press the dough into place, and up the sides of the skillet.

Don't be concerned with how it looks at this point. The goal is cover the bottom of the skillet with the dough and 1 1/2" inches up the sides.

Set the skillet back on the baking sheet to rest while you grate the cheese.

TO ASSEMBLE

Sprinkle half the cheese (one cup) on the bottom layer of the crust. Now spoon on all of the meat mixture on top of that, leaving about a inch or so border around the sides. Sprinkle the remaining cheese on top of the meat mixture.

Next, sprinkle the Parmesan cheese on top, and brush the outter edges of the pizza dough with a little olive oil to help them brown.

Bake on the bottom rack of the oven for 22-25 minutes. The edges will be golden brown and the bottom easy to lift with a spatula.

To serve, sprinkle the pizza with a little more parmesan cheese, the remaining fresh basil (whole or chopped) and a drizzle of olive oil, if you like.

Let the pizza rest for 5-10 minutes before slicing and serving.
Notes
Bring your prepared pizza dough up to room temperature about 30 minutes before you start the recipe. I use a small bowl with some olive oil in it to prevent sticking.
If you aren't using fresh herbs, a good tip is one tablespoon of fresh herbs is roughly equivalent to one teaspoon of dried herbs.
Be sure to use low-moisture mozzarella cheese, but not the skim or no-fat kind. Two things: if you use a fresh mozzarella packaged in brine, your pizza crust will be soggy. This is bad. And if you use skim or no-fat mozzarella, well, lets just say your pizza will not be as melty and delicious as it was meant to be 🙂
Nutrition
Calories:
368
kcal
|
Carbohydrates:
28
g
|
Protein:
20
g
|
Fat:
20
g
|
Saturated Fat:
7
g
|
Polyunsaturated Fat:
1
g
|
Monounsaturated Fat:
5
g
|
Cholesterol:
64
mg
|
Sodium:
1426
mg
|
Potassium:
108
mg
|
Fiber:
1
g
|
Sugar:
5
g
|
Vitamin A:
561
IU
|
Vitamin C:
3
mg
|
Calcium:
186
mg
|
Iron:
2
mg
Tips for Success with Every Recipe
Super important to read the whole recipe before you begin
Pay attention to the ingredient list and photos for the recipe
If possible, prep your ingredients a little before you start
Always use a sharp knife for safety
Use the size of pan called for in the recipe
For savory recipes, taste and season as you go
Buy fresh, organic ingredients, locally sourced whenever possible