Delicious little snacks to nibble on are practically mandatory when you're enjoying wine or mocktails, here's a helpful list of some favorites combinations.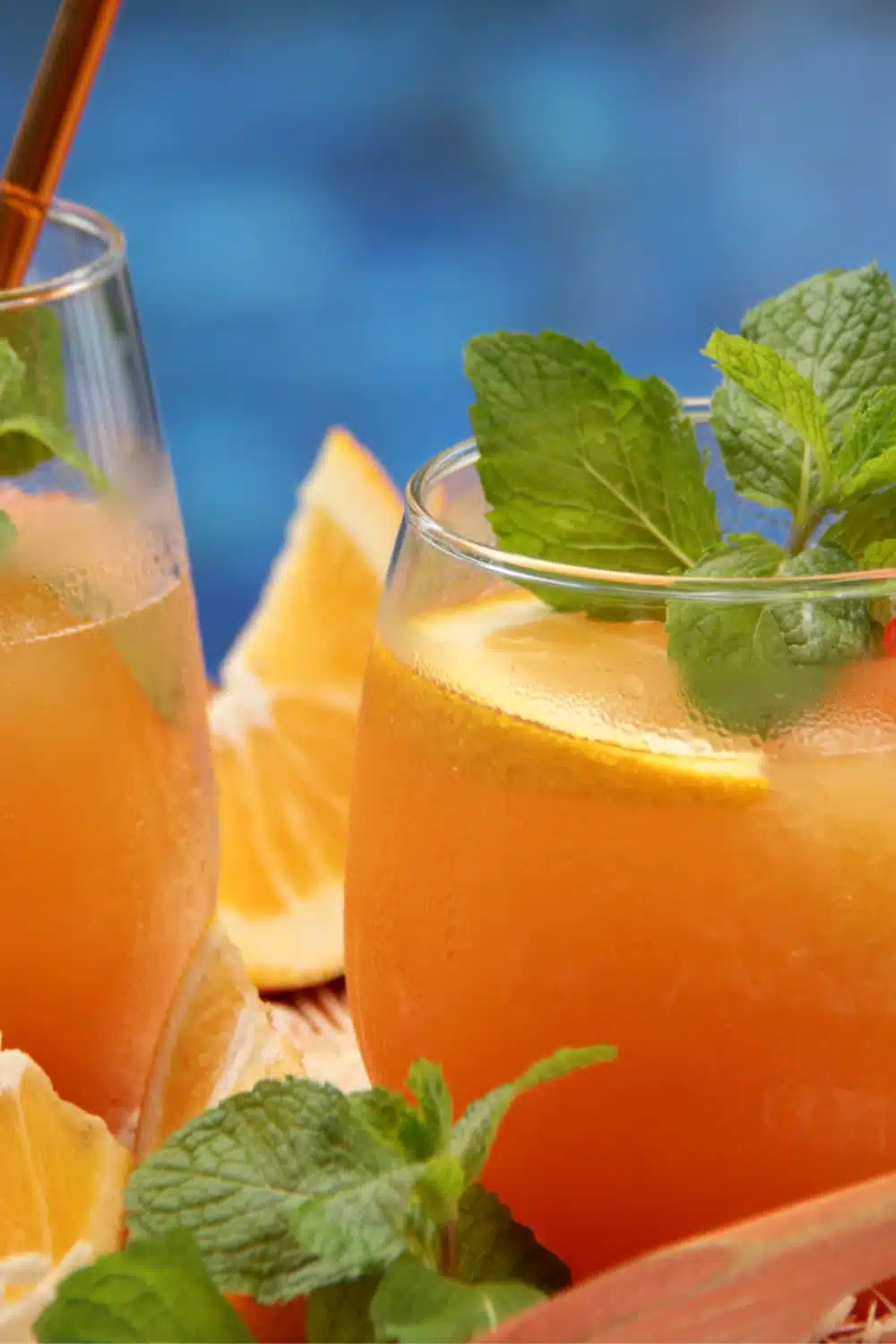 Jump to:
Why You'll Love These Recipes
The best snacks with cold drinks are simple, fun and easy. Skip the fuss of a stuffy dinner party and host a casual gathering instead with a variety of wines and mocktails and plenty of delicious snacks.
Here's a few good ideas to try next time you've got friends coming around:
Hot and cold foods that are easy to eat with your hands.
A couple of favorite mocktail recipes, more popular than ever with lots of folks.
Tips for menu fillers so you spend time hanging with your guests, not in the kitchen making complicated canapes. 🙂
Party Olives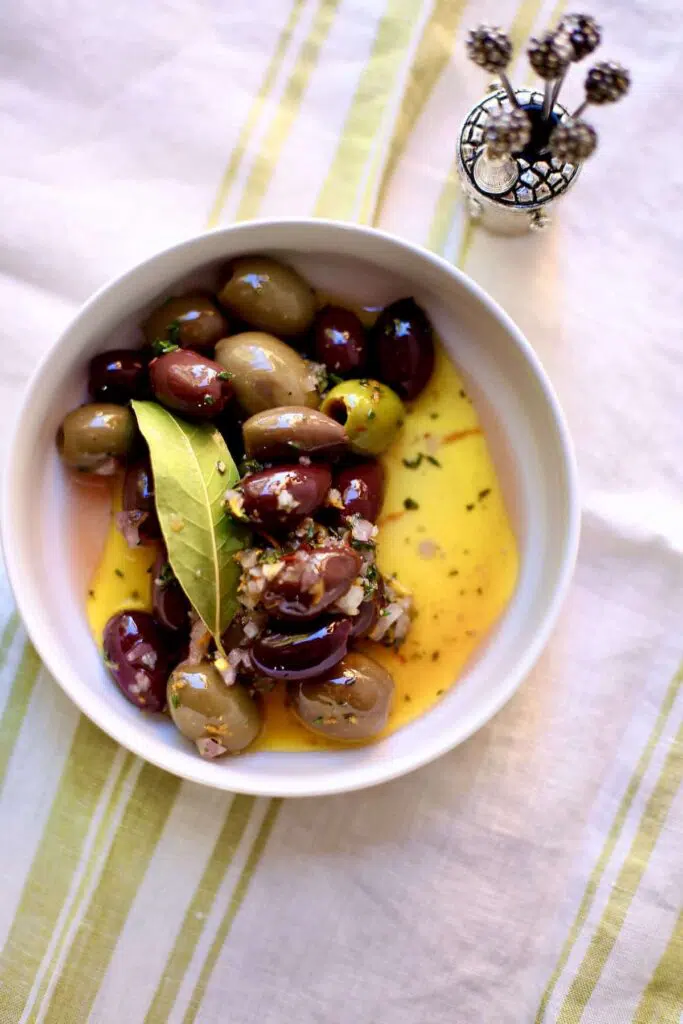 Party Olives: These incredible little gems get a bath in aromatic herbs, seasonings and olive oil, and are one of the best snacks you can serve with drinks.
Salmon Patties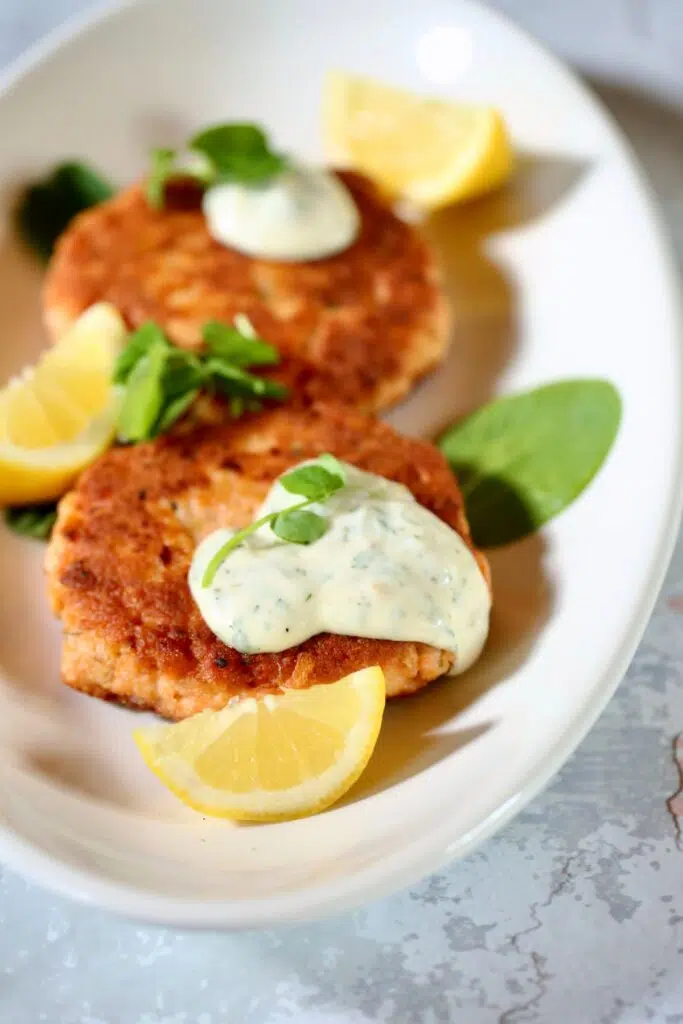 serve with a squeeze of fresh lemon
Salmon Patties: Move over crab cakes! These salmon patties are a great choice and taste so indulgent… made from fresh salmon and they're just delicious with a fresh sauce on the side. Make them bite-sized for parties and serve on a big platter with a bowl of the dipping sauce.
Deviled Eggs with Candied Bacon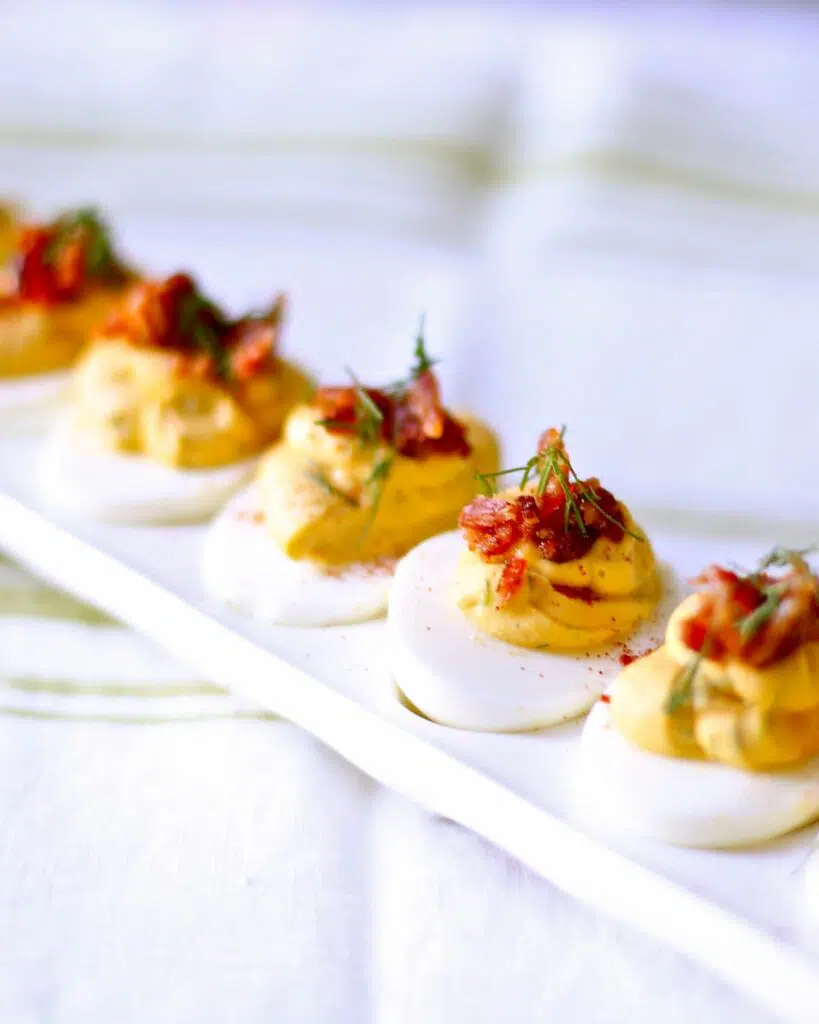 Crispy Cauliflower Bites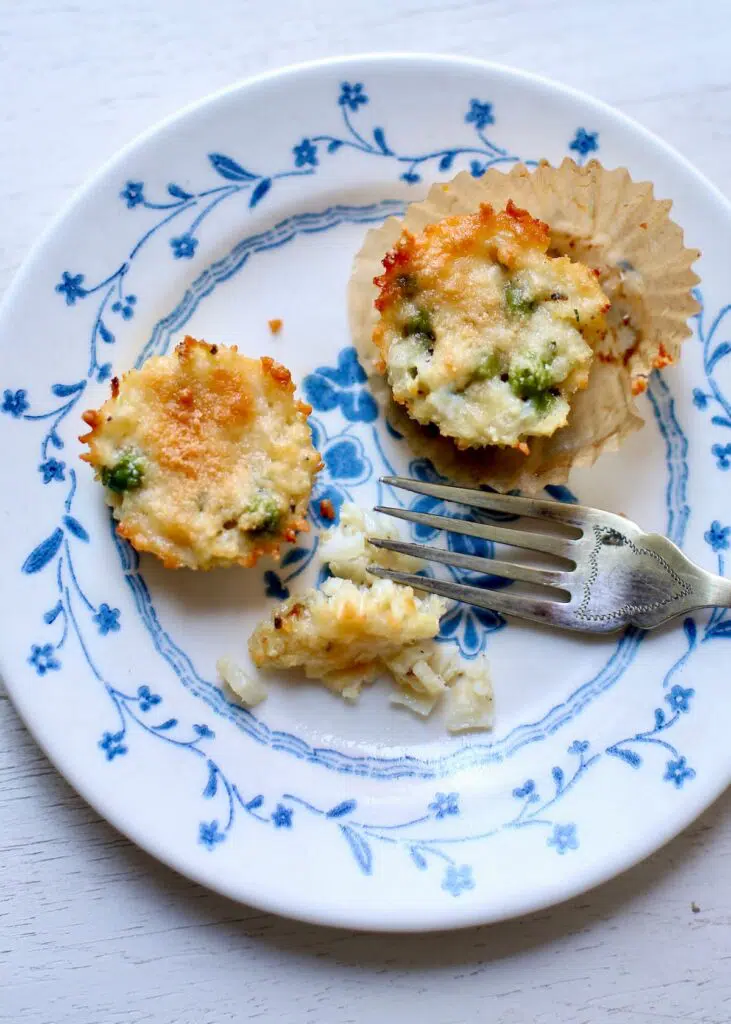 resistance is futile with these cheesy bites
Crispy Cauliflower Bites: These warm, cheesy cauliflower bites are easy to make and so good, and as an added bonus, they're real easy to pop in your mouth. Use frozen riced cauliflower and a mini muffin tin…this is another recipe that everyone just loves and gets eaten up quick.
Sweet and Spicy Almonds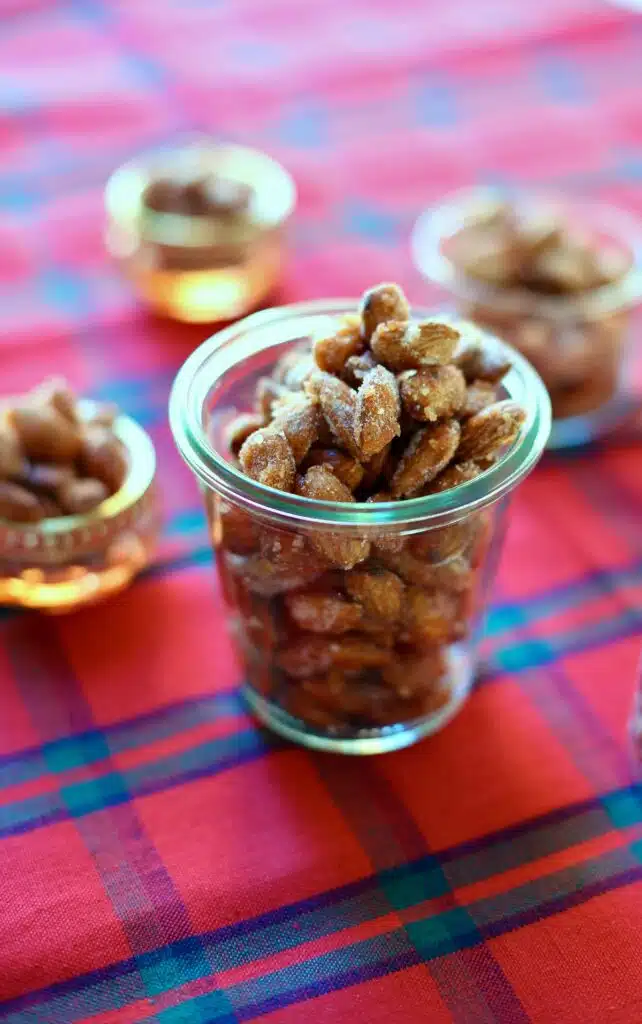 Sweet and Spicy Almonds: A little spicy food is always welcome with cold drinks, and these almonds are the perfect blend of sweet and salty. This recipe is an all-time favorite, and I'd humbly suggest you make double!
Lemon Artichoke Dip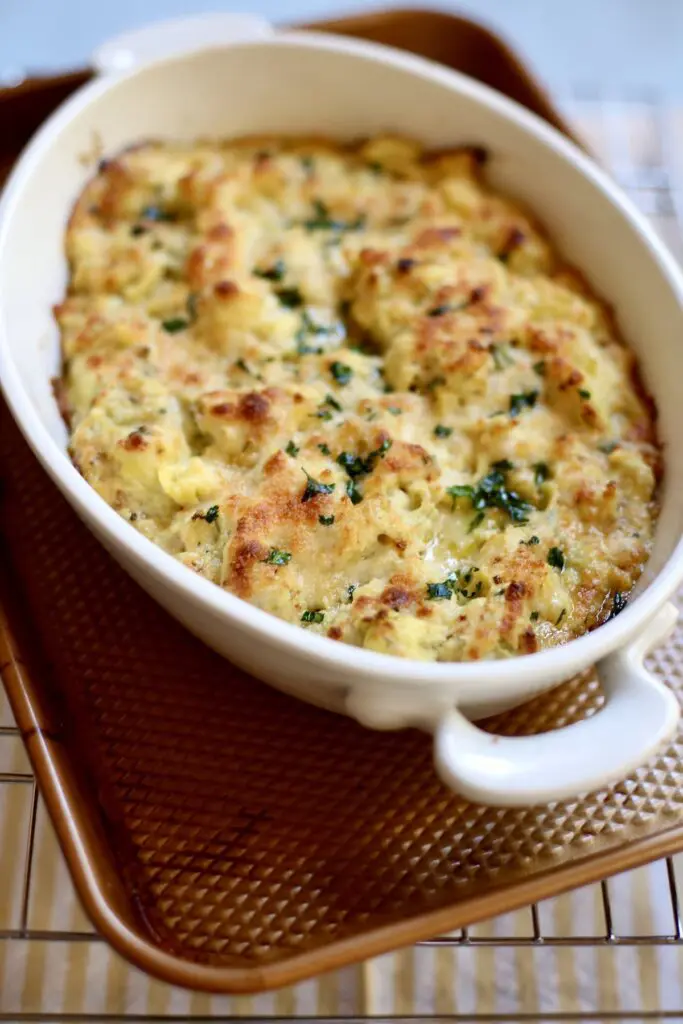 Lemon Artichoke Dip: This is my all-time favorite version of hot artichoke dip. It's got just a few ingredients and no spinach – with no offense to spinach – but you can taste the freshness of the artichokes and lemon better without it. Serve with buttered & toasted bread rounds.
Goat Cheese Toasts with Cranberry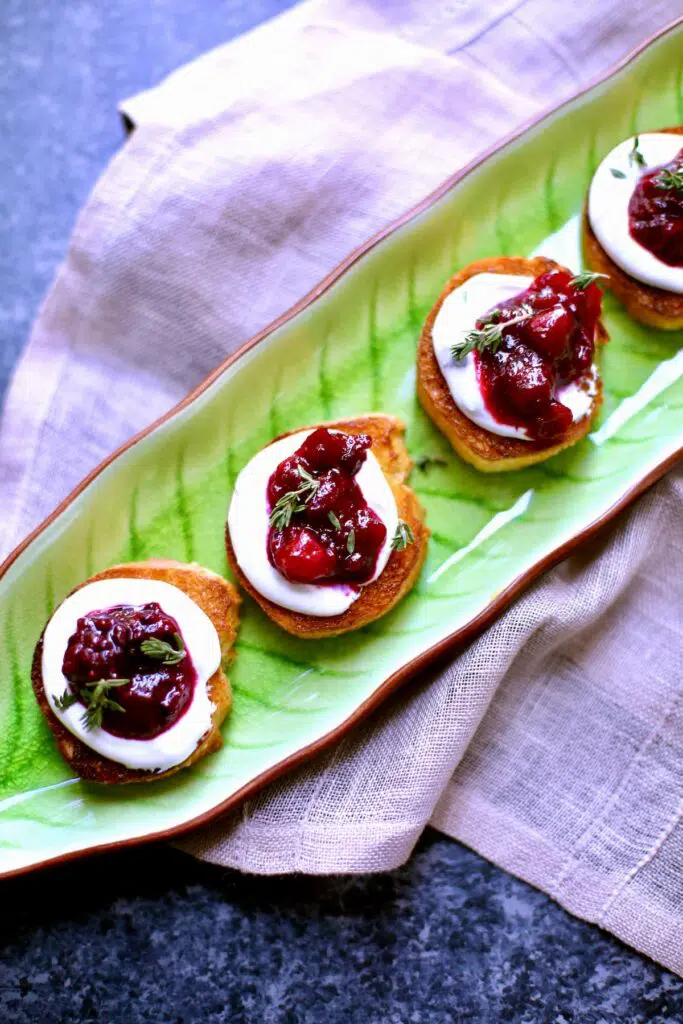 Goat Cheese Toasts with Cranberry: Tangy, cheesy goodness! Start with olive oil toasted rounds topped with creamy goat cheese and a delicious cranberry compote. The perfect satisfying bite!
Turkey Burger Sliders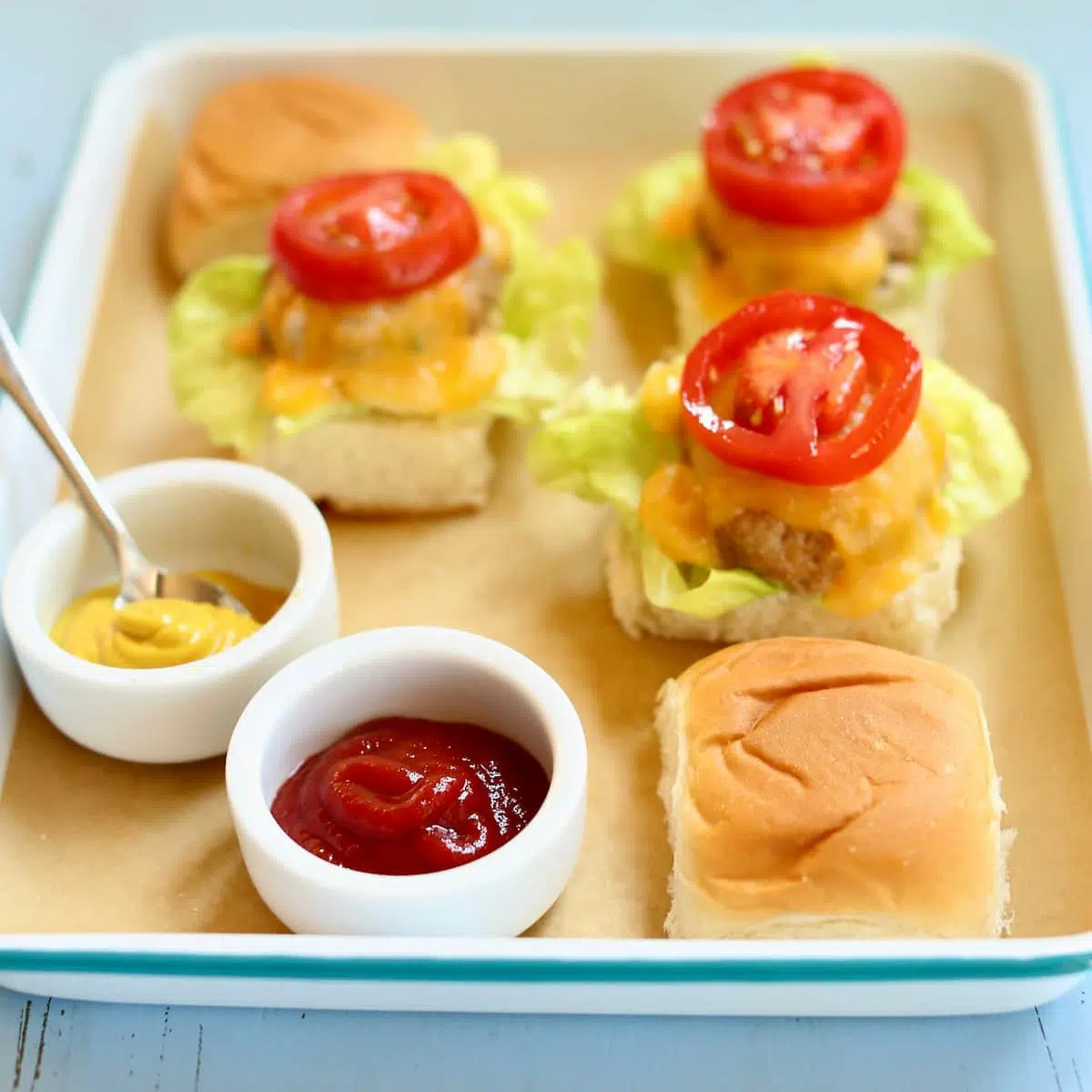 Turkey Burger Sliders: It's nice to have a couple of hearty, warm snacks plus some fillers like assorted chips, dips, nuts. These cute and flavorful sliders can be made a dozen at a time! Break out a tray of these and your guests will swoon!
Favorite Mocktails
this easy peach drink is refreshing year-round
Peach Green Tea Lemonade: This is just an incredibly good and satisfying drink, with decaf green tea and fresh or frozen peaches plus a little shot of lemonade. So refreshing and flavorful, and not sweet!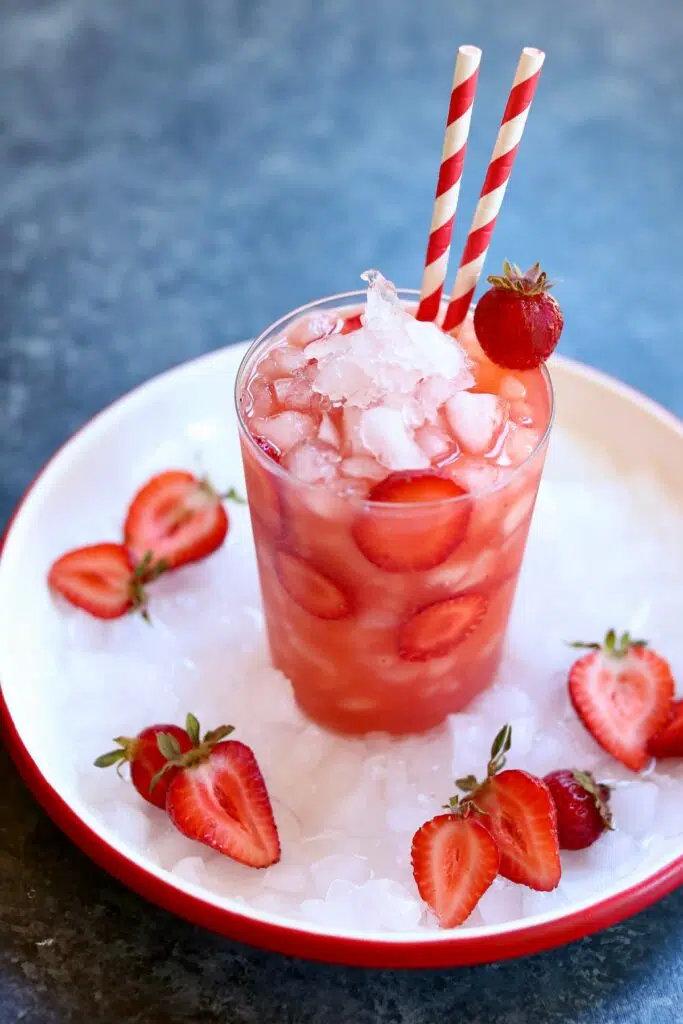 a delightful, tasty mocktail
Strawberry Acai Refresher: Hand anyone a glass of this totally refreshing, clean-tasting drink and they'll be so happy. Easy to make with fresh or frozen strawberries.
Tips and Serving Ideas
Have plenty of club soda or sparkling mineral waters available, with cut-up slices of lemons, limes and oranges available. And ice. Don't forget the ice. 🙂
To round out an all-appetizer menu, add a few bowls of best quality potato chips with a store-bought onion dip and/or hummus. Transfer the dips to a pretty bowl and garnished with fresh chives or olive oil and fresh parsley.
Have a big bowl of thick, good quality corn chips with a fresh, tasty salsa.
Plain popcorn freshly popped with a drizzle of good melted butter and flaky sea salt is an easy, inexpensive snack that everyone loves. Place bowls throughout the room.
Make a simple charcuterie board! Cheese is a perfect match for fruity wines. Keep it simple with a combination of one or two soft cheeses like Brie or Camembert and one or two good quality aged cheeses. Pile them on a cutting board or tray with fresh grapes, and dried apricots.
A pretty silver bowl of salted mixed nuts or peanuts is a great thing to have on an appetizer table.
Make a simple, stylish veggie platter with stuffed celery for some nostalgic vibes.
Serve something sweet too, like a tray of good quality dark chocolate or this fabulous dessert platter. It's a show stopper, easy to put together, and satisfies the sweet tooth.
A big platter of homemade chocolate chip cookies is a fun addition at the end of the night.
Frequently Asked Questions
How many appetizers should I serve at a party?
This depends on the number of people coming and if you're serving dinner too. For appetizers and drinks, start with 2-4 appetizers and fill in with a few other snacks (see tips).
Can recipes be made in advance?
Each recipe is different, but any recipe can be at least partially prepared in advance and stored in the refrigerator until ready to assemble.
What type of drinks should I serve?
Unlike a wine or food pairing party, try something more casual. There are lots of good mid-priced wines. Go for Cabernet Sauvignon, a light red like Pinot Noir, a crisp Pinot Grigio or Sauvignon Blanc, and a buttery Chardonnay plus a pre-made batch of mocktails – all are great choices with snacks.
More Recipes to Try
If you've tried these Best Snacks with Wine and Mocktails or any other recipe on Studio Delicious, please tell me how you liked it in comments below
Looking for more tips and fresh, homemade recipes? Join my email list, tag and follow me on Instagram using #studiodeliciouseats, follow my boards on Pinterest, and see what I'm up to on Facebook and Twitter!