Crunchy Green Bean, Pea and Walnut Salad is super refreshing and just makes you feel good.  Crunchy and flavorful with a light vinaigrette, this is a salad recipe to keep.
Crunchy Green Bean, Pea and Walnut Salad
This recipe for crunchy green beans, peas and walnut salad is green.
Like Kermit, who had a bad week. (Google if you're interested.)
I have a thing for frogs, and apparently they do for me.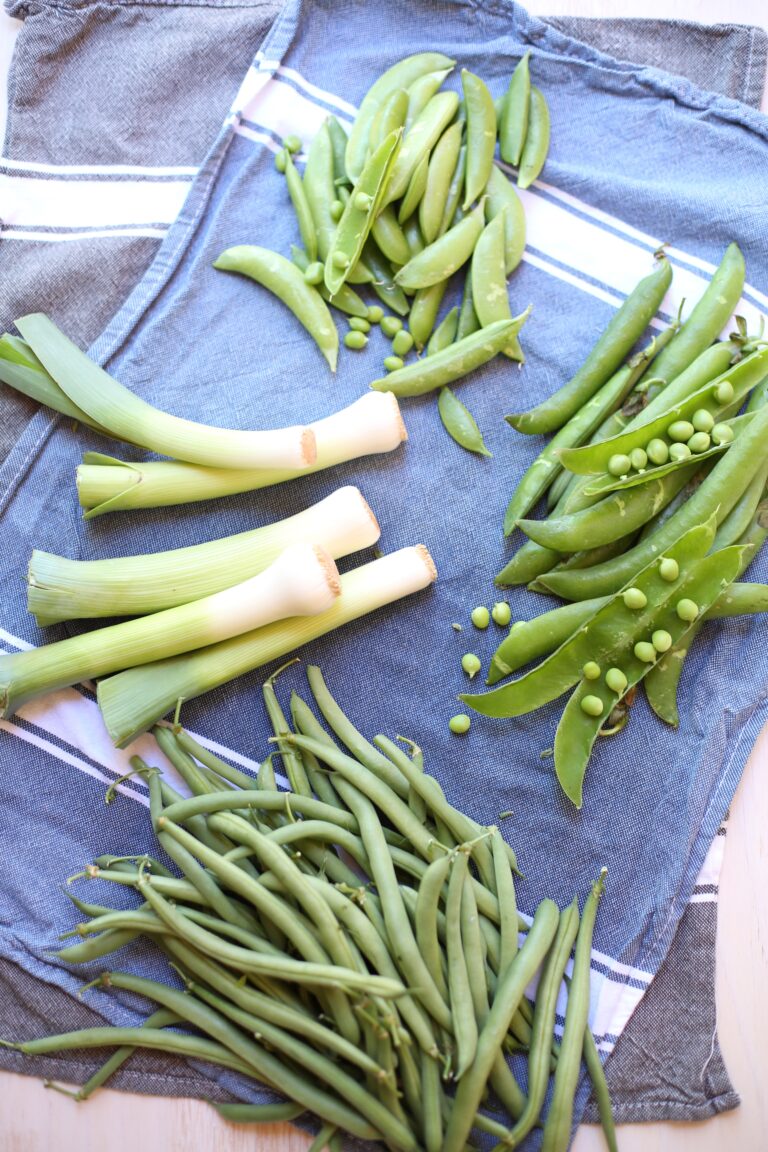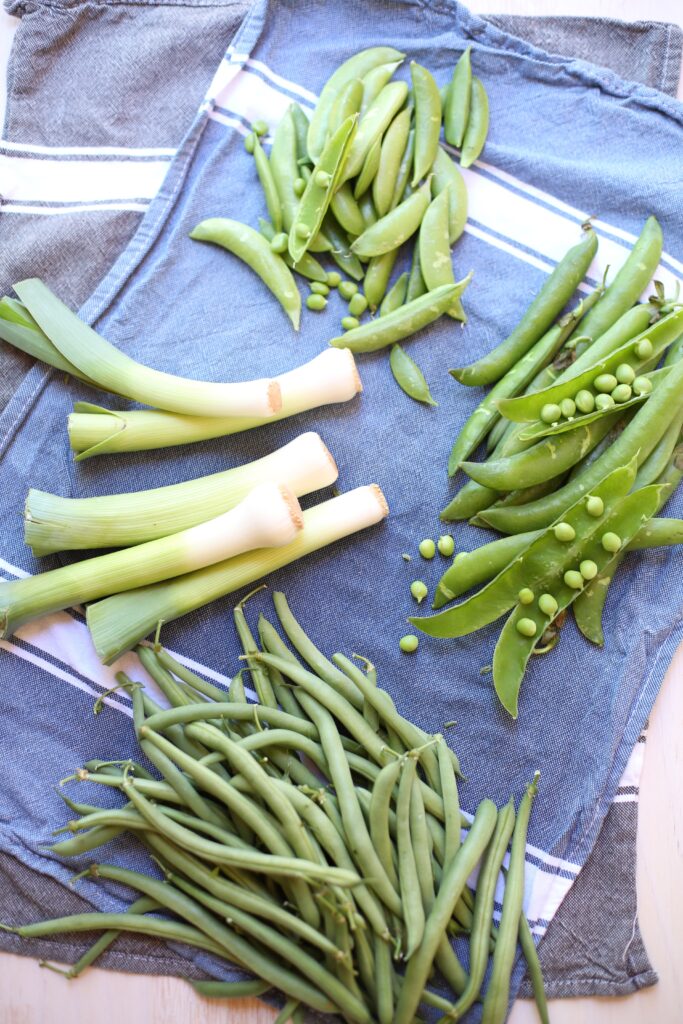 I'll have you know I'm the proud owner of a five-pound concrete frog, who's only job is to sit on the back porch table in summer, given to me by a relative many years ago.  He has a crack down the middle and is missing an eye, but he's happy I think.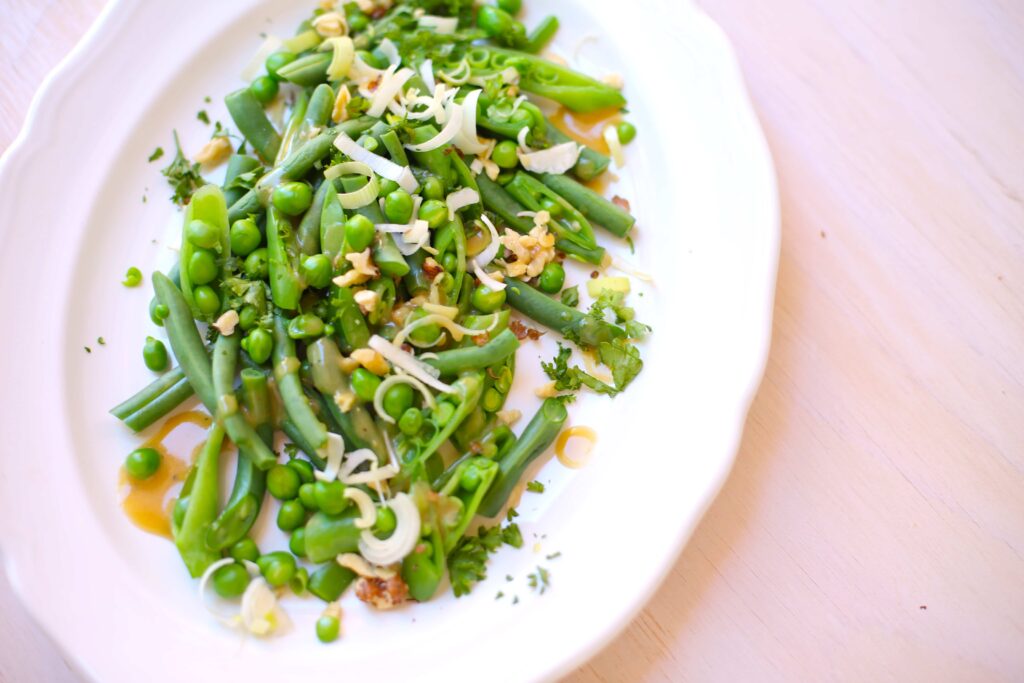 I also have two tiny steel frogs, no bigger than a dime each, who patiently sit on the ledge of my kitchen counter.  They were my Grandmother's, and while I don't remember their story, she always kept them on her kitchen counter, so I think they like it there.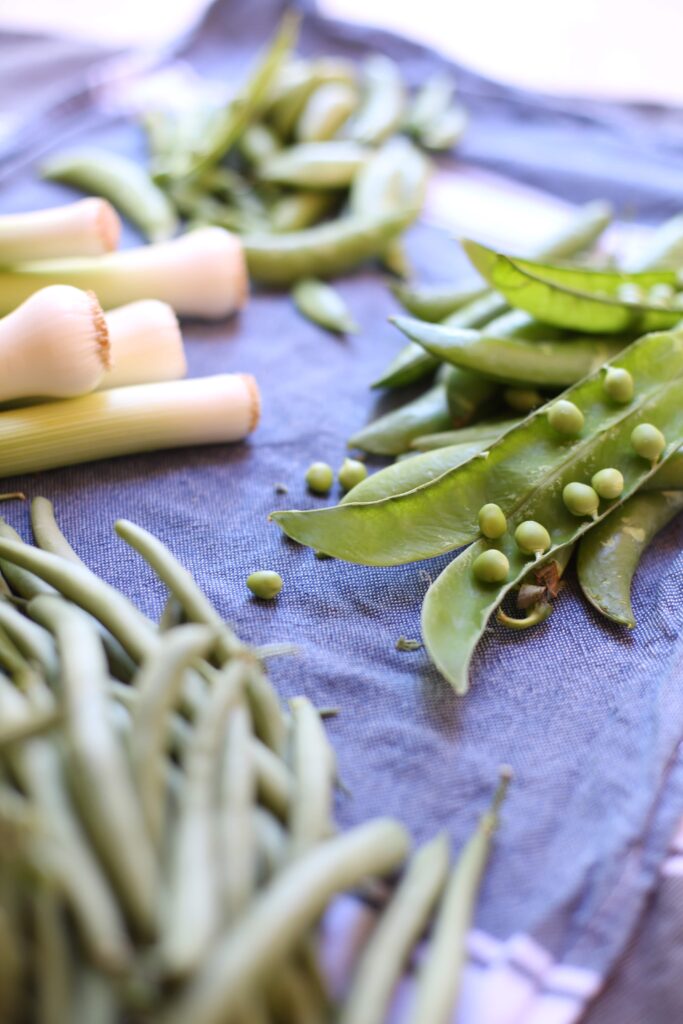 You'll never believe this but a small glass frog showed up on my car seat the other day, bright green with painted-on eyes, and I have absolutely no clue how he got there.  I'm serious, it just showed up under my bag of groceries, and I'd never seen it before in my life.
He's hanging out in the kitchen now with his new little frog friends.  I feel good about this.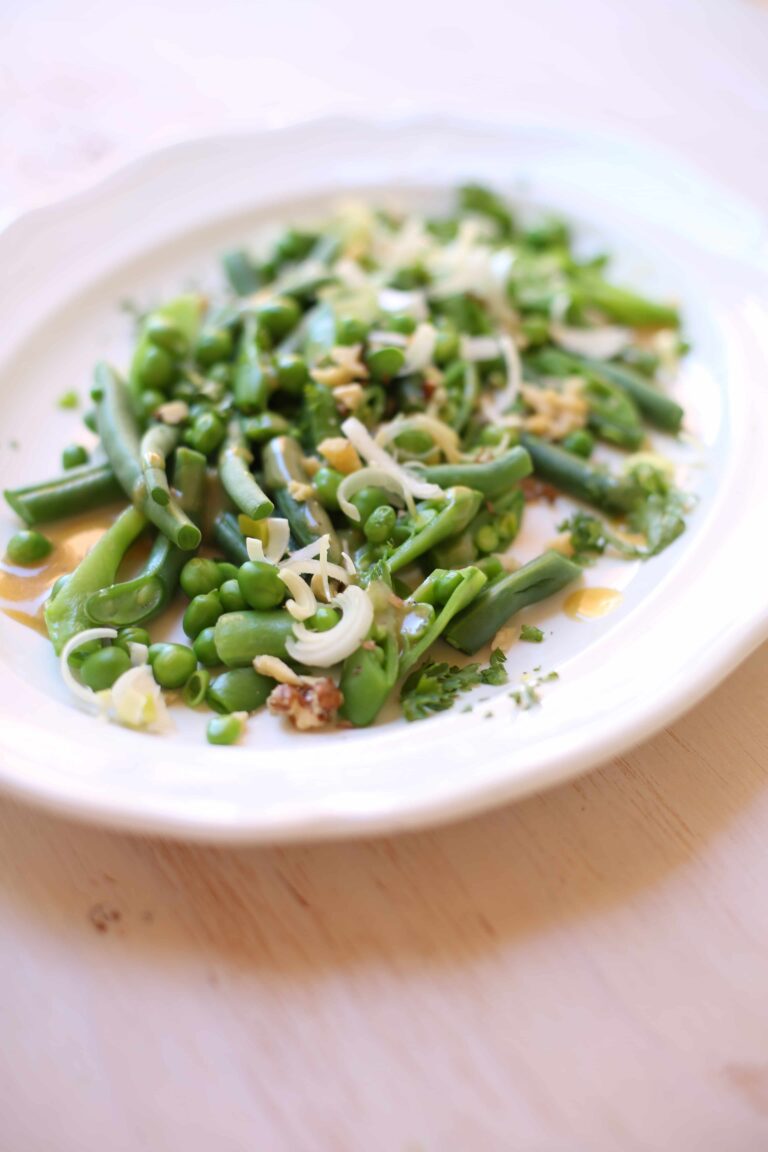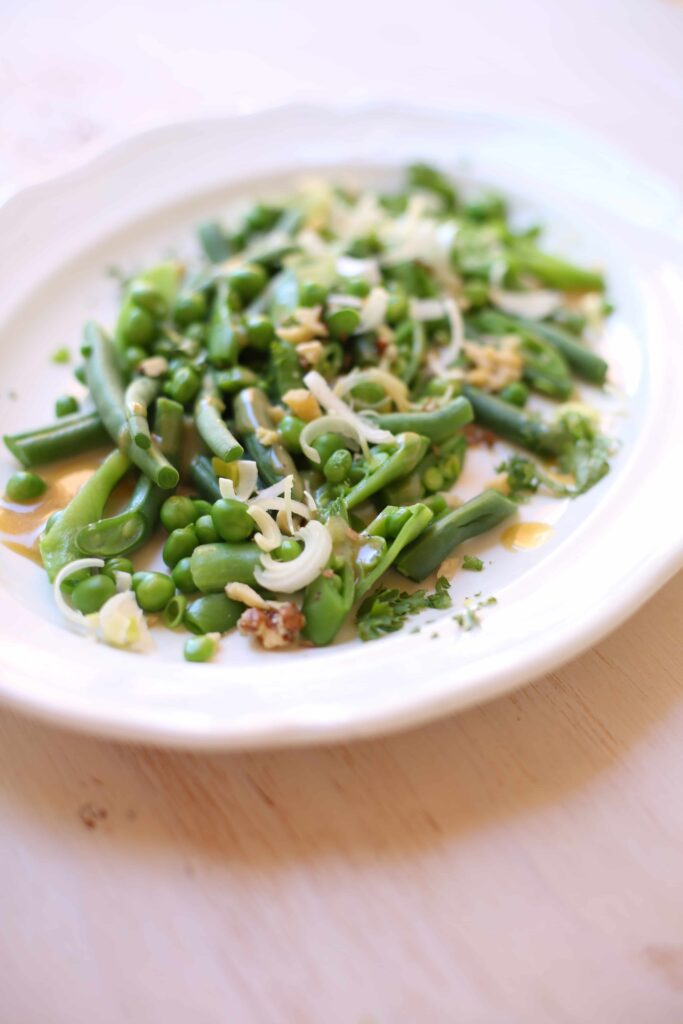 Fast forward to yesterday, when a small frog jumped out from the tray of flowers I was potting.  He seemed surprised, and sat next to me for about 20 minutes before moving on.  I had to laugh because to see a frog where I live up in the mountains is rare indeed.
Frogs are my spirit animal, maybe?
This delicious green bean, pea and walnut salad looks fancy but is easy and crunchy and fresh-tasting.
This is a case when it's easy to be green 🙂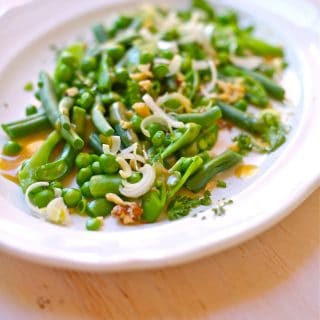 Crunchy Green Bean, Pea, Walnut Salad
This Crunchy Green Bean, Pea and Walnut Salad is the ultimate spring food. It's healthy and light and looks beautiful composed on a plate.
Print
Pin
Rate
Ingredients
2

cups

Green Beans, fresh, ends trimmed, cut in half

1

cup

Peas, fresh, English, shelled

1

cup

Sugar Snap Peas, fresh, ends trimmed, cut in half

1/2

teaspoon

Salt

1/4

cup

Walnuts

4

tablespoons

Leek, white part only, washed and sliced very thin

one large leek

3

tablespoons

Parsley, Italian, chopped fine

3

tablespoons

Olive Oil

2

tablespoons

Red Wine Vinegar

1 1/2

teaspoons

Dijon Mustard

1/2

teaspoon

Sea Salt

1/4

teaspoon

Pepper, freshly ground

1

teaspoon

Honey
Instructions
Set aside a medium-sized bowl of ice water before cooking the beans and peas.

In a large saucepan with lid, put the beans and peas in and 1/2 cup water plus 1/2 teaspoon sea salt. Cook, covered, on medium high heat for 4-5 minutes. Beans should be slightly crisp, but cooked.

Drain and then submerge the beans and peas in the ice water bowl you have set aside to completely stop the cooking process and set the color. Let them sit in the ice bath for 3 minutes, then drain again and pat dry carefully with a clean dish towel or paper towel. Set aside.

TOAST THE WALNUTS

Place the walnuts in a medium sized dry non-stick saute skillet and toast on medium-high heat, stirring occasionally for about 4-5 minutes until fragrant. Remove from pan and cop finely on a cutting board, set aside.

MAKE THE VINAIGRETTE

Whisk together the olive oil and red wine vinegar, mustard, sea salt, lemon pepper and honey in a medium-sized bowl. Set aside until ready to compile the salad.

To Serve, use a large platter for family style. Place the beans and peas on the platter, sprinkle with walnuts, leeks and parsley and drizzle with the vinaigrette.Alternatively, divide the ingredients between 4 or 6 plates for individual servings.

Keep the ingredients separate until ready to serve.
Notes
If you can't find fresh English peas, just use frozen, thawed and drained peas 
This recipe was updated in December 2019
Nutrition
Calories:
144
kcal
|
Carbohydrates:
11
g
|
Protein:
3
g
|
Fat:
10
g
|
Saturated Fat:
1
g
|
Sodium:
410
mg
|
Potassium:
219
mg
|
Fiber:
3
g
|
Sugar:
5
g
|
Vitamin A:
948
IU
|
Vitamin C:
28
mg
|
Calcium:
40
mg
|
Iron:
2
mg