Discover basic techniques about how to make the best rolls at home with these Easy Homemade Sushi Rolls Recipes! Get tips for making and serving, no special equipment or tools needed!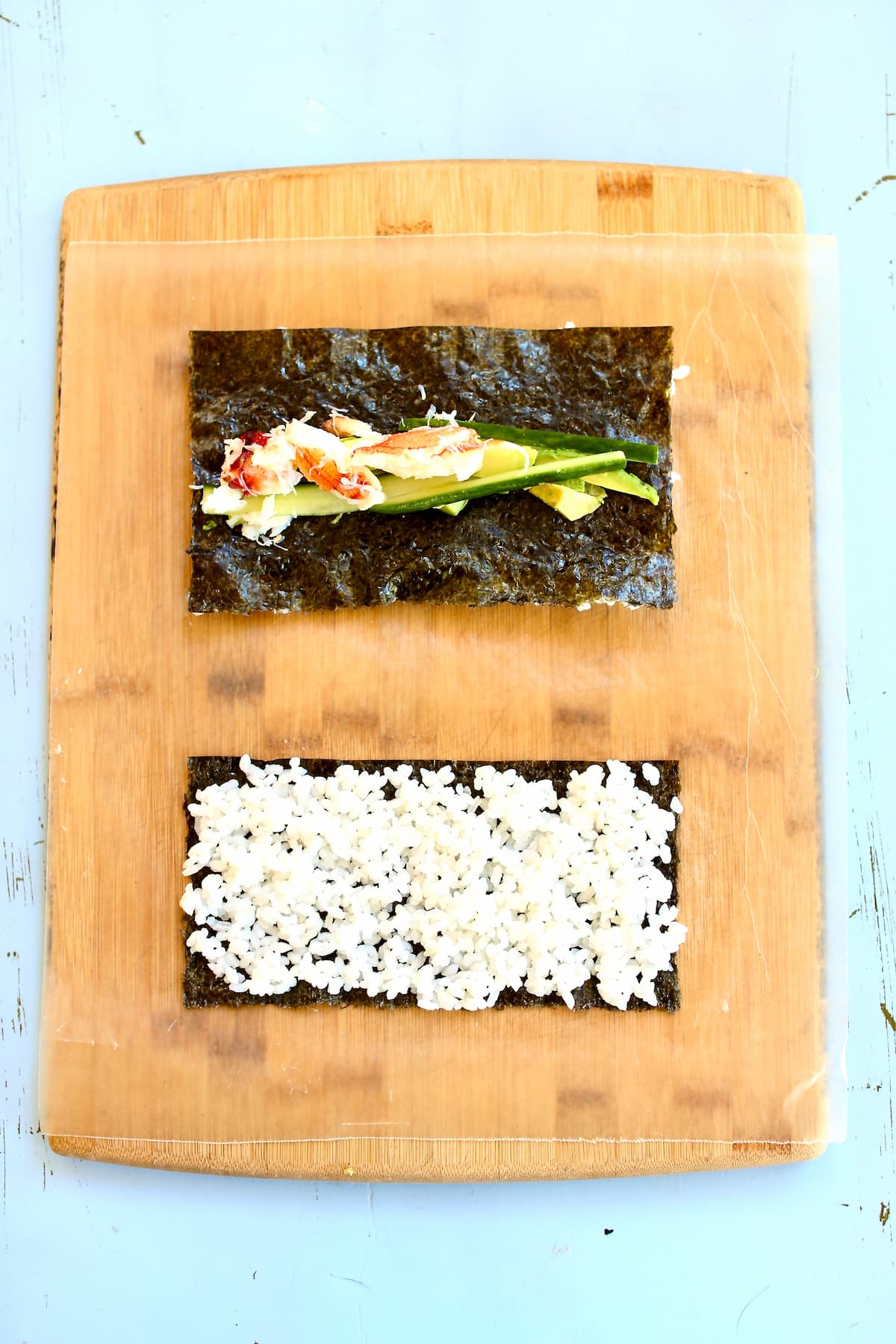 Jump to:
Why You'll Love Making Sushi at Home
Sushi is such a delicious and healthy dish that's enjoyed by millions of people around the world. If you're a sushi lover, have you ever considered making your own rolls at home?
It may sound intimidating, but with the right ingredients and a few simple techniques, it's actually quite easy!
Have a party in the comfort of your own kitchen!
No raw fish in these recipes, but you can certainly add sushi-grade fish if you'd like.
Best part? These are easy rolls, no special equipment or bamboo sushi mat is required. If it's your first time, you've got this!
Impress your friends and family with your skills!
Tips for Making Sushi Rice
Making perfect sushi rice takes a few simple steps, but it's really easy and totally worth the effort. Be sure to specifically buy sushi rice at the grocery store, such as Cal Rose or Whole Foods 365 brand.
Follow the instructions on the back of the bag for cooked rice. Here are some tips for making it like your favorite sushi restaurants!
Be sure to rinse the rice first with a fine mesh sieve to remove excess starch and dirt from the rice.
Use the ratio of rice to water that's called for on the back of the bag. Generally this is 1:1.25, or one cup of rice to one and a quarter cups of water.
Let the rice rest for about 10 minutes after it's finished cooking. This allows it to absorb the excess moisture and it's what makes the rice sticky.
Season the rice. Once it has cooled slightly, flavor it with seasoned rice vinegar, and toss it gently with a wooden spoon or spatula to avoid crushing the grains, and then spread it with your fingers on the nori sheet with the rest of the ingredients.
Tips for Slicing Ingredients for Sushi
Always use a sharp knife. It makes a huge difference in all your cooking.
Cut your ingredients into thin, uniform slices. This makes it easier to roll out and will ensure each piece has an even amount of filling.
Slice your ingredients length-wise.
Slice the ingredients the same length of the nori (seaweed sheets) you're using. This will make it easier to roll and slice the sushi.
Avocado Sushi Roll Recipe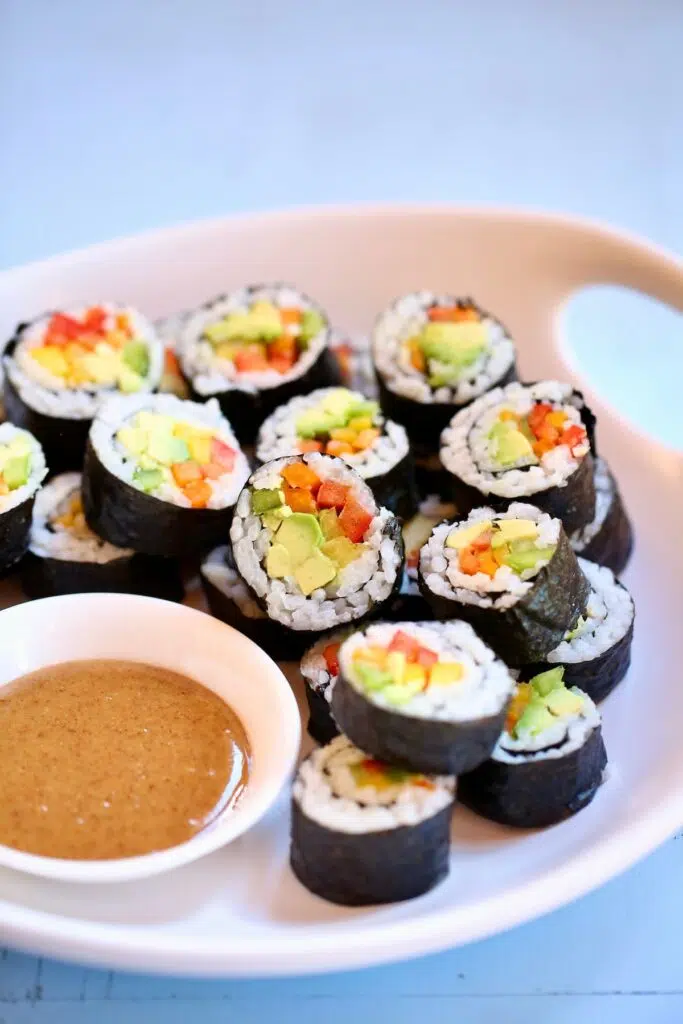 Served with a fantastic almond butter dipping sauce.
Avocado Sushi Roll Recipe: Take a sheet of nori and make this fresh, crunchy and light appetizer, lunch or dinner. Served with a flavorful almond butter dipping sauce these rolls are absolutely delicious!
Easy Crunchy Crab Sushi Roll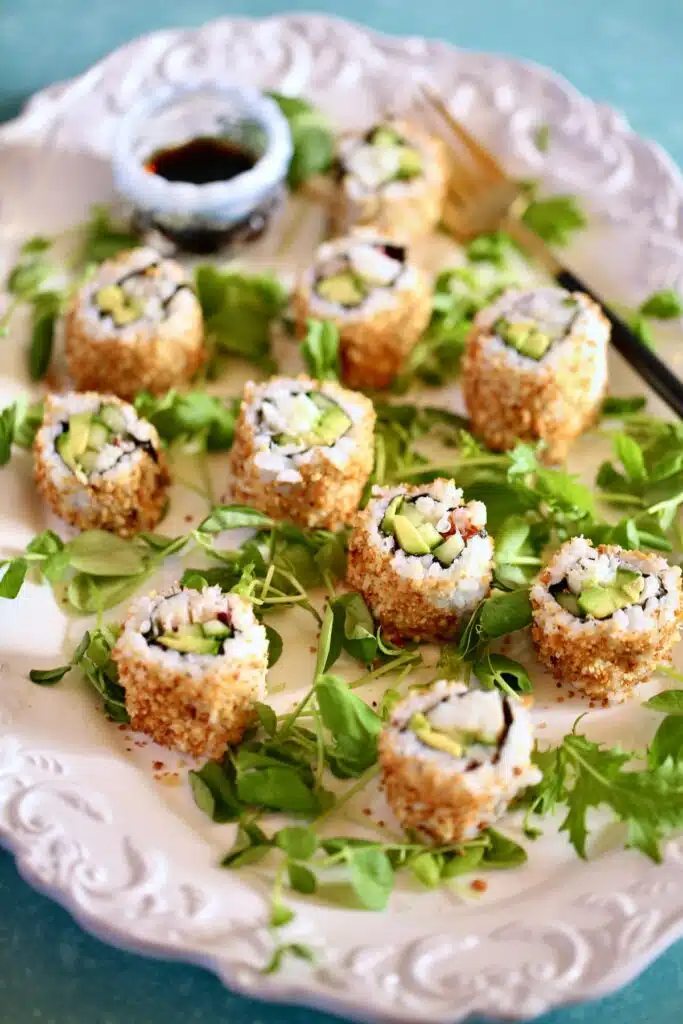 Crab is the star of the show in these easy rolls!
Easy Crunchy Crab Sushi Rolls: This inside-out roll uses fresh or imitation crab meat for a very tasty take on California Rolls and a little bit of crunch on the outside of the roll. No bamboo mat needed, and includes step-by-step instructions.
California Crunchy Sushi Roll Recipe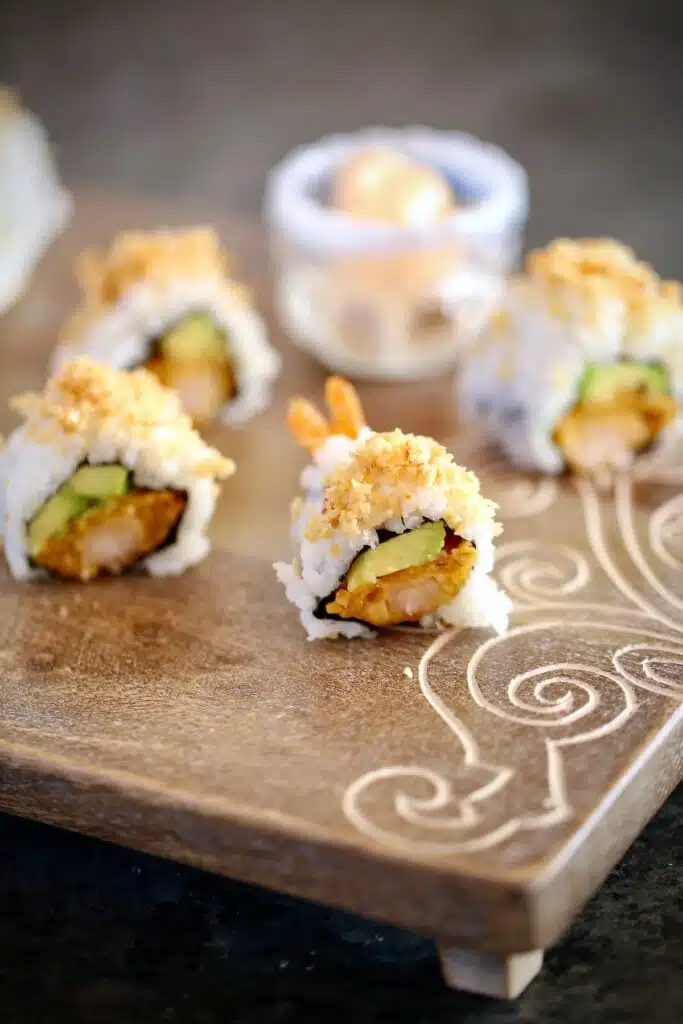 Frozen tempura shrimp makes these rolls so good!
Tips and Serving Ideas
Making and serving at home is easier than you think! Here's a few tips for success:
Presentation matters! Arrange your sushi pieces on a large platter or wooden sushi board to create an appealing presentation. Add fresh herbs or edible flowers for visual appeal.
Use sesame seeds to top your sushi if you'd like. A little sprinkle adds texture and a pop of color.
Serve with soy sauce, wasabi and pickled ginger: These traditional condiments are nice for dipping and enhancing the flavors of sushi. Use small dipping bowls for individual portions.
Make a variety of rolls. Experiment with different roll variations to cater to different tastes and showcase your creativity.
Offer interesting beverage pairings like green tea, sake and non-alcoholic options like flavored waters or fruit-infused teas.
Side Dishes to Serve with Sushi
Compliment your hand rolls with a few side dishes! Here's a few easy ideas:
Miso soup: Make an easy store-bought broth and add thin sliced mushrooms, tofu and green onion to add flavor and interest.
Edamame: Also easy to find at the grocery store. Heat edamame in their pods and sprinkle with sea salt and serve. A perfect compliment to the flavors of sushi.
Gyoza/Pan Fried Dumplings: Who doesn't love a dumpling? Find these in the freezer or the produce section of grocery stores.
Seaweed Salad: A refreshing and tangy salad made of marinated seaweed, sesame seeds, cucumber and other vegetables.
Pickled Ginger: Thinly sliced pink-colored ginger pickled in vinegar serves as a palate cleanser and is a refreshing element to the meal.
Crunchy Cucumber: Slice and marinate for 15 minutes in a little seasoned rice vinegar to serve alongside.
Soy Sauce and Wasabi Paste: These classic condiments are essential for dipping sushi. Mix the two together for a spicy kick.
Appetizer and Dessert Ideas
It's nice to serve a simple appetizer and dessert if you're having people over for sushi. Here's a few good ideas:
Stuffed Celery: Filled with a flavorful sun dried tomato spread, this is an easy and very appealing appetizer to start things off.
Crispy Cauliflower Bites: This easy and warm, cheesy appetizer is a wonderful starter and tastes amazing.
Melon Balls Recipes: Serve some fresh melon on skewers to start. You'll find some good ideas in this post.
For dessert, here's some great recipes to consider:
Frequently Asked Questions
What is the best rice for sushi?
The best is a short-grain Japanese rice, commonly known as sushi rice. This has the perfect balance of stickiness, texture and moisture that's so important to forming and rolling sushi properly.
Can I make sushi rolls in advance?
Yes, but keep in mind they are best when served shortly after they are made. The longer they sit, the nori (seaweed) becomes soggy and loses its crispness. So don't prepare more than a couple of hours before serving for best results.
How do store sushi to keep it fresh?
Wrap your sushi rolls tightly in plastic wrap or place in an airtight container to prevent them from drying out or absorbing unwanted flavors in the refrigerator until you're ready to serve.
What's the best way to slice sushi?
Use a good serrated knife to slice just before serving.
More Recipes to Try
If you've tried these Easy Homemade Sushi Roll Recipes or any other recipe on Studio Delicious, please tell me how you liked it in comments below
Looking for more tips and fresh, homemade recipes? Join my email list, tag and follow me on Instagram using #studiodeliciouseats, follow my boards on Pinterest, and see what I'm up to on Facebook and Twitter!