Ever wonder how long those fresh fruit smoothies you make will last in the refrigerator? Here's a quick and easy guide to answer all your questions!
Jump to:
So many of us love a delicious, fruit-filled healthy and refreshing smoothie in the morning – but maybe you made too much and don't want to toss it. What the heck do you do?
Or maybe you and some friends want healthy smoothies after a morning workout, how do you keep them fresh if you make them ahead of time?
We'll cover:
What to do with a leftover smoothie.
How long will a smoothie really stay fresh in the refrigerator?
What to do if your smoothie separates.
We'll answer these burning questions and more, so let's dig in!
Do Smoothies Go Bad in the Refrigerator?
Let's get this answered right off the bat – smoothies are fine to store in the fridge for up to 24 hours. The general rule is 24 hours to retain the freshness of any nearly any type of smoothie.
This is your best window to enjoy it, though they're often still fresh and fine to drink after 48 hours. This 1-2 day "rule" is what I follow when making my own smoothies.
Here's a few more tips to consider:
If you bought your smoothie at the grocery store, it likely has some preservatives in it that may make it last a day or two longer. This is certainly true of already bottled smoothies, so watch the expiration date printed on the side.
Leafy green smoothies or those made with frozen fruit may not last as long. Try to consume these the day you made them or no later than the next day.
If your smoothie is turning brown and losing its color especially on day two, it's best to not drink it and make a new one. Trust me, they're never as good.
If it smells bad, toss it.
Do Blended Smoothies Last Longer?
Smoothies come in all shapes, sizes and ingredient combinations, such as:
Fruit Slushies
Fruit and Oats combinations with nut milk
Green drinks with leafy greens like kale
Fruit and Vegetable combos with added peanut butter or nut butters
Smoothies with bulk added like chia seeds
Smoothies with fresh avocado
Smoothies with supplements like protein powder or matcha
Any of these will be fine in the refrigerator for 24 hours, which is the preferred time frame, and is an excellent way to plan for meal prep. You can often go 48 hours if the smoothie was stored properly, but I wouldn't recommend any more than that.
Note that smoothies made with frozen banana tend to go south the quickest, and even if they were stored in an airtight container, banana-based usually taste and look best the day they are made.
What's the Best Way to Store a Smoothie?
There are a few options, and here are my best tips:
Always use a glass container that seals well with an airtight lid. Use a wide-mouth canning jar like a Ball or Mason jar.
Fill that smoothie all the way to the top. Don't leave any headspace – this will help prevent oxidization reactions caused by exposure to air.
If you're making a smoothie with fresh ingredients to consume the next day, add a teaspoon of lemon juice or lime juice to help extend the life of your smoothie and keep the flavors and colors vibrant and fresh.
Be sure to use a well-fitted lid, which is your best insurance for a fresh smoothie.
You can safely store smoothies in the fridge the night before you want to drink it following these simple guidelines.
What If My Smoothie Separates?
This is a great question, because if you've ever seen a separated smoothie, you know they look funky and suspicious!
Here are my best tips if this happens:
Yogurt-based smoothie ingredients tend to separate more, so if you've got a thick, yogurt smoothie that's separated, re-blend it with a couple of ice cubes. The separation (and a little color change) doesn't affect the taste or quality one bit.
Try shaking it! This is where that good quality lid situation comes in, so be sure it's on tight before you try this. A few quick shakes is often all that's needed to bring the smoothie back to life. 🙂
What To Do With a Leftover Smoothie
It happens. You made too much smoothie and now you can't drink it all.
Here's a couple of good ideas:
Pour the smoothie into ice cube trays. Your future self will be so happy to have those frozen cubes later, which can be re-blended or eaten as is.
Make a frozen smoothie popsicle! Pour into popsicle molds (find them online or in kitchen supply stores) or, use a small paper cup and partially freeze, then add a stick in the middle and freeze until solid. So good!
Serving Ideas
Need some fresh serving ideas for smoothies?
Here's some fun tips to consider:
If you've got friends coming over for breakfast, pour different flavors of smoothies into shot glasses and encourage people to try several flavors.
Smoothies are a natural with a continental breakfast spread of bakery croissants, muffins or toasted bagels. Have some individual serving-sized yogurts and a bowl of best-quality granola and organic berries for topping.
Whip up some fruity smoothies for brunch! Make this delicious veggie-packed frittata and fry some crispy bacon, plus hot coffee or tea and this incredible overnight french toast.
Smoothie Recipes
So good any time of year, these easy smoothie recipes are a great way to feel satisfied.
One of the best blenders for smoothies is a Vitamix, though I had a Ninja for a long time that worked well too. Enhance with some protein powder, and freely use plant based milk like vanilla almond milk instead of regular dairy. Experiment with your own favorite fruit and vegetable combinations!
Here are some of my favorites…..
Strawberry Almond Milk Smoothie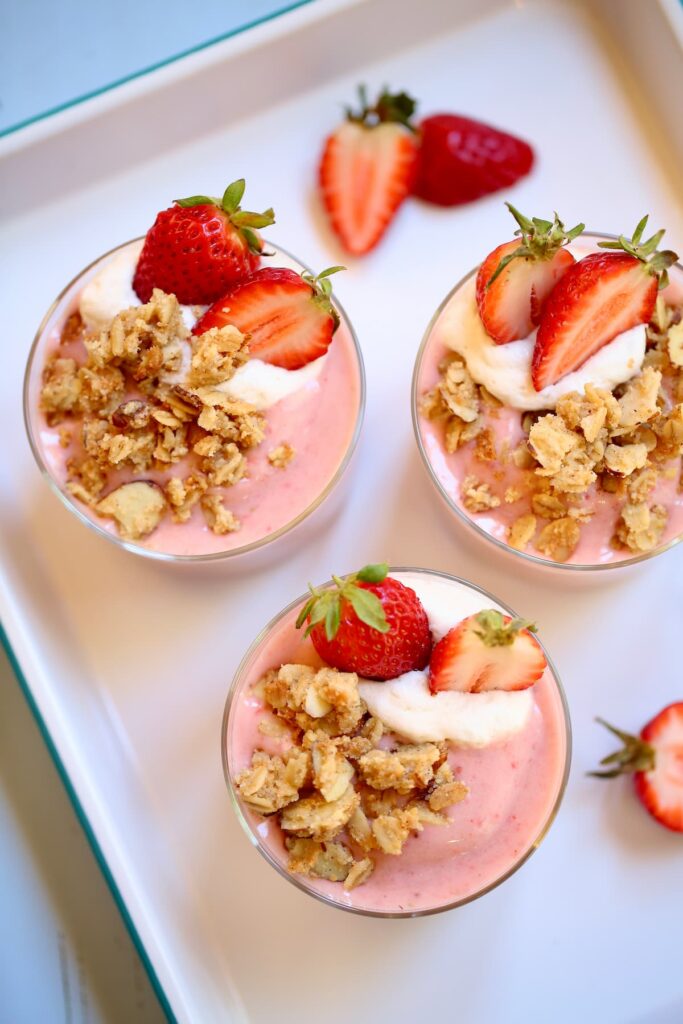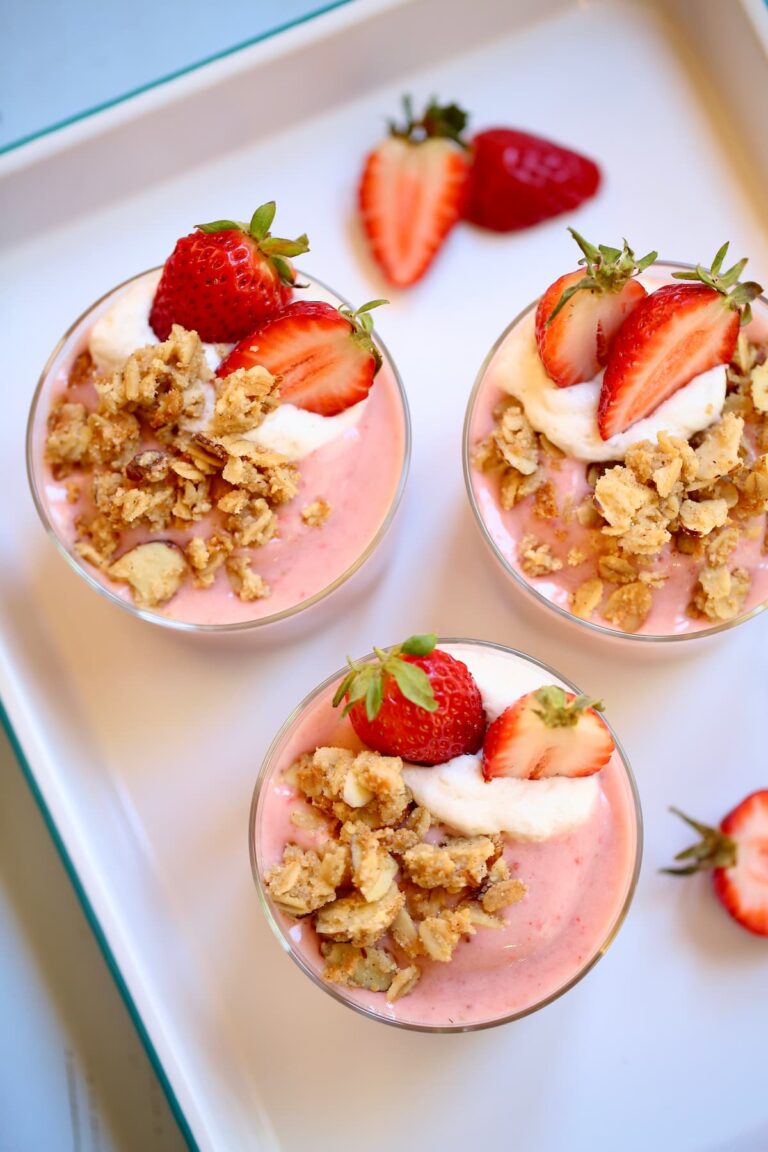 An easy granola crumble makes this smoothie special…
Strawberry Almond Milk Smoothie: An all-time favorite that I could eat every single day, this smoothie is full of fresh strawberry flavor and is unbelievably creamy and thick. Use best quality store-bought granola instead of making your own if you prefer.
Pineapple Slushie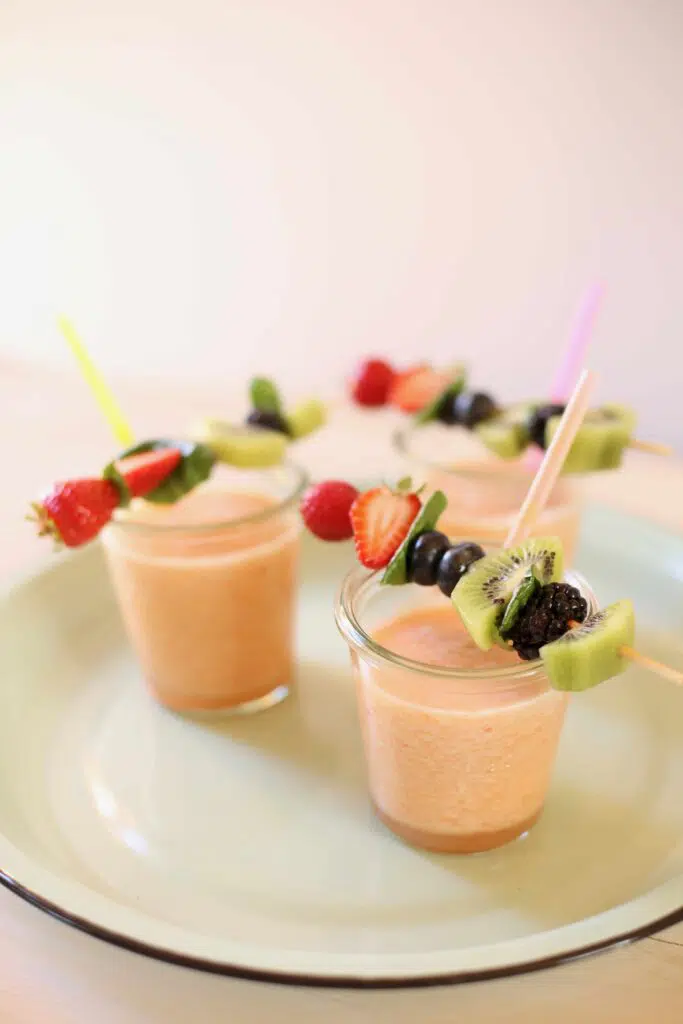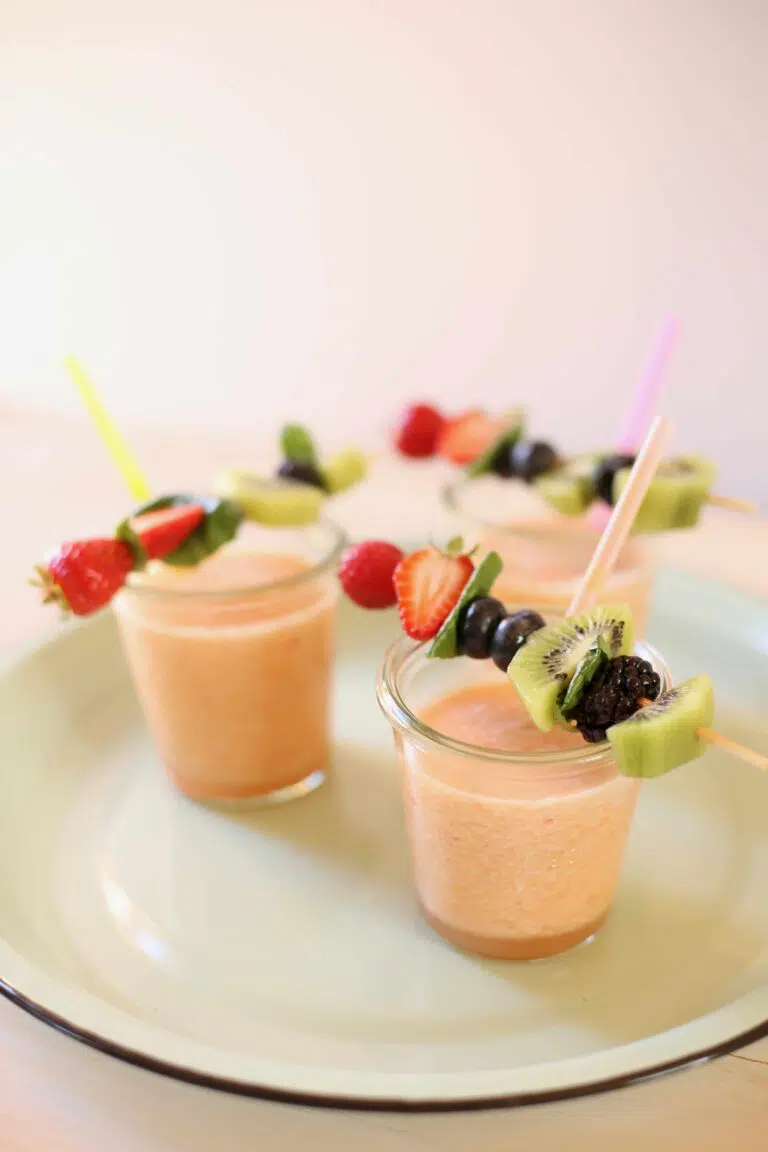 This tropical inspired slushie really hits the spot…
Pineapple Slushie: This golden, delicious wonder is so good, you might be tempted to add vodka to it during happy hour! Do it! This is an awesome smoothie in the morning or for a afternoon snack. The fresh fruit kabob garnish is so pretty on top.
Dark Cherry Smoothie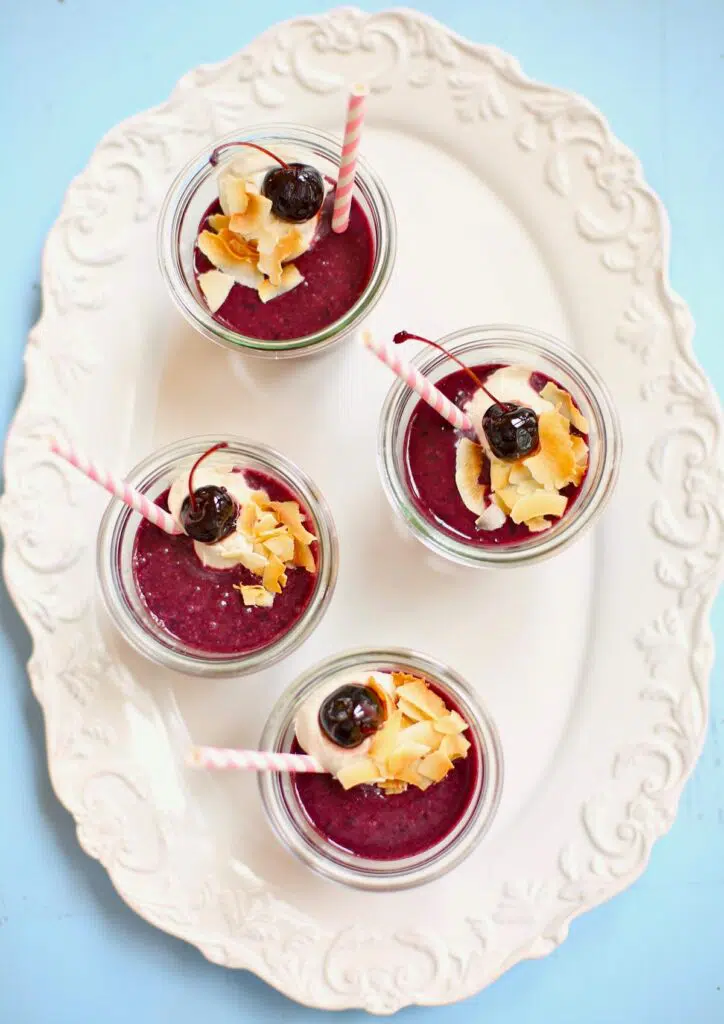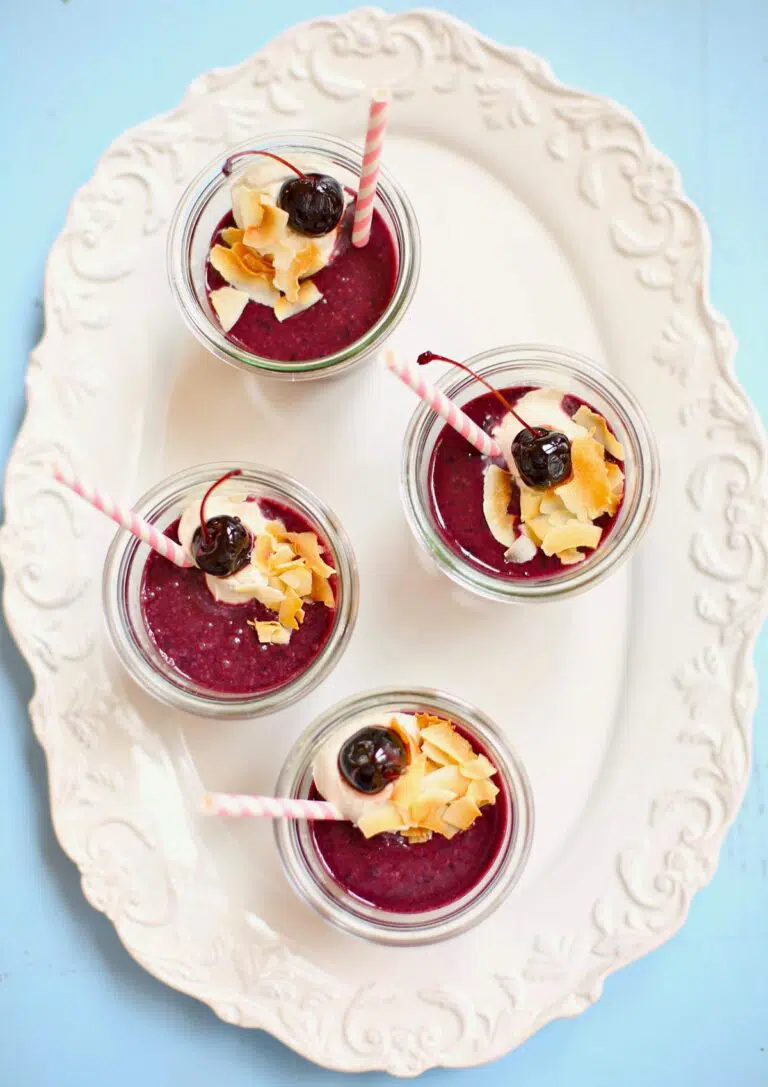 Smooth and creamy, with a big cherry flavor…
Dark Cherry Smoothie: This luscious smoothie is dairy-free and is so, so good! Make a tray of them for a special breakfast, or a big one for just yourself!
Frequently Asked Questions
Can you freeze smoothies?
The standard wisdom for freezing is to follow the same storing tips as above, but to use a freezer safe container such as a silicone ice cube or soup tray to prevent freezer burn for up to 90 days.
What are some flavor boosters I can add to my smoothie?
So many choices here! Try vanilla or chocolate protein powder, unsweetened matcha, freshly grated ginger, turmeric, nut butters, cinnamon, nutmeg, bee pollen or cocoa powder. Any of these boosters enhance the nutritional value of your drink and may also be good for your immune system!
More Recipes to Try
If you've tried How Long Do Fruit Smoothies Last in the Fridge?, or any other recipe on Studio Delicious, please rate the recipe 5 stars and tell me how you liked it in comments below!
Looking for more tips and fresh, homemade recipes? Join my email list, tag and follow me on Instagram using #studiodeliciouseats, follow my boards on Pinterest, and see what I'm up to on Facebook and Twitter!