Here's a tasty crab sushi roll with a crunchy outside that's easy to make at home with no special skills or equipment needed!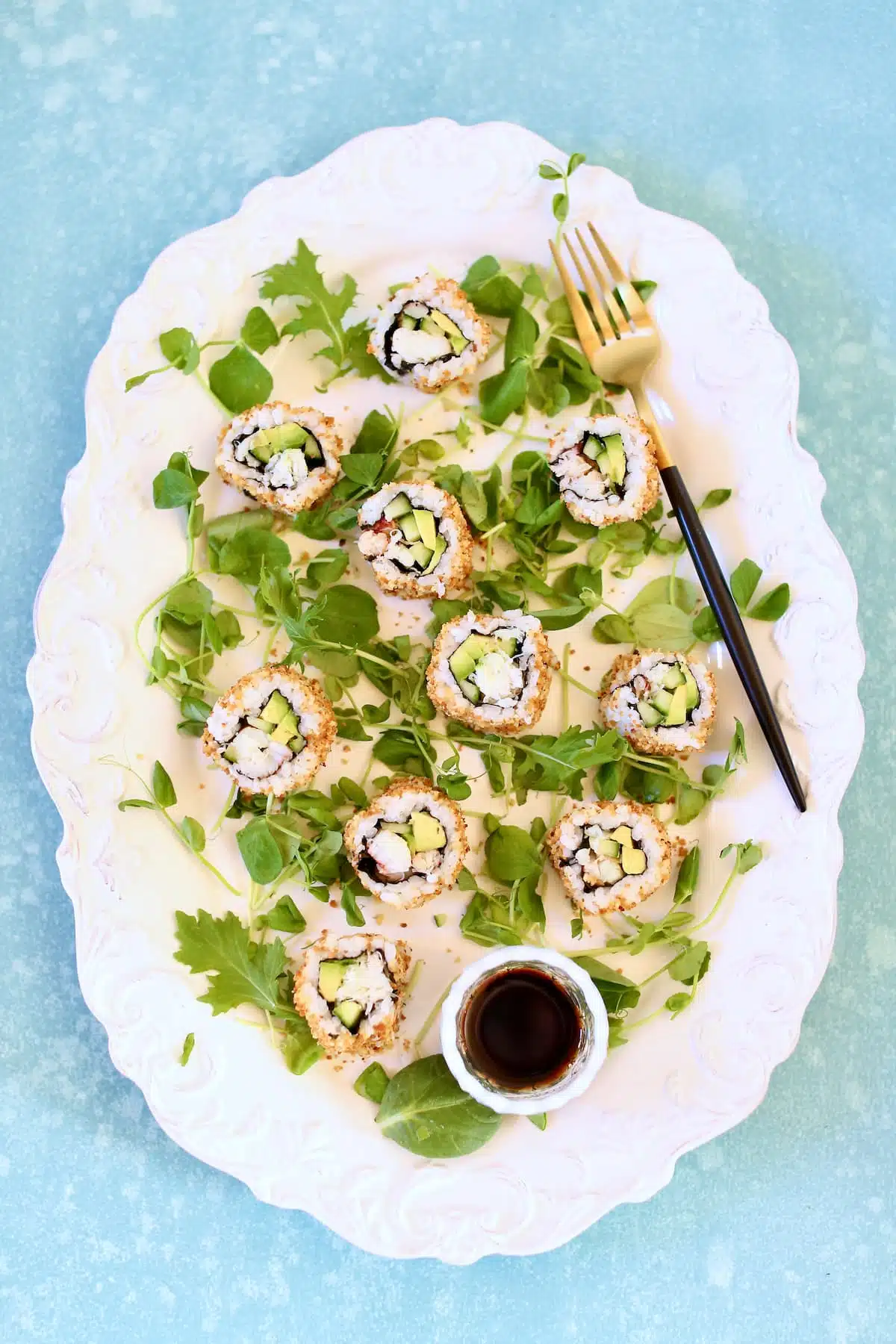 Jump to:
Why You'll Love This Recipe
A California crunch roll with fresh crab, creamy avocado and crispy cucumber tastes like a luxury to us sushi lovers, right? So good. I dream about them.
Before you skip this recipe because you think homemade sushi it's too hard, here's a few good reasons to give it a try:
No special equipment or skills needed for these easy, classic sushi rolls.
There's no raw fish in this recipe, only cooked crab meat.
This is an easy recipe with just a few ingredients.
These popular east sushi rolls are delicious, and look great served on a party platter. Make some!
Ingredients You'll Need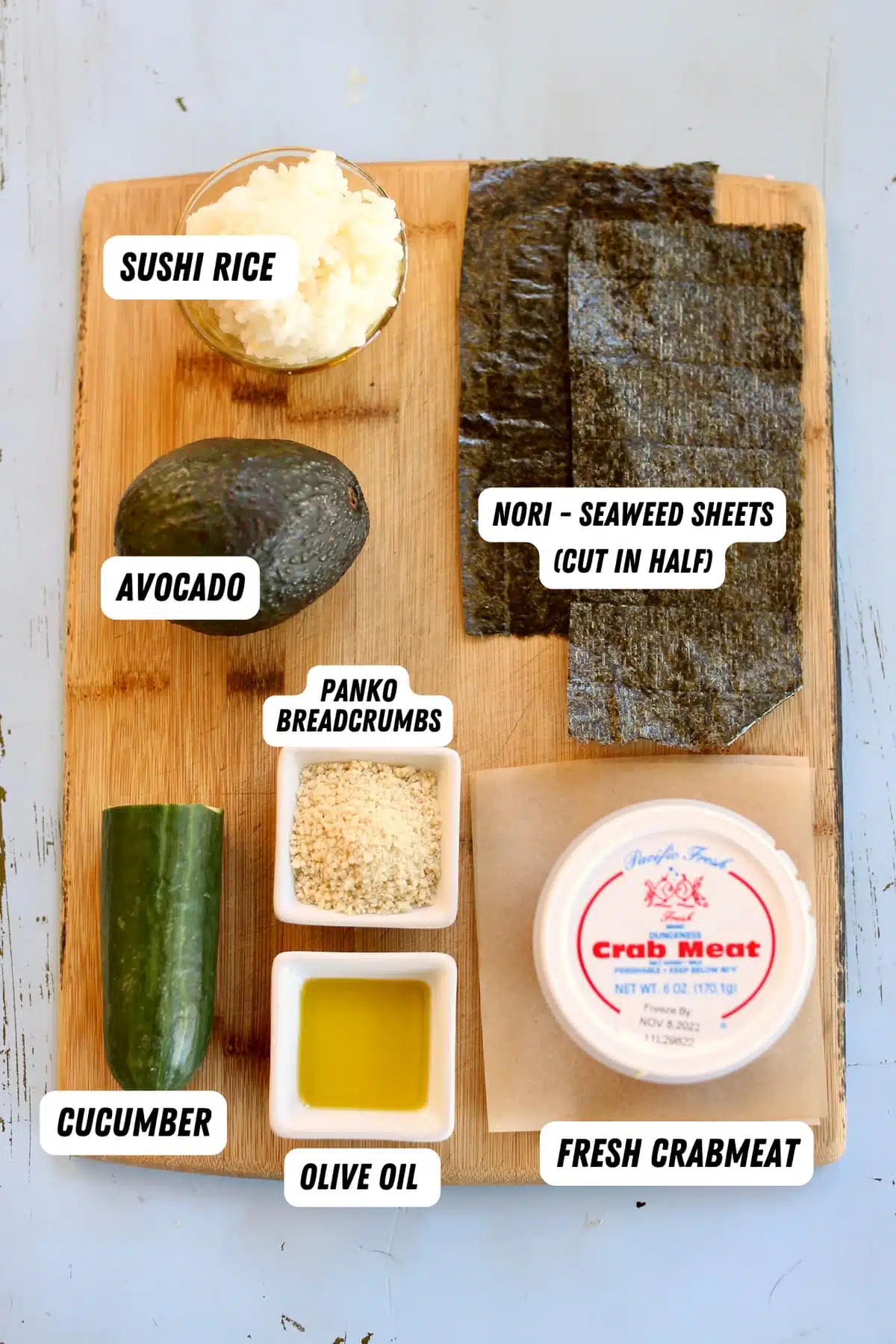 For the full set of directions and list of ingredients, please scroll to the recipe card below.
Nori Seaweed Sheets: Found in well-stocked grocery stores.
Sushi Rice: Same as above, usually labeled as "sushi rice", or by the brand Cal Rose in many grocery stores.
English Cucumber: For extra crunch.
Avocado: For a creamy element.
Fresh crab meat: I get a small container at the grocery store in the meat department.
Panko Breadcrumbs: For a toasty crunch.
Olive Oil: To toast the panko crumbs.
Step-By Step Instructions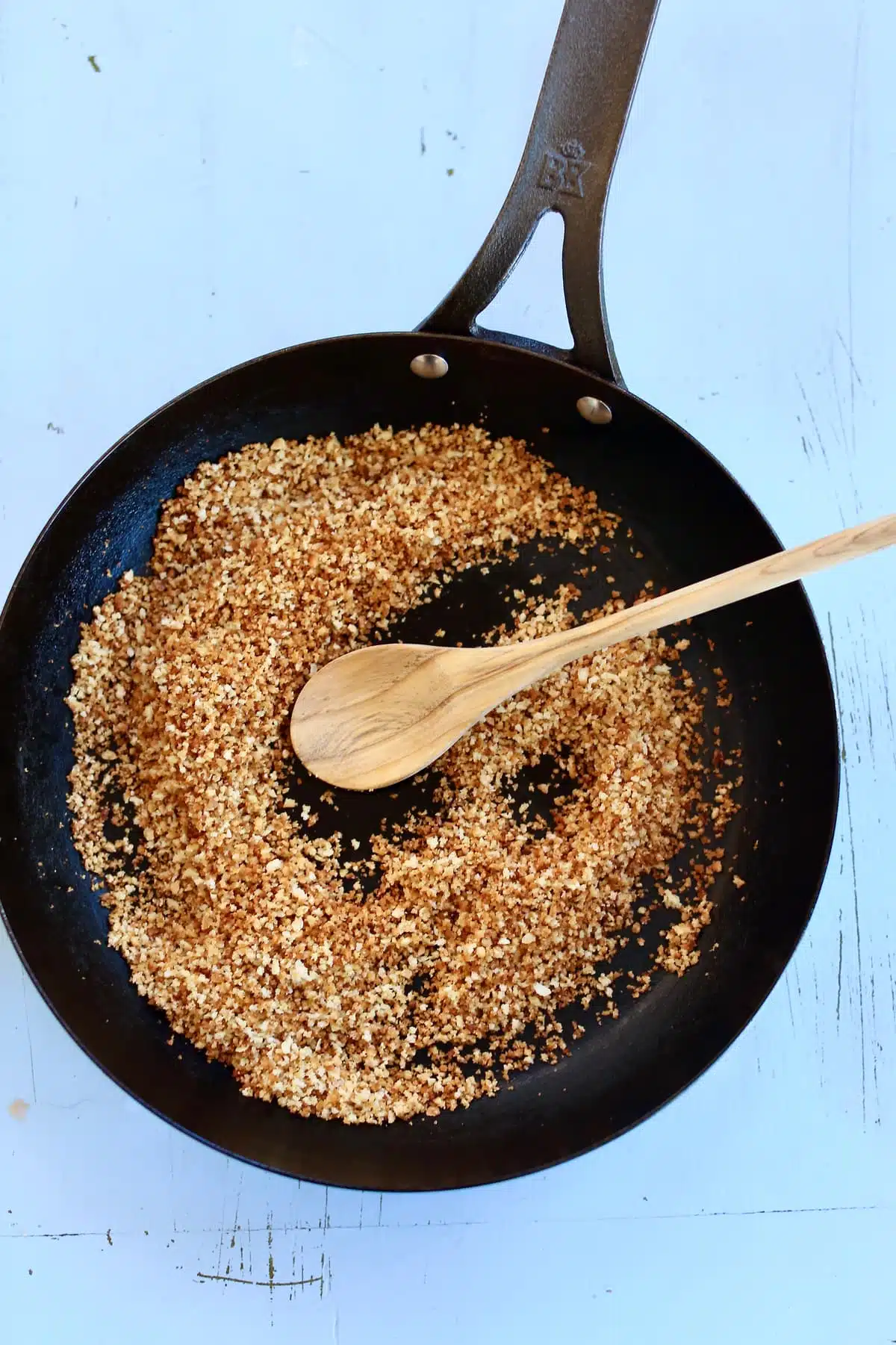 Start by toasting the panko breadcrumbs in a medium-sized skillet for a couple of minutes until golden brown.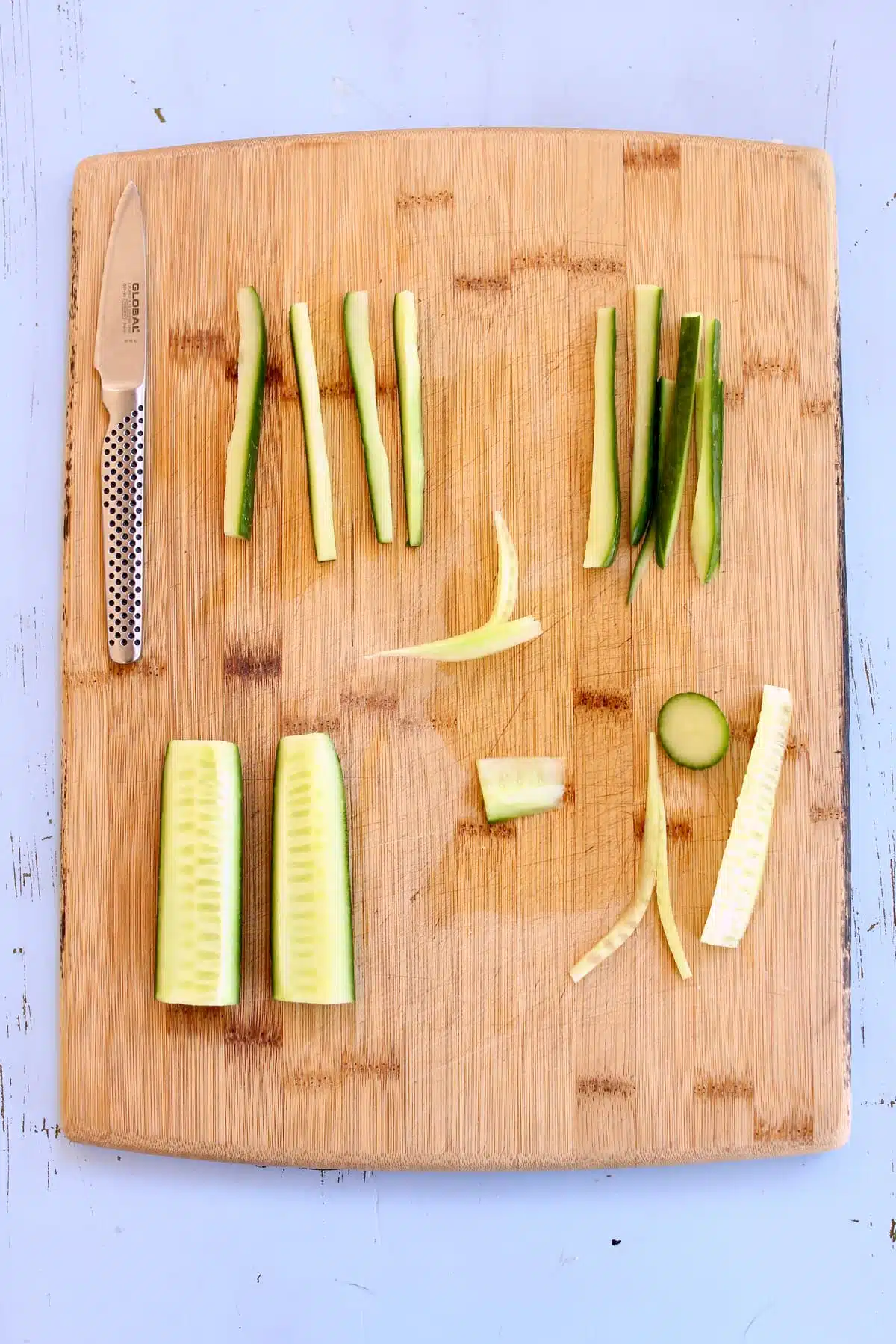 2. Prep the English cucumbers by slicing the whole cucumber in half, then in quarters lengthwise.
Slice the seeds out of the cucumbers by standing each quarter slice up on the board and shimmy-ing your knife down just over the seeds. Then slice in 3 or 4 thinner pieces so they'll fit well in the sushi roll.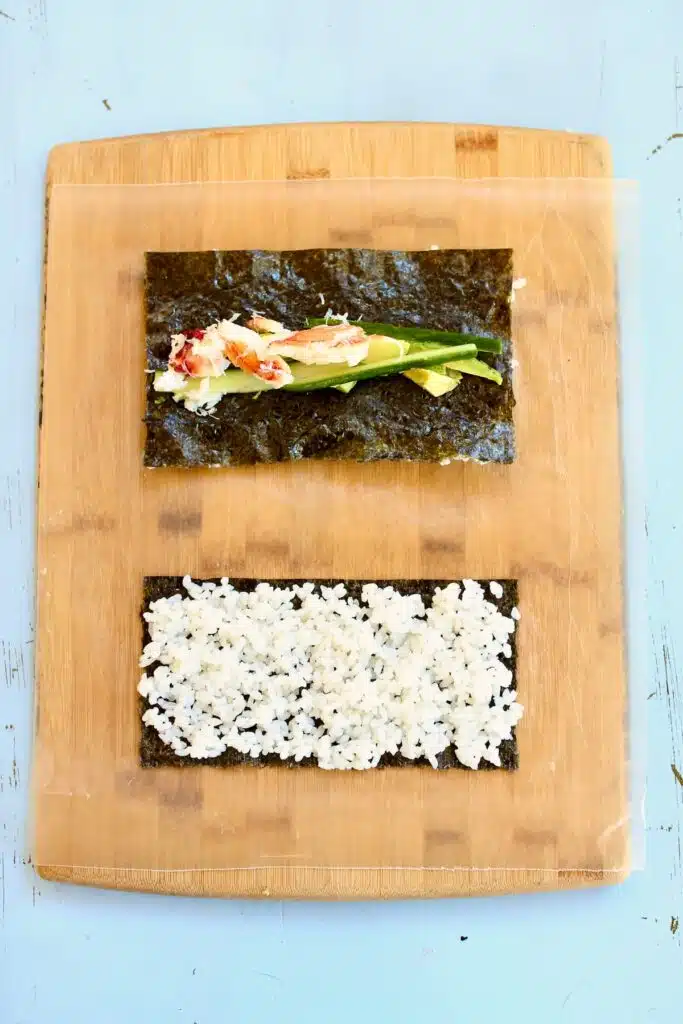 3. Cut a sheet of Nori seaweed in half, then place on a cutting board with the rough, shiny side down. Spread a thin layer of the sticky sushi rice over the top as in the lower part of the photo above.
Turn the sheet over with the rice side down. Squeeze excess water out of the crab meat, then place a couple of cucumber spears, some avocado, and crab meat as in the photo above.
4. Carefully roll the sushi into a tube-shape.
PRO TIP: Keep a small bowl of water handy so your fingers don't stick to the rice. Wipe a little water on the end of the Nori sheet to help it seal closed. The rice will be on the outside, but trust me, it won't fall off!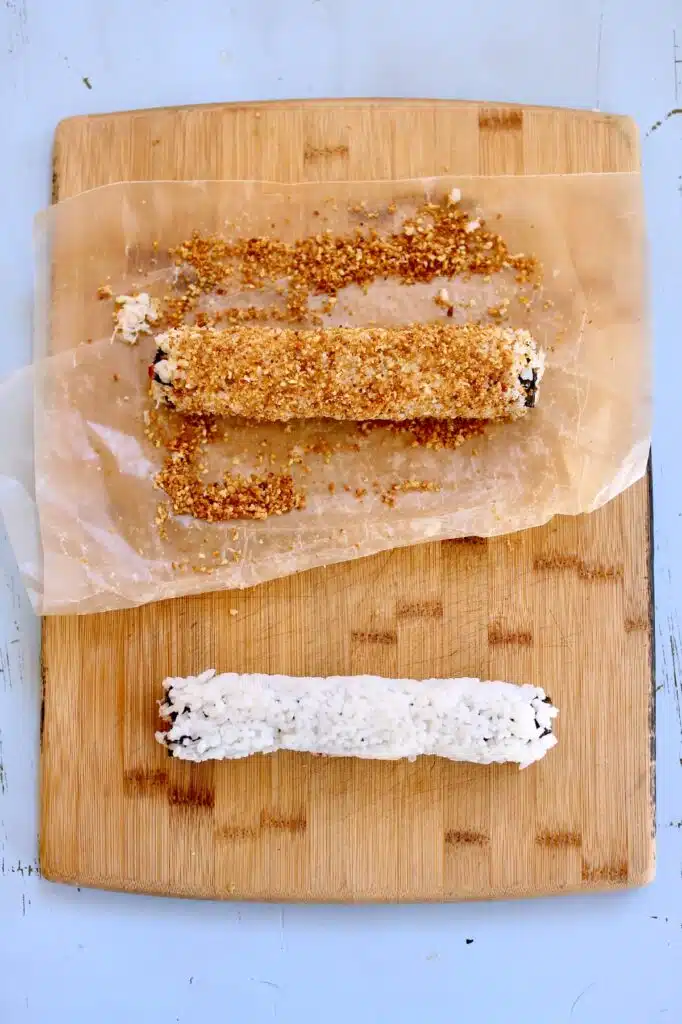 4. Next, set a piece of plastic wrap or wax paper down with some of the toasted Panko breadcrumbs, and roll the sushi in it to cover the whole outside. Shape the roll with your hands gently to make it as even as possible.
Chill for at least 15 minutes before slicing with a sharp knife on a cutting board.
Tips and Possible Variations
There are many brands of short-grain sushi rice on the market, found in well-stocked grocery stores, and that is the best choice for this recipe.
Be sure to refrigerate the rolls for 15-30 minutes before slicing them, which is much easier when they're cold.
Keep a little bowl of cold water handy to dip your fingers in, which helps keep the sticky rice at bay.
Use a bamboo sushi mat if you have one to shape the rolls, your choice!
Serving Ideas
Frequently Asked Questions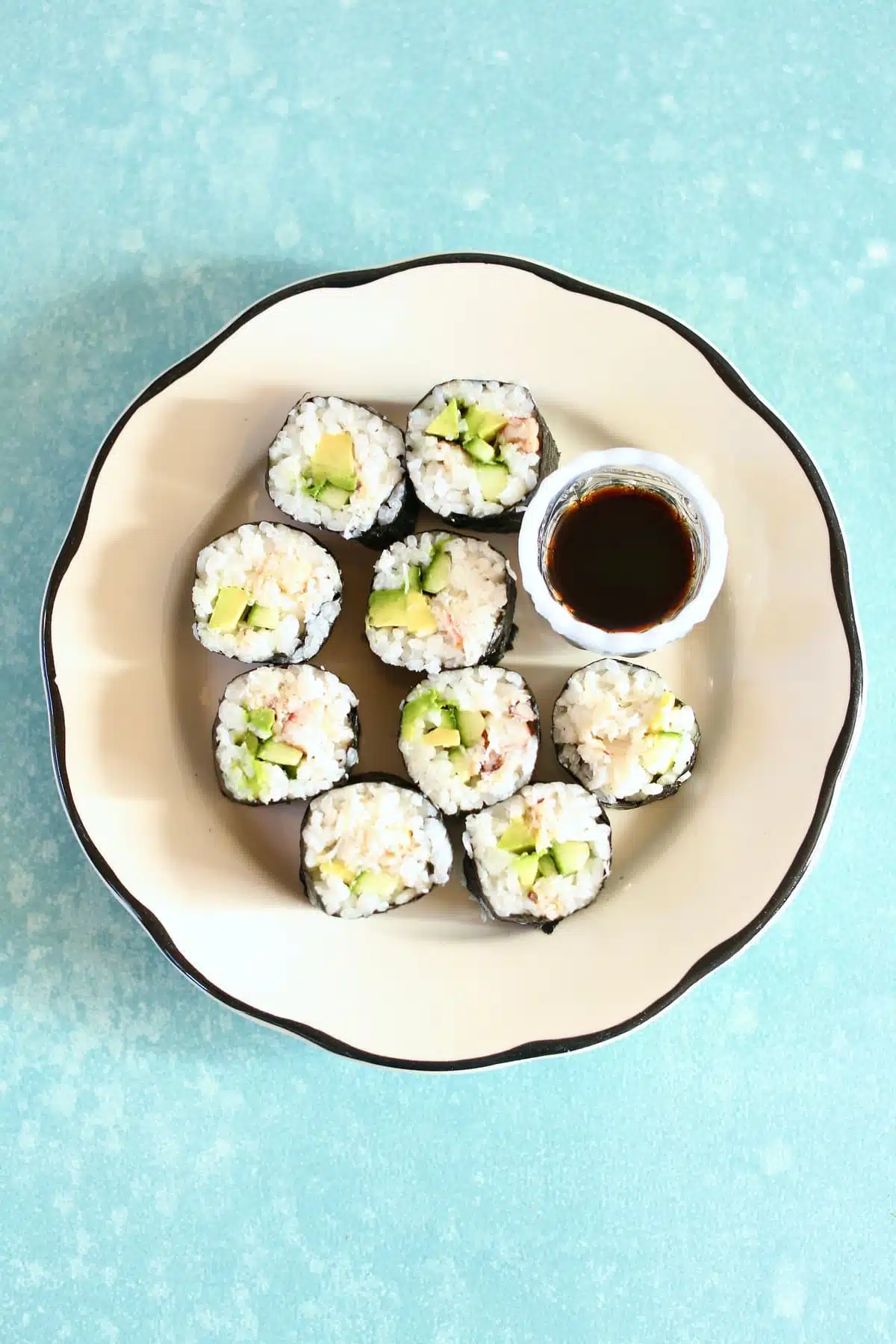 Can I make the rolls with the rice inside, not on the outside?
Yes! It's super easy, and the photo above shows how that would look. Just roll them the other way, and seal the edges of the seaweed sheet with a little water.
Can I make the rolls in advance?
You can make them several hours in advance, like the morning you plan to serve them. Keep well-wrapped and refrigerated, and slice just before serving.
Can I use something other than avocado in the rolls?
Try thin slices of bell pepper, like orange or yellow for color. Try thin slices of zucchini too.
Can I use imitation crab meat?
Yes! Try Kani imitation crabmeat or even extra firm tofu sliced into sticks.
More Recipes to Try
If you've tried this Easy Crunchy Crab Sushi Roll, or any other recipe on Studio Delicious, please rate the recipe 5 stars and tell me how you liked it in comments below!
Looking for more tips and fresh, homemade recipes? Join my email list, tag and follow me on Instagram using #studiodeliciouseats, follow my boards on Pinterest, and see what I'm up to on Facebook and Twitter!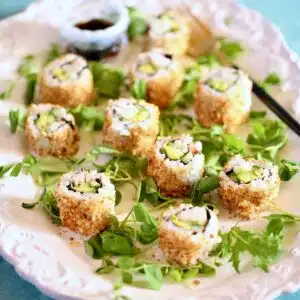 Easy Crunchy Crab Sushi Roll
This crunchy crab roll has real crab meat and fresh avocado, easy too!
Print
Pin
Rate
Ingredients
2

cups

Sushi rice, cooked

see notes

2 ½

tablespoons

Rice Wine Vinegar, natural or seasoned

1½

teaspoons

Sugar

2

pieces

Nori Seaweed Wraps, cut in half for 4 pieces

1

cup

Panko bread crumbs

2

tablespoons

Olive Oil

½

cup

English Cucumber, sliced into thin strips, seeds removed

1

Avocado, sliced into thin strips

6

ounces

Crab Meat, squeezed of any moisture
Instructions
Make the sushi rice according to package directions for 2 cups cooked. Transfer it to a large baking sheet to cool.

In a small bowl, combine the rice vinegar and the sugar, stir together until dissolved. Sprinkle it over the cooked rice and toss it together, leaving it on the baking sheet to cool completely.

In a medium-sized skillet, add the olive oil and the panko crumbs on medium heat, stirring occasionally until the breadcrumbs are toasted light brown. Set aside to cool.

When the rice is cool, place a piece of wax or plastic wrap on a flat counter surface and two of the Nori wraps, shiny side down.

Set a small bowl of water near your workstation, dipping your clean fingers into the water, and then spreading about a half a cup of the rice on an even layer over the Nori sheet. Do this with both Nori sheets, dipping your fingers in a little water if needed to keep the rice from sticking to your hands.

Carefully turn the sheets over, so the rice side is down (don't worry, the rice will stick!)

Place two or three of the avocado slices in the middle of the wrap, with a couple of cucumber sticks.

Squeeze the crab meat dry with a paper towel if needed, then divide it onto the rolls (4 rolls) on top of the avocado and cucumber.

Lift the wax or plastic wrap up and over the roll to to make a tube shape with it, pressing the roll together so it holds. Peel back the plastic wrap, then sprinkle the panko crumbs over the whole rolls, using the plastic wrap to push into the roll so the crumbs stay put.

Chill the rolls for 15-30 minutes, then slice into 5-6 pieces and serve with soy sauce.
Notes
There are many brands of short-grain sushi rice on the market, found in well-stocked grocery stores. Sushi rice is best for this recipe!
Be sure to refrigerate the rolls for 15-30 minutes before slicing them, which is much easier if they are cold.
Keep a little bowl of water handy to dip your fingers in, which helps with the sticky rice.
Nutrition
Calories:
589
kcal
|
Carbohydrates:
93
g
|
Protein:
17
g
|
Fat:
16
g
|
Saturated Fat:
2
g
|
Polyunsaturated Fat:
2
g
|
Monounsaturated Fat:
10
g
|
Cholesterol:
18
mg
|
Sodium:
476
mg
|
Potassium:
452
mg
|
Fiber:
7
g
|
Sugar:
3
g
|
Vitamin A:
123
IU
|
Vitamin C:
9
mg
|
Calcium:
66
mg
|
Iron:
3
mg
Tips for Success with Every Recipe
Super important to read the whole recipe before you begin
Pay attention to the ingredient list and photos for the recipe
If possible, prep your ingredients a little before you start
Always use a sharp knife for safety
Use the size of pan called for in the recipe
For savory recipes, taste and season as you go
Buy fresh, organic ingredients, locally sourced whenever possible
Don't Miss a Recipe!