Wondering about the best way to keep that rotisserie chicken you just picked up from the grocery store warm until dinner? Get tips for storing and reheating a rotisserie chicken, plus links to a few tasty recipes!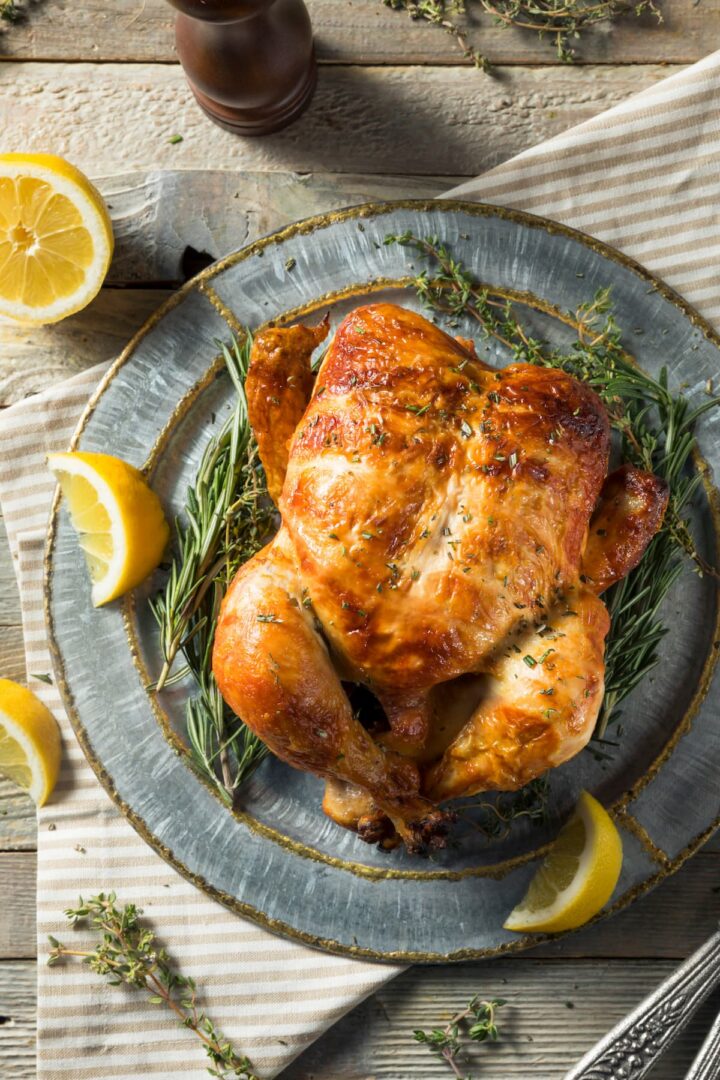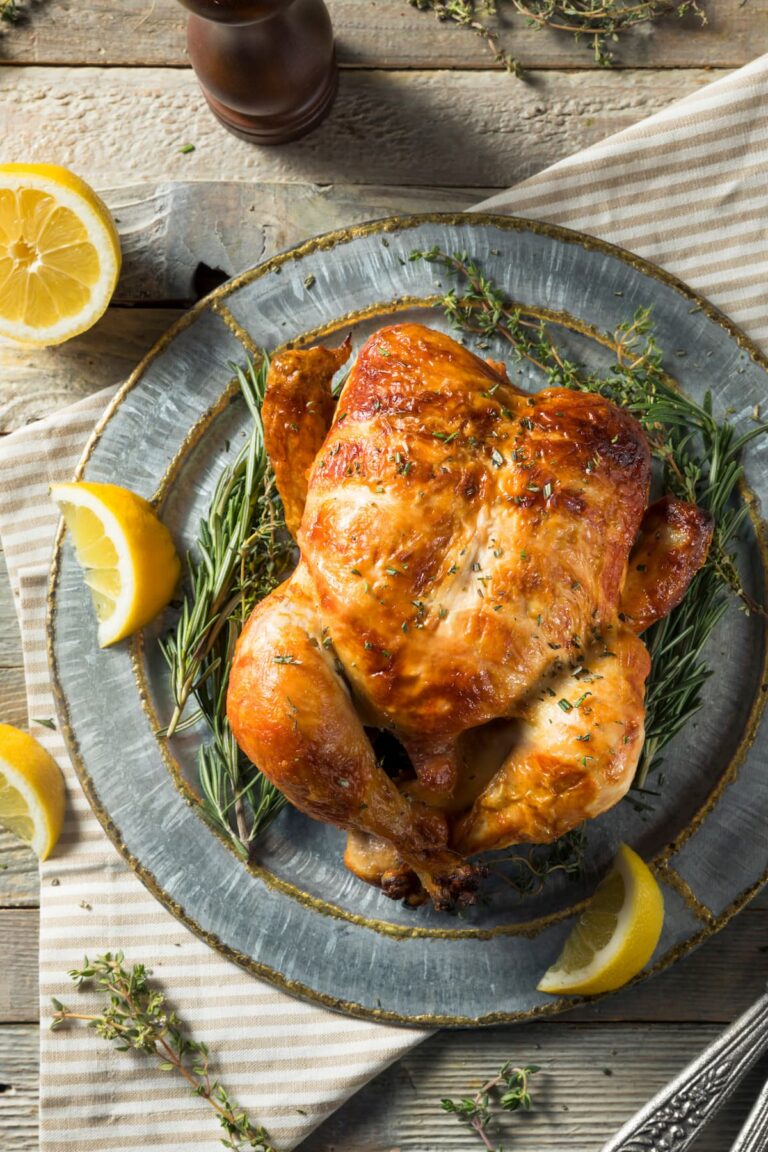 Jump to:
Ways to Use Rotisserie Chicken
A tender, juicy rotisserie chicken is one of my favorite ways to get dinner on the table quickly, and it's so versatile. Best quality organic whole rotisserie chickens are available at most grocery stores these days, and there's always Costco, of course.
Check to see if your local delicatessen offers them too. They're incredibly convenient for lunch or dinner, and are often sold already seasoned in flavors like garlic, lemon pepper, barbecue and plain. I really prefer plain, as it gives me the most flexibility for many different kinds of recipes.
Some great ideas to use rotisserie chicken are:
Shred the meat for tacos or burritos.
Add the shredded meat to a vegetable soup or a hearty stew.
Use the juicy meat in a crisp and refreshing salad.
Leftover rotisserie chicken can be used in a number of dishes, and it's also great for meal prep.
There are a few effective ways to reheat rotisserie chicken, here's your step-by-step guide!
How to Reheat Rotisserie Chicken in the Oven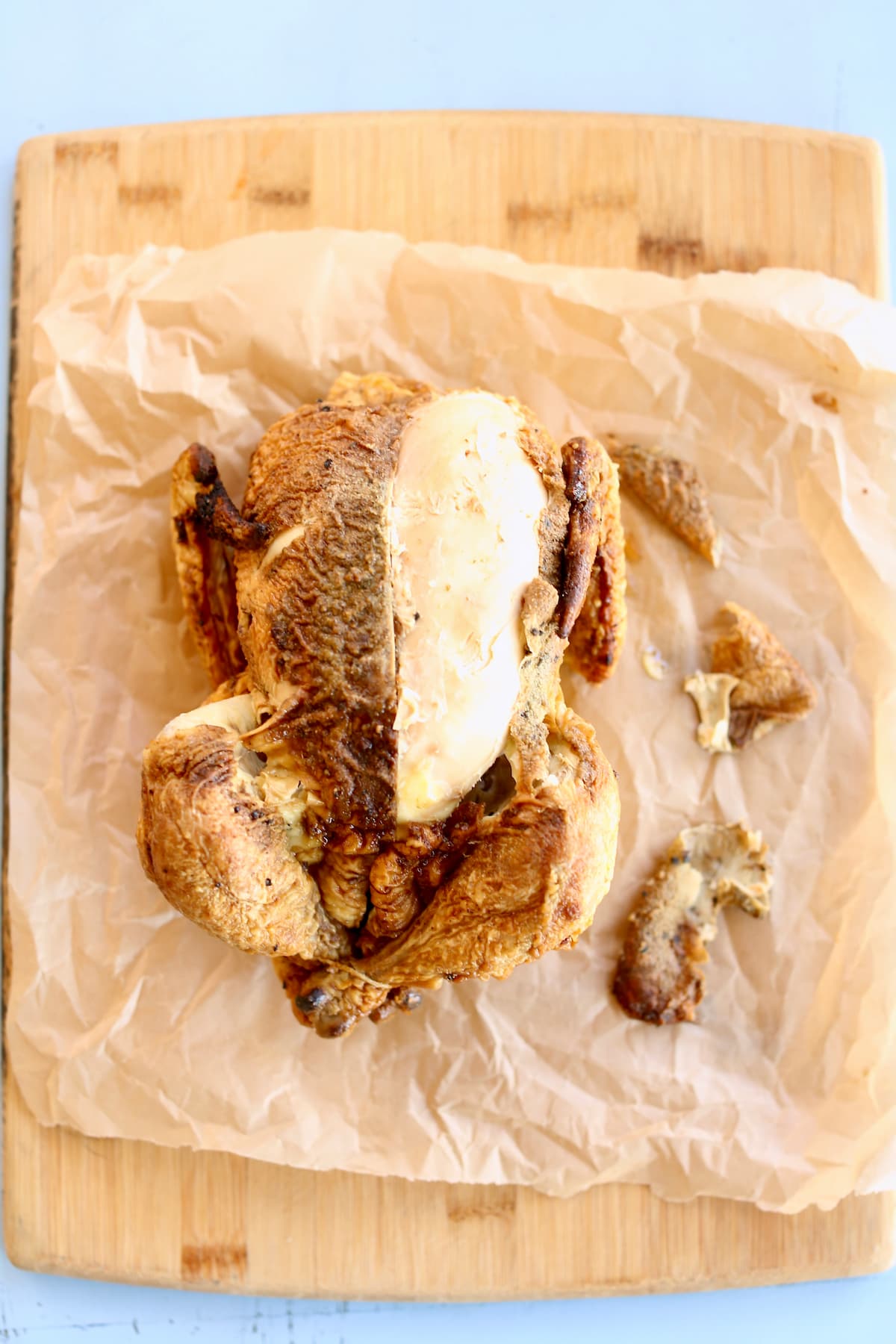 When you bring your whole rotisserie chicken home, it will stay warm and ready to eat at room temperature for 30-60 minutes.
To reheat the whole bird after that that time, here's what you do:
Remove the chicken from its packaging.
Preheat your oven to 375F degrees.
Add the chicken to an oven-safe dish that's spread with a little olive oil on the bottom to prevent sticking.
Add a cup or two of chicken broth, stock or water to the dish, enough to cover the bottom about a half-inch high. This is the best way to prevent dry chicken!
Cover the dish completely with heavy-duty aluminum foil and roast it in the oven for 20-25 minutes.
Remove your roast chicken from the oven. Take the foil off and put it back in the oven for extra crispy skin, another 5 minutes. Enjoy!
How to Reheat Rotisserie Chicken in the Microwave
This is one of my all-time favorite ways to prep cooked rotisserie chicken for recipe. Here's the best rule of thumb for tender chicken in a few easy steps:
Remove the chicken from its packaging.
Pull the amount of chicken you want off the bone and into smaller pieces. I like to shred it in big, rustic chunks.
Set the chicken in a microwave-safe plate or bowl. Add a teaspoon or two of chicken broth, stock or water sprinkled over the chicken.
Cover your dish with a damp paper towel (use a natural colored paper towel if you have one) and microwave for one minute. Zap it in 30-second intervals after that until warm.
Remove from the microwave – if any juices have accumulated on the bottom of the dish, soak it up with another natural paper towel. It's now recipe ready!
How to Reheat Rotisserie Chicken on the Stove Top
Using the stove-top cooking method to reheat your chicken is an excellent option when dinner time rolls around, here's all you need to do:
Remove the chicken from its packaging and shred or cut it into chunks.
Add the chicken to a large non-stick skillet with a teaspoon of olive oil and with 1-3 tablespoons of chicken broth, stock or water. The amount of water you'll need will depend on how much chicken you are reheating, so plan on about a tablespoon of liquid per generous cup of shredded chicken.
Cover the skillet with a lid, and heat on medium until it's warmed through.
If needed, you can blot the chicken with a paper towel to soak up any excess moisture. It's now ready to eat!
How to Reheat Rotisserie Chicken in an Air Fryer
If you have an air fryer and want to reheat a rotisserie chicken, here's all you need to do:
Remove the packaging from the chicken.
Heat the air fryer to 350F degrees and place the entire chicken in the air fryer basket. You can cut it up too if you'd prefer. If you like crisp skin on your chicken, leave it on!
Heat for 3-5 minutes and it's ready to enjoy.
How to Store a Rotisserie Chicken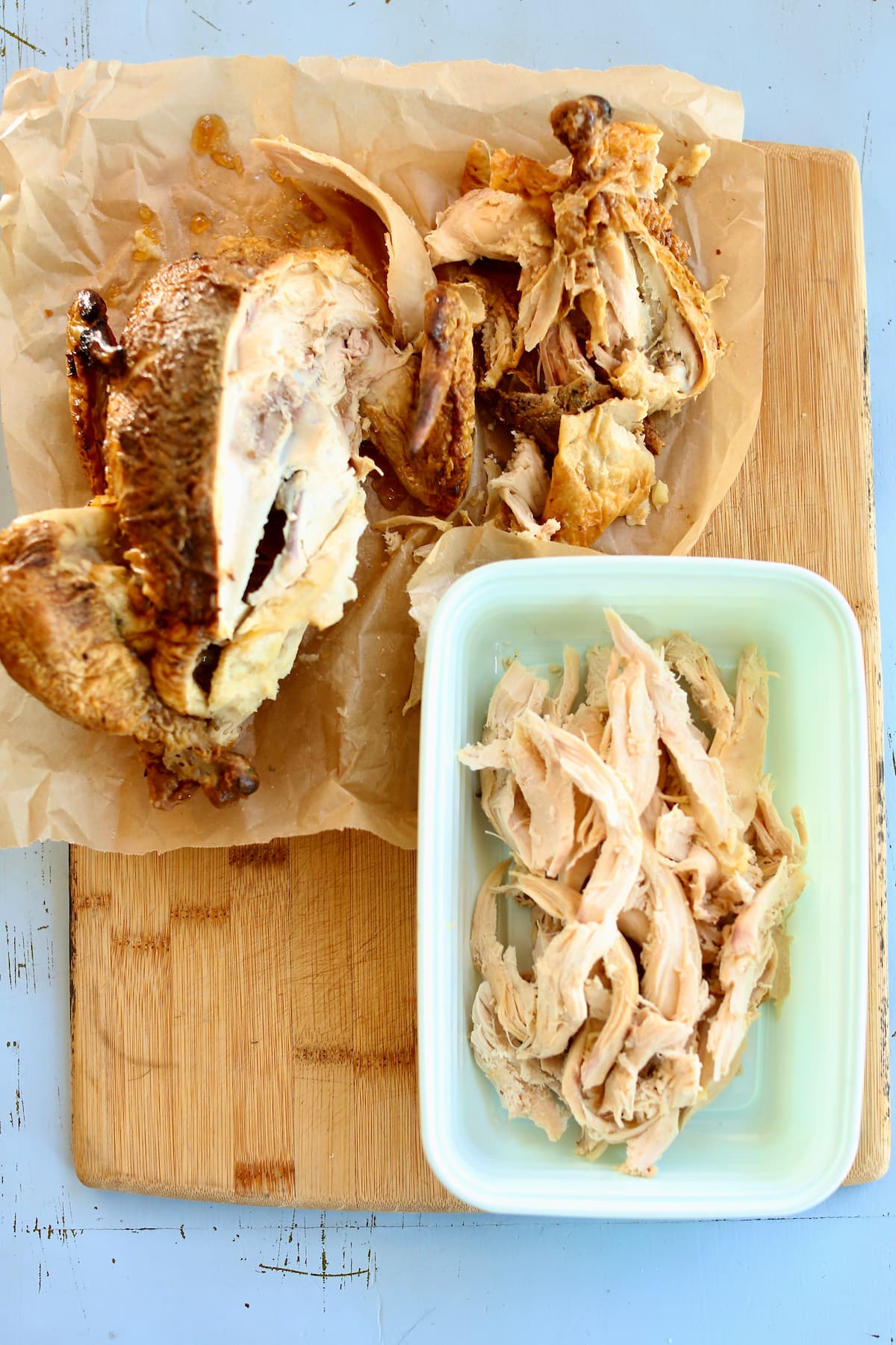 The best method to store rotisserie chicken is shredded and refrigerated. Do this by letting it cool for 30-60 minutes after bringing it home, then remove the meat off the bone. Cooling the meat down before storing prevents it from becoming dry and tough.
It's also worth noting that chicken should be refrigerated within two hours of its purchase for food safety.
Here's all you need to do to store the chicken meat:
Remove the skin from the chicken.
Pull all the meat off of the chicken – the breasts, thighs, wings and back.
Use a shallow container that's airtight, heavy-duty freezer bags, or other good quality sealable plastic bags to help prevent freezer burn.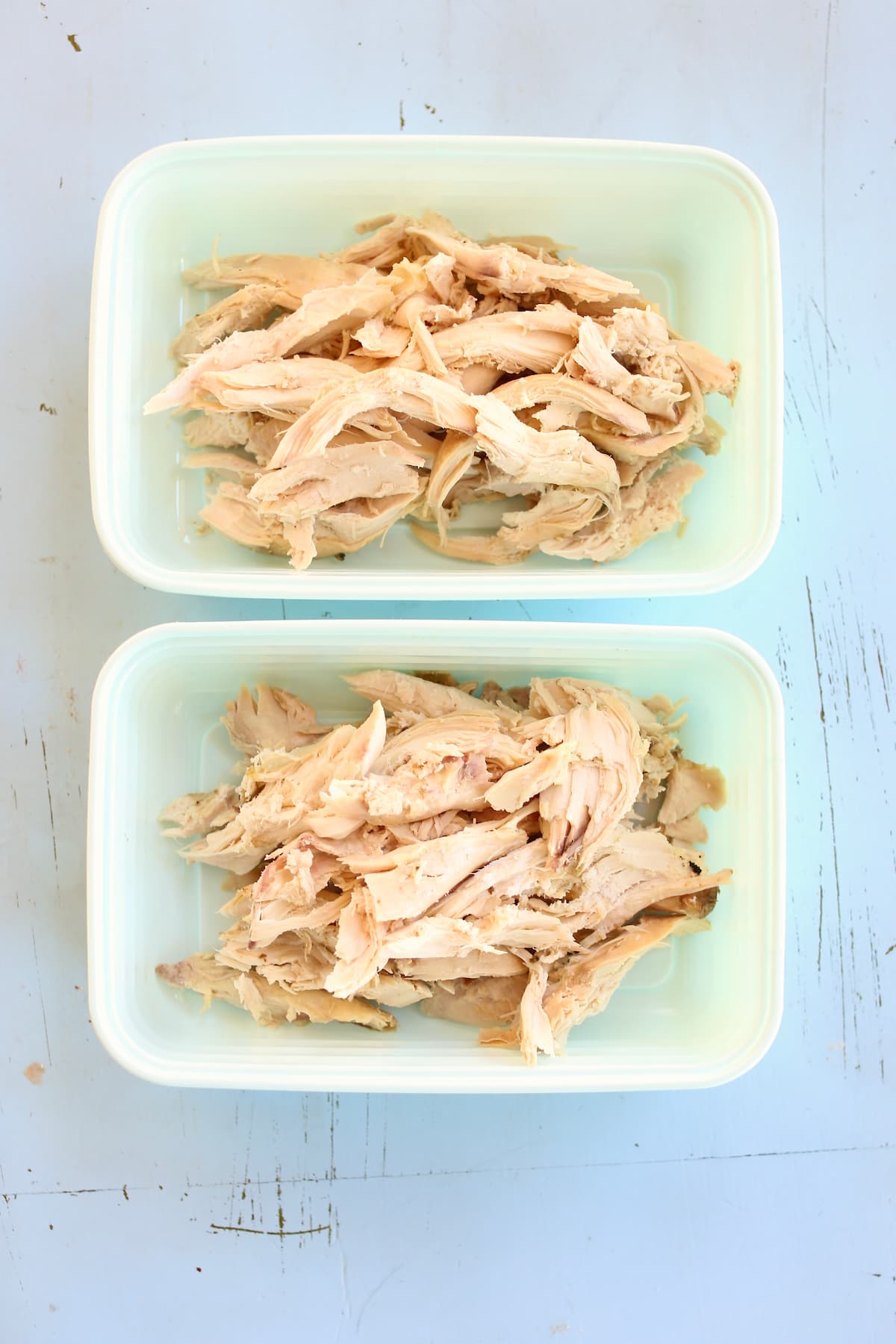 The meat can be refrigerated for 3-4 days, and frozen for up to 90 days.
Defrost the chicken in the refrigerator overnight on a plate, and it's ready to reheat and use.
Serving Ideas
Below are some of my favorite recipes for using store-bought rotisserie chicken. You can make a simple vegetable salad to go alongside, or a cup of this easy homemade soup.
Don't forget dessert! Try some Strawberry Cheesecake Bars, these very, very good Mini Caramel Apple Pies, or take a look through this list of incredible mouthwatering desserts.
Shredded Chicken Burrito Bowl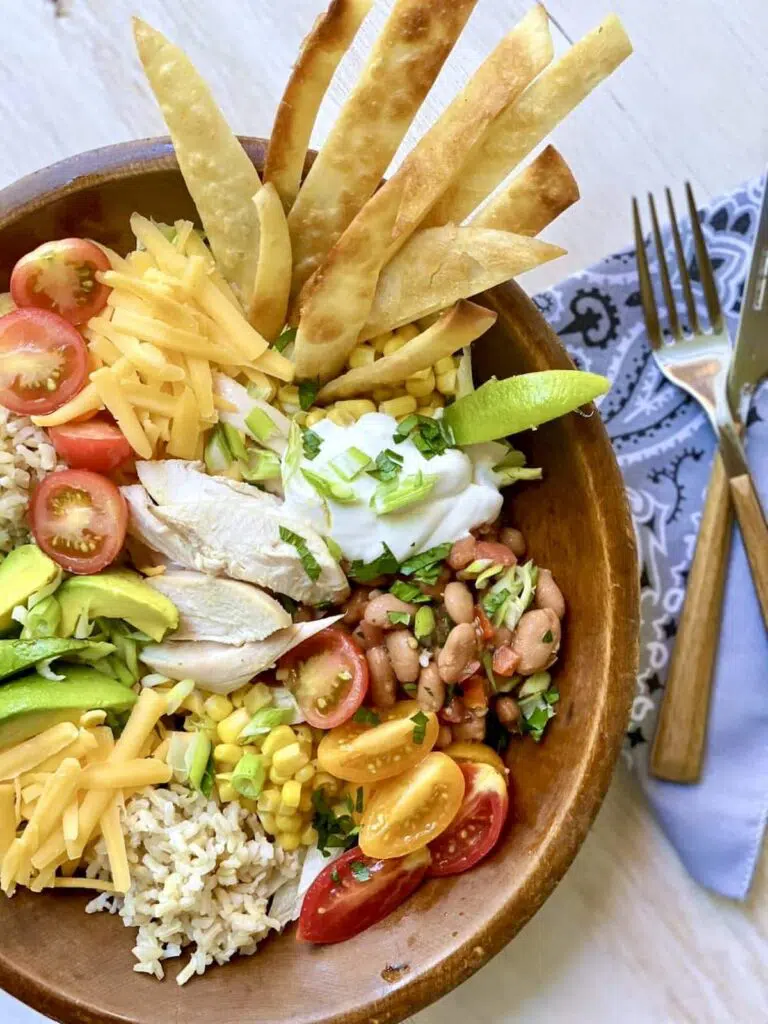 A fast, delicious lunch or dinner
Chicken Salad with Grapes and Almonds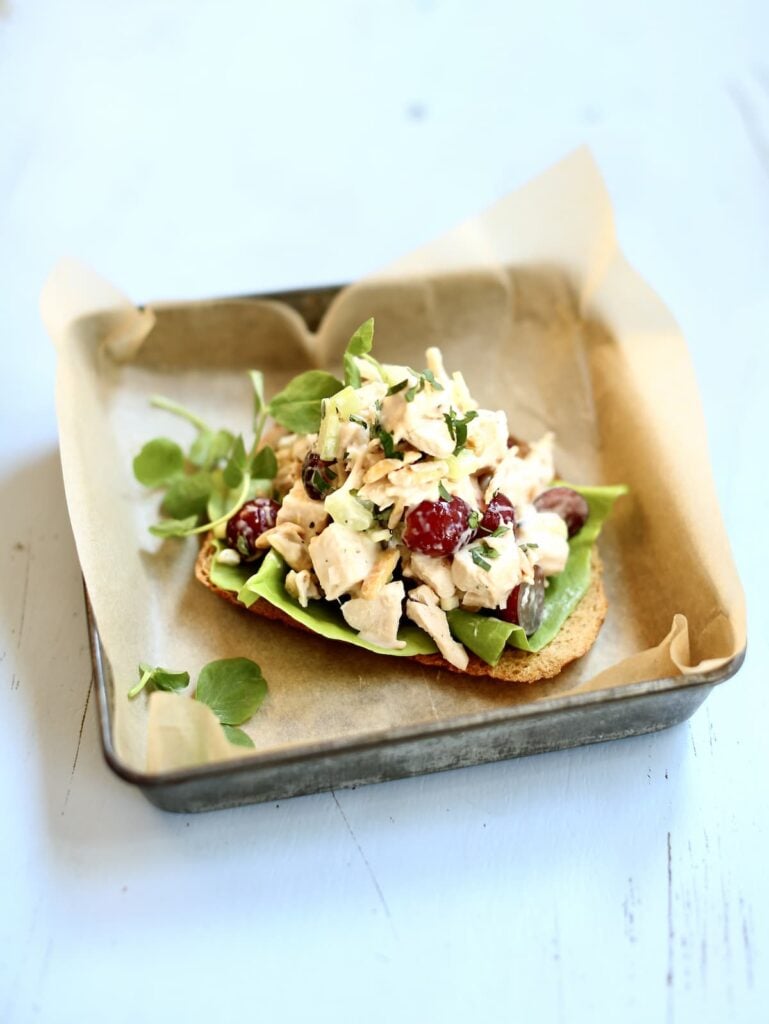 Fresh, light and full of flavor…
Chicken Salad with Grapes and Almonds: This is my very favorite chicken salad recipe, and the best part is it's made so easy with rotisserie chicken. It's moist, flavorful and just as great on toasted bread as it is scooped on butter lettuce for a low-carb option.
Creamy Chicken Pasta Bake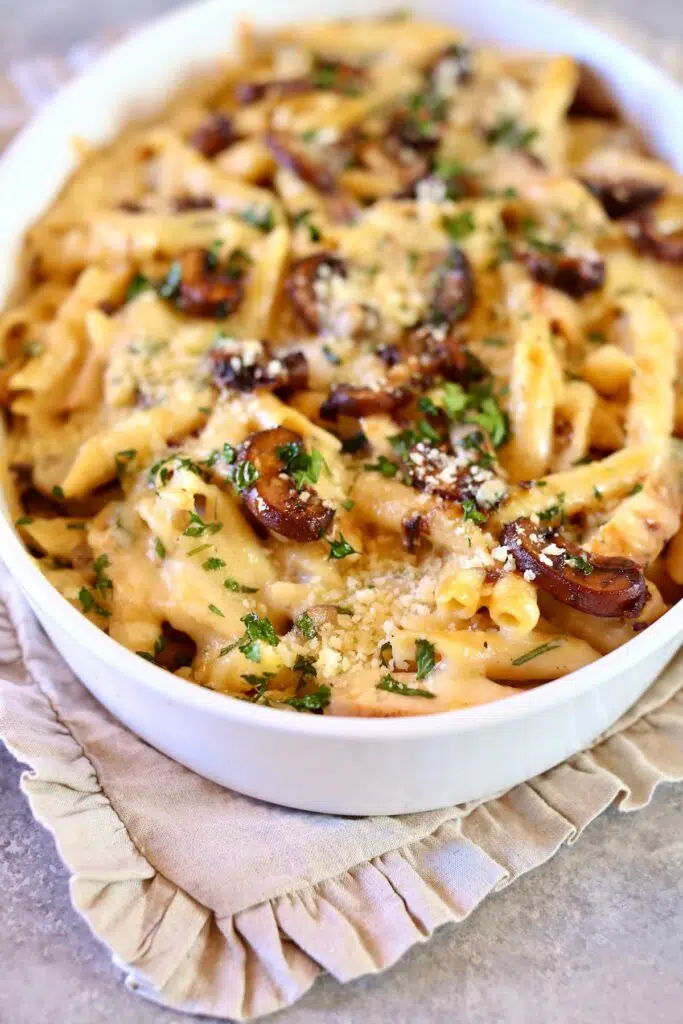 This reader favorite recipe is creamy comfort food at it's finest…
Creamy Chicken Pasta Bake: This creamy, delicious chicken casserole is a reader favorite for good reason! Swap out the chicken in the recipe and use rotisserie chicken instead, and this dinner will be on the table in no time. Be sure to make a crunchy, fresh salad to go along with it.
Frequently Asked Questions
How long can I store shredded rotisserie chicken?
In the refrigerator, it's fine for 3-4 days if stored in an airtight container.

You can freeze it for up to 90 days, but be sure to use good quality freezer bags or freezer friendly airtight containers to keep the air out and prevent freezer burn.
Is one re-heating method better than another for rotisserie chicken?
No…it just depends how much time you have. My favorite quick way is the microwave. With the techniques I've listed here, the chicken is moist and tender every time.
More Recipes to Try:
If you've tried How to Store and Reheat Rotisserie Chicken, or any other recipe on Studio Delicious, please rate the recipe 5 stars and tell me how you liked it in comments below!
Looking for more tips and fresh, homemade recipes? Join my email list, tag and follow me on Instagram using #studiodeliciouseats, follow my boards on Pinterest, and see what I'm up to on Facebook and Twitter!