Spooky, tasty and easy, these easy and fun Fruit Halloween Snacks are always a hit, and grownups love them too!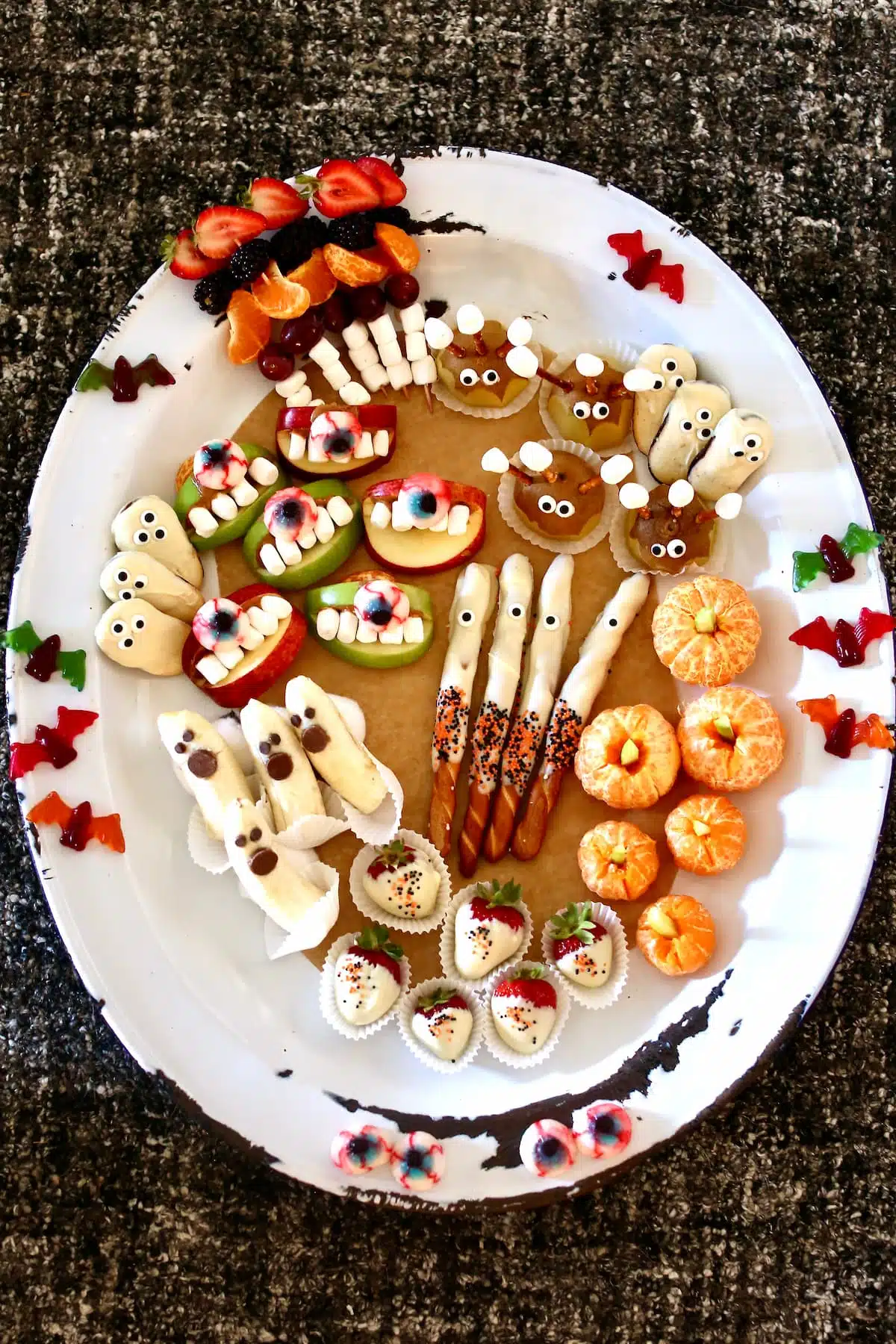 Jump to:
Why You'll Love This Recipe
Get ready to elevate your fall gatherings with this easy and super fun recipe! Not just for Halloween, these playful fruit creations are just as popular with adults as they are with kids.
From apple "monsters" to banana ghosts and clementine pumpkins with a celery stick stem, these whimsical treats will bring a little extra fun to your table!
Here's a few reasons to give this Halloween fruit platter idea a try:
These easy Halloween treats are made from fresh fruit and are a real crowd-pleaser. Who wouldn't smile at a chocolate dunked cookie with candy eyes?
A big fruit tray like this is great for school parties or as a school snack.
Great for office parties, family gatherings, football and tailgate parties. These fun treats are perfect for the Halloween season, or any holiday season…just customize the candy!
This recipe uses simple, easy to find ingredients. Get everything at the grocery store Many stores stock candy eyes these days too. (Or find them online.)
Get the whole family in on decorating the tray, it's a great activity and a fun way to spend time too!
Ingredients You'll Need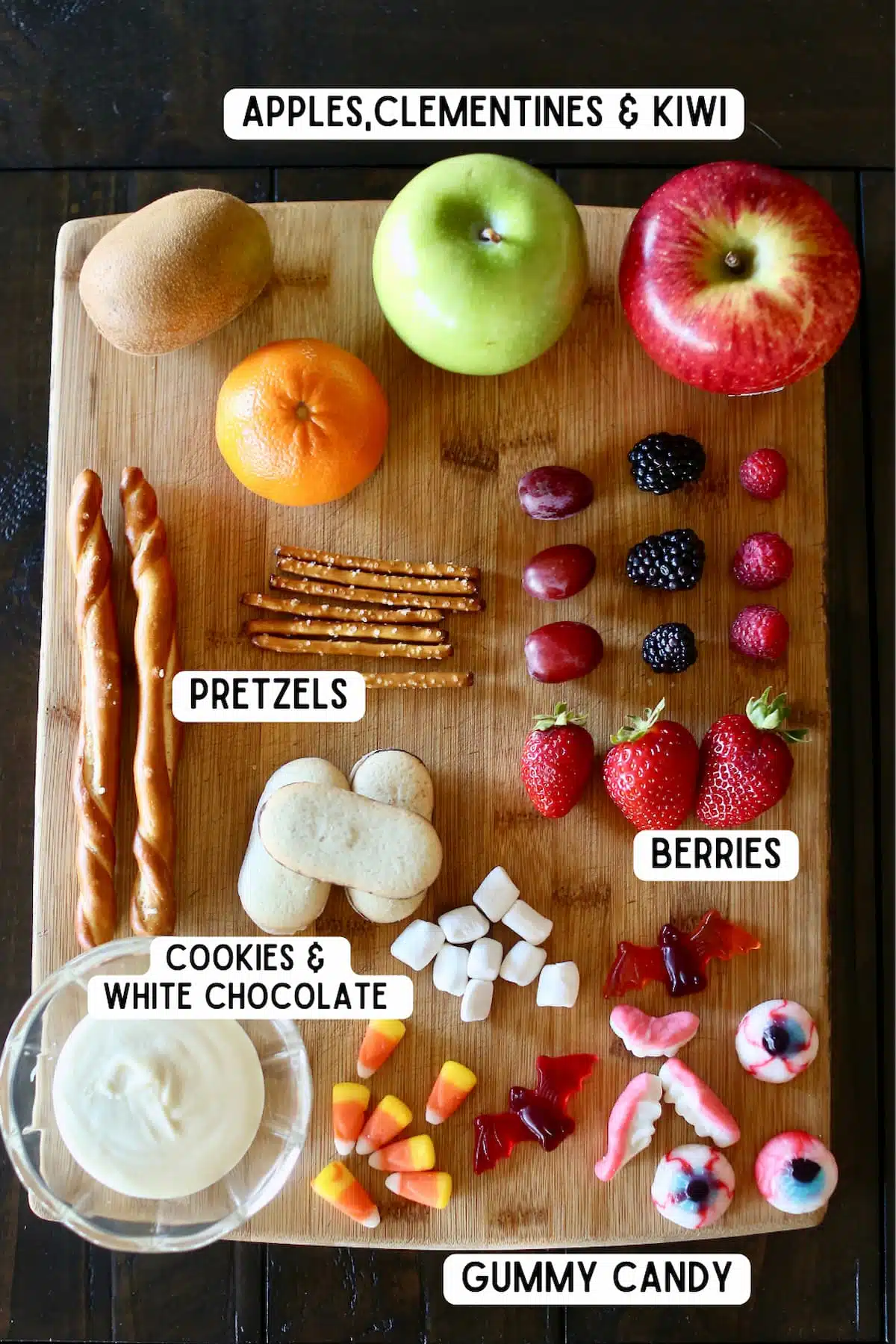 For the full recipe and list of instructions, please scroll down to the recipe card below.
Apples: Use bright green apples like Granny Smiths or a big red variety.
Clementines: Use any small orange citrus fruit you have available.
Kiwi: Golden or green kiwi work well as "monsters".
Pretzels and cookies: For various monster body parts.
Berries: For a simple fruit kabob.
Marshmallows: Use the mini's for this recipe.
White Chocolate: Melted, this becomes the "glue" we need.
Candy Eyeballs: They add so much, and easy to find these days.
Candy: Get a good variety of candy corn, Halloween sprinkles and other fun treats to decorate.
Step-By-Step Instructions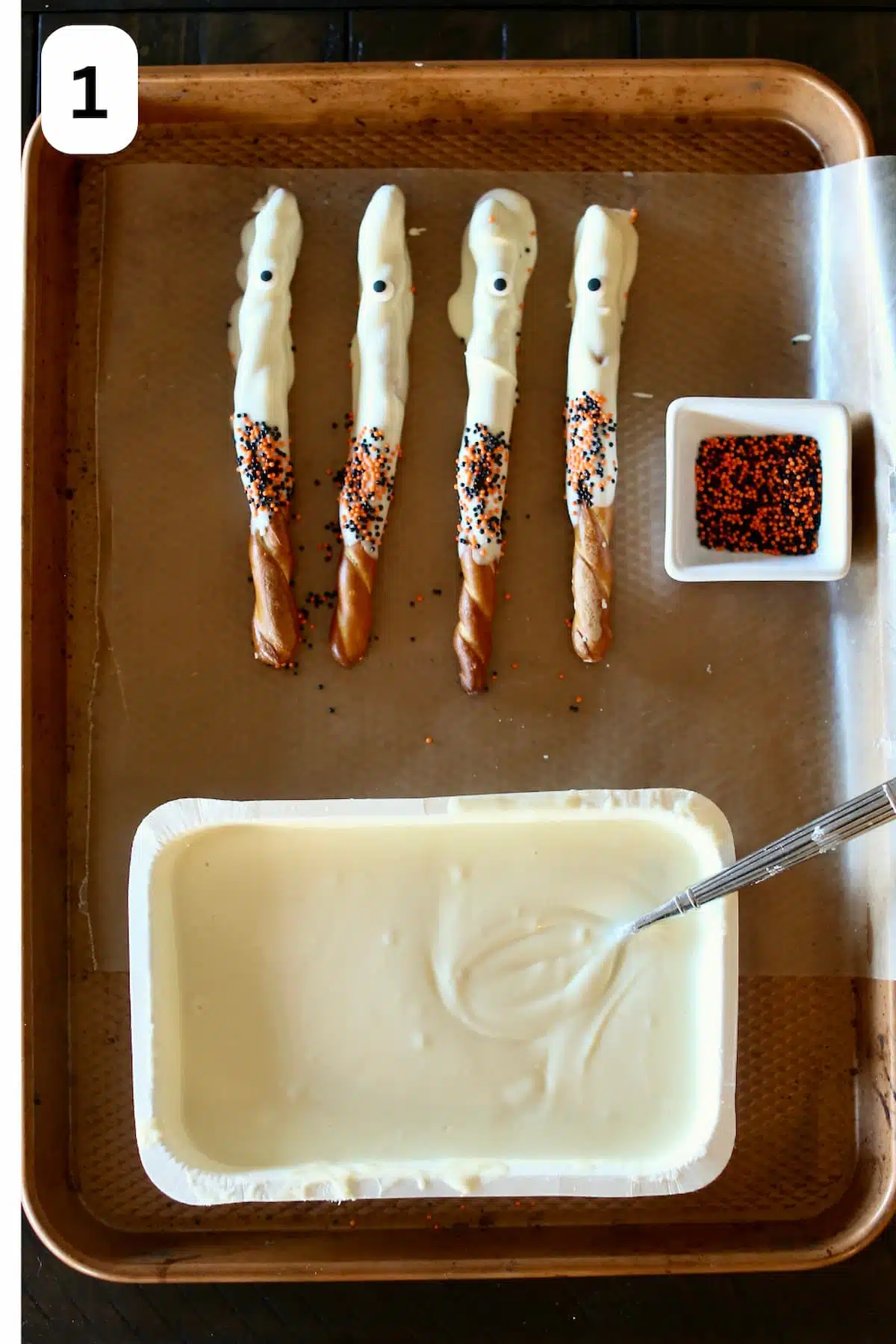 For the full recipe and list of ingredients, please scroll to the recipe card below.
To make spooky pretzels, melt white chocolate (or candy melts). Dip the pretzels in the melted candy, twirling it around to coat all sides. Place on wax paper and let them set up for thirty seconds or so, then add a candy eye (or two!) and some colored sprinkles.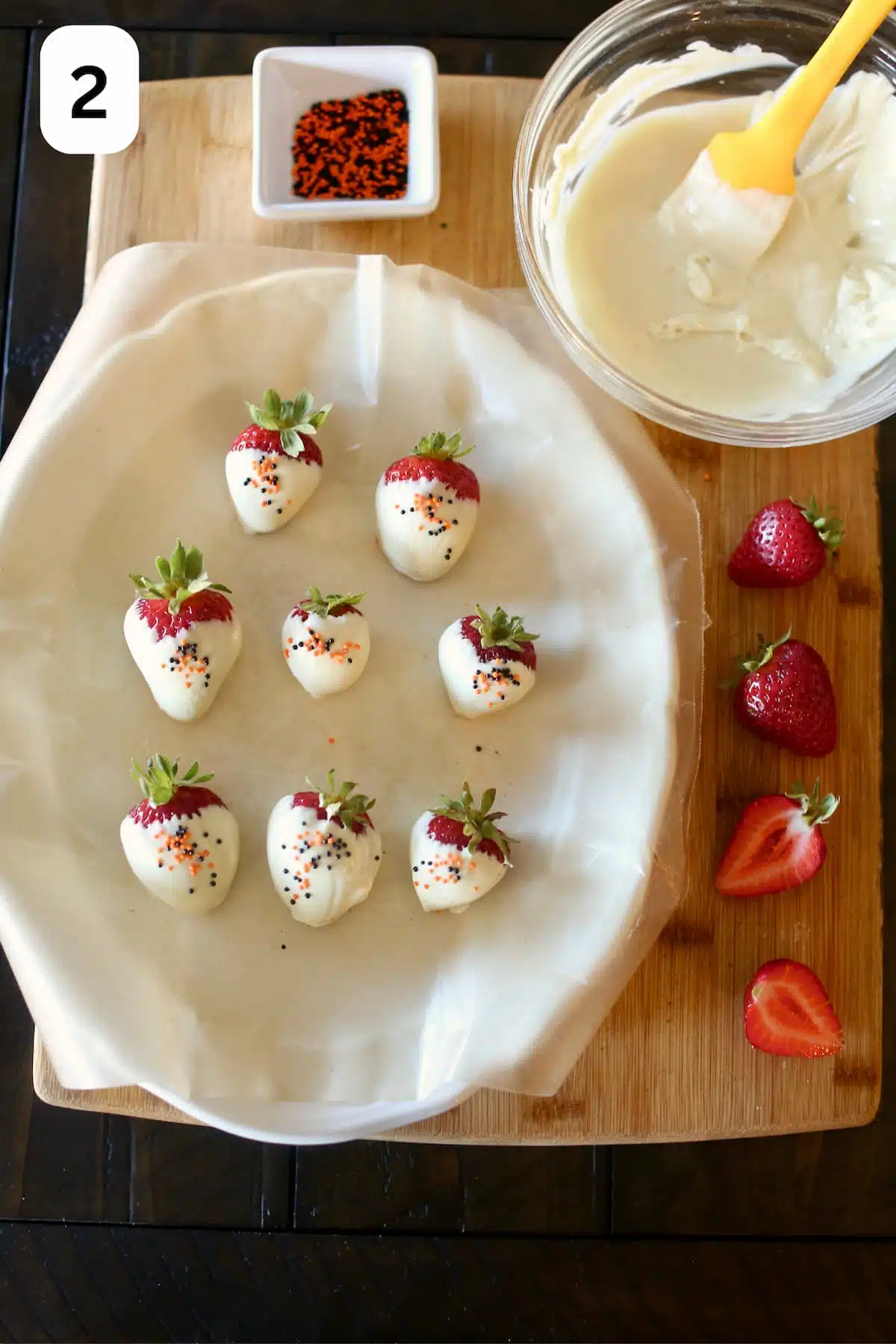 2. To make the white chocolate strawberries, simply dunk them in melted white chocolate, let them set on wax paper for 30 seconds, then add seasonal sprinkles. PRO TIP: Waiting the few seconds for the chocolate to set up a little is insurance that your sprinkles won't slide off!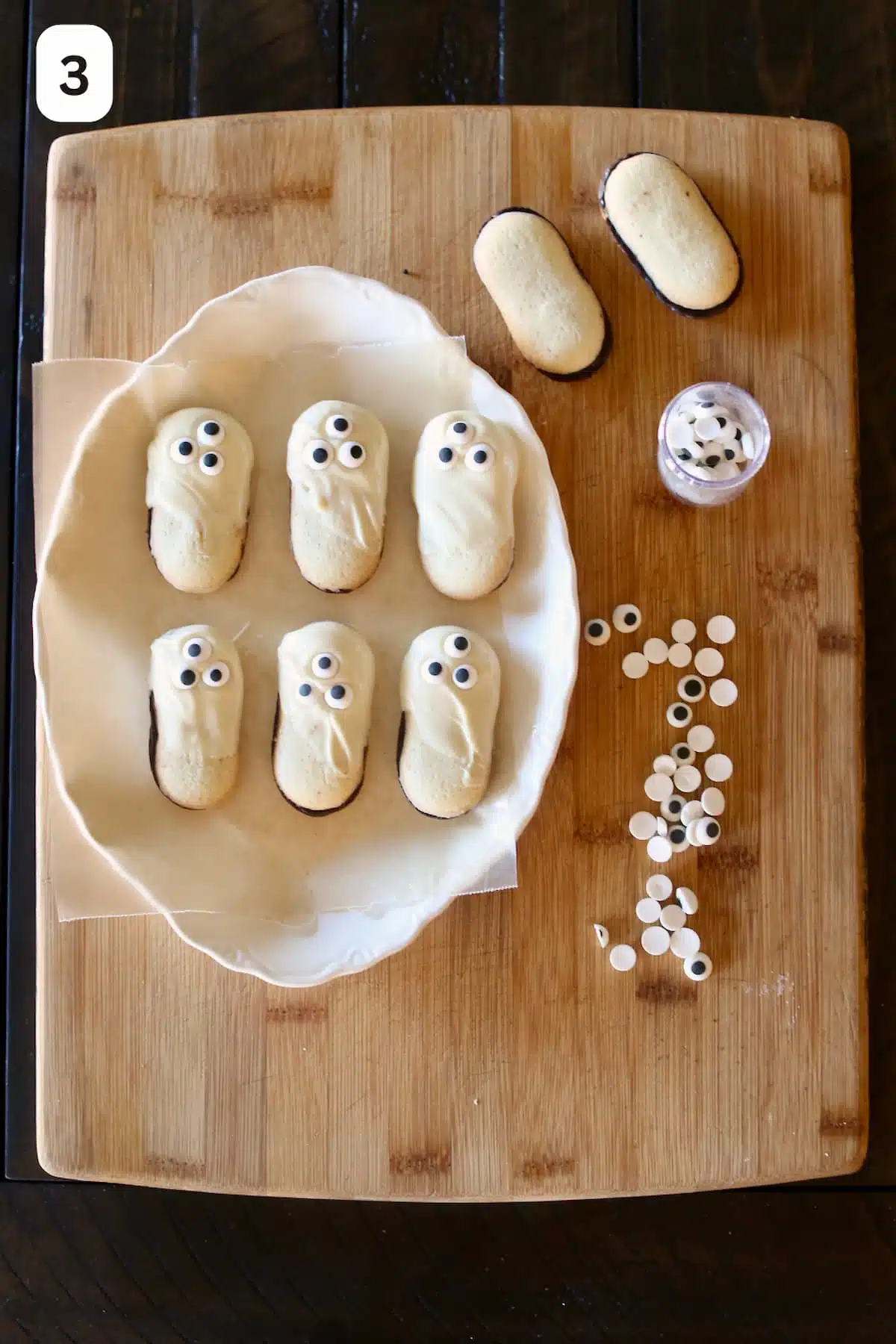 3. To make cookie ghosts, use a sandwich cookie like Pepperidge Farm Mint Milano cookies and twirl the tops in melted chocolate, covering all sides. Set on wax paper, wait a few seconds, then place as many candy eyes on top as you'd like.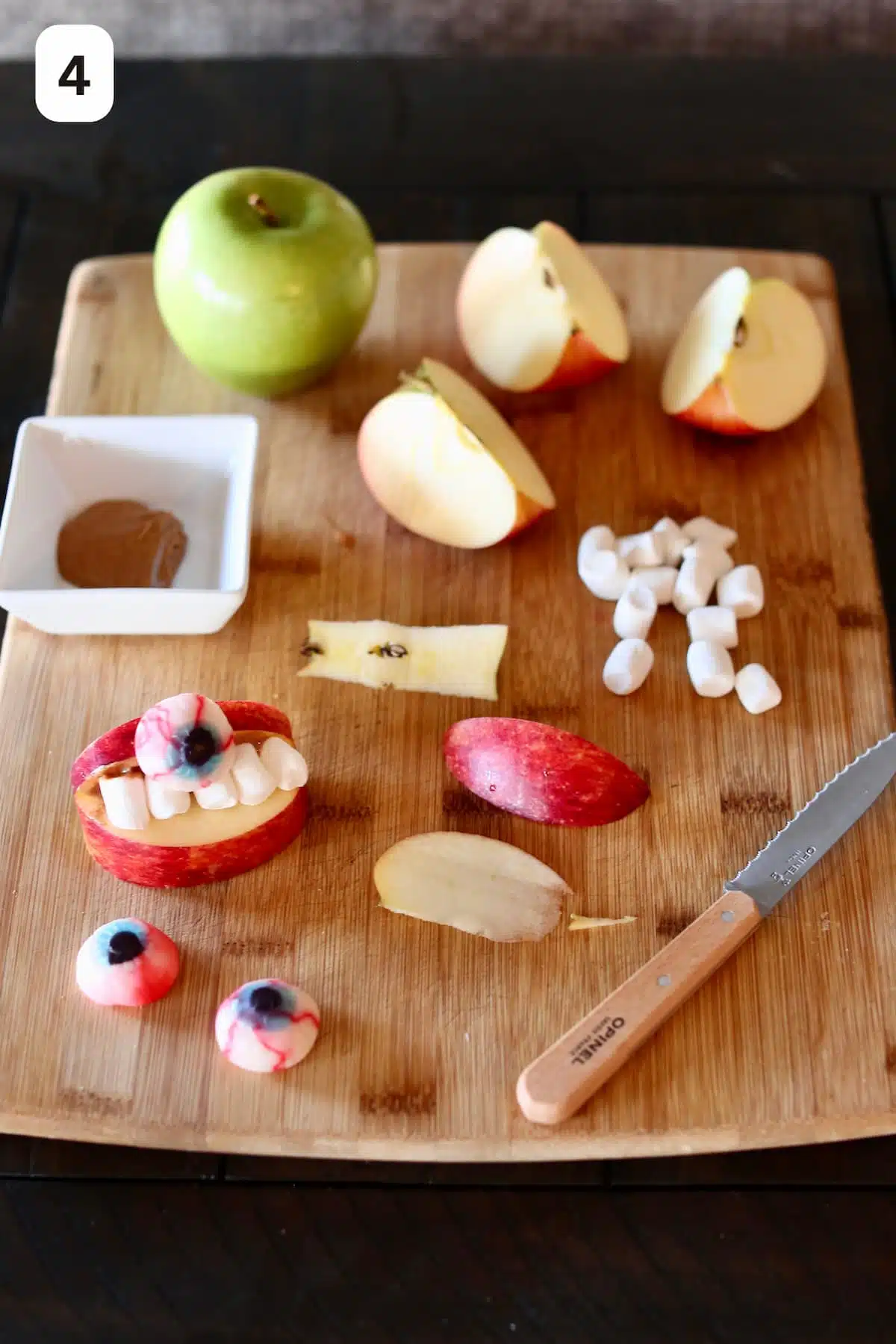 4. To make the apple "monsters", cut an apple in quarters, them shimmy your knife to trim off the seeds and core. Cut out a smaller sliced wedge on the other side. Smear a little peanut butter, almond butter or cream cheese on one side of the cut wedge of the apple slices, then place some marshmallow "teeth" on top, making sure they're snug enough to not fall out. Use the same "glue" technique to attach a single gummy eyeball on top. Refrigerate these to set until ready to eat.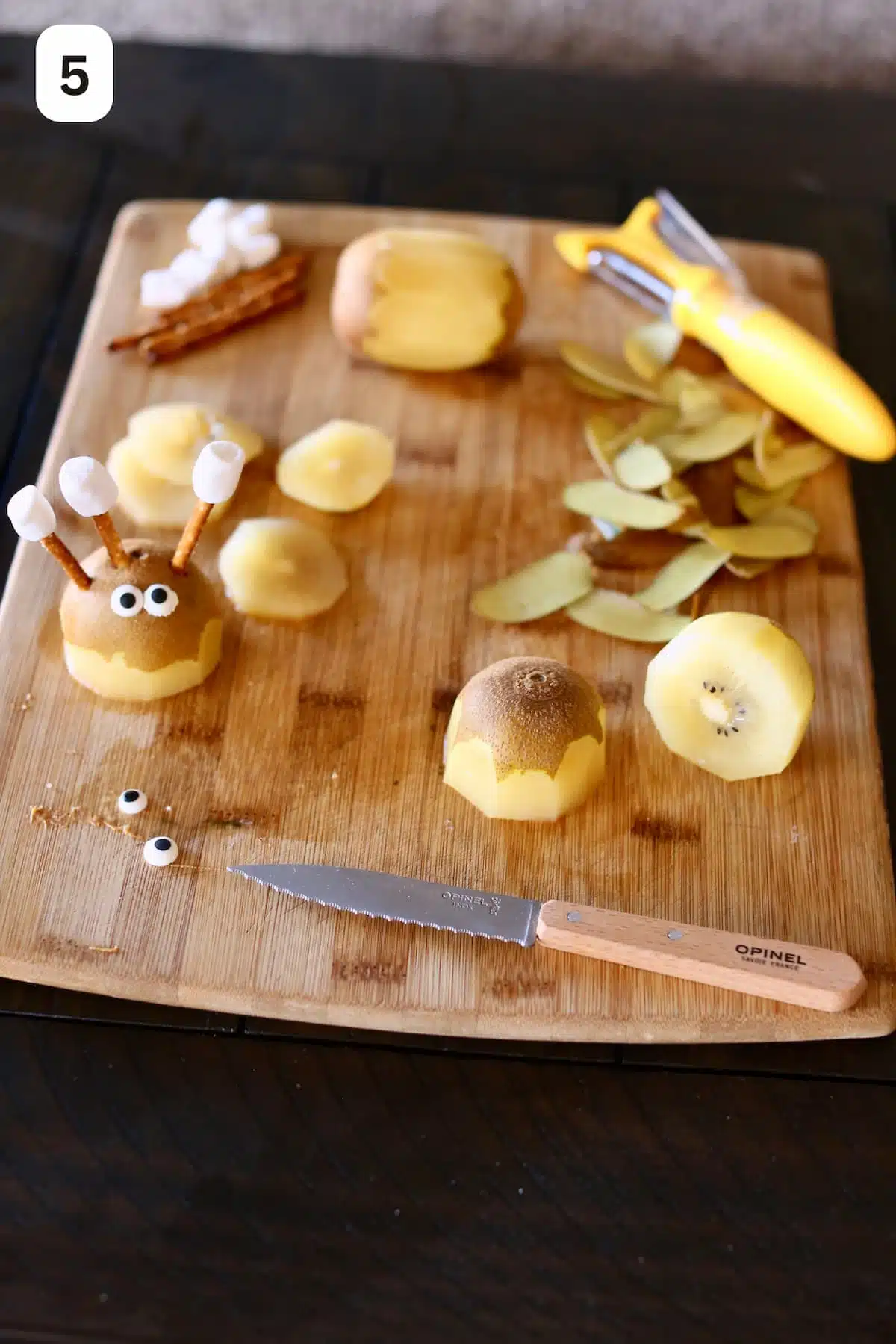 5. Kiwi "monsters" are nothing more than a fresh kiwi cut in half and trimmed at the bottom a little to show the flesh. Mine shown here are called golden kiwi, which was what my grocery store had in stock. Green kiwi would be even better! Spoon a little cream cheese to "glue" candy eyeballs on each.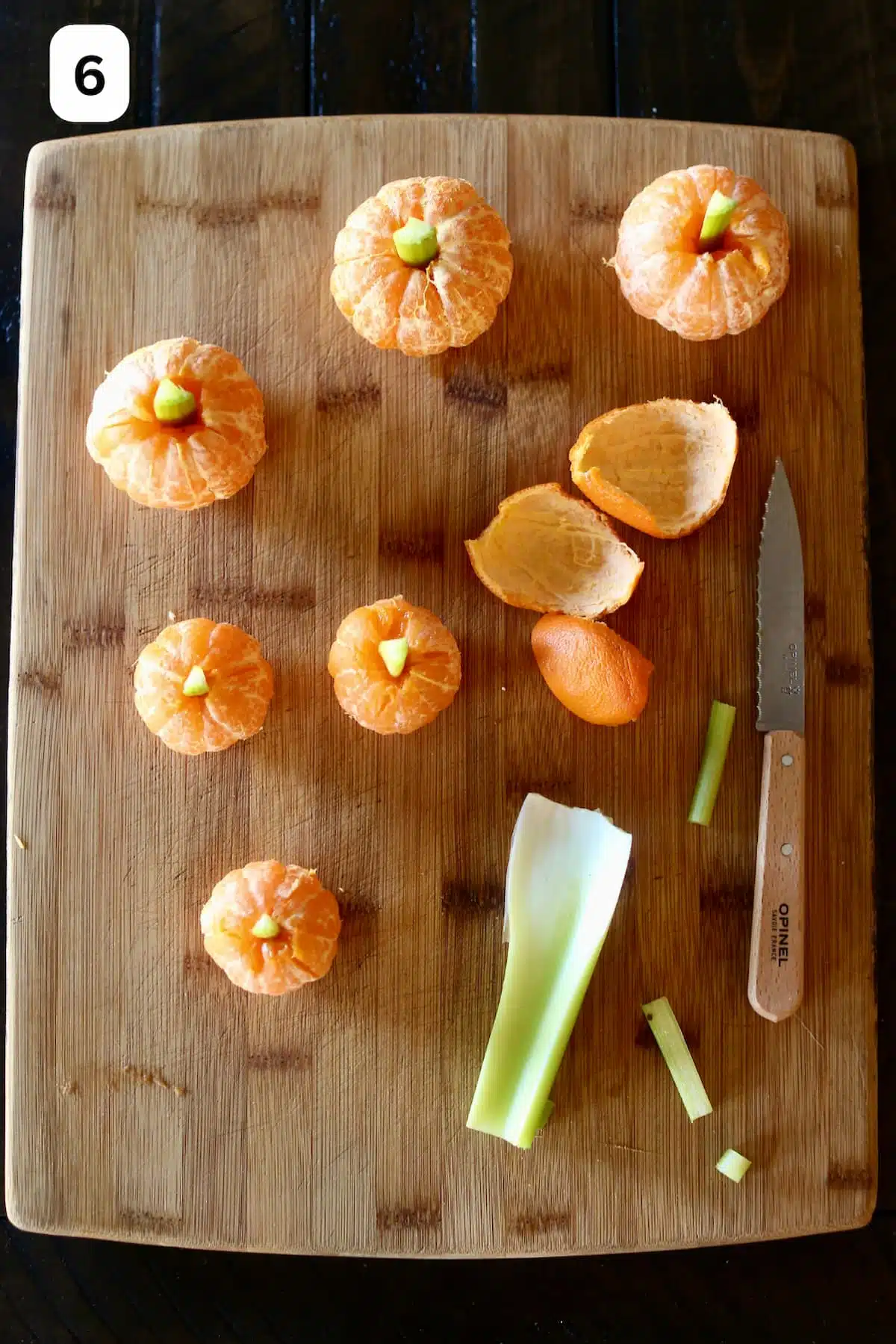 6. This one's easy. Peel the clementines, then cut a small piece of celery and stick in the middle to make the cutest little pumpkin oranges ever!
7. Banana ghosts are easy to make. Peel a banana, slice it in half. To each half, take two mini chocolate chips and press them tip first gently into the banana to make "eyes". Use one regular or jumbo chocolate chip to press (tip side first) directly underneath for the mouth. The tips of the chocolate press in this way anchors them securely to the banana.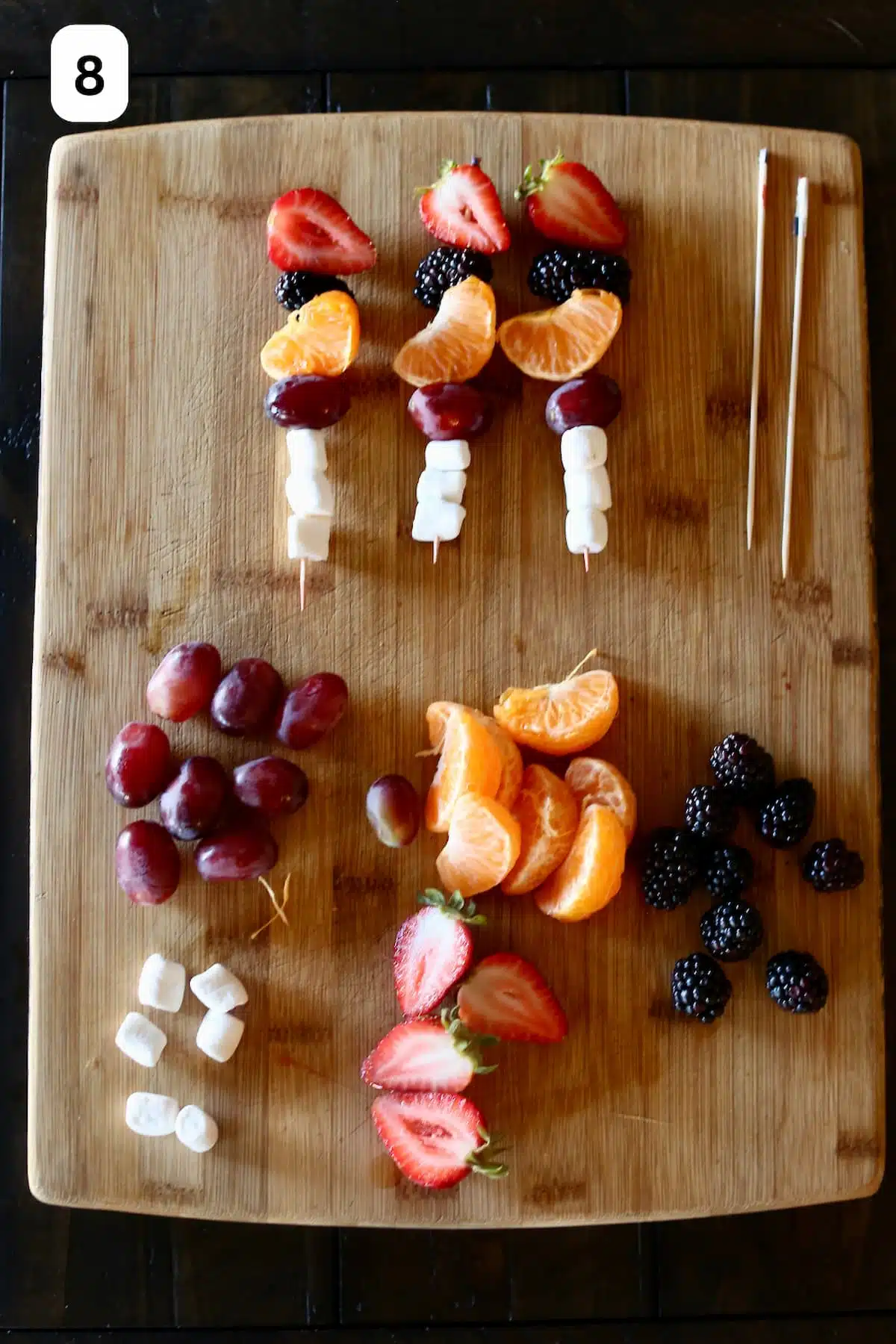 8. Using small wooden or bamboo skewers, thread grapes, blackberries, segmented clementine oranges, strawberries and marshmallows to each to make a fruit kabob.
Tips and Possible Variations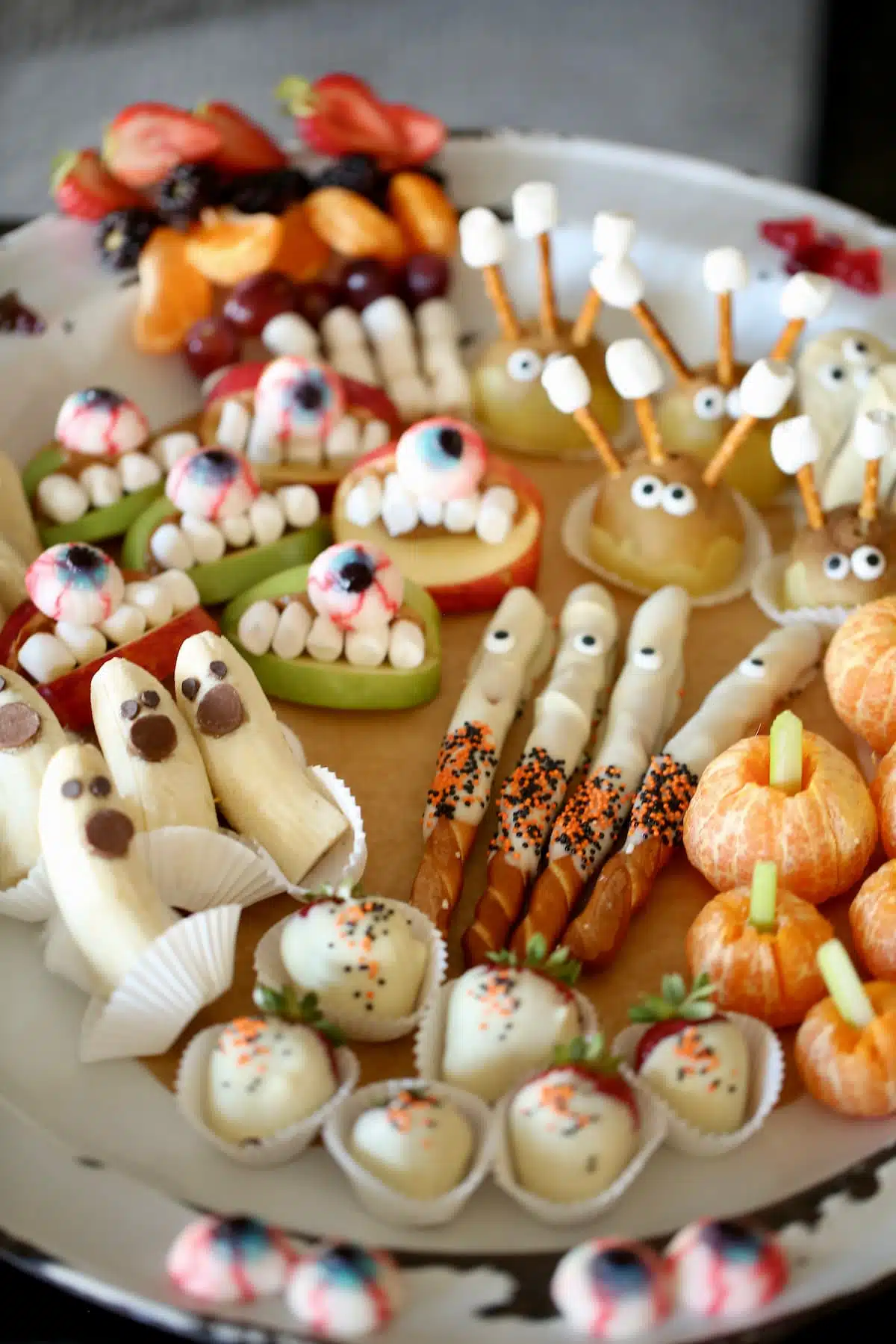 Try different varieties of apples, use a mixture or all one color. I didn't use lemon juice on the apples to prevent discoloration, but you could!
Use milk or dark chocolate instead of white chocolate.
Use any kind of seasonal sprinkle or colored sugar that you like.
Same with the candy. It's nice to find a variety of gummy treats because they're easy to work with, but use your imagination to come up with other fun ideas.
Peanut butter or cream cheese work the best to "glue" things to fruit, and be sure to refrigerate them after decorating so they set up and don't slide off.
Serving Ideas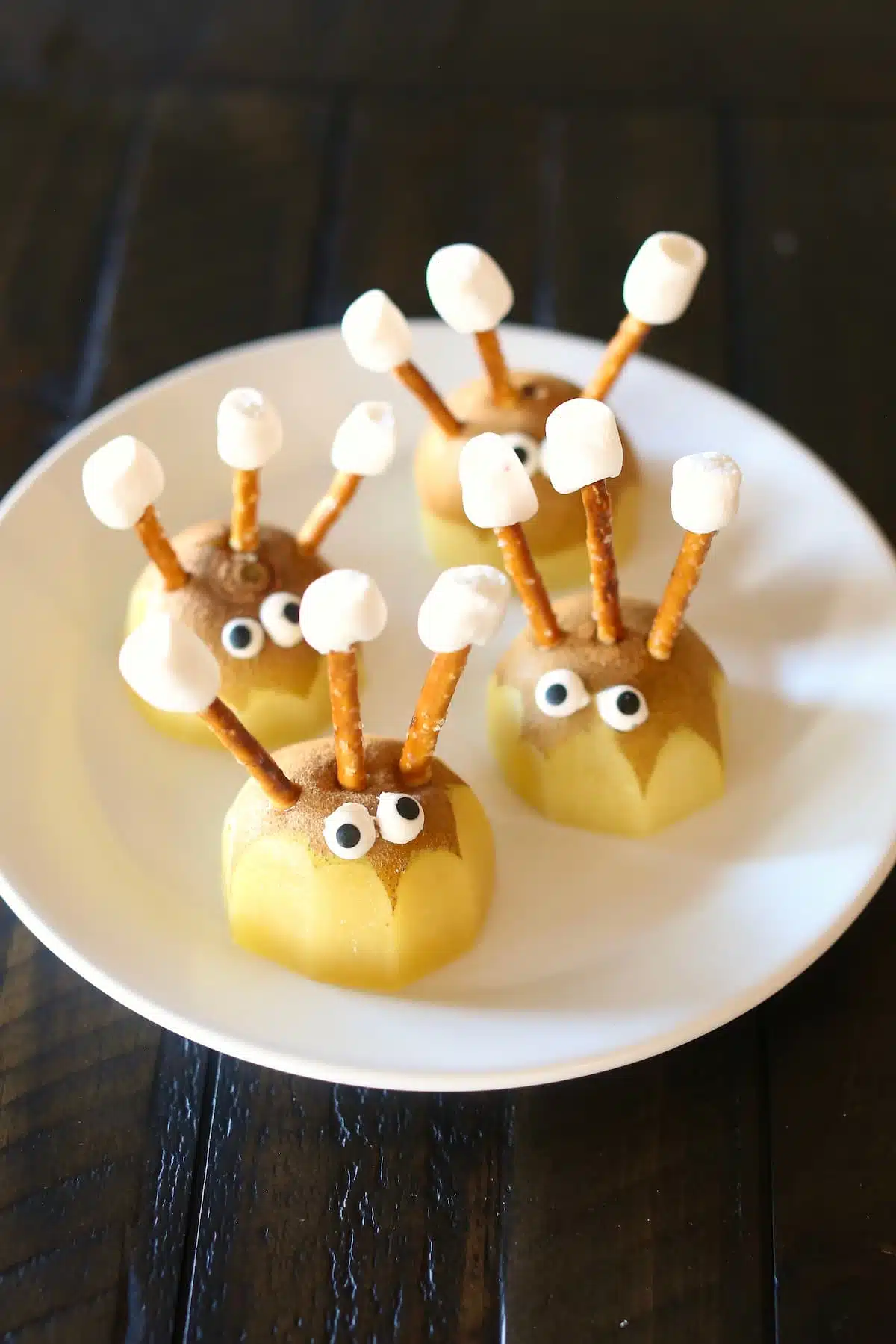 This would be fun to serve at an office party, a kids birthday party, for tailgating, or just as afternoon snack. Nothing is too difficult to make, and it's easy to transport as long as everything stays relatively flat.
Frequently Asked Questions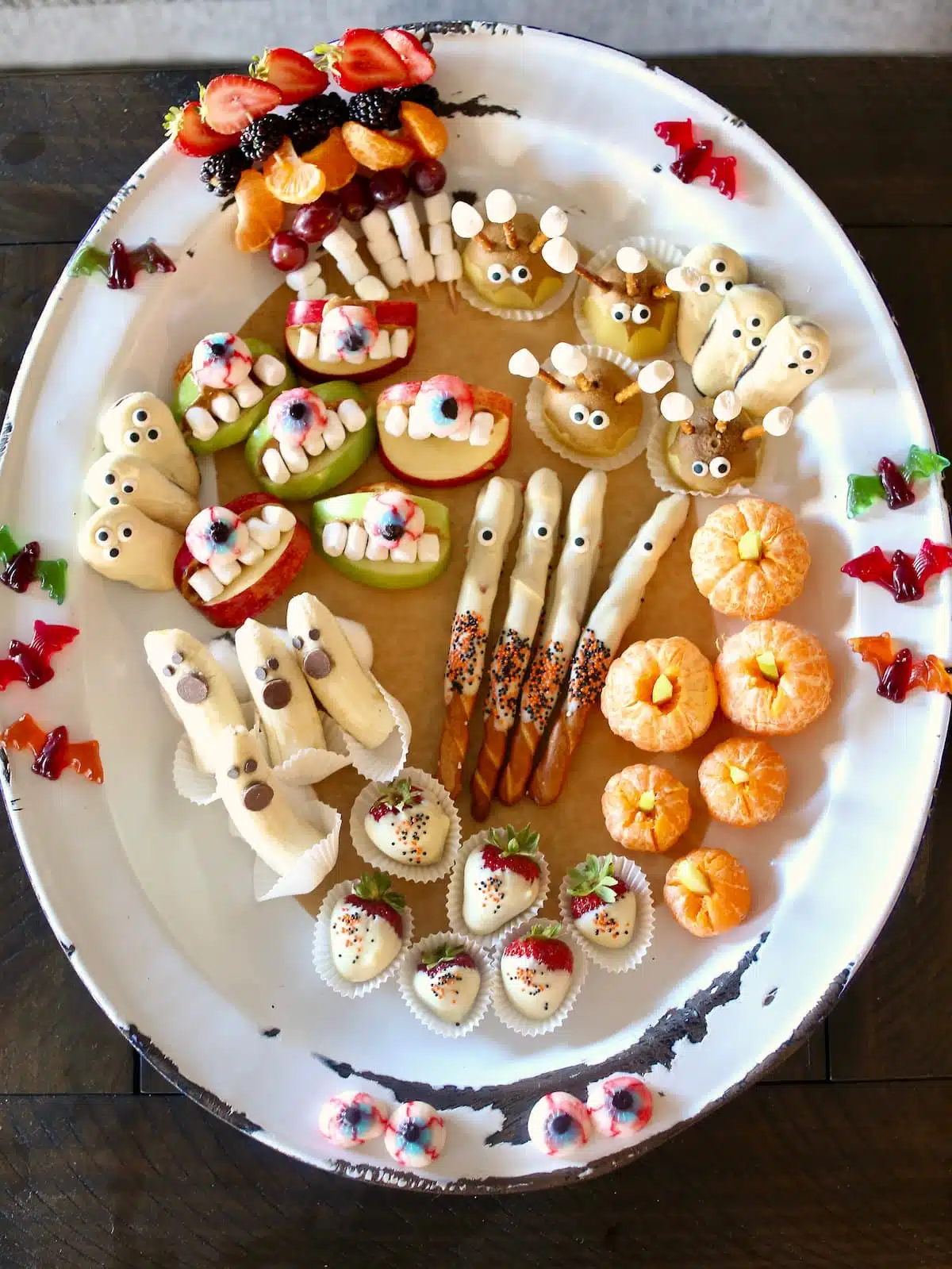 How far in advance can I make these fruit snacks?
These are all best eaten the same day they were made. The clementine pumpkins will be fine if peeled the day before, and the celery can be cut in advance too.
What's the best way to put the platter together?
Have all of your ingredients out and ready to go. Work on one fruit at a time, refrigerating them on separate plates or trays as you prepare them.
If transporting these snacks, just be sure to keep them as flat as possible.
How do I store any leftovers?
These are best eaten the same day you prepare them, but leftovers can be kept in an airtight container if needed.
More Recipes to Try
If you've tried these Easy and Fun Fruit Halloween Snacks, or any other recipe on Studio Delicious, please rate the recipe 5 stars and tell me how you liked it in comments below!
Looking for more tips and fresh, homemade recipes? Join my email list, tag and follow me on Instagram using #studiodeliciouseats, follow my boards on Pinterest, and see what I'm up to on Facebook and Twitter!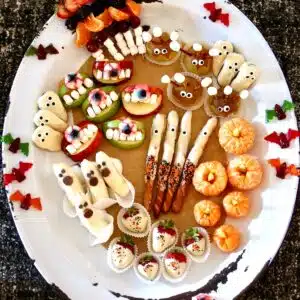 Easy and Fun Fruit Halloween Snacks
Spooky, tasty and easy, these Fruit Halloween Snacks are fun to make!
Print
Pin
Rate
Ingredients
12-16

ounces

White Chocolate or white candy melts, melted

Amount will depend on how many strawberries you use and their size.

6

Large Pretzel Sticks

1

container

Seasonal colored sprinkles

1

package

Candy eyeballs

1

pound

Strawberries

6

Milano Cookies, such as Pepperidge Farms

Use more than six cookies if you'd like.

2

Apples, green or red

Mini Marshmallows

2

tablespoons

Peanut Butter

gummy candy eyeballs

3

Bananas, peeled and cut in half

3

tablespoons

Mini and jumbo chocolate chips

Or use regular-sized chocolate chips.

6

Small oranges, like Clementines, peeled.

1

Celery Stalk, cut into small sticks

3

Kiwi fruits, cut in half

1

cup

Pretzels, small sticks

1

tablespoon

cream cheese
Instructions
Melt the white chocolate according the package instructions if using candy melts, or use a saucepan with a shallow amount of water in the bottom, set on a low boil.

Place a heat-proof glass bowl that can fit inside the saucepan of simmering water, being careful not to let the bottom of the heat-proof bowl touch the water. Add the chocolate in, and stir until melted.

Remove the bowl and set it on a kitchen towel, it's now ready to use for these fruit snacks. You may need a little more or less chocolate depending on the size and quantity of your ingredients.

If the chocolate gets cold, simply set is over the simmering water again for a couple of minutes, then stir until melted.

For the large pretzels, dunk the tops in chocolate, turning each one around a time or two to cover the front and sides, leaving the bottom few inches alone.

Set the dunked pretzels on wax or parchment paper, let them set for about 30 seconds, then place the candy eyeballs on top and the sprinkles on the bottom. Refrigerate until set.

For the Strawberries, dunk them one at a time in the same white chocolate (you may need to heat it up again) then set them on wax paper. Let them sit for 30 seconds or so, then use seasonal sprinkles on the top. Refrigerate until ready to serve.

For the three-eyed mummy cookies, dunk one half of each Milano cookie into the white chocolate, turning it around to get the back and front. Set it on wax paper for a about 30 seconds before placing three candy eyes on each. Refrigerate for at least 30 minutes or until set.

For the apple "monsters," cut the apples in four quarters, then use your paring knife to trim the seeds and any remaining core from the apple to make flat surface. Turn the apple over, then cut a wedge of an inch or so out of the middle (of the skin side) to make a opening for a mouth.

Smear a little peanut butter on one side of the cut wedge, then place mini marshmallows inside for teeth. Use a dab more peanut butter to place a gummy eyeball on top of each apple wedge to make a monster. Place on wax paper and set them in the refrigerator to firm up for at least thirty minutes.

For the Banana ghosts, slice each peeled banana in half, then push two mini chocolate chips – tip sides up – into the banana to make two eyes. Use one jumbo chocolate chip pushed in the banana, tip side up, to make a mouth.

For the Kiwi monsters, cut each kiwi in half, then use a paring knife to trim the outside skin from the bottom edge of your kiwi, about an inch or so. Use a paring knife to make three small slits on the top of each kiwi, which will make it easier to slide a pretzel in each slot, three total. Place a mini marshmallow on the tip of each pretzel stick, and use a dab of cream cheese to "glue" the eyeballs on. Refrigerate until ready to use.

Arrange all the treats on a large platter and serve these the same day they were prepared.
Notes
Use different varieties and colors of apples if you'd like.
Try dark or milk chocolate instead of white.
Use any kind of seasonal sprinkles or colored sugar you'd like.
Find a variety of fun candy, including gummy treats like spiders and eyeballs.
Peanut butter or cream cheese work very well as "glue"to the candy eyeballs in this recipe.
The nutrition information for this recipe is an estimate only, using an online calculator. This information will vary depending on the ingredients you use and quantities, so it may not reflect the actual nutritional values.
Nutrition
Calories:
83
kcal
|
Carbohydrates:
12
g
|
Protein:
1
g
|
Fat:
3
g
|
Saturated Fat:
2
g
|
Polyunsaturated Fat:
0.1
g
|
Monounsaturated Fat:
1
g
|
Cholesterol:
5
mg
|
Sodium:
15
mg
|
Potassium:
101
mg
|
Fiber:
1
g
|
Sugar:
8
g
|
Vitamin A:
96
IU
|
Vitamin C:
9
mg
|
Calcium:
23
mg
|
Iron:
0.2
mg
Tips for Success with Every Recipe
Super important to read the whole recipe before you begin
Pay attention to the ingredient list and photos for the recipe
If possible, prep your ingredients a little before you start
Always use a sharp knife for safety
Use the size of pan called for in the recipe
For savory recipes, taste and season as you go
Buy fresh, organic ingredients, locally sourced whenever possible
Don't Miss a Recipe!