Sink your teeth in the ultimate New York Club Sandwich, with layers of sliced chicken, bacon, lettuce, tomato and mayo on toasted buttered bread for a satisfying meal. Make this iconic sandwich with this how-to guide.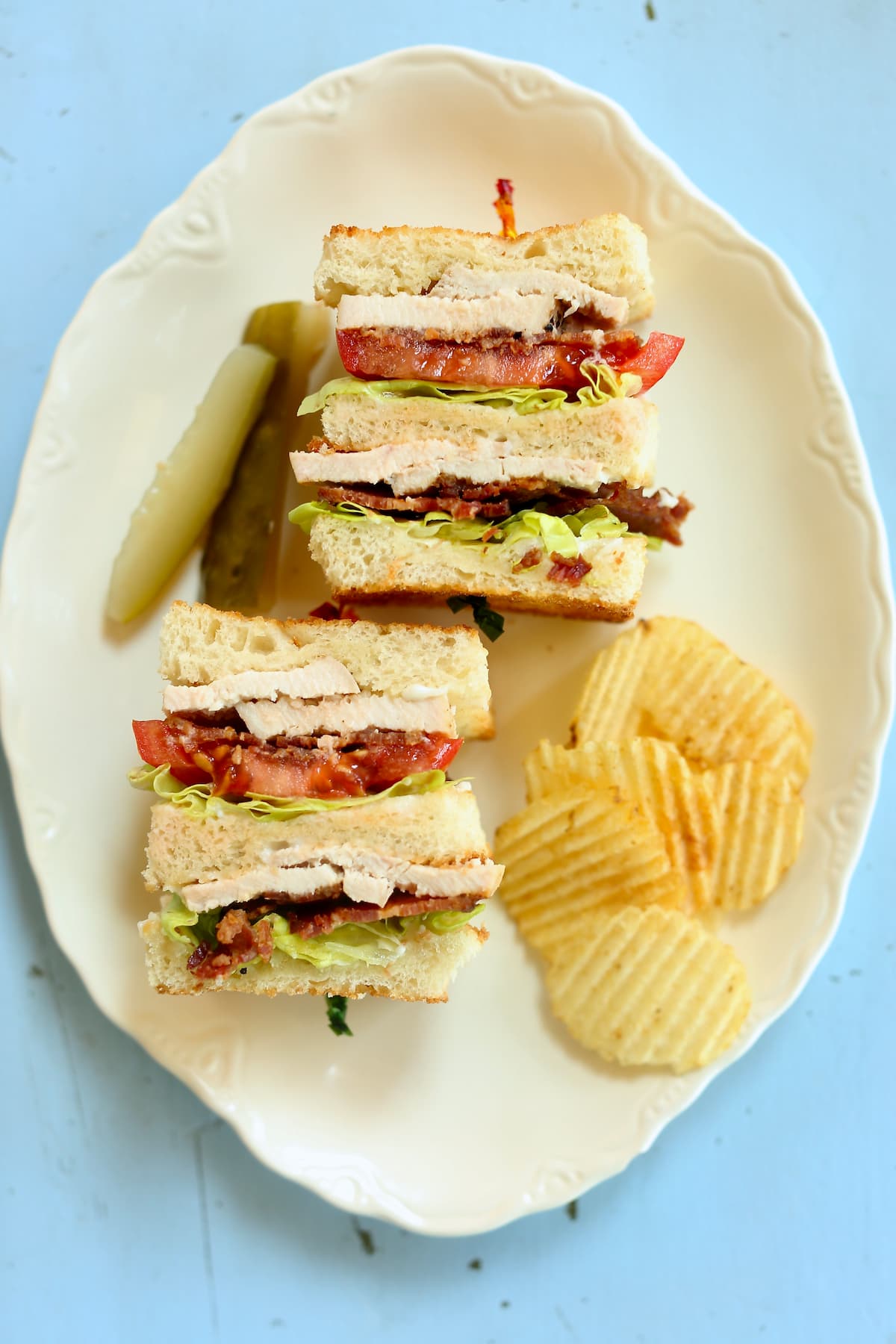 Jump to:
Why You'll Love This Recipe
If you're a fan of classic recipes and deli sandwiches (and who isn't?) why not make this Classic New York Club Sandwich recipe, made the best it can be? This sandwich is delicious, of course, and a staple on every room service menu, everywhere.
Here's a few good reasons to make this traditional club sandwich at home:
The combination of ingredients – sliced chicken or turkey breast (cooked especially for the recipe) crispy bacon, sliced tomatoes, creamy mayo, butter lettuce and slices of toasted bread is tried-and-true. This triple-decker sandwich never gets old.
A substantial sandwich like this is perfect for lunch or dinner.
I'll show you the steps for this classic recipe, which you can customize to your liking by adding sliced avocado, deli ham, and mustard to name a few.
Bookmark these other deli favorites for later! Southern Tuna Salad is amazing on crackers, or with greens on a salad, and this Bacon, Lettuce and Tomato on Naan Bread, is a reader favorite.
Ingredients You'll Need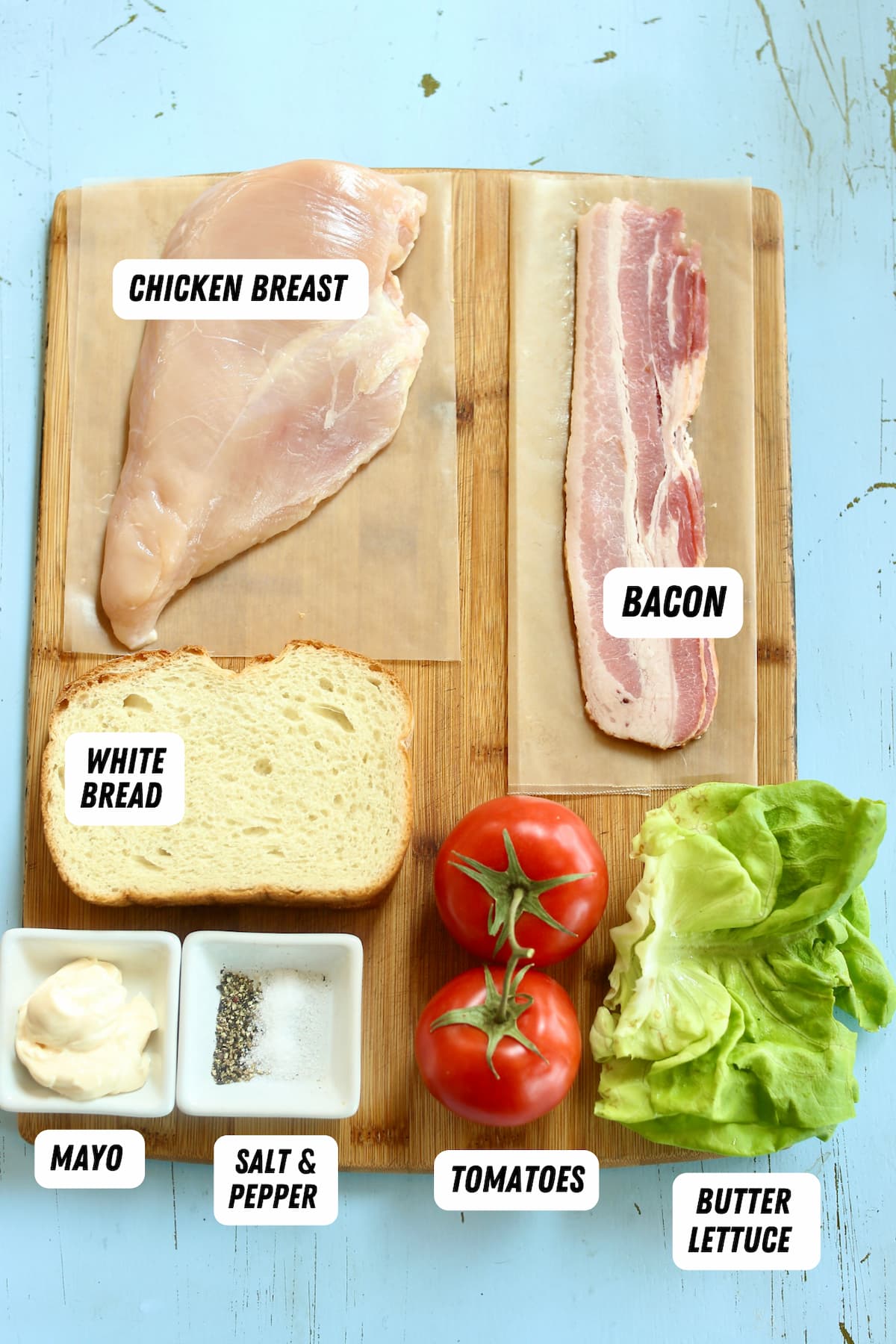 For the full recipe and list of ingredients, please scroll down to the recipe card below.
Chicken Breast: Cooked simply and cut into slices.
Bacon: We love Applewood Smoked Bacon over here.
White Bread: We'll need several slices of bread, crusts removed.
Tomatoes: Beefsteak tomato slices are the best.
Butter Lettuce: Crisp lettuce, a few pieces.
Mayonnaise: To slather over the toasted bread.
Salt and Black Pepper: Essential seasonings.
Step-By Step Instructions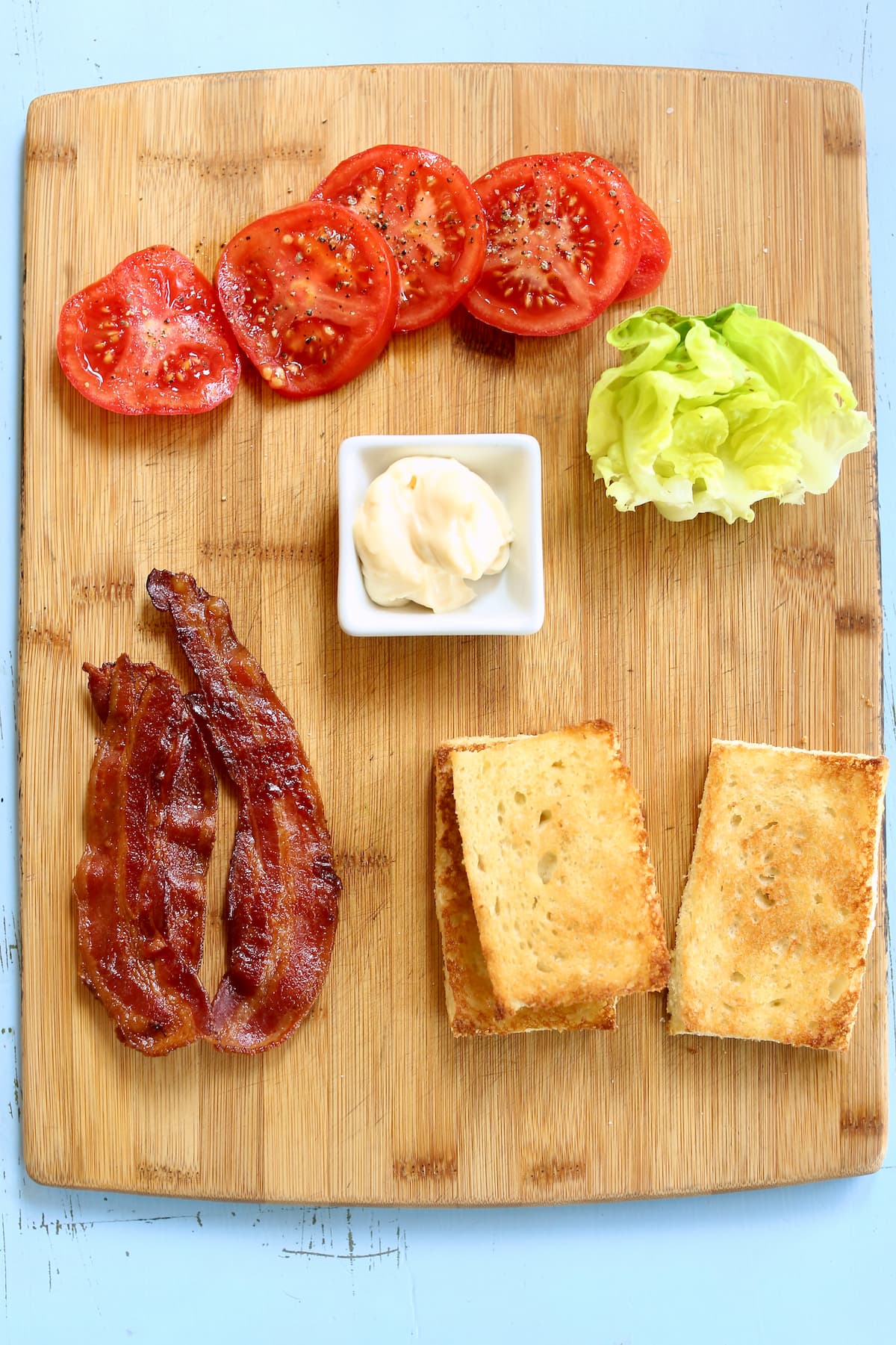 There's an unwritten rule about simple food, and that is, the fewer the ingredients, the better quality they should be. This doesn't mean the most expensive, but use the best you can find.
Here's what I mean:
Start by cooking a fresh chicken breast or two, just for the occasion of making the sandwich.
Get good quality bacon such as Applewood smoked. Cook it in the oven on a sheet pan so the bacon stays flat.
Use good quality mayonnaise, like Hellman's or Best Foods.
Get the best soft (organic if possible) lettuces you can find.
Find bakery-quality white bread if possible. No thin, white mass-produced bread.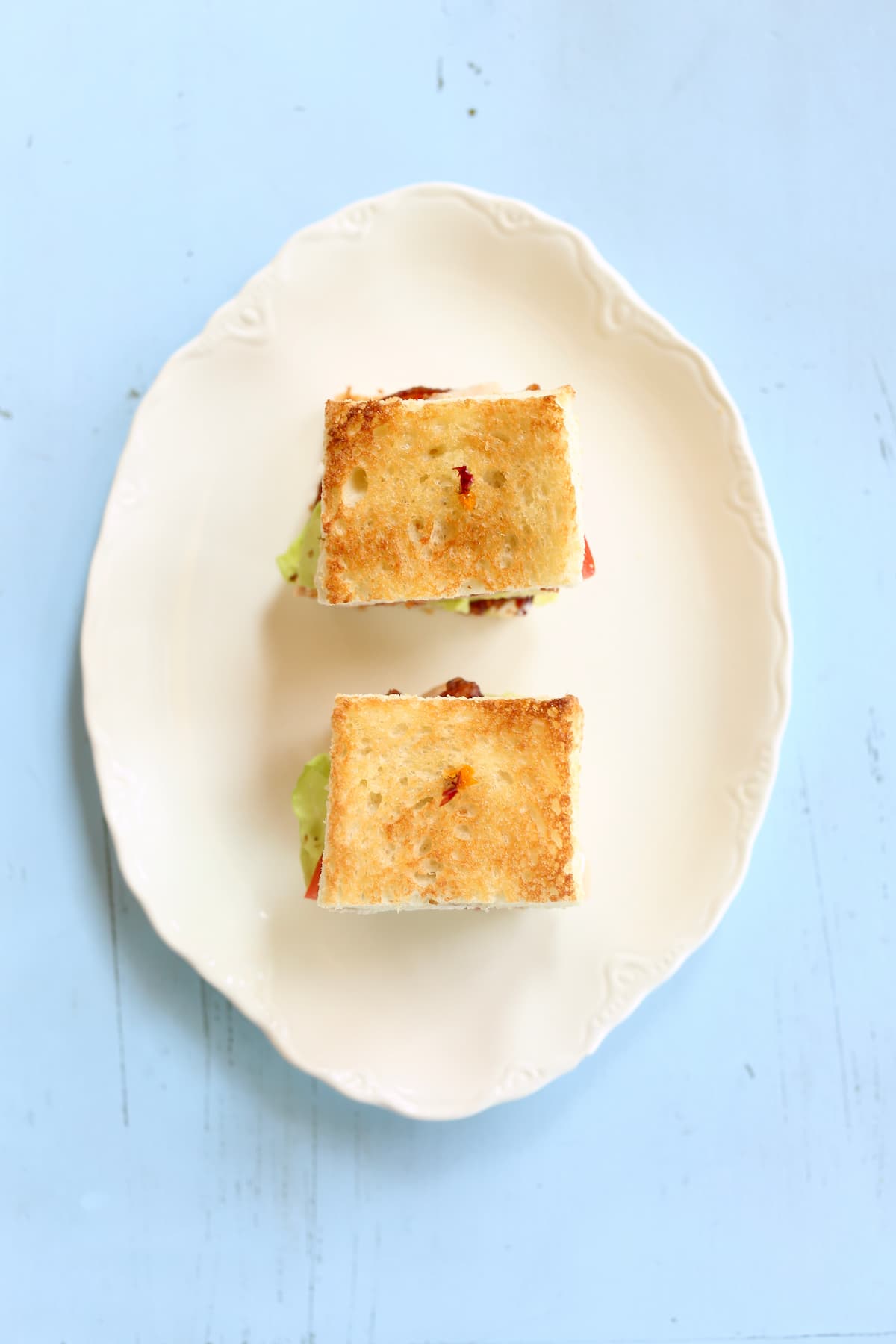 With all of your ingredients prepped, you're now ready to assemble the sandwich. Here's the order of layering I recommend:
Toasted bread on the bottom.
Slather mayonnaise on top on that bottom bread slice.
Add a piece of butter lettuce on top of that.
Next, two pieces of bacon.
Slice the chicken and add it on top of the bacon.
Add the middle slice of bread.
Slather mayonnaise on the top of the middle slice.
Add another piece of butter lettuce.
Next, layer on the juicy tomatoes.
Add a couple more slices of bacon.
And a few more slices of chicken.
Add the final slice of toasted bread (with mayonnaise) for the top of the sandwich.
Secure with a toothpick, slice in half and enjoy!
Tips and Possible Variations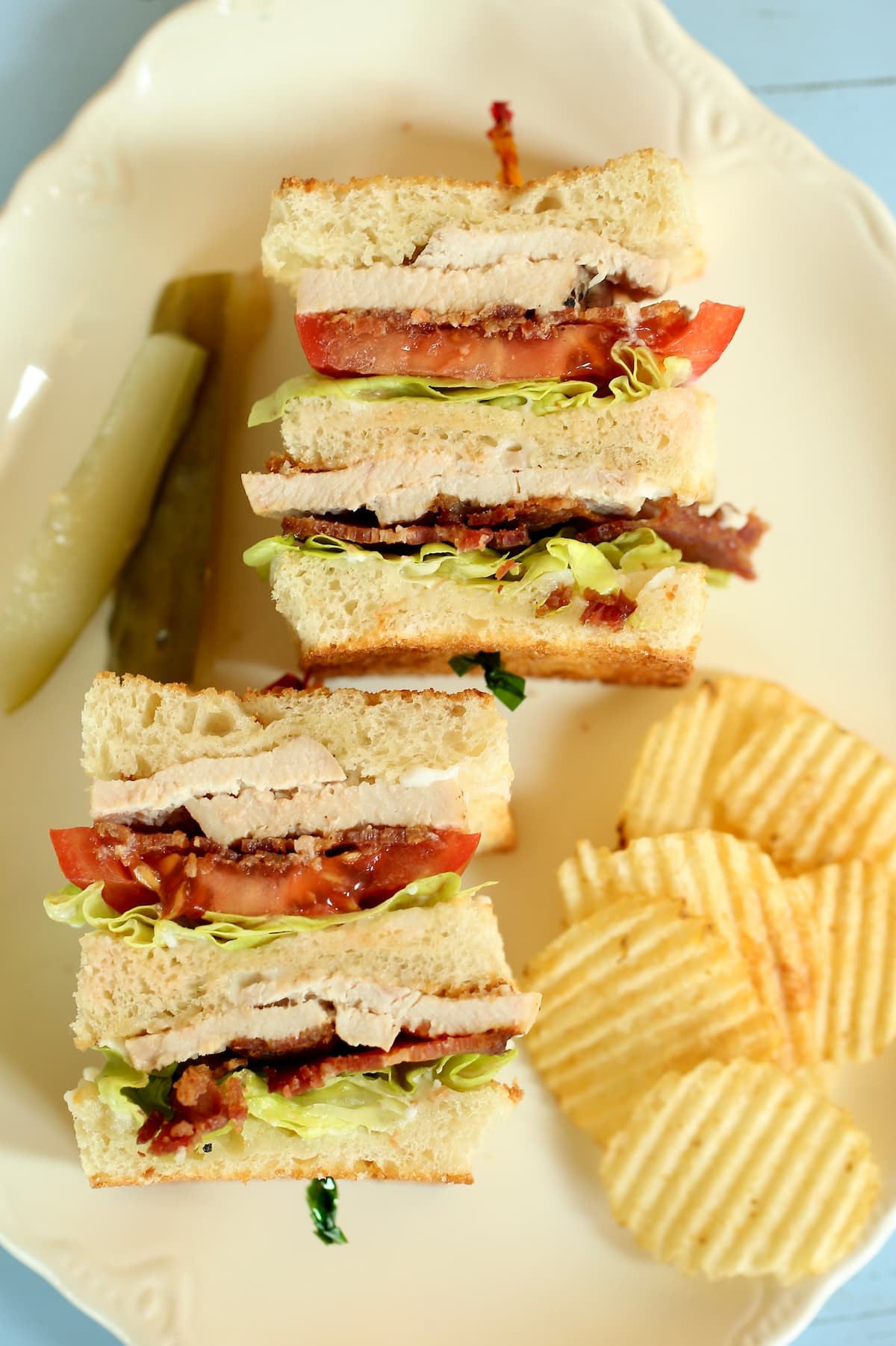 This perfect club sandwich tastes best with a freshly cooked and sliced (still warm!) chicken breast or sliced deli turkey, layers of bread (toasted to prevent sogginess and buttered) and the freshest lettuce, tomato, and crispy bacon slices.
Cut the club into a diamond-like pattern. This is a traditional shape for this sandwich, and it makes neat stacks on the plate that showcase this classic club. You can also just cut the sandwich in half.
Use other condiments besides mayo as you wish. Mustard is nice, and so is pesto, or honey mustard. Same with iceberg lettuce or romaine lettuce.
Add a slice or two of cheddar cheese if you'd like, and swap the chicken breast for deli turkey or layers of ham if you'd prefer.
Serve with a side of french fries or potato chips (mandatory if you ask me) and dill pickles, or this very good potato salad recipe that my mother-in-law Millie was famous for.
Serving Ideas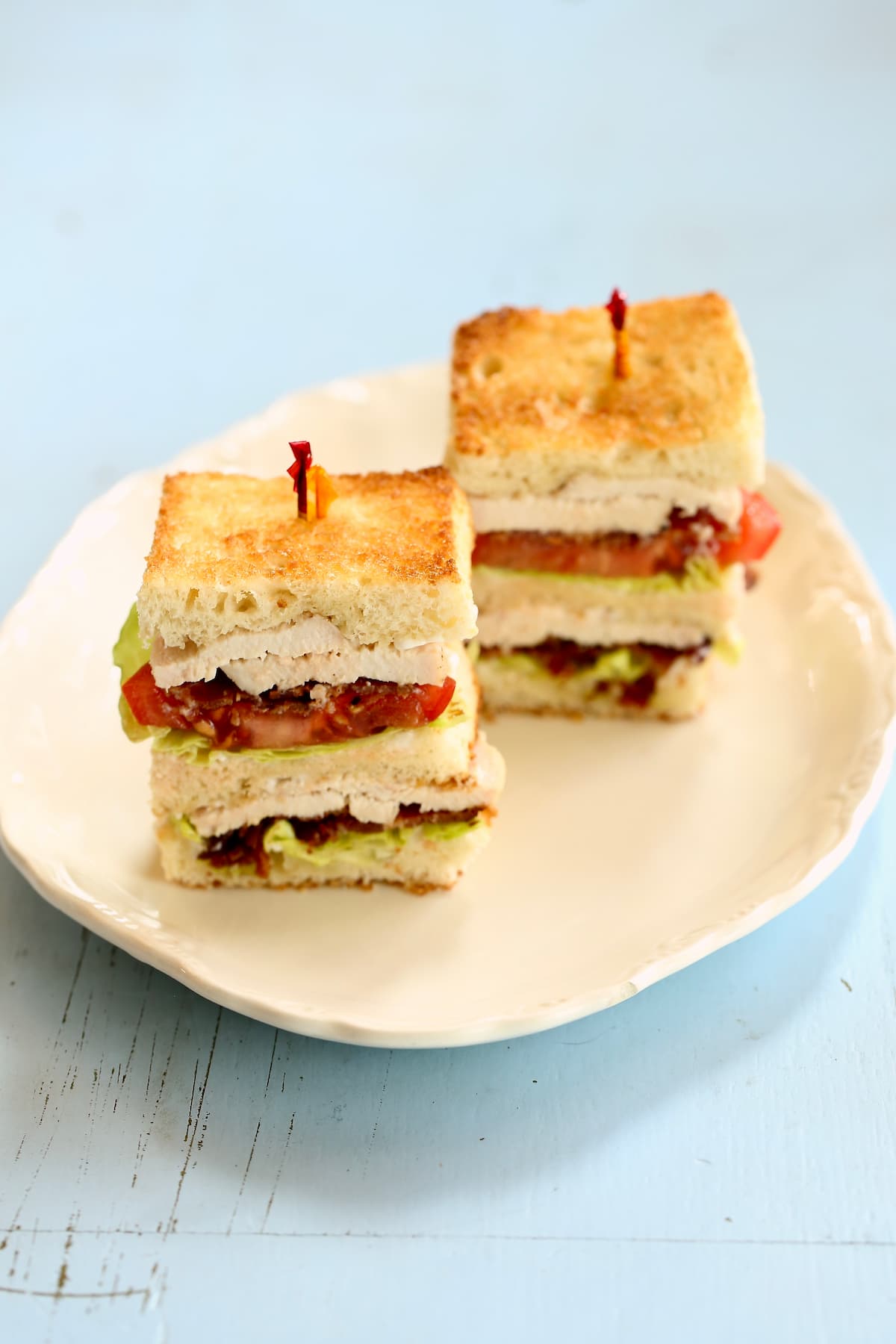 Frequently Asked Questions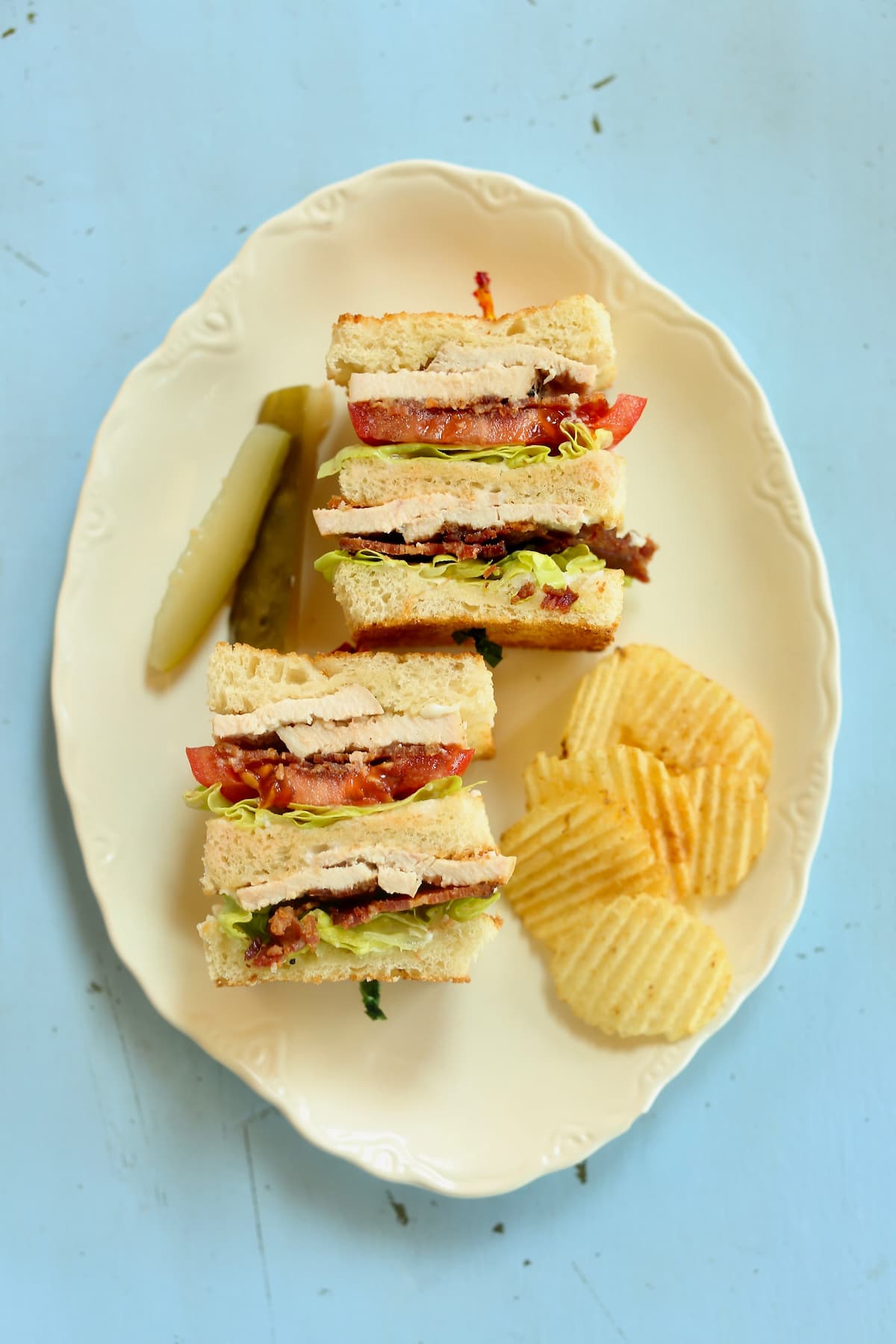 What is the best way to keep this sandwich from falling apart?
Use toothpicks. This is almost as classic as the sandwich itself, and works every time. Place the toothpicks straight though before cutting the sandwich.
Can I make the sandwich ahead of time and store it in the refrigerator?
Yes, you sure can. But keep in mind it's best eaten the same day it's made.
Do I have to toast the bread?
No, but it makes for a very good overall texture, and the little addition of butter on the toasted bread gives extra flavor too. The big benefit of toasting the bread is to prevent the sandwich from getting mushy.
What's the origin of the club sandwich?
The origin of this sandwich is a little murky, but believed to have started in about 1894 in a "gentlemen's club" or gambling club. Popular theory is it was created at the Union Club or the Saratoga Club House, both in NYC. Regardless, it's a popular and beloved classic around the world.
More Recipes to Try
If you've tried this Classic New York Club Sandwich Recipe, or any other recipe on Studio Delicious, please rate the recipe 5 stars and tell me how you liked it in comments below!
Looking for more tips and fresh, homemade recipes? Join my email list, tag and follow me on Instagram using #studiodeliciouseats, follow my boards on Pinterest, and see what I'm up to on Facebook and Twitter!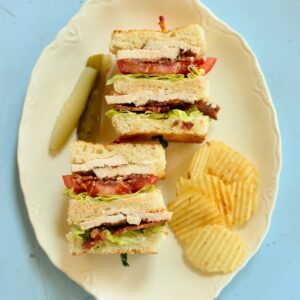 Classic New York Club Sandwich Recipe
Sink your teeth in the ultimate New York Club Sandwich, with layers of sliced chicken, bacon, lettuce, tomato and mayo on toasted buttered bread for a satisfying meal.
Print
Pin
Rate
Ingredients
6

slices

White bread, thick sliced, toasted with crusts removed

1-2

tablespoons

Butter, melted

6

strips

Bacon, Applewood smoked, cooked til crispy

see notes

2

Chicken Breasts, fully cooked by baking or poaching, sliced

1

Beefsteak Tomato, sliced

¼

teaspoon

Kosher Salt

¼

teaspoon

Black Pepper, freshly ground

4

large leafs

Butter Lettuce

6

tablespoons

Mayonnaise
Instructions
Cook the bacon by following the directions on the back of your bacon package, but generally the method is to lay the strips on a large baking sheet lined with parchment paper, baked for 15-20 minutes at 400F degrees until crispy and brown.

Lightly toast the bread on the broil setting of the oven, by trimming off the crusts and brushing one side lightly with melted butter. Toast one side of the bread just until a light golden brown, then turn the slices over and repeat.

Slice the tomatoes into ¼" (quarter inch) slices and season with salt and pepper.

Slice the cooked chicken breasts into quarter-inch pieces (you may not need the all the chicken depending on the size of your bread.)

Note: To cook the chicken breasts, smear both sides with a little olive oil, salt and pepper. Bake in a 375F degree oven for 20 minutes or until internal temperature is 165F degrees.

To assemble the sandwich, here's the order per sandwich:

One slice of bread, smeared with a generous amount of mayonnaise.

Lay a piece of butter lettuce on top.

Then two slices of bacon.

Then a few slices of chicken.

Then another piece of toasted bread.

Another generous smear of mayonnaise.

Another piece of butter lettuce.

A slice or two of tomato to cover the lettuce.

Two more slices of bacon.

Sliced Chicken on top of that.

Place the final piece of bread with mayo smeared on one side on top.

Secure the sandwich with toothpicks, then slice in half or quarters to serve.
Notes
A serrated knife is your best bet to cut this sandwich and the tomatoes.
Get a good bakery-style thick cut fresh white bread for this sandwich.
If you can't find Applewood smoked bacon, just use regular bacon.
Nutrition
Calories:
943
kcal
|
Carbohydrates:
48
g
|
Protein:
71
g
|
Fat:
50
g
|
Saturated Fat:
16
g
|
Polyunsaturated Fat:
13
g
|
Monounsaturated Fat:
18
g
|
Trans Fat:
0.4
g
|
Cholesterol:
212
mg
|
Sodium:
1614
mg
|
Potassium:
1084
mg
|
Fiber:
4
g
|
Sugar:
10
g
|
Vitamin A:
1749
IU
|
Vitamin C:
23
mg
|
Calcium:
211
mg
|
Iron:
5
mg
Tips for Success with Every Recipe
Super important to read the whole recipe before you begin
Pay attention to the ingredient list and photos for the recipe
If possible, prep your ingredients a little before you start
Always use a sharp knife for safety
Use the size of pan called for in the recipe
For savory recipes, taste and season as you go
Buy fresh, organic ingredients, locally sourced whenever possible
Don't Miss a Recipe!