Hosting a party? These easy and delicious recipes are sure to impress your guests while keeping your stress levels low. From finger foods to refreshing salads, there's something for every taste and occasion.
Jump to:
Why You'll Love These Recipes
Hosting a lunch party can be a fun and exciting way for friends and family gatherings. But coming up with the perfect menu can be a challenge, especially when you're busy. These simple lunch recipes and easy appetizer recipes are perfect for your next party!
Here's some easy ideas for lunch party food, and there's something here for almost everyone's taste:
Substantial finger foods – hot and cold instead of serving a main course.
Soup recipes with tips on how to serve a crowd.
Refreshing salads and soups.
Favorite dessert recipes too!
Tips For Hosting a Lunch Party
There are a few key time-savers and some of my best tips to make the planning easier:
Plan your menu in advance. Have an overall theme so make the meal planning easier, like Taco Party, Make Your Own Salad Bar, Pasta Bar with lots of sauces and toppings, Make Your Own Burger Party, Baby or Wedding Shower or birthday party, Game Day Appetizer Party or a fancy Spring brunch.
Keep it Casual. Put a big pot of soup in the slow cooker and make some cheesy garlic bread. Create small cheese boards with crackers and fruit to set around the house for noshing. Perfect for a cozy gathering!
Make a list. Write out the dishes you want to serve and ingredients you'll need. Don't forget to add things like store-bought party dips so you aren't making everything yourself, and find as many make-ahead recipes as you can, saving you time the day of the party.
Prep food in advance. Almost always you can pre-chop vegetables, marinate meats and more. Make your dessert in advance too.
Set your table the day before. Figure out what kind of serving dishes, glass wear and utensils you need the day before so you have one less thing to do the day of the party.
Write out a timeline. This is a great way to stay organized, and super helpful the day of. Include timing of when to put a dish in the oven, when to set out dessert, etc.
Always consider dietary restrictions. It's really thoughtful to ask folks on your guest list ahead of time if they have any allergies or foods they avoid. It's nice to offer options that everyone can eat!
Offer a good variety of drinks. Make sure there's something for everybody with a variety of non-alcoholic and alcoholic drinks, waters including sparkling water, juices, soda and consider a signature drink or mocktail that can be pre-made with a station set up for guests to help themselves.
Lemon Shrimp Salad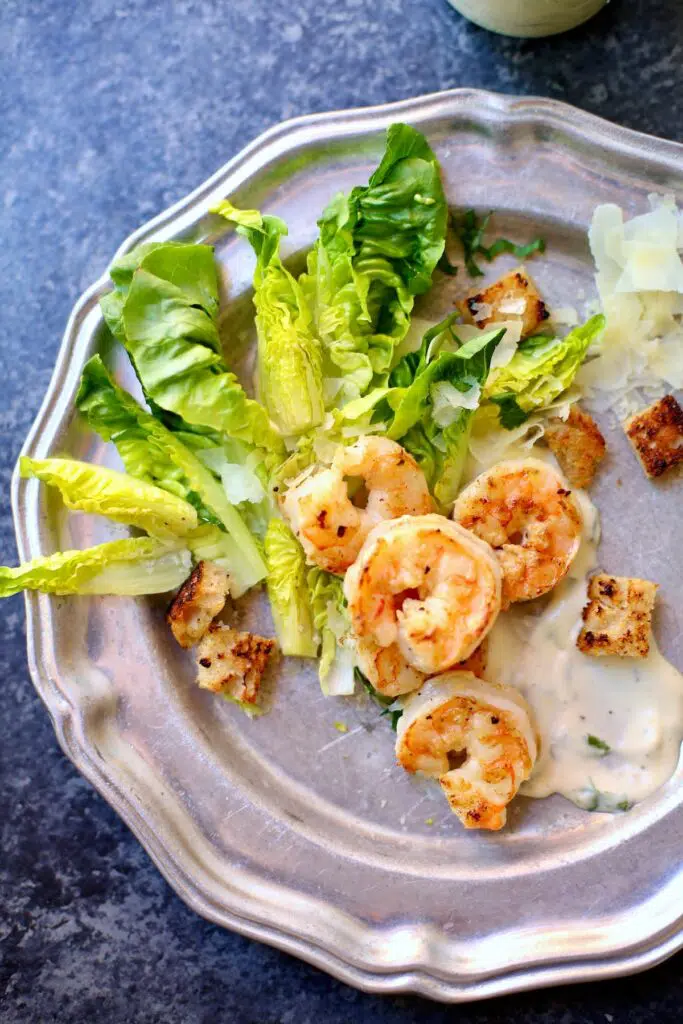 ....This refreshing salad is always popular, with a creamy lemon ranch dressing.
Lemon Shrimp Salad: Homemade croutons and an easy and fresh-tasting lemon ranch dressing make this delicious salad a real knock-out. Serve it on a platter and let everyone dig in to these amazing flavors.
Teriyaki Chicken on a Stick Recipe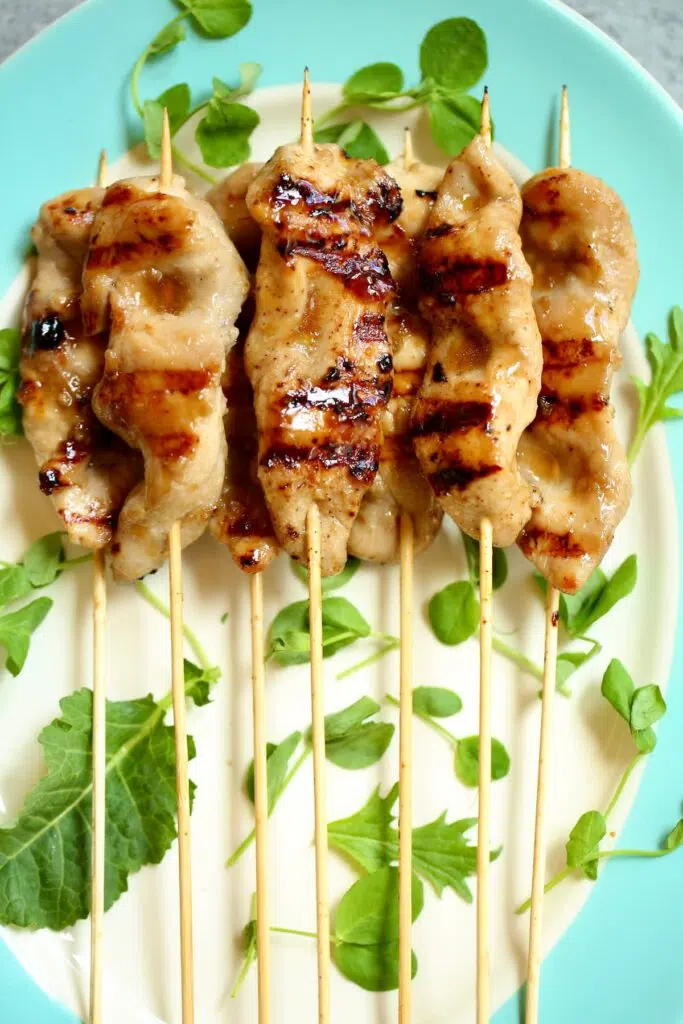 Bring out a platter of these and watch them fly off the buffet table!
Fresh Figs, Three Ways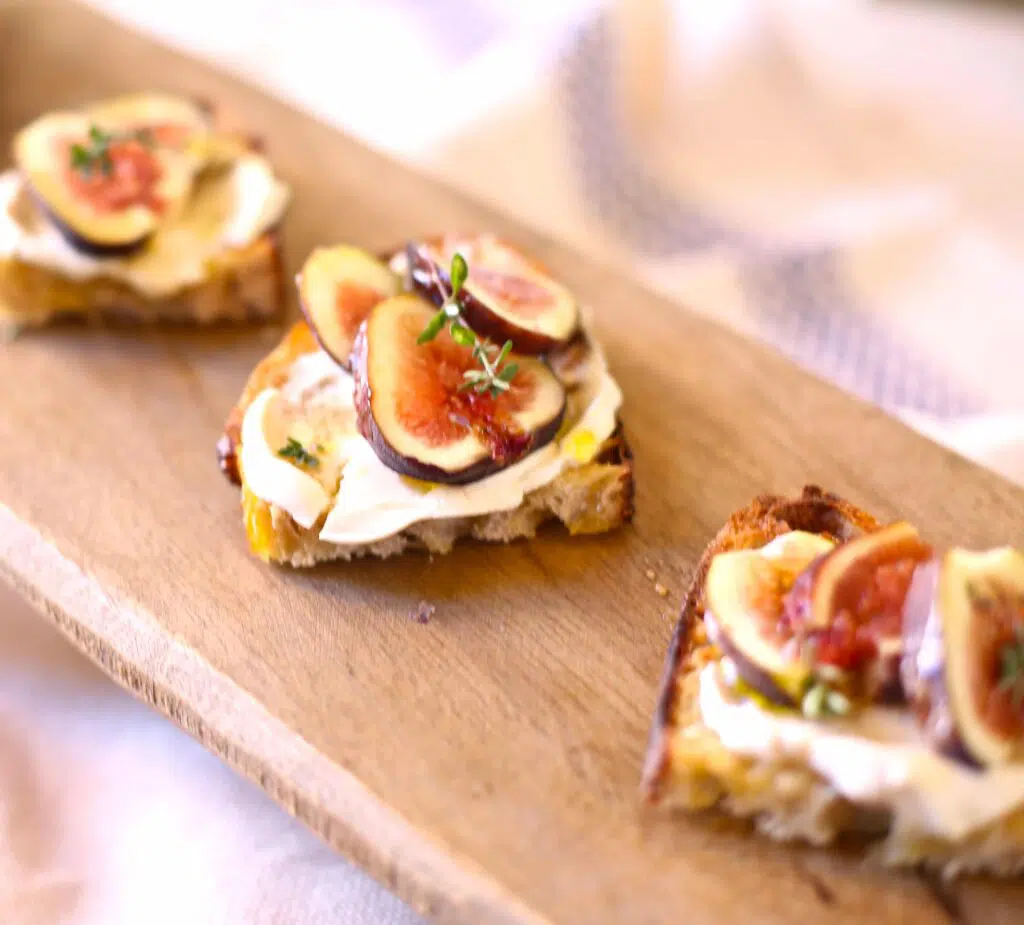 Here's three easy and delicious ways to serve fresh figs, perfect for rounding out your buffet table!
Fresh Figs, Three Ways: There are three easy and fresh fig recipes here, one for your brunch, lunch or dinner buffet table. These are easily scaled to the size of your gathering and absolutely delicious.
Turkey Burger Sliders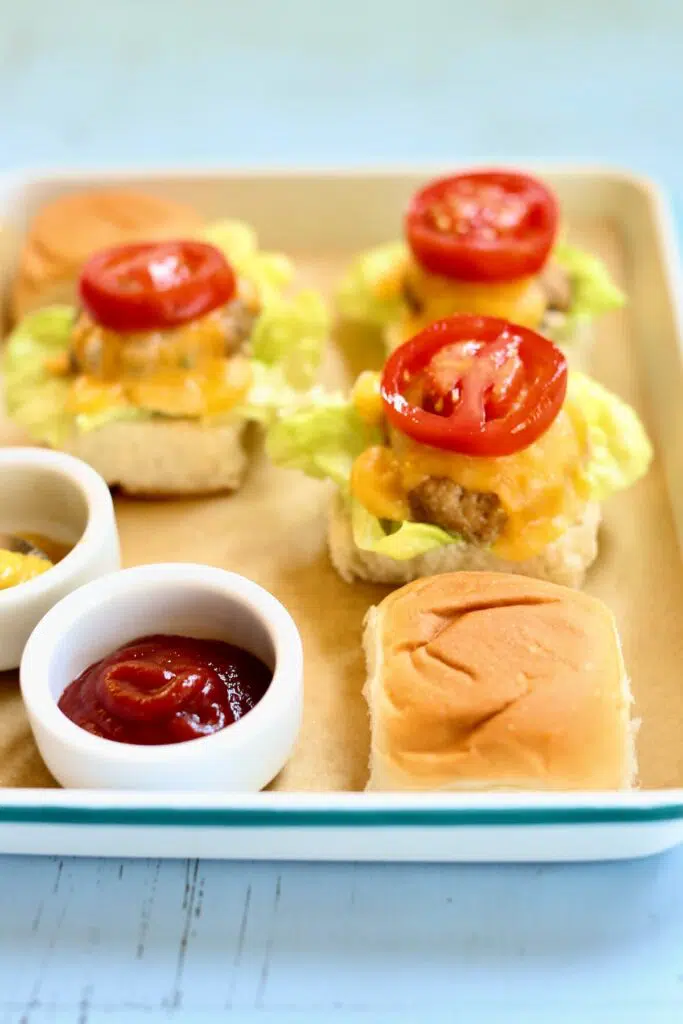 These sliders are super fun and super easy, baked on a sheet pan too!
Southern Tuna Salad Recipe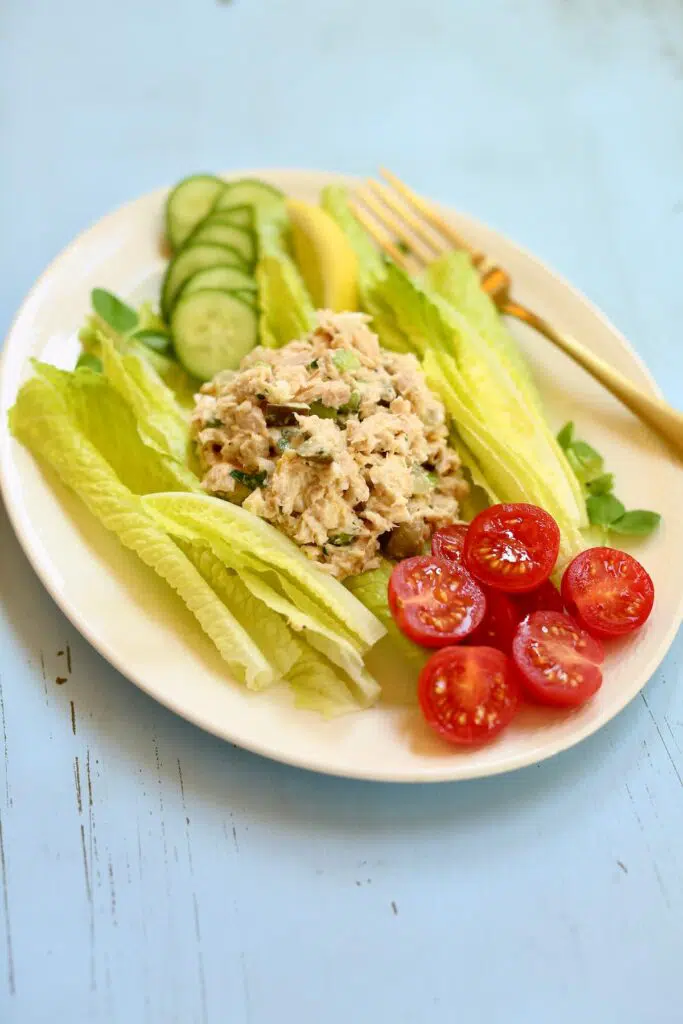 A really versatile recipe that is very tasty to scoop on green salad or in a lettuce cup.
Southern Tuna Salad Recipe: This classic tuna salad recipe is wonderful scooped in a butter lettuce wrap, on top of fresh greens, or on buttered, toasted bread. Serve it open-faced on small rounds of toasted bread with a couple of fresh salads alongside.
Salmon Patties Recipe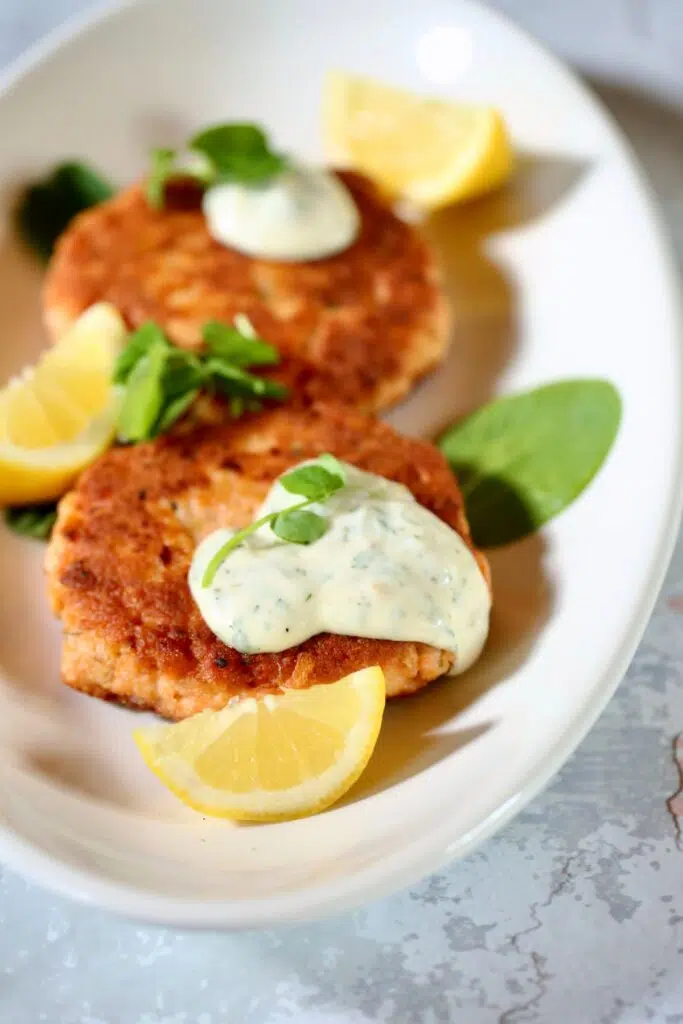 Salmon Patties Recipe: These salmon patties are lightly pan-fried and served with fresh dill and lemon and a dipping sauce. Make these next time you're in the mood for crab cakes.
Cherry Tomato Soup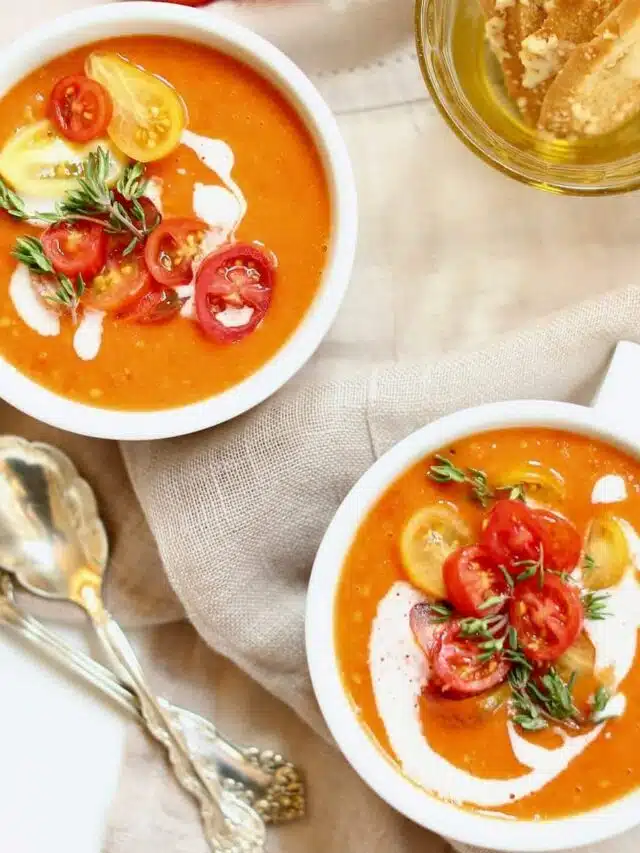 Such an easy and delicious recipe!
Cherry Tomato Soup Recipe: Cherry tomatoes are perfect for soup-making, and this one is really easy and so good. Serve in small paper cups for soup shooters with tiny grilled cheese sandwiches for an easy party food idea.
Have a soup party! Try this Chicken Sausage Tortellini Soup recipe too!
Chicken Salad with Grapes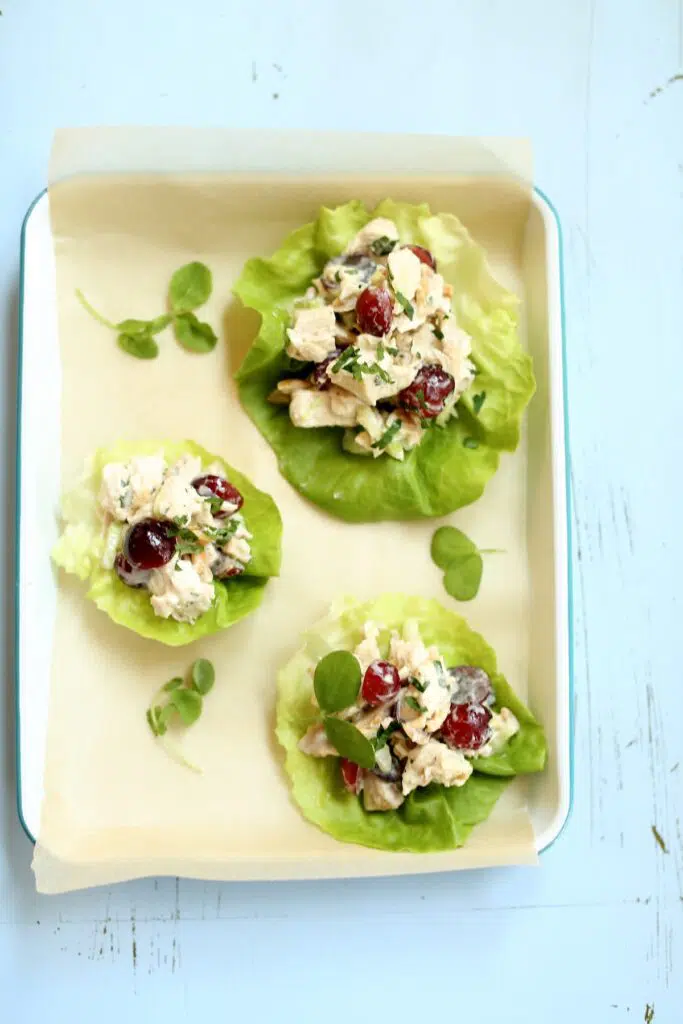 A favorite chicken salad recipe!
Chicken Salad with Grapes: This is a wonderful and pretty salad, and can be scooped on greens, on toasted bread or in a lettuce cup. Really good!
Classic New York Club Sandwich Recipe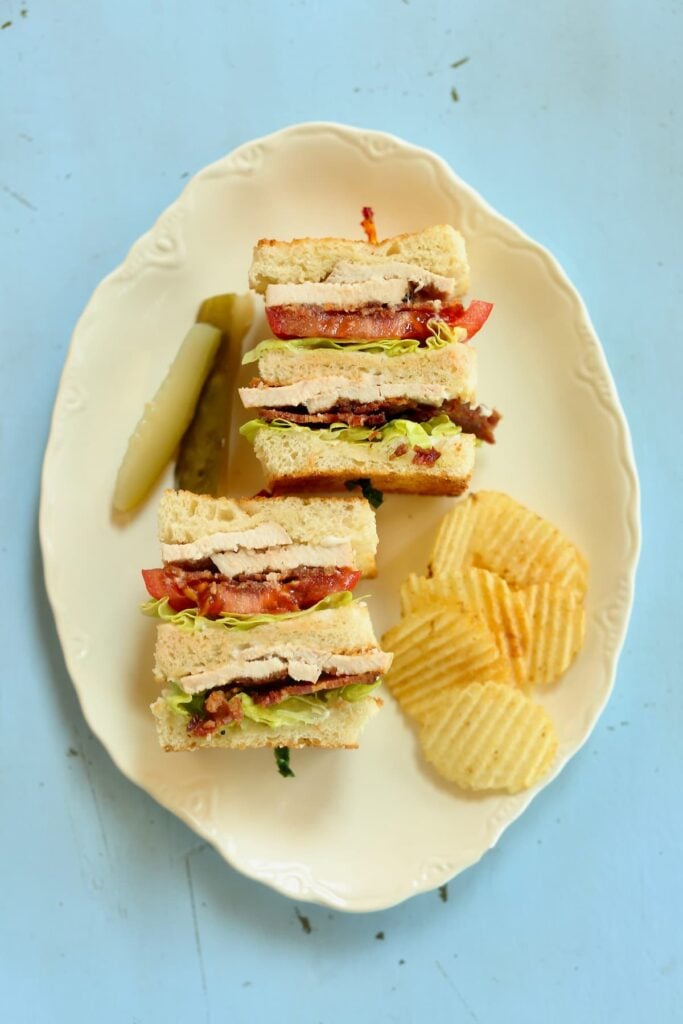 This retro-style sandwich never disappoints!
Easy Crunchy Crab Sushi Rolls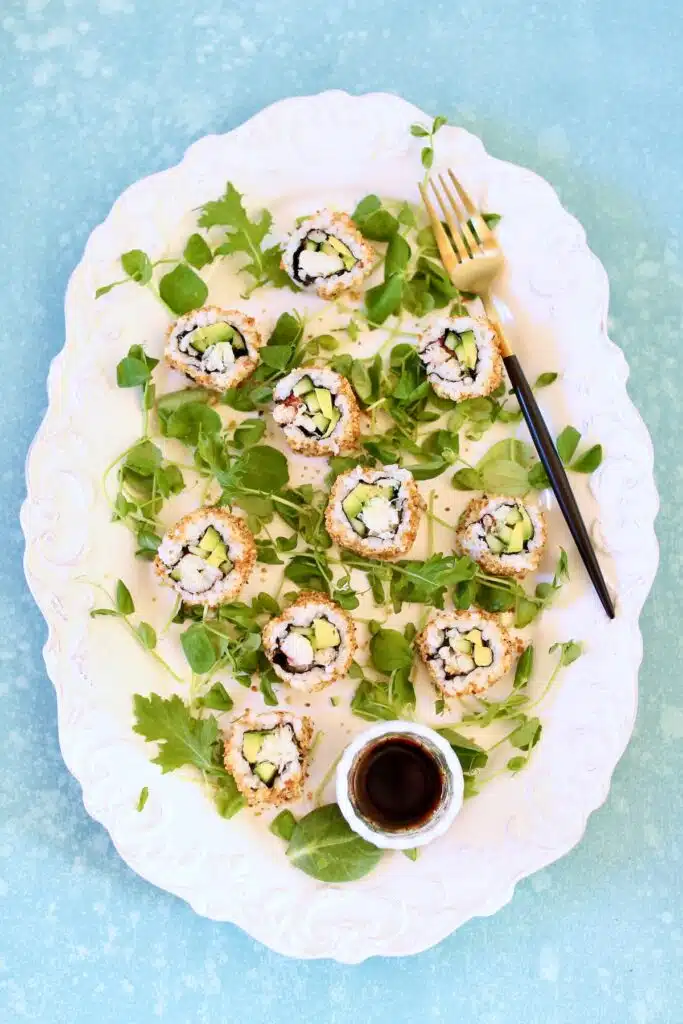 Fresh and light and delicious!
Santa Fe Grilled Chicken Salad Recipe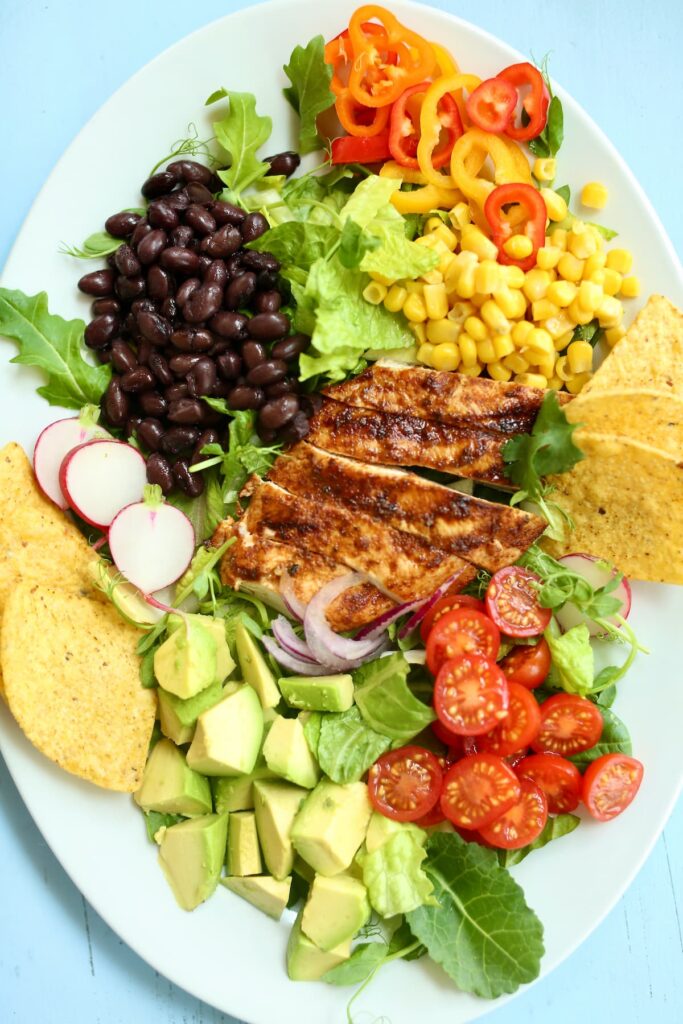 A big, flavorful salad that everyone loves!
Tips and Serving Ideas
Having a party is always a little stressy, but it doesn't have to be! Here's some of my best tips to help you stay organized and enjoy the party:
Finger foods rule the day. They're easy to eat and perfect for a casual lunch party. Make a platter of easy snacks, people go nuts for this one.
Serve some other easy party foods like tortilla chips and delicious dips from the grocery store, maybe with some homemade salsa.
Pick up some fresh-made chicken wings at the local pizza parlor and put them on a nice platter, with cut up carrots and celery.
Create a buffet for the whole spread. Set the table with everything you need just before guests arrive so they can help themselves. This makes it easier for you to see what platters might need to be replenished too.
Use pretty tableware. Pull out the bright and colorful stuff to make your table look festive in coordinating colors.
Offer a variety of dishes – a mix of hot and cold, as well as vegetarian options.
Keep it simple. It's much more fun!
Desserts and Drinks
Frequently Asked Questions
What are some group activities I can plan for a lunch party?
Outdoor games like croquet or cornhole are always fun, so is a gift exchange (gag gifts!) a wine or dessert tasting, or even some simple board games.
How long should a lunch party last?
Ever been to a dinner party that seemed to last all night? Timing always varies depending on the occasion, but it should last between two and four hours, tops. This gives people time to have a cold drink and mingle, and participate in any activities you have planned. It's helpful to let guests know in advance how long the party is expected to last so they can plan accordingly.
More Recipes to Try
If you've tried these Easy Ideas for Lunch Party Food, or any other recipe on Studio Delicious, please tell me how you liked it in comments below
Looking for more tips and fresh, homemade recipes? Join my email list, tag and follow me on Instagram using #studiodeliciouseats, follow my boards on Pinterest, and see what I'm up to on Facebook and Twitter!