My Modern Carrot Salad was a top recipe last year, so here it is again in case you missed it. With diced shallots, fresh citrus and dried currants, this one is a keeper.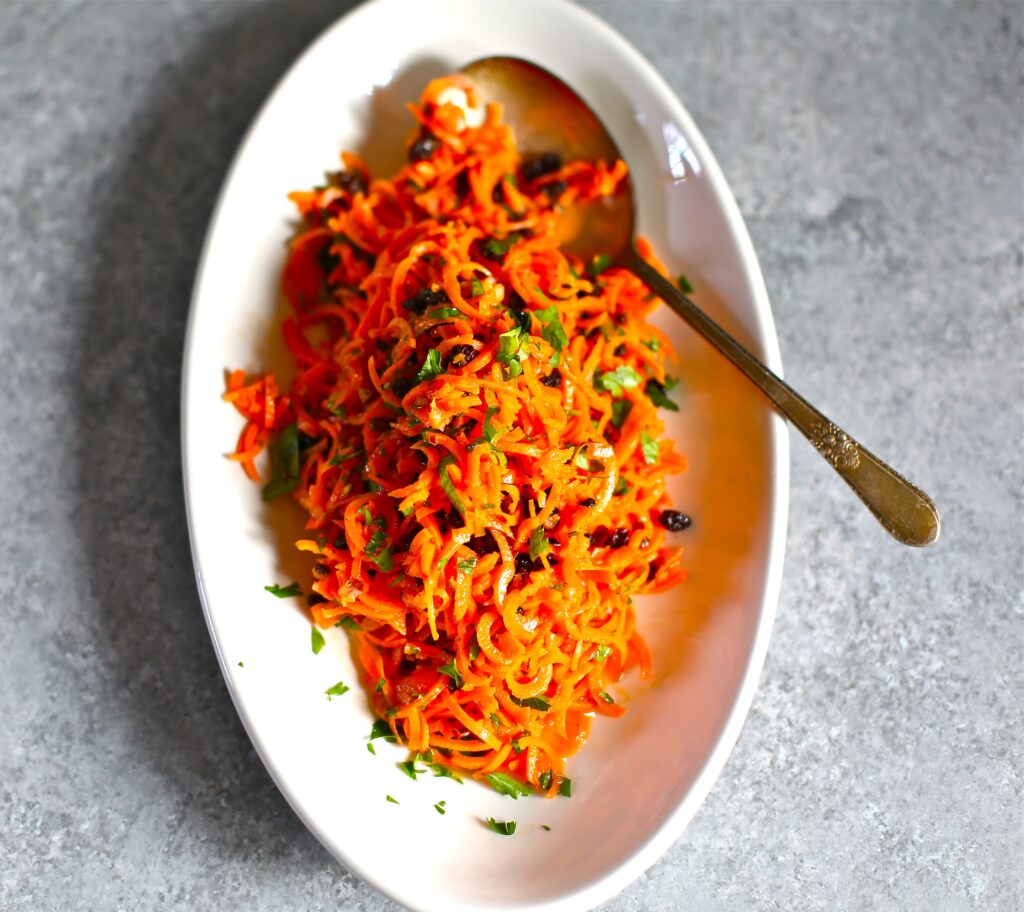 Call me psychic, but I'm guessing exactly none of you are sitting around fantasizing about eating carrot salad.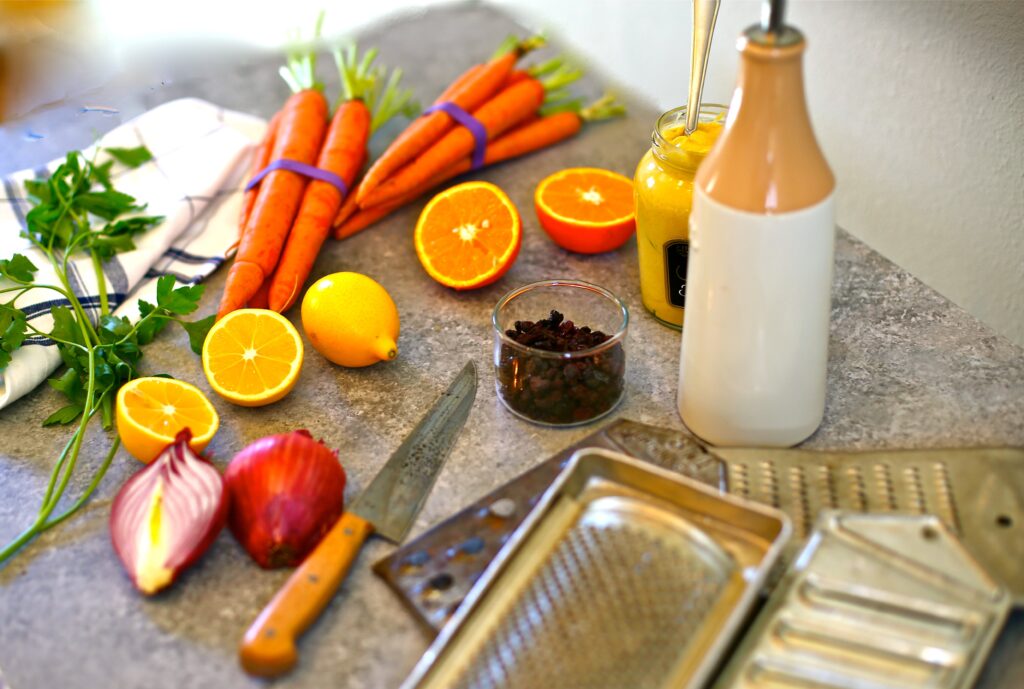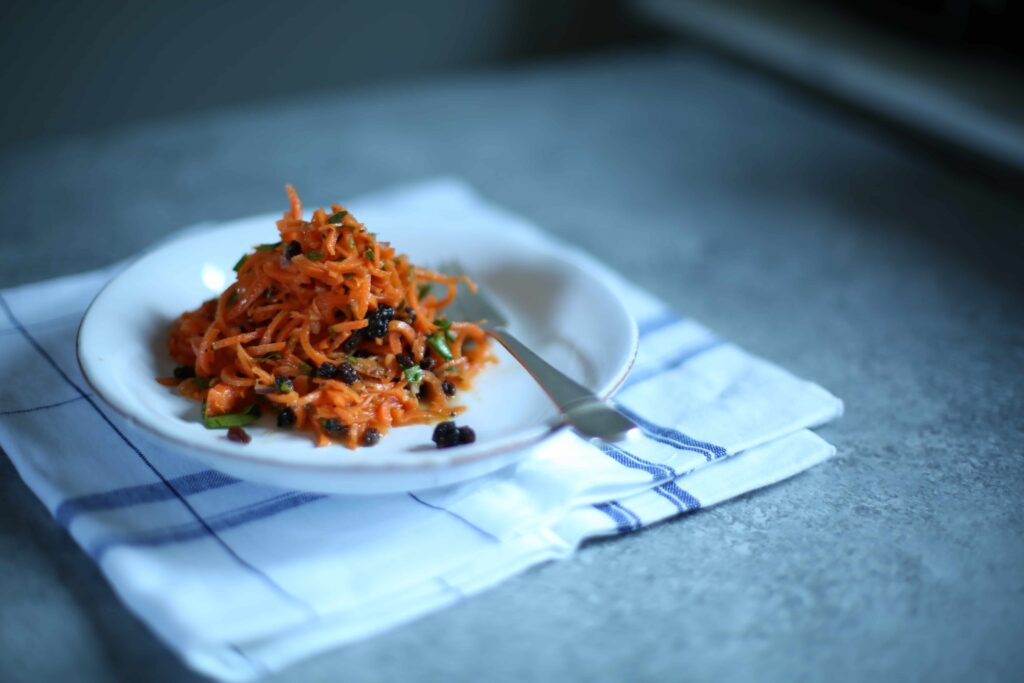 Maybe you wouldn't even consider making a carrot salad, because you remember it as a sad old potluck offering, overloaded with golden raisins, chunks of canned pineapple, white sugar, and a heavy glob of mayonnaise.
Maybe it was runny and sort of awful, and eating it felt like punishment.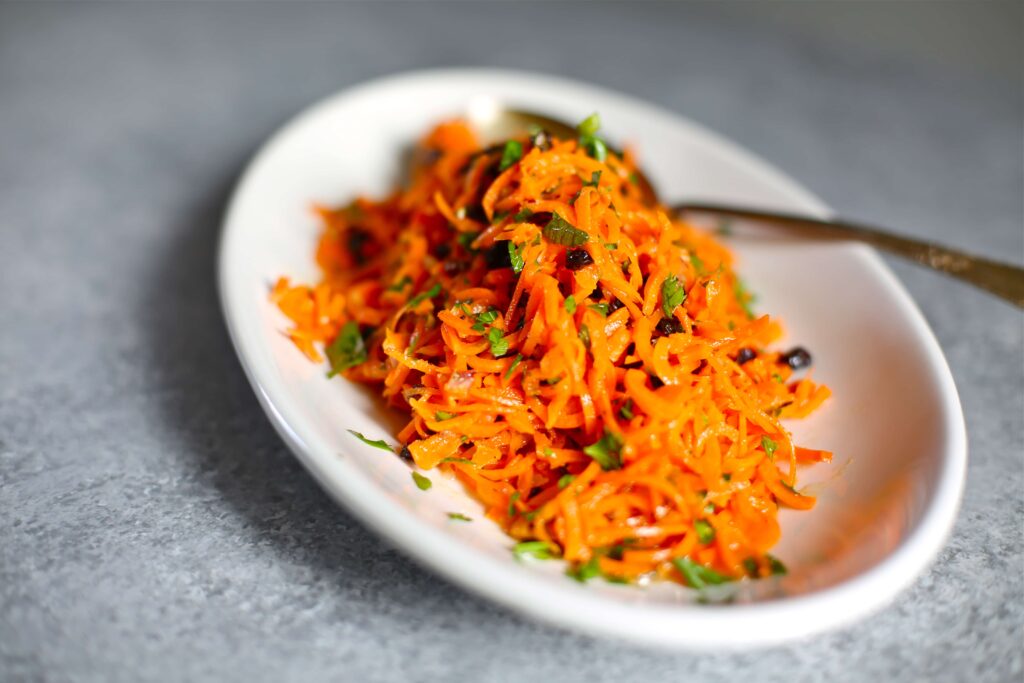 You sure couldn't taste the carrots under that mess.
With all this baggage, a carrot salad might not be your first choice for any reason, ever.
Give me a minute to make the case for this beauty.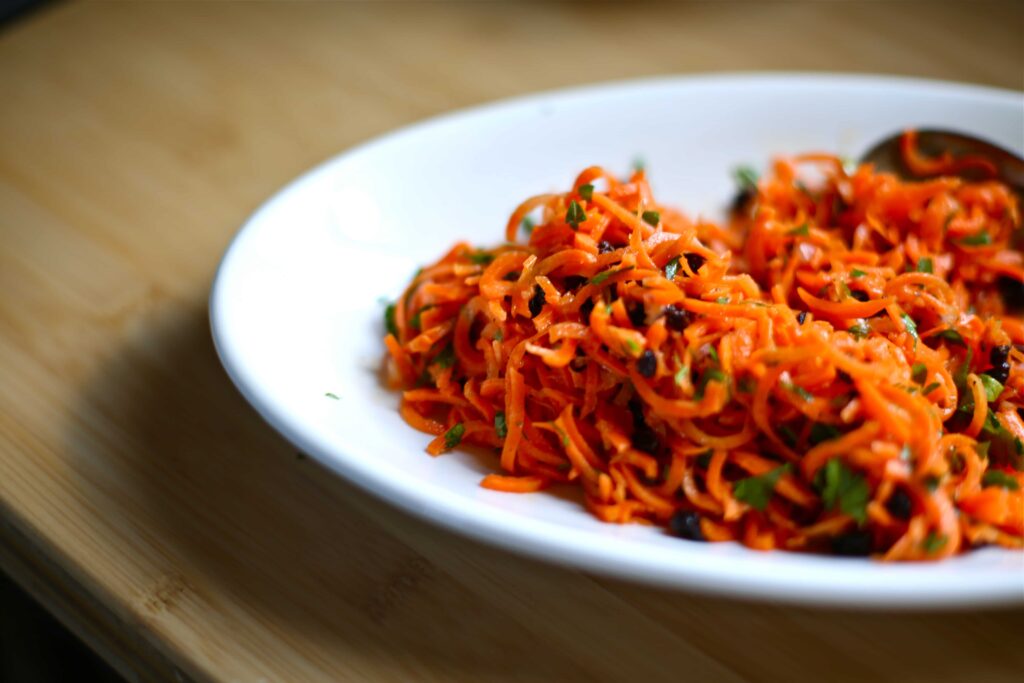 We swap the traditional raisins for tiny, soft currants.
We add paper thin diced shallots for flavor.
Next comes a handful of chopped Italian parsley and fresh orange zest for punch and brightness.
A big, juicy vinaigrette happens after that with just-squeezed orange and lemon juice, dijon mustard, honey and a fruity olive oil.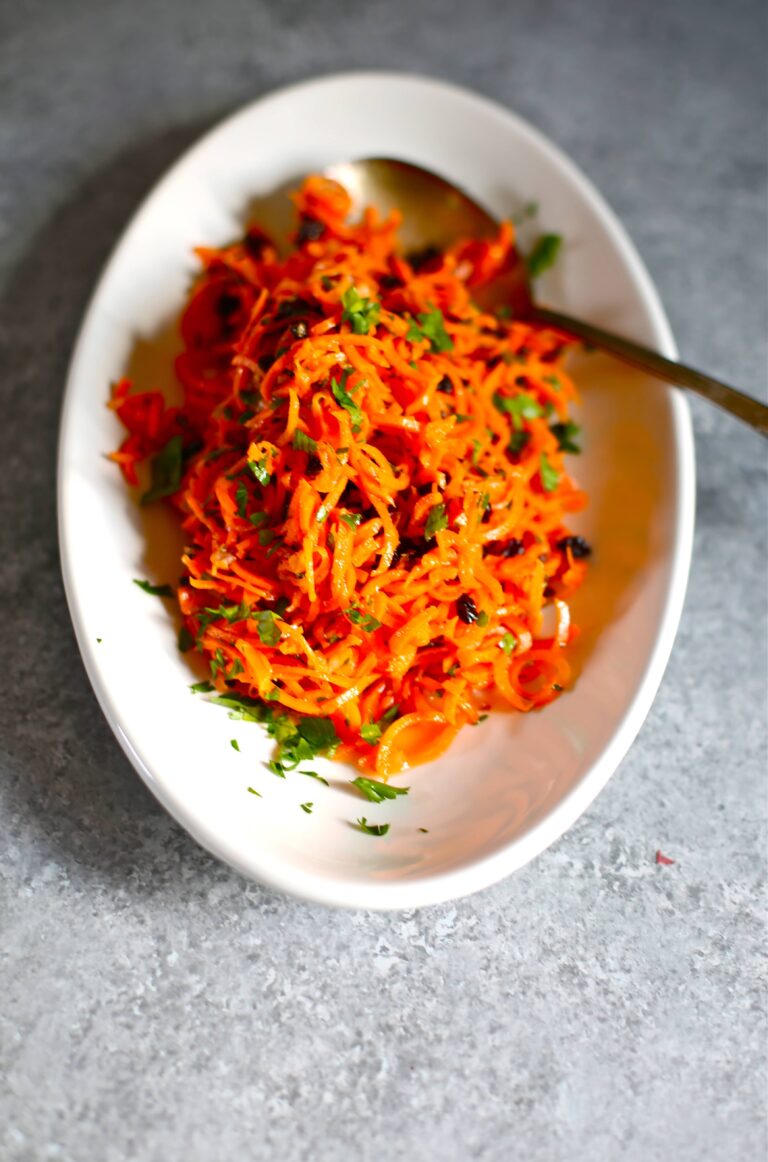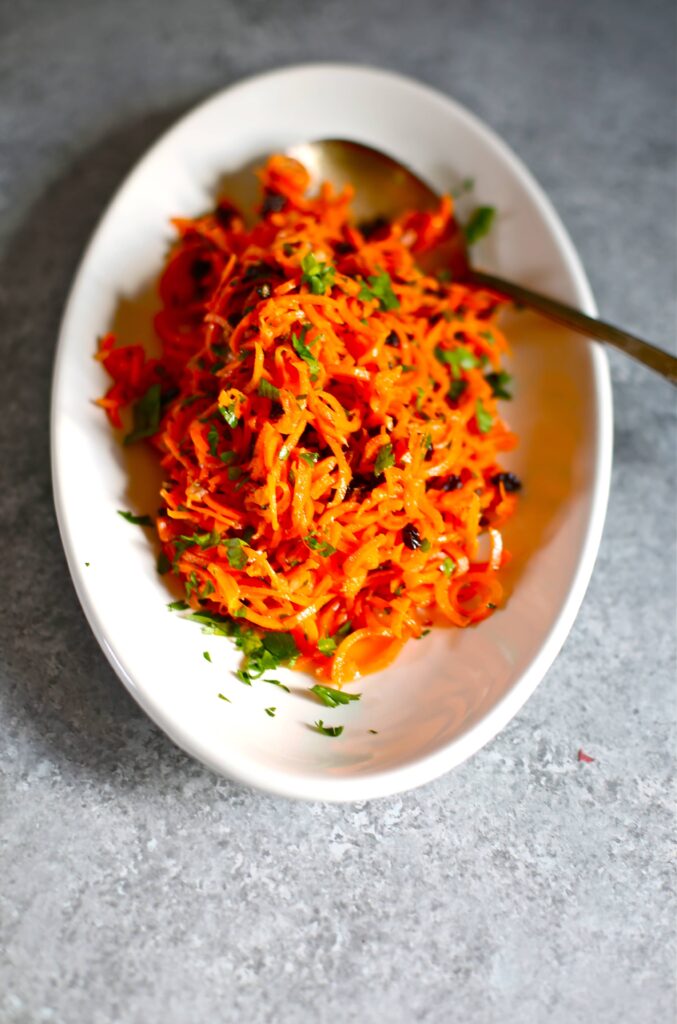 This old potluck staple now tastes like a sophisticated and seriously delicious side dish that deserves to be added to your repertoire.
Classy, even.
This Modern Carrot Salad makes a great side dish for Sunday dinner or any gathering, really.
I love it as a light lunch with a big slice of hot toasted sourdough bread—drizzled with plenty of olive oil, of course.
The flavors here are clean and simple, my very most favorite way to eat in the whole wide world 🙂
Don't be afraid to give it a try!
This one is a keeper, and an earthy, satisfying addition to your late winter table.
Ingredients
FOR THE SALAD

1

pound

organic carrots

I buy with the green tops on, I think they taste better

1

small shallot

finely diced (about a tablespoon)

2

tablespoons

finely chopped Italian parsley

1/2

teaspoon

freshly grated orange zest

1/4

cup

dried currants

1/2

teaspoon

flake sea salt

Freshly ground lemon pepper

or regular pepper

FOR THE VINAIGRETTE

1

tablespoon

fresh squeezed orange juice

1

tablespoon

fresh squeezed lemon juice

2

tablespoons

olive oil

2

teaspoons

honey

2

teaspoons

dijon mustard

1/2

teaspoon

sea salt

1/2

teaspoon

lemon pepper

Additional diced parsley

for garnish
Instructions
FOR THE SALAD

Wash, peel and rewash carrots.

Trim off ends and using a Spiralizer or large box grater, grate the carrots and place in a medium-sized bowl.

Add the diced shallots and chopped parsley, orange zest and dried currants.

MAKE THE VINAIGRETTE

Combine all the ingredients in a small bowl and whisk together until combined.

Pour the vinaigrette slowly over the carrot mixture, gently tossing the ingredients together with a large spoon to completely cover.

Season with additional lemon pepper and flake sea salt (I use Maldon) and more chopped parsley for serving.
SOURCE: Studio Delicious
Here's another fresh salad recipe you'll love: Superfood Salad