Know what to do when your spaghetti sauce is too watery? Here are some Easy Ways to Thicken Spaghetti Sauce, or any tomato sauce for that matter. Don't worry, help is on the way with these easy, reliable tips!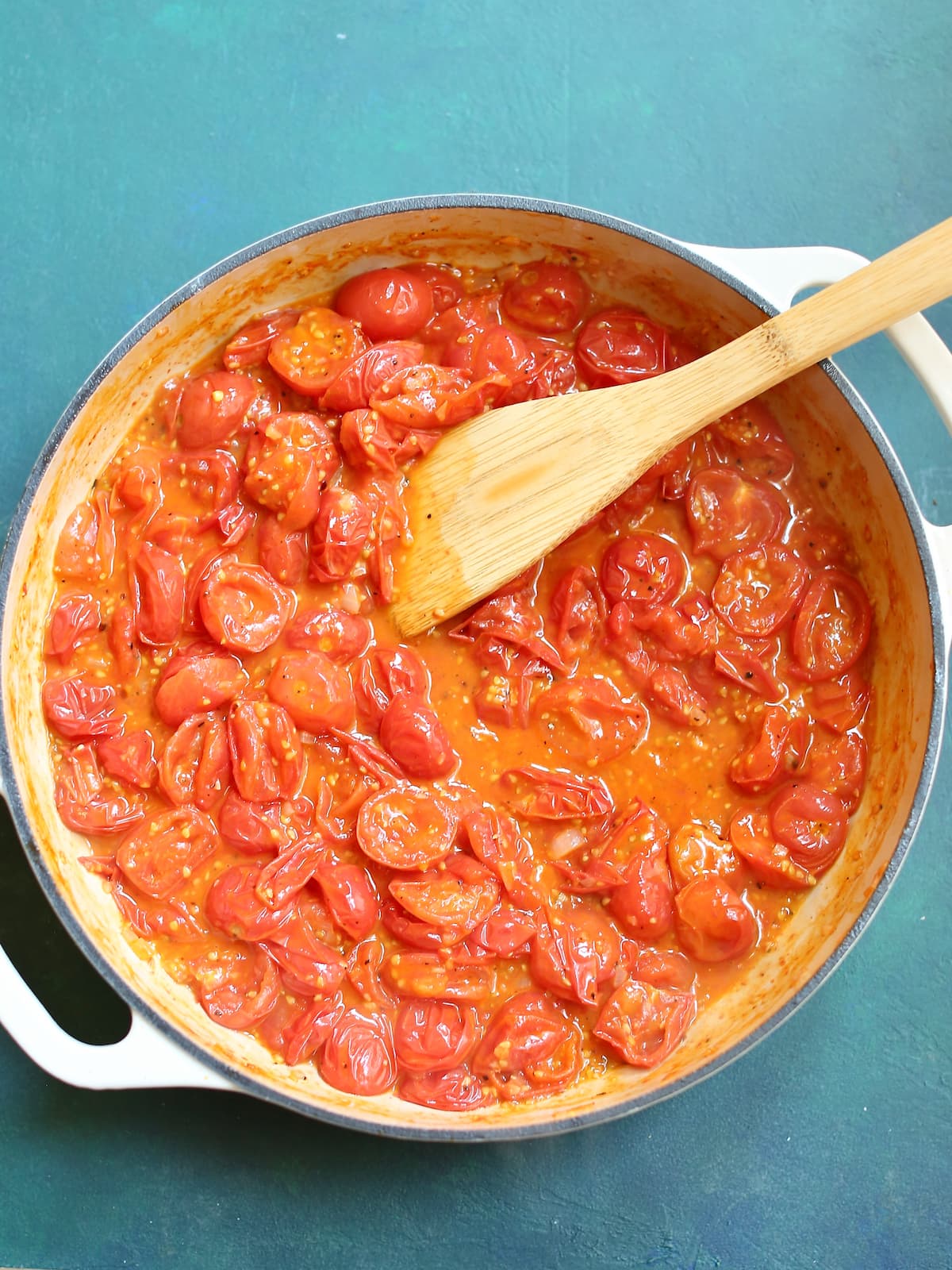 Jump to:
We've all been there. You're making spaghetti sauce, and it's just not coming together the way it should. What do you do? How do you make a thick sauce easily and quickly without sacrificing great flavor?
Good news! There are many different ways to do this, and I've got you covered! Here's a few good reasons to keep this info in your back pocket:
Learn quick tricks that work every time.
Thicken your sauce without starting the recipe over.
What's the most common method for fixing a watery sauce?
Let's dig into these answers so you can get dinner on the table!
Ways to Thicken Spaghetti Sauce
There are many ways to thicken a red tomato sauce, and while we've heard of everything from adding mashed potatoes (just no) to an egg yolk (no again) or making a roux (takes too long, needs a separate pan), we're going to focus on the easiest ways to deal with watery spaghetti sauce.
These are classic, tried and true solutions for a thin sauce:
Reducing.
Tomato Paste.
Cornstarch/flour.
Buerre Manie.
Reducing Method
This technique sounds obvious, but master it and you'll never have watery sauce again. This is my preferred method and the easy way to get your thin pasta sauce made into a thicker sauce, and the main ingredient here is TIME.
Simmer your sauce on medium-low heat (you don't want the sauce to splatter) for an additional five to twenty minutes on the stove top.
Stir regularly to keep the bottom of the pot from browning and sticking.
Let the excess liquid evaporate out slowing by simmering off the excess water. Let this continue until you reach your desired consistency.
Tomato Paste Method
If you have a more substantial amount of liquid, try this simple trick by adding a bit of tomato paste. I've also found it's a great ingredient to use when making a pizza sauce or baked pasta too, as insurance against a watery sauce that sometimes can pool in the bottom of a casserole dish, even after baking.
This method is one of the best simple ways to solve overly thin tomato-based sauces, and it doesn't take very long!
Here's how:
Heat your sauce "as is" on the stove top over medium heat.
Add a tablespoon of tomato paste at a time, stirring until it breaks up and incorporates with the sauce.
Let it heat and simmer for a few minutes, stirring regularly to make sure the sauce doesn't scorch on the bottom. This can take 5-10 minutes.
The sauce will get a darker and more intense flavored with this addition, but it's worth the effort and will give you a rich-tasting, flavorful sauce.
Cornstarch/Flour Method
For hot soups and sauces, the cornstarch method is a go-to for its reliability and ease of use. Note that this technique will give off a glossy sheen to your recipe, so it's not always the best option depending on your recipe. For creamy sauces with dairy, try a different method for thickening your sauce.
Here's how to do it:
Add one tablespoon of corn starch (or arrowroot powder) per cup of hot liquid. This is the general ratio that's just right for soups and medium consistency sauces. Use two tablespoons per cup of hot liquid if your sauce is really thin and watery.
That said, start small. Use a bowl to stir together the equal parts ratio of cornstarch and cold water, start with a teaspoon of each. Mix the slurry together with a fork to break up any lumps, then add it to your sauce while stirring constantly.
Repeat if needed to get your sauce to the right consistency for your recipe. Keep in mind it will continue to thicken a bit as it cooks.
Buerre Manie Method
This easy method sounds fancy, and literally means "kneaded butter". Simply put, it's a 1:1 mix of flour and butter made into a paste and added to hot liquid.
If you were to just sprinkle some flour into your pot, it would immediately clump. Not good. When you make a paste of the flour with butter, the flour floats easily in the pot and disperses, which then swells and thickens the liquid, it leaves good flavor behind too.
Here's how to make a buerre manie:
Combine equal parts all-purpose flour and softened butter in a small bowl, and mash together with a fork or spatula.
Bring your liquid to a boil, then drop in one tablespoon at a time of the buerre manie and let it completely dissolve. Simmer your sauce for a few minutes before adding more.
The paste can be made in advance and portioned into one-tablespoons and refrigerated for up to two weeks or frozen up to four months.
Serving Ideas
Here's some of my favorite tomato-based sauce recipes. All are easy and delicious.
Baked Pasta with Chicken Sausage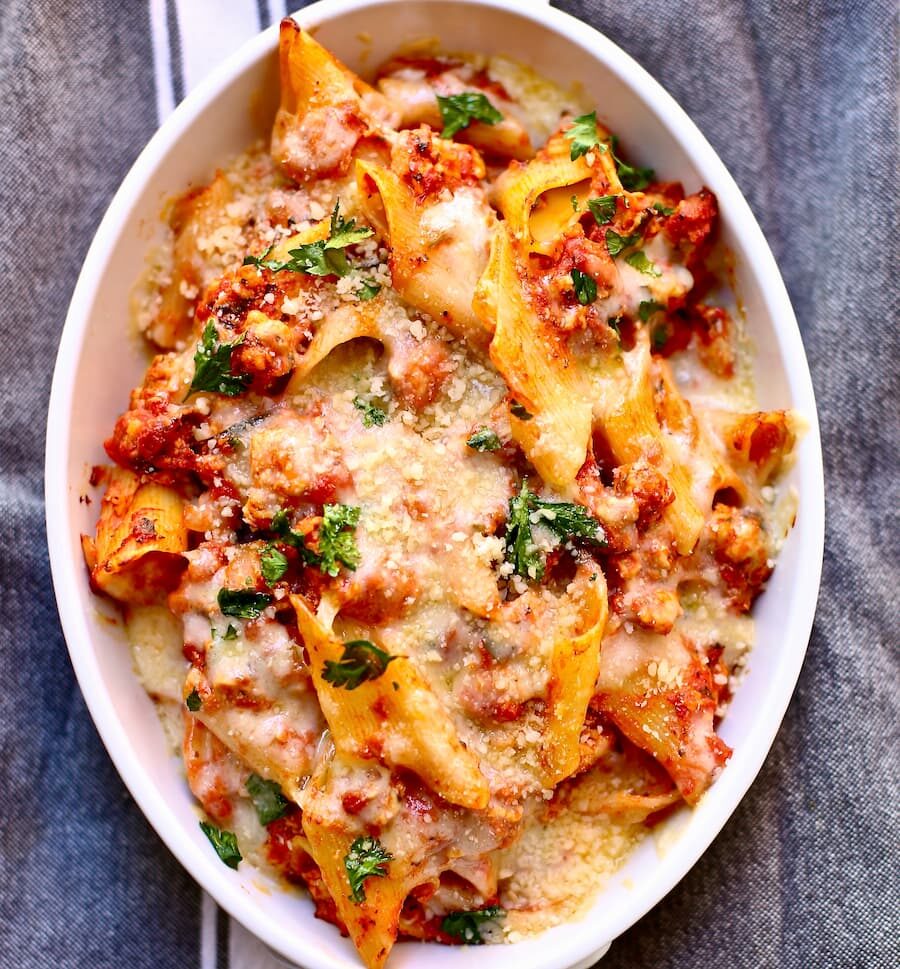 Here's a comfort food classic….
Baked Pasta with Chicken Sausage: This is a family favorite! Chunky Italian sausage, creamy cheese and lots of flavor, this is also wonderful the day after it's baked. Use ground beef if you'd like with this recipe. Really yummy!
Meatballs in Marinara Sauce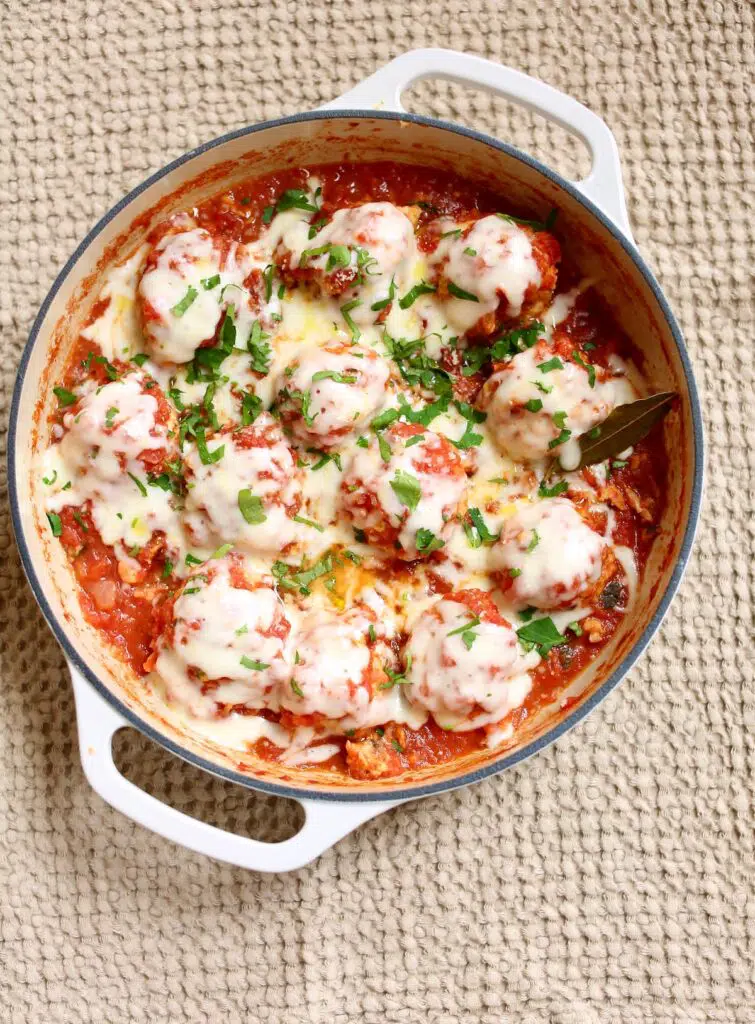 This quick-cooking tomato sauce is perfect with tender, turkey meatballs.
Meatballs in Marinara Sauce: This is a stove-top dinner that is fresh and flavorful and it's ready quick. I love and adore this recipe, and so does everyone else!
Turkey Pasta Bake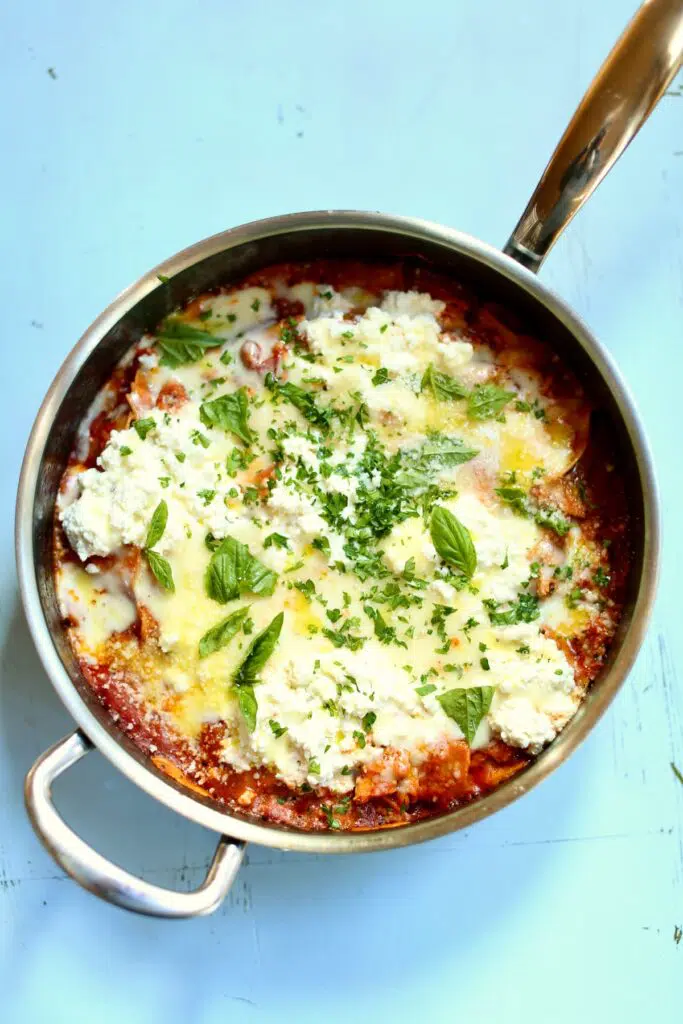 Like Turkey Lasagna made on the stove top….
Turkey Pasta Bake: This is also an easy-to-make skillet recipe that tastes like turkey and cheese lasagna without all the time usually involved. You can make this in about 30 minutes and it's super delicious!
Frequently Asked Questions
What can I do if I've over-thickened my sauce?
The best way to fix this is to add more liquid, and that can be a little water, some vegetable or chicken broth, or another can of chopped tomatoes in juice. If you're looking for a creamier sauce, add some heavy cream or milk to loosen the mixture up.
How long do I simmer tomato sauce to thicken it?
This will totally depend on how much excess liquid is in the pot, the thickness of the tomato puree, and the temperature of your stove top. Start at medium heat and let it simmer for 10-15 minutes, stirring occasionally. If it's still saucy, consider adding a tablespoon of tomato paste and continue to simmer until it reaches the consistency you want.
More Recipes to Try
If you've tried Easy Ways to Thicken Spaghetti Sauce, or any other recipe on Studio Delicious, please rate the recipe 5 stars and tell me how you liked it in comments below!
Looking for more tips and fresh, homemade recipes? Join my email list, tag and follow me on Instagram using #studiodeliciouseats, follow my boards on Pinterest, and see what I'm up to on Facebook and Twitter!