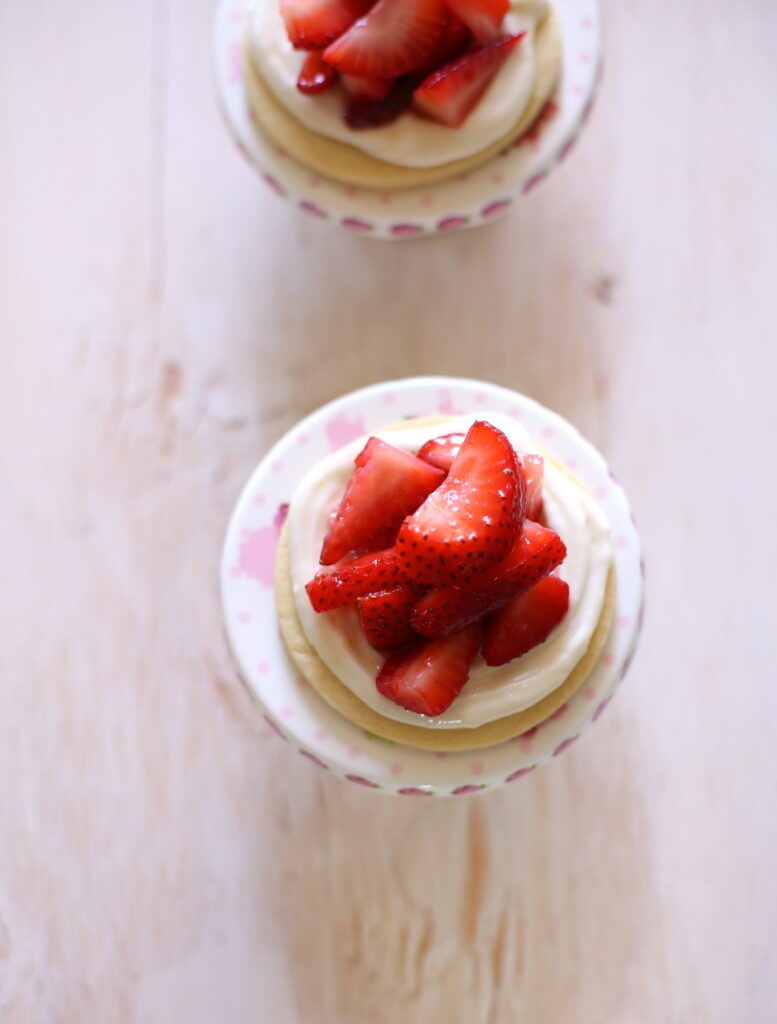 I'm going to make a bold statement about Strawberry Shortcake.
You might as well know how I feel.
Strawberry Shortcake is often dry, and not very good.
Please hear me out for a minute.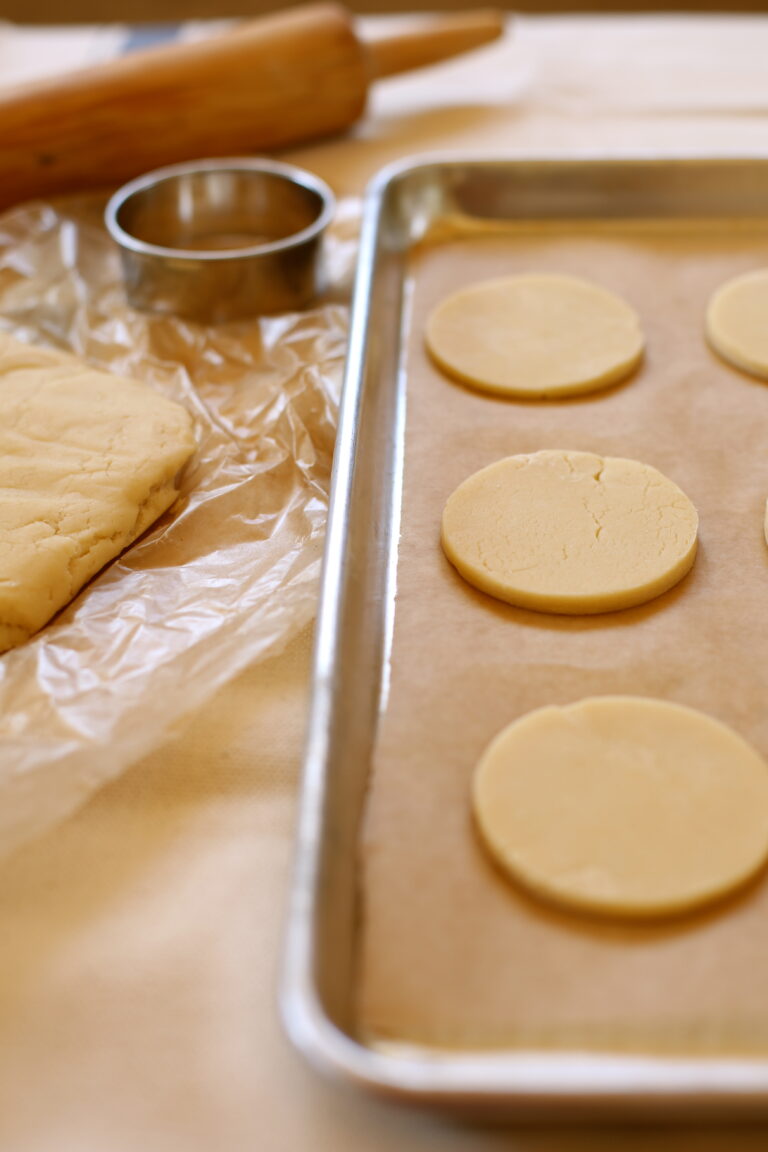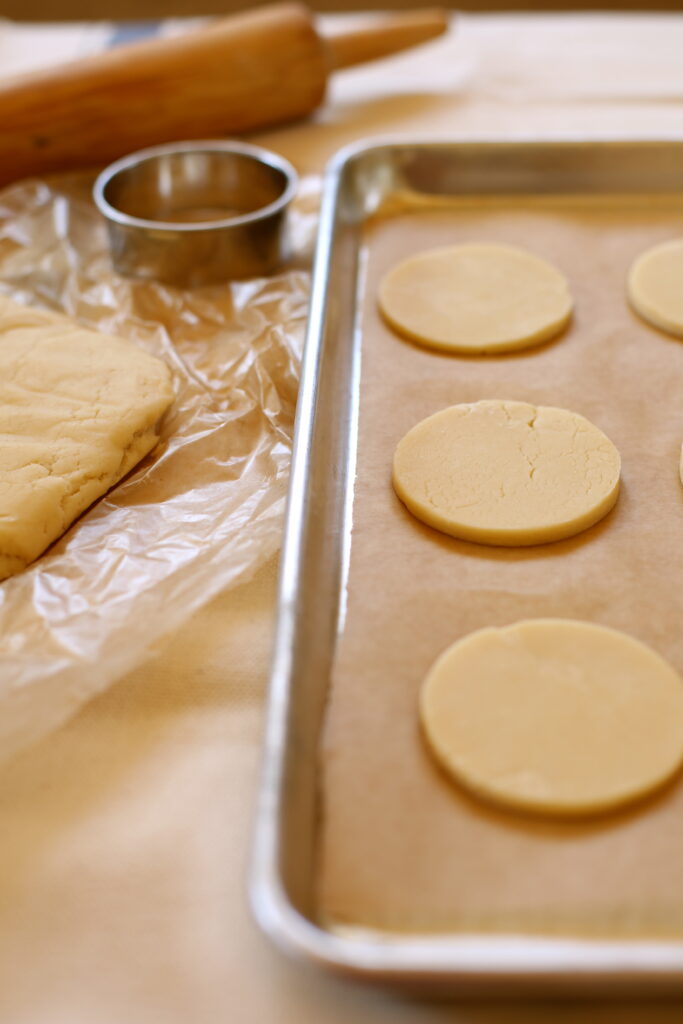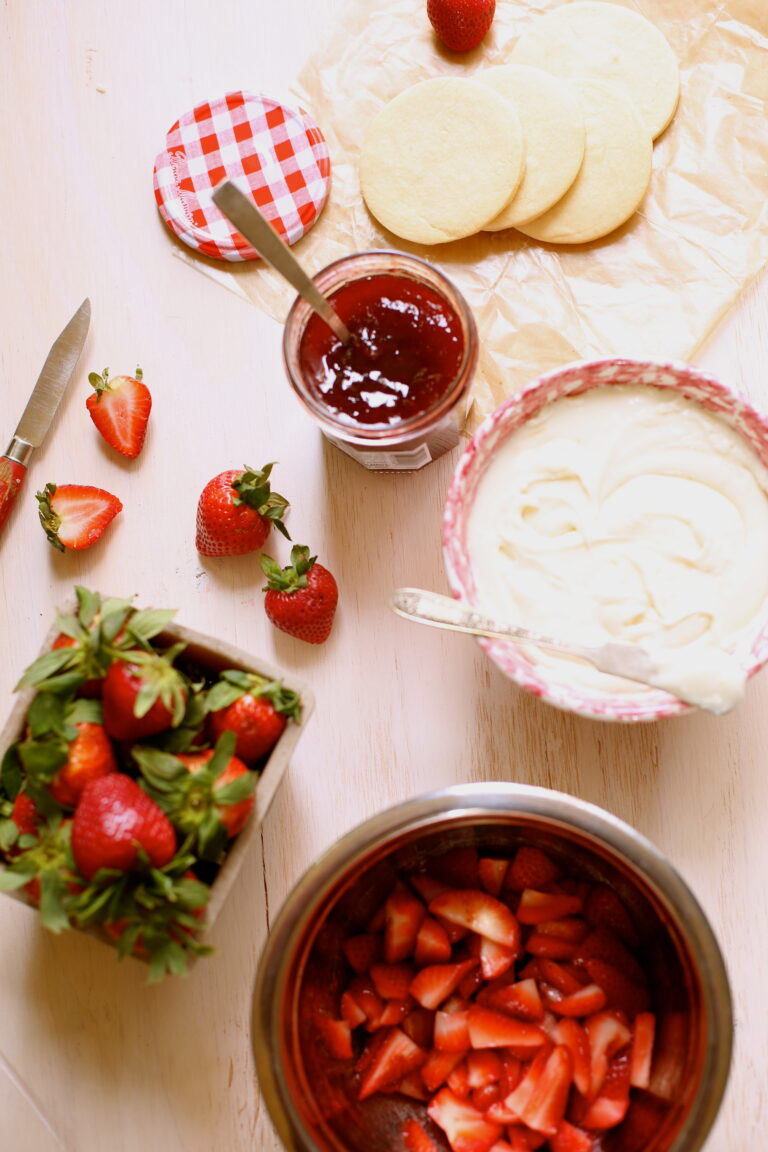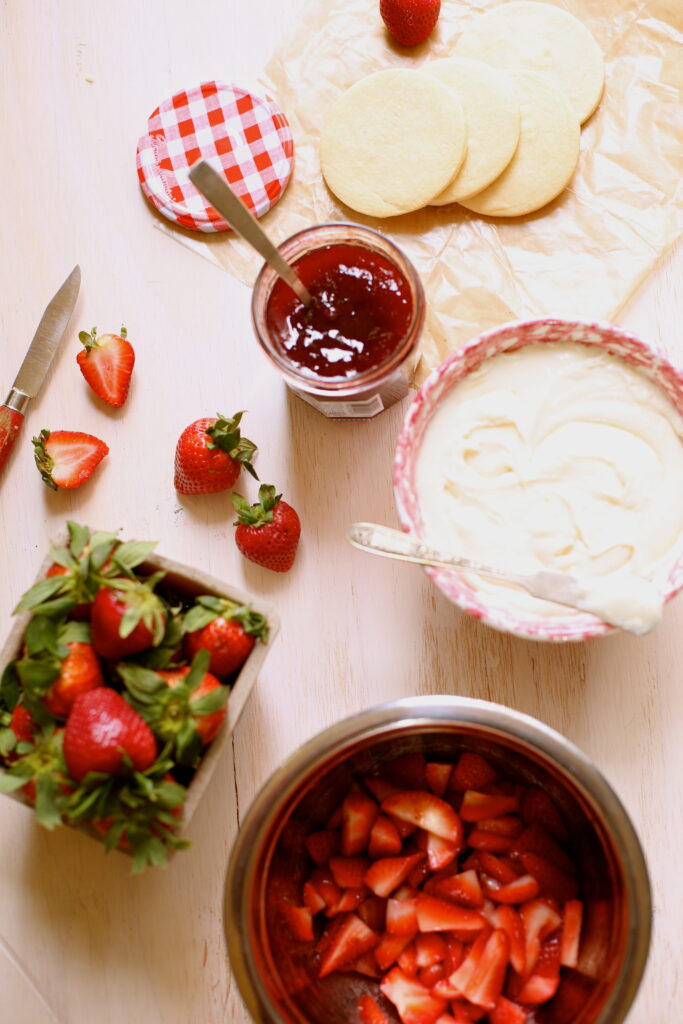 It is usually presented as a sort of lumpy golden biscuit, with a sparkle of sugar on the outside, full of hope and promise.
Cracked open, it reveals an often dry, but rather pleasant-looking thing, with an almost savory quality that's low on flavor.
A disproportionate amount of whipped cream and sweet syrupy strawberries go on top to make up for all that.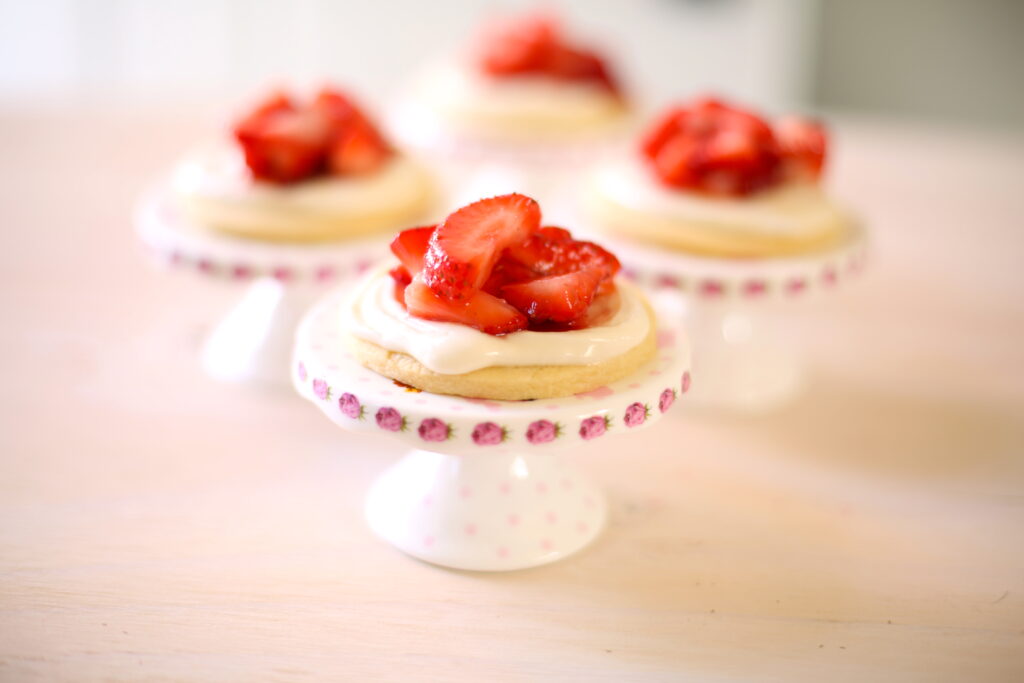 Am I right?
The whipped cream and strawberries are not the problem.
It's that dry biscuit.
As members of society, we must stand together and raise our expectations of strawberry shortcake.  We want it, and we deserve it.
I submit the Strawberry Shortcake Cookie.
Sort of a stretch in the tradition department, but trust.
The base is an easy and tasty soft vanilla cookie – rolled, cut, sliced, and baked.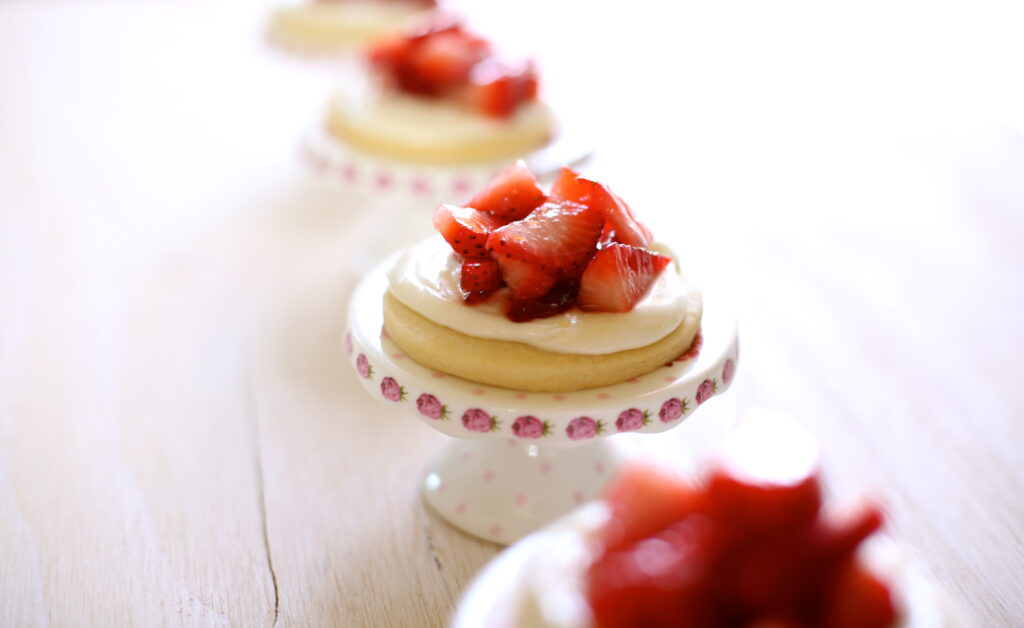 We then swirl cream cheese frosting spiked with fresh lemon zest on top of the beauteous discs.
A healthy dollop of sliced organic strawberries happens next, after they've been lightly tossed in a flavor-boosting jam.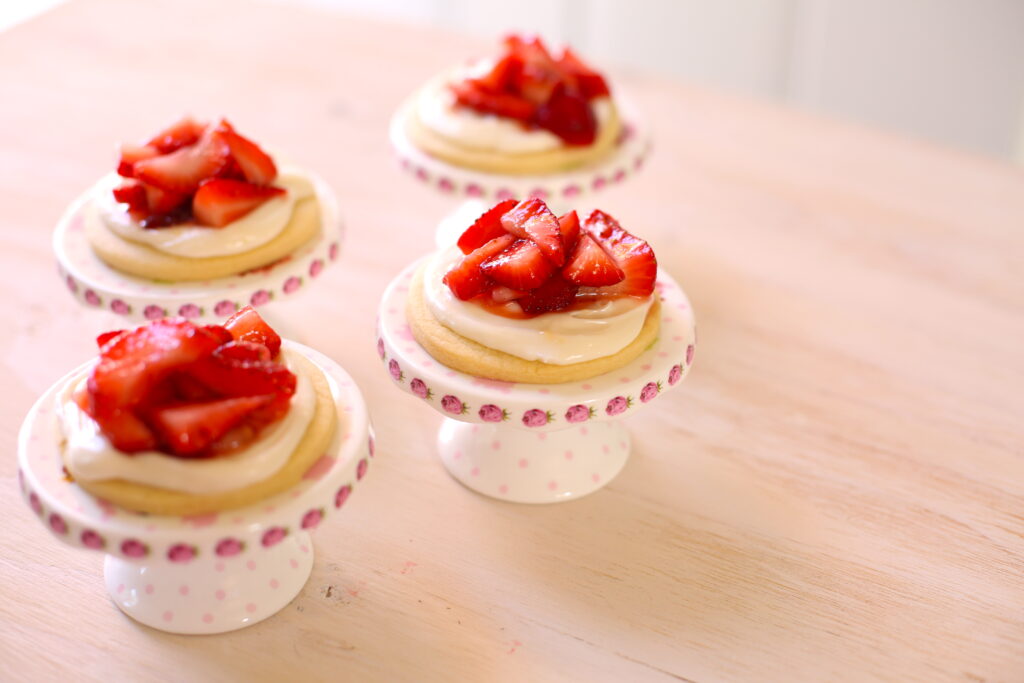 This one is staying in my repertoire of spring and summer desserts.
The only catch is they are best when put together just before serving, the strawberry part at least.
You don't want anything to mess with this little bite of perfection.
Ingredients
Makes about 23 three inch round cookies

FOR THE COOKIE DOUGH:

8

ounces

2 sticks unsalted butter at room temperature

1

cup

sugar

1

large egg at room temperature

1

teaspoon

pure vanilla extract

3

cups

all purpose flour

2

teaspoons

baking powder

1/2

teaspoon

salt

FOR THE FROSTING:

1 - 4

ounce

package of cream cheese

Light is okay, but not non-fat softened

1

teaspoon

freshly grated lemon zest

1/4

teaspoon

kosher salt

1

teaspoon

vanilla

2 - 2 1/2

cups

sifted powdered sugar

FOR THE STRAWBERRIES

2

pounds

of organic strawberries

sliced

2

tablespoons

of strawberry jam
Instructions
MAKE THE COOKIES

Heat oven to 375 and line two cookie sheets with parchment paper

Place the butter in a bowl of a stand mixer with paddle attachment and beat on medium for 2 minutes. Alternatively, use a medium bowl and hand mixer and do the same.

Add the sugar and beat for another 2 minutes, scraping down the sides as needed. Add the egg and the vanilla, mixing for another 30 seconds.

Add the flour, baking powder and salt and beat on low for 1 1/2 to 2 minutes, or just until the dough comes together to form a ball.

Turn the dough out to a lightly floured surface and divide in half. Working with one half at a time, pat the dough into disc with the palm of your hand then roll it out with a rolling pin to 1/4 inch of thickness.

Using a 3" round cutter, cut the dough and gently lift and place on prepared baking sheets. Repeat with other portion of dough, pressing any leftover dough scraps together and rolling them out for cutting too, in order to use all the dough.

Refrigerate on the sheets for 20 minutes. Remove from fridge and bake for 10-14 minutes until golden brown on the edges. Length of time will depend on your oven, so check them at 10 minutes and add as needed. My cookies took 14 minutes. Let cool on a baking sheet for 10 minutes before transferring to a wire rack to cool completely.

MAKE THE FROSTING

Beat the cream cheese in a large bowl with a hand mixer until light, about 2 minutes.

Add lemon zest, salt and vanilla and beat until combined.

Add powdered sugar and mix until combined and free of lumps.

You want the frosting a bit thick, so add more powdered sugar if needed. Refrigerate for 30 minutes.

PREPARE THE STRAWBERRIES

Place the jam in a small bowl and add 1/2 teaspoon of water to loosen it up.

Pour jam over strawberries and lightly toss to coat.

TO ASSEMBLE COOKIES

Using completely cooled cookies, frost each cookie with one generous tablespoon of frosting, and top with 1 1/2 tablespoons of the strawberry mixture.

Store the unassembled cookies in an airtight container for up to 4 days. Cookies are best assembled right before eating.
Source: Studio Delicious. Sugar cookie barely adapted from Sweet Home.