Sweet, tangy, full of vitamin C, but How Long Do Oranges Last? Here's a quick and easy guide so you can enjoy citrus all season long, including tips for extending their freshness!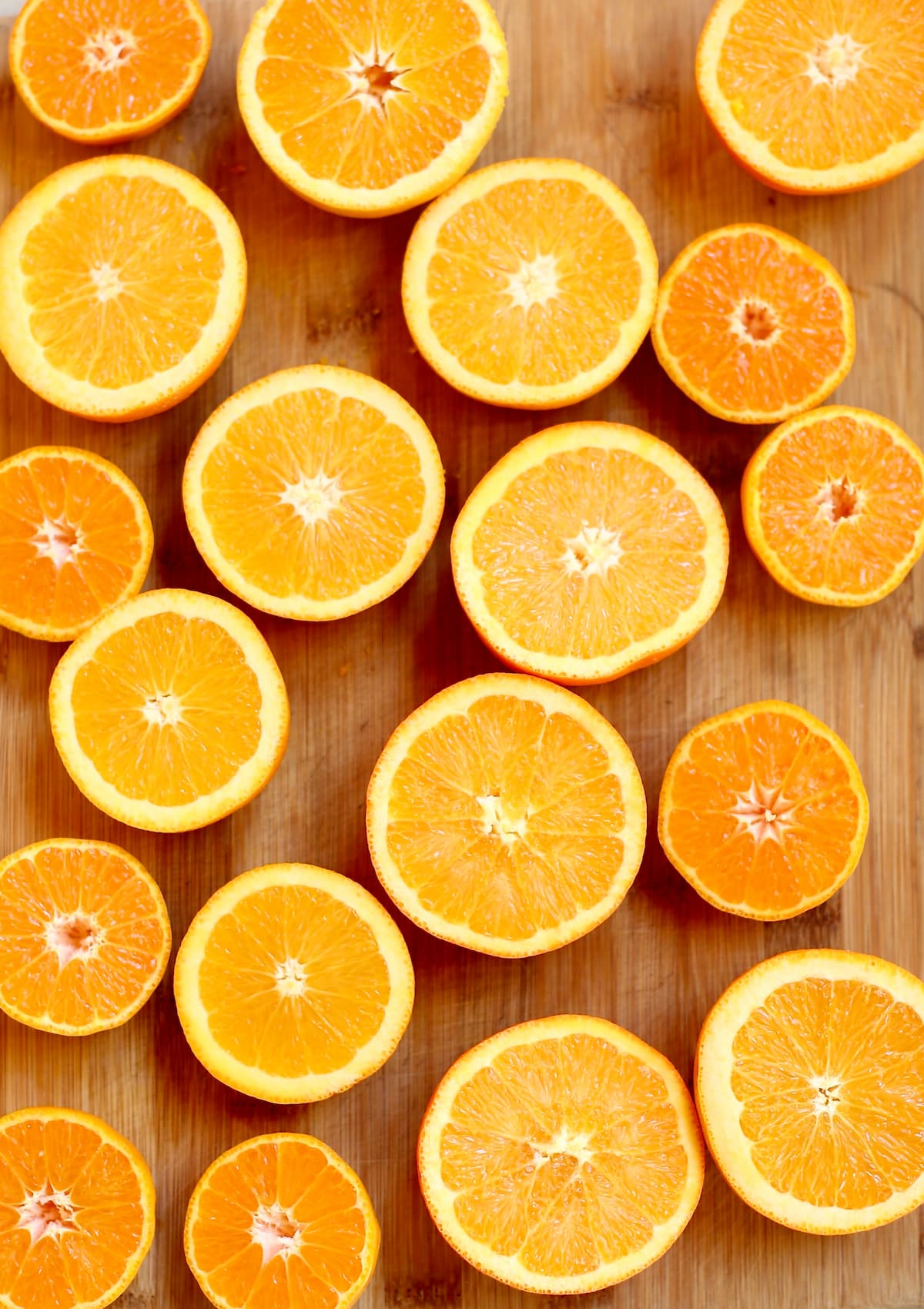 Jump to:
So many of us love the winter months for the fresh oranges, mandarins, and tangerines that are in peak season. They're great for the immune system, and one of the most popular fruits out there.
All of this is great, but how long do they last?
What are the best conditions for storing oranges?
What's their shelf life?
Tips to extend freshness.
Check out a few good citrus recipes at the end of this post!
What Affects the Shelf Life of Oranges?
Who knew there were so many factors to affect the shelf life of an orange?
Here's the main ones:
Current Ripeness: Any citrus fruit that's ready to eat now will have a shorter shelf life. If your oranges are ready to eat, use them up in juices and smoothies, or eat them whole.
Storage Temperature: This really makes all the difference. Place fruit in a cool spot – not room temperature – for best longevity. And the taste of cold fruit is out of this world btw.
Moisture: You'll want to keep all your citrus fruits in a dry environment too, otherwise it will invite a lovely green mold.
Air Flow: Not enough of this and your citrus will spoil pretty fast.
Exposure to Sunlight: Keep citrus out of direct sunlight for best results.
Take these factors into consideration, and you'll keep your citrus fruits the fresh for the longest time possible!
How Do You Tell If An Orange Has Gone Bad?
I've done a whole separate blog post on the common traits of bad oranges, and you can grab it right here.
Here's the Reader's Digest version for signs of spoilage:
Does it have dark spots?
Any softness against the pressure of your fingers?
Does the skin have a dry, rough texture?
Does it have a soft texture?
Any mushy spots?
Does it smell sour or foul?
Any of these can indicate old oranges that are no longer edible. Keep in mind if the orange looks okay on the outside but the juice tastes off, it's probably spoiled. When in doubt, throw it out!
Best Storage Tips To Extend Freshness
Used to be that when I'd get home from the grocery store or Farmer's Market, I'd plop the fruit in a big bowl and set it on the counter until I was ready to eat it. News flash – I threw away a LOT of fruit.
While that big ceramic bowl looks pretty, your fresh fruit needs some TLC.
Here's how:
The ideal temperature for storing oranges is 45-50F. Oranges will last the longest stored in a cool, dry, dark place, away from sunlight. This is the best storage method.
Skip the fruit bowl and store in a well-ventilated container like a mesh bag or perforated container that allows the air to circulate.
Store them by themselves. They'll keep much longer if kept away from other fruits, which give off ethylene gas, causing it to spoil faster.
No plastic bags! This will make them sweat and mold quickly, use a container with good ventilation.
Refrigerate them! (This is my absolute favorite way, because there's nothing more thrilling than a cold, juicy orange.) Store them this way for up to 3 weeks.
Tips For Serving Oranges Before They Spoil
Say you've got a whole bunch of oranges, and no idea how to use them. Here's some helpful ideas to extend your citrus shelf life.
Juice them. Fresh fruit juice is fantastic in smoothies, marinades, salad dressings, just cut in half and use a hand-held or electric juicer.
Make Jam. Orange marmalade is delicious on buttered toast.
Use the zest and orange juice in cakes, salad dressings, marinades.
Make a smoothie. The juice from ripe oranges adds a flavorful tang to any flavor smoothie.
Make a Salad: One of the best options is to add wedges, slices, or peeled oranges to green salads along with cheese, nuts, and a fantastic dressing. (See my recipe below.)
How to Maximize The Shelf Life of Your Oranges
Here are my best tips to keep your oranges fresh as long as possible:
Choose oranges that are heavy for their size with bright orange color that are shiny and smooth and free from bruises, soft spots or heaven forbid, green mold.
Store them properly in a cool, dry place, and don't overcrowd them. The best place is a mesh bag or ventilated bowl. Avoid high humidity areas.
Store them in the crisper drawer of the fridge as a alternate method.
Citrus bruises very easily, so handle with care.
Keeping citrus away from other fruits and vegetables, this is a good option to help them last longer.
Eat them promptly…best within a week, but with proper storage and refrigeration, they're often good for up to three weeks.
Here's a few recipes to try that use fresh citrus. Enjoy!
Maple Dijon Salad Dressing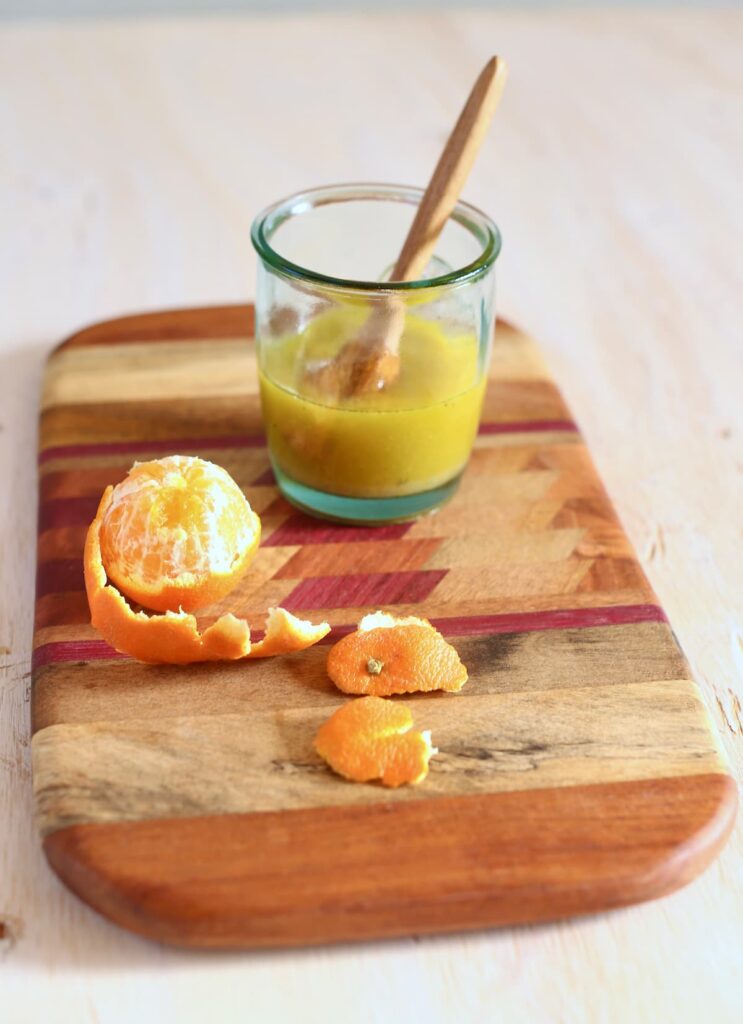 A tasty, fresh dressing that'll brighten up your salad..
Maple Dijon Salad Dressing: This citrusy dressing is easy to put together, tastes totally fresh, and is wonderful with dark leafy greens, soft cheese, shaved onion and warm, sliced chicken. Use your imagination to make the best salad combinations.
Fresh Tangerine Sorbet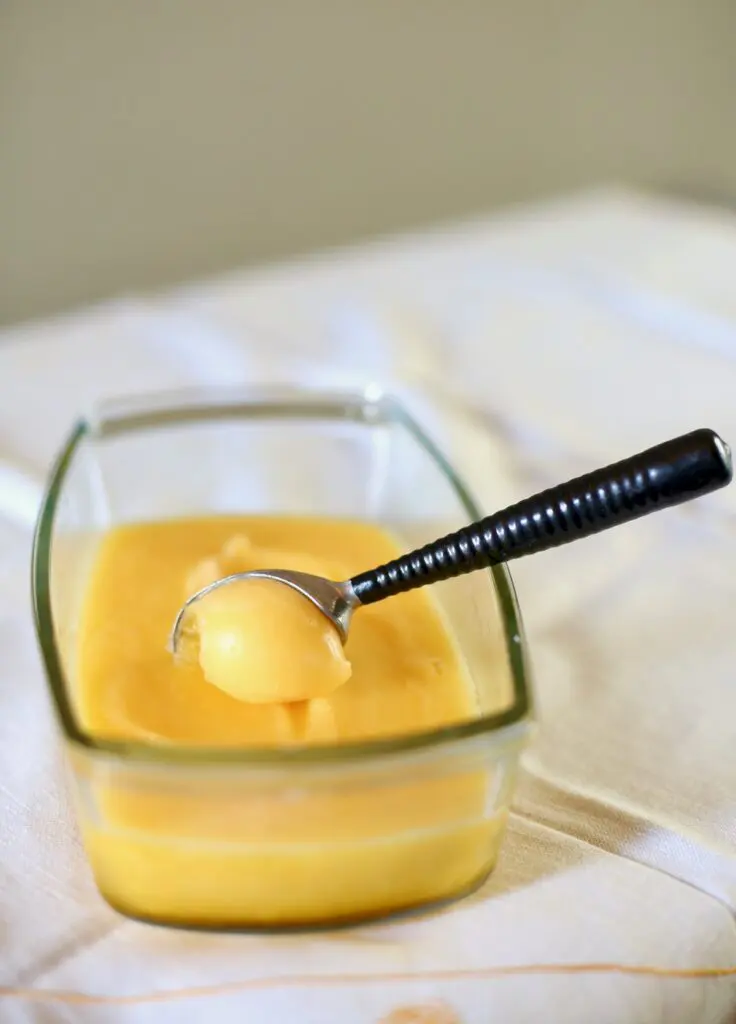 This refreshing sorbet is easy and absolutely delicious!
Fresh Tangerine Sorbet: Another easy recipe, and this one tastes like a juicy, sweet tangerine! Fantastic on a cone for extra fun.
Pan Seared Chicken Thighs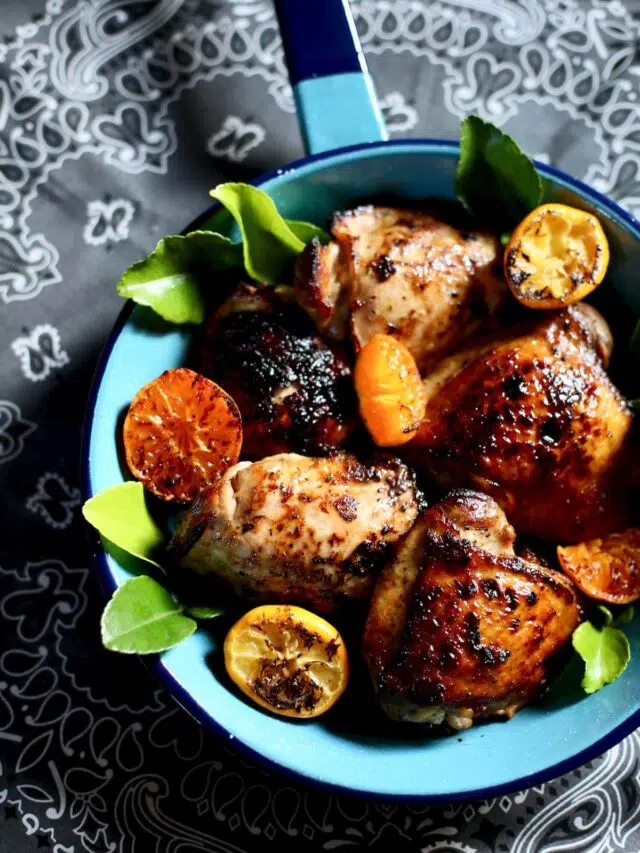 Moist, flavorful and easy…
Frequently Asked Questions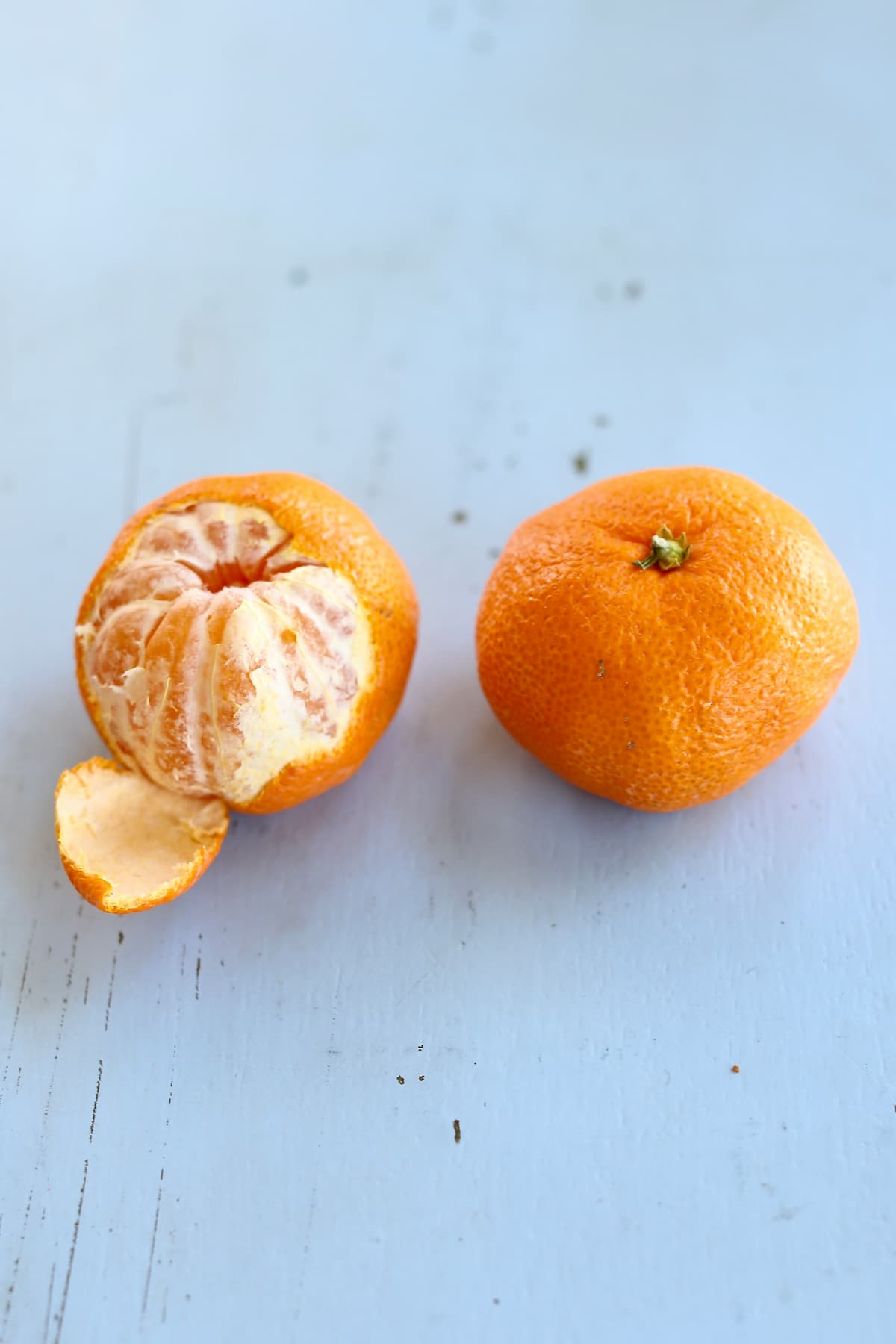 Can I Store Fresh Oranges in the Refrigerator?
Yes! This is a favorite way to store them, and while over time they can lose some of their juiciness, they'll usually last up to 3 weeks.
Can I Freeze Oranges?
Yes! The best way is to wash and cut whole oranges into slices and wedges, then store in an airtight container or freezer bag for up to two months. Frozen oranges are great for smoothies!
More Recipes to Try
If you've read How Long Do Oranges Last, or any other recipe on Studio Delicious, please rate the recipe 5 stars and tell me how you liked it in comments below!
Looking for more tips and fresh, homemade recipes? Join my email list, tag and follow me on Instagram using #studiodeliciouseats, follow my boards on Pinterest, and see what I'm up to on Facebook and Twitter!