I have an abundance of strange little habits.  One of the more interesting is I need something sweet after most every meal. This must happen and there is no way around it.
Including after breakfast.
This can be anything from a small piece of chocolate to a full-on hot fudge sundae. You read that correctly.
A little bowl of of almond milk ice cream with hot fudge sauce (and salted peanuts if you've got them) after your scrambled eggs on Sunday morning isn't the worst thing in the world.  A gin and tonic would be bad.  But ice cream is fine! 🙂
An old friend gave me the idea, as she used to have a big scoop of ice cream or leftover piece of cake with her Sunday morning coffee.  I think she did this while laying on the couch watching old movies. Which is why she is my friend.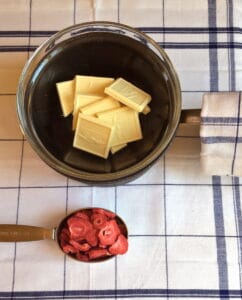 At the time, I thought this was shocking and unheard of. Until I tried it myself.
I have no shame when it comes to dessert, and I like to improvise.  I'm very happy with a handful of chocolate chips straight from the bag.  Better yet, stuff the chocolate chips inside a marshmallow set on a graham cracker and zap it in the microwave.  Heaven in 20 seconds.
Popsicles hold a special place in my heart.  They are perfect for hot summer days when we are all looking for an excuse to rest and cool off a little.
For this recipe, I had an idea of cooking fresh strawberries down into a chunky, syrupy sauce to intensify their flavor.  I spooned the cooled mixture into rich coconut milk flavored with honey and vanilla.
I added a ribbon of the strawberry sauce in between, and after everything was chilled and set, dipped in them in a pool of white chocolate  and added some sprinkles.
I used popsicle molds like this, which is an Amazon link.
Enjoy your summer days..
Ingredients
Strawberry Sauce:

16

oz

1 pound fresh organic strawberries, sliced

1/4

cup

sugar

1

tbsp

fresh lemon juice

1/2

tsp.

vanilla extract

##

13.5

oz

can full fat coconut milk

2-3

tablespoons

honey

to taste

Pinch

of sea salt

1/8 tsp

5

oz

white chocolate

melted

Assorted toppings like freeze dried strawberries

sprinkles or chopped nuts
Instructions
Strawberry Sauce:

In a medium saucepan, add the strawberries, fresh lemon juice and sugar. Place on medium heat and stir occasionally until the mixture bubbles and comes together into a sauce. It will look syrupy with chunks of strawberry, about 15 minutes. Remove from heat and stir in vanilla. Place in a medium bowl and chill for at least 30 minutes. After chilling, set aside about 1 tablespoon of sauce for each pop, which will vary depending on your molds.

Make the Pops:

In blender, add the coconut milk, the honey and remaining strawberry sauce and mix on high until smooth. Taste with a spoon for sweetness, and adjust to your liking.

You should have approximately 3 cups of strawberry liquid, not counting what strawberry sauce you have set aside.

Using a popsicle mold, fill each mold with the strawberry/coconut mixture about 1/3 full. Freeze for 30-40 minutes until set.

Spoon a tablespoon or so of strawberry sauce into each mold. Return pops to freezer for about 30 minutes until set. Divide remaining mixture into each mold and place lids on pops. Freeze until completely set, or overnight (preferred.)

Melt white chocolate in a double boiler or in the microwave until melted and smooth. Set aside until ready to dip the frozen pops.

Remove pops from molds (let them sit out for about 5 minutes, and/or run some warm water over the molds to easily remove them). Place on a baking sheet lined with wax paper. Dip each pop in the white chocolate and sprinkle with freeze dried strawberries, sprinkles or nuts.

Freeze again until chocolate is set, about 30 minutes.