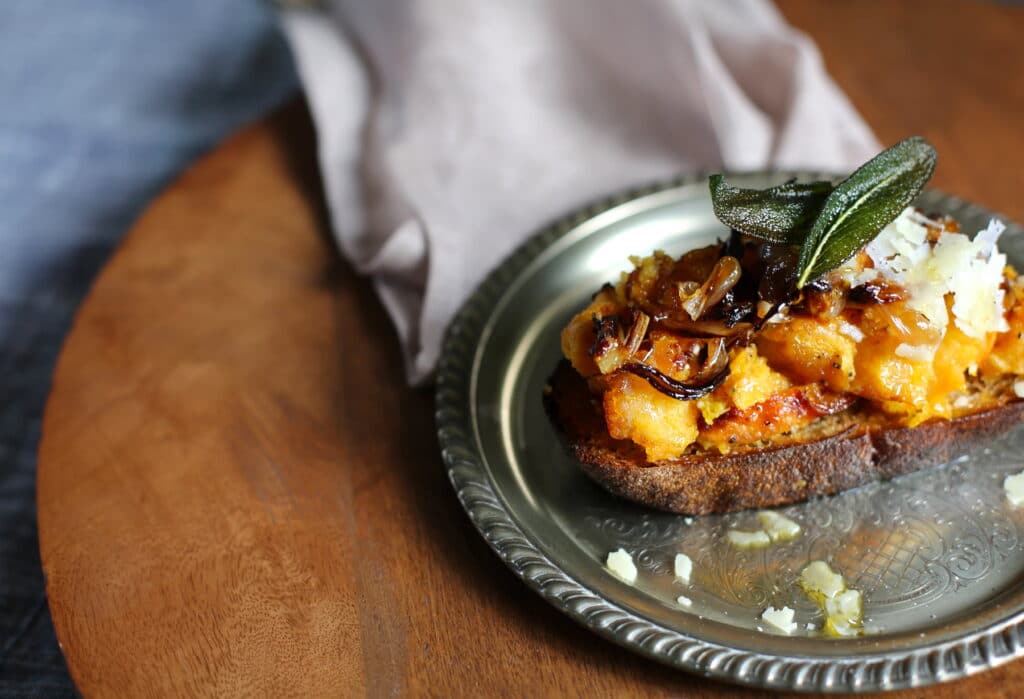 Names are funny.
For example, there are many named June, but I can't recall ever meeting someone named July.
Plenty of people are called August or April, and there are some January's and May's out there too.
I've never met a September, unless they used a nickname, and I'm quite sure I've never met a person called February or March.  November and December doesn't exactly roll off the tongue, though I have nothing against them.
These are the deep thoughts, my friends, of a snow-bound person going slowly insane with a mild case of cabin fever.
It sounds dramatic, but winter can be rough.  There are many, many feet of snow at my house, and we've been shoveling and blowing for days with more on the way.
It's only January and its still getting dark at 3:30.
But my fireplace is going, and my exceptionally cute dogs are laying in front of it. I'm drinking a mug of hot mint tea.
Life is good, even if I am losing it.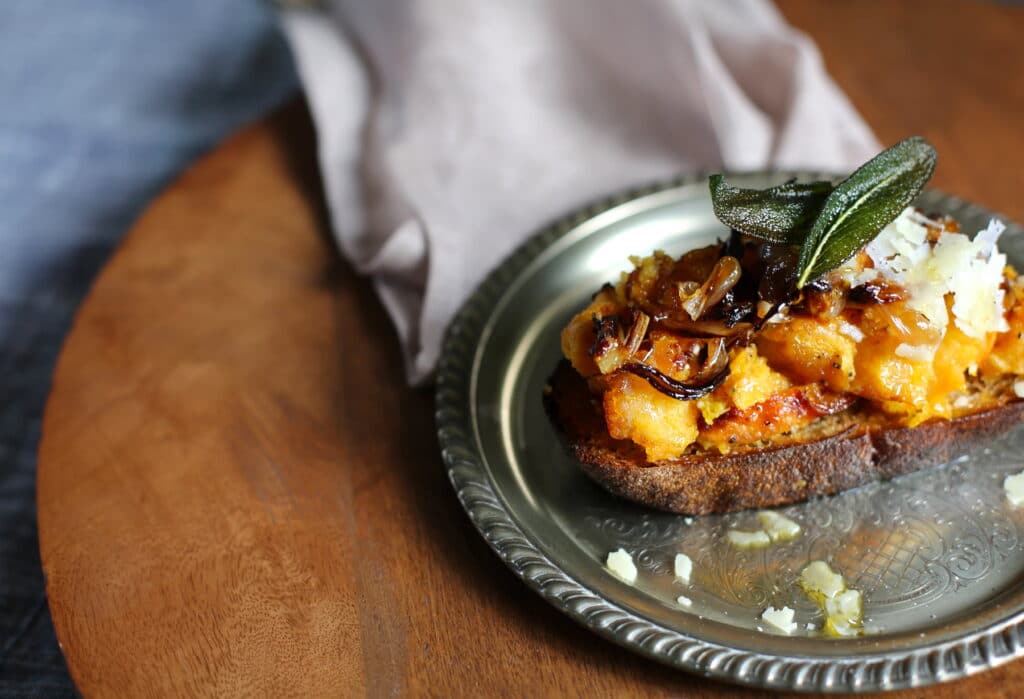 There's only thing in the whole wide world I can think of that would make things better.
And that thing is carbs.
A warm, toasty situation, preferably, that is succulent, savory and satisfying. Please imagine me saying this very fast with a whistle in the "s."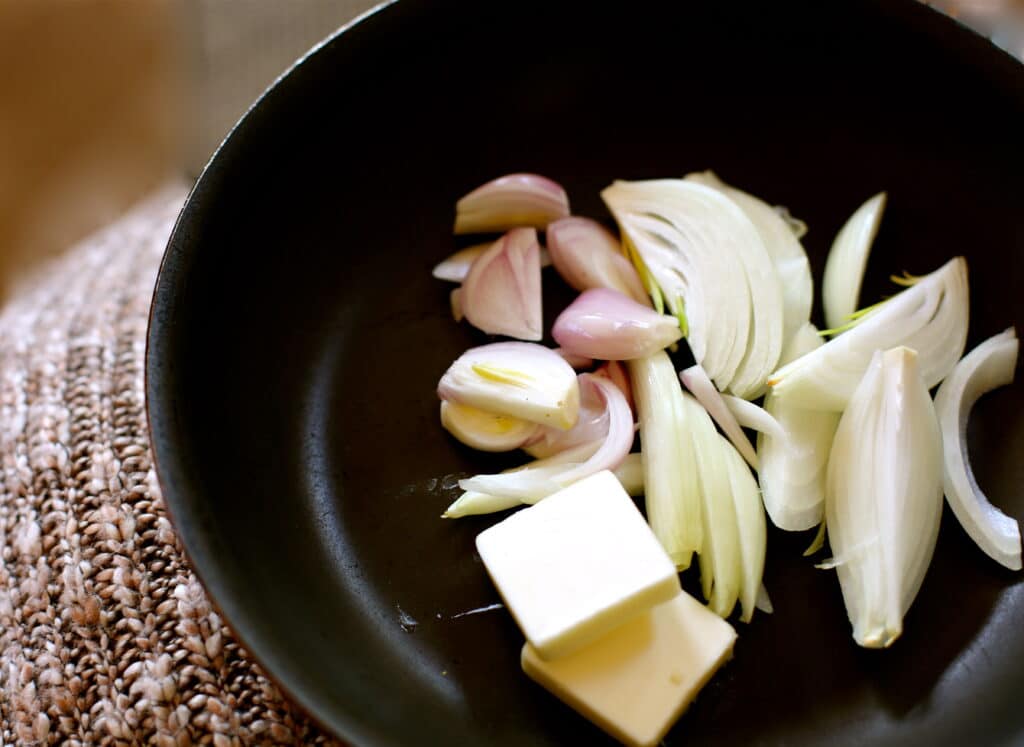 The voices in my head told me to caramelize thinly sliced shallots very slowing in a little butter.  And then mash some leftover squash with the back of a fork, drizzle it with olive oil, and re-heat it gently in a skillet with water.
Then pile the warm squash on a thick slice of toasted country-style bread and top with a tangle of buttery-sweet crispy shallots.
The final flourish is grated parmesan cheese and fresh sage quick fried in olive oil.
All that's needed now is a couch, a TV and maybe a warm blanket for your toes.
This highly satisfying toast is just enough to make a person feel sane again 🙂
Ingredients
Source: Studio Delicious

This recipe can be singled or doubled

or more. You want roughly 1/2 cup squash on each slice of toast, with a tablespoon of the caramelized shallots and one or two sage leaves per toast.

FOR FOUR TOASTS:

4

slices

of good quality country sourdough bread

cut from a round into 1/2" slices.

Olive oil

Flake sea salt

.

2

cups

of roasted squash

mashed with the back of a fork

1/4

cup

of water

.

2-3

medium-sized shallots

sliced thin

2

tablespoons

unsalted butter

1

tsp

sugar

salt and freshly ground pepper

.

8

fresh sage leaves

2

tablespoons

olive oil

Freshly grated parmesan cheese

for serving

Flake sea salt
Instructions
PREPARE THE TOAST

Drizzle or brush about 1 tsp of olive oil over each slice of the sourdough and sprinkle with a pinch of sea salt. Place on a sheet pan lined with parchment paper and set aside until onions and squash are prepared.

When ready, toast the bread in your broiler on the middle rack of the oven until crispy and slightly brown around the edges. Remove from oven and set aside.

FOR THE SQUASH

Place 2 cups of cooked squash in a medium-sized non stick skillet with 1/4 cup of water. Turn heat on to medium and let the squash heat through until the water is absorbed and the squash is warmed all the way through.

FOR THE SHALLOTS:

Melt 2 tablespoons of butter in a medium-sized non stick skillet, add the shallots and salt and pepper, and cook on medium high heat until soft, about 5 minutes. Add the sugar and stir and continue cooking on medium low heat, stirring often for 15-20 minutes until brown and soft. Remove from pan and set aside.

FOR THE FRIED SAGE:

Add 2 tbsp. olive oil to the same pan used for the shallot, on medium heat until the oil is hot. Add the sage and fry until bubbling and crispy, gently turning them over once with a fork, about 2-3 minutes. Remove from oil and gently place on paper towels until ready to assemble.

FOR SERVING:

With all of the ingredients warm, place 1/2 cup of squash on top of each toast, followed by a generous tablespoon of caramelized shallot per toast.

Sprinkle some parmesan cheese on each toast, and 2 of the fried sage leaves. Drizzle with a little (1/2-1 tsp.) olive oil over each toast and a final pinch of flake sea salt.

Serve warm.