These Spring Vegetable Fritattas are a little bit fancy and a lot tasty. The personal size is a fun option for brunch gatherings… serve with a big bowl of fresh fruit, some applewood smoked bacon or chicken sausage and a basket of warm muffins or pastries.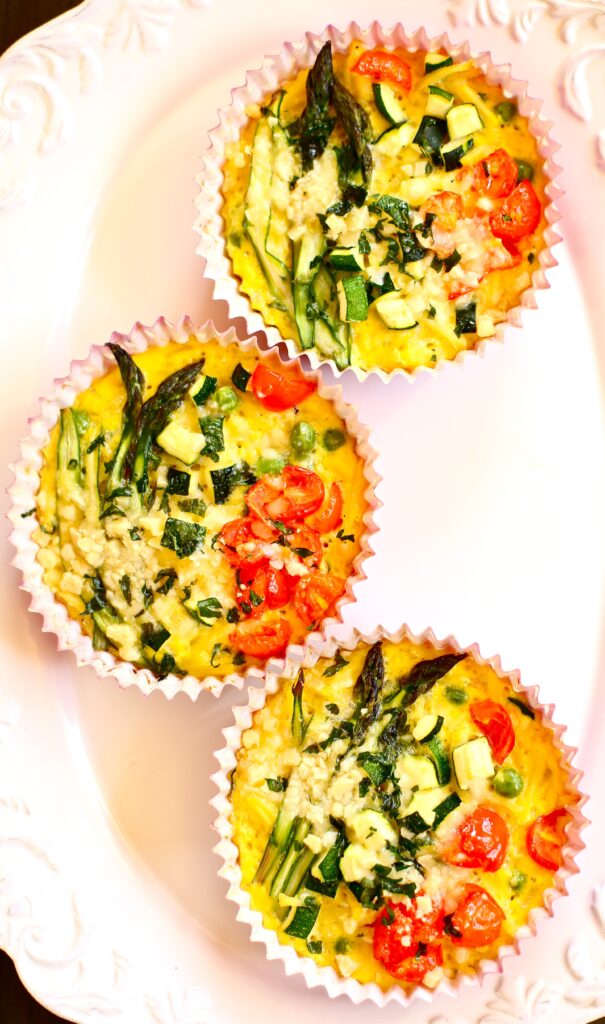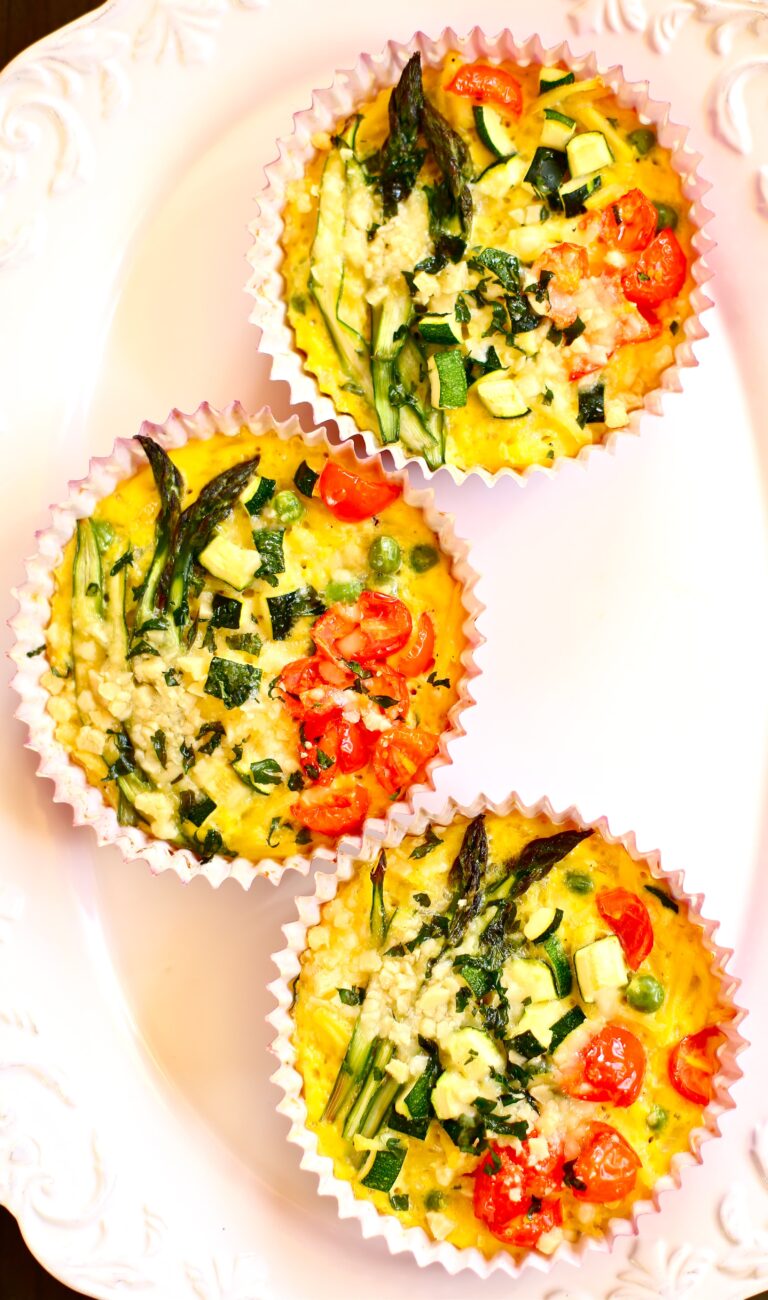 I'm not proud of this, but I'm still nibbling away on Christmas candy.
The old-fashioned hard candies are sweet and tart with a bumpy, berry-like shape and chewy raspberry center.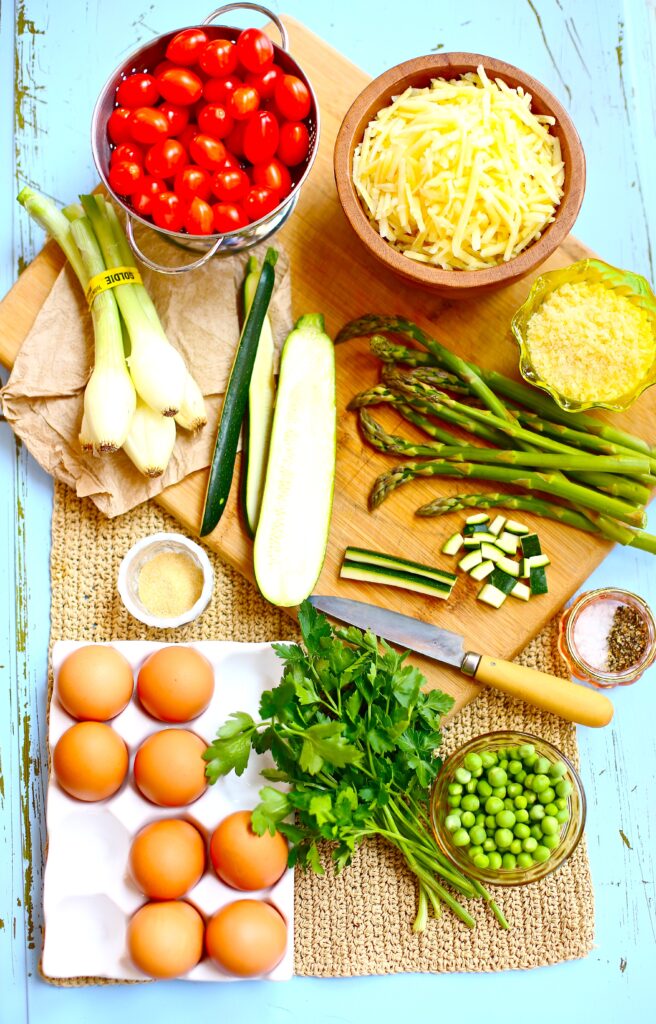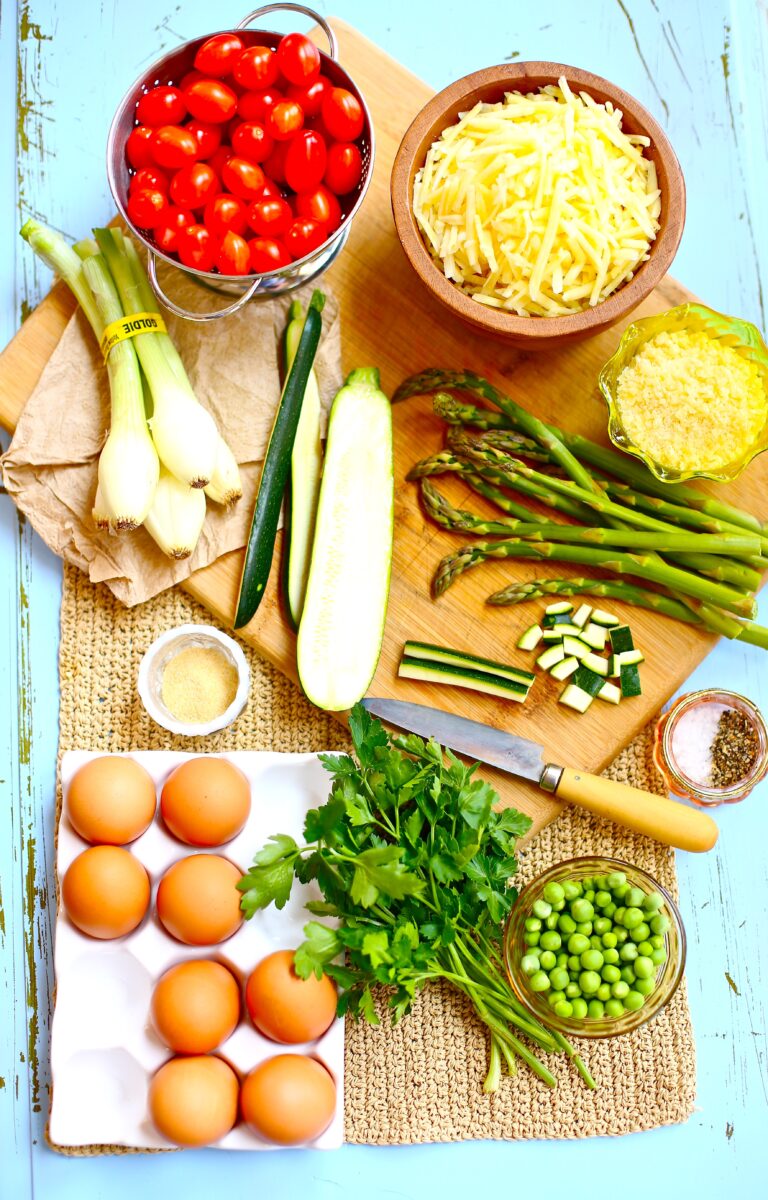 Trust me, they taste just as good in March as they did in December.
And they're an excellent pre-breakfast snack if you get up early like me 🙂
There's all the reason in the world to throw these tired old treats away, but it feels so wrong.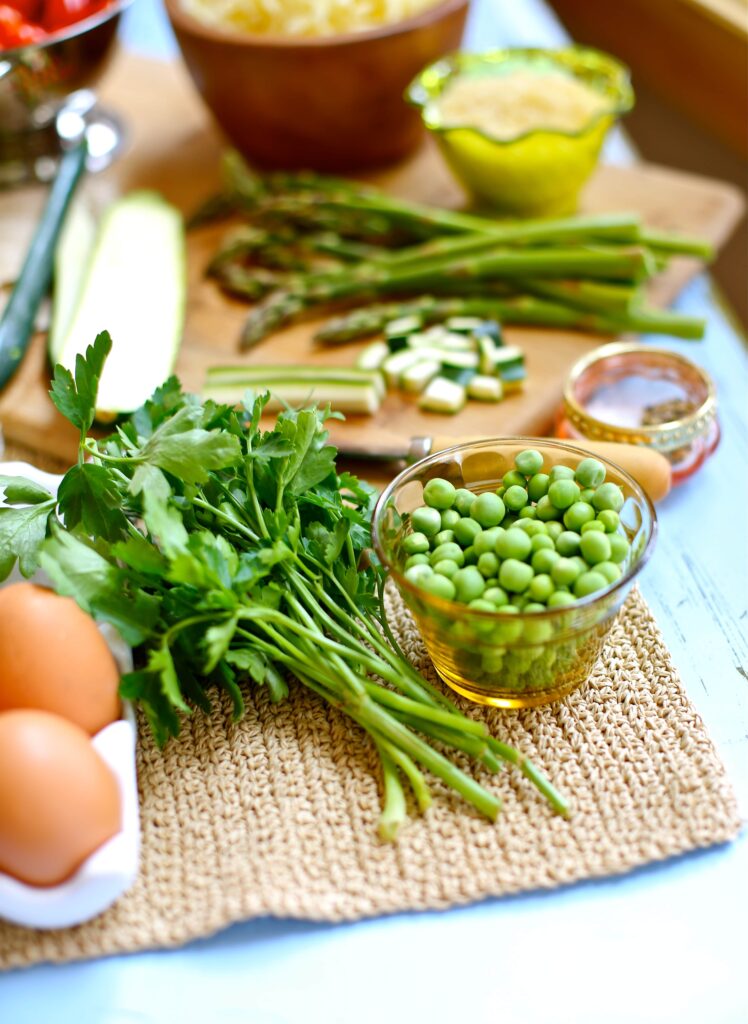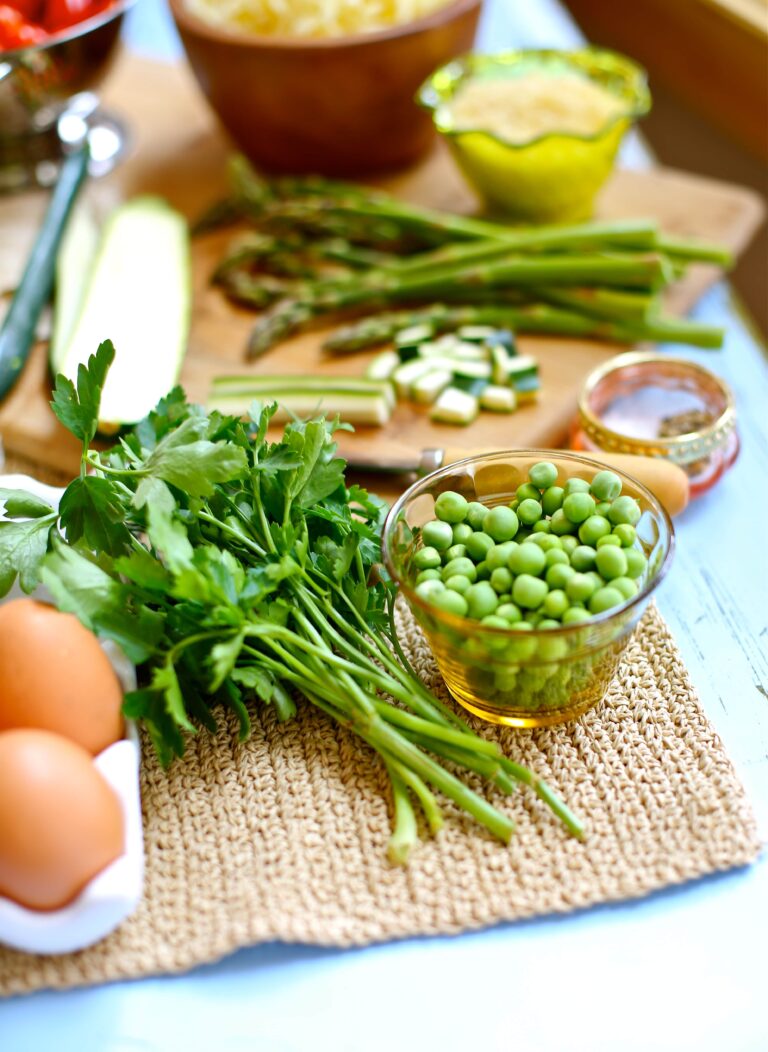 For one thing, they still look pretty amazing— the dark burgundy gems glowing in stark contrast to my french blue vintage candy jar.
I'm a real sucker for vintage glass—especially candy jars and bowls—and have several.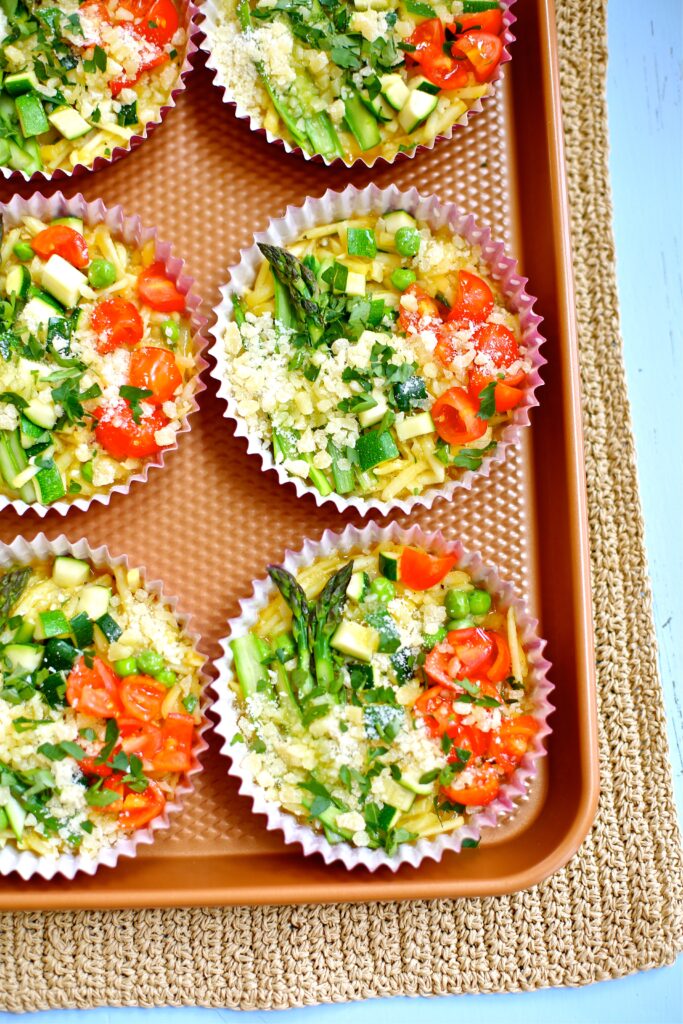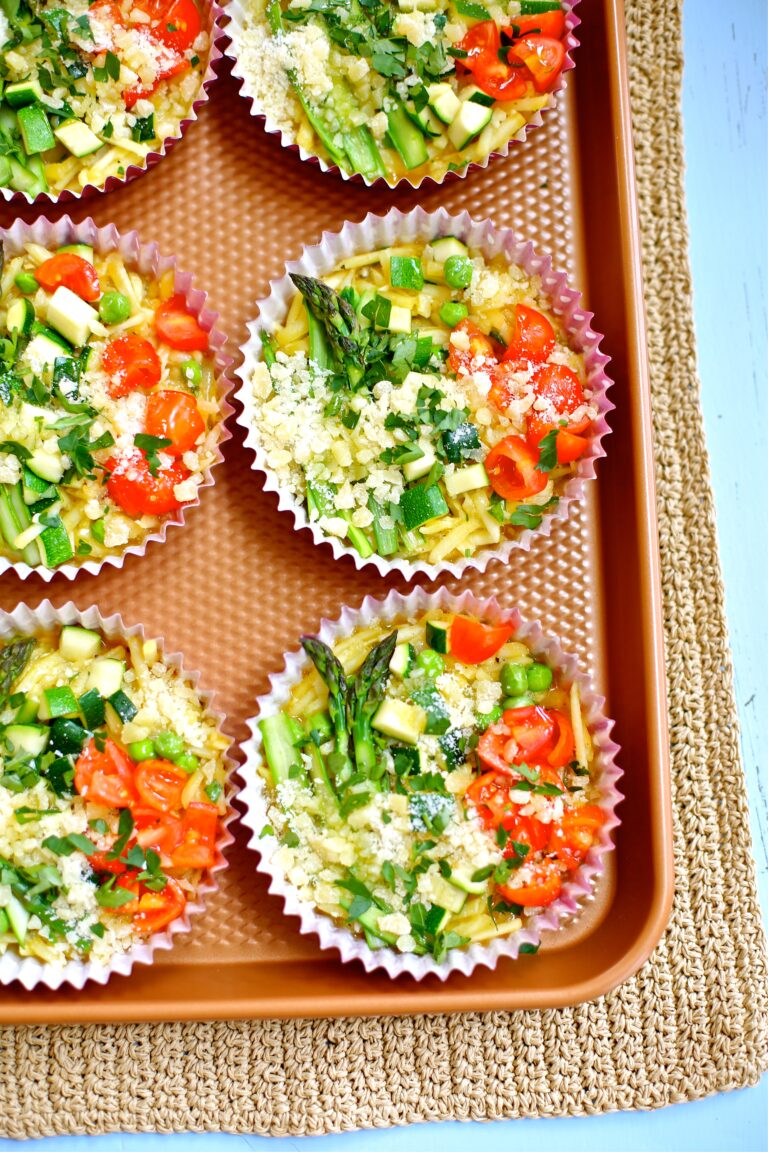 The mystery and temptation of what was inside my Grandmother's covered candy dish fascinated me as a kid.
I guess that's why I like them so much.
And as calories go, they're pretty harmless, unless you eat like 15 of them. But that would never, ever happen around here, not in a million years.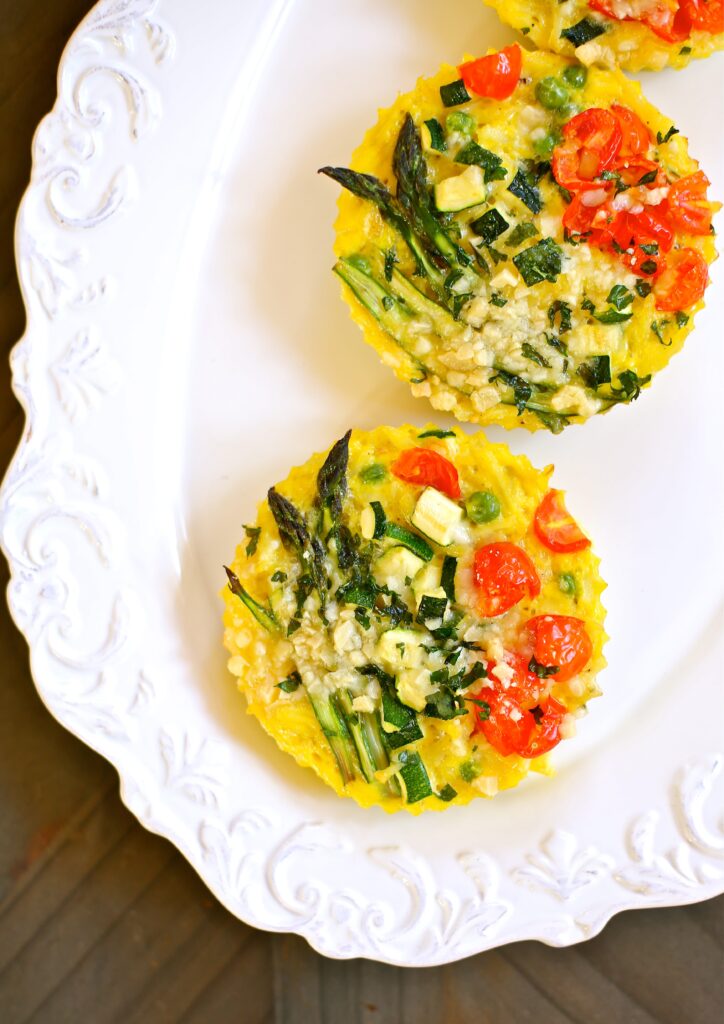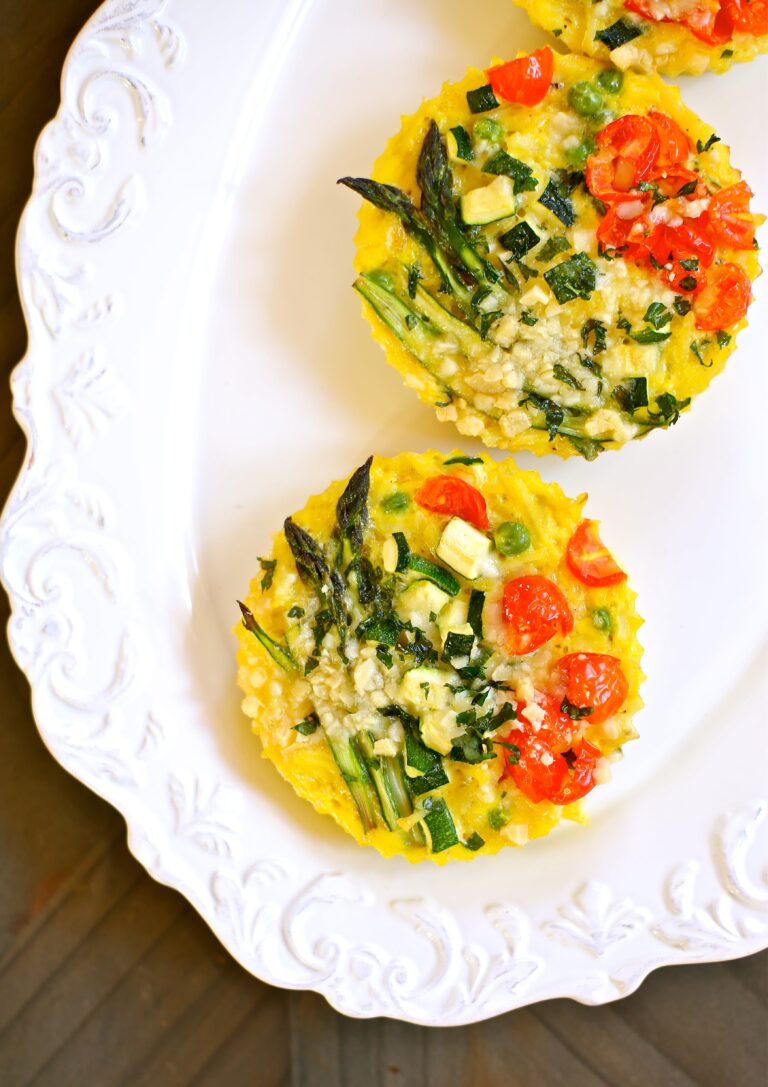 I've managed to whittle down the aforementioned holiday supply significantly while writing this, but purely for research 🙂
Skipping along to the subject of brunch food, sometimes smaller is better. It's also practically guaranteed to be more fun.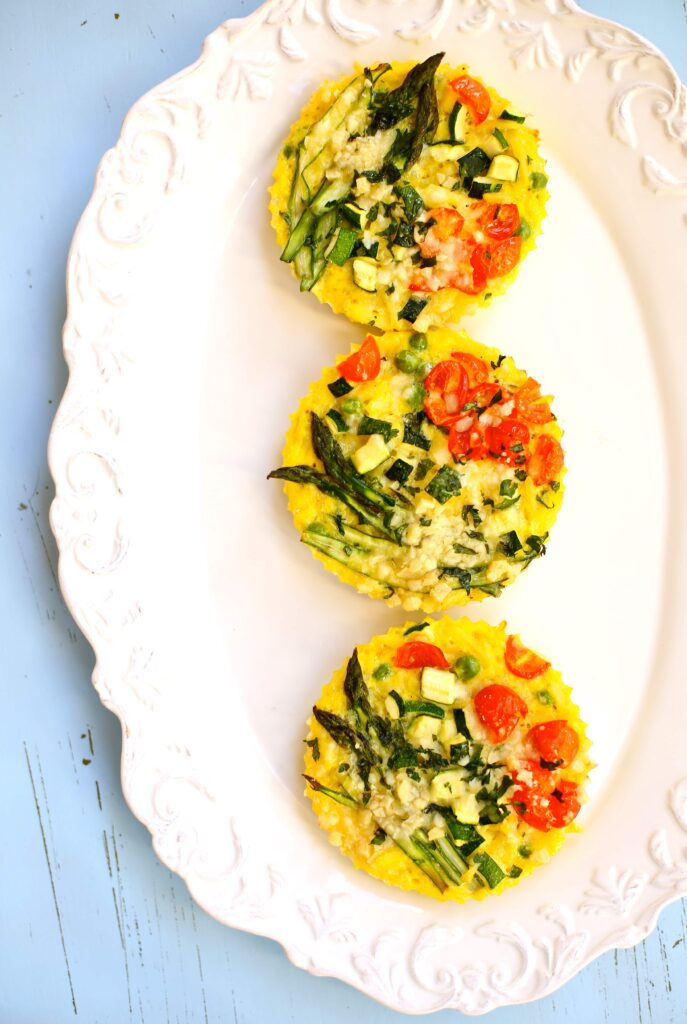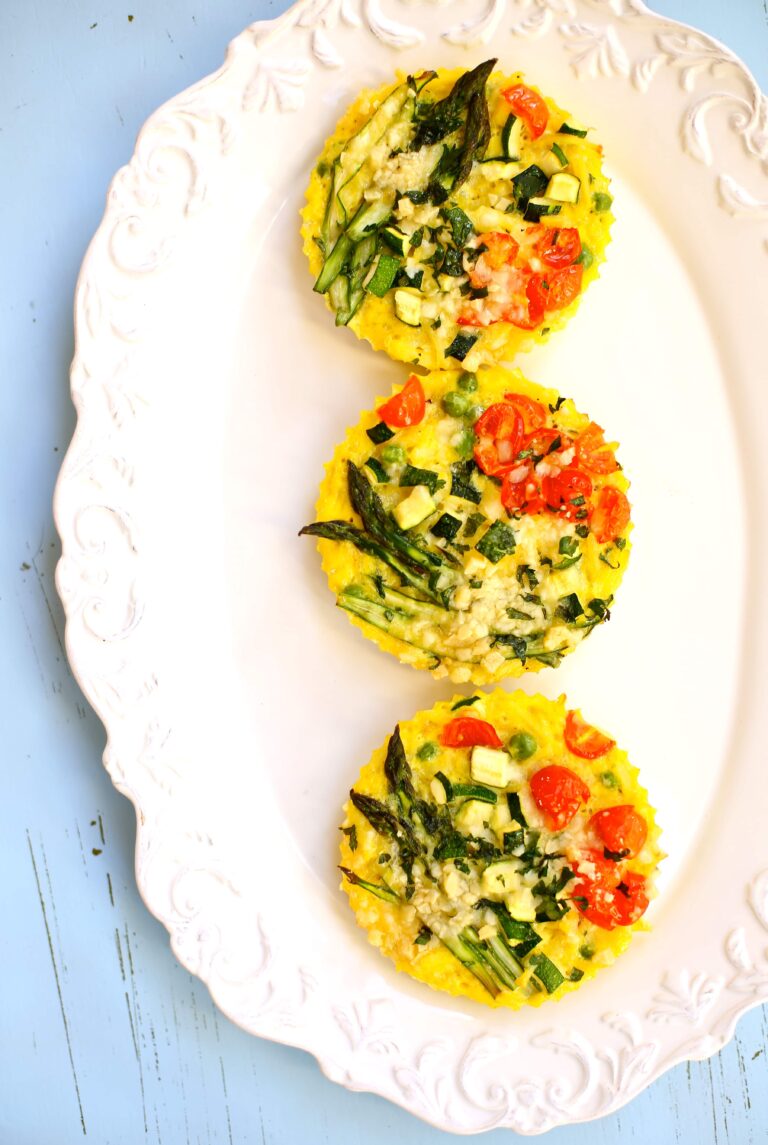 You can experiment and customize your toppings if you want, and cheeses too. Havarti or Gruyere would be wonderful instead of Parmesan for instance, as would a little shaved ham.
Or tiny bites of cooked broccoli flowerettes with grated cheddar for a flavor twist.
Serve a platter of these beauties alongside a bowl of chunky fresh salsa.
Here's another recipe to try:  Deviled Eggs with Candied Bacon and Fresh Dill
Ingredients
Preheat oven to 350 degrees

Free-standing oven safe paper bakeware liners 4" diameter

sprayed with nonstick cooking spray and placed on a baking sheet, or non-stick cupcake pan sprayed with non-stick cooking spray. Note: You can use liners in the cupcake pan as well, and I would spray them lightly before adding the egg mixture.

##

2

teaspoons

olive oil

1

small shallot or spring onions

white part only diced fine, 1/3 cup

pinch

of salt

7

large eggs

organic if possible

2

tablespoons

water

1

teaspoon

each of:

Powdered

granulated garlic

Salt

Lemon pepper

2

quick small shakes of pepper sauce

like Tabasco

1/3

cup

grated/ground Parmesan cheese

plus 3 more tablespoons for garnish

1 16

ounce

bag of shredded hash browns

defrosted if frozen

1/2

cup

fresh English peas

shelled and cooked or frozen peas, thawed

1/4

cup

flat leaf

Italian parsley, chopped fine

###

1

medium zucchini

quartered and seeded and sliced in 1/4" pieces, about a 1/2 cup

1/4

pound

fresh asparagus

woody ends removed, and peeled thinly lengthwise with a sharp knife or vegetable peeler, about a cup loosely packed

1/2

cup

cherry tomatoes

cut in half and gently squeezed to remove seeds and liquid

Olive oil

for drizzling.
Instructions
MAKE THE EGG and POTATO BASE

In a medium sized (10") non-stick saute pan, heat 2 teaspoons of olive oil and add the 1/3 cup onion and pinch of salt. Cook on medium high heat, stirring occasionally with a wooden spoon until soft, about 5 minutes. Set aside to cool.

In a medium bowl, crack the eggs and 2 tablespoons of water. Using a whisk, combine the mixture until its broken up and not streaky.

Add the powdered garlic, salt, lemon pepper and pepper sauce and whisk together until combined.

Add the 1/3 cup grated Parmesan cheese, hash browns, sauteed onions, peas and half of the chopped parsley to the bowl and stir gently to combine.

PREPARE THE VEGETABLES

In the same medium non-stick sauce pan you used for the onions, add the zucchini with 2 tablespoons of water with a pinch of salt, continue on medium heat until lightly cooked for about 2 minutes, stirring occasionally.

Remove zucchini from pan and set aside.

Repeat technique with the sliced asparagus, set aside.

MAKE THE FRITATTAS

Spoon the egg and potato mixture into the sprayed baking cups (that are sitting on a large baking sheet) to 2/3 full.

Top the fritattas with a loosely measured tablespoon of each item - the zucchini, the asparagus and the tomatoes.

Sprinkle each fritatta with a teaspoon or so of Parmesan cheese, and a pinch of the remaining chopped parsley.

Drizzle a 1/2 teaspoon of olive oil over the top of each one, and bake on the lower shelf of the oven at 350 for 25 minutes until the egg is set.

Move pan to middle of oven and broil for 2-3 minutes to melt the cheese if needed.
PIN THIS RECIPE FOR LATER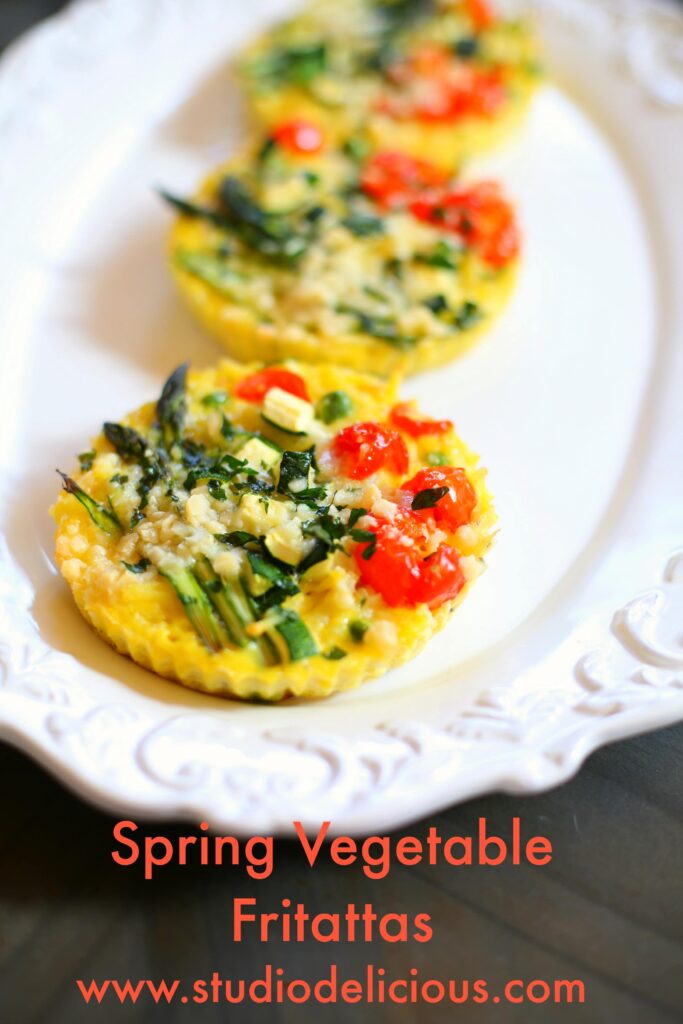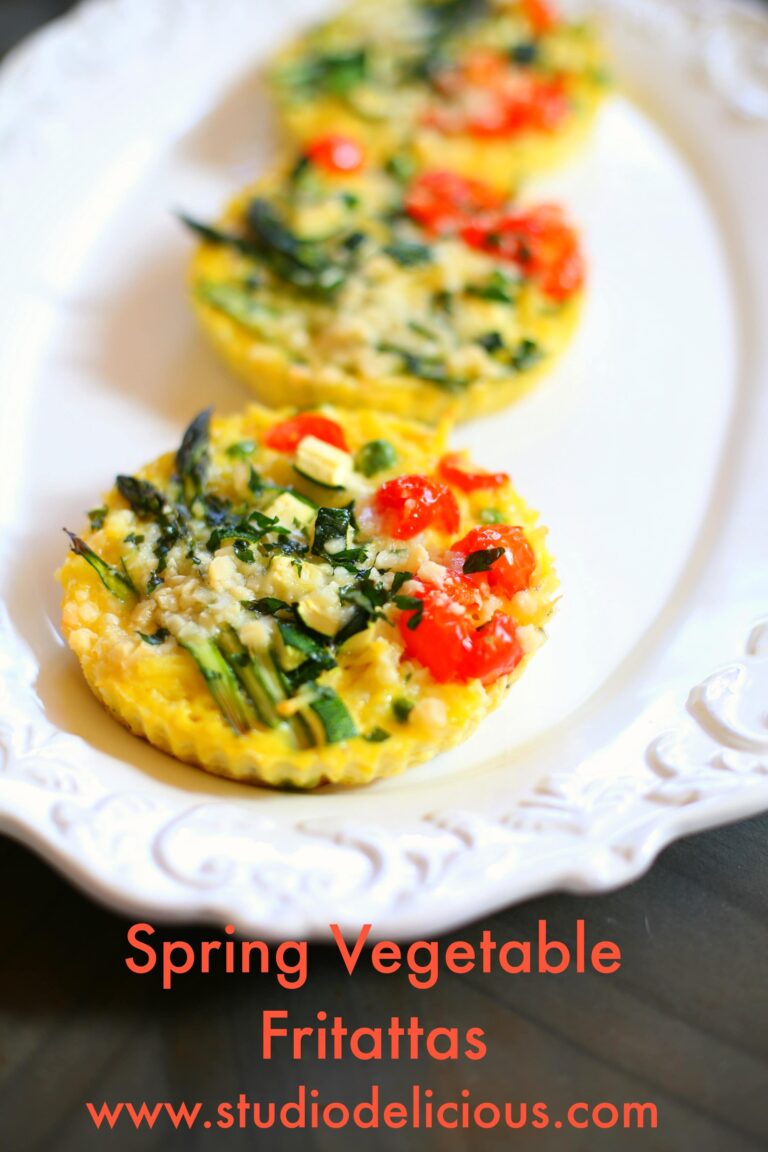 SOURCE: Studio Delicious