I don't know why it happens when the weather heats up, but I feel behind the eight ball all the time. There's all the regular work, of course, but also a never-ending list of seasonal chores and household upkeep that needs to happen too.
I've been super busy making my annual supply of apricot jam, plus organizing closets, tidying this and that, planting flowers and spending way too much time dusting, sweeping and polishing.
My list is a mile long, and there are times I wonder how I'll get it all done.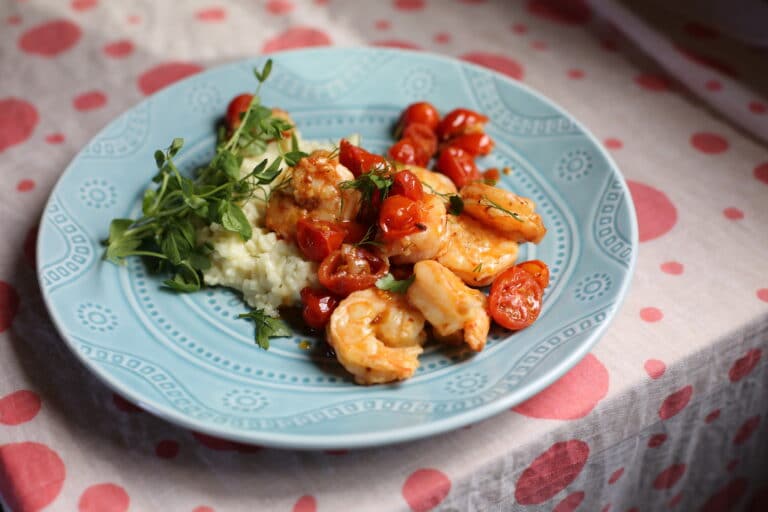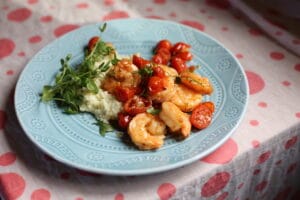 Then there's the weekend eating. I fantasize about the lazy brunches I see on the Food Network, but breakfast around here is pretty simple – eggs fried in olive oil, sourdough toast with figs, cheese and honey…that kind of thing.
I do make more of an effort with weekend dinners, but honestly, there are days I just don't feel like it. I want something fast and uncomplicated that still feels a little special.
So I can get back to making "to do" lists 🙂
This is the perfect recipe for those times. Shrimp are quickly sauteed with a knob of butter and some olive oil. Bright cherry tomatoes are cut in half and tossed in the hot pan, followed by a squeeze of fresh lemon and a sprig or two of fresh dill.
You are going to love this because it packs a lot of flavor and tastes indulgent. The shrimp is rounded out with some hot buttered rice or instant risotto with a few fresh greens for crunch, color and looks.
This tastes extra good if you happen to be sitting on the porch with your feet up…it's summer, so lets take time to enjoy!
Ingredients
2

tablespoons

unsalted butter

2

tablespoons

olive oil

1

small shallot or spring onion

finely chopped (for 2 tablespoons, total)

Pinch

1/8 tsp of kosher or flake salt

1

clove

fresh garlic

finely chopped

2

cups

fresh cherry tomatoes

cut in half

1/4

teaspoon

red pepper flakes

2

tablespoons

fresh squeezed lemon juice plus 1 tablespoon water

1

pound

medium large shrimp

peeled, deveined, rinsed and patted dry with a paper towel

1/2

tsp.

kosher or flake salt

1/2

tsp.

freshly ground black pepper

2

tablespoons

each of fresh flat leaf

Italian parsley and fresh dill leaves, chopped
Instructions
In a non-stick 10" skillet over medium heat, melt the 2 tablespoons of butter and 1 tablespoon of the olive oil.

Add the shallot or spring onion and pinch of salt, cook until the onions are soft but not brown, about 5 minutes. Add the chopped garlic and continue cooking for another 2-3 minutes, being careful not to let the mixture brown.

Add the cherry tomatoes and red pepper flakes, stirring to combine everything. Add the fresh lemon juice and water and continue to cook until tomatoes are soft but not mushy, 5-7 minutes more.

Scoot the tomato mixture to one side of the skillet and add the shrimp, remaining tablespoon of olive oil, salt and pepper. Cook until shrimp are pink on both sides, about 3 minutes total.

Gently combine the tomato mixture with the shrimp in the middle of the pan.

Add another grind of pepper, pinch of salt and teaspoon of fresh lemon juice if needed. Add the fresh dill and parsley, and lightly stir.

Serve with prepared rice or risotto.