This Nectarine Toast with Honey Goat Cheese captures all the wonderful fresh flavors of the season.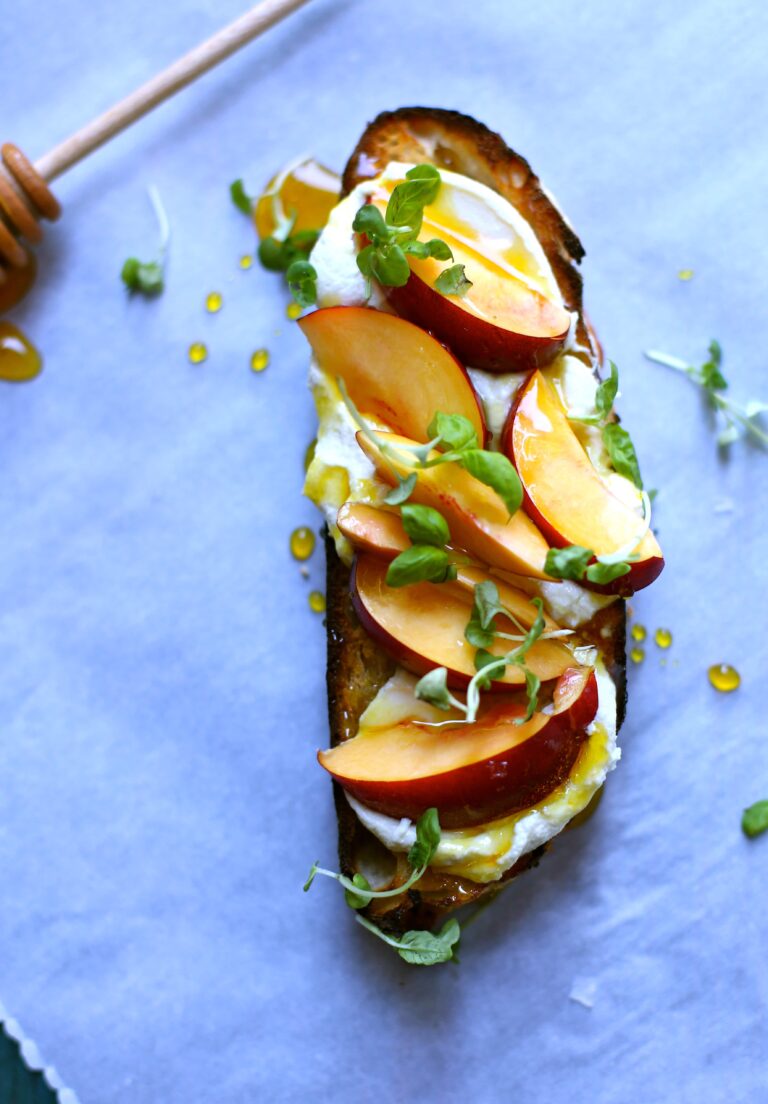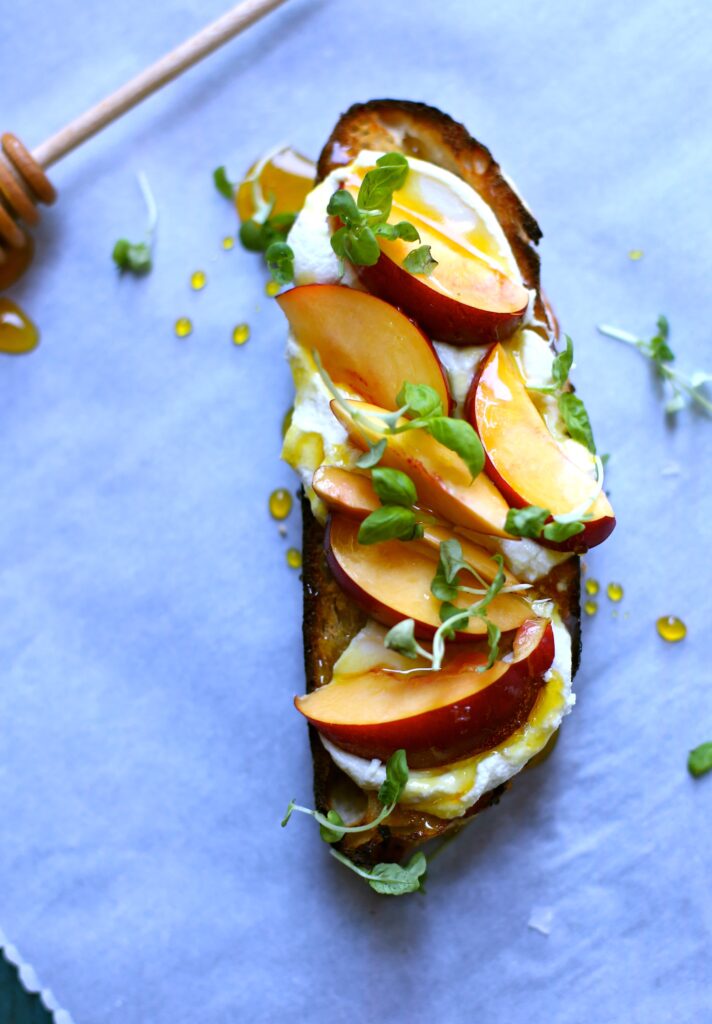 I'm a firm believer in calling something what it actually is.
I was going to name this recipe "Nectarine Tartine", but it rhymed weird and really, what follows here is really just toast.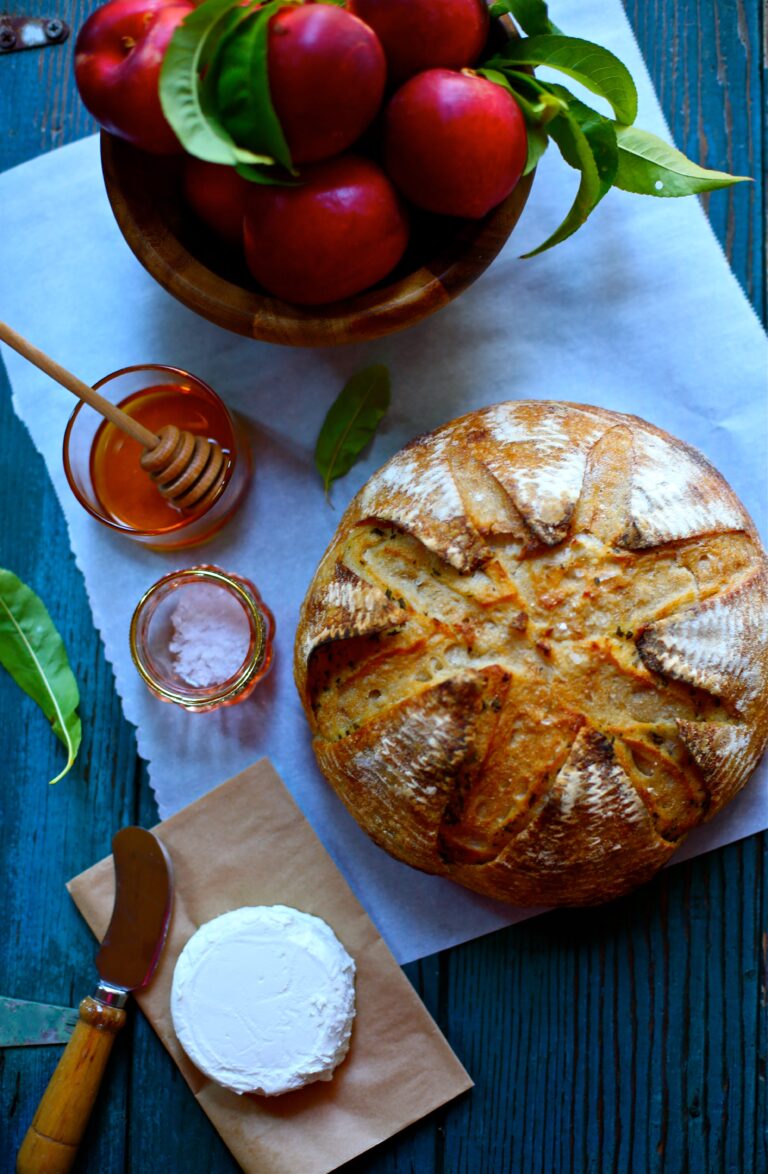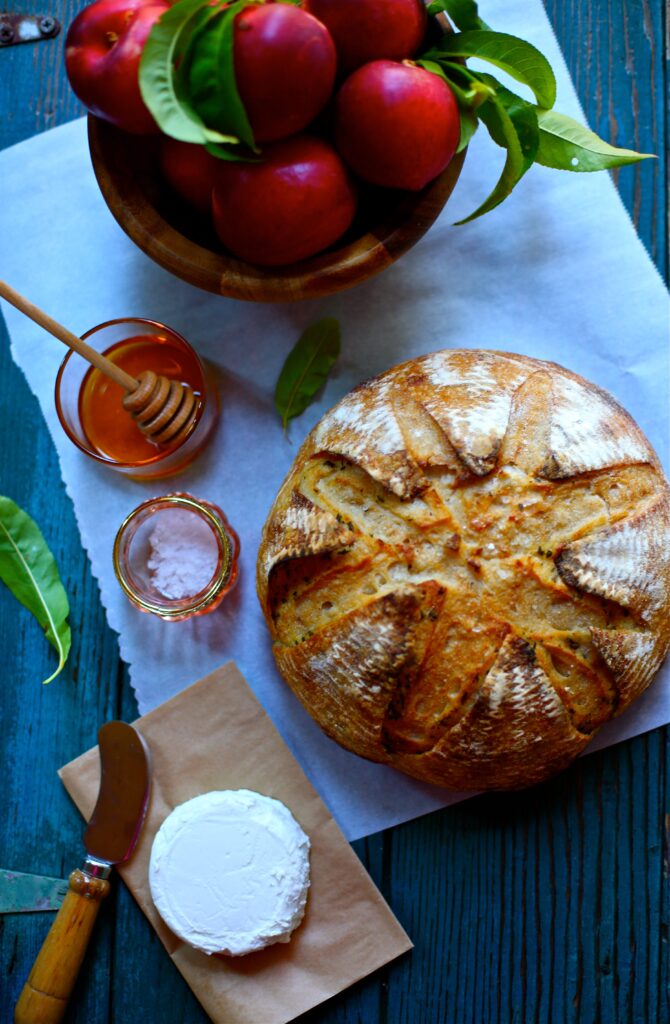 Fabulous, amazing toast.
Get the freshest sourdough bread round you can find, then slice and toast it with a drizzle of good olive oil.
Swirl softly whipped goat cheese spiked with honey on each toast and top with juicy slices of sun-warmed nectarines.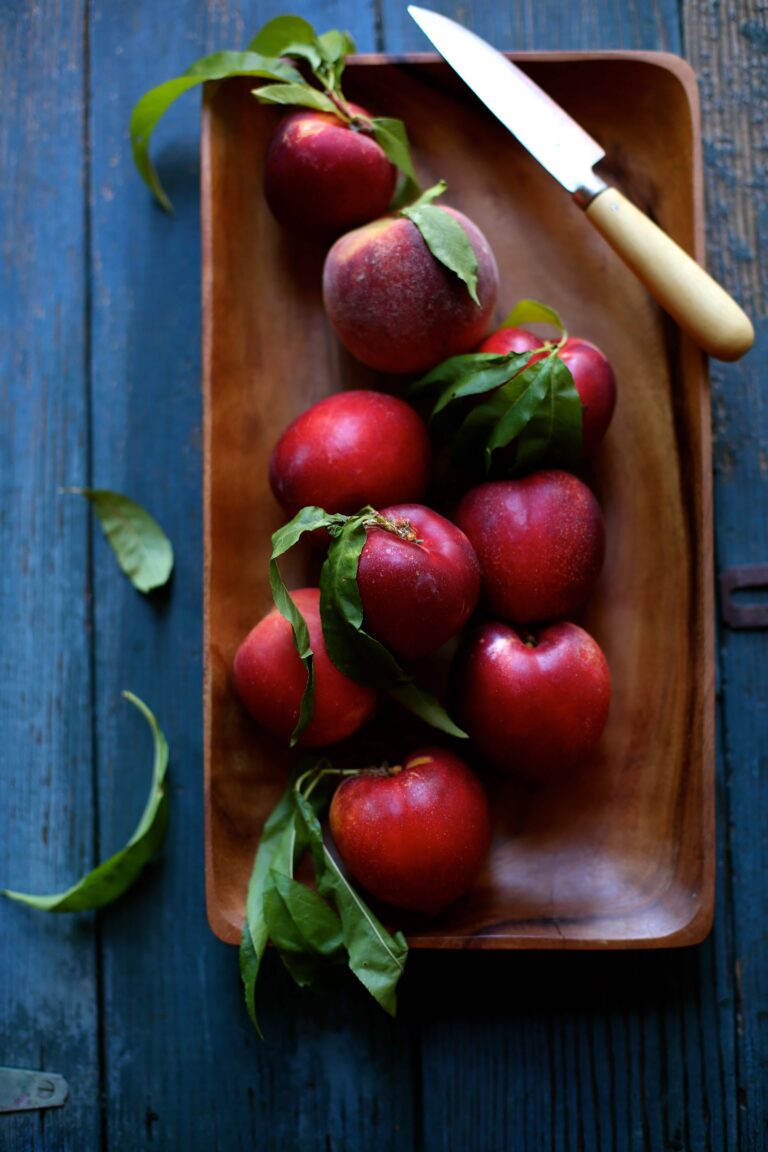 Finish it off with a dusting of flake sea salt and fresh basil and you've got in your hands one of the best things you'll eat all summer.
Not much else going on in my world this week, unless you count the giant spider that dropped randomly out of sky and straight down the front of my shirt while I was sitting in a business meeting.
This was not good at all because surprisingly, I'm not a fan of giant spiders.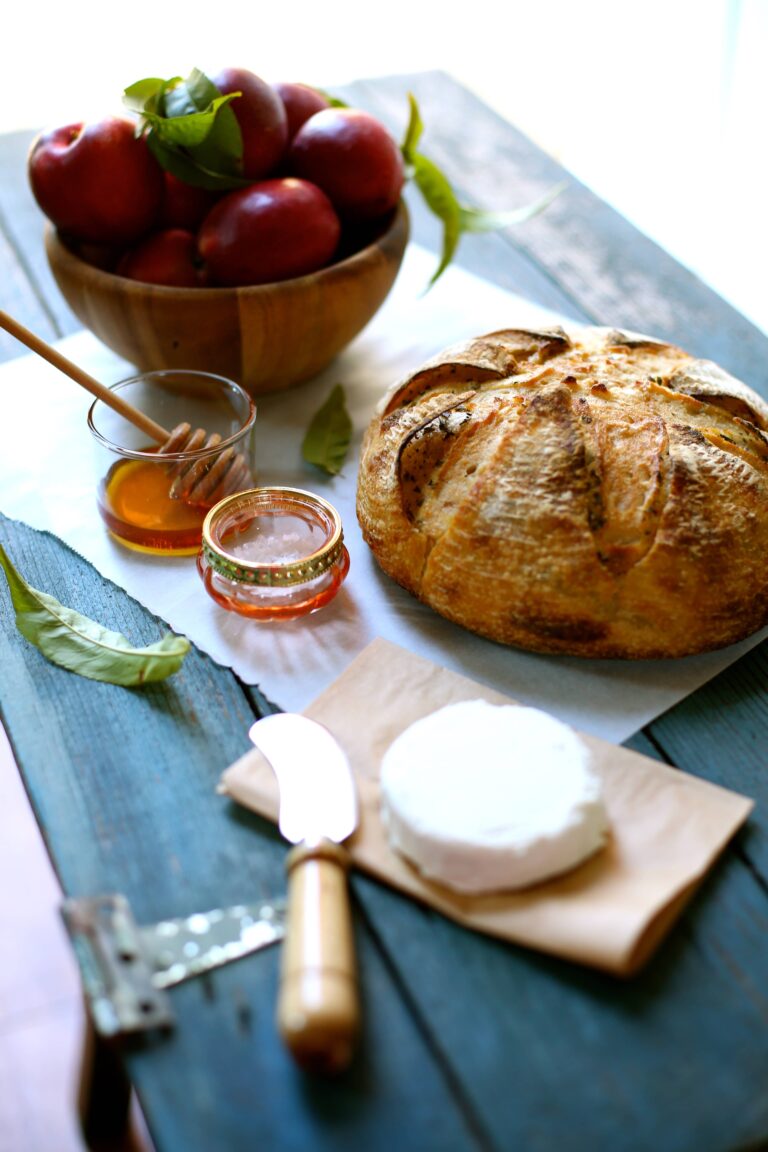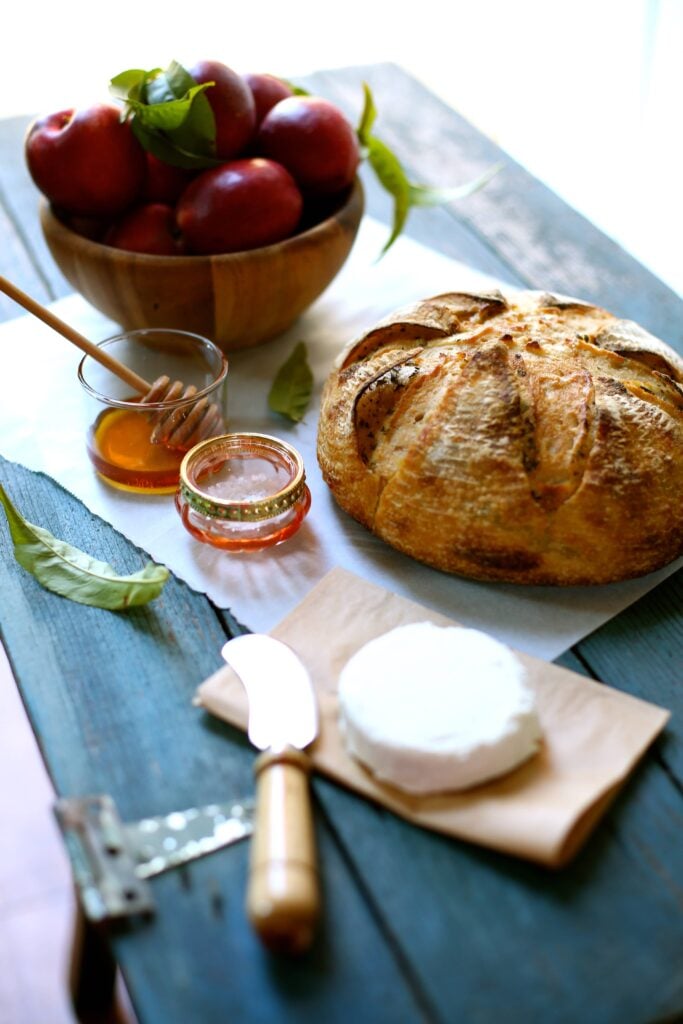 The person sitting next to me was no doubt wondering why I was wildly flailing my arms and swatting myself for a reason known only to me.
While I don't wish anything bad on spiders, by entering this particular dark hole the poor thing never stood a chance 🙂
So I've been a little itchy and paranoid ever since.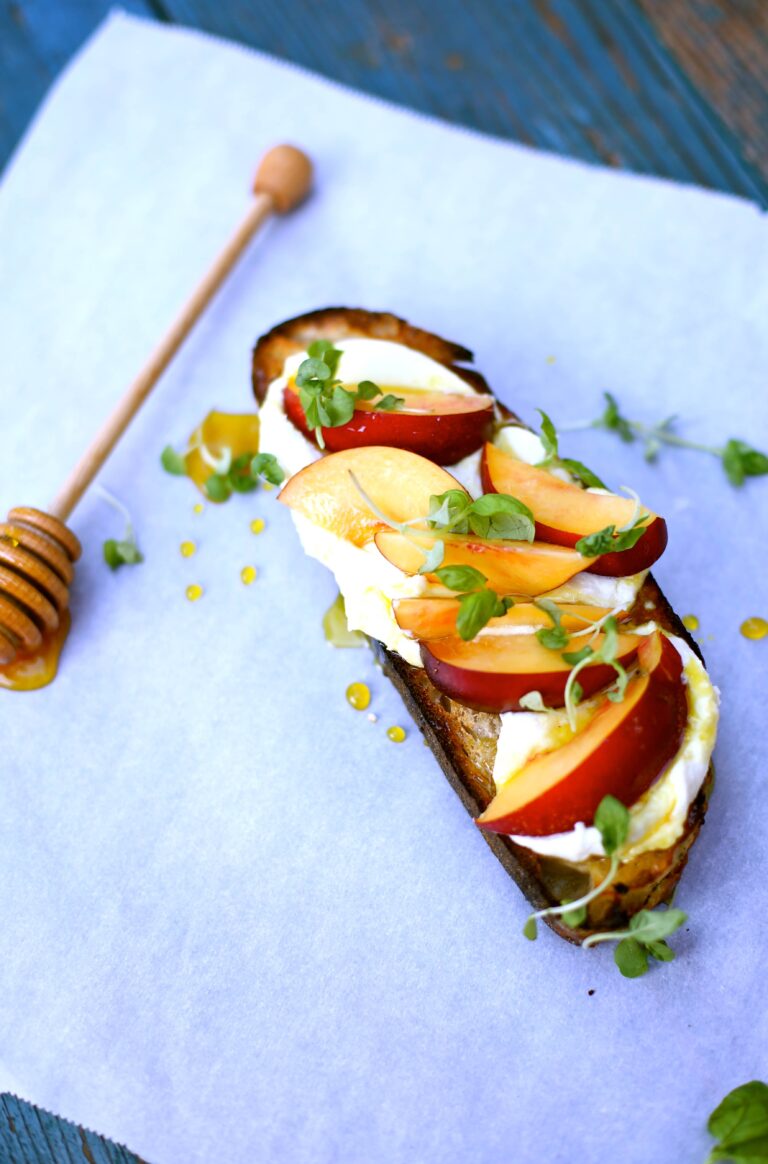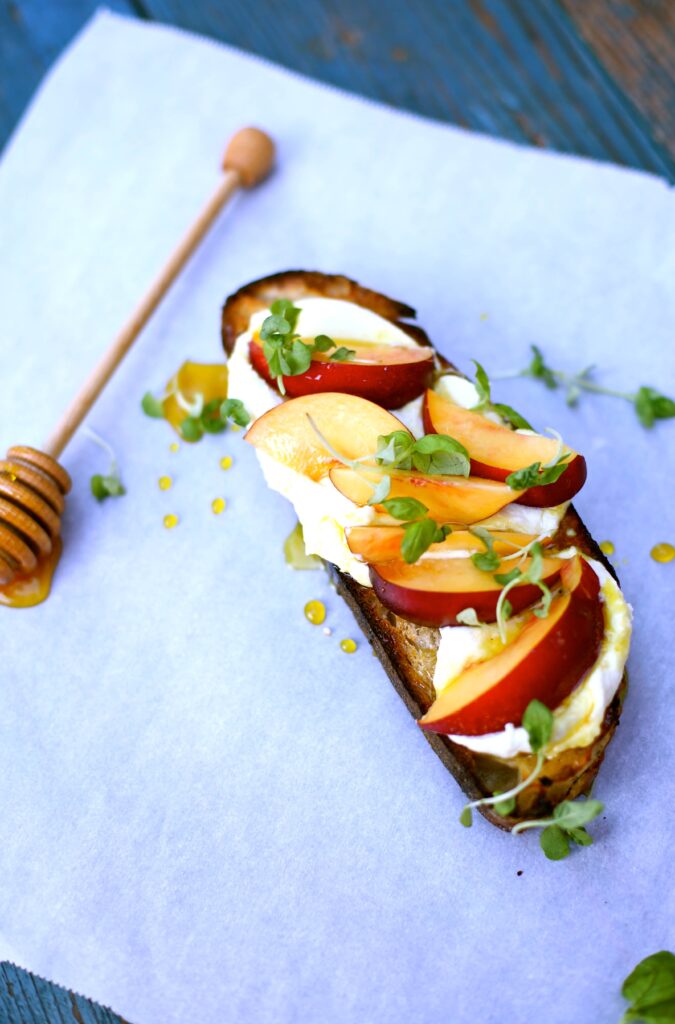 Toast gets bonus points for being quick, plus it doesn't heat up the whole house.
It's satisfying and a little indulgent and not too filling.
Easy and perfect for breakfast, lunch or even dinner.
Basically the most perfect thing to eat in the whole wide world –  and just that simple.
Here's another toasty idea for you: Goat Cheese Toasts with Cranberry Compote
HOVER OVER PHOTO TO PIN THIS RECIPE FOR LATER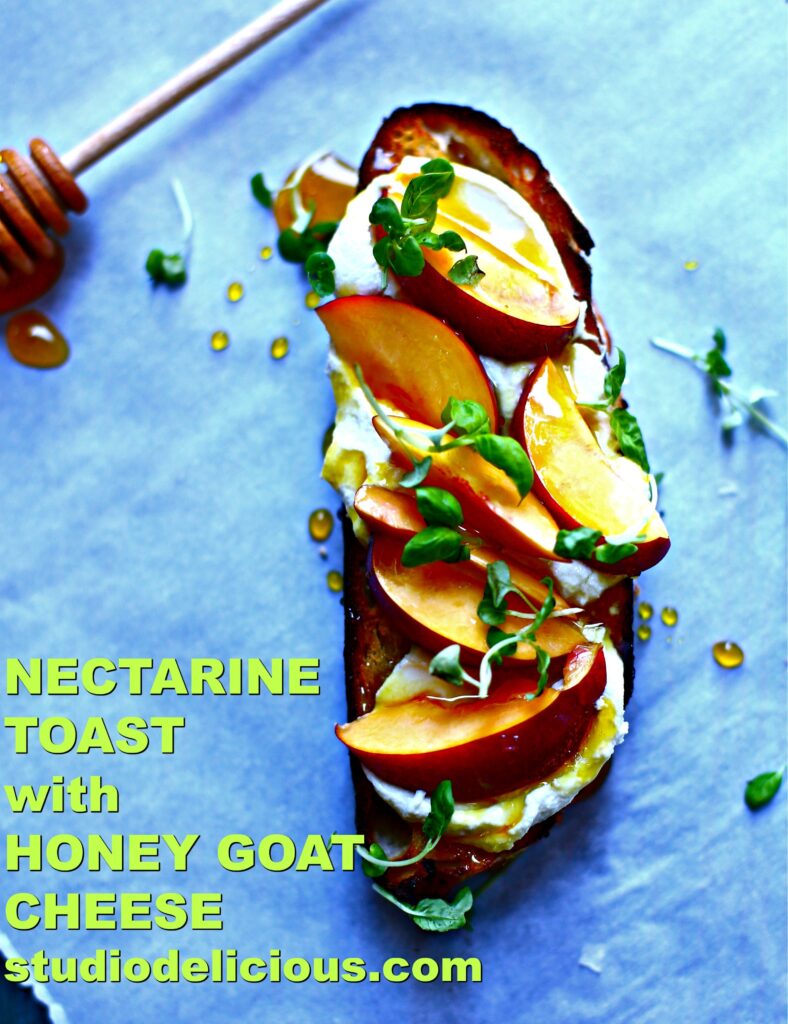 Ingredients
For four servings:

FOR THE TOAST:

Four slices of sourdough bread

cut from a sourdough round in 1" slices

Lemon flavored olive oil

or extra virgin olive oil

FOR THE HONEY GOAT CHEESE:

4

ounces

of goat cheese

slightly softened

1

tablespoon

of lemon olive oil

or extra virgin olive oil

2

teaspoons

honey

1/4

teaspoon

flake sea salt

4-5

nectarines

preferably organic, washed and dried

Honey and flake sea salt

for serving

About 3 tablespoons fresh basil leaves

sliced thin
Instructions
TOAST THE BREAD

Heat oven to broil setting and prepare a baking sheet by lining it with parchment paper

Drizzle the sourdough bread slices with the olive oil - just enough to lightly cover each slice, up to a tablespoon each depending on the size of your bread.

Place baking sheet on middle rack of oven and broil the bread until it's lightly brown and crispy on the edges.

Remove from oven and turn slices over, continue to broil for a minute or so, just to very lightly crisp up the other side.

Remove from oven and set aside until ready to assemble.

MAKE THE GOAT CHEESE SPREAD:

Place the goat cheese, lemon olive oil, and honey in a medium-sized bowl.

Using a hand-held electric mixer, whip the ingredients together until very smooth and light in texture, about 2 minutes.

Add the salt and mix for a minute or so more until combined.

PREPARE THE NECTARINES:

Slice the nectarines into 1/2" pieces and place in a medium-sized bowl.

If the nectarines are are a bit tart, add a teaspoon or so of honey to the bowl first before assembling the toasts.

ASSEMBLE THE TOASTS:

Divide the cheese mixture among the 4 toasts, about 2 tablespoons of cheese per slice.

Arrange nectarine slices on top, using roughly one nectarine per toast.

Drizzle with a teaspoon of honey, a pinch of flake sea salt, and a teaspoon of fresh basil leaves and serve.
SOURCE: Studio Delicious