I take these Little Veggie Cups with Hummus to gatherings of all kinds – they are a perfect healthy bite for your next office party, casual buffet table or book club.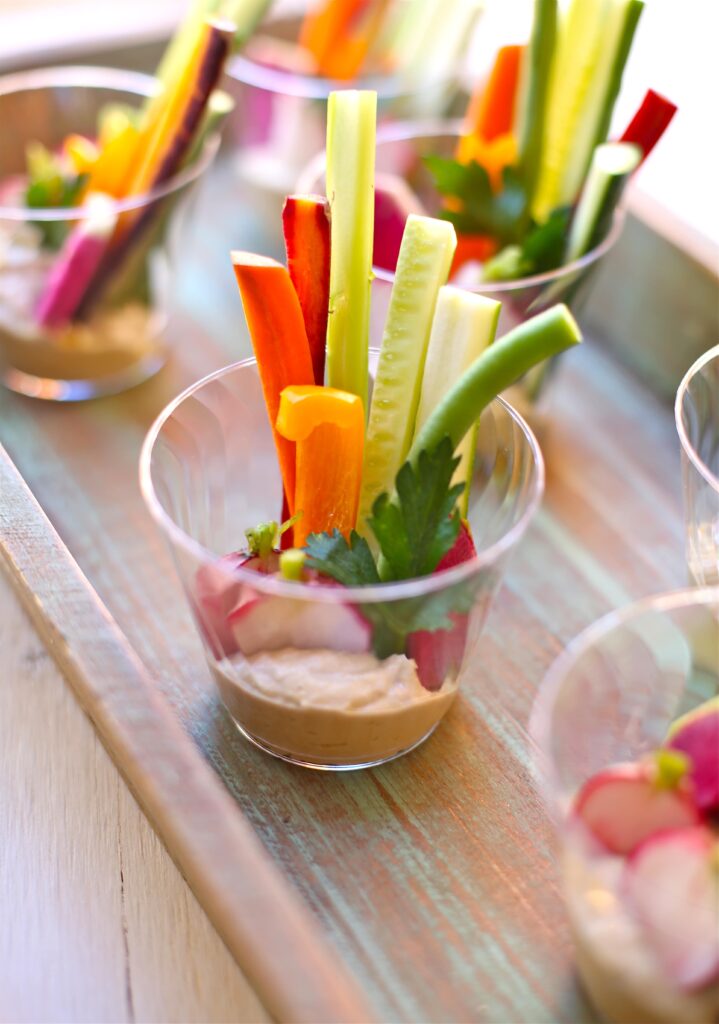 My name is Paige and I'm addicted to candy corn.
It feels good to get that off my chest.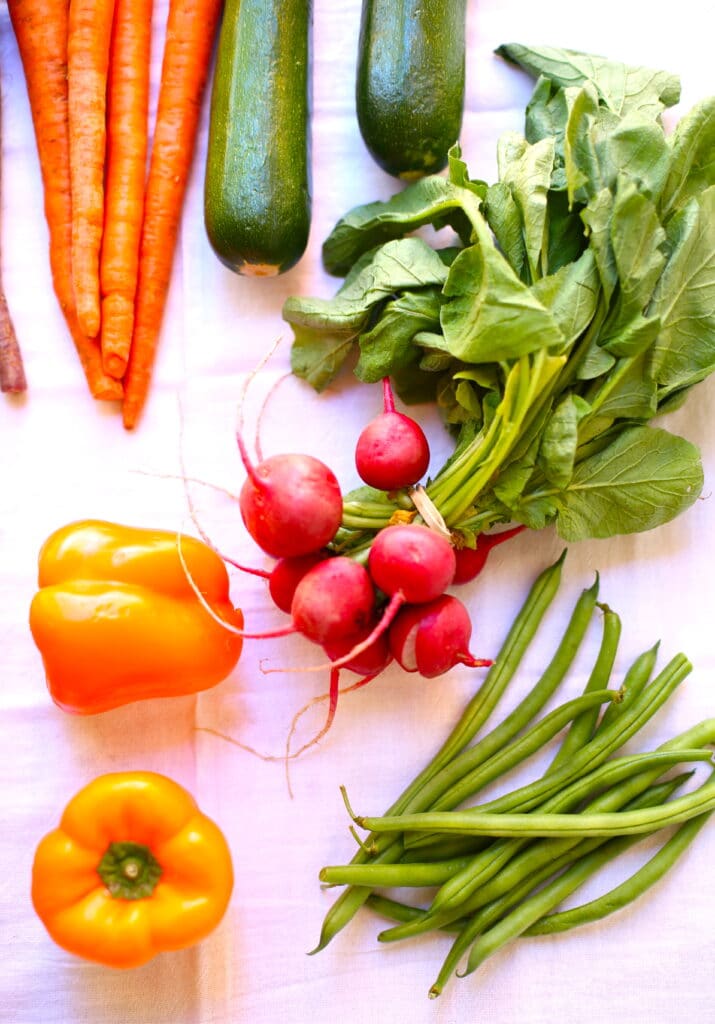 I'd go so far as to say candy corn is like crack to me.
Not that I've ever tried crack, or ever would.
As soon as Halloween candy comes out and I see bags of the pointy orange and yellow candy, I get excited and a little panicked.
I want them.
How can something so wrong feel so right?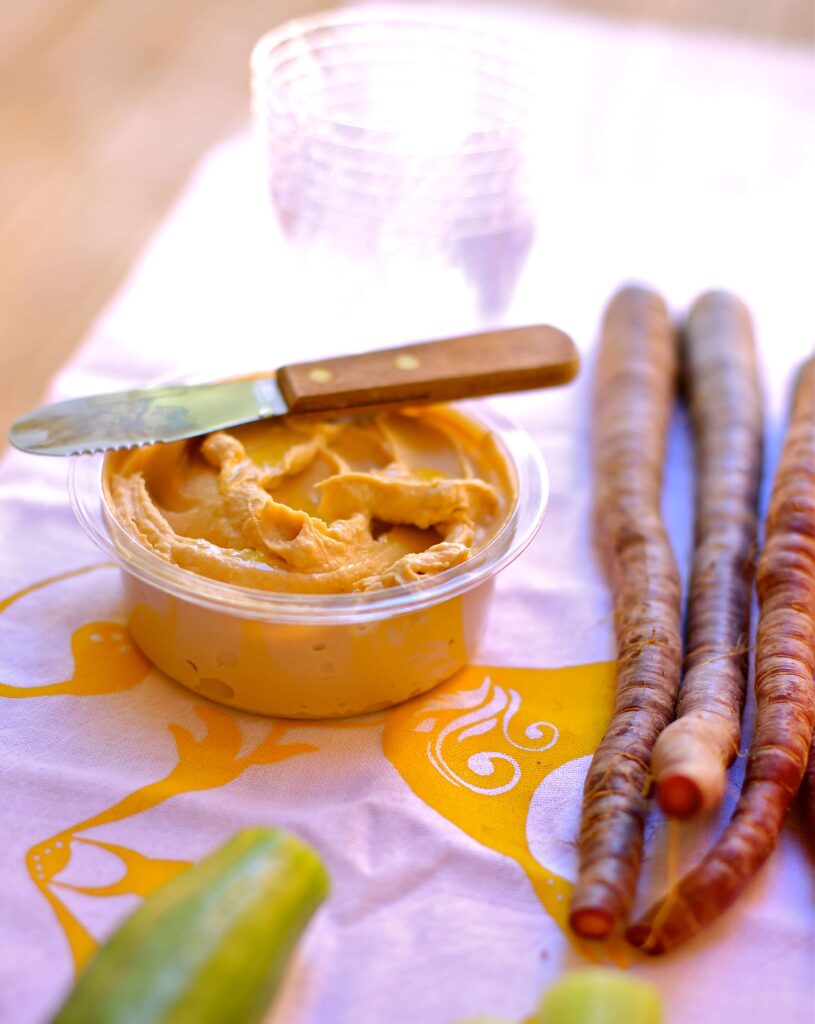 This year I found a big bag that had little packs – about 10 – inside.
And! They were organic, which is so important when one is thinking of a candy corn purchase 🙂
I'm guessing you can figure out how this went down.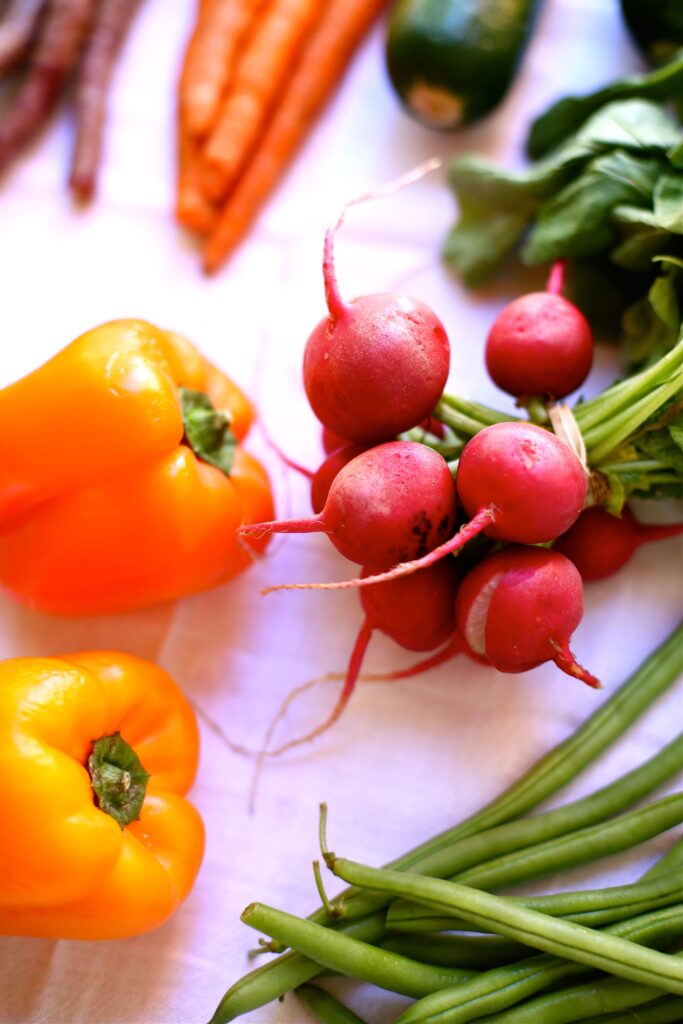 I did not use self-control and eat one pack a day which was the original plan.
Nope, the corn is gone – all of it – and I'm shocked, remorseful and sad all at the same time.
This has nothing to do with these adorbs Little Veggie Cups with Hummus, but it was an important story that had to be told 🙂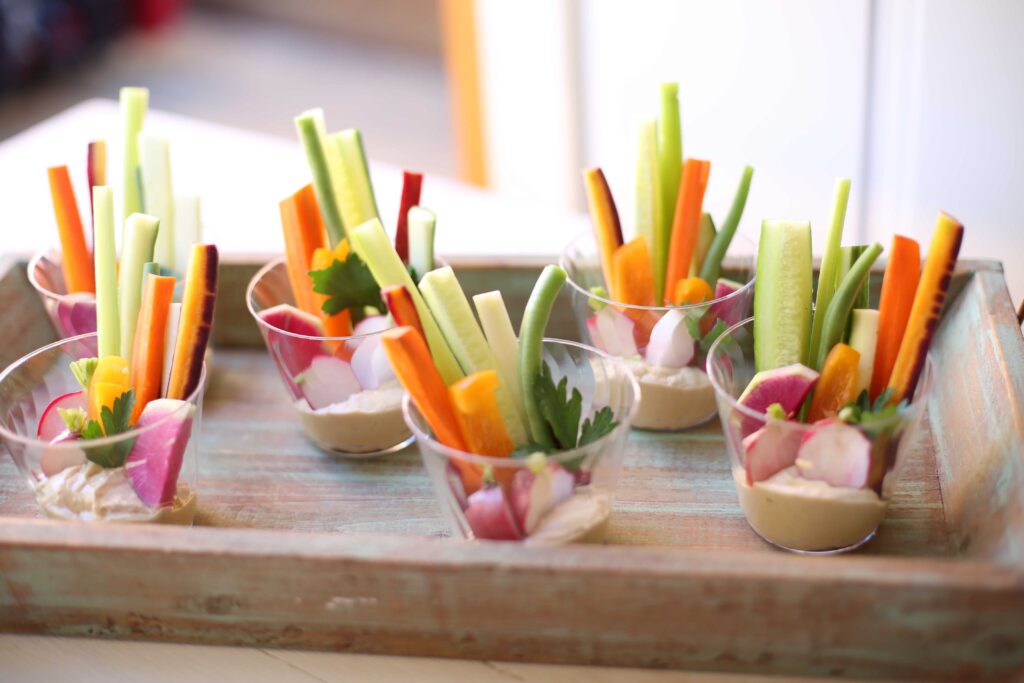 I'm not sure I invented this hummus veggie cup idea, but it's a keeper and this is my spin on it.
I used the best farmer's market organic vegetables I could find, added a heaping spoonful of store-bought lemon hummus to a small plastic cup and finished it with a drizzle of lemon olive oil.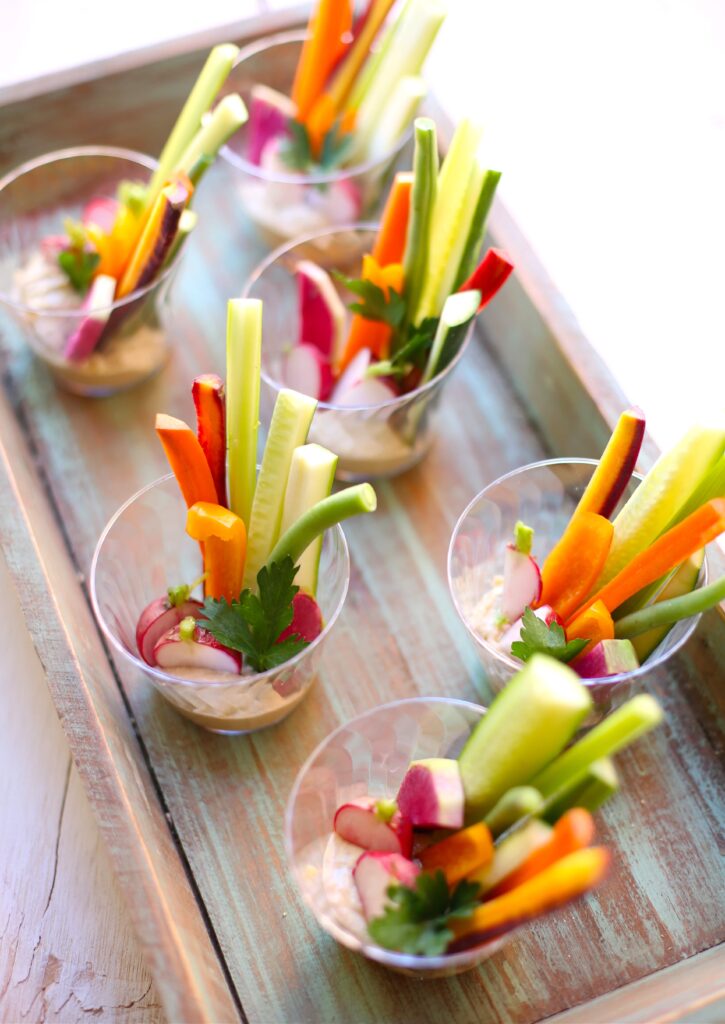 What's fun is everyone gets their own personal cup that's easy to hold, especially if you have a drink in your other hand.
If you take a few minutes to beautifully cut your vegetables with a nice, sharp knife, you'll be rewarded with plenty of "oohs" and "ahhs" whenever you serve these.
LITTLE VEGGIE CUPS WITH HUMMUS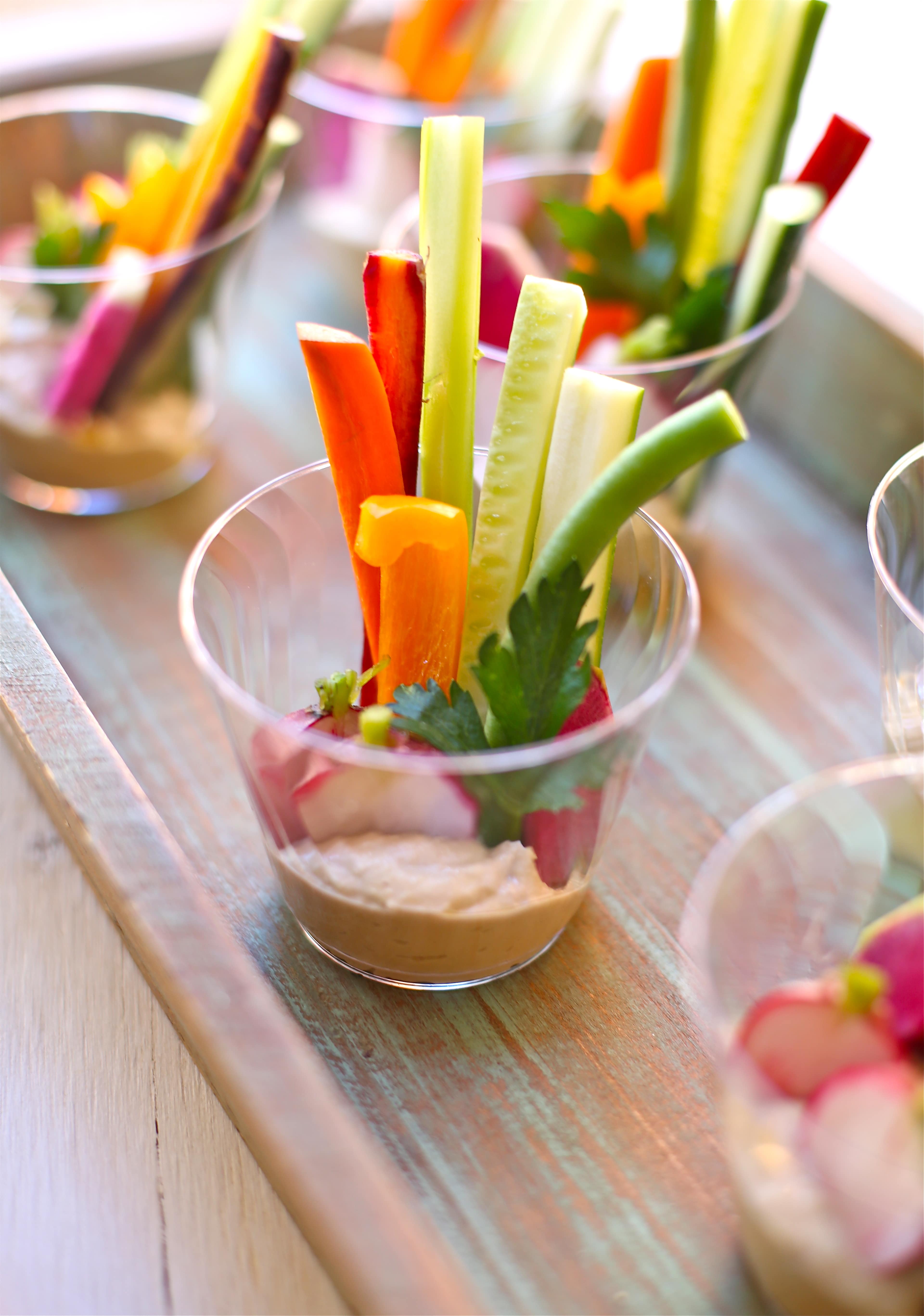 Ingredients
This is a flexible recipe, and you can use any kind of vegetables you want, so feel free to mix and match. I do think cutting your own vegetables with a nice, sharp knife makes the all the difference in a simple presentation like this.
This is s a general guideline for 6 servings, and it can easily be doubled or tripled if needed. I used farmers market quality organic vegetables.
You'll need:
Plastic cups: I used Chinet Cut Crystal plastic cups, 9 ounces each. Sometimes this style cup is called an Old Fashioned clear plastic tumbler. Whatever brand you use, just make sure to use a shorter size clear plastic cup that flares wider at the top.
8 ounces of hummus, plain or any flavor, I use lemon.
2-3 Carrots, peeled and cut in 1/2" batons
2-3 Purple or other heirloom variety carrot, prepared same as above
One bunch radishes, cut in half or quarters if too big
1-2 watermelon radish, cut in small 1/4" rounds
One medium English Cucumber, cut in 1/2" batons
One medium green zucchini, cut in 1/2" batons
2-3 stalks celery, cut in 1/2" batons
6 long green beans, both ends trimmed
1-2 orange bell peppers, 1/2" lengthwise slices
Flat leaf (Italian) parsley, for serving
Lemon flavored (or regular) olive oil, for serving
Instructions
Wash all vegetables, peel and trim as needed. Dry with a clean dish towel before cutting as noted.
The length you cut your vegetables will depend on your plastic cups. For the baton cut vegetables, mine were between 4-5 inches long.
Place 2 rounded tablespoons of hummus in the bottom of each cup.
Place one or two pieces of each kind of vegetable in each cup. I used one piece of the long vegetables and a couple of each radish pieces, otherwise it gets too crowded and messy looking.
Drizzle a 1/2 teaspoon of olive oil over the hummus side of the cup, and top with a leaf or two of flat leaf parsley.
Place the cups on a large platter or tray for serving.
7.8.1.2
52
https://www.studiodelicious.com/little-veggie-cups-hummus/
SOURCE: Studio Delicious
Please don't reprint/copy and paste photos with recipes from Studio Delicious without prior permission as they are copyrighted. If you'd like to feature a recipe on your website, please rewrite the header and method of preparation in your own words and link back to this original post with Studio Delicious as the source.