Little Jam Tarts are absolutely adorable, and fun to make too.  This mini fruit tart recipe makes alot, so be sure to invite friends over to tea!
Little Jam Tarts
Right about now your New Years resolutions may be waning, and if that's the case you have my full support.  Who needs 'em?
When I was a kid, my Mom had us write our annual goals on a lined sheet of yellow paper, then posted it to the family bulletin board by the telephone for the world to see.
My brothers and I got a lot of grief about this from our friends  so I kept mine attainable, like "floss more" and "chew less gum" ( I hate gum.)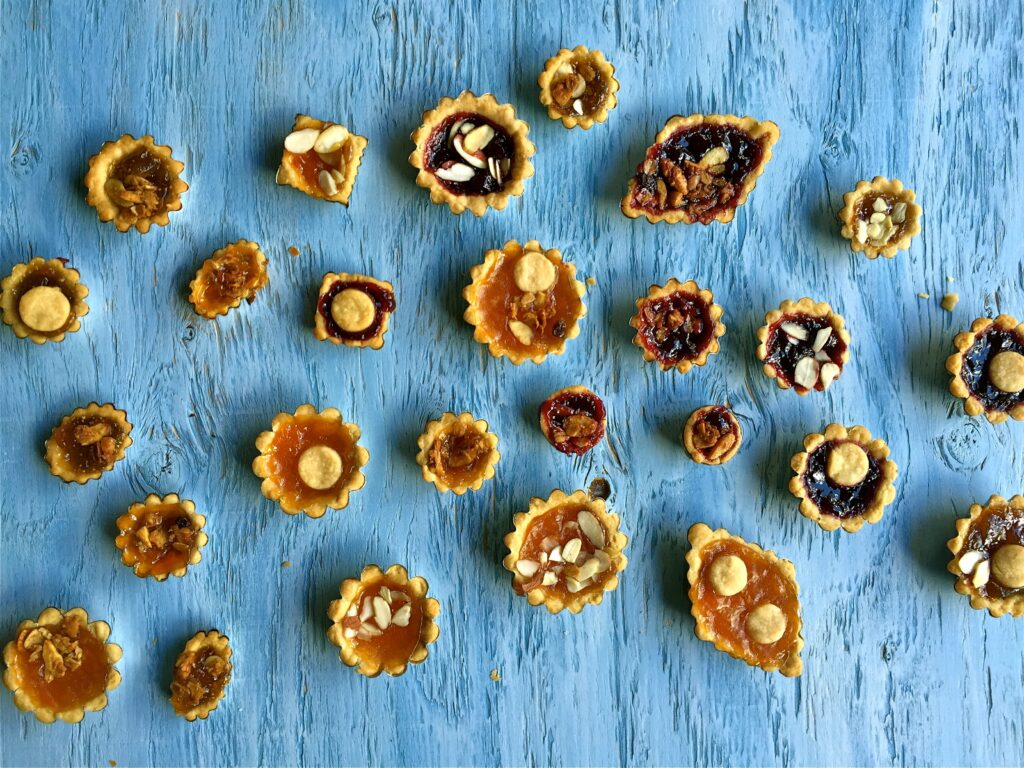 Many Oprah magazines and self-help books later, I now set intentions instead of resolutions on January 1.
"Resolutions" sounds like "regulations" which reminds me of rules, and I don't like any of those things.
So this year, I plan to eat exactly what I want. Just not all at once, same as Oprah.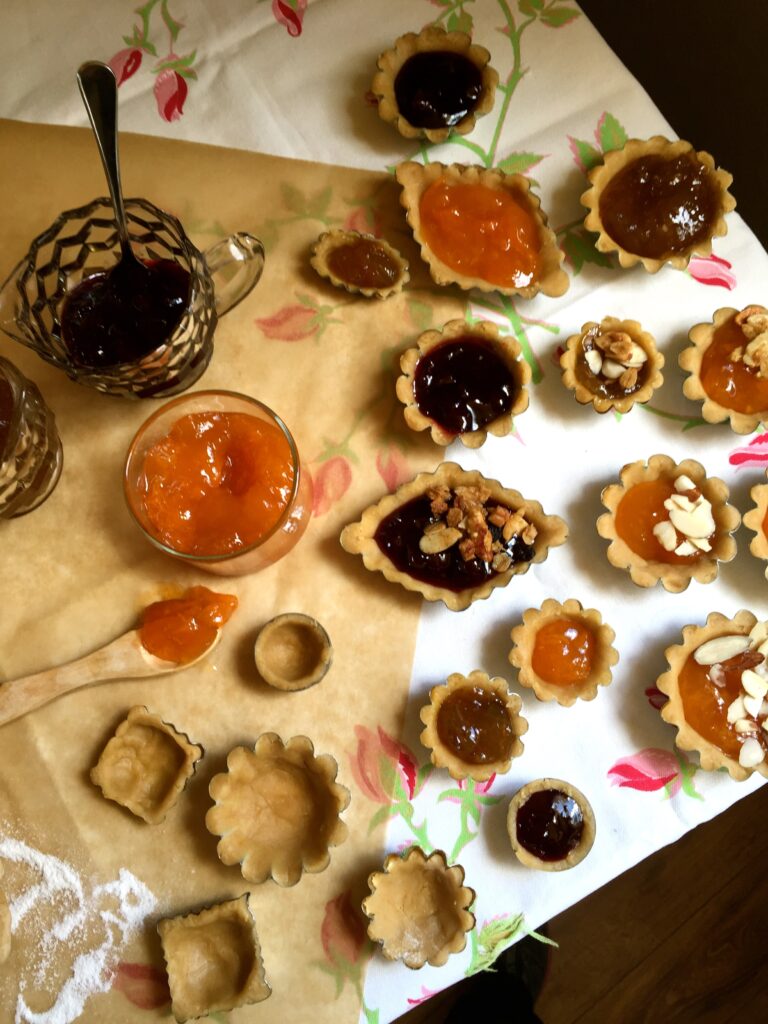 In the dead of winter, the bright taste of fruit jam is welcome.
These tasty little tarts are easy to pop in your mouth whenever the mood strikes.
The dough comes together quickly in a food processor, then lightly press in small baking tins.
Dot with a spoonful of jam, and sprinkle with sliced almonds, granola or a little cut out of dough on top.
I used homemade apricot jam, and store-bought cherry and fig, but feel free to experiment with any flavor you'd like.
Little Jam Tarts
Little Jam Tarts are fun to make and eat! These little fruit tarts are great for a mini dessert table too!
Print
Pin
Rate
Total Time:
1
hour
25
minutes
Ingredients
1 3/4

cup

Flour, all purpose

plus a little more for dusting

2

tablespoons

Sugar

1/4

tsp.

Salt

3/4

tsp.

Cinnamon, ground

3/4

cup

Butter, cold, unsalted, cut into small pieces

1 1/2 sticks

2

Egg Yolks, large

2

tablespoons

Ice Water

1/2

tsp.

Lemon Zest, fresh

1

tablespoon

Heavy Cream

for egg wash

1

cup

Jam, good quality, any flavor

I used apricot, cherry and fig

1/4

cup

Almonds, sliced
Instructions
Make the CRUST

In a food processor, add flour, sugar, salt, cinnamon. Pulse to combine. Add butter, and continue pulsing until mixture looks like coarse meal.

In a medium bowl, whisk one egg yolk with the water and lemon zest, then add to flour mixture. Pulse until dough combines together. Remove dough, press into a disk on a surface dusted with a bit of flour, wrap in plastic and refrigerate for at least one hour, and up to 8.

PREPARE THE TARTS FOR THE BAKING

Preheat oven to 350. On a floured surface, roll the dough to 1/4 inch thick, and cut round shapes to fit into a 2-3 inch tartlet tin.

Spray the tins lightly with a non-stick baking sprayPinch a generous teaspoon into each tin, and press the dough in as evenly as possible, trimming any excess dough off the sides.

Fill each tart with 2 teaspoons of jam, adjusting depending on the size of your tartlet tin.

Sprinkle the tarts with a few sliced almonds, a pinch of granola, or more dough cut into a small round as garnish.

Combine the other egg yolk with the cream, and lightly brush it over the edges of the dough with a pastry brush or your finger.

Place all tarts on a cookie sheet lined with parchment paper and place in the lower third rack of your oven.

Bake until edges of crust are lightly golden brown, 20-25 minutes.

Let the tarts cool for 10 minutes or so, then carefully remove from tins and let them cool completely.
Notes
The serving size for these depends entirely on the size of your tart tins. Use a mixture of smaller sizes for about 22 tarts. 
Try granola instead of sliced almonds as a garnish
This recipe was updated in December 2019.