These Easy Little Blueberry Lemon Pies are pretty, delicious, and fun to make. Pack these in your picnic basket to make the most of your summer days.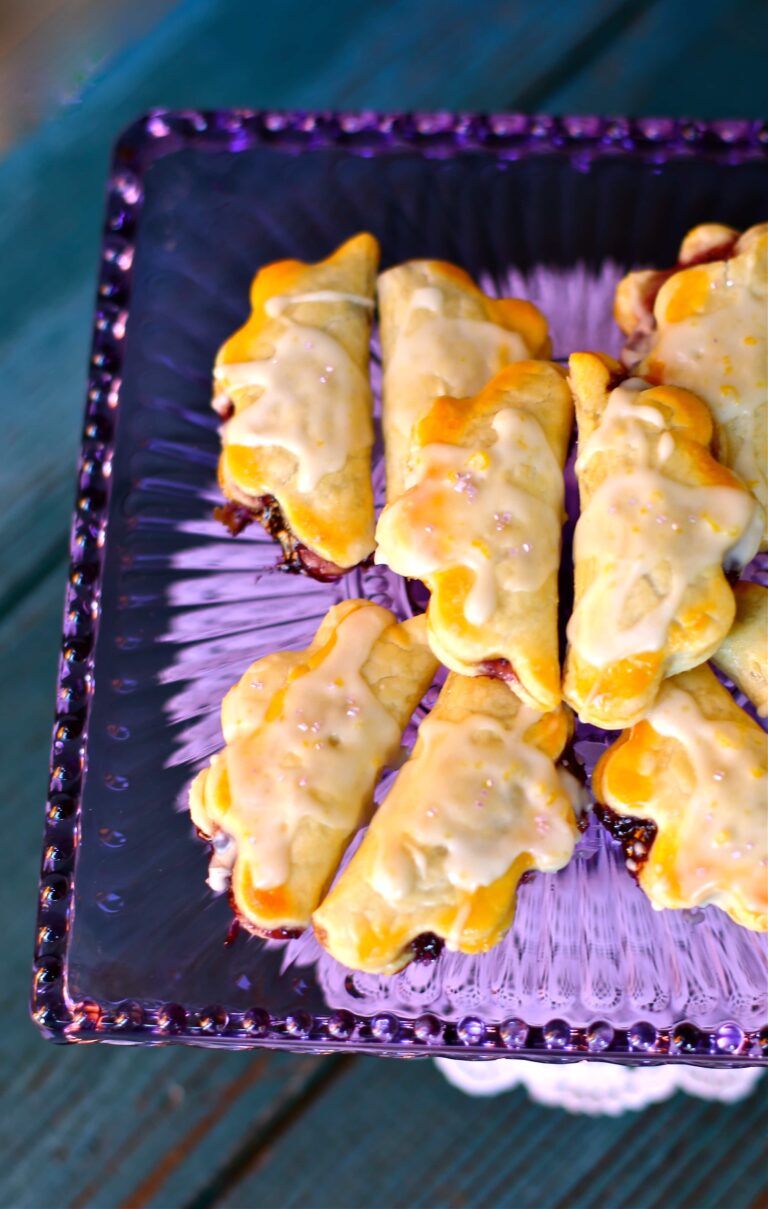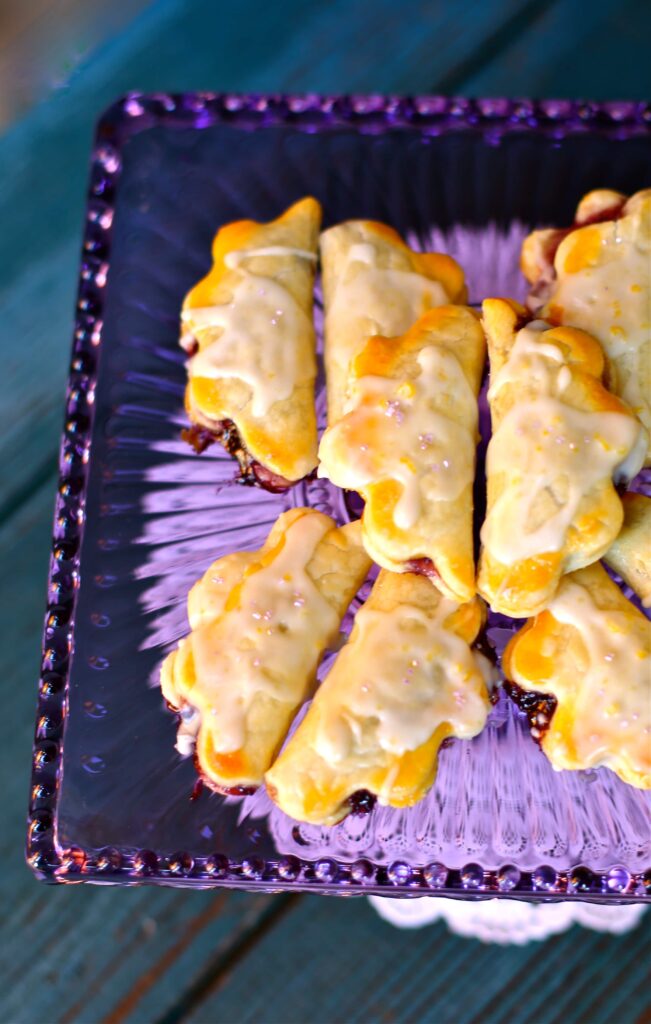 It's only the first week of August, and I already feel a twinge of fall.
The shadows outside are changing, and there's coolness in the air.
It was downright chilly on my walk by the river this morning.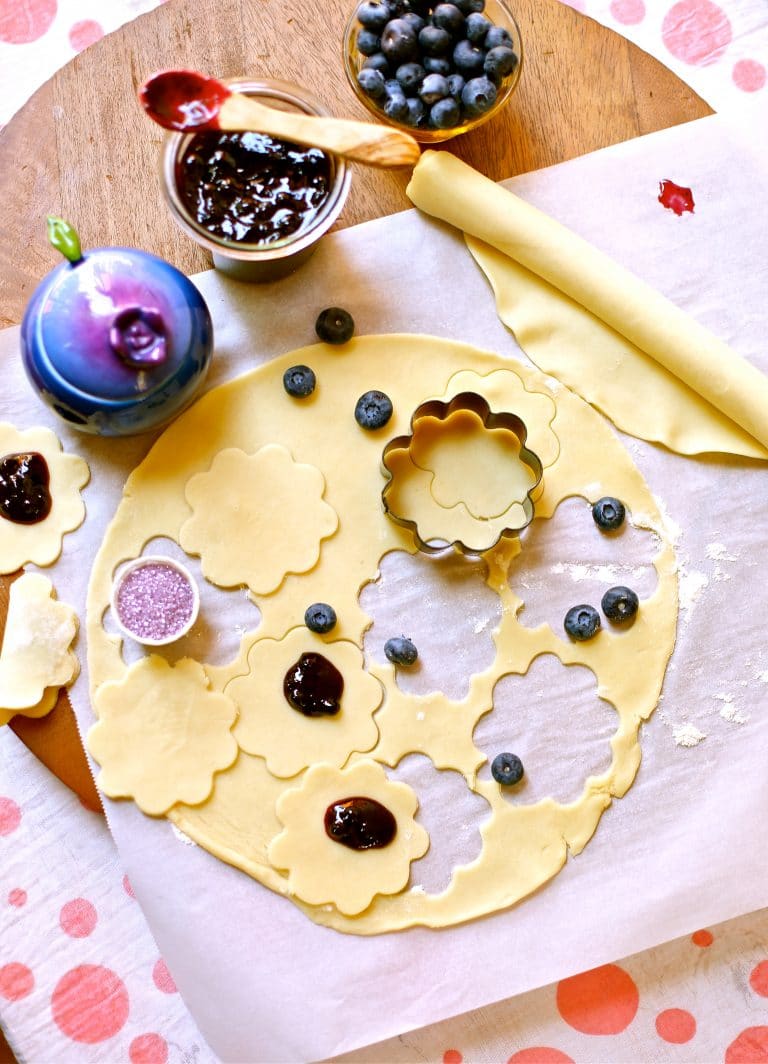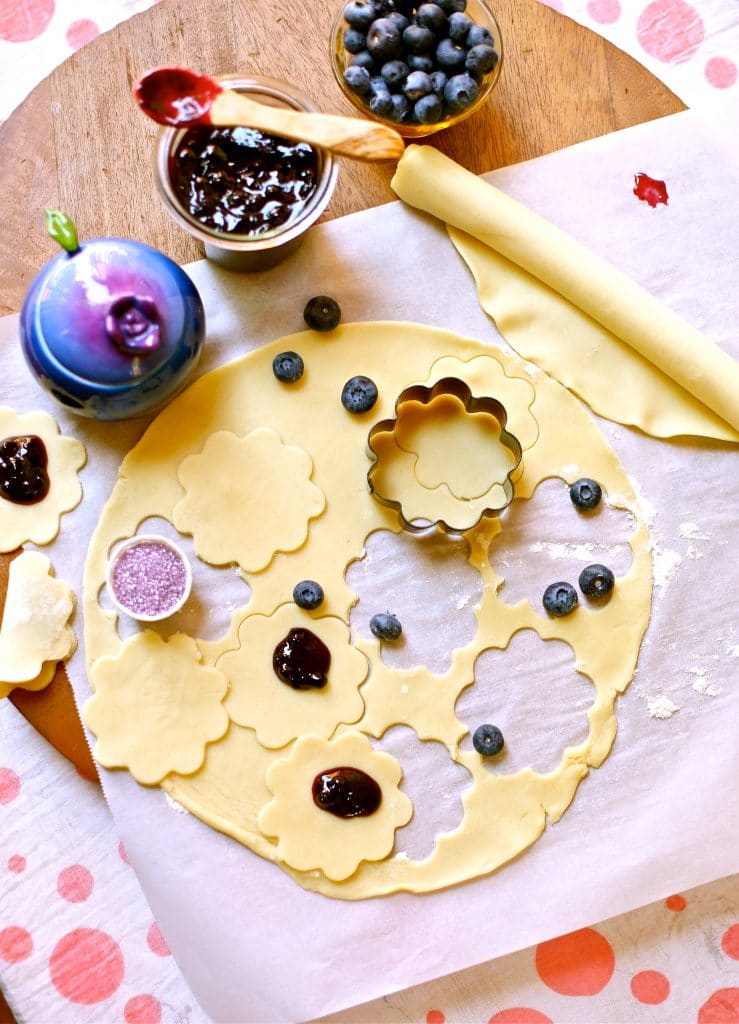 The pumpkin spice monster is knocking at the door.
Here's the problem – I'm not quite done with summer projects yet.
I've spent many weekends recently just purging and organizing—nothing is off-limits.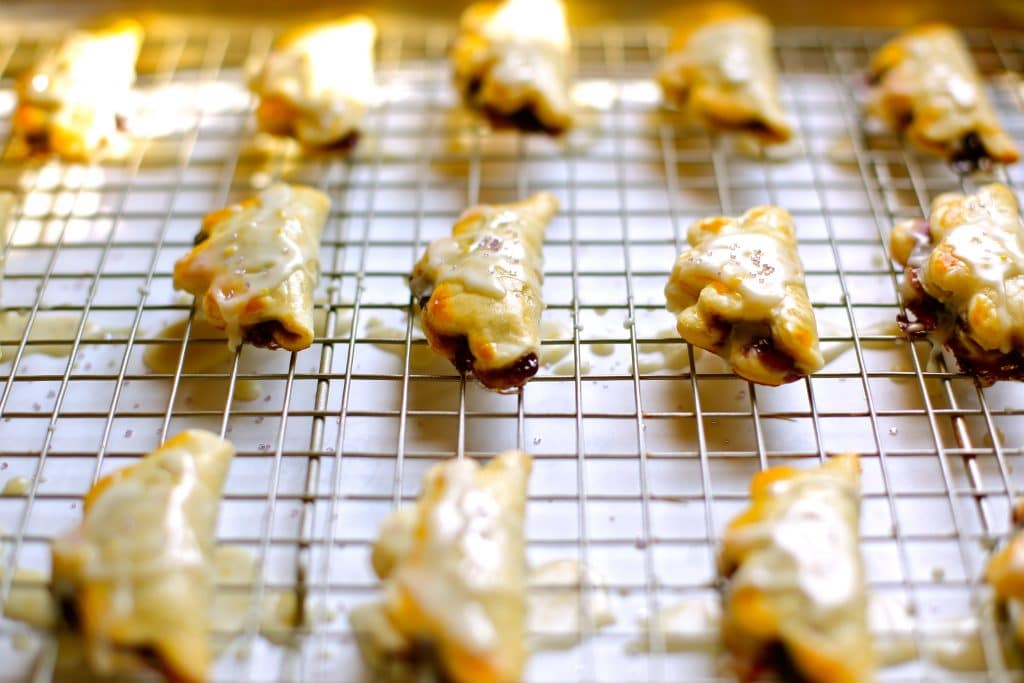 There are old treadmills to be tossed, and empty jam jars to store away in the shed.
I haven't sat on my porch nearly enough.
The urgency to get things done is a bummer and I don't like it.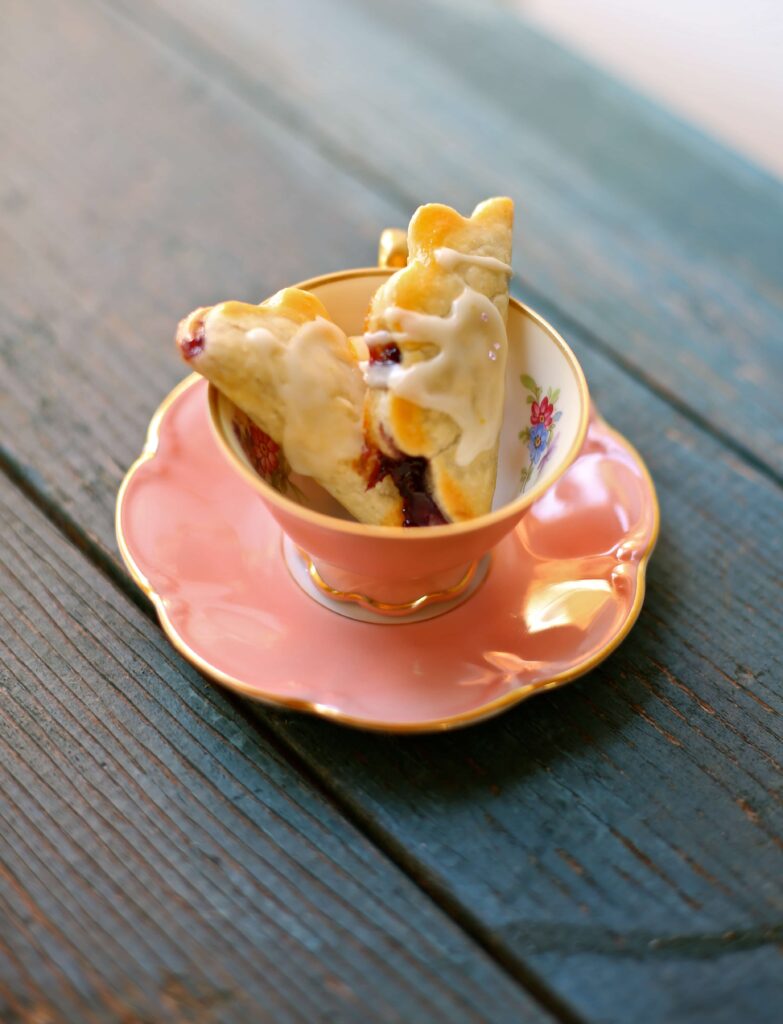 Why is it that big cleaning projects, which are at once miserable and very, very satisfying, lead to spurts of intense procrastination?
I'm always looking for the easy way out, I guess.
Speaking of which, these Easy Little Lemon Blueberry Pies were hands down the best thing I ate all week.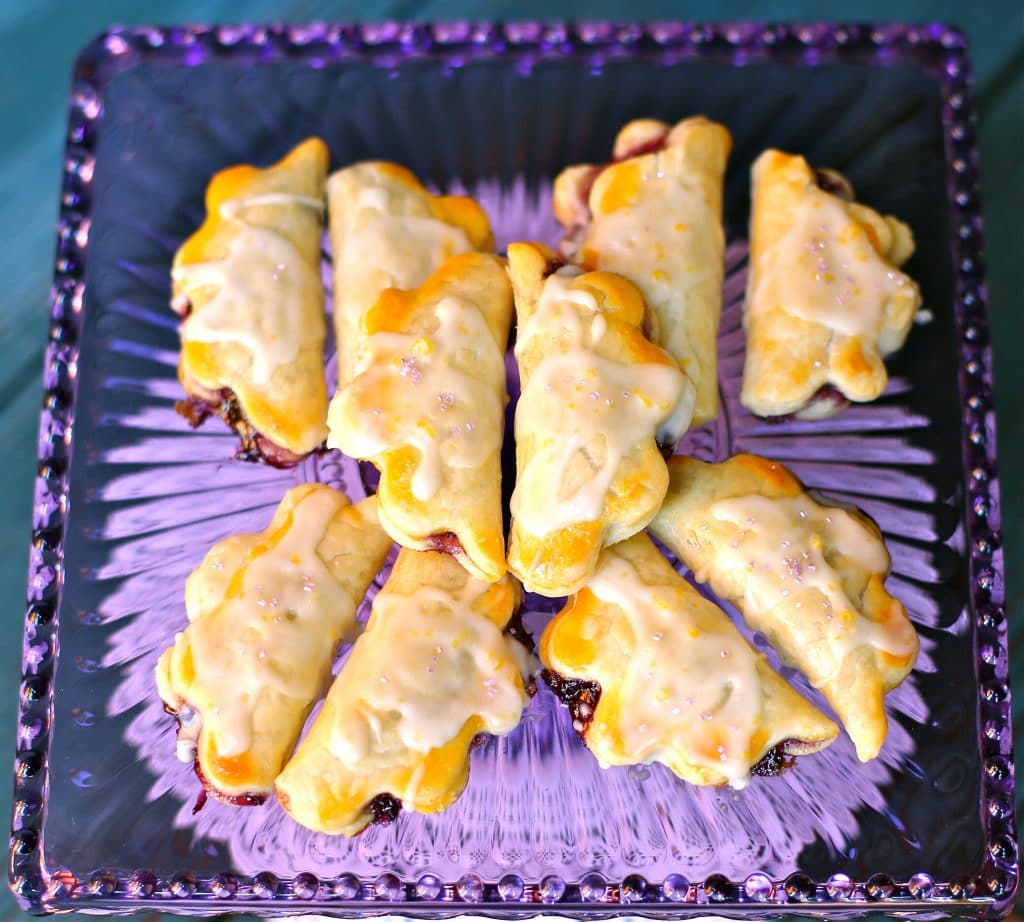 Also, I used a store-bought pie crust.
There's zero shame in this, because a scratch pie crust is not always possible.
In a perfect world, we'd all have a freezer stocked with homemade pie crust, wrapped tightly in plastic and perfectly labeled, on stand-by for the oven at all times.
This isn't going to happen in my life any time soon.
These Easy Little Lemon Blueberry Pies are pretty and simple.
The first thing you taste is blueberry jam, then buttery crust, finished with a sweet-tart lemon zesty glaze.
I witnessed a person pop a whole one in his mouth, eating the little pie in one bite.
Enjoy these on your summer days 🙂
HOVER OVER IMAGE AND PIN FOR LATER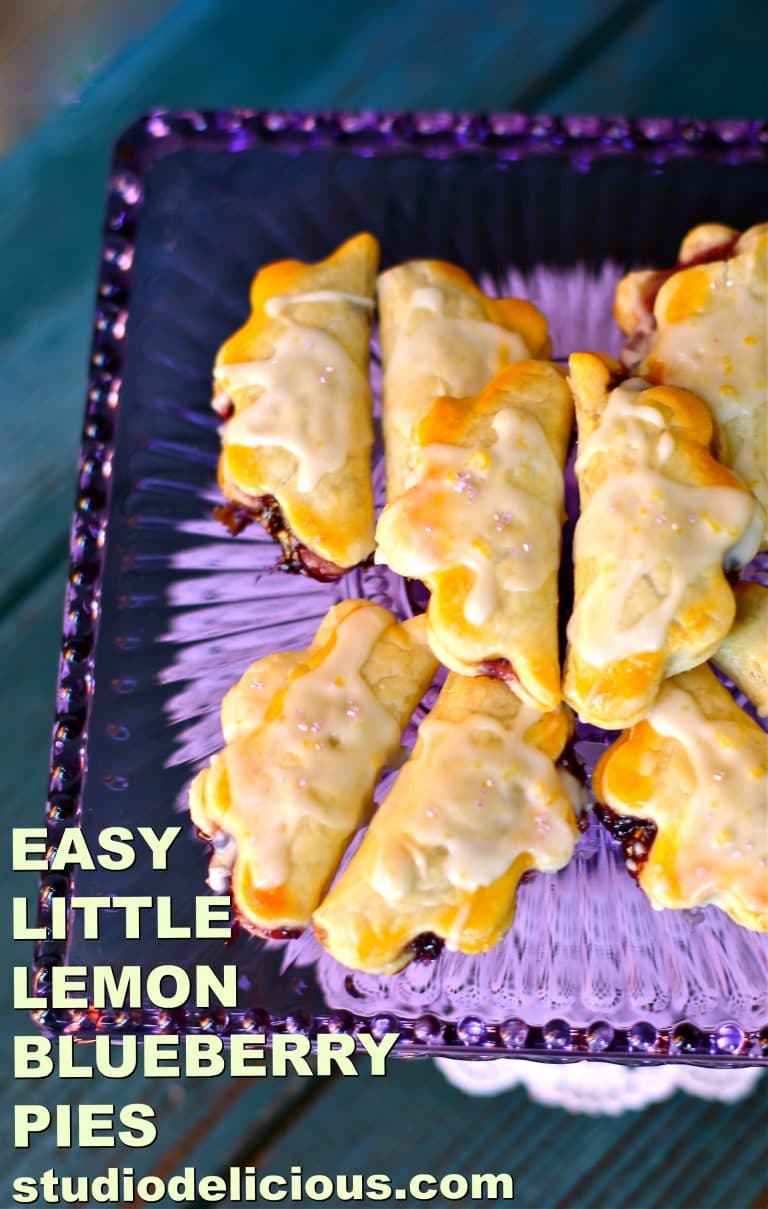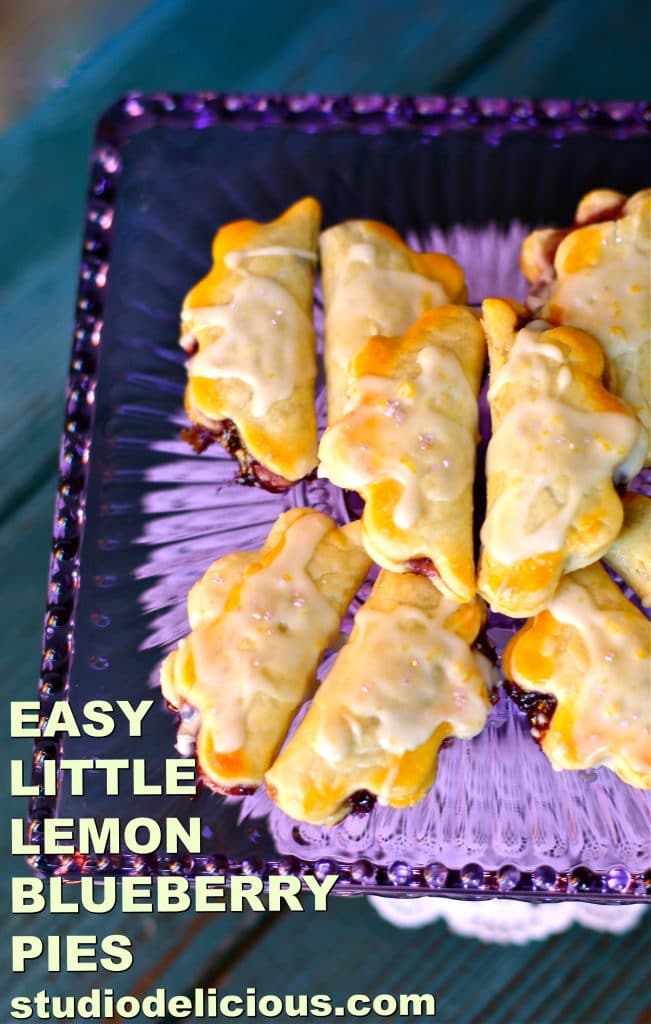 For more pie-like recipes, try:
Ingredients
For about 20 pies

you'll need:

2

Refrigerated Pie Crusts

A lightly floured cutting board or other work surface

A lightly floured rolling pin

a 3" fluted cookie cutter

Wild Blueberry jam preserves

about 1/3 cup

1

egg

lightly beaten

a small pastry brush

A large baking sheet lined with parchment paper

Lavender colored

or other sprinkles for garnish

FOR THE LEMON GLAZE

1/2

cup

powdered

confectioners sugar

1/2

teaspoon

fresh lemon zest

1/4

teaspoon

lemon extract

vanilla works too

1

tbsp.

or more of cream
Instructions
HEAT OVEN TO 350

MAKE THE LEMON GLAZE

In a small bowl, combine the powdered sugar with the lemon zest, lemon extract and 1 tablespoon of cream. Combine with a spoon until all the lumps are gone, adding a 1/2 teaspoon of additional cream at a time if needed. You want a syrup-like consistency.

Set aside until ready to drizzle on the cooled pies.

MAKE THE PIES

On a lightly floured work surface, place one unrolled pie crust out and using the fluted cookie cutter, cut the crust many times as you can, gathering the un-used crust scraps up with your fingers and rolling them out again with a lightly floured rolling pin.

Repeat for the second crust.

On each crust round, place 1/2 teaspoon of jam in the middle. Brush a little of the beaten egg around the edges of each crust, and fold over, pressing lightly to seal.

Continue until all pies are made, placing the finished pies on the baking sheet lined with parchment paper.

Refrigerate the pies for 15 minutes.

Brush the pies with the remaining egg wash using the pastry brush, and bake in the oven for 15-18 minutes until crust is lightly brown.

Remove from oven and cool completely on a wire rack.

Drizzle a teaspoon or so of the lemon glaze on each pie, and sprinkle with lavender (or other) sprinkles if desired.
SOURCE: Studio Delicious