Ice Cream Cake with Peanut Butter Ganache is an easy ice cream cake recipe that'll wow your guests!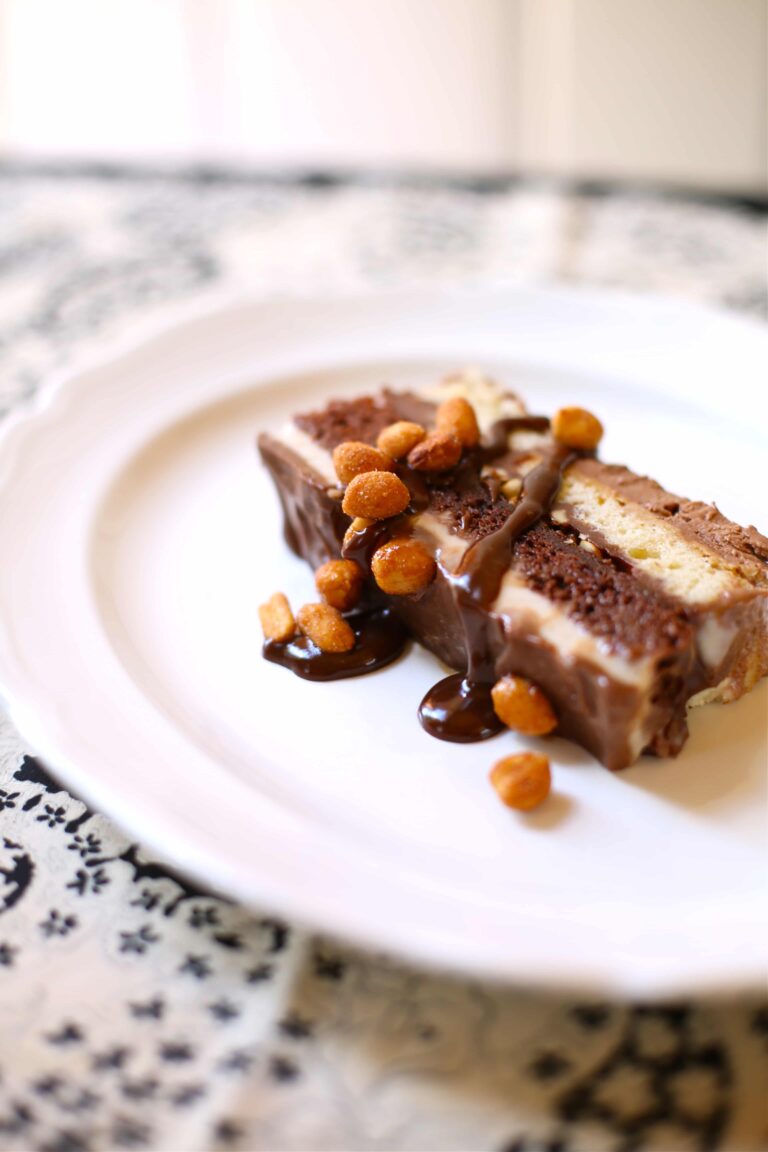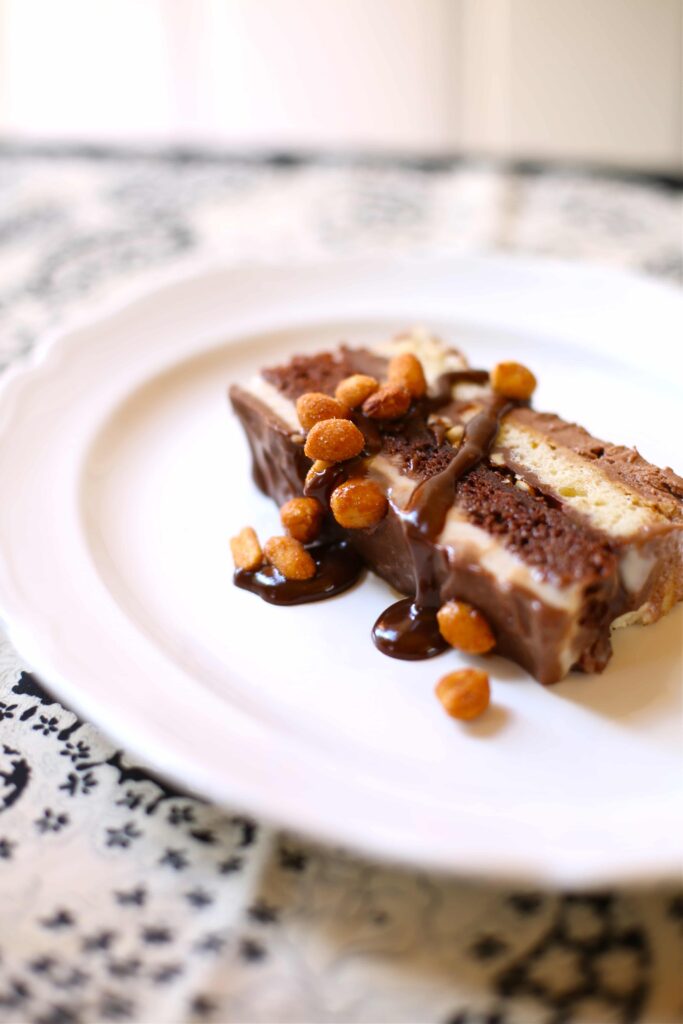 Ice Cream Cake with Peanut Butter Ganache
The other day I was waiting in line at the drug store and the poor woman in front of me could barely juggle the multiple quarts of ice cream in her arms – all vanilla.
I would've helped her but had my own problems struggling to hold all the new hair care products I'm told I need.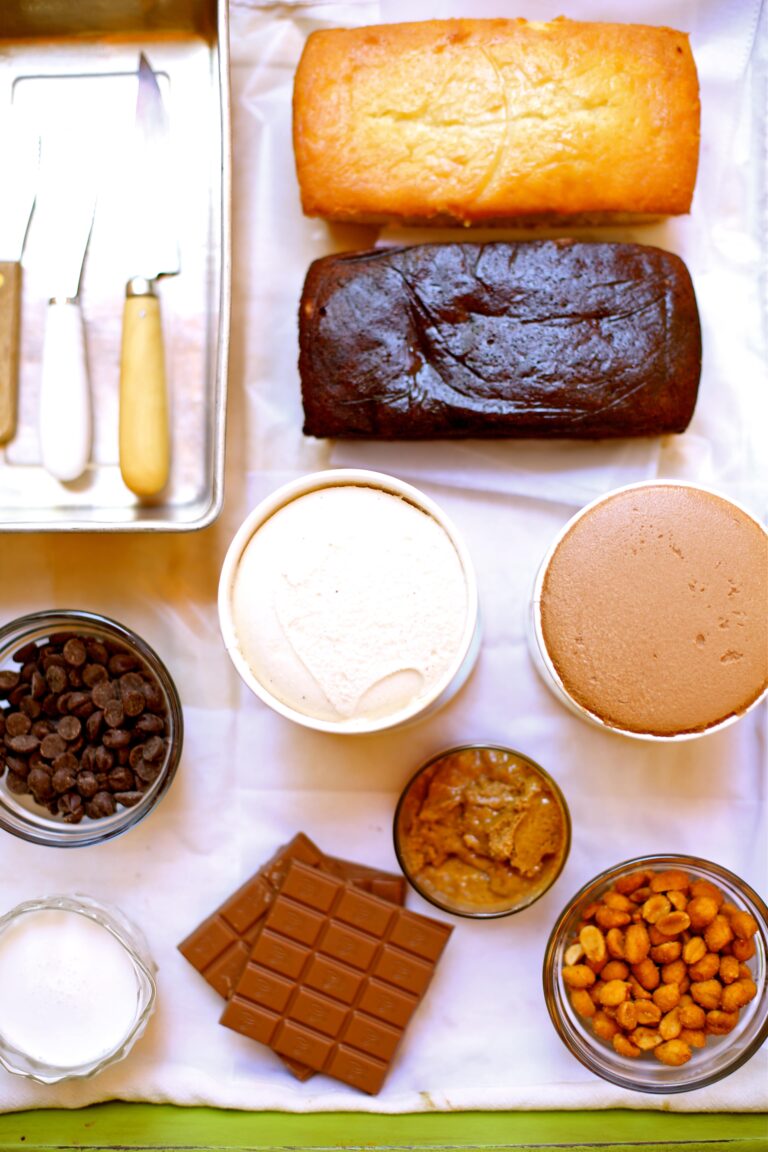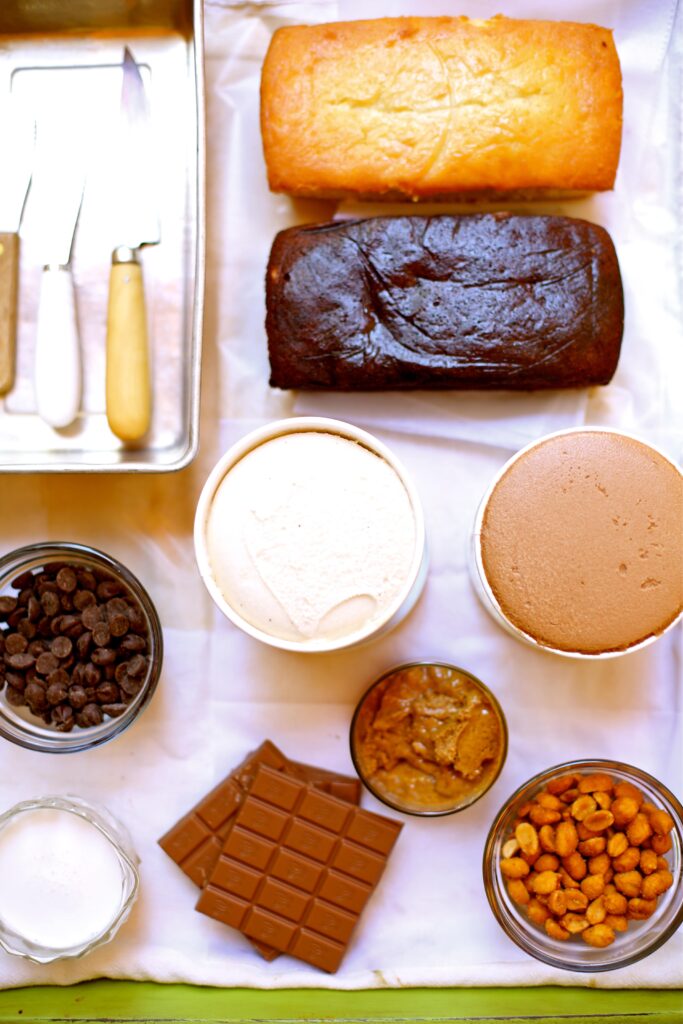 The guy behind me also had a couple quarts of the same ice cream, plus a 12-pack of cold beer and big bag of potato chips.
It should be noted this is a person after my own heart 🙂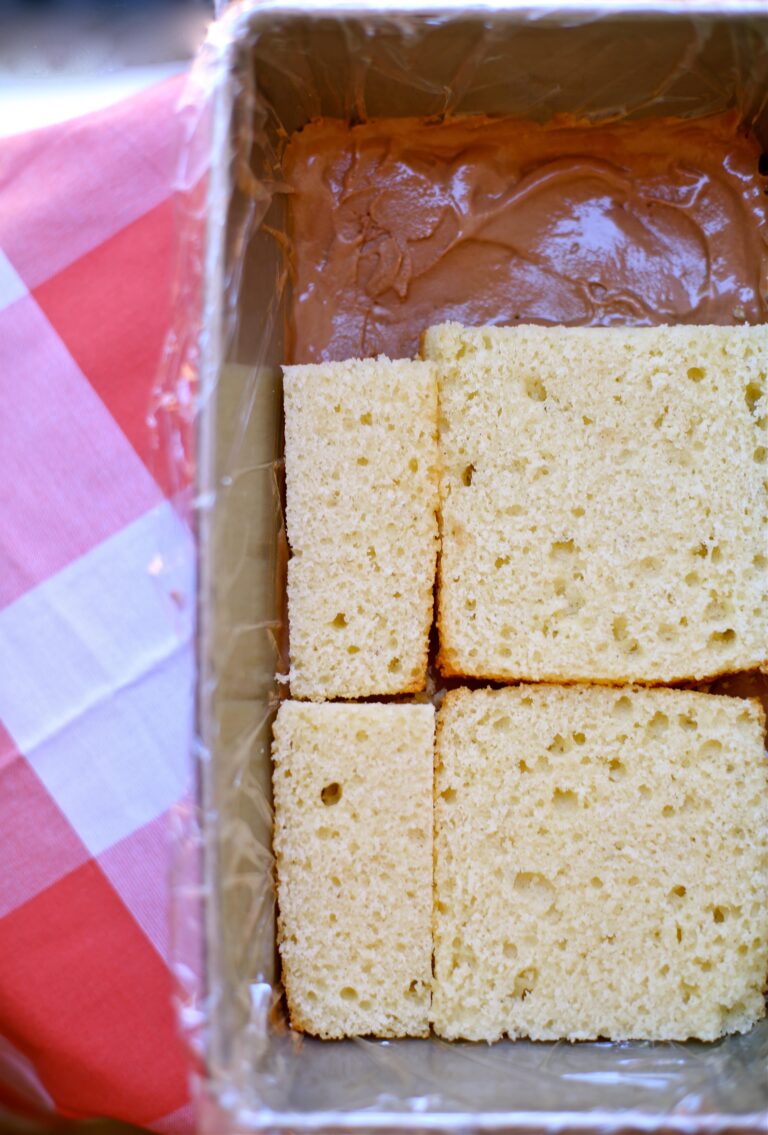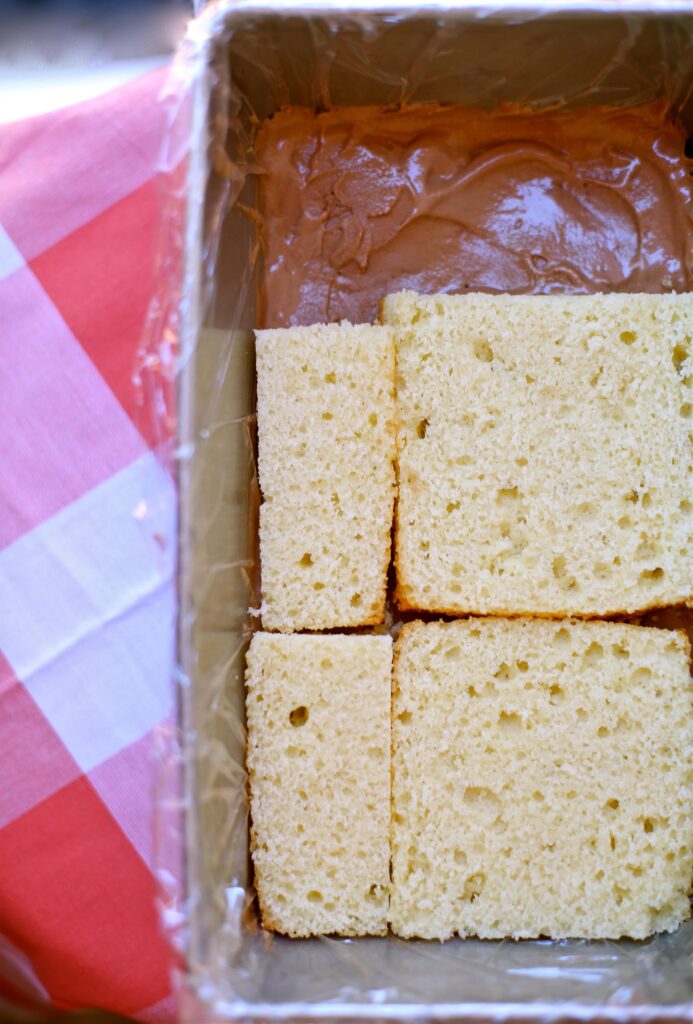 They looked at each other, laughing about their common purchases. Apparently the ice cream was on sale and between the two of them they'd scooped up every quart in the store.
It's hot out, after all, and makes sense to stock up.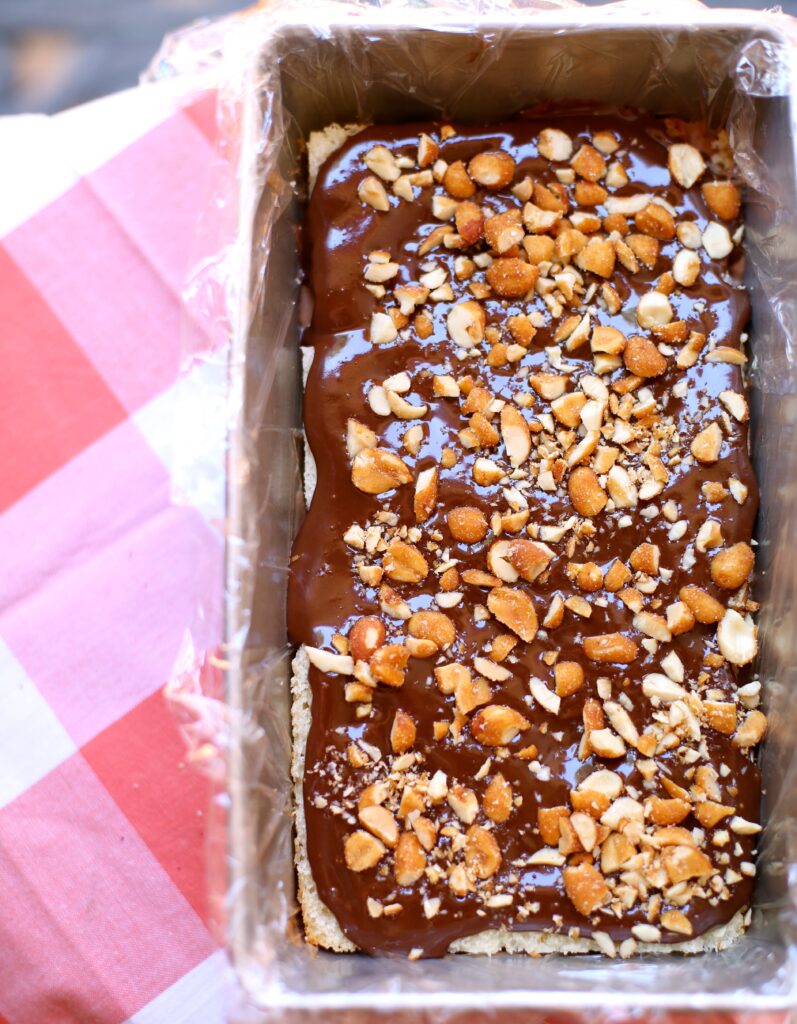 I imagined the lady had a houseful of family and friends – probably kids, too – anxious for ice cream sundaes with maybe some chocolate sauce.
And I imagined the guy behind me at home sitting on his couch – drapes closed to keep the house cool –  watching golf, eating chips and drinking beer, and later the ice cream directly from the tub with a spoon.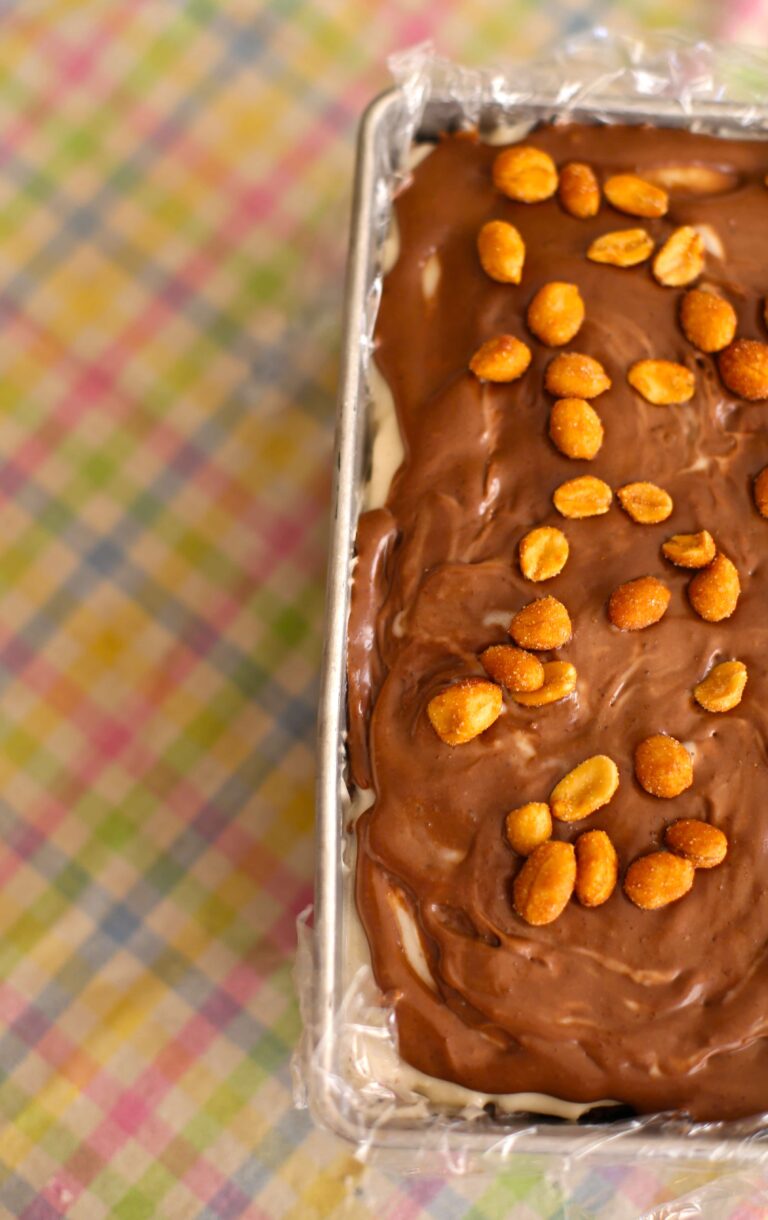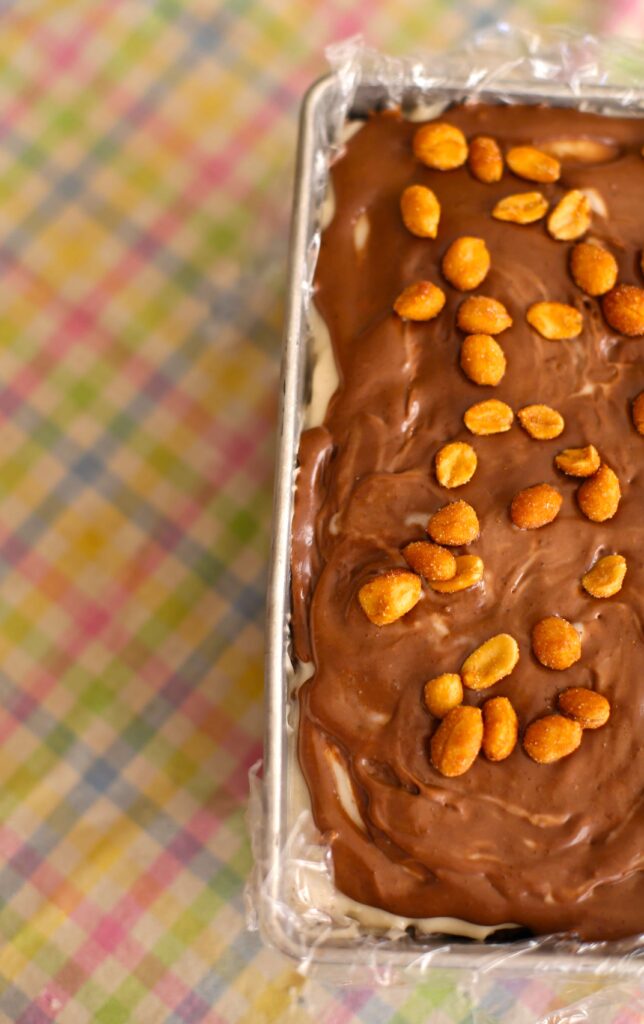 I had this idea for ice cream cake when I was spacing out on the porch one night recently – during that magic time with no distractions and things just come to you.
Everything here is store-bought other than the peanut butter ganache.  So it's just a tiny bit of cooking, assembling and strategic waiting.
This is a perfect dessert for a summer barbecues or small dinner parties.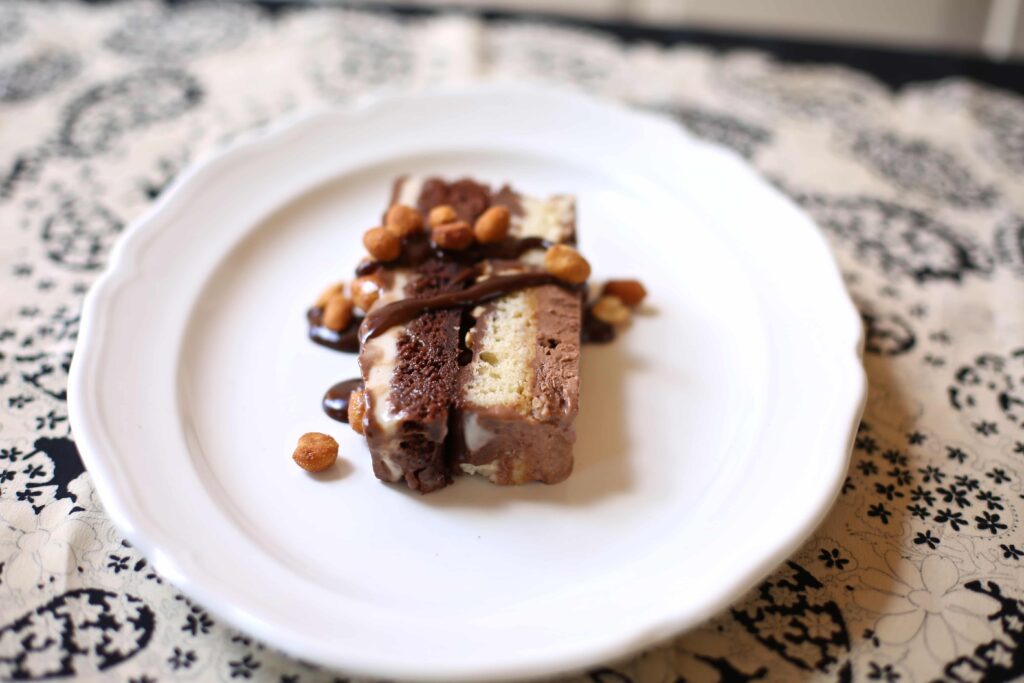 There are a couple little tricks to putting this one together, so read the whole recipe before you begin.
And while the ingredients sound simple, the peanut butter ganache makes this dessert a real stand out.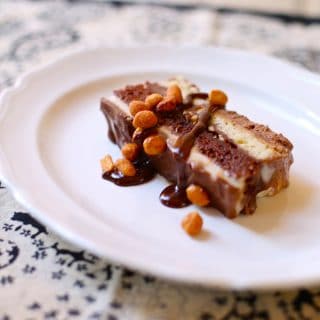 Ice Cream Cake With Peanut Butter Ganache
Ice Cream Cake with Peanut Butter Ganache is an easy ice cream cake recipe that'll wow your guests!
Print
Pin
Rate
Plus overnight freezing time:
1
day
Total Time:
1
day
30
minutes
Ingredients
2

Loaf Cakes, store bought, vanilla and chocolate (approx. weight of 12 oz each)

2

pints

Ice cream, Chocolate, and Vanilla

3

ounces

Milk Chocolate

1/3

cup

Chocolate Chips, semi-sweet

1/3

cup

Peanut Butter, creamy

1/2

cup

(plus two tablespoons) Heavy Cream

1/2

teaspoon

Vanilla

1/2

cup

Honey Roasted Peanuts chopped
Instructions
Prepare a standard sized loaf pan, 9 x 5" by spraying the botton and sides with non-stick baking spray, then lining the inside with plastic wrap so it overlaps the sides by about 6 inches. Use your fingers to smooth the plastic as much as possible.

MAKE THE PEANUT BUTTER GANACHE

Place the milk and semi sweet chocolate in a medium sized bowl along with the peanut butter.

Heat the cream on medium heat in a med. sized non-stick sauce pan until it starts to bubble on the sides.

Continue to heat the cream, but not boil, about 3 minutes.

Remove the pan from the heat and add the vanilla.

Pour the hot cream over the chopped chocolate and peanut butter.

Let it sit undisturbed with no stirring for 3 minutes.

Stir from the middle of the mixture using a rubber spatula, then around the sides until its smooth and combined.

Set the ganache aside while compiling the rest of the cake, or store in the refrigerator. To make it spoonable, microwave for 10 seconds at a time.

TO ASSEMBLE THE ICE CREAM CAKE

Remove both ice creams from freezer until lightly softened and spoonable

Starting with the chocolate ice cream, transfer the ice cream to a medium bowl and stir until very smooth using a big spoon or spatula. This will make it easier to spread in the pan.

Spoon the chocolate ice cream on the bottom of the prepared loaf pan and smooth it across the bottom evenly.

Wipe any random ice cream smudges that may have made their way onto the sides of the pan with a paper towel. z

Slice the vanilla cake loaf in 1/2"slices and place on top of the chocolate ice cream in a single, even layer. See recipe notes

Smooth a 1/3 cup of the peanut butter ganach carefully over the top in an even layer over the vanilla cake with the back of a spoon or offset spatula.

Sprinkle with 3 tablespoons of chopped honey roasted peanuts.

Place this in the freezer to set for at least 30 minutes

Repeat the process with the vanilla ice cream and chocolate loaf cake, freezing for at least 30 minutes.

Finish the top layer with the rest of the ganache.

Sprinkle the top with whole honey roasted peanuts rather than chopped this time.

Freeze the cake for 30 minutes, then loosely cover with the overlapping plastic wrap and continue to freeze for at least 4 hours or preferably, overnight.

Remove cake from freezer 20 minutes before serving

Loosen the sides of the cake from the pan by running a thin knife along the edges to make sure nothing is stuck to the sides.

Grasp the plastic wrap on the sides and life out of pan, set on a cutting board with wax paper.

Cut into 8 slices using a sharp knife. See recipe notes. Serve with an additional tablespoon or so of the peanut butter ganache and more whole honey roasted peanuts.
Notes
Use nut milk or other non-dairy ice cream and creamer in this recipe if you like. 
You'll have scraps of extra cake leftover, this is not a bad thing 🙂
Dip your knife in very hot water and carefully dry with a kitchen cloth before slicing. Repeat before cutting each slice for a nice, smooth cut. 
This recipe was updated December 2019.
Nutrition
Calories:
676
kcal
|
Carbohydrates:
96
g
|
Protein:
16
g
|
Fat:
27
g
|
Saturated Fat:
11
g
|
Cholesterol:
115
mg
|
Sodium:
550
mg
|
Potassium:
564
mg
|
Fiber:
4
g
|
Sugar:
64
g
|
Vitamin A:
699
IU
|
Vitamin C:
2
mg
|
Calcium:
282
mg
|
Iron:
4
mg
SOURCE: Studio Delicious