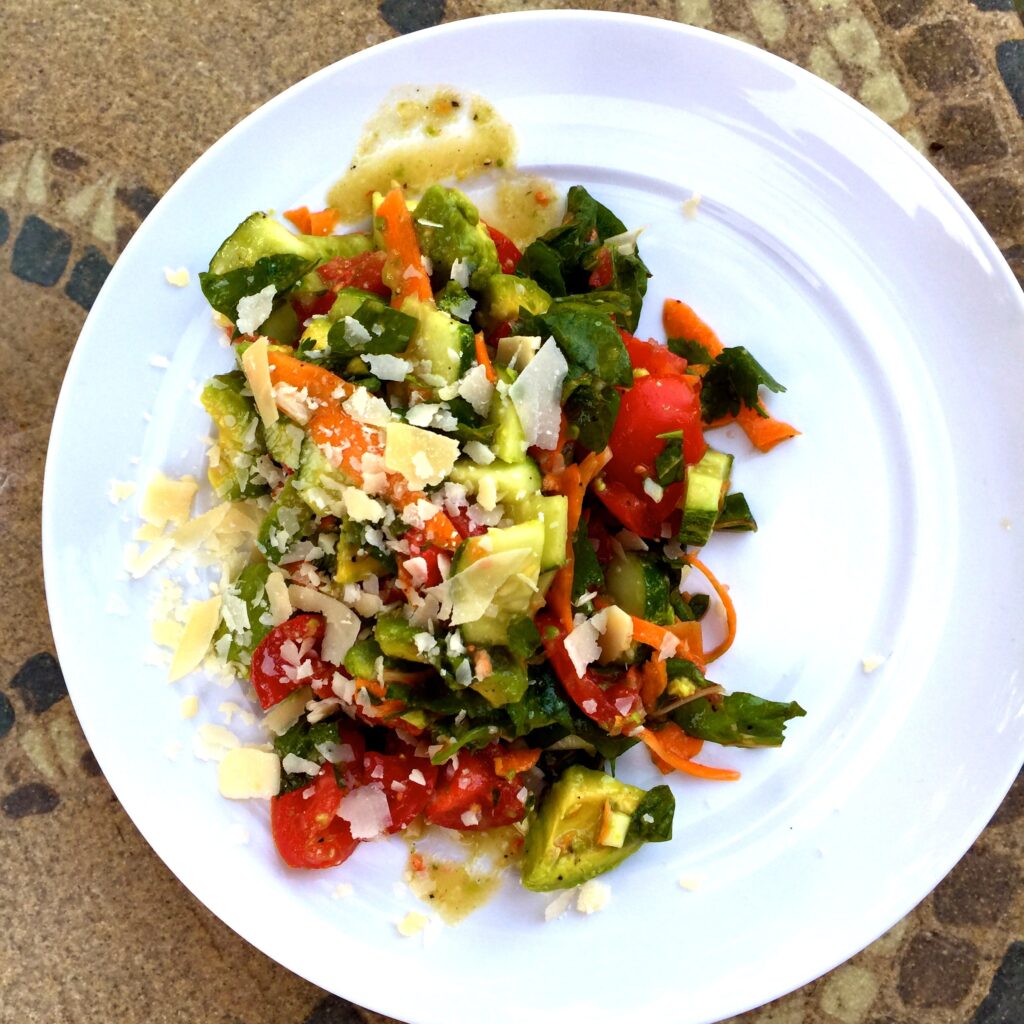 The secret to making a great salad is confidence.
You heard me.
Great ingredients from the Farmer's Market make all the difference too.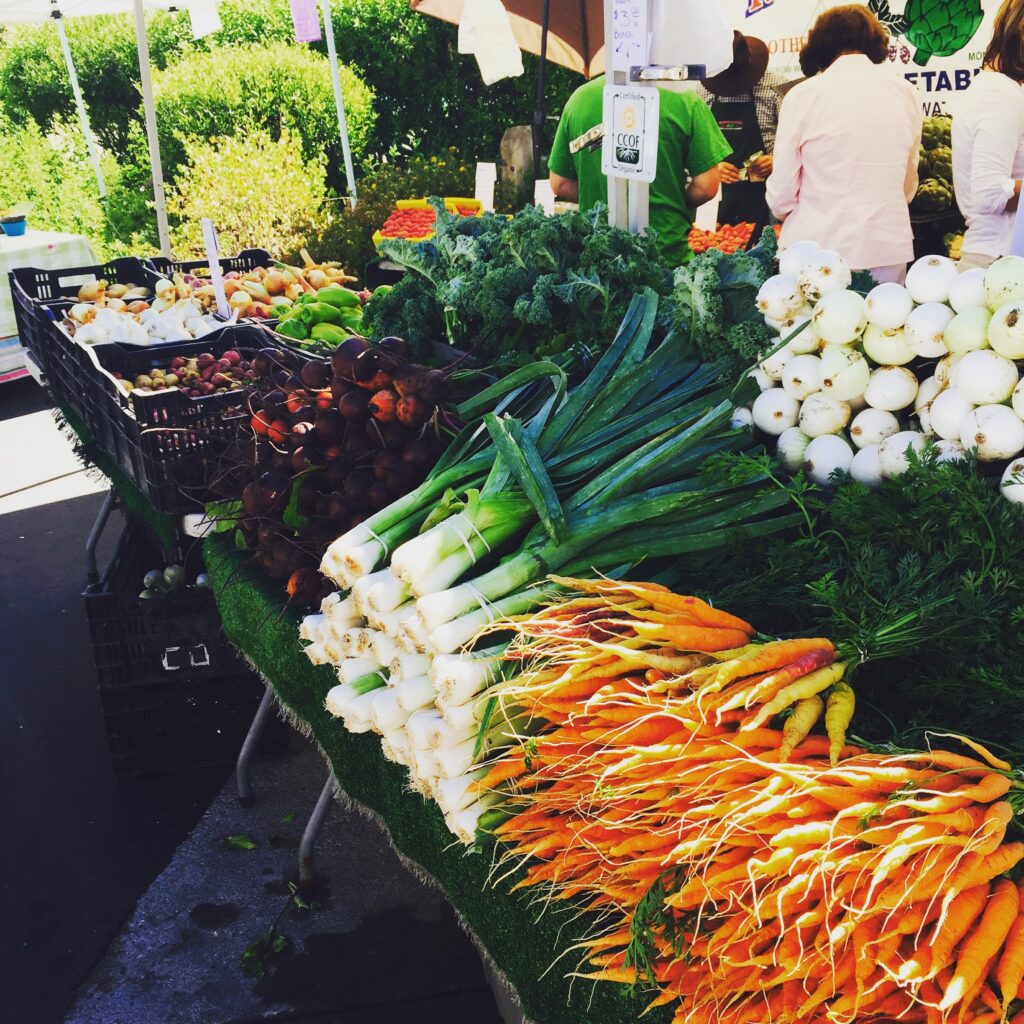 Nothing, and I mean nothing perks me up like a trip to the Farmer's Market.
The overflowing piles of fresh seasonal vegetables, sweet fruit pies, hot beignets served with strawberry jam and smell of barbecue is almost more than I can take.
I love it with all my heart.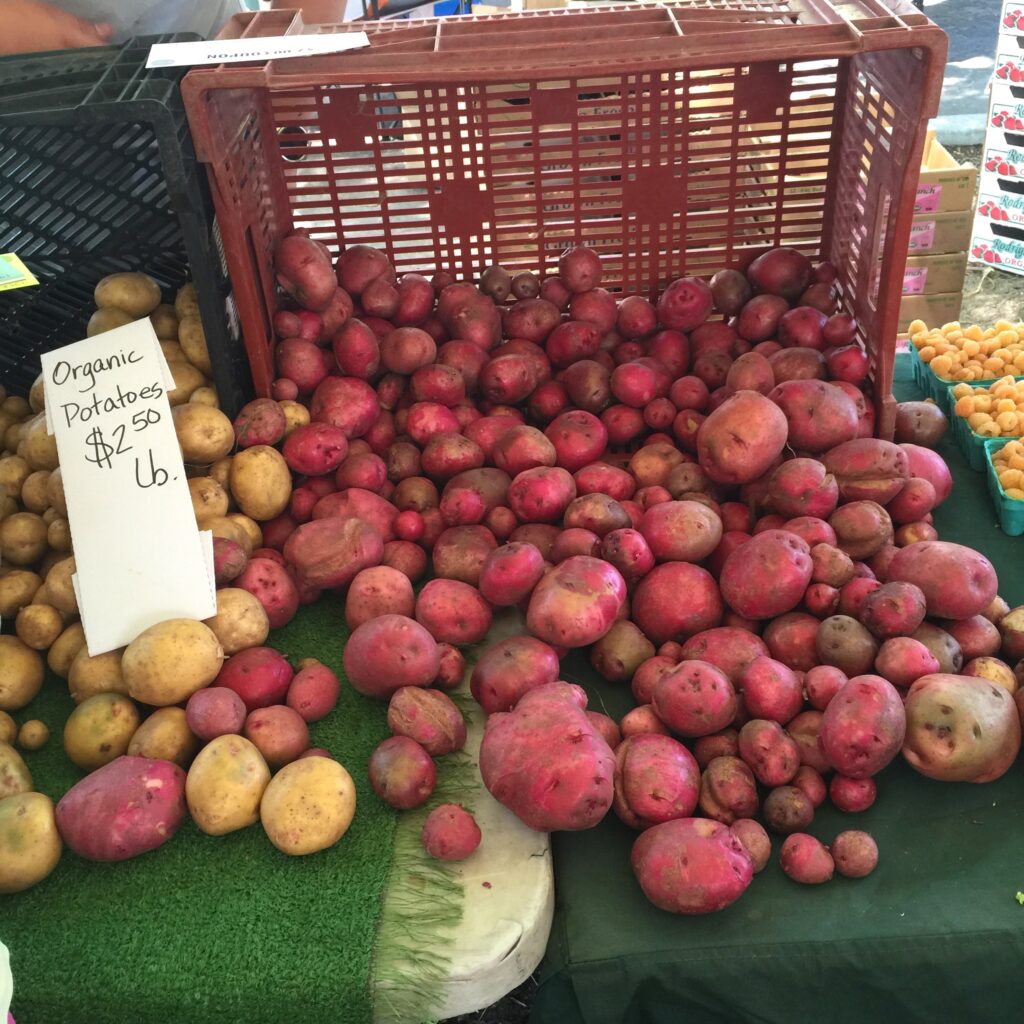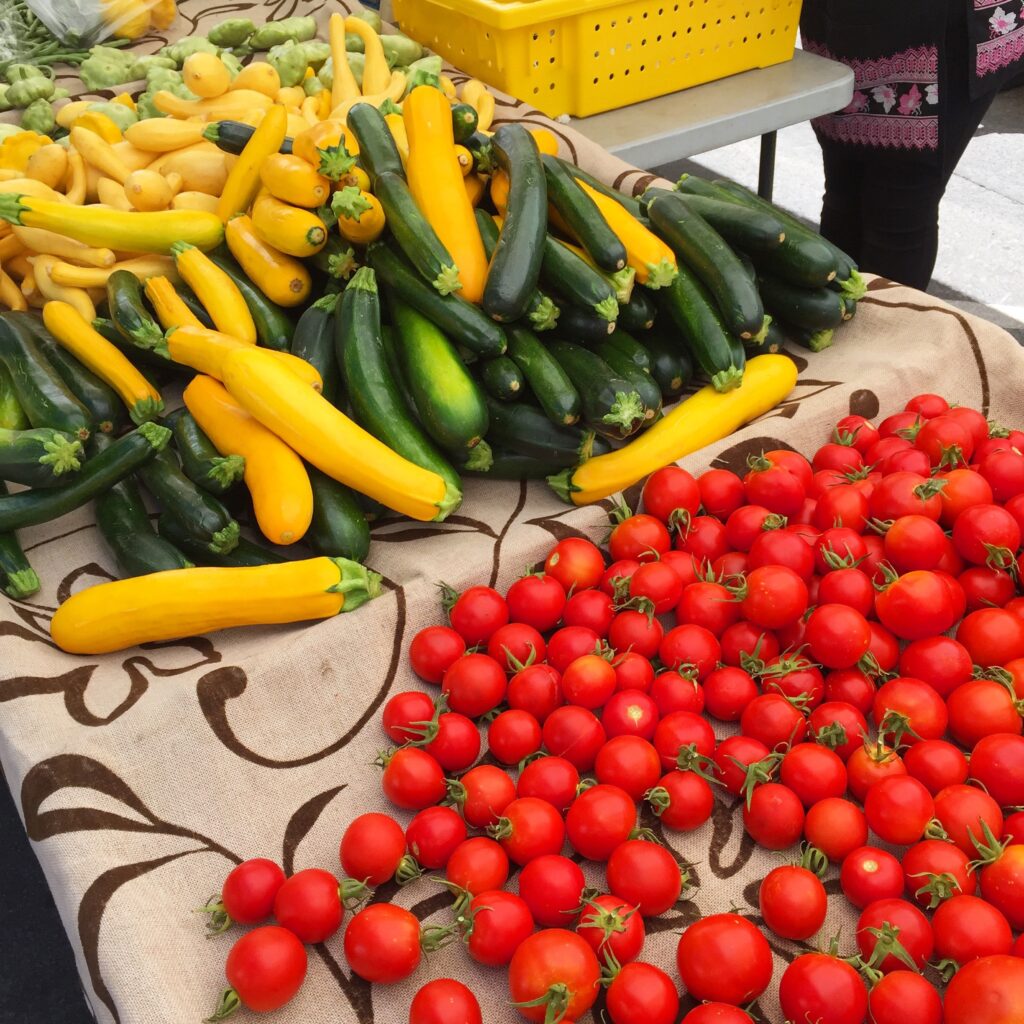 It's fun to try new things and make a little menu based on nothing more than what looks good that day.
It feels good to support local vendors too – what a hard job they have, and I appreciate them.
I used to be intimidated about what to buy at the Farmer's Market, unless I had a specific recipe in mind.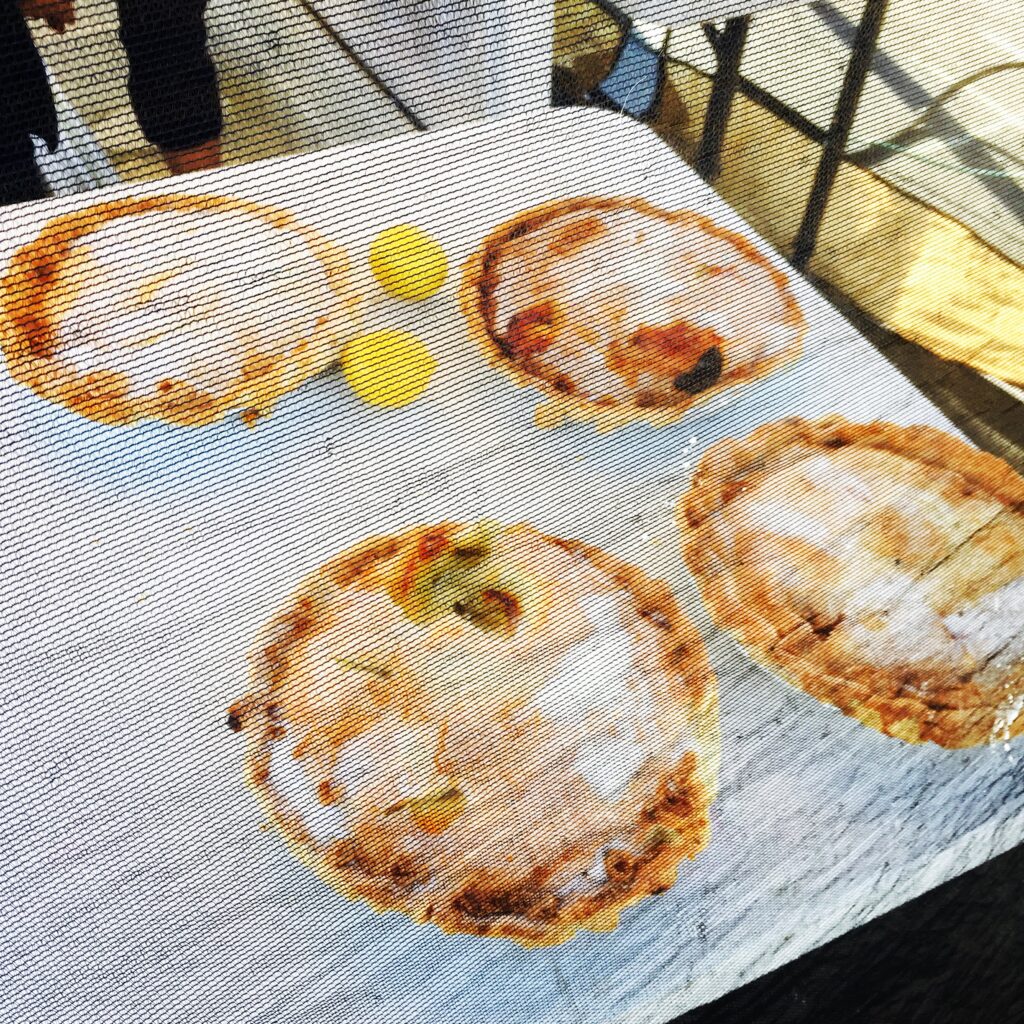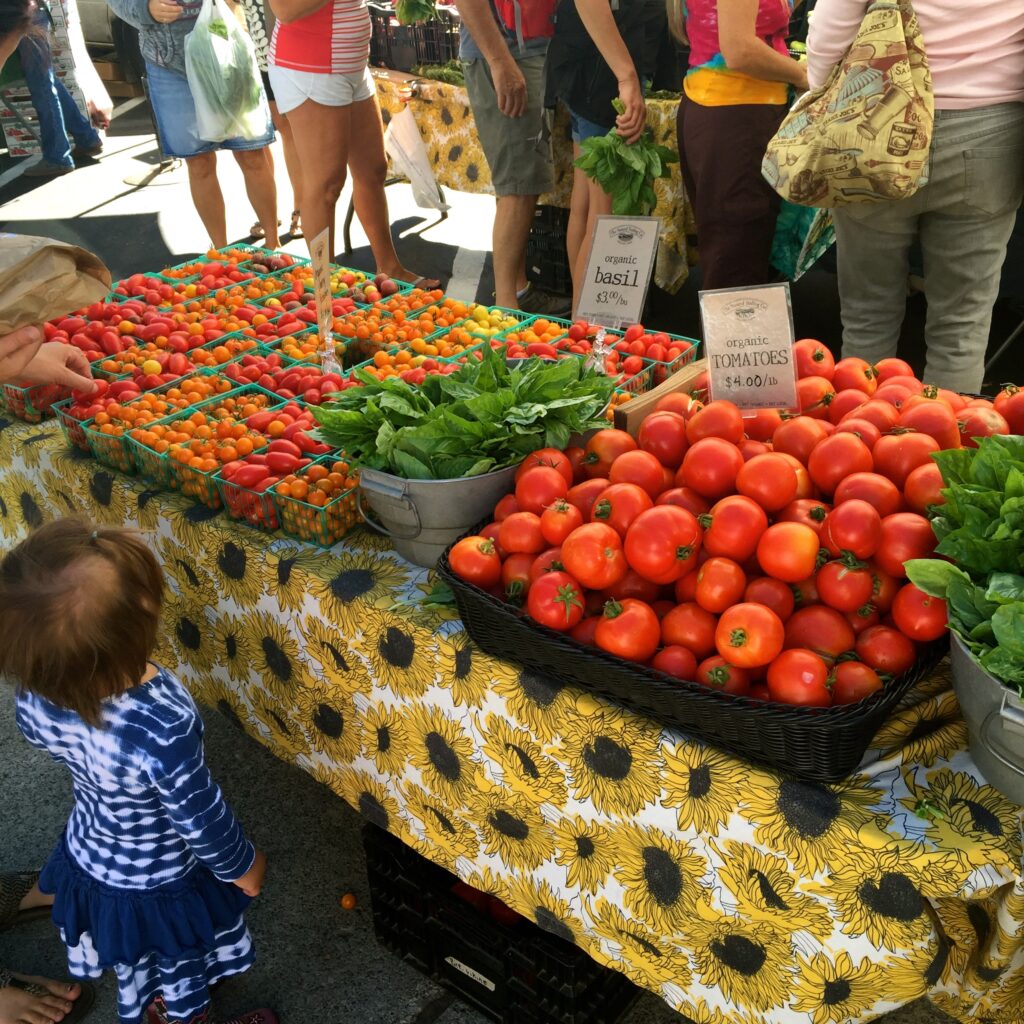 I didn't invent the idea, but I know it's true – the secret to great food is keeping it simple –  no need to fuss with it too much.
That is hands down my favorite way to eat.
Grab a big zucchini and slice it thin – and a ripe avocado for cutting into big chunks.
Cherry tomatoes make me giddy, and are so pretty sliced in half or quarters.  Add shaved carrot, maybe, and a handful of fresh herbs.
Don't stress over it.
Fresh berries and nuts or seeds work well too.  You really can't go wrong, so just go for it.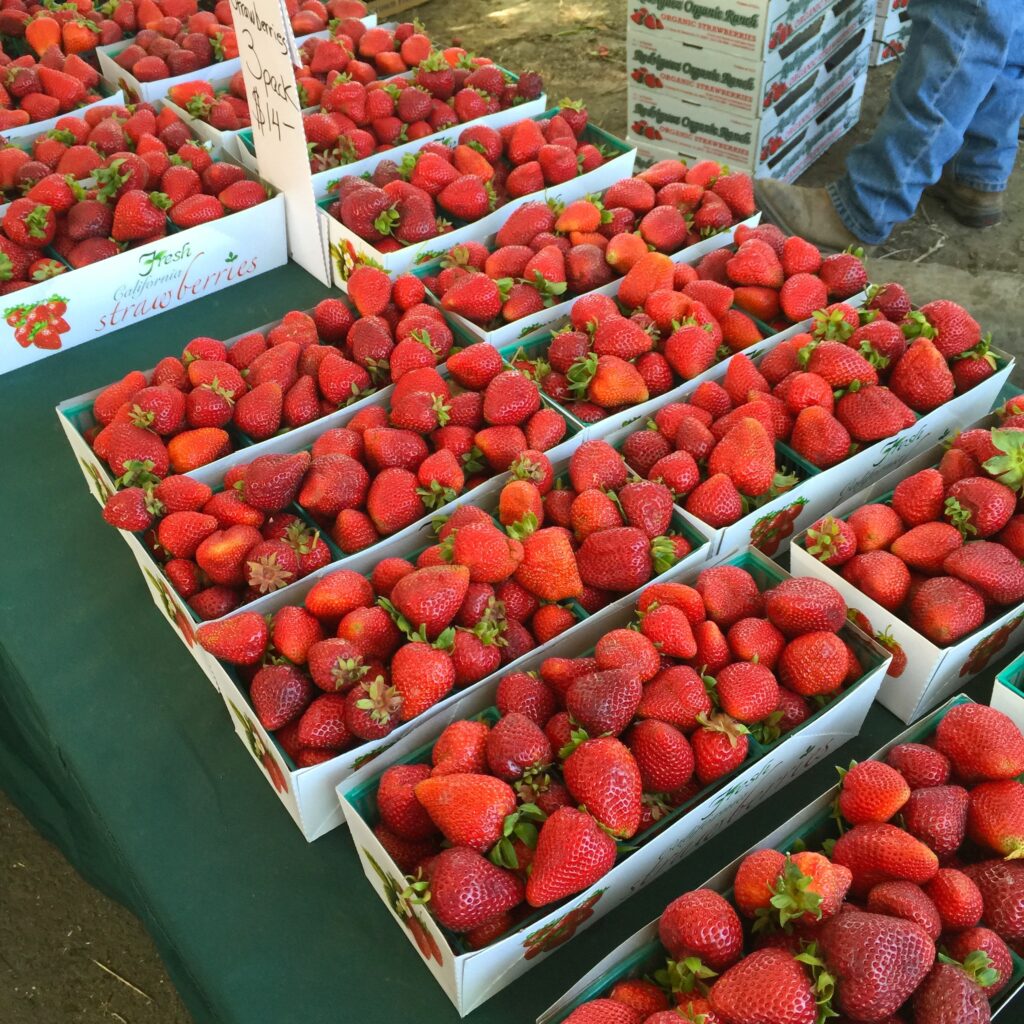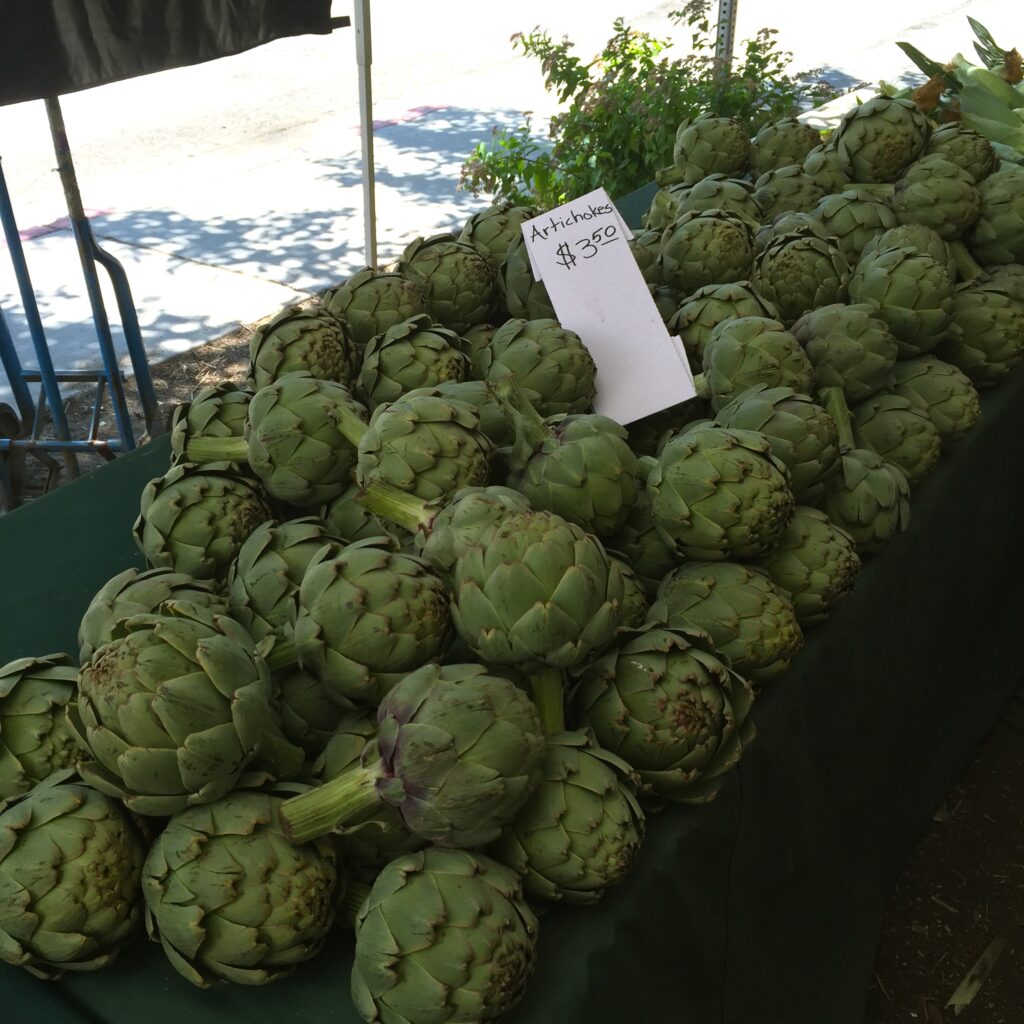 Once you slice your little treasures with a sharp knife – carefully toss everything together with a light and lemony vinaigrette and you'll be majorly pleased with yourself – guaranteed.
There's no better time than right now to find a Farmer's Market near you and start experimenting.
Hey, can I tell you what else I appreciate without getting too mushy?
YOU.
Thanks for reading my stuff, and sending your pictures and kind feedback.
It's a honor, really.
And this is so much better than talking to myself 🙂
Ingredients
MAKES FOUR SERVINGS

FOR THE VEGETABLES:

You'll need 4 1/2 to 5 cups of fresh seasonal vegetables

trimmed if needed and cut with a sharp knife. Use any combination of vegetables that you'd like.

I used:

* Zucchini

cut in rounds first and then quarters, about 1/2" thick

* Cherry tomatoes

cut in half

* Fresh parsley and basil

cut into small bits

* Shaved carrot

using a vegetable peeler

* Cucumber

cut into rounds and quartered

* Avocado

skin removed and cut into 1" chunks

Freshly ground pepper

I use a 1/2 teaspoon or so of Lemon Pepper that comes in a grinder from Trader Joe's

Flake sea salt

I use a 1/2 teaspoon of Maldon salt

1/4

cup

of grated Parmesan cheese

plus more for garnish.

FOR THE VINAIGRETTE:

6

tablespoons

extra virgin olive oil

4

tablespoons

freshly squeezed lemon juice

3

teaspoons

honey

1 1/2

teaspoon

Dijon mustard

Maille is a favorite

1 1/2

teaspoon

Vegenaise or mayonnaise

1 1/2

teaspoon

freshly ground pepper

I use lemon pepper

1/4

teaspoon

sea salt
Instructions
PREPARE THE VINAIGRETTE

Place all ingredients in a medium-sized bowl and mix together with a whisk or fork to combine.

Alternatively, you can place all ingredients in a jar with a lid, shaking the mixture until it's combined. Taste the vinaigrette and adjust the seasonings if needed - sometimes you need a little more salt or honey for example.

ASSEMBLE THE SALAD:

Place all the vegetables in a large bowl.

Spoon some of the vinaigrette around the sides of the bowl, and gently turn the whole mixture over once or twice with a large spoon, making sure to scrape the vinaigrette off the sides as you go.

Drizzle more vinaigrette over the mixture and turn the vegetables over again with the spoon.

Season with lemon pepper, salt and Parmesan Cheese.

Portion the salad on four plates and sprinkle with more Parmesan cheese if desired.
Source: Studio Delicious