Looking for delicious and convenient easy day hike snacks and lunch ideas? Here's some portable and nutritious ideas to keep you going strong on the trail.
Jump to:
There's nothing like a day hike to refresh your mind and body, and connect with nature. Whether you take a trip to the local park or go on a more challenging trail – either are a good option – it's nice to take snacks or a light lunch with you.
Here's a list of easy, portable trail snacks and lunches that can be prepped ahead of time or bought at the local grocery store.
How to Choose the Right Foods For Your Day Hike
When it comes to packing day hike food, keep it simple and keep it light.
Pack a few non-perishable food items like beef jerky, protein meal bars or granola bars that are easy access in your back pack. Dried fruits are perfect too and don't take up much space.
Rice cakes, whole grain crackers and peanut butter or almond butter are healthy snacks and don't have much weight in your pack. Much better than candy bars!
Instant oatmeal is a good idea for its complex carbs. Take a small thermos of hot water and garnish with trail mixes for flavor and texture.
Use a flat ice pack or a frozen water bottle to keep fresh food like sandwiches, hard cheeses and beverages cool.
Pack a few emergency snacks just in case, and plenty of lean protein. Hard-boiled eggs are a good choice to keep energy levels high.
Whole fresh fruits are a great option to have on hand too. Take a couple of bananas or oranges in your pack.
Be sure to take enough water! Even on a short hike you need to stay hydrated.
Take a couple of plastic bags (or similar) for trash clean up.
Dark Chocolate Trail Mix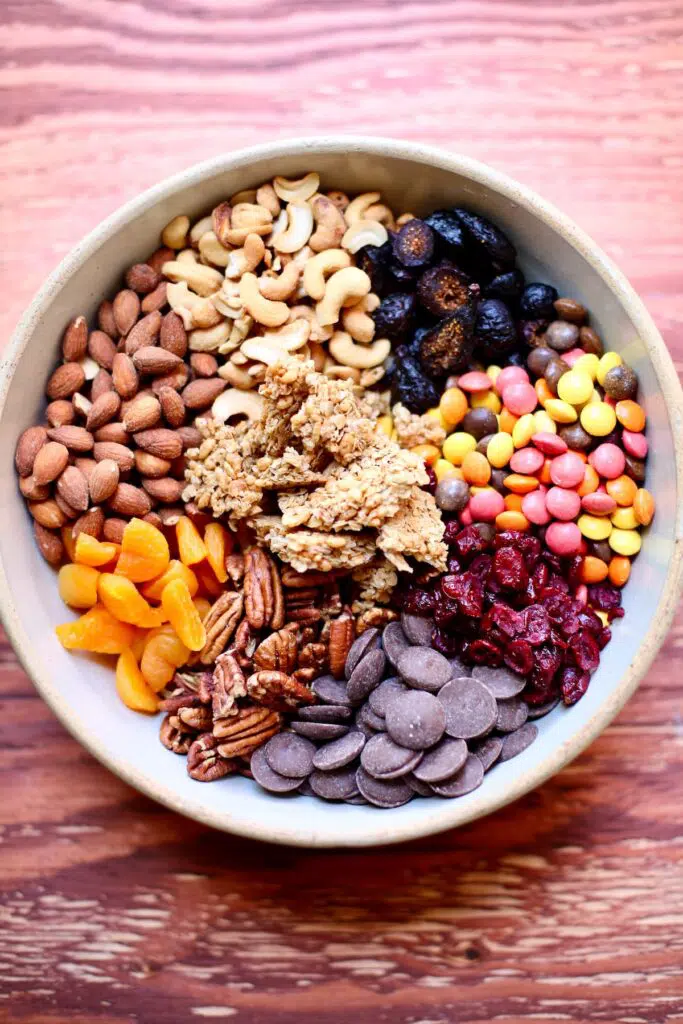 This is the ultimate trail mix!
Dark Chocolate Trail Mix: This fantastic blend is a little bit indulgent and super convenient to pack up for a lunch hike or just for a snack while sitting in the park.
Stuffed Celery
Super easy to pack, tasty too!
Stuffed Celery: This is an easy and really satisfying snack, a great idea to tuck inside backpacks and picnic baskets.
Veggie Cups with Hummus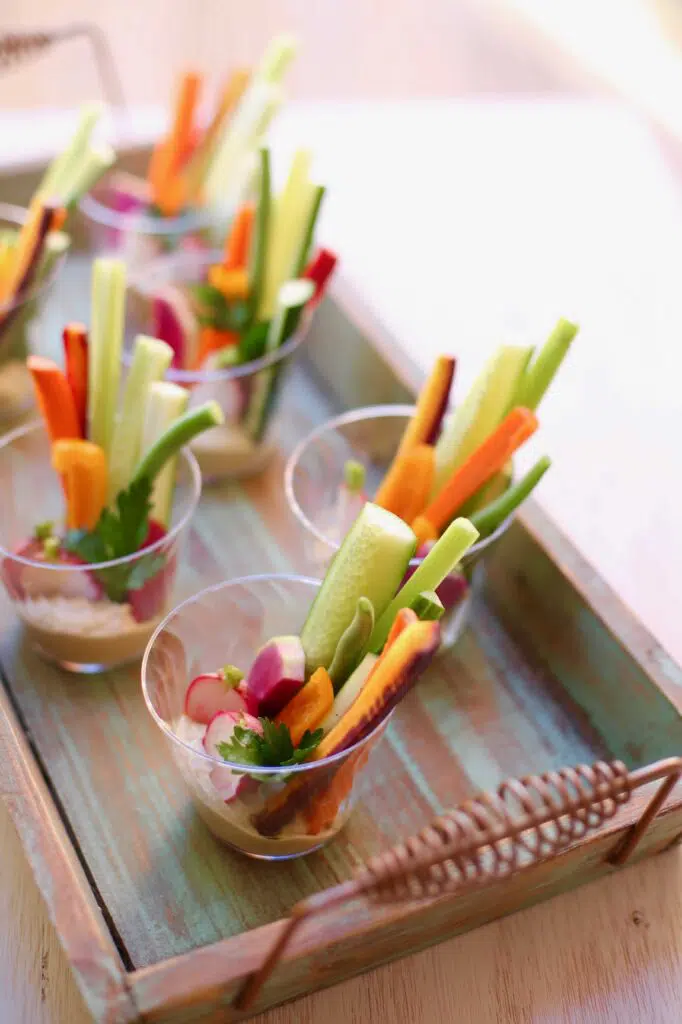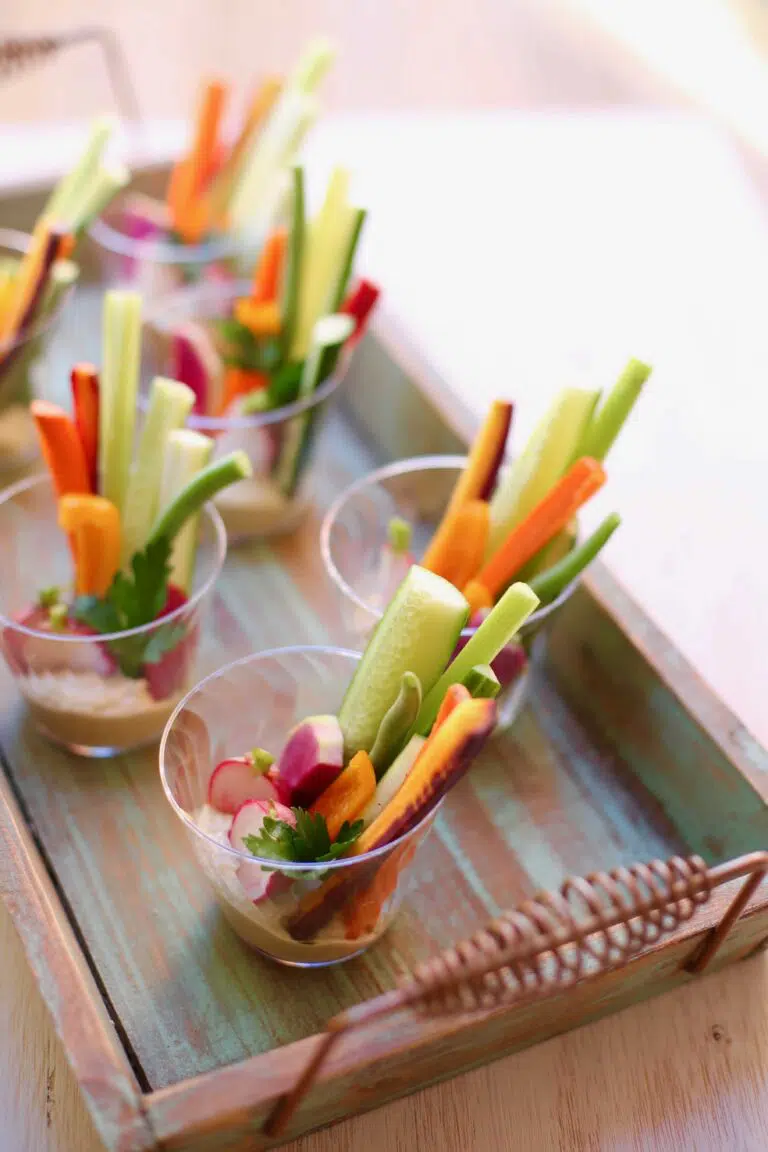 Put these in lightweight containers with lids for a quick snack.
Veggie Cups with Hummus: Pile some fresh cut vegetables in lightweight containers with a lid and take these fabulous, filling little snacks on the road!
Avocado Rolls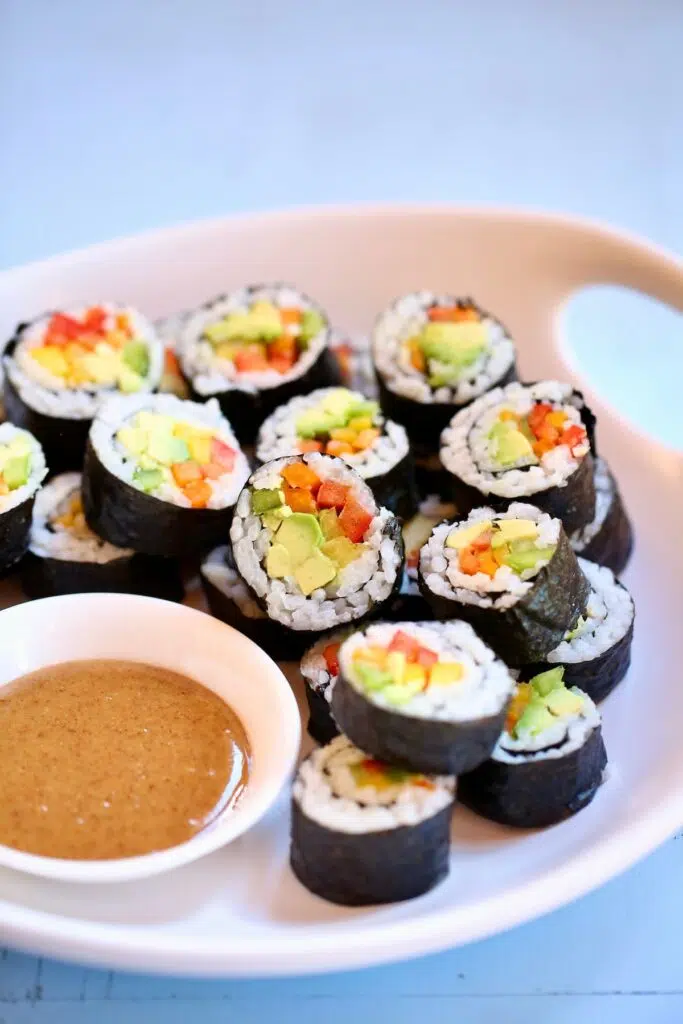 Here's an easy lunch option, make them larger for an easy lunch on the trail.
Avocado Rolls: These fresh rolls can be cut larger instead of small to hold in your hand if you'd like. A great way to have an easy grab-n-go lunch!
Sweet and Spicy Almonds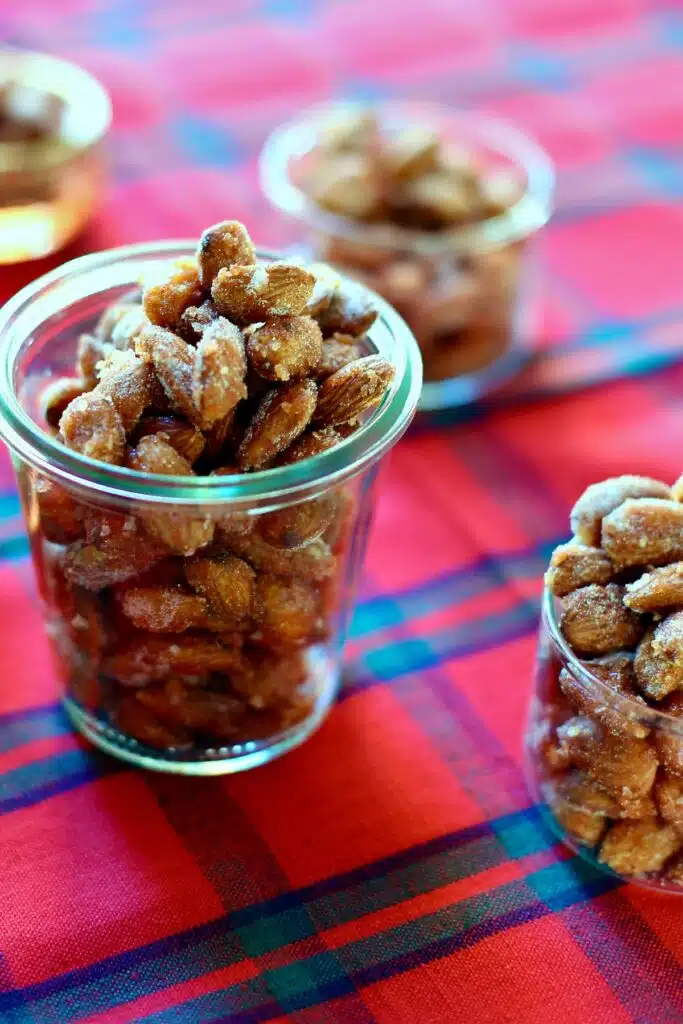 Sweet and Spicy Almonds: These are amazing…make a batch in advance to take on your backpacking trip or day hike! Store in small bags for easy snacking.
Chicken Salad with Grapes and Almonds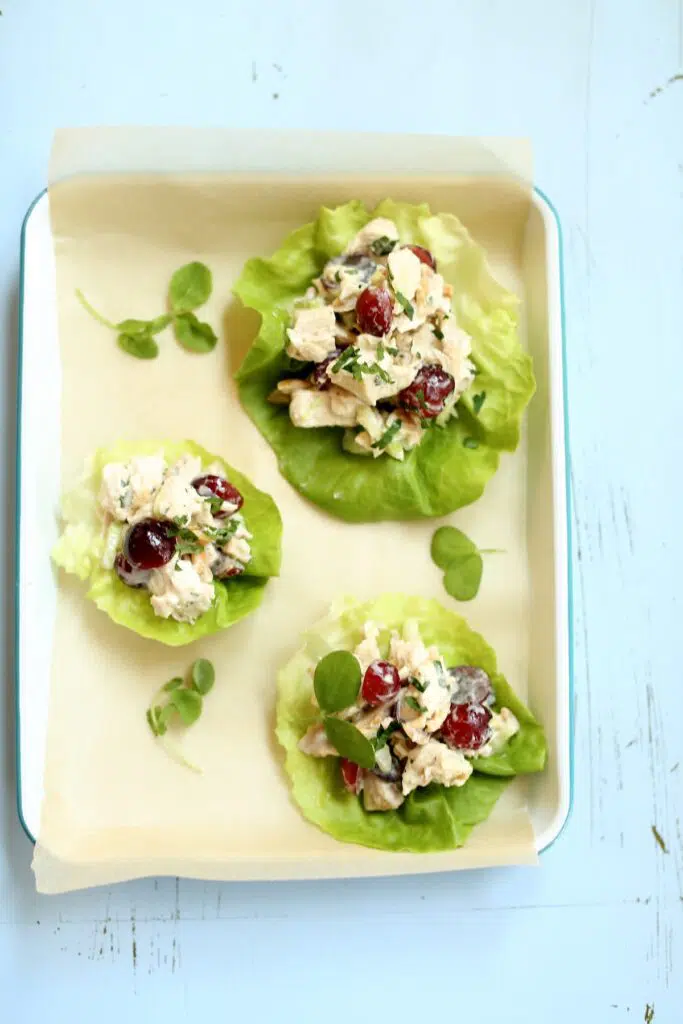 Use a rotisserie chicken for this easy to transport lunch.
Classic New York Club Sandwich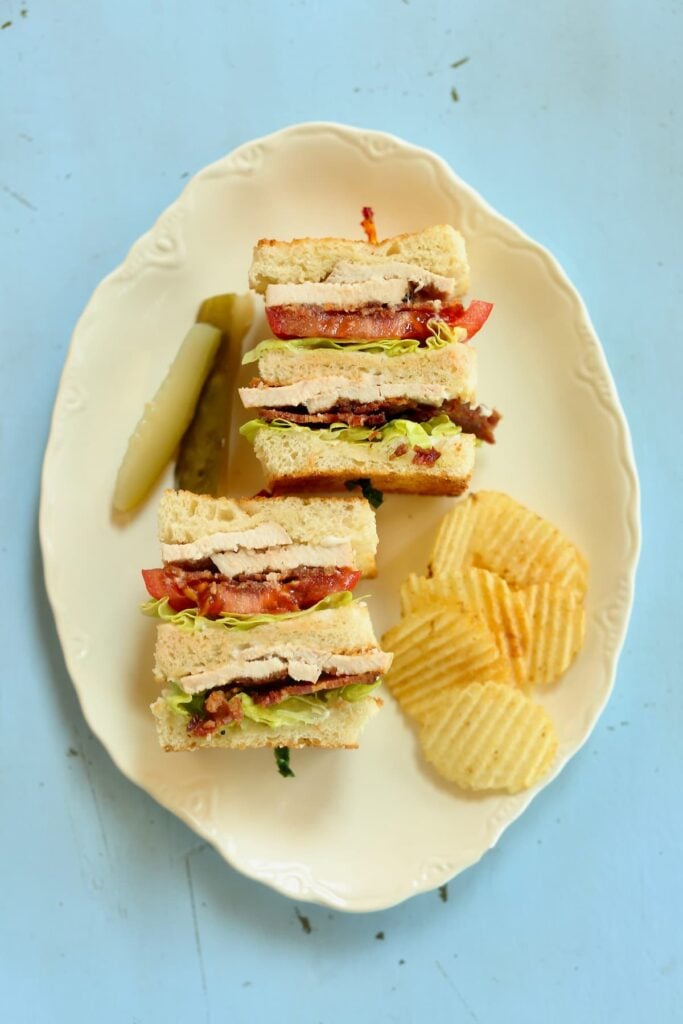 Zucchini Potato Frittata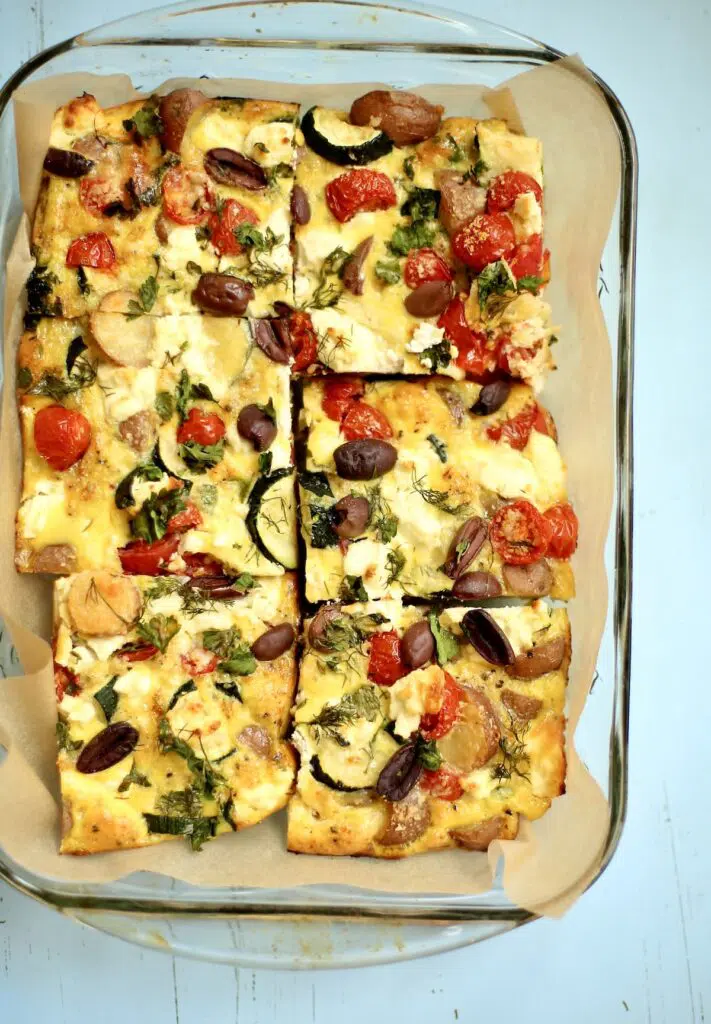 Make ahead and eat on the trail!
Zucchini Potato Frittata: Make this veggie-packed frittata the night before. Enjoy pre-cut and wrapped slices at room temperature.
Cookie Dough Bites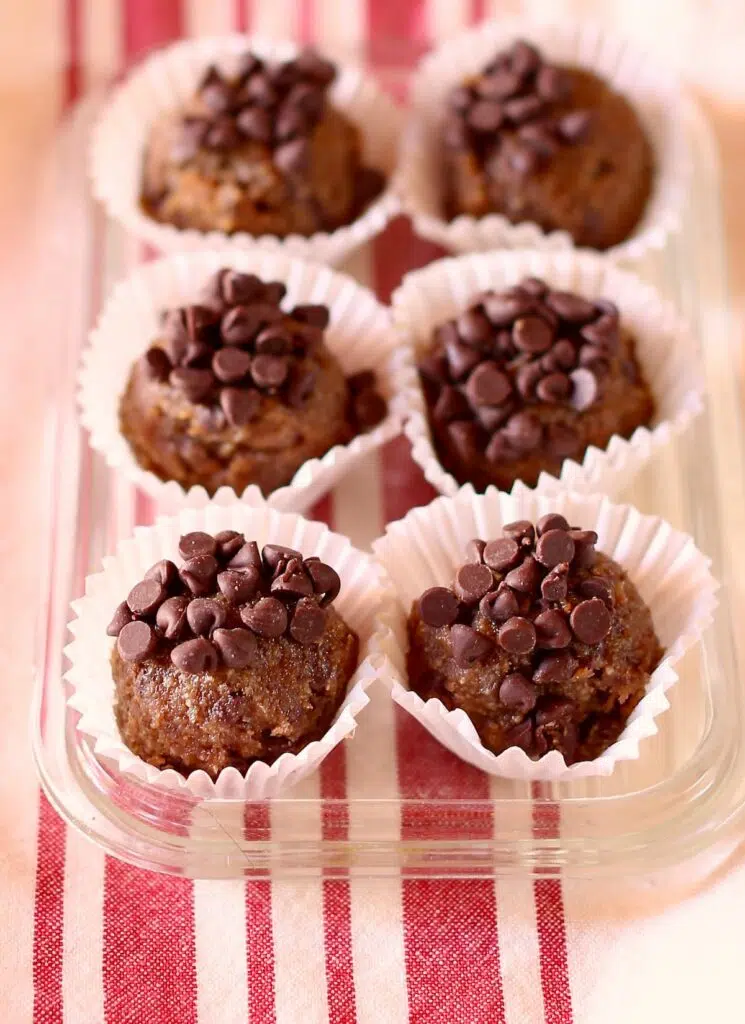 Fudgy and a little sweet, tastes just like a cookie!
Cookie Dough Bites: Made with good for you ingredients, you can't eat just one of these little cookie dough bites!
Easy Smoothie Recipes Without Yogurt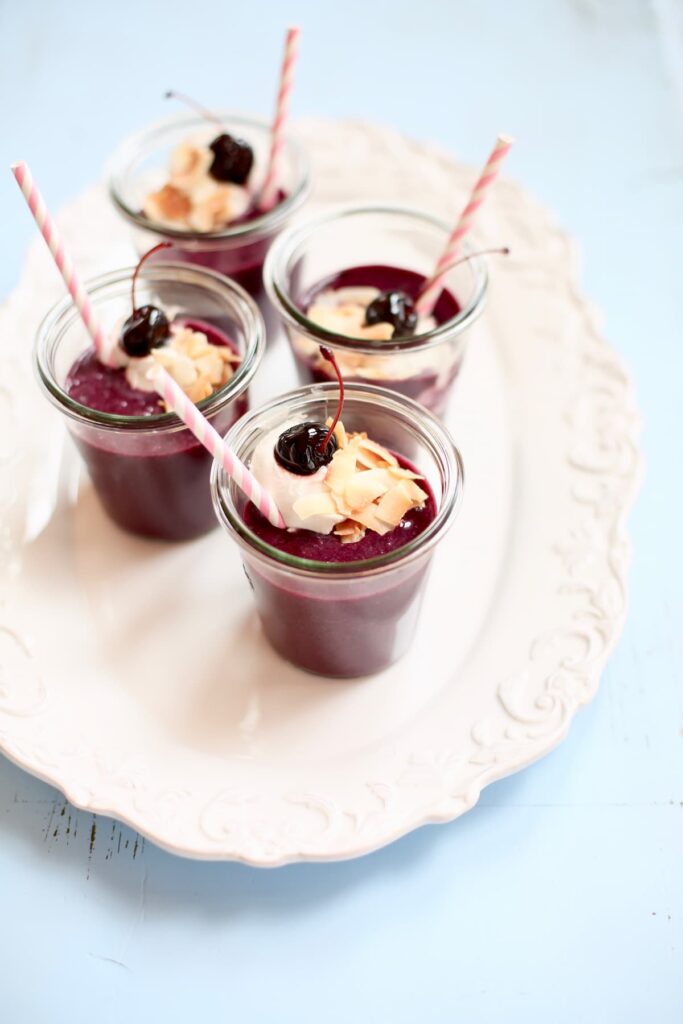 Take any of these along for the ride on your next hike!
Tips and Serving Ideas
Deciding what to take on a day hike is easy!
Try these fresh lunch ideas:
Wraps or sandwiches with protein and veggies.
Mason Jar salads are a fun option if you've got backpack space.
Grain bowls are filling and can be packed easily for a satisfying meal too.
Hummus and per-cut veggies make a great lunch and have staying power.
Tuna or chicken salad with crackers is a simple lunch to eat on the trail.
For Snacks, try these ideas:
Trail mix, nuts, dried fruit and chocolate are always welcome.
Whole fresh fruit like bananas and oranges are perfect for a hike.
Nut butter packs are convenient and easy to eat.
Energy balls – homemade or store-bought great to eat on a hike.
Frequently Asked Questions
Does everything need to be refrigerated for a hike?
Not necessarily! Take a few fat ice packs if you plan to eat a wrap or sandwich, and eat them within about two hours of your hike.
What's the best method for packing food for a hike?
A lightweight backpack is great, or if you aren't hiking too far, take a picnic basket.
More Recipes to Try
If you've tried these Easy Day Hike Snacks and Lunch Ideas, or any other recipe on Studio Delicious, please tell me how you liked it in comments below
Looking for more tips and fresh, homemade recipes? Join my email list, tag and follow me on Instagram using #studiodeliciouseats, follow my boards on Pinterest, and see what I'm up to on Facebook and Twitter!