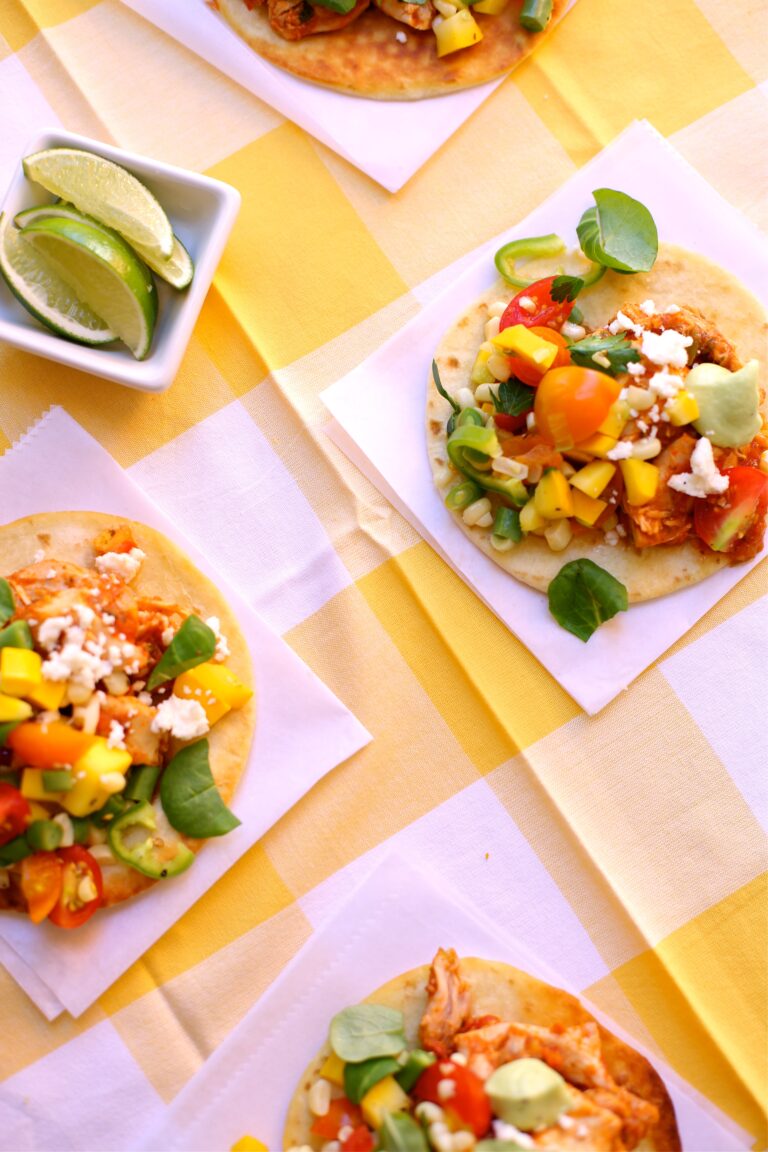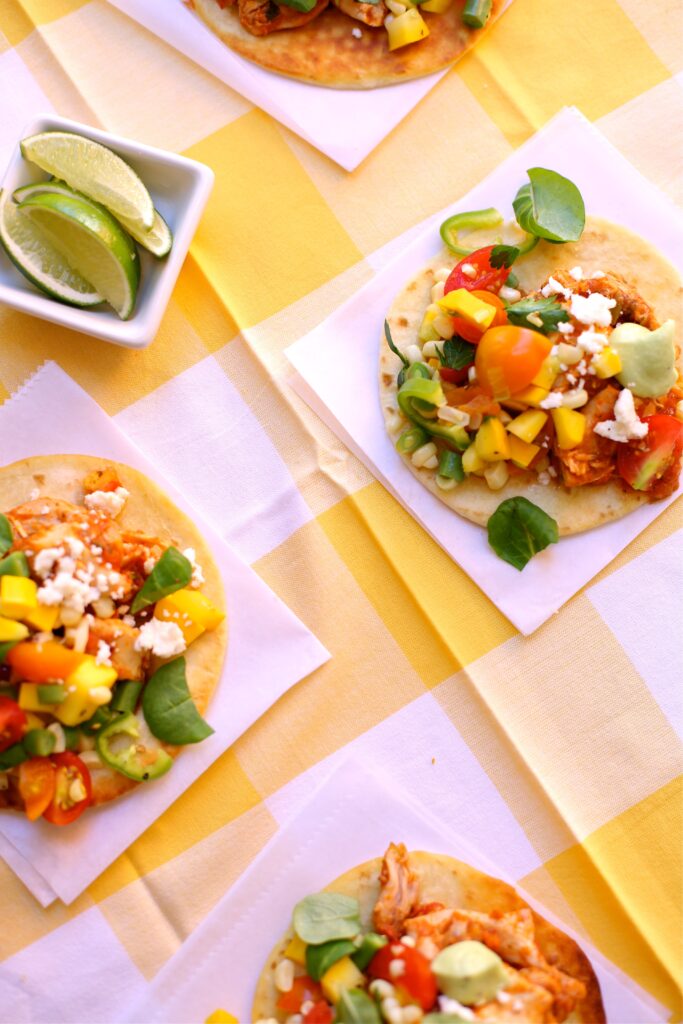 I have been known to eat the same things over and over in a short period of time.
This probably isn't normal, but no point fighting it.
One summer I cooked salmon so many different ways it is now referred to as 'The Summer of Salmon."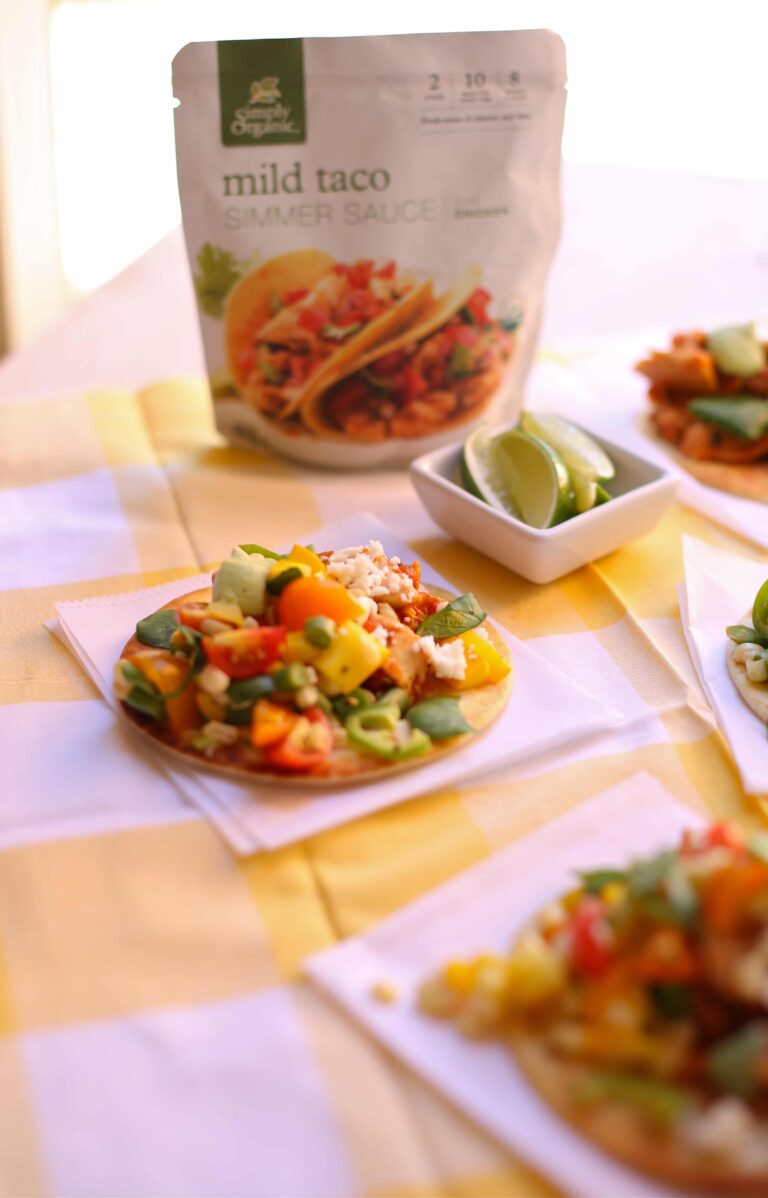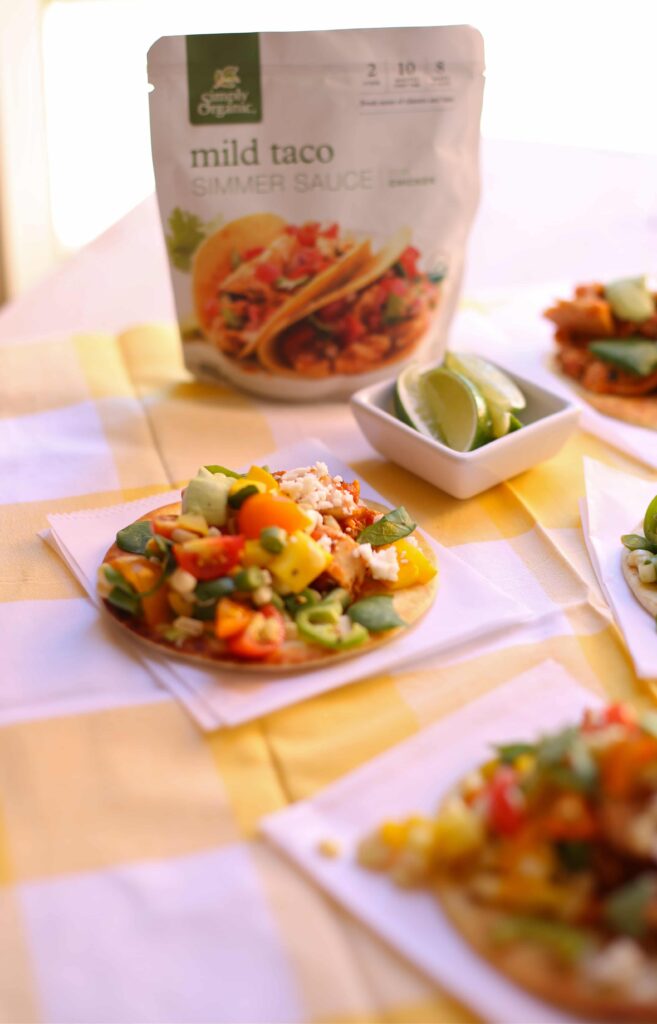 Then there was the time I practically overdosed on vanilla frozen yogurt from a deli down the street.  So insatiable was my desire for this particular frozen yogurt that I took a picture of it and emailed it to whoever was going out for the afternoon mail run.
I'm a good tipper 🙂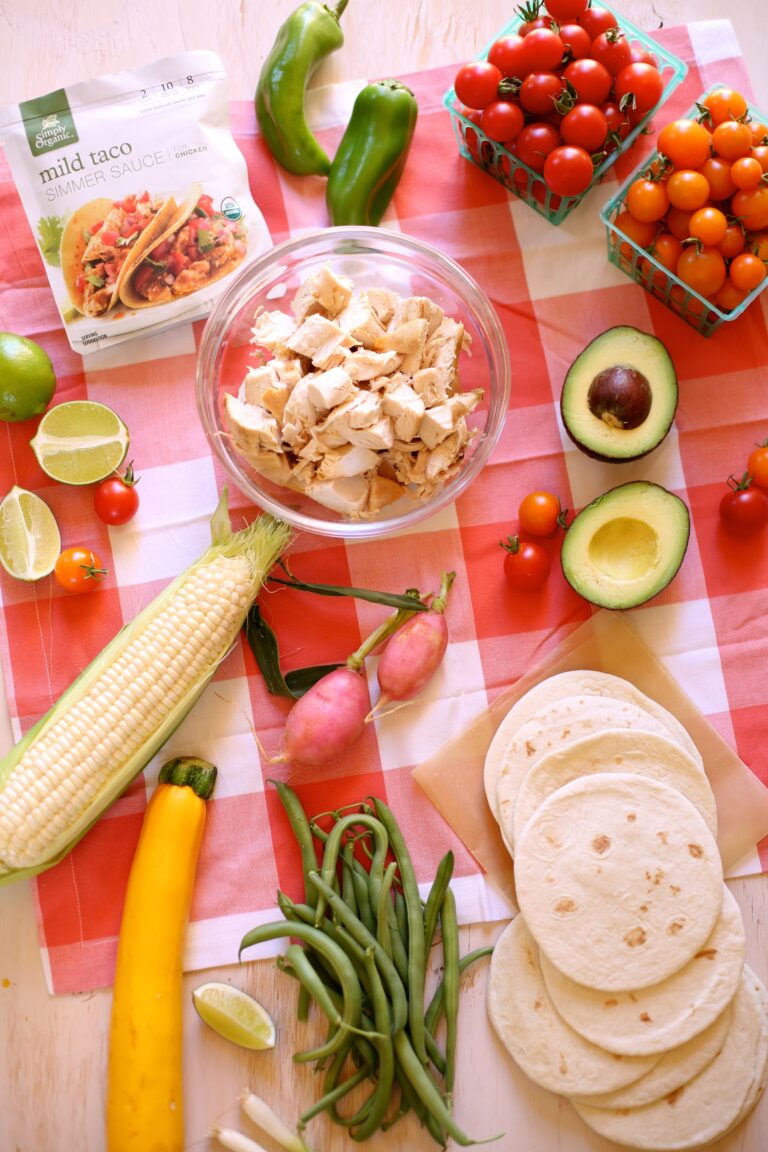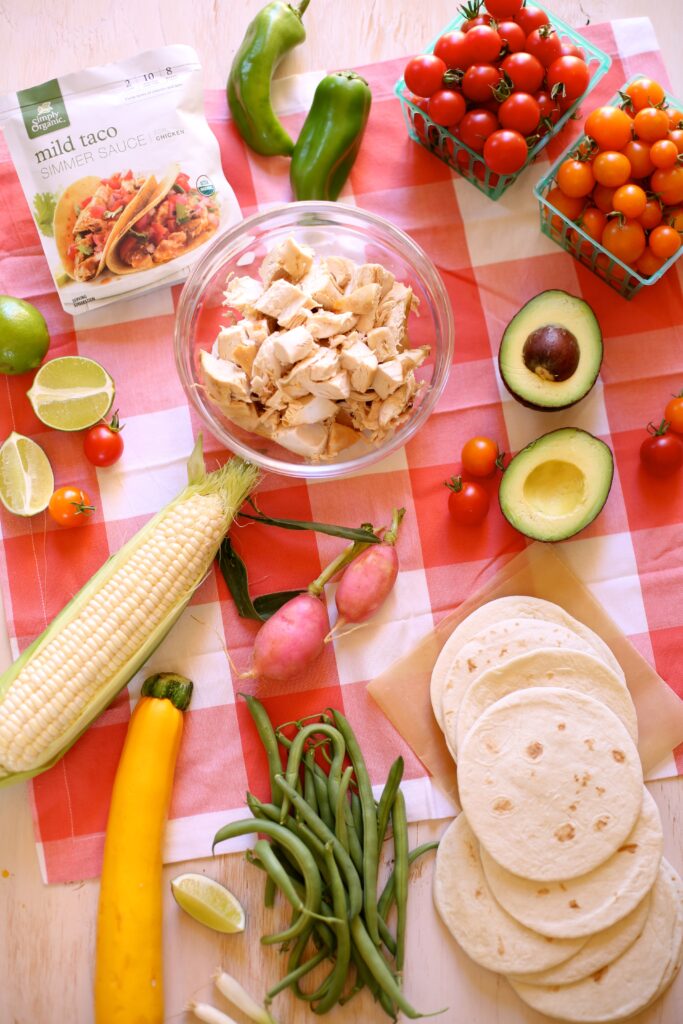 The other day I went to lunch by myself and had one of the best veggie burgers I've ever eaten.  The bun was hot and toasty – a perfect contrast to the cold lettuce, tomato and thick house-made pickles.
It was just as good as I remembered it  – which was only last week.
Right about now we're busy having fun, or should be. Like watching parades and fireworks, eating watermelon, having cookouts and drinking sparkling wine coolers with sand in our toes and SPF on our nose.
Double bonus points for food that's easy to put together and doesn't heat up the kitchen.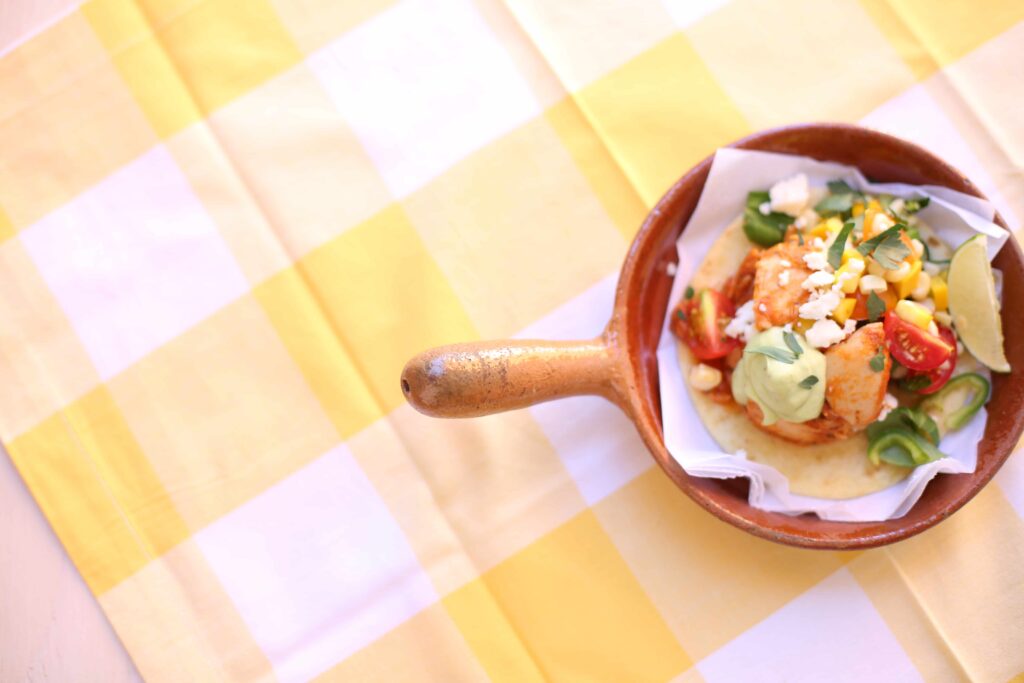 What follows here is a store bought rotisserie chicken made better with a simmer sauce and topped with a fresh veggie salsa.  We're talking zucchini, peppers, green beans, cherry tomatoes and corn you cut right off the cob.
The trick is to barely cook the vegetables so they stay nice and crunchy.
Oh, and a simple avocado cream is the cherry on top – a quick whiz of avocado, sour cream, fresh lime juice and salt and pepper.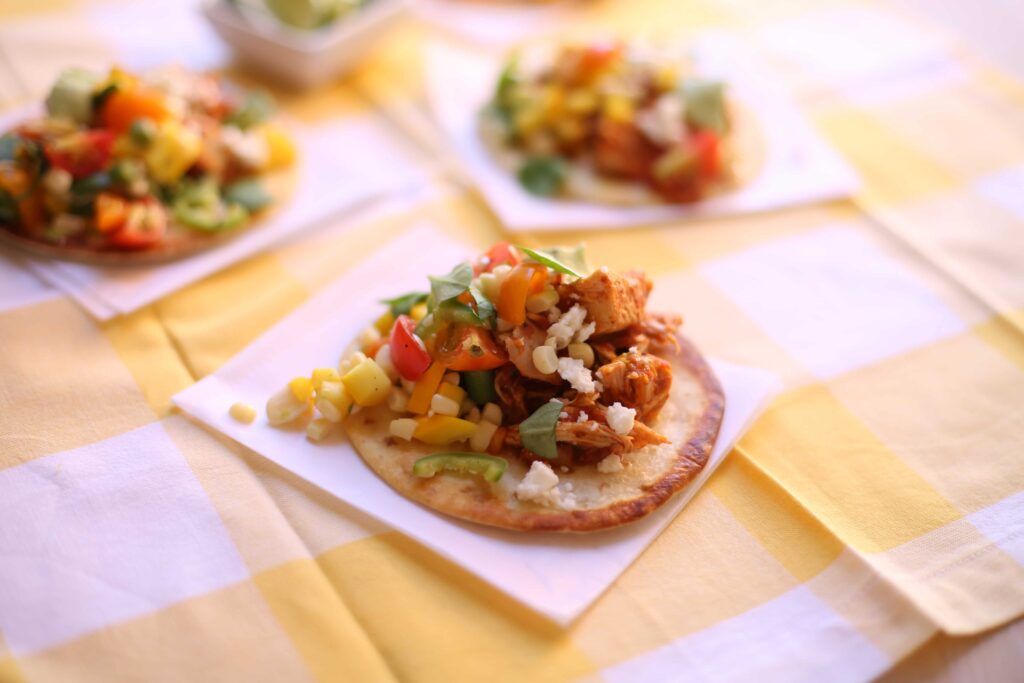 Slider size tortillas make this a fun appetizer for a crowd – just set them on squares of parchment paper so they are easy to scoop up and eat.
I'm willing to bet you can't eat just one.
Ingredients
CHICKEN MIXTURE:

1

rotisserie chicken

approximately 1 pound

1

pouch Simply Organic Mild Taco Simmer Sauce

1

cup

of fresh salsa - like salsa fresca

teaspoon

or so olive oil

FRESH VEGGIE SALSA

You can use any combination of vegetables you'd like

but I used:

Zucchini: One medium sized yellow

cut in half lengthwise and then again down the middle, seeds removed. Cut the lengths in half again so you have strips, and cut into small dice about 1/2" thick.

Green Pepper: 1/4 cup

seeded and cut in a 1/2 dice.

Corn: One ear

with husk and silk removed, cut off the cob with a sharp knife.

Green Beans: 1/2 cup

cut into a 1/2 inch dice.

Cherry Tomatoes: 1 cup of red and orange variety

cut in half or quarters.

Green Onion: 3 onions

cut finely.

Fresh Parsley: About 2 tablespoons

one for the salsa and more to garnish the tacos.

Fresh Lime Juice: 1/2 of a fresh lime to squeeze in when the salsa is put together.

Flake sea salt and freshly ground pepper

about 1/2 teaspoon of each.

AVOCADO CREAM

One avocado

peeled and pitted

1/2

cup

sour cream

you could use plain Greek yogurt instead

1/2

teaspoon

sea salt

1/2

teaspoon

freshly ground pepper

2

tablespoons

freshly squeezed lime juice

TORTILLAS AND GARNISH

1- 11

oz

package of slider size flour tortillas

note: I fry these in a little olive or sunflower oil on both sides for a minute or two so they don't taste raw. Just pile the cooked tortillas on a paper towel and set aside until ready to use

Parsley

fresh and chopped fine for garnish (you can use cilantro too)

Crumbled queso fresco cheese

for garnish

Sliced lime wedges
Instructions
MAKE THE CHICKEN MIXTURE

In a large non-stick sauce pan, lightly coat the bottom of the pan with the olive oil.

Remove meat from rotisserie chicken and cut in medium-sized chunks.

Add chicken, salsa and Simply Organic Mild Taco Simmer Sauce to the pan and gently combine over medium heat until the mixture is heated through.

MAKE THE VEGGIE SALSA:

In a large non-stick saucepan, add the zucchini, green pepper, corn and green beans with 4 tablespoons of water and a pinch of salt.

On medium high heat, cook the veggies, shaking the pan occasionally, until the water evaporates, about 5 minutes. Remove from heat and add the cherry tomatoes, green onion, fresh parsley and lime juice, salt and pepper.

Gently toss together and place a bowl to set aside until needed.

MAKE THE AVOCADO CREAM

In a food processor, put all ingredients in and whiz together until smooth.

ASSEMBLE THE TACOS

On each tortilla, place a heaping tablespoon of the warm chicken mixture, and the same amount of veggie salsa on top.

Garnish with a little pinch of parsley or cilantro and queso fresco cheese and serve.
Source: Studio Delicious.
Thanks to Simply Organic Foods for sponsoring the Mild Taco Simmer Sauce, a product I love and use regularly in my kitchen.