This recipe for California Fig Banana Bread is courtesy of the experts over at Valley Fig Growers (who generously supplied the figs too.) It's super easy to mix together and has amazing flavor and texture.  I've added a fresh lemon-spiked cream cheese frosting to swirl on top because, why not?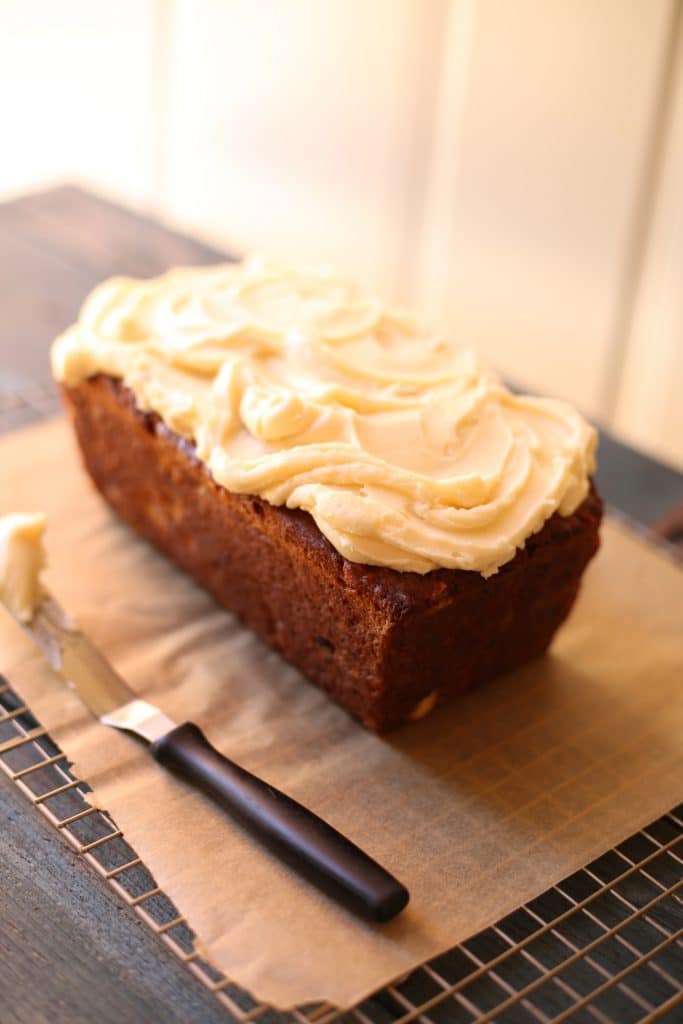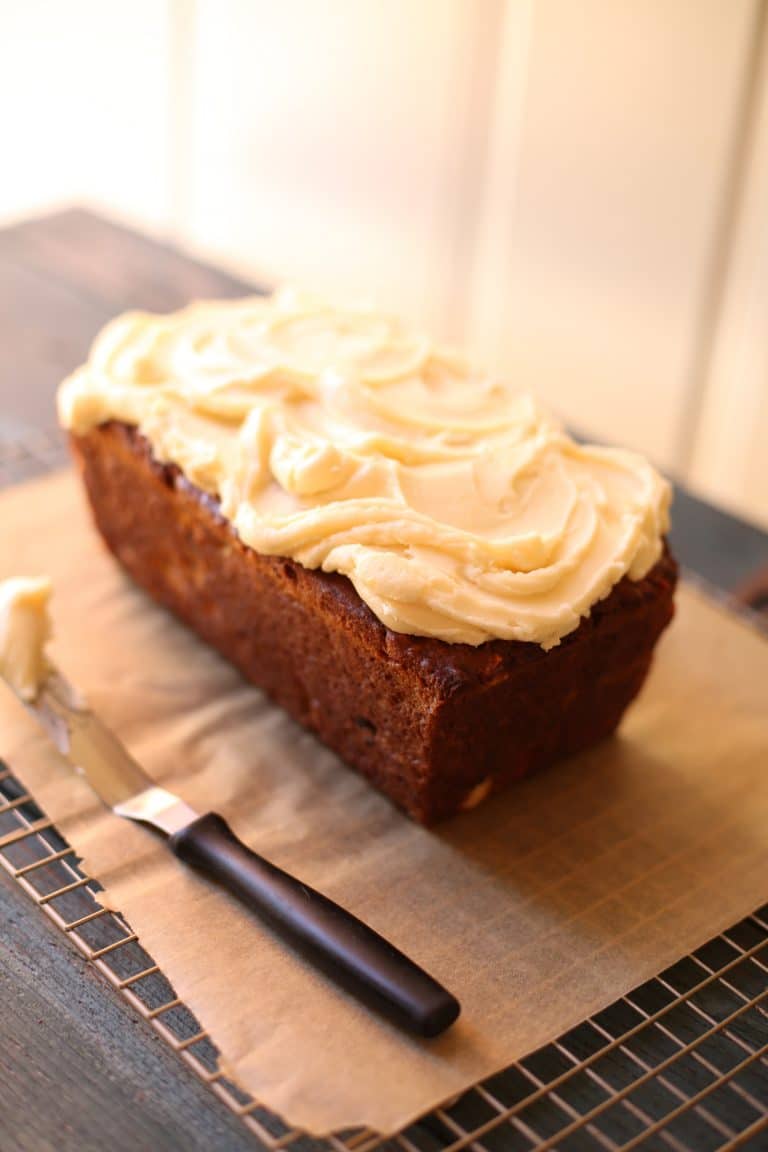 For anyone out there who can't find the new Onion Salt at Trader Joe's I'm very, very sorry.
They are all right here in my cupboard.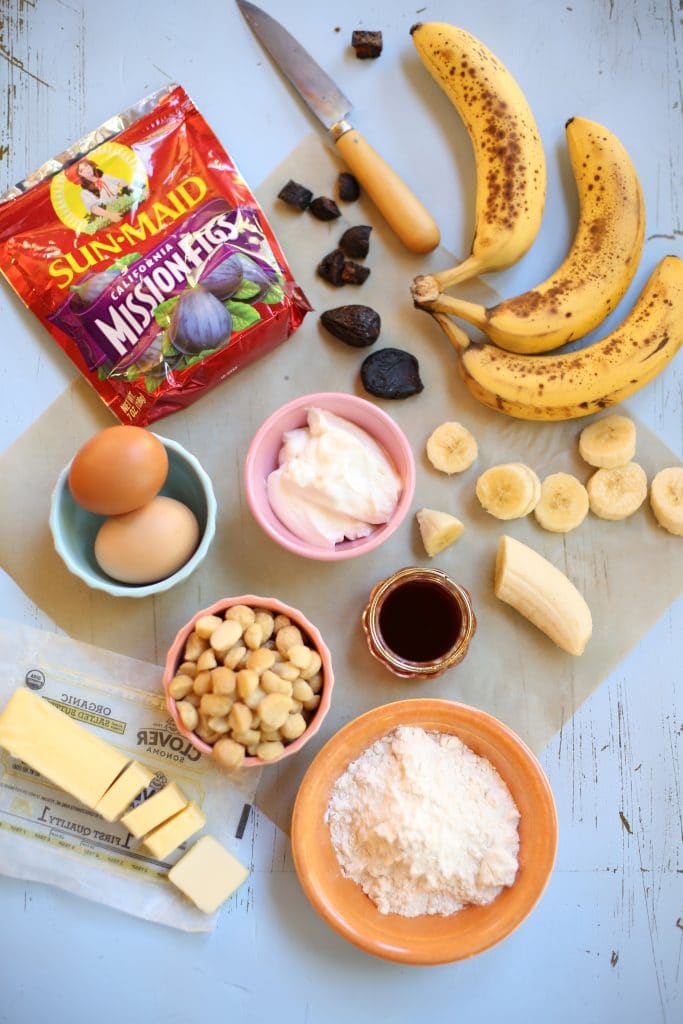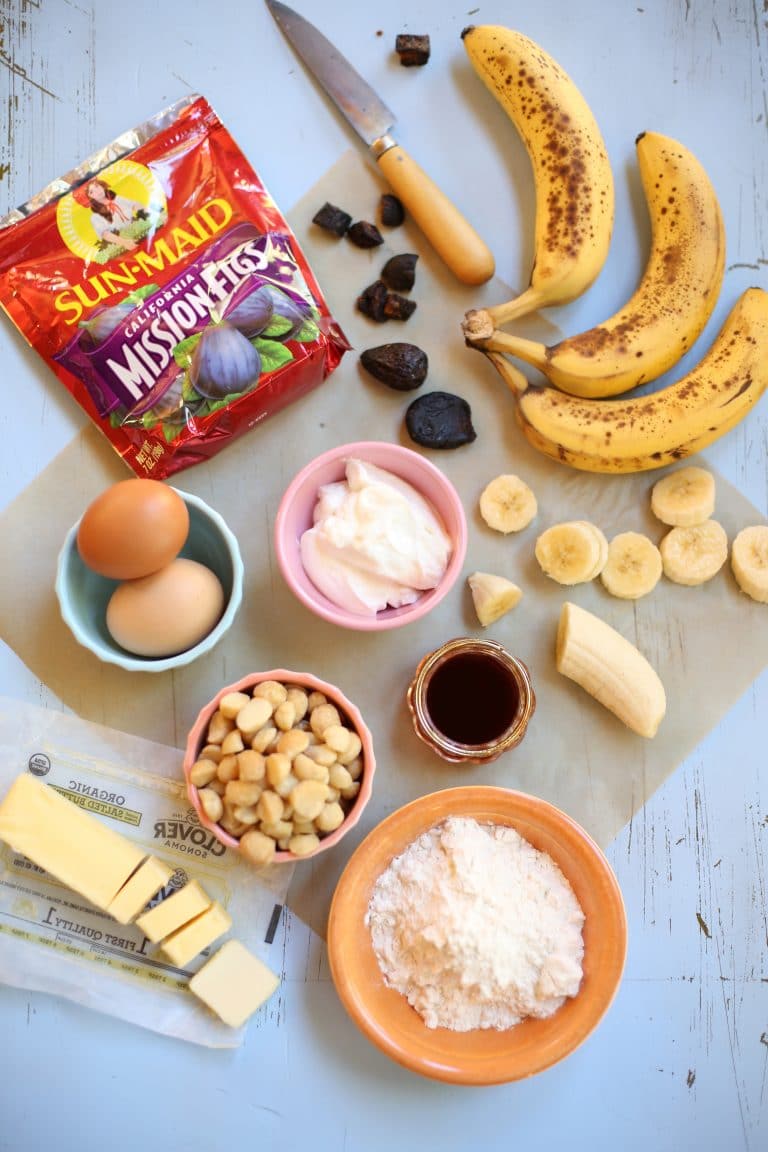 I've been worried they'll run out because of popular demand which would be just terrible 🙂
So if you see the stuff, grab it.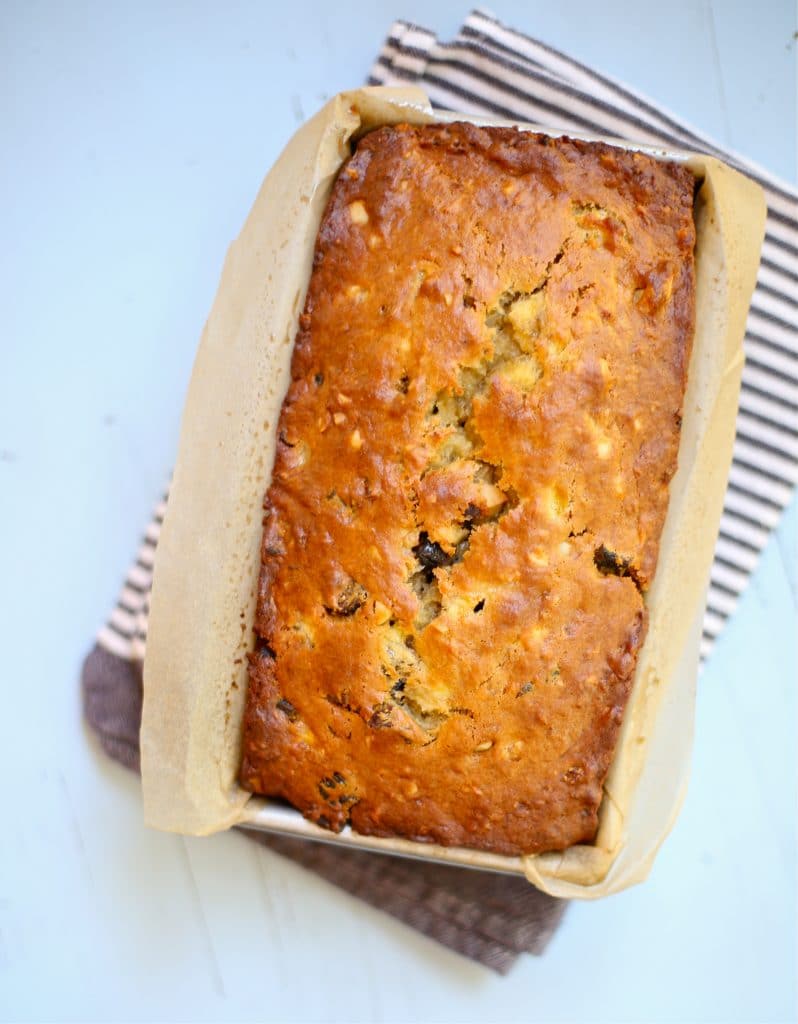 Just don't even hesitate, buy it.
Get two and hide them, even.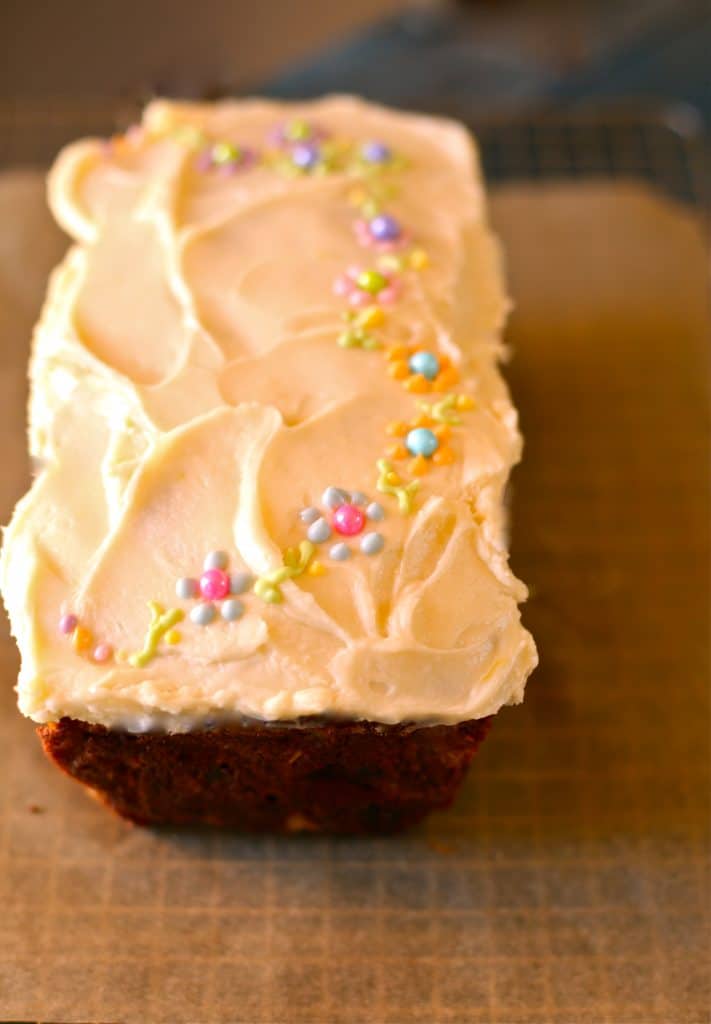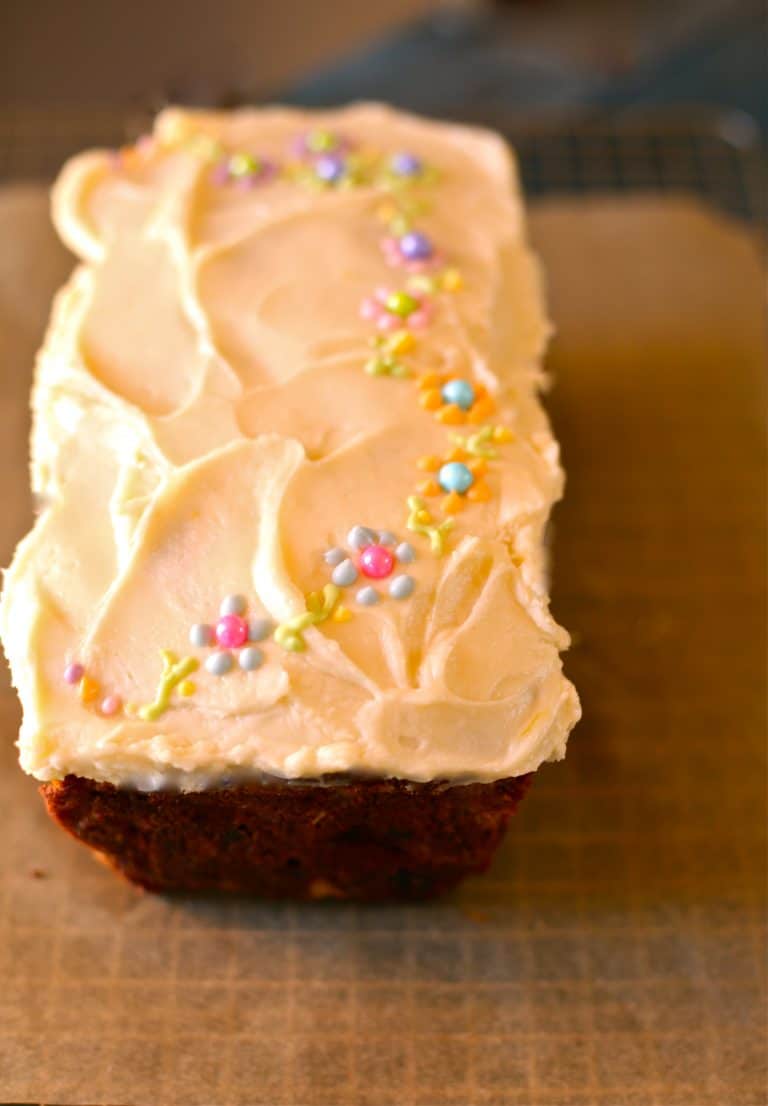 It's so, so tasty sprinkled on roasted red potatoes with olive oil or a cheesy omelette or even grilled zucchini.
It's a fabulous, onion-y wonderdust that makes everything taste amazing 🙂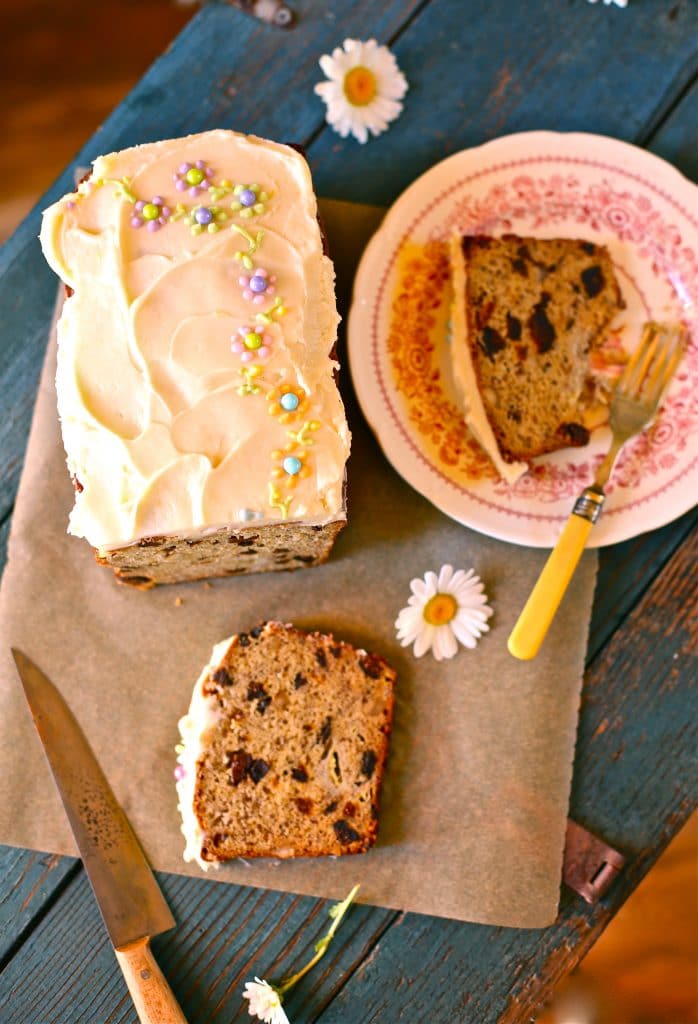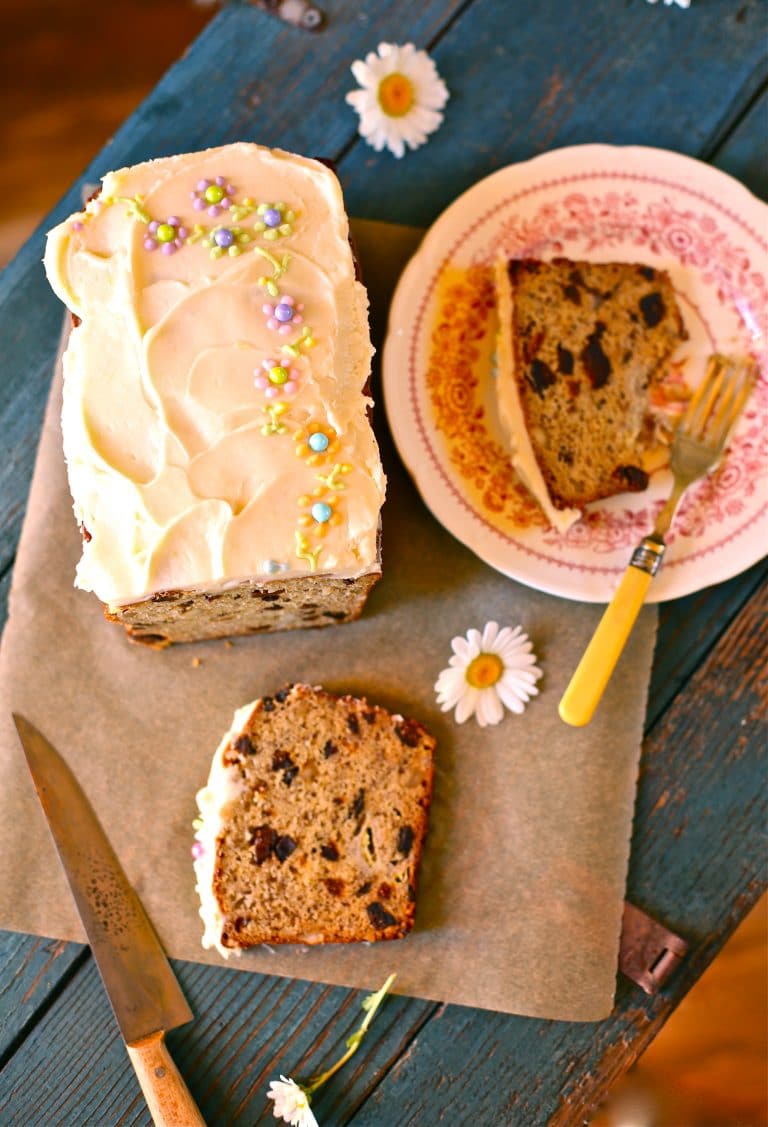 In other important news, I've been resting up all week—which I highly recommend, and I've eaten my weight in chocolate chips.
Does this time of year stop you in your tracks too, or is it just me?
I have officially lost all ambition.
It's just like poof, gone.
Enter delicious and easy quick breads.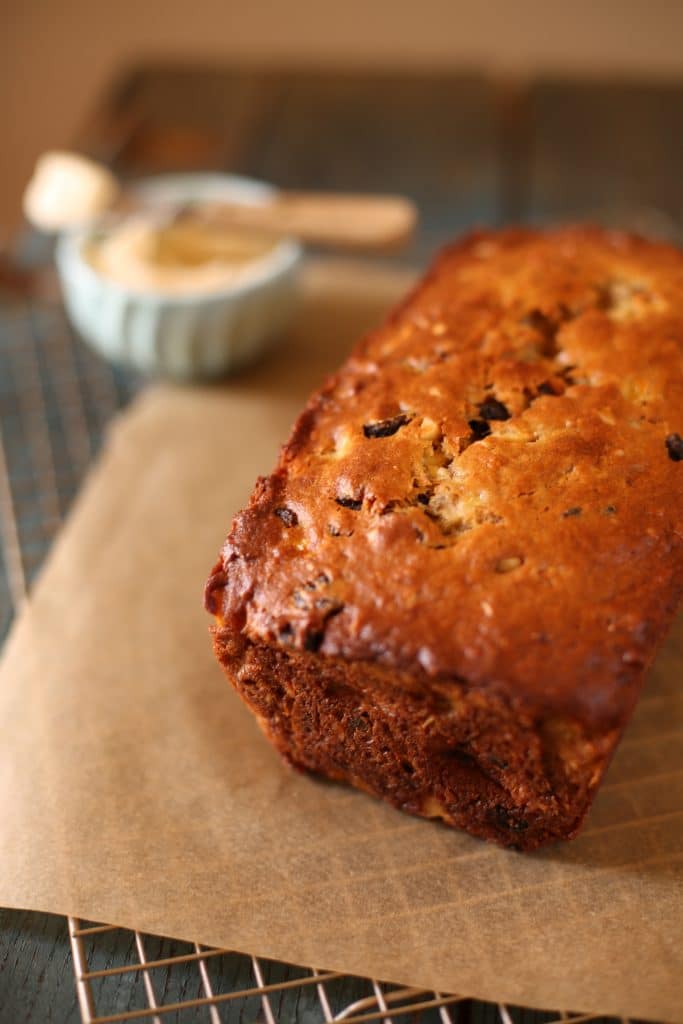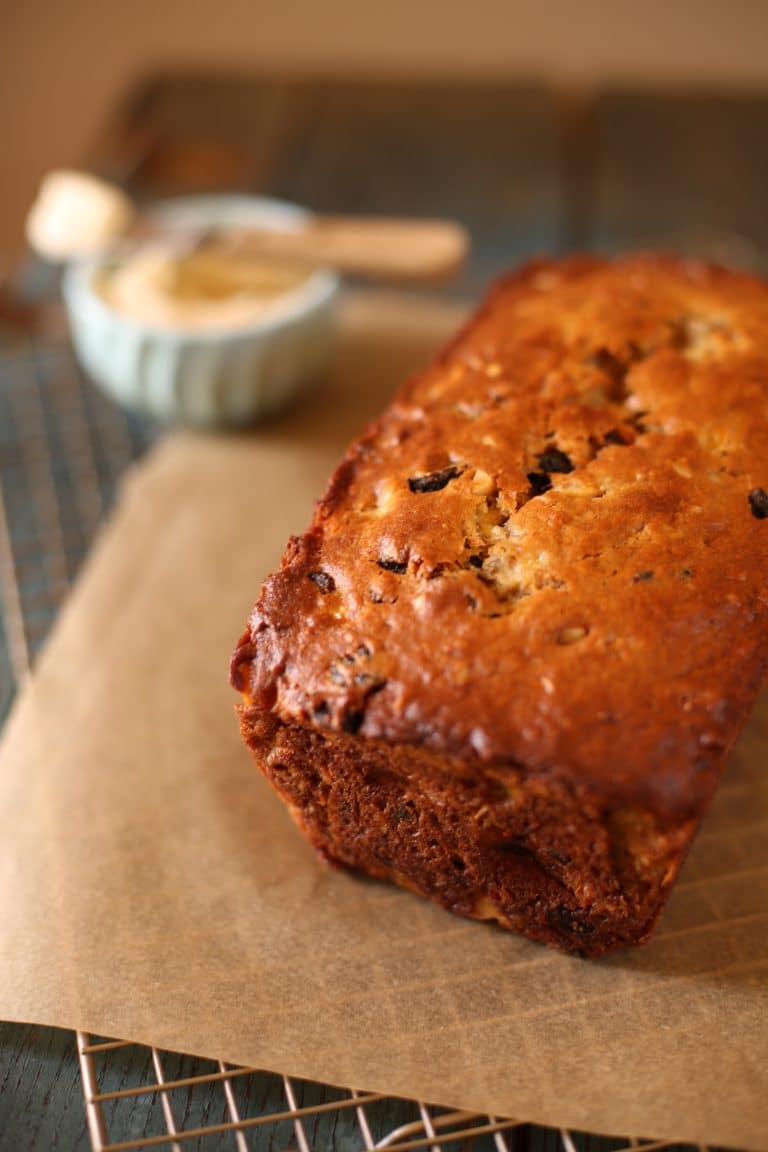 This California Fig Banana Bread has chunks of sweet California Figs and toasted macadamia nuts running through it among other luscious things.
Plus a lemony cream cheese frosting, though that part is totally optional.
Because a thick slice without it would taste excellent when toasted and buttered and jammed.
Or cream-cheesed and jammed, you get the idea.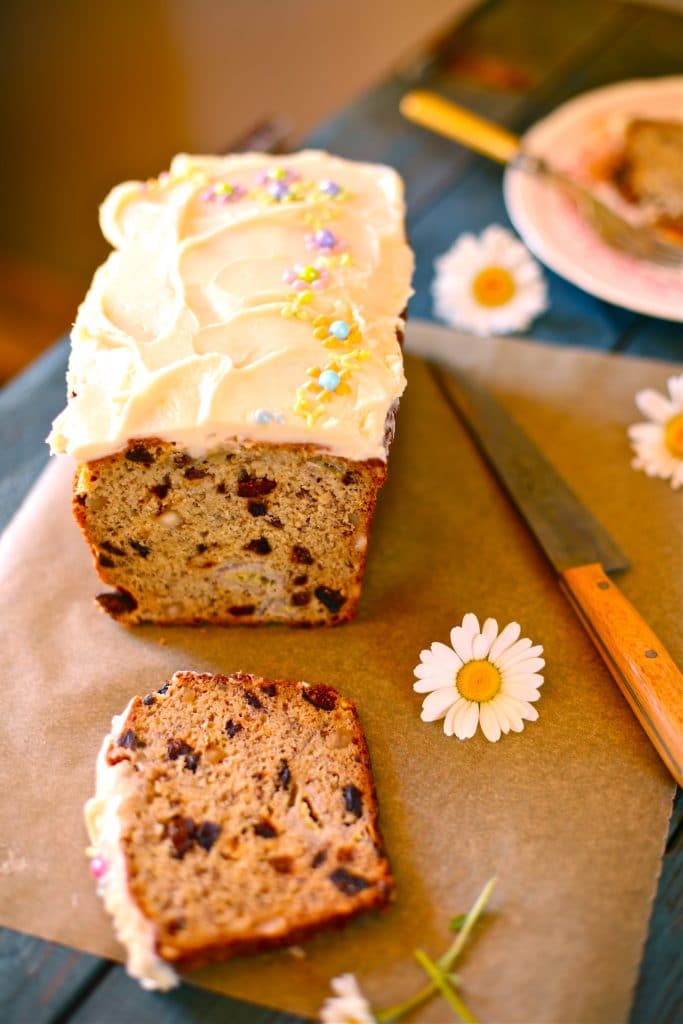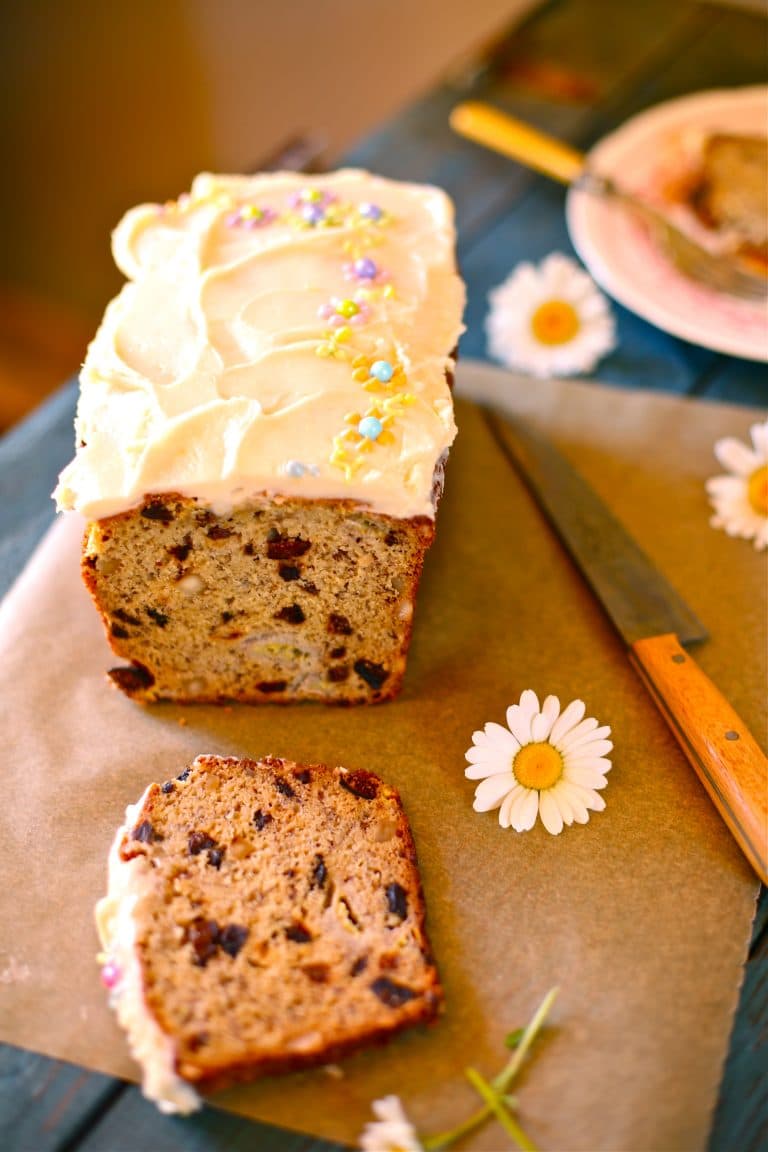 There is no kneading or fussing with this recipe either.
And who doesn't want homemade banana bread laying around?
I definitely wouldn't hate it.
It's a perfect snack if say, you've been lounging around with a good book.
(Which is where you'll find me) 🙂
HOVER OVER PHOTO AND PIN THIS RECIPE FOR LATER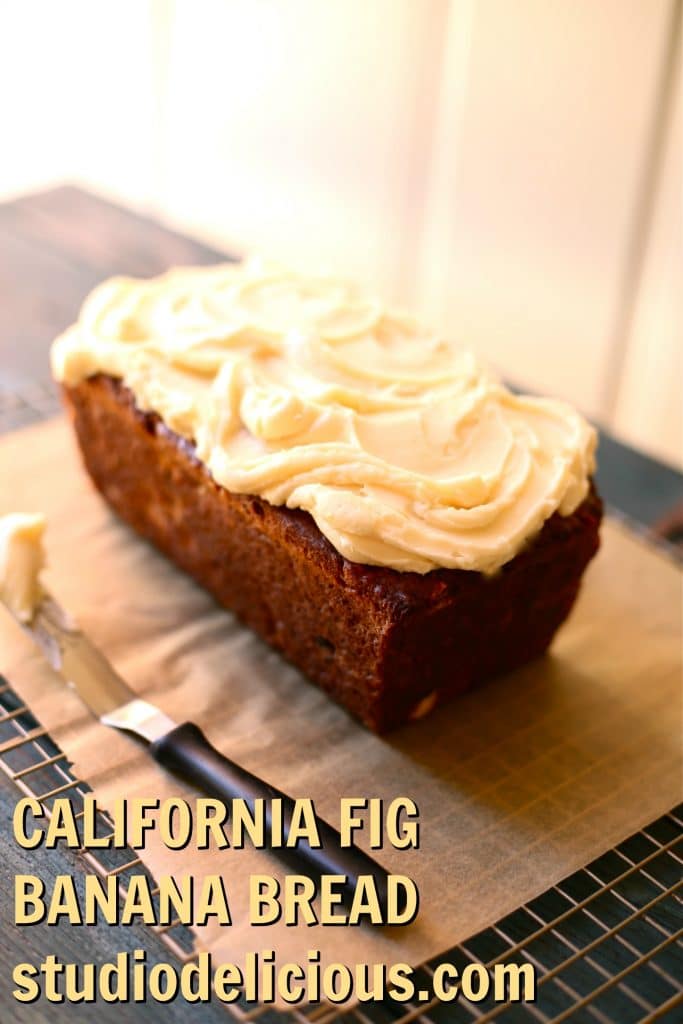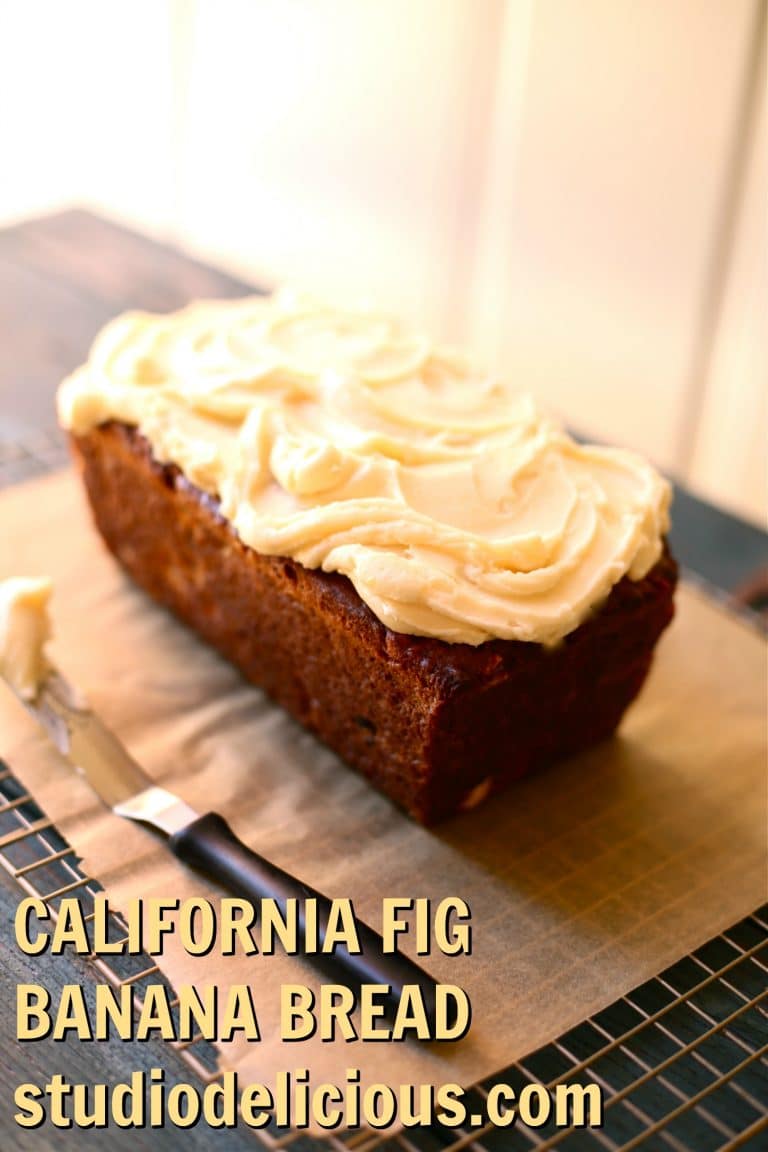 Here's another figgy recipe idea: Three Easy Recipes Using Fresh Figs
Ingredients
Recipe from Valley Fig Growers

Makes one 8 inch loaf

8-10 slices

CALIFORNIA FIG BANANA BREAD

2

cups

10 ounces unbleached all-purpose flour

3/4

cup

5 1/4 ounces sugar

1

cup

6 ounces Blue Ribbon Orchard Choice or Sun-Made California Figs, stemmed and chopped in 1/4 pieces.

3

large very ripe bananas

mashed well (1 1/2 cups)

6

tablespoons

3/4 stick unsalted butter, melted and cooled

2

large eggs

1/4

cup

whole or low-fat plain yogurt

1

teaspoon

vanilla extract

3/4

cup

chopped macadamia nuts

toasted

LEMON CREAM CHEESE FROSTING

1 8-

ounce

package cream cheese

softened

1/2

cup

butter

softened

2

teaspoons

vanilla extract

1/2

teaspoon

freshly grated lemon zest

3 3/4 to 4

cups

powdered

confectioners sugar
Instructions
MAKE THE CALIFORNIA FIG BANANA BREAD:

Adjust oven rack to lower middle position and heat oven to 350 degrees.

Grease an 8 1/2 by 4 1/2 inch loaf pan. (you can also line with parchment paper and then grease it to make it easy to lift out)

In a large bowl, whisk the flour, sugar, baking soda and salt..then add the dried figs and mix together.

In a separate large bowl, whisk the mashed bananas, melted butter, eggs, yogurt, and vanilla together.

Gently fold the banana mixture into the flour mixture with a rubber spatula until just combined (do not over mix) Fold in the macadamia nuts. The batter will look thick and chunky.

Scrape batter into the prepared pan and smooth the top.

Bake until golden brown and toothpick inserted into the center comes out with just a few crumbs attached, about 55 minutes, rotating the pan halfway through baking.

Let the loaf cool in the pan for ten (10) minutes, then turn out onto a wire rack to let cool completely before frosting (or serving if not frosting)..about 2 hours.

MAKE THE LEMON CREAM CHEESE FROSTING:

In a medium bowl, combine the softened cream cheese, butter and vanilla extract and mix with a hand mixer (or stand mixer) until smooth and combined, about 2 minutes.

Add the vanilla extract and lemon zest, continue to mix for another minute until combined.

Add the powdered sugar in stages, starting at 2 cups, mixing each addition until smooth and combined.

You'll need at least 3 1/2 cups powdered sugar to make a fairly stiff frosting, and possibly a little more.

##

When loaf is completely cool, frost the top and serve additional on the side if desired.

Make a pretty flower pattern on top if it strikes your fancy! I used Williams Sonoma Chocolate Deco Pens, which make it super easy.

Drop polka dots in a circle pattern and put a little candy ball in the middle. Have fun!
SOURCE: Studio Delicious, thanks to Valley Fig Growers for providing the figs!